Axios AM
August 30, 2018
☕️ Good Thursday morning ...
1 big thing ... Trump's new fake news: fake social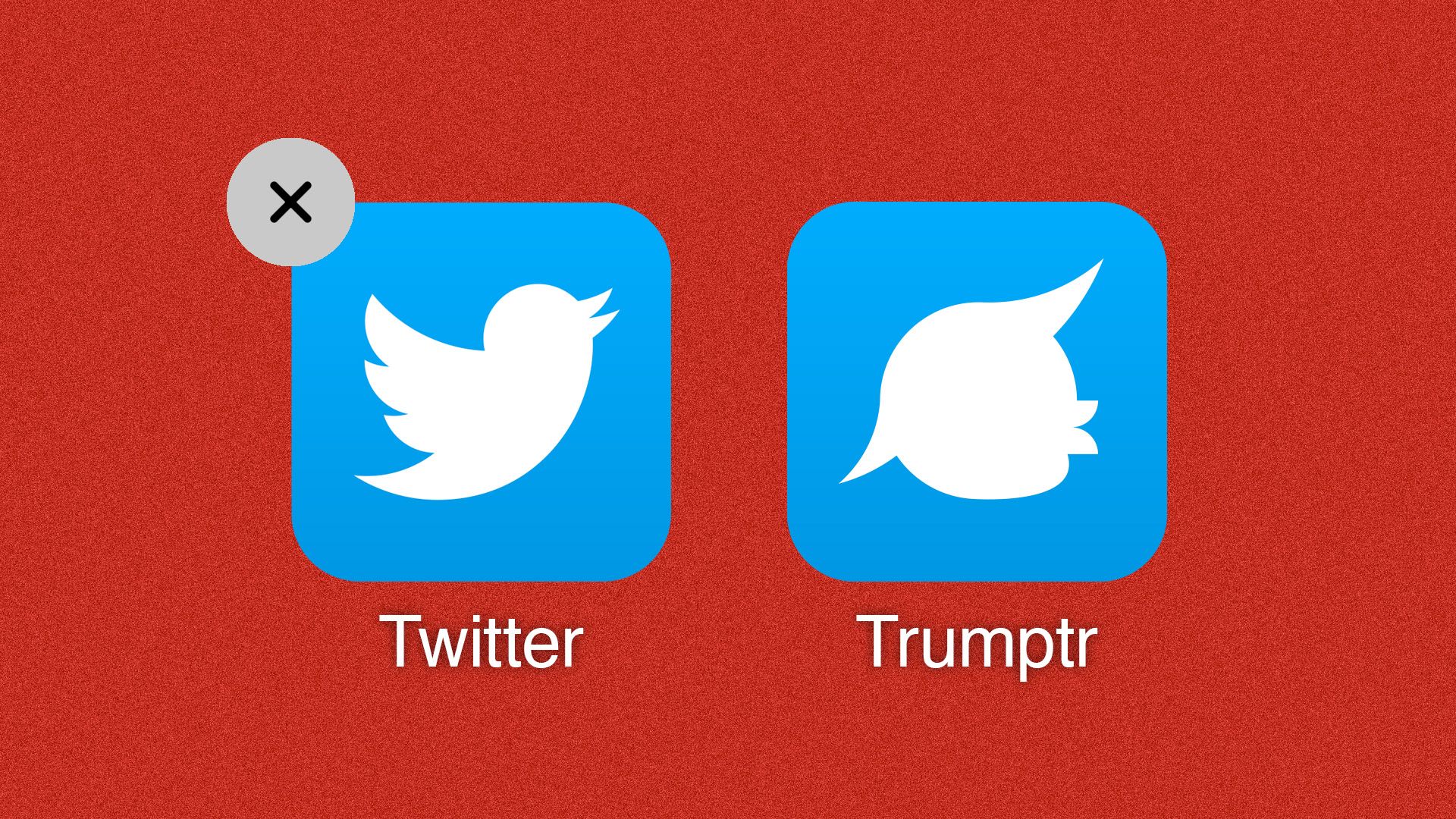 President Trump, using more anecdote than evidence, is doing unto Google, Facebook and Twitter what he helped do to mainstream media: persuade a big chunk of America they are biased — and fake.
What's new: "Fake social" and "fake search" are the new "fake news" in the mind of Trump's inner circle.
A new poll by Media Research Center/McLaughlin & Associates, reported first by Axios, showed the attacks are working: 65% of self-described conservatives believe that social media companies purposely censor the right.
A Trump operative tells me: "It's risen to the level of being an emotional or gut issue with conservatives, like guns/immigration. It's an issue that's here to stay."
Be smart: Conservatives charged bias and lies in mainstream news and then created right-wing alternatives. It should come as no surprise if they do the same two-step process to the modern form of distributing that news. 
Donald Trump Jr., who has 3 million Twitter followers and 1.3 million Instagram followers, told me there is "exactly zero doubt in my mind" that tech bias is real: "I don't think [this issue] is going away, because I don't think it's changing."
The president's oldest son, reflecting Trumpworld's growing appetite for action against Big Tech, said the companies need to self-regulate better: "Many of these platforms get many benefits from the government."
🚨 Don Jr. tells Axios that if a Trump supporter in the tech world created a conservative, Facebook-like social network, he would urge Trump supporters to switch to it.
When I asked him if his father's 2020 campaign might build such a platform, Don Jr. said: "I'd love to do it. But what I would prefer is, take one of the two Silicon Valley conservatives and let them start it. And then I'd help promote the platform and be all over that."
Scary thought: Imagine tribal news delivered via tribal pipes. And, as one mischievous Trump adviser told us, imagine the president moving his Twitter show to that network.
House Majority Leader Kevin McCarthy (R-Calif.), the likely Speaker if the GOP keeps the House, has driven the tech-bias issue among conservatives for months, and pushed a #StopTheBias hashtag that the president tweeted yesterday.
McCarthy told me: "The companies cannot sit back and say nothing is happening. Algorithms are written by people. Everybody has some bias in them. Anyone claims they don't have bias, they're not human."
Why it matters: Top Republicans tell us this will be a major line of escalated attack at a congressional hearing next week with Facebook COO Sheryl Sandberg and Twitter CEO Jack Dorsey.
2. Trump v. Sanders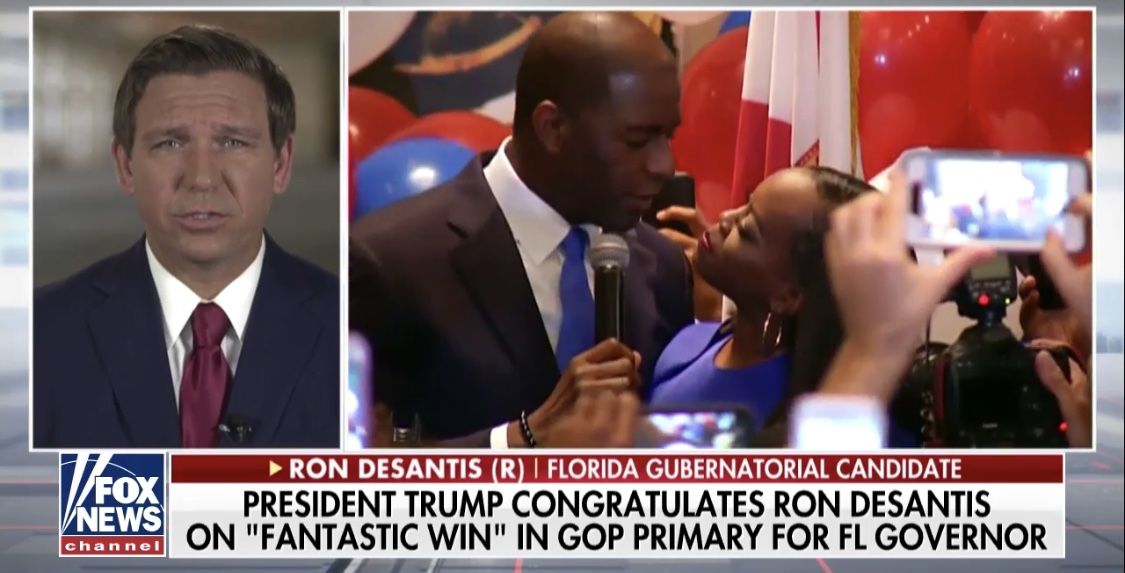 Your future foretold in Florida, Georgia ... In a preview of 2020, several midterm races are shaping up as striking tests of Trumpism v. Sanders-style politics:
In the Florida governor's race, Republican Ron DeSantis, who beat the establishment favorite by 20 points after being endorsed by Trump, faces Democrat Andrew Gillum, who was endorsed by Sen. Bernie Sanders and would be the state's first African-American governor.
For Georgia governor, Trumpy Brian Kemp takes on Democrat Stacey Abrams, an unabashed "resistance" supporter. The N.Y. Times says the race "has taken on the dimensions of a defining moment, one that will, regardless of outcome, determine what the state represents and how it is perceived."
Racism charges dominated Day 1 of the Florida governor's race, after DeSantis said on Fox that Florida shouldn't "monkey this up" by electing Gillum.
DeSantis called Gillum an "articulate spokesman for ... far-left views."
Tampa Bay Times: "There is a long history of black Americans being referred to as 'monkeys' as a racial slur. 'Articulate' is also a common dog whistle."
The big picture ... The N.Y. Times' Jeremy Peters points out Dems' diverse slate of candidates amid Trump appeals to racial anxiety:
"[R]acial and ethnic issues and conflicts [are] central in the November elections in a way that's far more explicit than the recent past."
3. Astonishing stat
Politico's Marc Caputo reports from Miami that since being endorsed by Trump on Dec. 22, Ron DeSantis — who on became the GOP nominee for Florida governor — made 121 appearances on Fox News and Fox Business.
DeSantis' campaign tells Caputo it would have cost $9.3 million to purchase all that airtime.
Pay attention to this:
DeSantis consultant Todd Harris told Caputo that the campaign's polling and research found 52% of GOP primary voters saw themselves as Trump supporters first, while only 37% saw themselves as Republicans first.
4. U.S. back to being a nation of immigrants
The share of the U.S. population made up by immigrants has returned to levels at the turn of the 20th century — although the makeup of today's immigrant population is very different, Axios demographics expert Stef Kight reports:
Why it matters: As we saw a century ago, and are witnessing again now, immigration brings needed labor and economic benefits, but is often met with backlash from those who fear the America they know is slipping away.
Where immigrants have come from:
For most of the 19th and 20th centuries, the vast majority of immigrants came from Western and Northern Europe. The Irish fled famine, the Germans fled political instability, and Italians primarily wanted better economic opportunity.
In 1986, the U.S. gave legal status to almost 3 million undocumented immigrants — an overwhelming majority of them from Mexico. These new green card holders could then sponsor additional family members.
New laws also opened the door to immigration from Asia — initially from India and Taiwan, and later China.
Most recently, there's been a wave of immigration from African countries that began in the 1990s and 2000s for a wide variety of economic, political and humanitarian reasons.
The big picture: Nationalist phobias prompted the original immigrant quotas in the U.S., according to Guillermo Cantor, research director at the American Immigration Council. There were fears that the number of Chinese coming to the U.S. for work would change the culture, or that German would become the dominant language in Pennsylvania.
5. Corporate profits boom
"U.S. corporate profits boomed in the second quarter, boosted by large tax cuts and stronger economic growth than initially reported," The Wall Street Journal's Harriet Torry and Theo Francis report:
"The Commerce Department said ... that its broadest measure of after-tax profits across the U.S. rose 16.1% in the quarter ended June 30 from a year earlier, the largest year-over-year gain in six years."
The short run: "For now, rising profits could fuel economic growth in the coming months."
"[A]nalysts see little sign of a letup in earnings momentum this year, though Wall Street projections for 2019 point toward a modest slowdown."
The longer run: "One worry is that as the impetus from tax cuts wanes, profit and economic growth could slow next year and beyond."
Executives on "earnings calls also expressed concerns about Trump administration trade policy."
6. Stat of day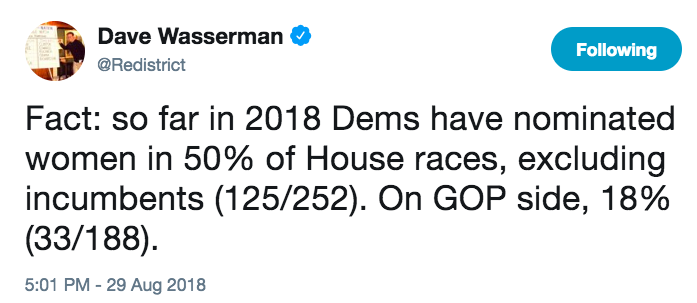 7. West Wing lawyer shortage
"The president and some of his advisers have discussed possibly adding veteran defense attorney Abbe Lowell, who currently represents ... Jared Kushner, to Trump's personal legal team if an impeachment battle or other fights with Congress emerge after the midterm elections," the WashPost reports.
Why it matters: "Within Trump's orbit, there is consensus that his current legal team is not equipped to effectively navigate an onslaught of congressional demands, and there has been broad discussion about bringing on new lawyers experienced in white-collar defense and political scandals."
8. Who's not invited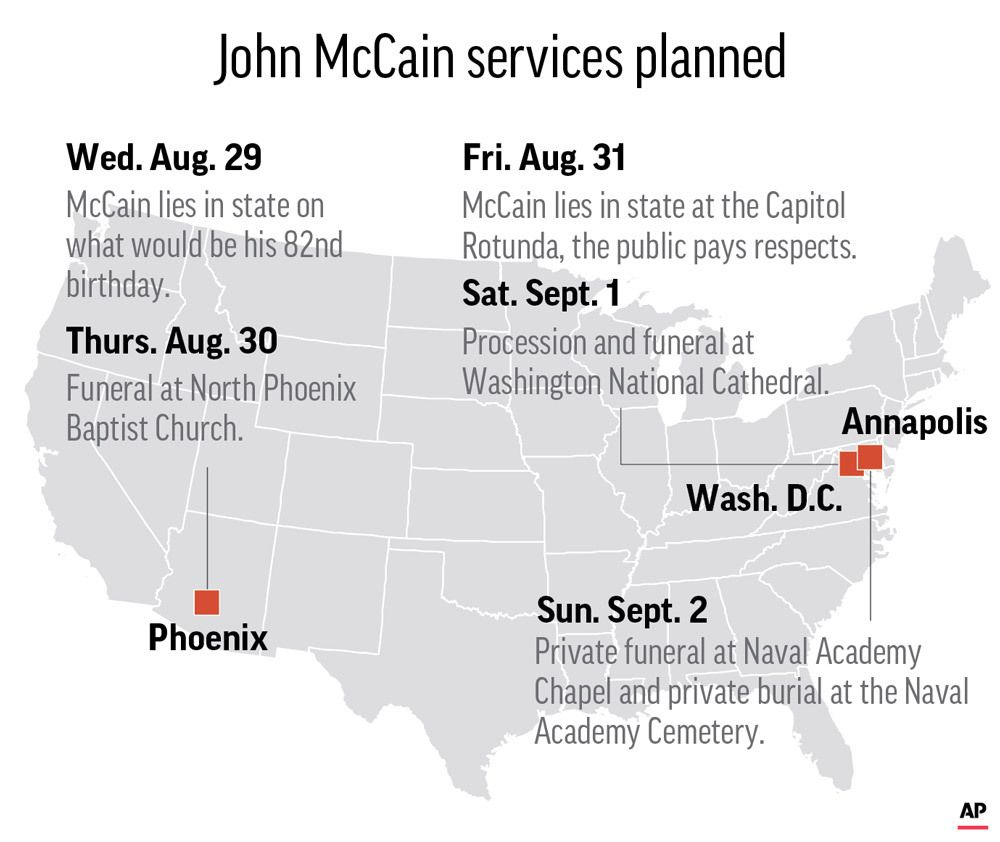 President Trump and Sarah Palin, Sen. John McCain's running mate for president in 2008, are not invited to memorial services for the iconic Arizona senator, PEOPLE reports.
N.Y. Times lead story, 10 years ago today ...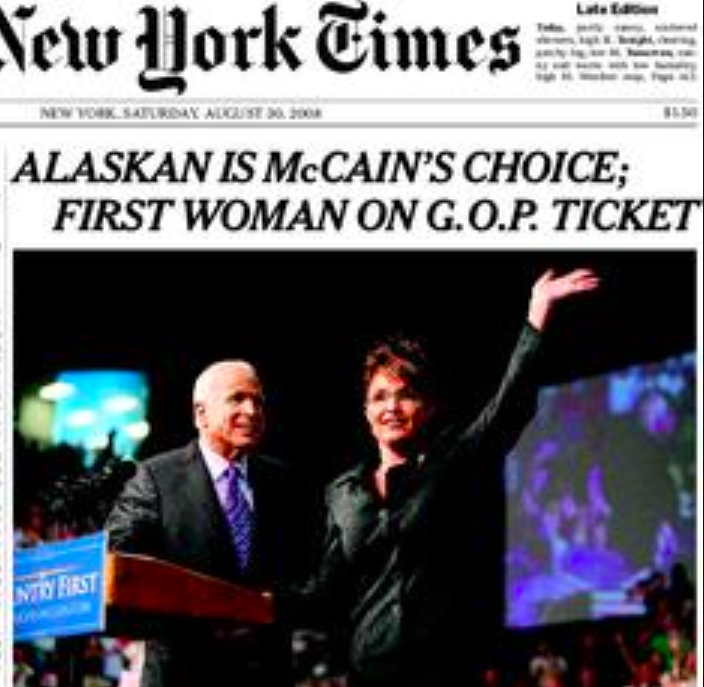 9. 1 rap thing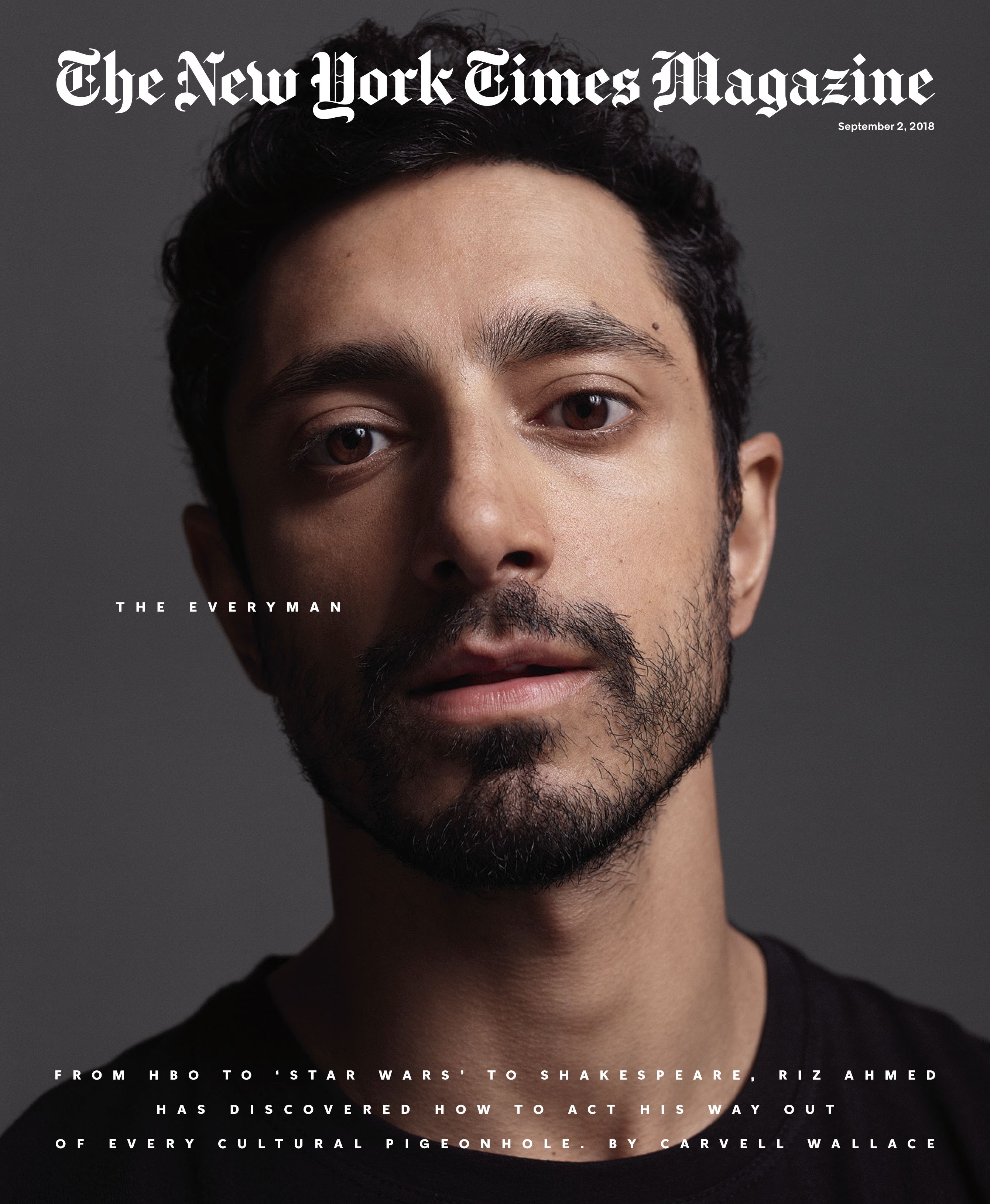 Riz Ahmed (Riz MC) — a British rapper and actor of Pakistani descent who made history last year as the first South Asian man to win an Emmy acting award — is profiled by Carvell Wallace as the New York Times Magazine cover story:
""He is an Oxford graduate, a classically trained actor and maybe the only person I've ever seen recite a poem on an American late-night show to thunderous applause."
"The poem, called 'Sour Times,' was delivered [on 'Jimmy Fallon'] two nights after Heather Heyer was killed at the Unite the Right rally in Charlottesville."
"Onscreen his presence can be almost comically malleable — he can come across as pliant or stalwart, frank or cagey — but in person there is a distinct and direct energy to him, a keenness bubbling under the surface."
10. 1 🏈 thing
Green Bay Packers QB Aaron Rodgers signs the richest deal in NFL history, per ESPN:
"The record-breaking four-year, $134 million extension could be worth up to $180 million in total money, a source told ESPN's Adam Schefter."
"Rodgers ... will be 40 years old when the deal expires after the 2023 season."
"The extension includes nearly $103 million total in guarantees, another record amount, and has an annual average value of $33.5 million."
Thanks for reading. See you in the Axios.com stream ...