Good Sunday morning. Make sure you thank your mother — or a mother you know.
https://www.axios.com/newsletters/axios-am-6a9c4a27-e200-4309-8565-d7e70dd7e711.html?chunk=0#story0
1 big thing: How to be the next Trump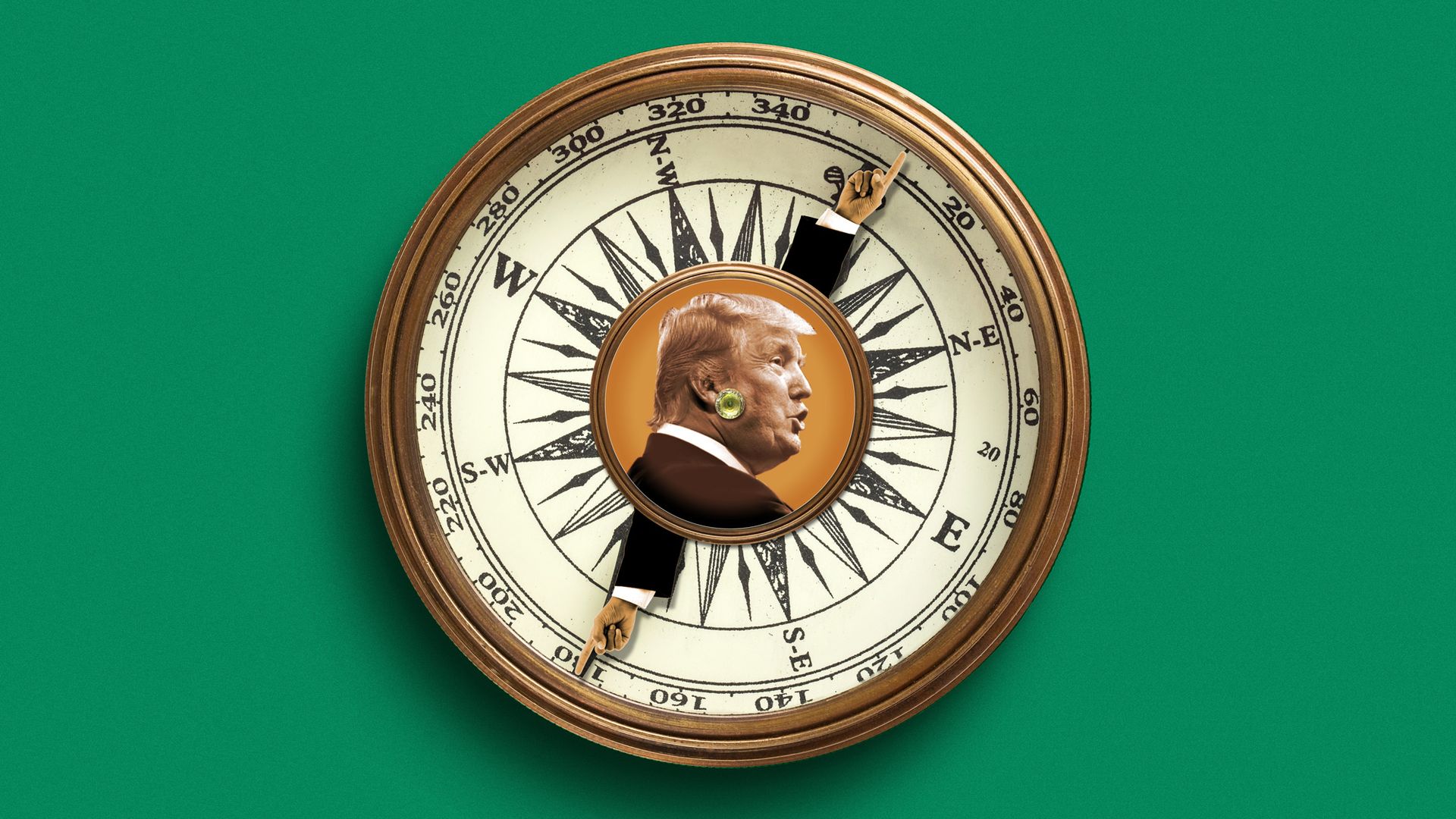 Most coverage of President Trump focuses on the negative aspects of his style: the making-it-up-as-he-goes, the lying, the management-by-chaos. But the Trump Way does offer future candidates and presidents some valuable lessons in navigating contemporary politics, Axios CEO Jim VandeHei writes:
People are sheep: Reversing one of the basic assumptions of politics, Trump has shown you can radically change a political party's core beliefs and brand overnight. Only six years ago, the GOP's Romney-Ryan ticket was preaching the evils of Russia, the virtue of free trade, the sin of deficits. With no debate and little resistance, Trump has flipped an entire party's core beliefs. Turns out, voters are far more malleable than we thought — and candidates and presidents can change minds overnight. 
Money is overrated; authenticity isn't: Trump has shown that if you can write in a real and captivating way, you can dominate the conversation — for free. The cost of entry on Facebook, Twitter and whatever follows is zilch. He also showed early in the campaign that if you're not too constipated to roll with the news, cable shows will give you billions in free airtime. (As president, he has hidden out on "Fox & Friends," proving the pipeline to true believers is equally easy and free). 
Companies can be bullied, in a good way: If Trump had a longer attention span, his campaign to pressure U.S. companies to keep jobs in America might very well be flourishing more. Last year, many Fortune 1000 companies were plotting how to show the White House they were serious about job creation at home. The reason: Trump used the power of the presidency, followed by social media and cable mobs, to call out companies outsourcing jobs — and praise those that kept jobs at home. Trump moved on. But U.S. businesses are more sensitive than ever to how they are viewed internally and externally. So the right political leaders applying the right kind of pressure can shift some behaviors. 
A little wild unpredictability goes a long way: Even Democrats begrudgingly tell us North Korea would not be returning hostages and talking denuclearization absent Trump's mad-man routine. The stilted, scripted, sclerotic ways of tradition are not always terribly effective tactics. Trump takes wild unpredictability way too far. But he has shown how constrained improvisation could be a powerful approach at home and abroad. 
Anyone can run and win: We always assumed party affiliation was a prerequisite for leading a political party, and some political experience a must. Trump was a liberal Democrat and he hijacked conservatism. The hunger for something different is unmistakable, partly because a big chunk of voters have had it with conventional politics and politicians. No reason another exotic Republican — or third party, or even a surprise Democrat — couldn't do the same. 
https://www.axios.com/newsletters/axios-am-6a9c4a27-e200-4309-8565-d7e70dd7e711.html?chunk=1#story1
2. Early ideas from Dems' 2020 road tests
Redefining the left ... Policy ideas floated by potential 2020 Democratic candidates go beyond the 2016 promises of better health care, tuition relief and infrastructure spending, the WashPost's Michael Scherer writes:
Sen. Cory Booker (D-N.J.) "has introduced a bill to both legalize marijuana and expunge the records of those with marijuana possession convictions."
"Sen. Kirsten Gillibrand (D-N.Y.) has put forward a bill that would allow the U.S. Postal Service to take on banking functions, including short-term loans to undermine the costly payday-loan industry."
"Several potential candidates, including Booker, Gillibrand, [Sen. Kamala Harris (D-Calif.)] and Sen. Jeff Merkley (D-Ore.) have signed on to a bill that would create a pilot program, offering guaranteed jobs paying at least $15 an hour in 15 high-unemployment communities."
Why it matters: Party leaders see "the next two years as a potential pivot point for what it means to be a Democrat, like the tumultuous 1968 Democratic convention or the business-friendly realignment that followed President Bill Clinton's nomination in 1992."
https://www.axios.com/newsletters/axios-am-6a9c4a27-e200-4309-8565-d7e70dd7e711.html?chunk=2#story2
3. U.S. forging new world order based on power
"The decision to pull out of the Iran deal is the latest example of the administration's aggressive unilateralism," Financial Times chief foreign affairs commentator Gideon Rachman writes from London (subscription):
State of play: "The Trump administration's stance on Iran is rejected by all the other signatories to the Iran deal (France, Germany, the UK, China, Russia, the EU) — although it does have the support of Israel and Saudi Arabia. Similarly, Mr. Trump's approach to trade and climate change has not attracted any significant allied support."
Trump card: "America's allies may harrumph that it is unacceptable for the US to walk away from the Iran deal or the Paris climate accord, but there is not much they can do about it. After all, European allies depend not only on the dollar, but also ... on American military protection."
What's changing: "In normal times, the US relies on the 'rules-based international order' — a network of laws and institutions that it and its allies have largely shaped over many decades. ... But for a rules-based order to work, the US has to be able to demonstrate that it is willing, on occasion, to be constrained by the rules."
Why it matters: "[T]he Trump administration is seeking to move to a power-based order — in which the US lays down the law and others are compelled to follow. That may work for a while, but it is also an invitation to rivals to test America's will through unilateral actions in Europe, Asia and the Middle East. And that is a recipe for a much more dangerous world."
https://www.axios.com/newsletters/axios-am-6a9c4a27-e200-4309-8565-d7e70dd7e711.html?chunk=3#story3
Bonus: An American in Windsor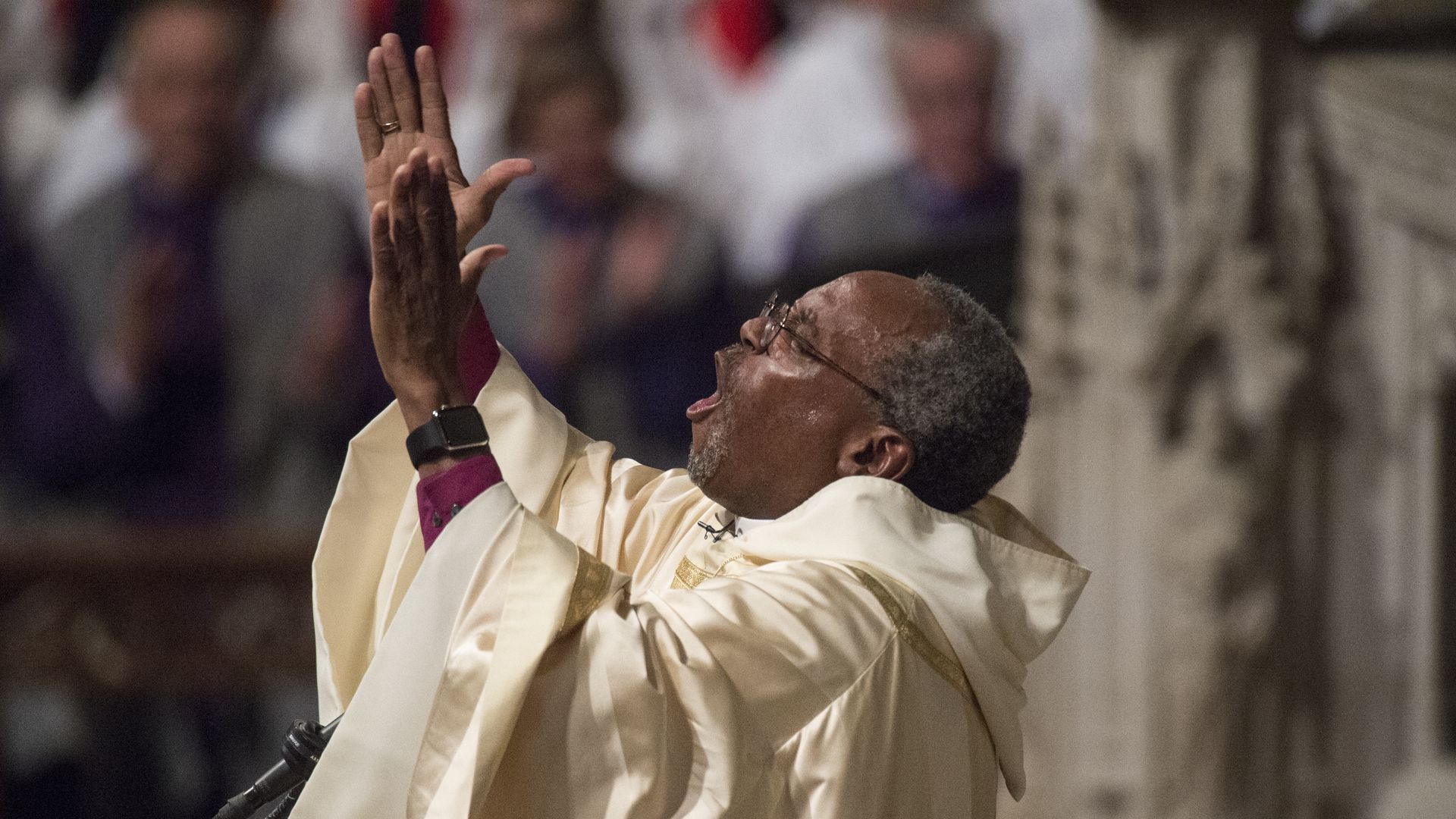 The head of the Episcopal Church, the Most Rev. Michael Curry, will give the address (or sermon) at Saturday's wedding of Prince Harry and Meghan Markle, Kensington Palace announced.
Why he matters: Curry, of Chicago, became the first African-American presiding bishop of the Episcopal Church — like the Church of England, part of the Anglican Communion — when he was elected in 2015.
Curry, who was born in Chicago, supports same-sex marriage.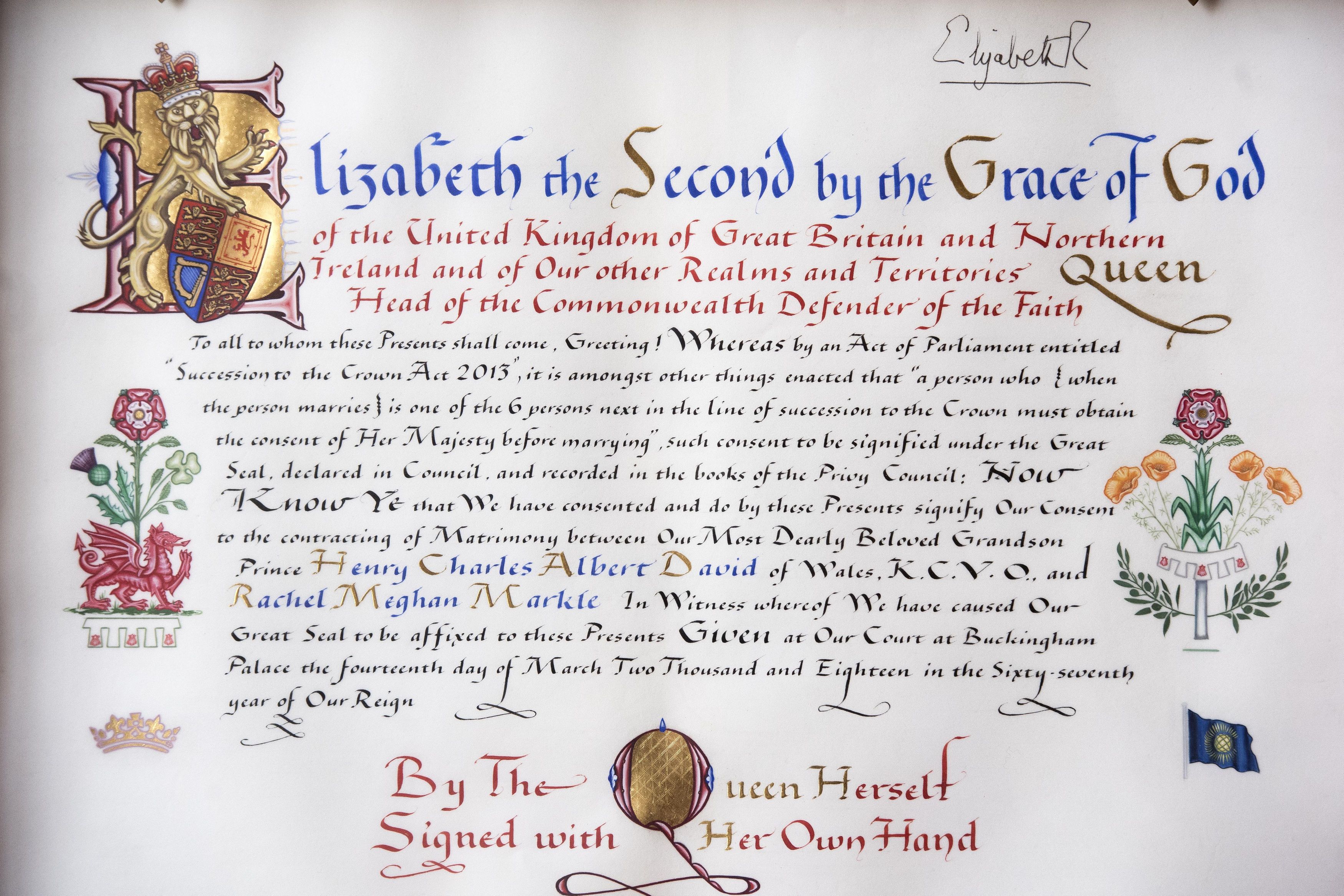 Victoria Jones/Pool via AP
This "Instrument of Consent" for the marriage was signed at upper right by Queen Elizabeth II, and photographed at Buckingham Palace on Friday.
The Succession to the Crown Act 2013 requires the queen's permission for marriages by the first six people in the line of succession to the throne.
https://www.axios.com/newsletters/axios-am-6a9c4a27-e200-4309-8565-d7e70dd7e711.html?chunk=4#story4
4. The agony of Dreamer limbo
Fear, confusion keep many DACA holders from applying to renew their status, the L.A. Times' Joseph Tanfani reports:
"More than 9,000 people formerly protected by DACA already have lost their status and are now at risk of being deported." The program shields from deportation people who were brought into the U.S. as children.
The problem: "Lawyers say some clients are afraid to put in renewal applications, worried about attracting attention from enforcement agents."
"The federal statistics tell a story of thousands of procrastinations, private calculations and personal gambles. ... There's a disincentive to applying too early: Renewals are good for two years from the day they're issued, not two years added on to the original period."
"[M]ore than 59,000 applications came in during February and March, and 32,000 were approved."
"Of the 694,000 people who currently hold DACA protections, nearly 200,000 are from California."
https://www.axios.com/newsletters/axios-am-6a9c4a27-e200-4309-8565-d7e70dd7e711.html?chunk=5#story5
5. Why the surge of women candidates may not change the Capitol
The N.Y. Times' Kate Zernike and Denise Lu explain why this year's 476 female House candidates have a tough road ahead:
"More than half the female candidates for House and Senate seats are challenging incumbents, who historically

almost always win

; there were

far more wide-open races in 1992's so-called Year of the Woman,

which doubled the number of women in Congress."
"A large percentage of the women now running for open seats are in districts that favor the other party."
"And many female candidates are clustered in the same districts, meaning many will be eliminated in this spring and summer's primaries."
https://www.axios.com/newsletters/axios-am-6a9c4a27-e200-4309-8565-d7e70dd7e711.html?chunk=6#story6
6. To show your kids: 1 college thing
"When I was younger, I liked green tractors better than red tractors because that was what my father drove, and I preferred black and white cows over brown ones because those were the kind he raised."
You're hooked, right? So were the admissions gods of the University of Chicago, where the author of that essay — Alison Hess of Bushnell, Ill. — will be a freshman this fall.
In an annual tradition, Ron Lieber, the N.Y. Times' "Your Money" columnist, asked for college application essays about work, money and social class. From 300, he chose five to publish, and wrote a separate essay about what he learned.
Caroline Beit, of Bronxville, N.Y., who'll enter Yale in the fall of 2019 after a gap year, told about life in the trenches as a volunteer tax-preparer. Lieber writes: "Her tale ... hits all the pleasure points of this particular form. You learn something about her character and how she spends her time that you could not find in a college application any other way. It is uniquely hers."
"The stories she tells in her essay include one about the young woman who cares for her grandmother, for whom the earned-income tax credit is 20 percent of her income. A mother whom Ms. Beit helped took the money that she would have spent on tax preparation at H&R Block and bought new track shoes for her son instead."
I love this line by Caroline: "I make it a point to put each person at ease by actively listening to his or her story."
Read the essays, and see pics of the five students.
I can't resist — have to leave you with one more ... Yale-bound Jeffrey Yu of Endicott, N.Y., on his stay-at-home dad (mom is a physician): "I realize now that my dad has sacrificed his promising career and financial pride to ensure that his son would get all of the proper attention, care and moral upbringing he needed. Through his quiet, selfless actions, my dad has ... redefined my understanding of how we, as people, can choose to live our lives. I'm proud to say that my dad is the richest man I know ... not in capital, but in character."