Axios AM
February 23, 2021
☕ Good Tuesday morning. Smart Brevity™ count: 971 words ... < 4 minutes.
🔋 Join Axios' Joann Muller tomorrow at 12:30 p.m. ET for a virtual event on the future of green transportation, with United Airlines CEO Scott Kirby and GM chief sustainability officer Dane Parker. Register here.
1 big thing: The pandemic president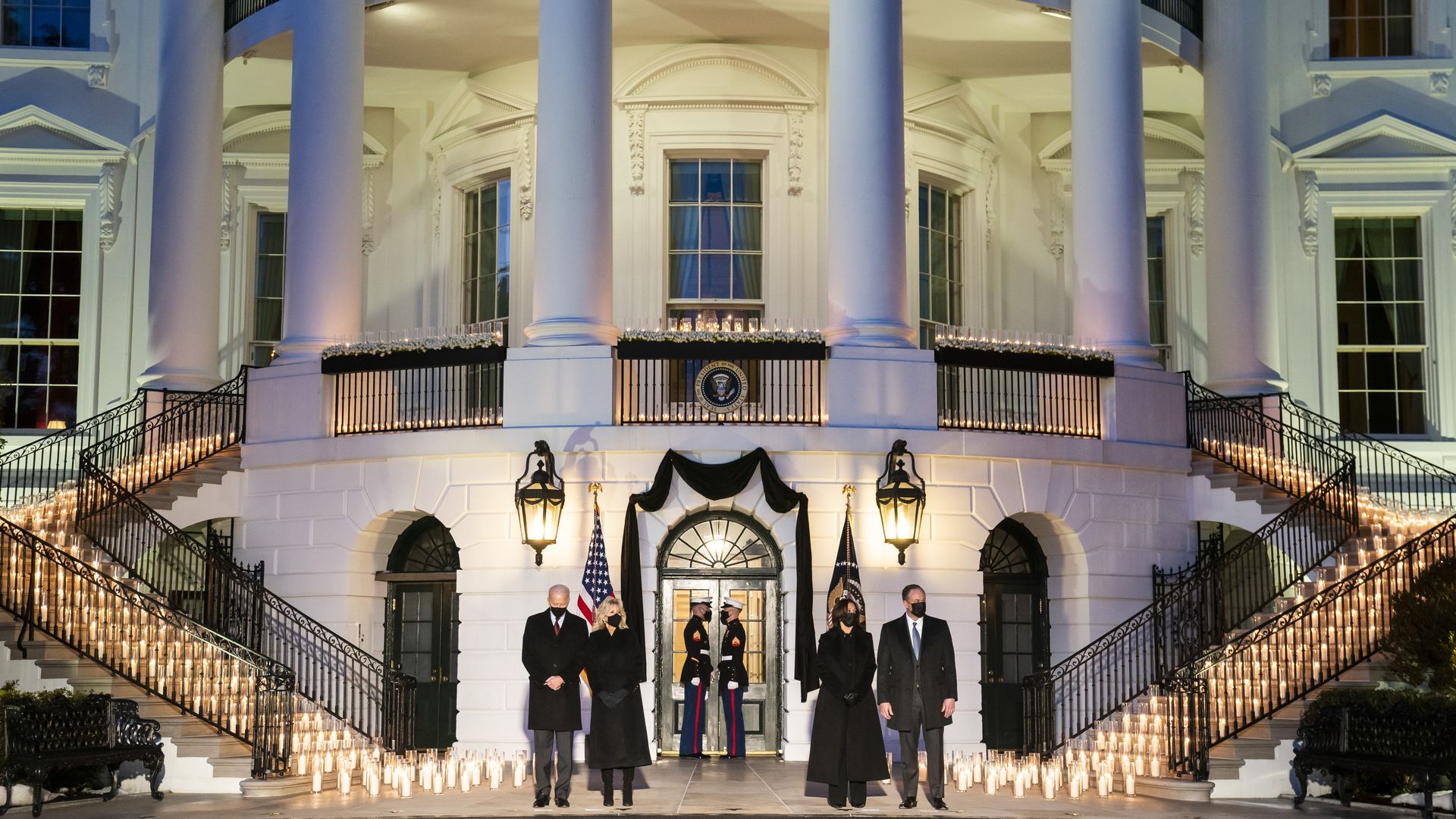 As he begins Month 2, President Biden is trying to build trust with a divided America, knowing he'll need national patience for an array of problems that can't be solved to suit short attention spans.
Polling shows he has a window of opportunity: In the new Axios/Ipsos Coronavirus Index, more than half are confident he can make COVID vaccines widely available and get K-12 students back to school in person.
The catch: This confidence will only last if Americans' lives improve by Biden's big summertime verdict. The administration says the U.S. will have enough vaccine (600 million doses) to give everyone two shots by July 29. But everyone won't take it. So Biden promises America will be "approaching normalcy by the end of this year."
Since October, right before the election, public opinion has reversed itself on whether the federal government has gotten better or worse at handling the pandemic, Axios managing editor David Nather writes.
When we asked the question in late October, 26% of respondents said the federal government's handling had gotten better since the beginning of the pandemic, with 46% saying it had gotten worse.
In this week's poll, those results flipped: 45% now say the federal government's handling of the pandemic has gotten better, with 26% saying it has gotten worse.
As America marked the inconceivable toll of 500,000 dead from COVID in just over a year, Biden addressed the nation with an emotion that showed he's willing to be the face of one of history's biggest crises:
I know that when you stare at that empty chair around the kitchen table, it brings it all back — no matter how long ago it happened — as if it just happened that moment you looked at that empty chair. ...
And the everyday things — the small things, the tiny things — that you miss the most. That scent when you open the closet. That park you go by that you used to stroll in. That movie theater where you met. The morning coffee you shared together. The bend in his smile. The perfect pitch to her laugh.
2. New COVID war in 30+ states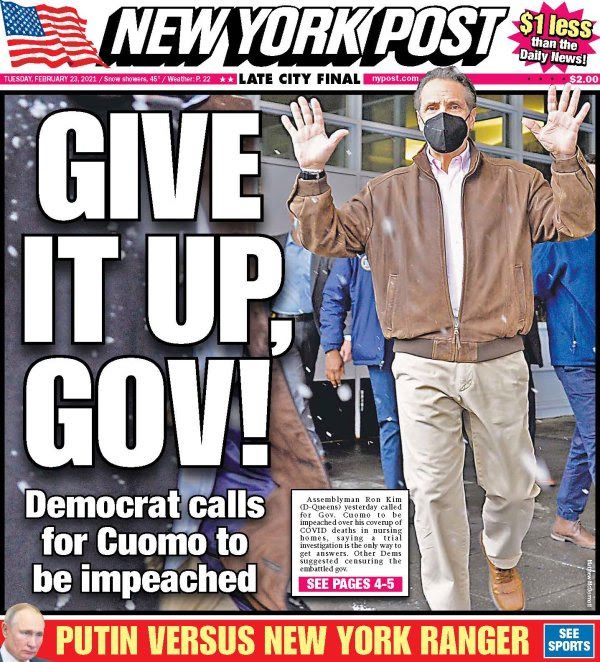 Legislators in more than 30 states, mostly Republicans, are scrambling to restrict emergency powers of governors, often Democrats, to control the virus, the N.Y. Times' Trip Gabriel reports (subscription).
Why it matters: Lawmakers argue that governors have gained too much authority over too many aspects of life. Governors "respond that a pandemic cannot be fought by committee."
And it's not just Republicans: "In New York, Democratic leaders of the State Senate are moving to cut back some emergency powers granted last year to Gov. Andrew M. Cuomo, after the governor admitted to withholding data on deaths in nursing homes," The Times writes.
3. The vaccines are working
The number of coronavirus cases in nursing homes and assisted living facilities has drastically declined over the last two months — almost certainly an effect of vaccinations, Axios' Caitlin Owens writes.
Why it matters: Long-term care facilities have been responsible for 35% of all coronavirus deaths in the U.S., despite accounting for less than 1% of the population.
4. Mars up close: "The stuff of our dreams"

Above: The Martian landscape, seen in a panorama of six individual images taken by navigation cameras aboard NASA's Perseverance rover.
Below: The surface of Mars, via the Rover Down-Look Camera.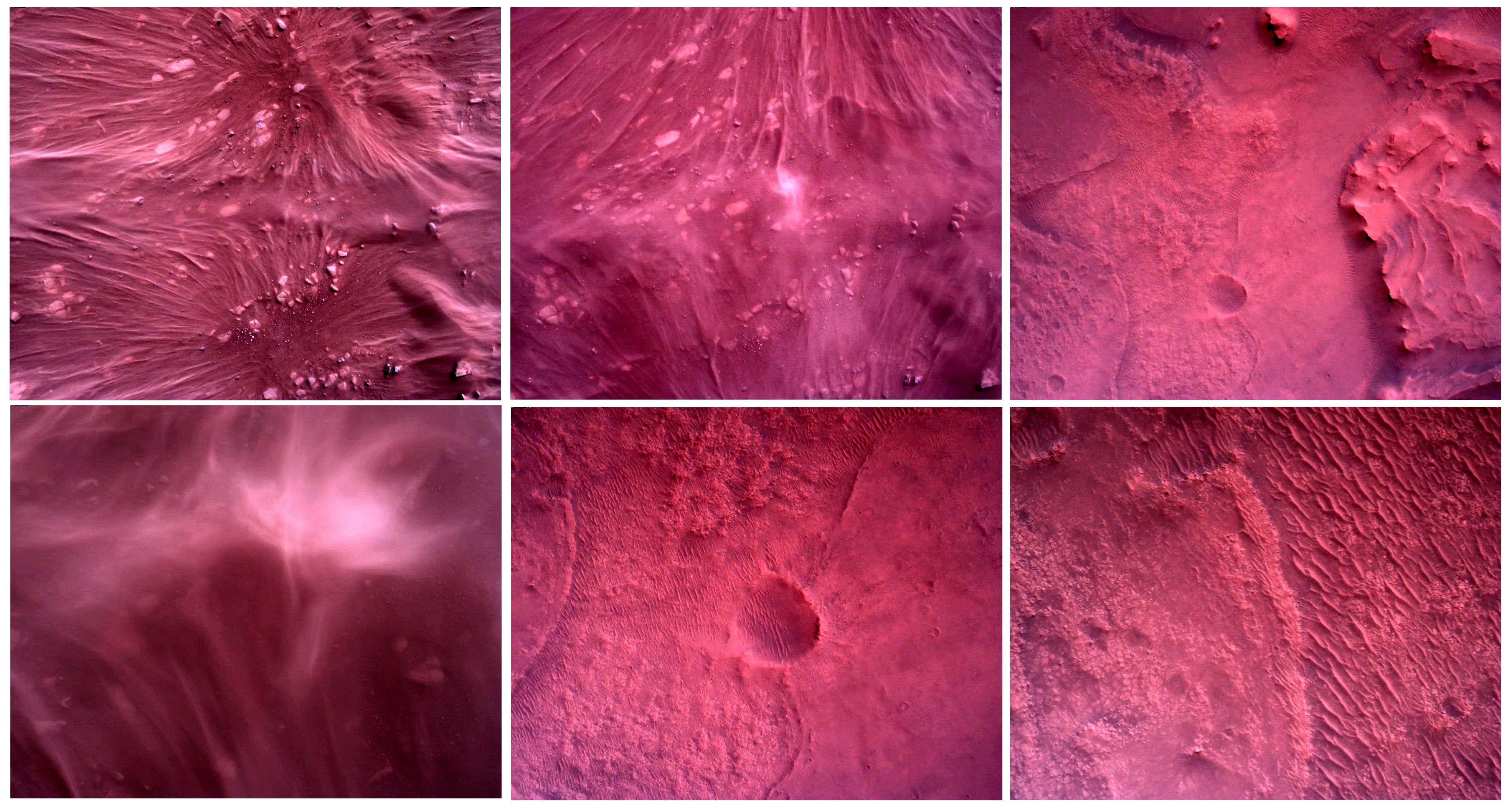 5. New "Right Stuff"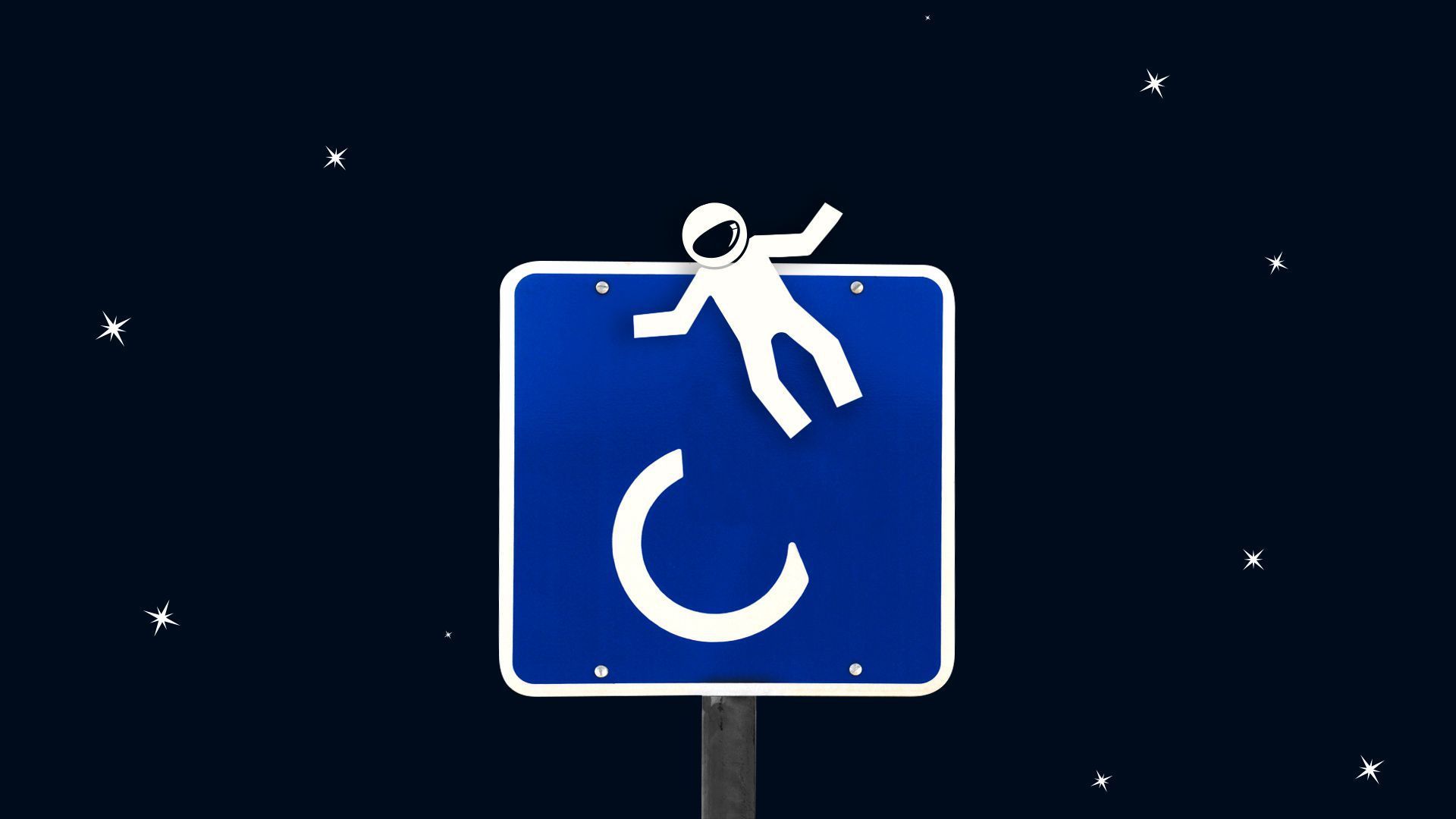 The rise of commercial spaceflight is already changing the image of who can go to space, as space travel experts advocate for people with disabilities to be eligible to fly to orbit and beyond, Axios Space author Miriam Kramer writes.
Why it matters: Long-held beliefs about who is best suited for space travel have limited the industry and those it inspires.
6. 160 Confederate shrines fell in 2020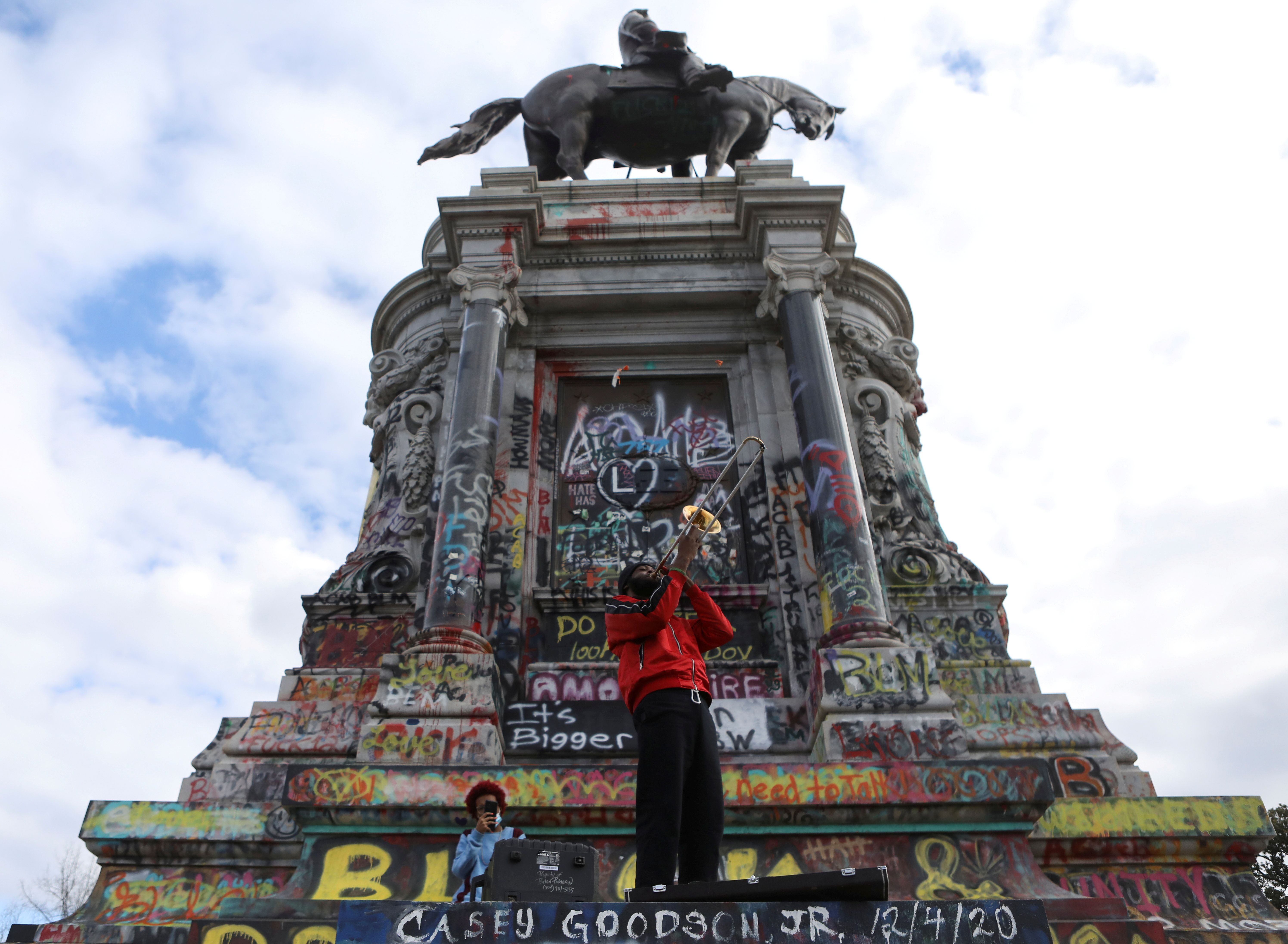 160 public Confederate symbols were taken down or moved from public spaces last year, AP writes from a Southern Poverty Law Center tally.
Why it matters: The movement to remove these symbols from public spaces became part of the national reckoning on racial injustice following the May death of George Floyd.
The center says 704 Confederate monuments remain across the U.S.
7. 🇦🇺 Facebook ends fight Down Under
Facebook struck a last-minute deal with Australian lawmakers to pay local publishers for news content, easing a standoff that irked regulators around the world, Axios' Sara Fischer reports.
Why it matters: The law was intended to benefit publishers. But Facebook's link ban showed the power the tech giants have over publishers, who lost a huge amount of traffic during the confrontation.
📡 Sign up for Sara Fischer's weekly Axios Media Trends, out later today.
8. CDC meets "Deadliest Catch"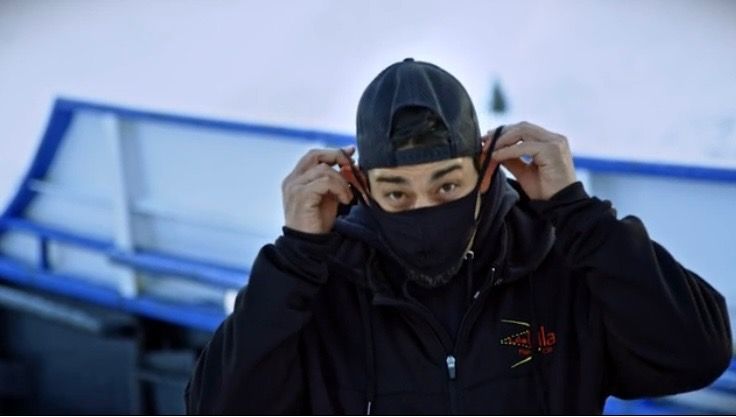 CDC partnered with Discovery Channel for a spot shot in Dutch Harbor, Alaska, using trusted voices to encourage mask use among skeptical men.
Why it matters: The PSA features the stars of "Deadliest Catch," one of cable's top shows, with a big audience of white, conservative adults.
HHS worked with Discovery on developing the spot, which airs on Discovery starting later this week.
9. 📚 Hillary the novelist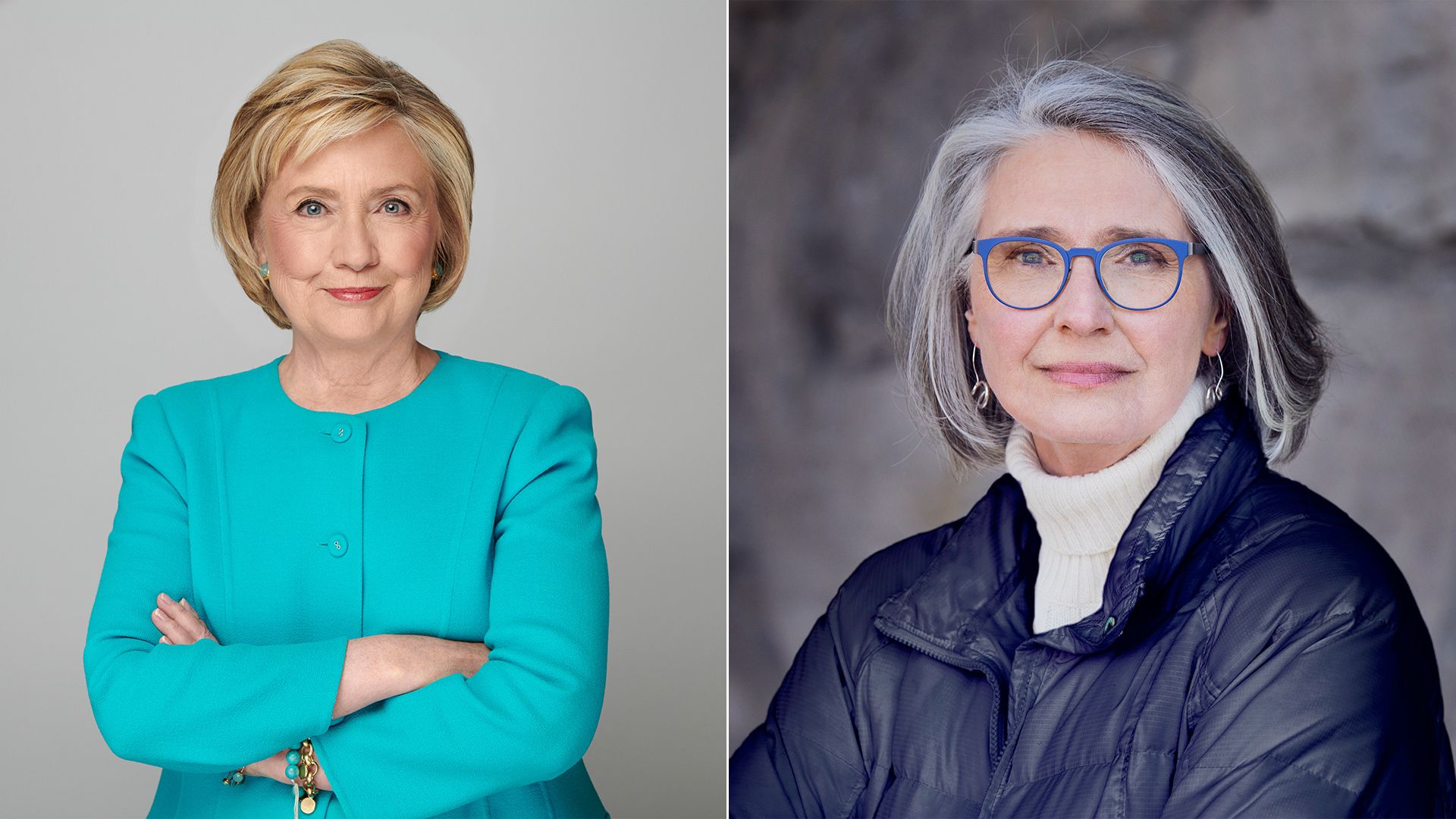 Longtime friends Hillary Clinton and author Louise Penny are writing an international political thriller, "State of Terror," out in October. The plot:
A novice Secretary of State joins the administration of her rival, a president inaugurated after four years of American leadership that shrank from the world stage. A series of terrorist attacks throws the global order into disarray, and the Secretary is tasked with assembling a team to unravel the deadly conspiracy.
Simon & Schuster and St. Martin's Press acquired world rights from Robert Barnett and David Gernert.
10. 🎿 1 smile to go: The new lodge is your car
Ski resorts look a lot different this year, with lodges closed or for limited use only, meaning some powder hounds fry bacon and donuts in the parking lot, The Wall Street Journal notes in an A-Hed (subscription):
At Snowbird in Utah, skiers and riders must reserve an assigned parking spot to limit the number of people showing up. That has eliminated the manic early-morning rush ...
"People have slowed down," said Nathan Rafferty, president of Ski Utah. "Instead of a surgical plan to ski a few hours, they just set up camp and take the whole day."
📬 Thanks for starting your day with us. Please invite your friends to sign up for Axios AM/PM.