Join me TOMORROW for Treasury Secretary Steve Mnuchin's first onstage interview, at 8 a.m. in downtown D.C. Click here to RSVP. This is the debut of my News Shapers event series, sponsored by PepsiCo and their Quaker, Tropicana and Naked nutrition brands. Shoot me your questions at mike@axios.com.
Follow the health-care cliff all day in the Axios STREAM. As Axios Editor Nick Johnston (@AxiosNick) tweeted yesterday: "we've literally built a new media company to help you out on days like today."
https://www.axios.com/newsletters/axios-am-662e663b-9d59-489c-89d2-34b957716b2c.html?chunk=0#story0
1 big thing: Russia erupts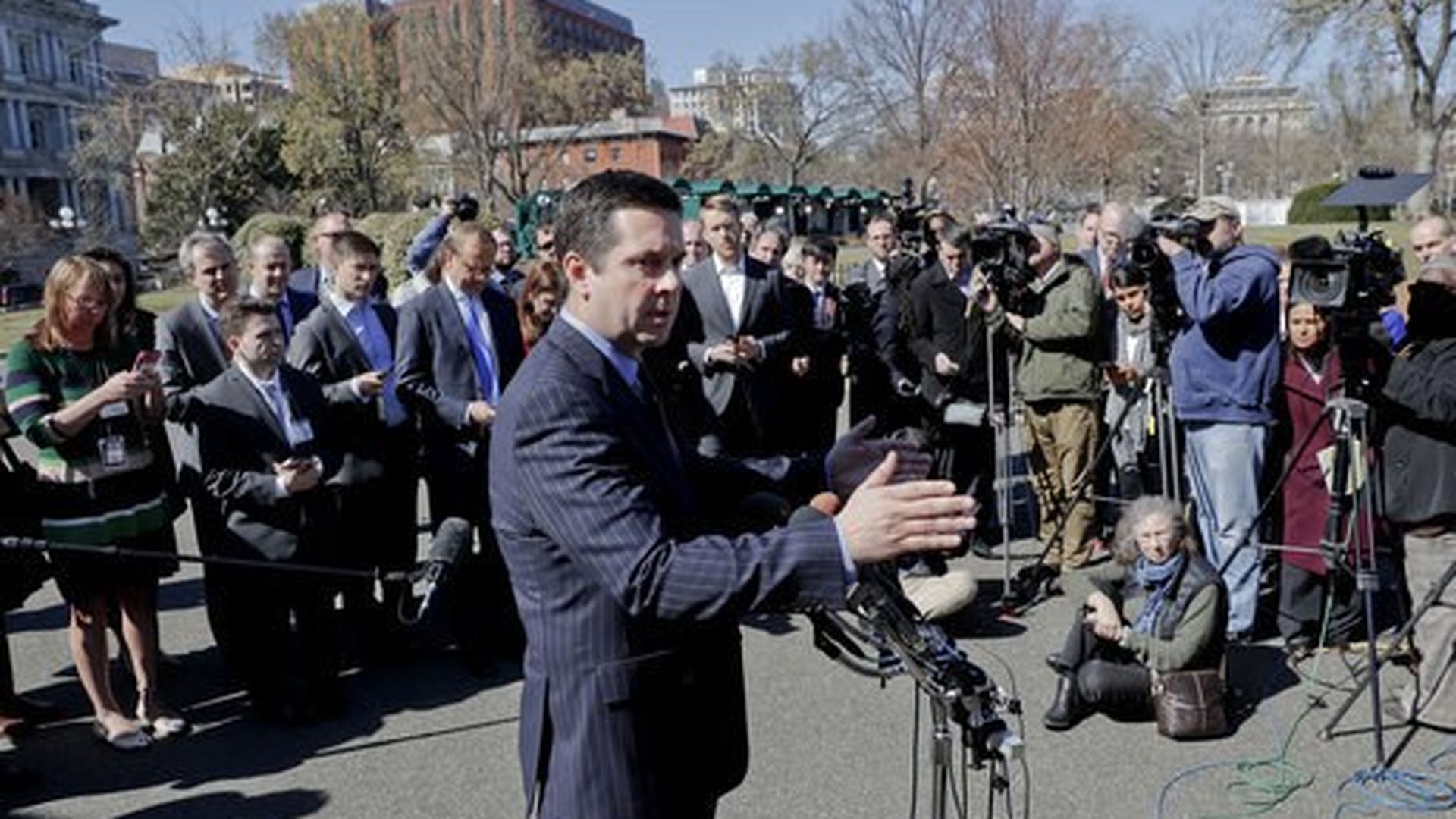 In an interview out this morning, President Trump tells TIME Washington Bureau Chief Michael Scherer, in response to a question about the risk to his reputation caused by false and ever-changing utterances: "Hey, look, I can't be doing so badly, because I'm President and you're not."
That "My Way" approach is part of the reason the Russia story has been festering, and now is erupting.
Health-care reform will be dead and born again many times before its true fate is sealed. That's how complicated legislation works.
But the Russia story
is going from fishy, to career-ending (Manafort, Flynn), to investigation-worthy, to FBI criminal probe, to a wide, Watergate-like scandal that could bring all of government to a halt:
If you read only 1 paragraph ... Watergate was a coverup of a burglary. This could be the coverup of a nuclear-armed U.S. nemesis that infiltrated our politics with the specific aim of disrupting the very foundation of our democracy — a presidential election — and did so, possibly, in a manner that elected its preferred candidate and locked in all party control that could decimate the opposition party for years.
Bulletin ... APNewsAlert at 6 a.m., "US probes banking of ex-Trump campaign chief": "Treasury Department agents have recently obtained information about offshore financial transactions involving President Donald Trump's former campaign chairman."
"[T]he information about Paul Manafort's transactions was turned over earlier this year to U.S. agents working in the Treasury Department's Financial Crimes Enforcement Network."
https://www.axios.com/newsletters/axios-am-662e663b-9d59-489c-89d2-34b957716b2c.html?chunk=1#story1
2. What Comey knew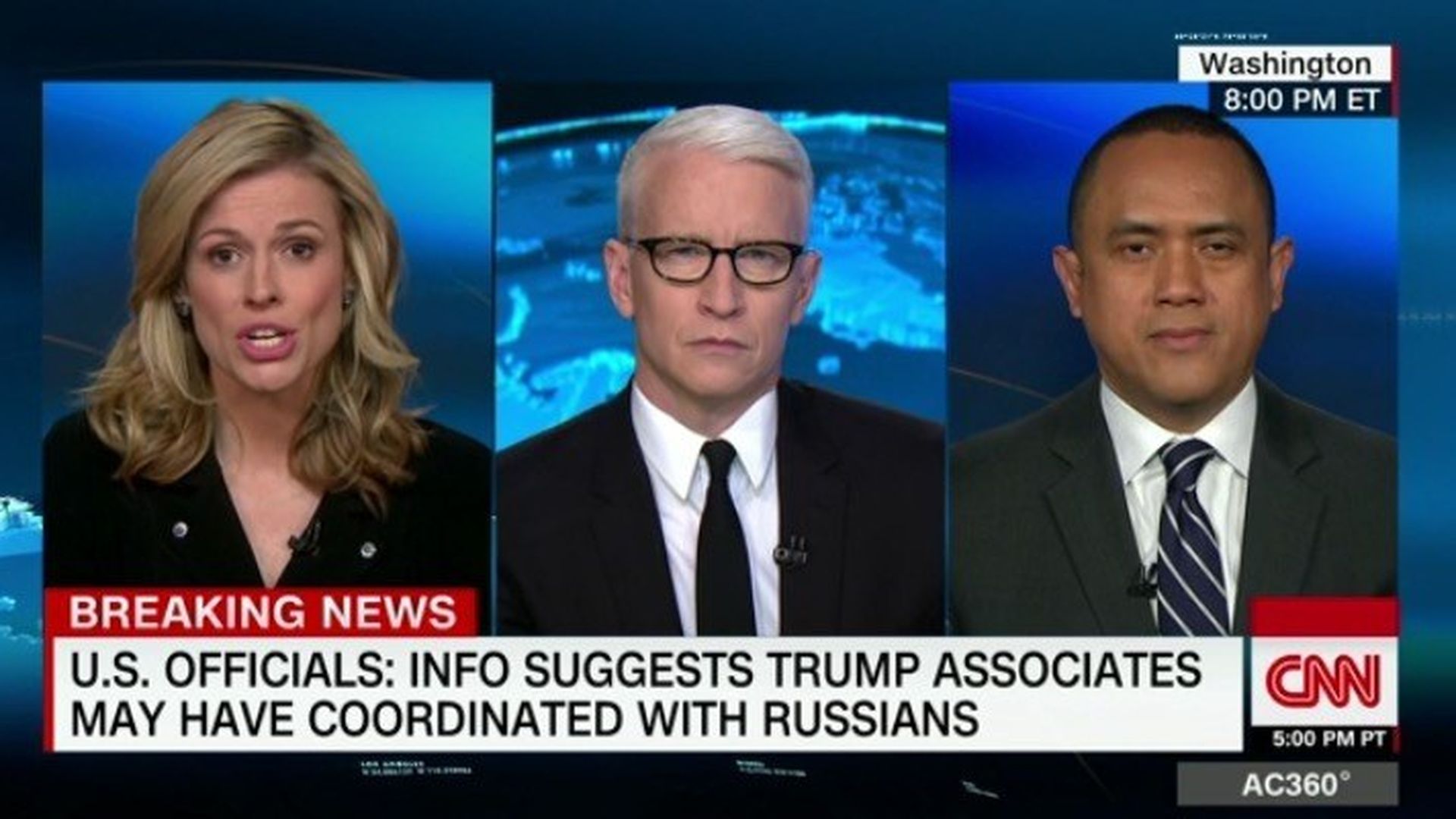 After a day of surprises, CNN popped the biggest one at 8 p.m.: "The FBI has information that indicates associates of ... Trump communicated with suspected Russian operatives to possibly coordinate the release of information damaging to Hillary Clinton's campaign," per CNN's Pamela Brown, Evan Perez and Shimon Prokupecz.
"[T]hat information ... includes human intelligence, travel, business and phone records and accounts of in-person meeting.
"The information is raising the suspicions of FBI counterintelligence investigators that the coordination may have taken place, though officials cautioned that the information was not conclusive and that the investigation is ongoing."
"One law enforcement official said the information in hand suggests 'people connected to the campaign were in contact and it appeared they were giving the thumbs up to release information when it was ready.'"
Yesterday's events will increase pressure for independent commission ... Nick Kristof column in N.Y. Times, "'A Smell of Treason in the Air,'" postulates "soft collusion": "The fundamental question now isn't about Trump's lies, or intelligence leaks, or inadvertent collection of Trump communications. Rather, the crucial question is as monumental as it is simple: Was there treason?"
https://www.axios.com/newsletters/axios-am-662e663b-9d59-489c-89d2-34b957716b2c.html?chunk=2#story2
3. Frantic White House scrambles for deal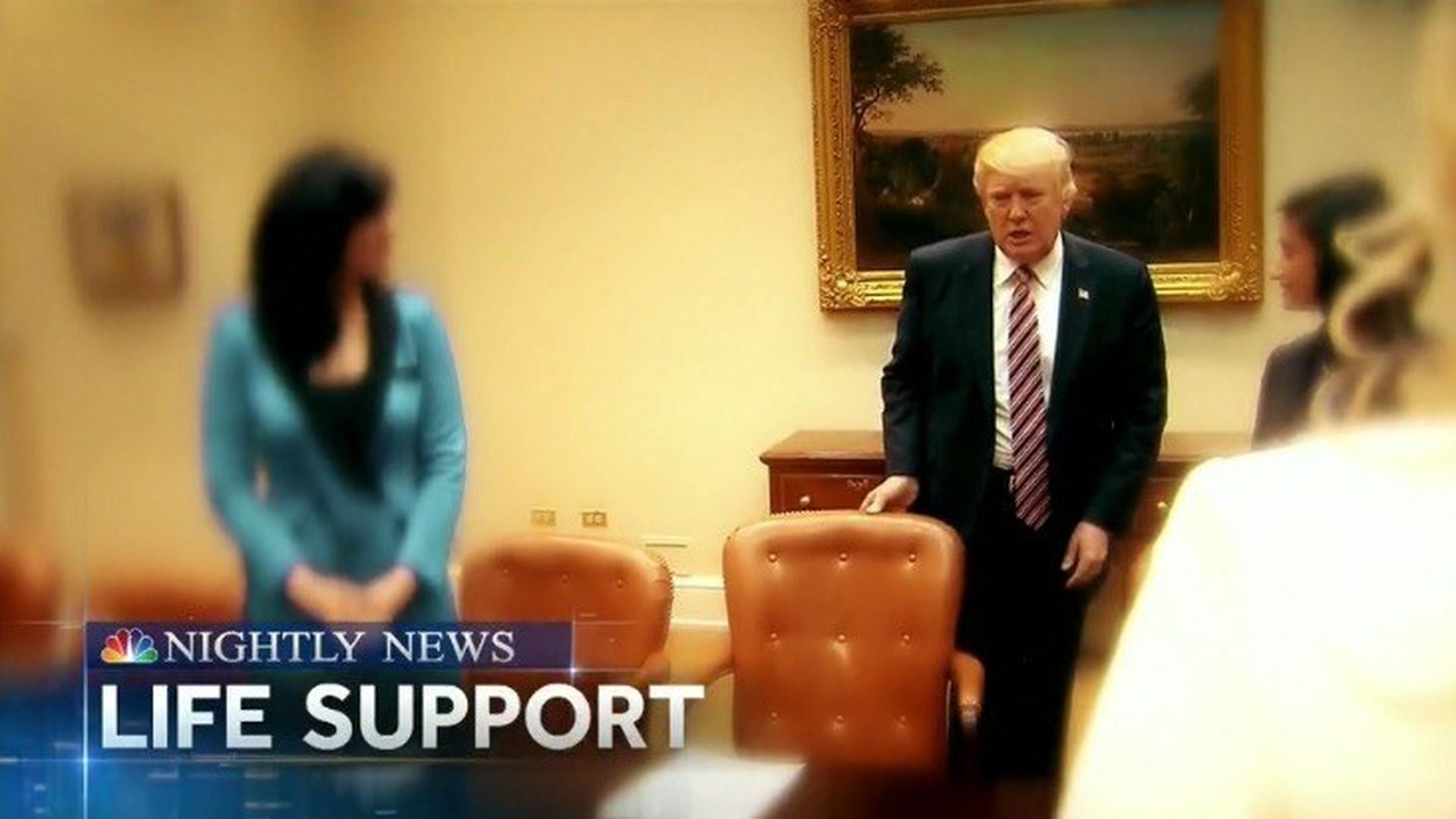 The White House, short of votes with time running out, worked into the night trying to cut a deal with conservatives before tonight's wild House vote on Obamacare:
How it could pass ... Axios' Jonathan Swan tells me one key may be for the White House to make big enough changes that the hard right can say it was a victory for Trump, not Speaker Paul Ryan. The hardline House Freedom Caucus will return to the White House late this morning. Chairman Mark Meadows (R-N.C.), who now holds the whip hand on the Hill, told Sean Hannity that he is "really optimistic we can get there ... The President and I came to an agreement in principle."
Why it might not ... The bill could still be brought down by moderates — worried that they could lose their seats over the real-life effects of a bill that has no chance of passing the Senate. The Koch organization last night announced a "seven-figure fund" to sink the bill. (Axios' Caitlin Owens: "Trumpcare gives more money to the rich, less to the poor.")
The Sunday shows foretold ... "Trump's awkward alliance with Ryan faces biggest test," by L.A. Times' Noah Bierman and Mike Memoli: "Ryan has learned that his wonky style of communication is wasted on Trump given the president's lack of interest in policy details, [former GOP leadership aide Michael] Steel said. But he has come to value Trump's eagerness to exert pressure on wavering Republicans."
Missed opportunity ... George Will's column in the WashPost points out that "whatever replaces the ACA's tapestry of subsidies, regulations and mandates will be a tapestry of subsidies, regulations and mandates ... hardly ... a revolution in the relation of the citizen, or the health-care sector, to the government."
https://www.axios.com/newsletters/axios-am-662e663b-9d59-489c-89d2-34b957716b2c.html?chunk=3#story3
4. Trump Tantrum looms on Wall Street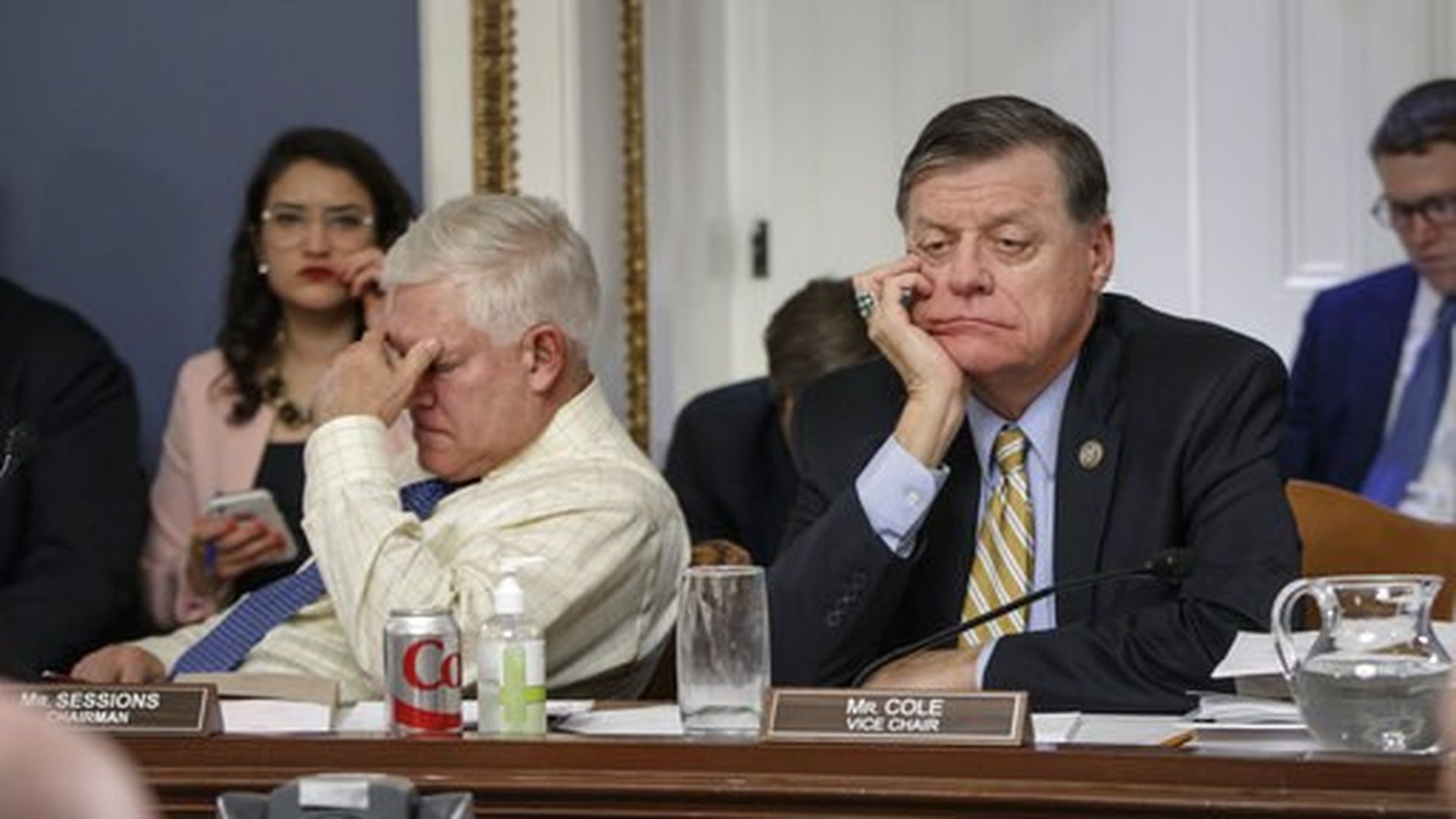 "Investors extrapolated that a stalling bill could mean uphill battles for other Trump proposals," per Reuters' Megan Davies and Rodrigo Campos in N.Y:
"Any hint of further trouble for Trump's agenda, especially his proposed tax cut, could precipitate a stock market correction."
"Strategists have been cautioning for weeks that markets are pricing in a scenario where nothing goes wrong with Trump's agenda."
"While investors and strategists have said they do not see an immediate threat to the eight-year-old bull market, there is a risk of a 5-to-10 percent drop. Only a bear market -a 20 percent decline- would put an end to the bull."
Nicholas Colas, chief market strategist at Convergex, a global brokerage company based in New York, in a research note: "U.S. equities have been priced for perfection since the start of 2017 and (Tuesday) was a rude reminder that the legislative process is imperfect."
https://www.axios.com/newsletters/axios-am-662e663b-9d59-489c-89d2-34b957716b2c.html?chunk=4#story4
5. "Attack on democracy ... knifed Britain in the heart"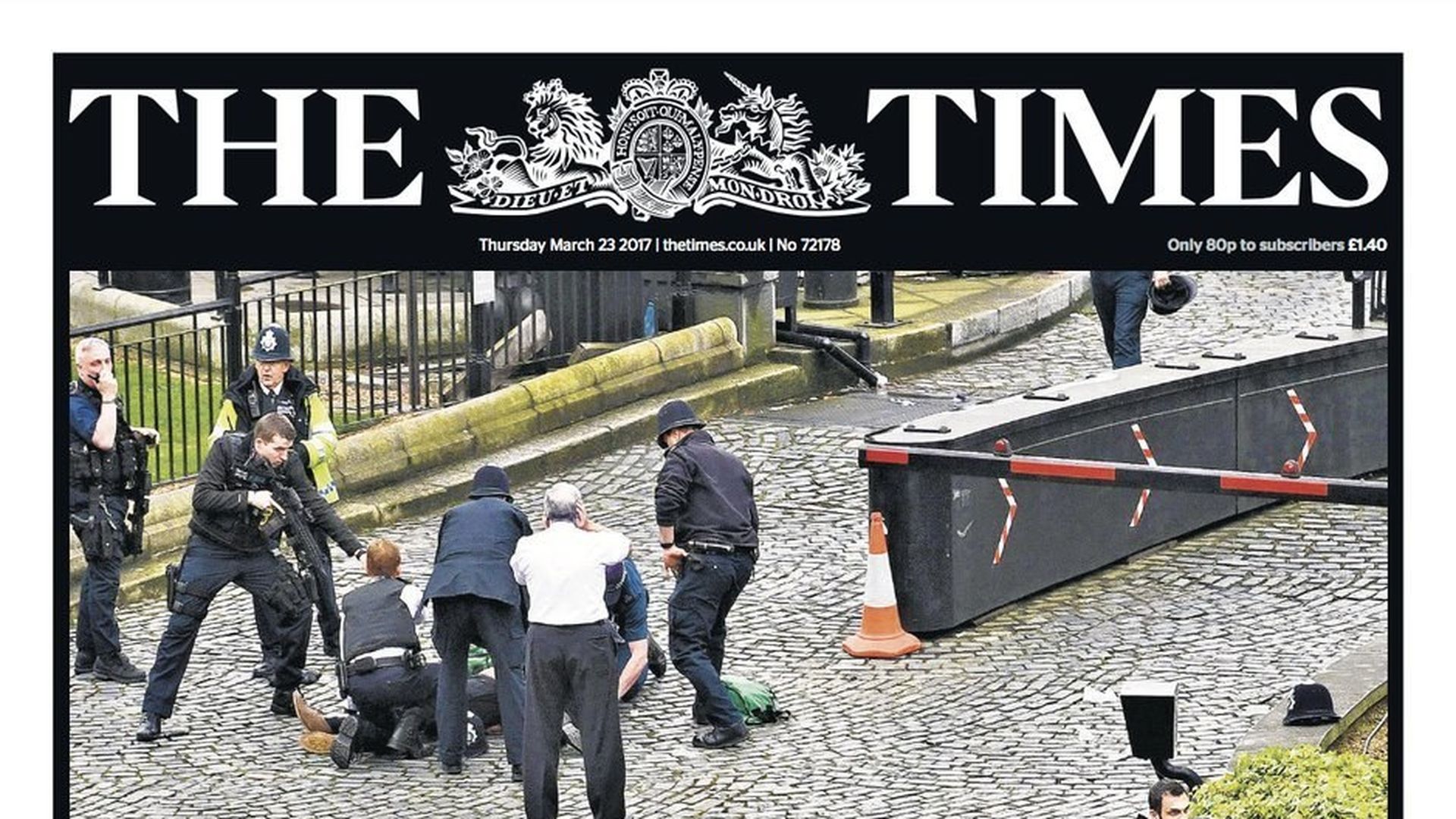 Breaking ... "Seven held after Westminster attack" — BBC/London: "Defence Secretary Sir Michael Fallon told BBC Radio 4's Today programme the 'working assumption' was that the attack was linked to 'Islamic terrorism in some form.'"
The Guardian: "Seven arrested in six counter-terrorism raids in London, Birmingham and elsewhere."
https://www.axios.com/newsletters/axios-am-662e663b-9d59-489c-89d2-34b957716b2c.html?chunk=5#story5
6. Amazing Trump quotes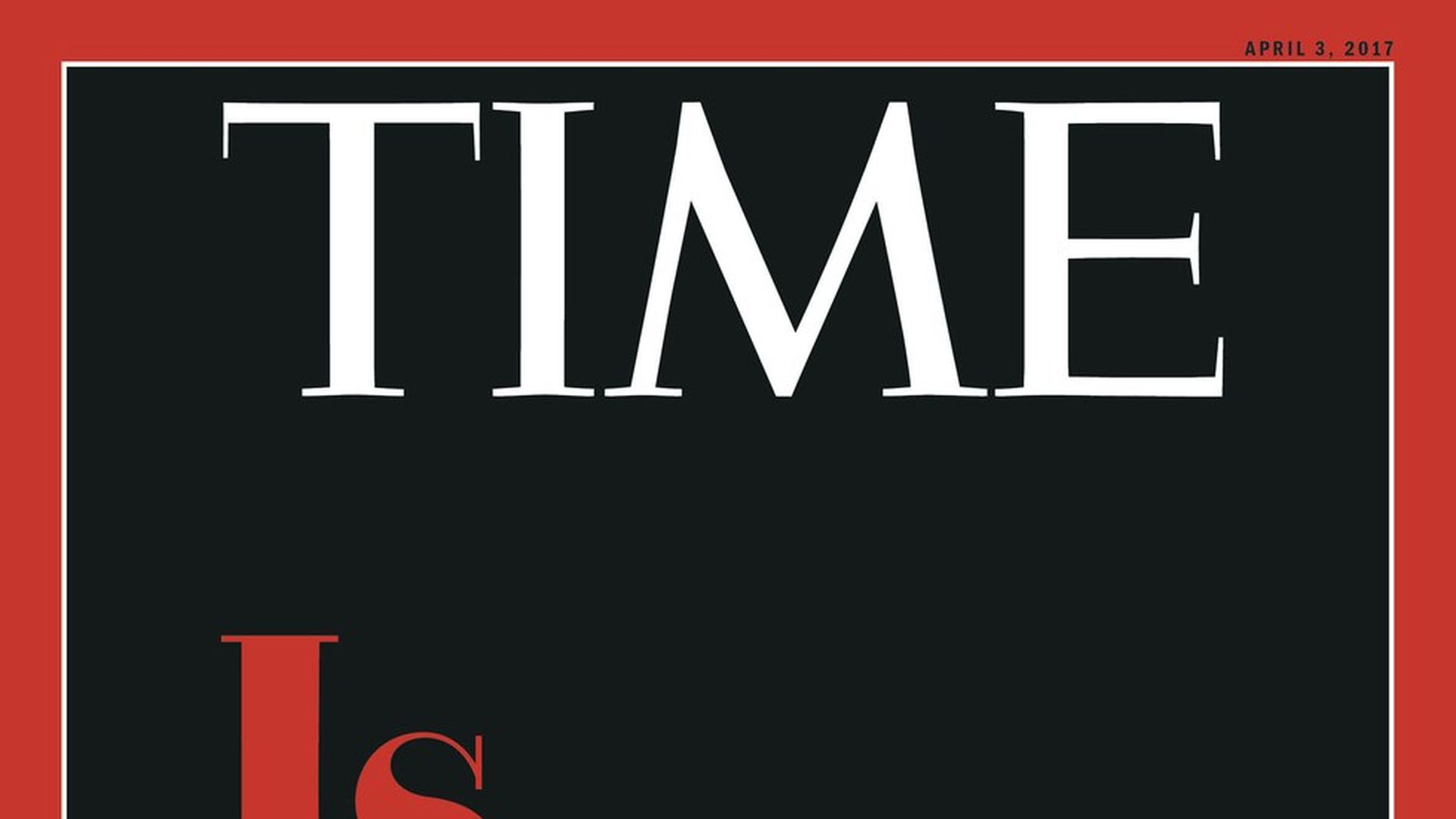 TIME's new cover, "Is Truth Dead?," echoes the typography of TIME's classic "Is God Dead?" cover from April 8, 1966. In a phone interview from the Oval on March 22, Trump told TIME's Michael Scherer:
On accusing President Obama of wiretapping: "I'm a very instinctual person, but my instinct turns out to be right. I have articles saying that it happened."
"When I said 'wire tapping,' it was in quotes."
On his unsubstantiated claim that 3 million undocumented immigrants voted illegally, Trump said he would be proved right eventually, though he hinted that he no longer stood by all parts of that claim: "When I say that, mostly they register wrong. In other words, for the votes, they register incorrectly, and/ or illegally. I'm forming a committee on it."
On Sweden: "I was right about that."
https://www.axios.com/newsletters/axios-am-662e663b-9d59-489c-89d2-34b957716b2c.html?chunk=6#story6
7. Talk of tech
This could cost Google "hundreds of millions of dollars" ... Wall Street Journal, bottom of front page, "AT&T, Verizon Pull Ads From Google Over 'Hate' Videos: Carriers also aim to compete with Google for ad dollars":
The cause: "The advertising backlash began in the U.K. following a report in the Times of London about videos made by supporters of terrorist groups. Subsequently, it was found that many American brands continued to be shown alongside controversial clips, prompting the wave of ad cancellations Wednesday."
The twist: "AT&T and Verizon, ... in addition to being big advertisers, are building online video and ad services to compete with Google."
The outlook: "This probably gets worse before it gets better for Google," said Brian Wieser, Pivotal Research Group analyst, who downgraded Alphabet's stock to hold from buy on Monday because of advertisers' reactions. Google's recent policy changes "did nothing to alleviate concerns."
https://www.axios.com/newsletters/axios-am-662e663b-9d59-489c-89d2-34b957716b2c.html?chunk=7#story7
8. Bite of the day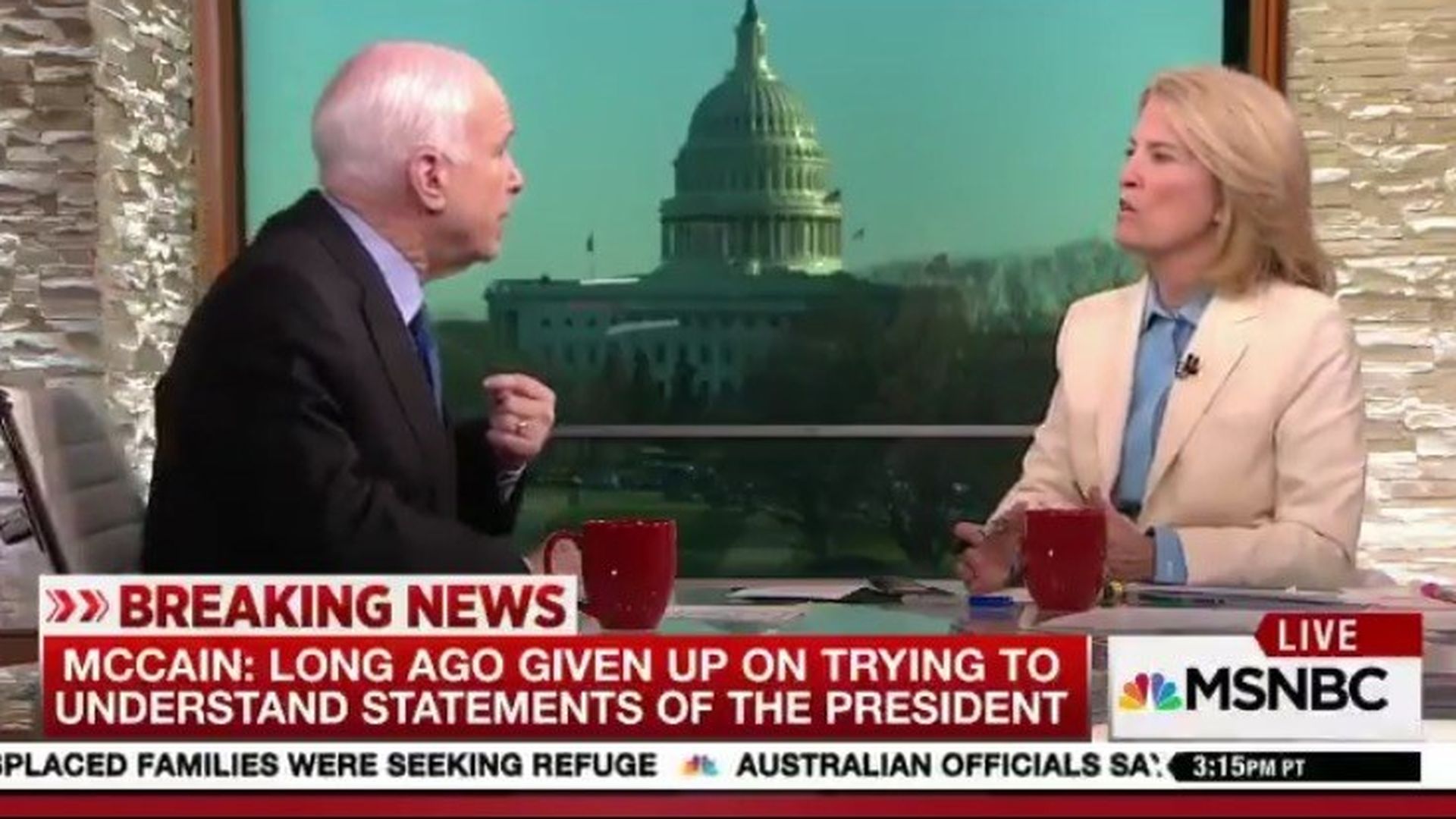 Sen. John McCain to Greta Van Susteren: "China is ... the only one that can control Kim Jong Un, this crazy fat kid that's running North Korea." (Video)
https://www.axios.com/newsletters/axios-am-662e663b-9d59-489c-89d2-34b957716b2c.html?chunk=8#story8
9. The price of the South's manufacturing renaissance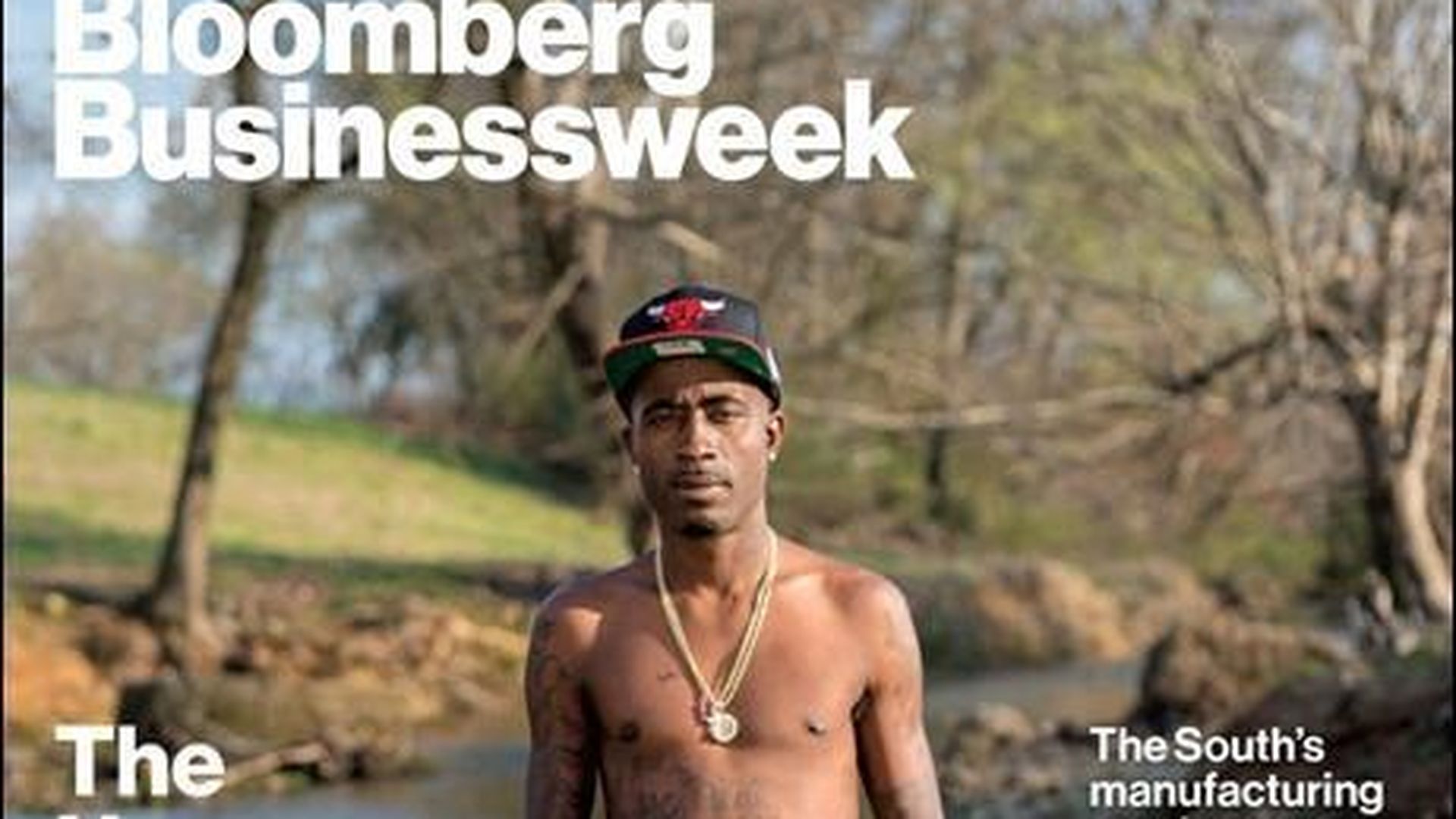 "[A]uto parts workers in the American South are poorly paid, barely trained, not protected by unions, and under relentless pressure to produce," according to a Bloomberg Businessweek cover story by Peter Waldman, "Inside Alabama's Auto Jobs Boom: Cheap Wages, Little Training, Crushed Limbs."
Why it matters: "Many of the same woes that typify work conditions at contract manufacturers across Asia now bedevil parts plants in the South."
https://www.axios.com/newsletters/axios-am-662e663b-9d59-489c-89d2-34b957716b2c.html?chunk=9#story9
10. 1 fun thing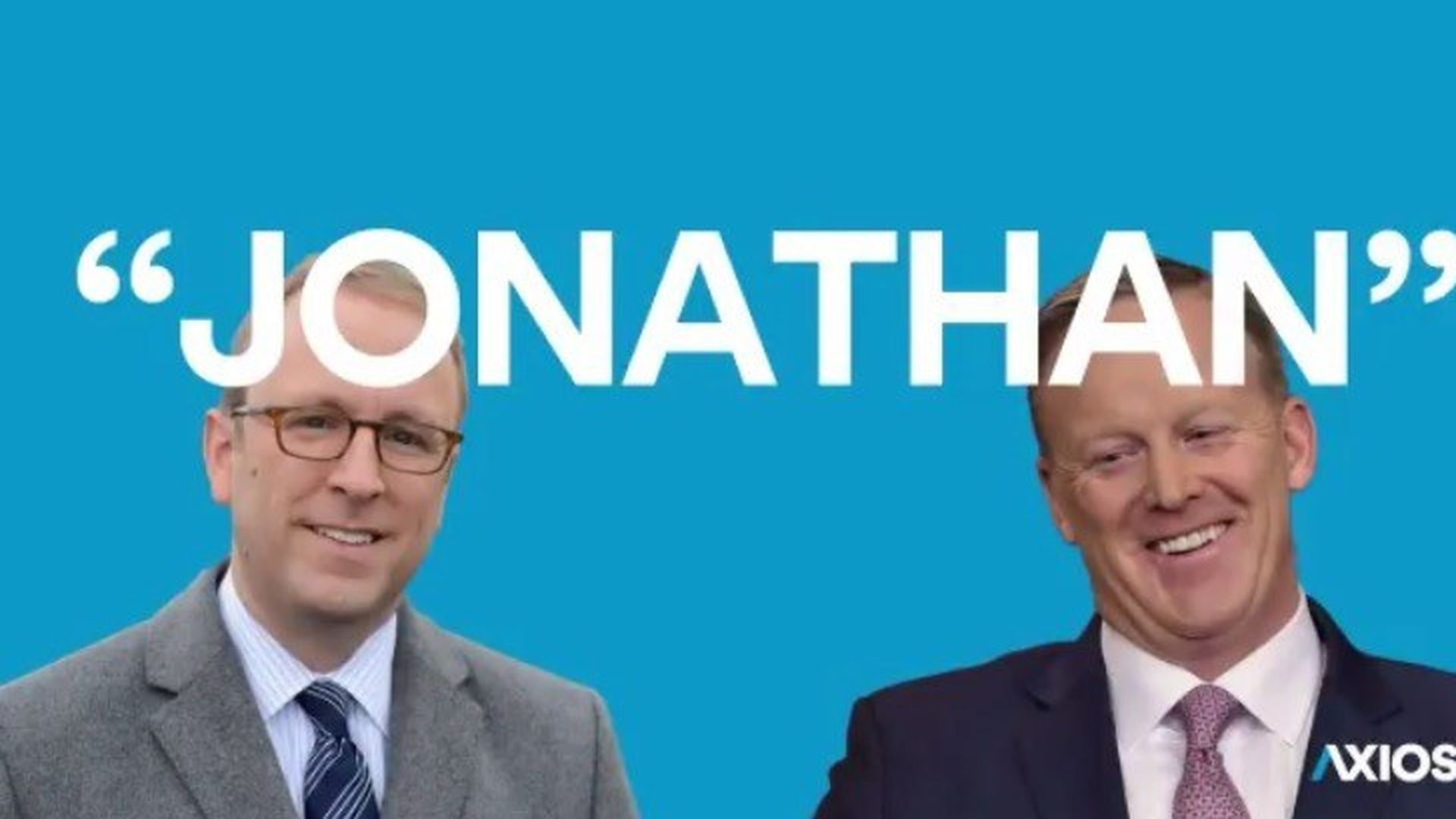 Instant classic: A video mashup of Sean Spicer scolding and cajoling ABC's Jonathan Karl during their daily sparring session in the briefing room, brought to life by Axios' Rob Groulx, Bubba Atkinson, Stef Kight and Eli Sinkus.
P.S. "It's Not Your Imagination: There are Loads of Jalens in College Basketball" — Wall Street Journal A-Hed: "[T]housands of babies born during the 1990s heyday of Jalen Rose, the 'Fab Five' University of Michigan star, ... are reaching adulthood. This year there are 65 Jalens, Jaylens, Jaylans and other versions ... on Division I basketball teams, up from 58 last year. Six years ago, there were just four."