Good Monday morning, and welcome back. "Prince Harry is to marry his American actress girlfriend Meghan Markle," BBC reports. "Harry, fifth in line to the throne, will marry Ms. Markle next spring and will live at Nottingham Cottage at Kensington Palace in London. The couple, who have been dating since the summer of 2016, secretly got engaged earlier this month."
https://www.axios.com/newsletters/axios-am-66212045-f8c2-4360-b77f-2b26014a9d47.html?chunk=0#story0
1 big thing: Hill expects more scandals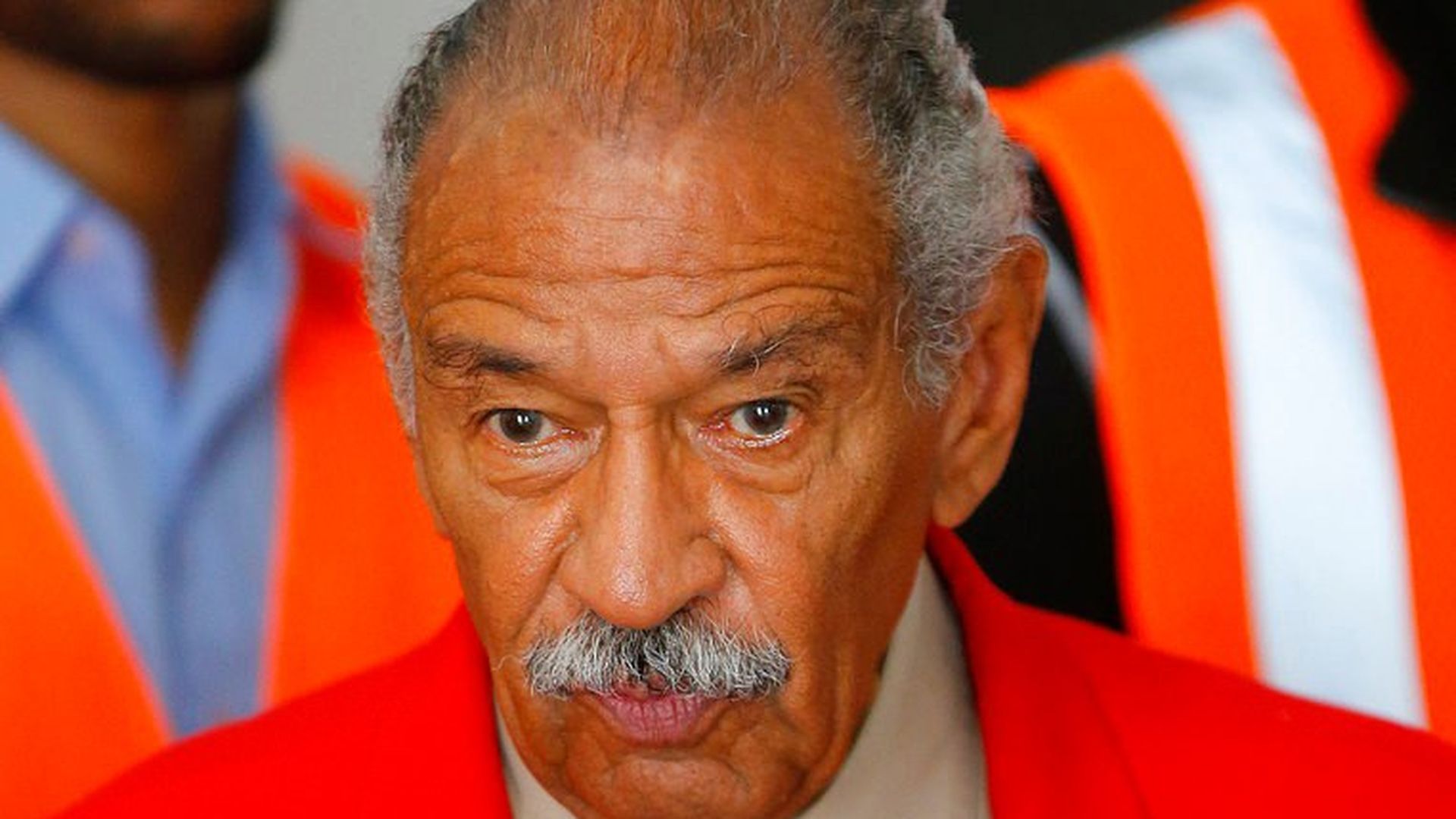 Capitol Hill veterans expect that "a lot more" sexual-harassment settlements by lawmakers will be uncovered. So now there's a race to strengthen workplace rules that are scandalously archaic.
The existing system is a racket: Settlements are secret, and the Ethics Committee is notorious for protecting its own.
We — as in all of us taxpayers — pay the hush money, because that's who foots the bills for these settlements.
Only a few lawmakers have publicly pushed for broad, quick change.
Rep. John Conyers (D-Mich.)., the House's longest-serving member, is being allowed to go slowly after accusations became public. Conyers announced that he's stepping aside as top Democrat on the House Judiciary Committee while he's investigated by the Ethics Committee.
Congressional sources say there's no chance he'll return to the post. He may even leave Congress after the Ethics Committee completes its investigation.
This is bicameral: Sen. Al Franken (D-Minn.) is going back to work today.
House Democratic Leader Nancy Pelosi complicated her party's position by making supportive comments about Conyers during a live appearance on "Meet the Press" ("an icon in our country. He has done a great deal to protect women"), and even questioning the accusers: "I don't know who they are. Do you?"
She later added on Twitter: "Zero tolerance means consequences. ... No matter how great an individual's legacy, it is not a license for harassment."
A senior Democratic aide said Pelosi had worked with Conyers for five days to lay a path where he would step aside as ranking member.
Pelosi had the complication of dealing with someone who "has often appeared disoriented," according to the N.Y. Times, and showed up in pajamas on "at least two separate occasions — once at a United Automobile Workers event in Michigan and once at a meeting of top Democrats on Capitol Hill."
Change is coming. The Senate passed a resolution mandating annual anti-harassment training for senators and staff. The House will vote this week on mandatory sexual-harassment training for members and staff, with an Administration Committee hearing Dec. 7 on further protections for staff.
But watch for some lawmakers to resist changes to their secretive processes.
Be smart: Under longtime precedent, House members have been allowed to set the policies for their own workplaces (why John Boehner could smoke in his office after it was banned in the Capitol). This has fostered abuse, and leaders must now make the kind of changes that Congress rarely makes.
https://www.axios.com/newsletters/axios-am-66212045-f8c2-4360-b77f-2b26014a9d47.html?chunk=1#story1
2. Washington feeds media uncertainty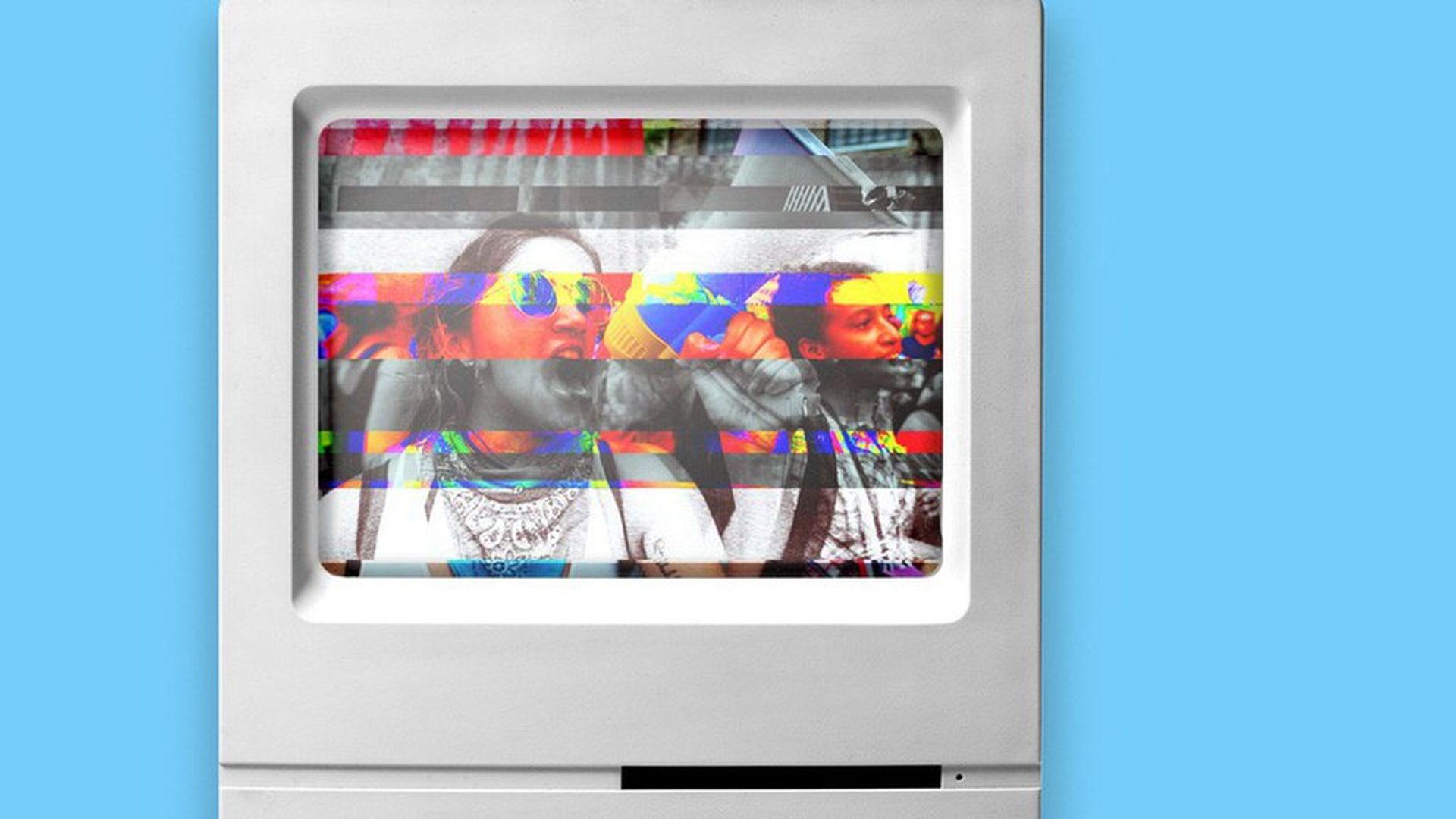 One after another, regulators are making moves that underscore just how fast the media industry is changing, Axios' Kim Hart and Sara Fischer write:
Why it matters: The internet has generally been seen as a democratizing force for the flow of information, by giving diverse voices more ways to reach Americans. But new technologies, like high-speed broadband and automation, have changed the way information reaches people on the internet. And while media businesses scramble to respond, Washington is split.
What to watch: A lot rides on whether the Justice Department succeeds in blocking AT&T's acquisition of Time Warner. The outcome of that court case could trigger a new wave of media consolidation, or stop new mergers in their tracks.
P.S. Progressive union backs big merger ... Christopher Shelton, president of the Communications Workers of America (AFL-CIO) writes state attorneys general to say the Justice Department lawsuit to stop the AT&T-Time Warner merger is "politically motivated" with "spurious antitrust grounds."
https://www.axios.com/newsletters/axios-am-66212045-f8c2-4360-b77f-2b26014a9d47.html?chunk=2#story2
3. "I mean, this is insanity"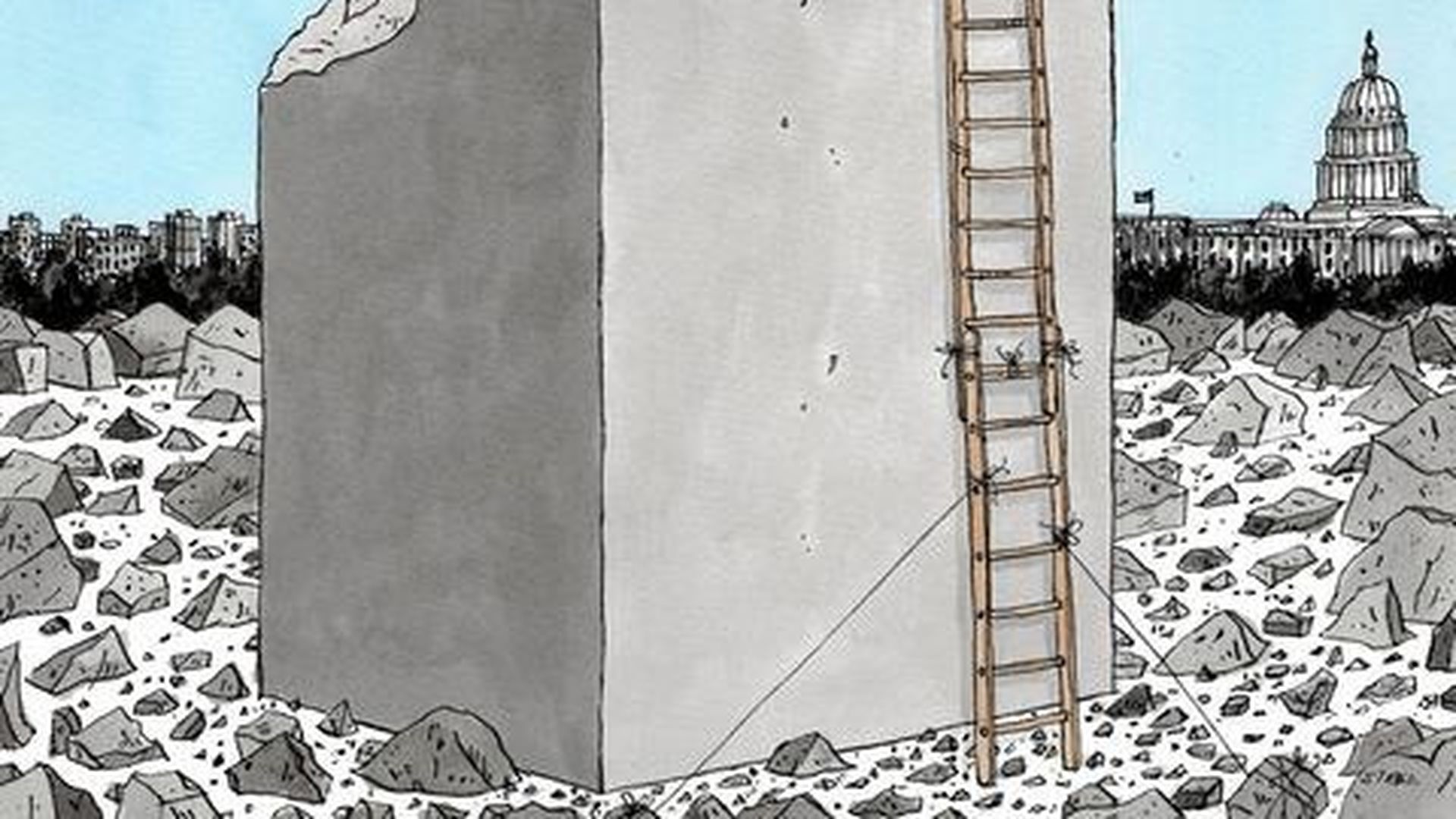 Esquire posts a big interview of Sen. John McCain by David Usborne: "[A]fter the senator was diagnosed with brain cancer in July, his contrarian resolve revealed itself in unexpected ways that may shape his legacy — and our future."
McCain says he resisted the temptation to immediately set the record straight with his own lengthy account, as Hillary Clinton did recently in What Happened. "You've got to understand that you can't rewrite history," he told me. "One of the almost irresistible impulses you have when you lose is to somehow justify why you lost and how you were mistreated: 'I did the right thing! I did!' The hardest thing to do is to just shut up."
And while McCain has lately announced plans for his own memoir, which will reach back to 2008, he suggested Clinton had erred in writing hers so quickly. "What's the fucking point? Keep the fight up? History will judge that campaign, and it's always a period of time before they do. You've got to move on. This is Hillary's problem right now: She doesn't have anything to do."
On the health-care vote: Vice-President Pence tried to persuade him both on the Senate floor and in his private office, where McCain took a call from Trump. "I said, 'I thank you, Mr. President, for your involvement,' " he told me. "But I said, 'I cannot vote for something called Skinny Repeal. I can't do it. I didn't even see the bill until today. I mean, this is insanity. I appreciate the call and now I have to go vote, and I'm sorry.' "
https://www.axios.com/newsletters/axios-am-66212045-f8c2-4360-b77f-2b26014a9d47.html?chunk=3#story3
Bonus: Tweet du jour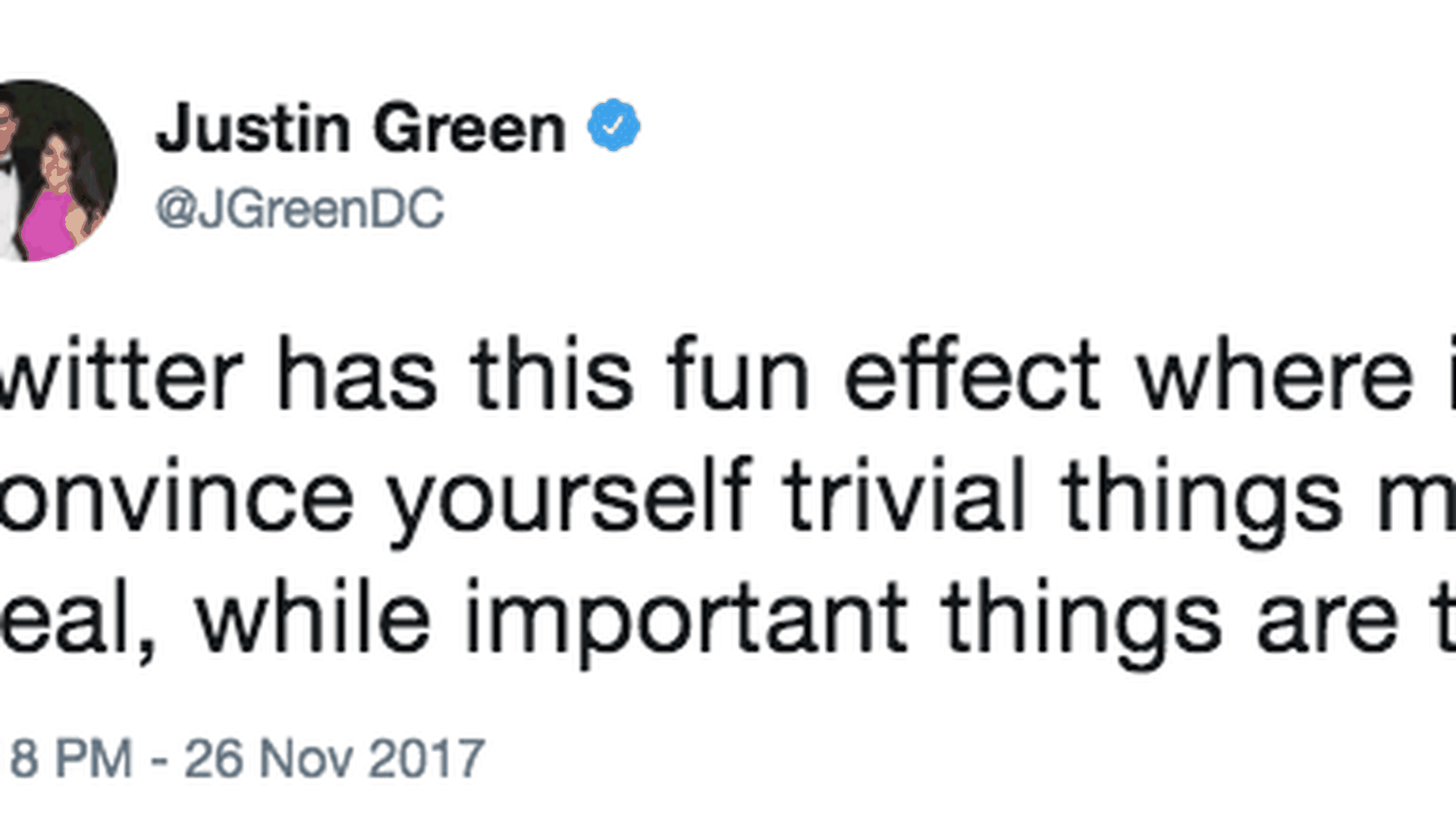 https://www.axios.com/newsletters/axios-am-66212045-f8c2-4360-b77f-2b26014a9d47.html?chunk=4#story4
4. Kochs' media move
Meredith Corp., the Iowa-based media company, will purchase Time Inc. for $2.8 billion, and roughly one-quarter of the deal ($650 million) is being financed by Koch Equity Development (KED), the investment arm of Koch Industries, run by Republican mega-donors Charles and David Koch.
Why it matters, from Axios' Sara Fischer: Backing from the Koch brothers will likely prompt questions about the editorial independence of Time Inc.'s news properties, like Time Magazine and Fortune. In a statement, Meredith Corporation said KED will not have a seat on the Meredith Board and will have "no influence on Meredith's editorial or managerial operations."
The big picture: This move is another example of how rapid consolidation in the media sector has created more opportunities for partisan influencers to expand their reach.
https://www.axios.com/newsletters/axios-am-66212045-f8c2-4360-b77f-2b26014a9d47.html?chunk=5#story5
5. A surprise for POTUS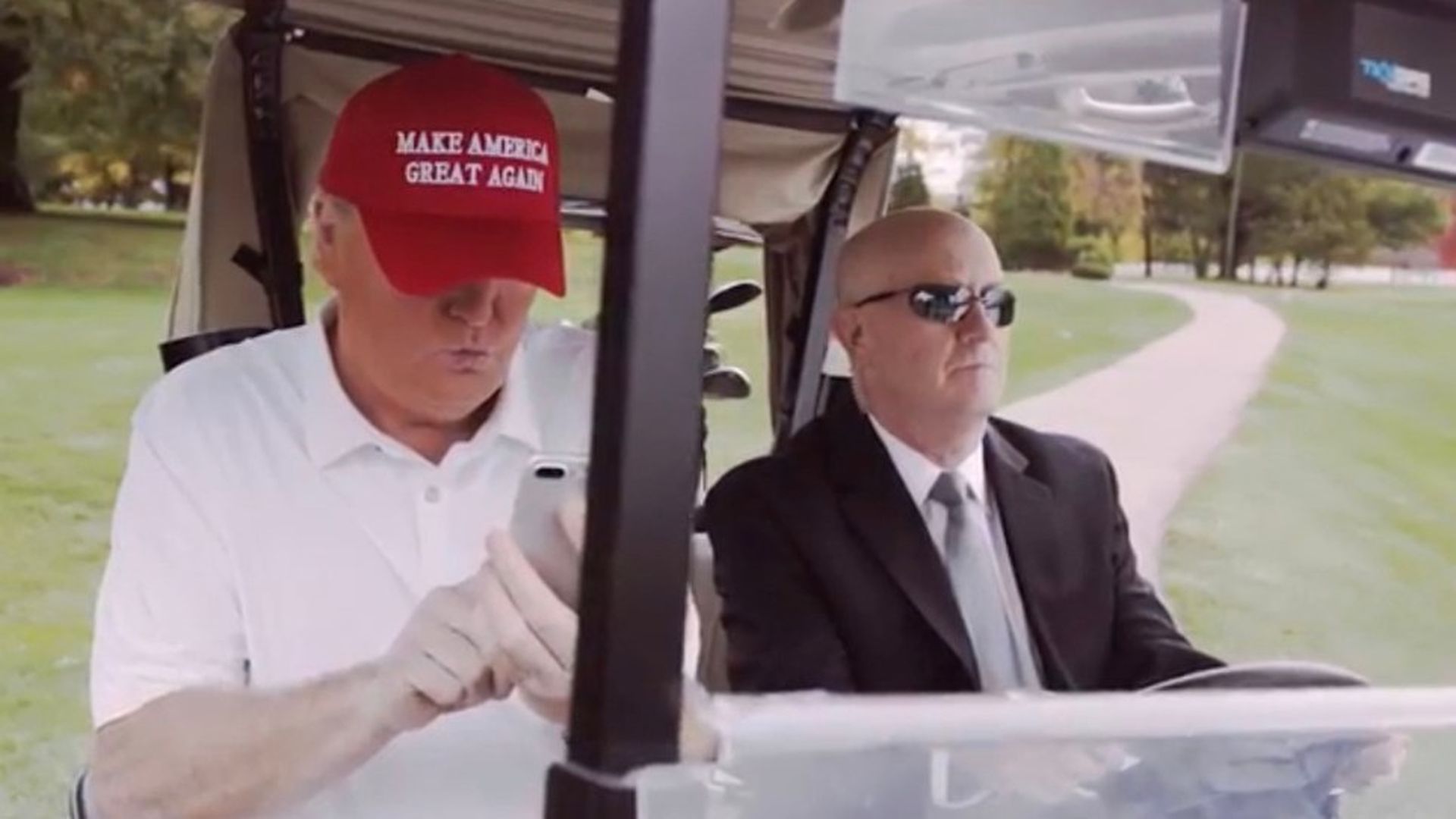 President Trump may see an impersonator on "Fox & Friends."
A progressive coalition, Not One Penny, tomorrow will begin a "six-figure" TV buy (mostly on Fox News, and including "Fox & Friends") for this 30-second ad hitting the Republican tax plans.
https://www.axios.com/newsletters/axios-am-66212045-f8c2-4360-b77f-2b26014a9d47.html?chunk=6#story6
6. 1 fun thing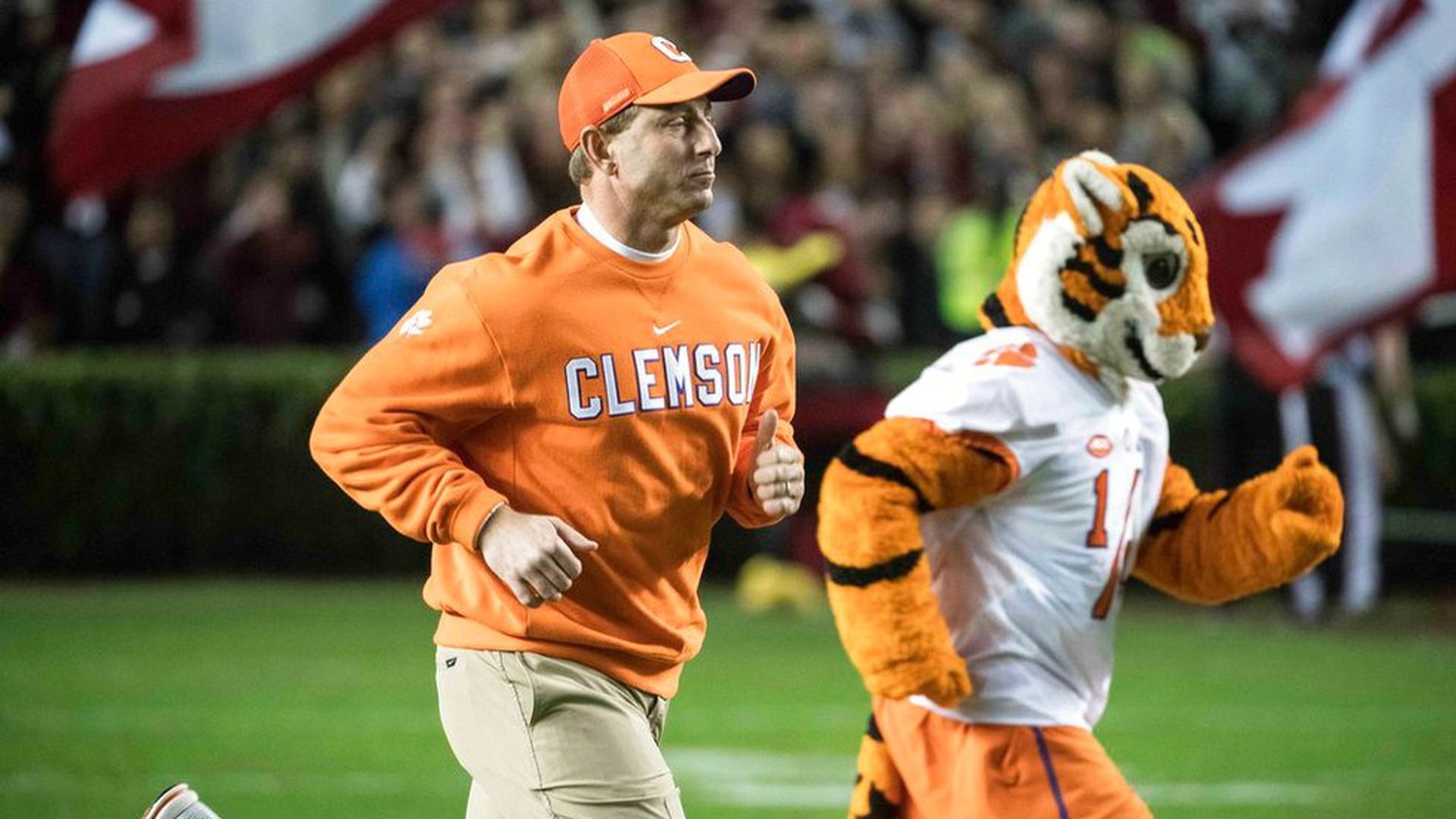 Next weekend will bring what could be called "the greatest Saturday in college football history," according to AP College Football Writer Ralph Russo:
"No need to wait until New Year's Day. The playoffs start in college football this weekend."
"For just the second time in the 81-year history of the AP college football poll, four games in one weekend will match teams ranked in the top 10. ... Basically, it is quarterfinals weekend, but adding to the intrigue is not everyone will advance."
"Alabama won't be playing, though the Crimson Tide will loom large over the games. The Tide relinquished the top spot in the AP poll [yesterday] after losing to Auburn the day before. Alabama, No. 1 since preseason, slipped to No. 5."
"One and two (Alabama and Miami) both lost this past weekend, something that hasn't happened since 2012."
"Clemson is the new No. 1, taking a close vote with No. 2 Oklahoma. Wisconsin is No. 3 and Auburn moved up to fourth."