https://www.axios.com/newsletters/axios-am-66158669-cc82-47f7-838d-7ad61073f06b.html?chunk=0#story0
1 big thing: Trump's 100th
President Trump, in a bit of sly counter-programming, yesterday announced a massive rally in Harrisburg, Pa., at 7:30 p.m. next weekend — smack in the middle of the White House Correspondents' Association dinner that he and his staff are boycotting.
Embracing the "Hallmark holiday" ... Saturday is also Trump's 100-day mark. And although he dismissed it on Twitter as "the ridiculous standard of the first 100 days," the White House says it's "launching a web page dedicated to the first 100 days," and "will also be producing graphics, videos, and other digital content for the President's massive online following to share."
Sneak peek ... Trump's staff has also planned a packed week designed to compete with all the media nattering. Depending on your perspective, it either looks like a victory lap or cramming for exams:
"On Monday, the President will speak with NASA astronaut Dr. Peggy Whitson about the importance of empowering women to pursue educations and careers in STEM fields as she sets the record for the most time spent in space of any American."
"On Tuesday, he will give remarks at the National Holocaust Memorial Museum's National Day of Remembrance. Later that day, he will host a roundtable discussion with farmers and sign an Executive Order to protect and provide relief for rural America."
"On Wednesday, the President will be outlining principles for tax reform. ... The Department of Homeland Security will roll out the Victims of Immigrant Crime Engagement (VOICE) Office."
"On Thursday, the President of Argentina will come to the White House ... [Trump] will also be signing an Executive Order with respect to Veterans ... That evening, the President will have dinner with the Justices of the Supreme Court, including his successfully confirmed nominee Justice Neil Gorsuch."
"On Friday, the President will ... [sign] several Executive Orders on energy. ... He will also give remarks at the National Rifle Association's Leadership Forum in Atlanta."
"Throughout the week the President, Cabinet officials, and senior White House staff will be accessible to media from the national level to the local and everything in between."
https://www.axios.com/newsletters/axios-am-66158669-cc82-47f7-838d-7ad61073f06b.html?chunk=1#story1
2. Regret vote for Trump? 2%!
https://www.axios.com/newsletters/axios-am-66158669-cc82-47f7-838d-7ad61073f06b.html?chunk=2#story2
3. Trump's Kitchen Cabinet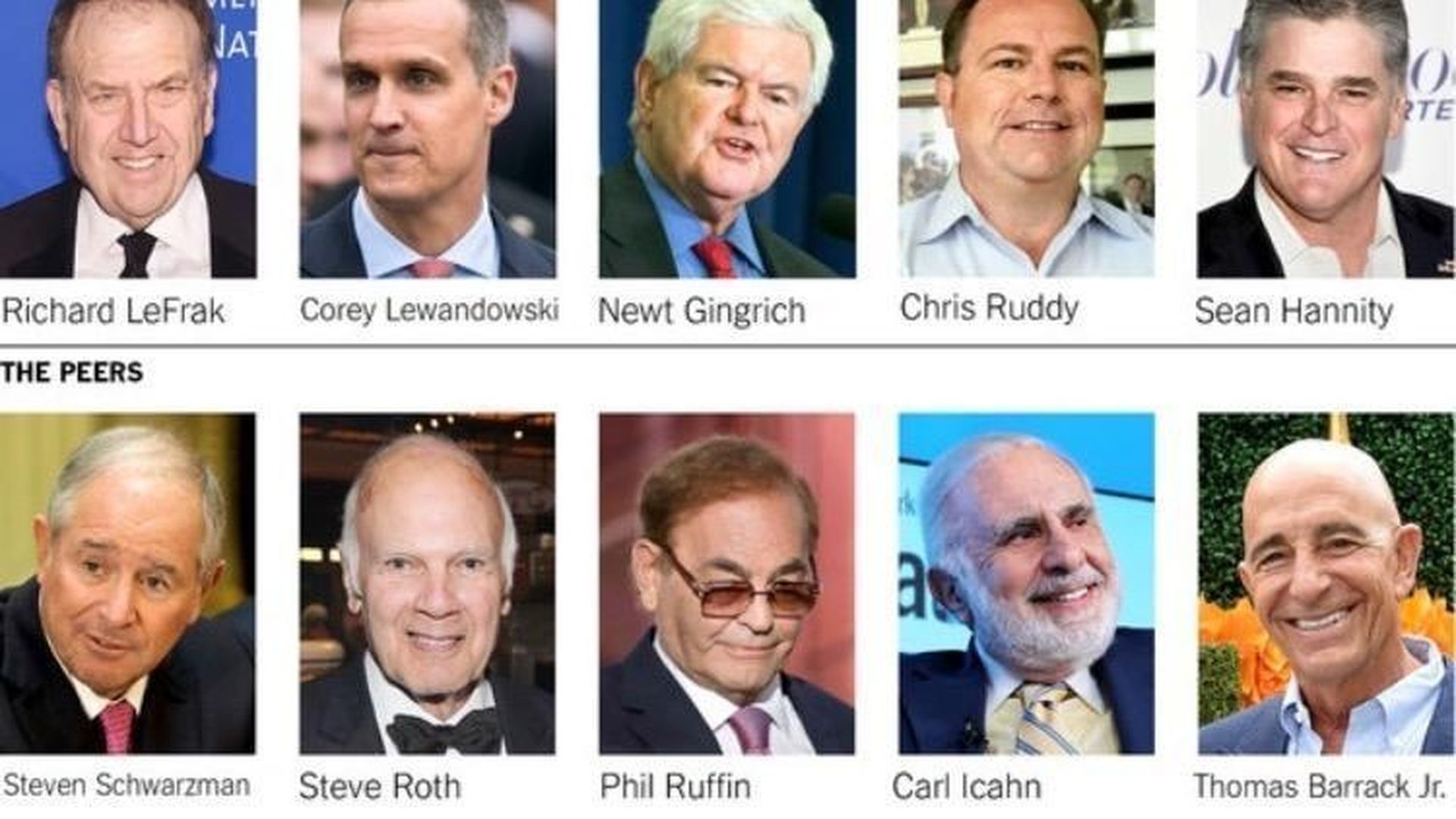 The N.Y. Times' Maggie Haberman and Glenn Thrush, setting the pace on Trump-Insider coverage, today have a front-page splash on "The Outer Circle" — the 20 family, friends and acquaintances President Trump frequently consults in addition to his White House advisers ("Trump Reaches Beyond West Wing for Counsel: Looks to Touchstones In Family and Finance For Advice Each Week").
@GlennThrush: "While the insiders brawl and bawl these 20 outsiders are quietly steering the USS Donald J. Trump."
@MaggieNYT: "Of people Trump talks to, Murdoch and Hannity are high on the list ... Trump does not speak to these folks in equal amounts, and some far less than others ...
"Trump often asks people 'what do you think about XYZ,' whether it's an ... aide or an event or a proposal. Sometimes it reflects a pending change. Other times it is basically a verbal ... tic to start a conversation and engage with someone. The things Trump says don't always convey deeper meaning. ...
"[Roger] Stone won't say when he talks to Trump (others say yes) but he is ubiquitous defender/among those who know him best."
We asked around last night about who was missing. The top nominees were Sheldon Adelson, Rudy Giuliani and Peter Thiel.
https://www.axios.com/newsletters/axios-am-66158669-cc82-47f7-838d-7ad61073f06b.html?chunk=3#story3
4. "This changes everything"
The big reveal in the N.Y. Times' 7,500-word, quad-bylined lead story, "In Trying to Avoid Politics, Comey Shaped an Election":
[W]hile partisanship was not a factor in [FBI Director James] Comey's approach to the two investigations, he handled them in starkly different ways.
In the case of Mrs. Clinton, he rewrote the script, partly based on the F.B.I.'s expectation that she would win and fearing the bureau would be accused of helping her. In the case of Mr. Trump, he conducted the investigation by the book, with the F.B.I.'s traditional secrecy. ...
[T]his go-it-alone strategy was shaped by his distrust of senior officials at the Justice Department, who he and other F.B.I. officials felt had provided Mrs. Clinton with political cover. The distrust extended to his boss, Loretta E. Lynch, the attorney general, who Mr. Comey believed had subtly helped play down the Clinton investigation.
https://www.axios.com/newsletters/axios-am-66158669-cc82-47f7-838d-7ad61073f06b.html?chunk=4#story4
5. Trump Effect goes global?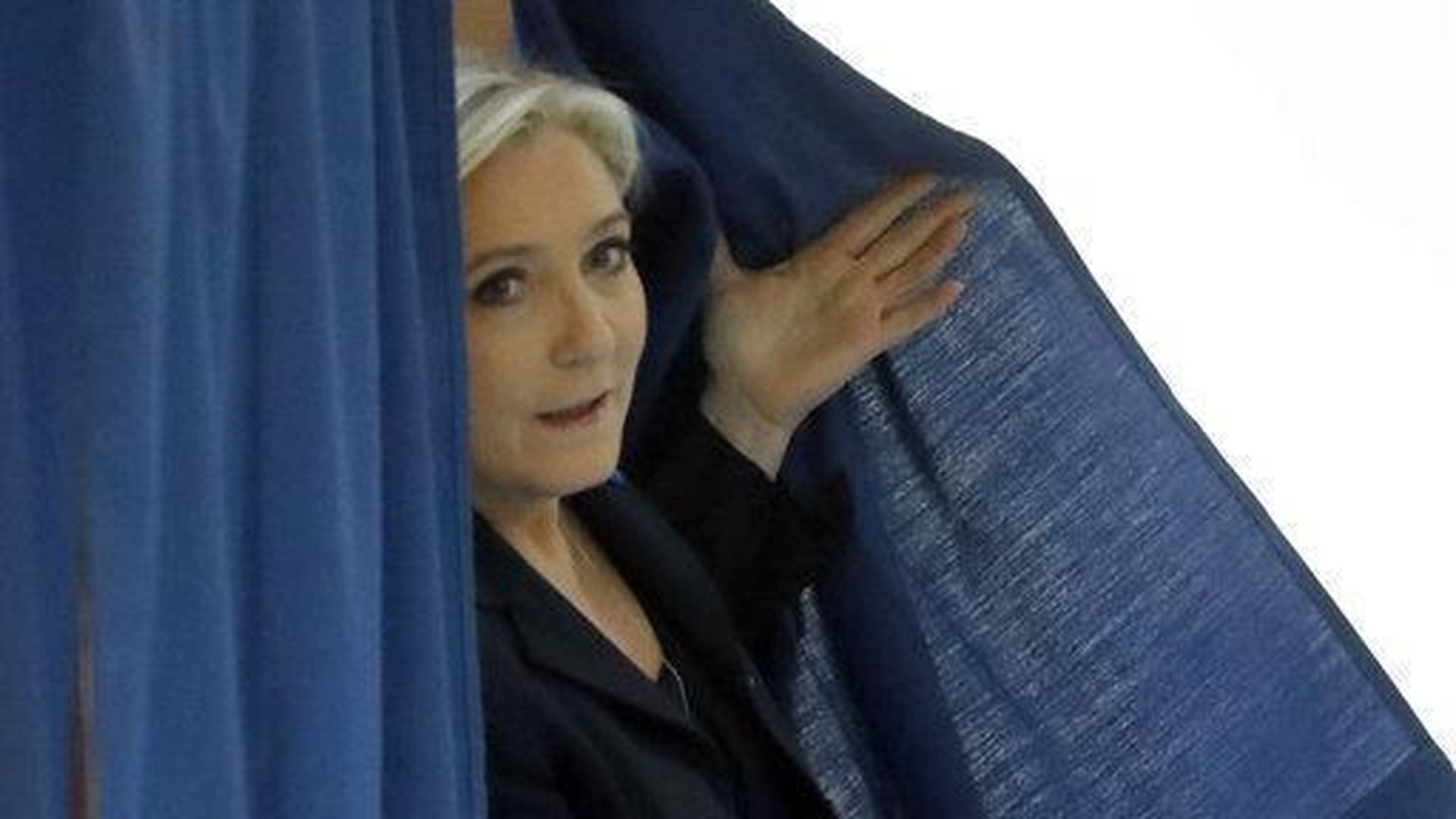 Get smart fast, ahead of the French results later today ...
"France votes in presidential nailbiter" — Agence France Presse, from Paris: "France voted Sunday under heavy security in the first round of the most unpredictable presidential election in decades, with the outcome seen as vital for the future of the beleaguered European Union."
"Far-right leader Marine Le Pen and centrist Emmanuel Macron are the favourites to progress to a run-off on May 7."
"Le Pen, the 48-year-old leader of the National Front (FN), hopes to capitalise on security fears that were catapulted to the fore of the campaign after the fatal shooting of a policeman on Paris's Champs Elysees avenue claimed by the Islamic State group."
"Aiming to ride a wave of populism that carried Donald Trump to the White House and led Britain to vote for Brexit, Le Pen wants France to abandon the euro and intends to call a referendum on withdrawing from the EU as well.
"Observers predict that a Le Pen victory could be a fatal blow for the EU, already weakened by Britain's vote to leave."
"Macron, 39, is seeking to become France's youngest ever president and has campaigned on a strongly pro-EU and pro-business platform."
AP says partial official results and early polling agency projections are expected when polls close at 2 p.m. ET, or soon thereafter.
https://www.axios.com/newsletters/axios-am-66158669-cc82-47f7-838d-7ad61073f06b.html?chunk=5#story5
6. The talk of tech: Snap snaps up crucial patent
The patent is called "Methods and Systems of providing visual content editing functions." It powers what Snapchat users call a "geofilter" — an artistic overlay you add after a Snap is taken, offered at specific times and places, and available or advertisers to sponsor and customize.
Snap has tried to secure the future of geofilters by buying that crucial patent. TechCrunch's Mike Butcher picks up the story:
The target: "Mobli, an Instagram competitor launched six years ago that failed to get ahead of its competitor, actually patented the idea of Geo-photo filters in 2012."
The transaction: "[S]erial entrepreneur and investor Moshe Hogeg, who co-founded Mobli, sold Mobli's Geofilters patent to Snap this month for $7.7 million. This is believed to be the highest amount paid for a patent from the Israeli tech industry."
Why it matters: "Snap wanted the patent to protect itself from future litigation."
https://www.axios.com/newsletters/axios-am-66158669-cc82-47f7-838d-7ad61073f06b.html?chunk=6#story6
7. 1 surprising thing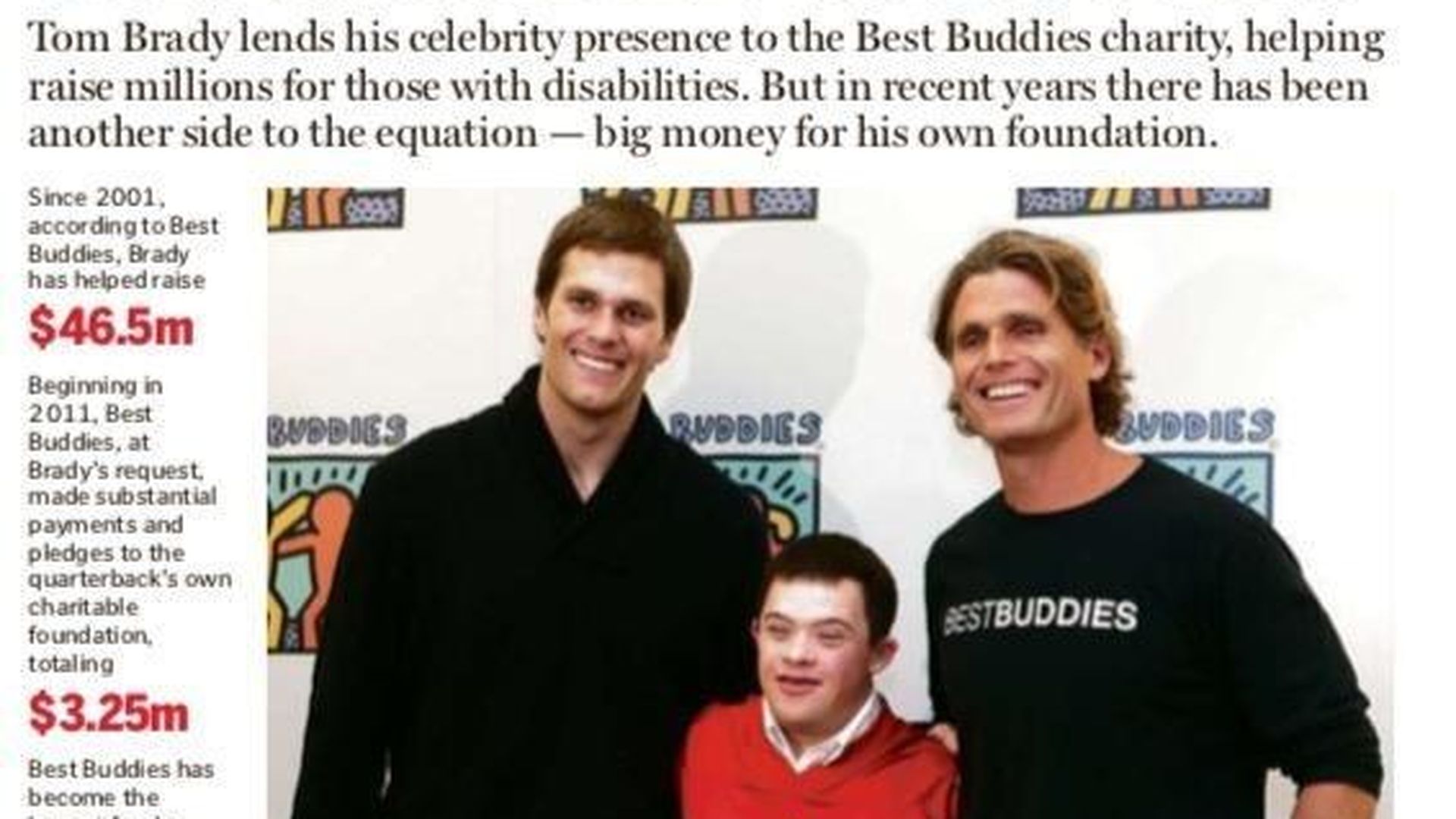 An intriguing revelation on the Boston Globe front page, "Tom Brady gives much to Best Buddies, but has taken millions for his own charitable trust," by Bob Hohler: "
"Since 2011, while Brady has served as the [Massachusetts face of Best Buddies International, a nonprofit dedicated to helping intellectually and developmentally disabled people] and helped it raise nearly $20 million, Best Buddies has paid $2.75 million to Brady's own charitable trust."
"The payments, made at Brady's request, support his Boston-based Change the World Foundation Trust, whose giving has focused almost entirely on causes tied to Brady's personal interests, including his high school alma mater, his children's private schools, and charities operated by his football friends."
"The arrangement was forged by Brady and his friend, Anthony K. Shriver, the founder and chairman of Best Buddies."
"Shriver quoted Brady as saying, some time before the payments began in 2011: 'When I come to Best Buddies events, it's all about Best Buddies, which is the way I want to keep it while I develop my interests. Would you support helping me pursue my things while I continue to put a lot of energy into your thing?'"