Good Monday morning. It's 9/11. America was attacked 16 years ago, a morning that changed — and, briefly — united the country. Remember what you were doing, and who the key people were in your life back then. Now, ask someone you admire where they were on 9/11.
USA Today today's lead story, "Harmony gives way to a great divide," takes us back: "After terrorists murdered nearly 3,000 people on Sept. 11, 2001, Americans swiftly responded with fellowship and patriotism. People of different races and religions consoled one another at candlelight vigils. Others tattooed stars and stripes on their bodies. American flags rose up."
https://www.axios.com/newsletters/axios-am-63e64edc-3a35-434d-b6ef-548a01d7b45e.html?chunk=0#story0
1 big thing: Chuck in charge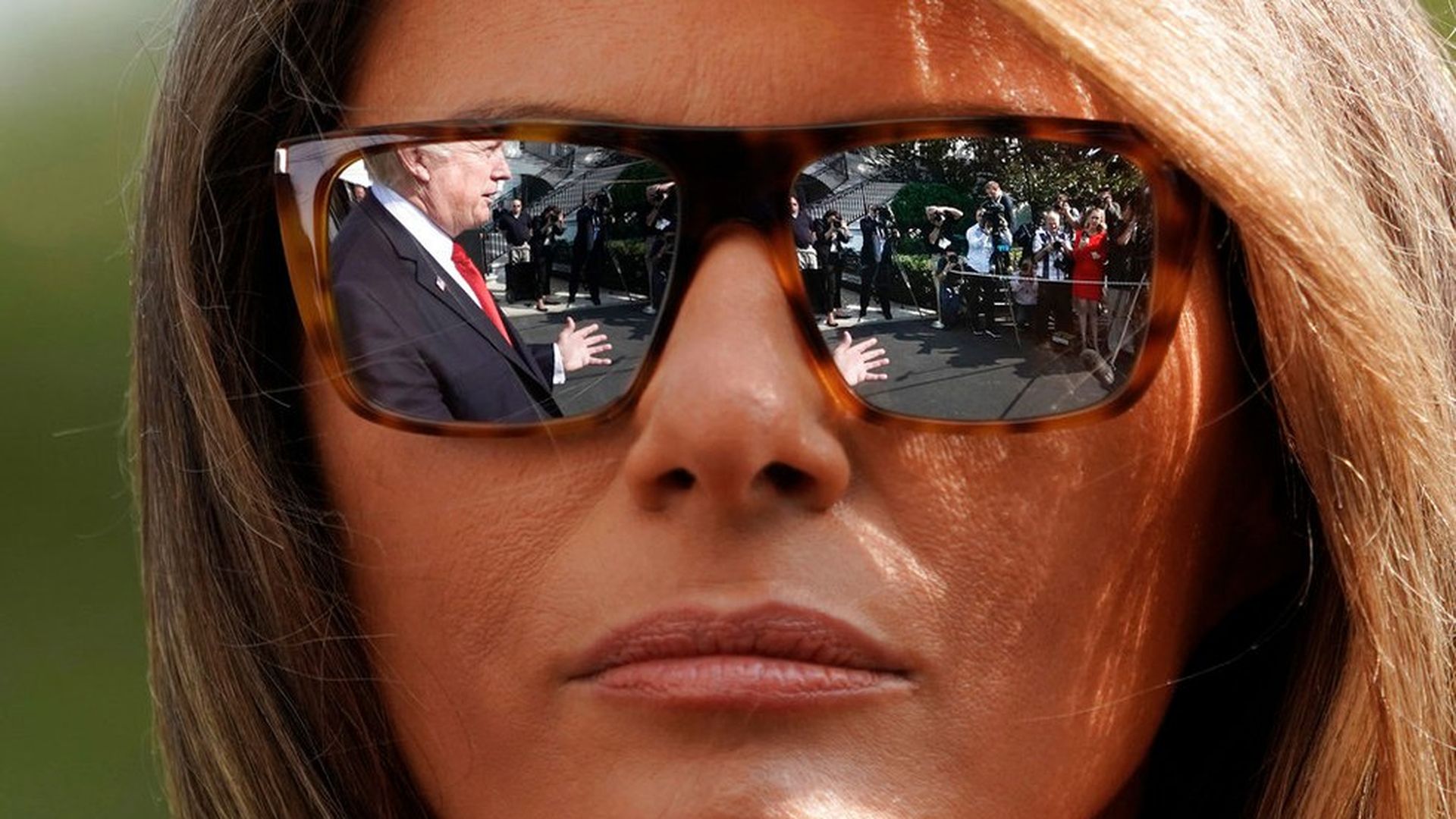 The president's surprise fiscal deal has empowered Senate Democratic Leader Chuck Schumer, to the consternation of top Republicans — which is technically Trump's party.
After shunning Trump for months because of possible blowback from the left, Schumer now has supreme leverage in December — hammer time for the debt and spending thickets that were postponed by the deal.
Why it matters: Neither side wants this to be a one-off.
My conversations with both sides make it clear that Trump plans to continue playing the field, and Schumer is game to make future deals with Trump as long as they suit the Democratic base.
What Trump is thinking:
Republicans can decide if they want to help their president. If not, the other side will.
Republicans on the Hill are whining now, but they'll "get it" when they hear how popular my deal is back in their states and districts.
Chuck is closer to me on trade, and possibly infrastructure, than traditional Republicans are.
The press is portraying this as a tectonic shift, but I've been chapped at Mitch and Paul for months.
And the fake news forgets how I ran and won: It wasn't exactly as a McConnell-Ryan Republican.
What Schumer is thinking:
Senate and House Democrats are now going to focus on laying the groundwork for all the things that we need to work in a bipartisan way in the weeks and months ahead.
We need protections for Dreamers. We need to stabilize the health-care markets. And we need to come up with a budget deal and fund the government, while continuing to block the wall.
I've built a lot of goodwill with my party's left, so they trust my instincts. My office holds weekly calls with coalitions of progressive groups — and I gave personal advice to them during the health-care fight, on questions like which offices their phone banks should focus on. They were worried I'd be a centrist dealmaker. But I'm going to double down on staying true to the base.
I'm not going to fall under Donald's sway, or succumb to auction fever. I'm his Flavor of the Week, but you know how fickle that guy is.
I can be even bigger than the media realizes, because I have surprisingly strong rapport with Republican senators. I realized that Republicans work out in the morning, while Democrats are more likely to go to the gym in the afternoon. So I go in the morning. To be honest, I read the papers and watch "Morning Joe" more than I sweat. But I have great conversations with Republicans on the bike next to me.
Be smart: Trump and Schumer are friendly, but not friends, from the New York days. Both are press hounds, and they share a deal-making gene. This marriage of convenience could last a while.
Republicans worry that Trump, having tasted the juicy coverage he got last week, will become a true third entity — a populist maverick who's Republican in name only. No fundraiser-in-chief at the head of the party, and whirling deals based on whatever gets positive coverage at the time.
Their real fear, as articulated by a shrewd young GOP operative: "He'd take our base with him. They love the McConnell-bashing."
Instant classic ... Chuck Schumer to N.Y. Times' Carl Hulse: "I got a call [from Trump] early this morning ... He said, 'This was so great! ... Do you watch Fox News?' I said, 'Not really.' 'They're praising you!' Meaning me. But he said, 'And your stations' — I guess meaning MSNBC and CNN — 'are praising me! This is great!'"
https://www.axios.com/newsletters/axios-am-63e64edc-3a35-434d-b6ef-548a01d7b45e.html?chunk=1#story1
2. Humanitarian disaster in Caribbean, Florida slammed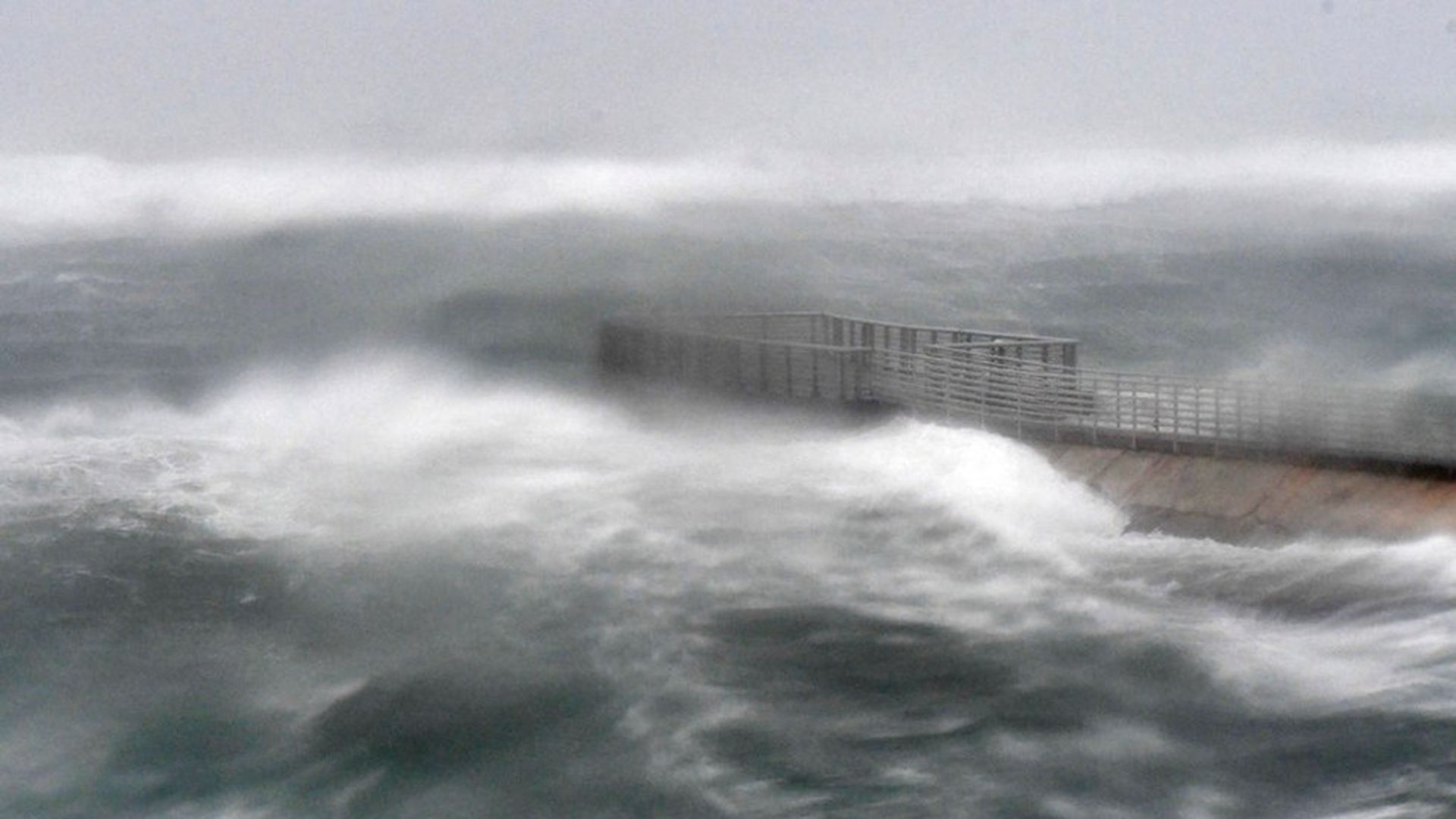 400-mile-wide Irma heads for Tampa Bay, per AP:
"In one of the largest U.S. evacuations, nearly 7 million people in the Southeast were warned to seek shelter elsewhere, including 6.4 million in Florida alone."
"More than 3.3 million homes and businesses across the state lost power."
"Upon leaving Florida, a weakened Irma is expected to push into Georgia, Alabama, Mississippi, Tennessee and beyond."
"A tropical storm warning was issued for the first time ever in Atlanta, where many schools canceled classes because of the storm."
"Building Boom Puts Millions in Irma's Path," by Wall Street Journal's Laura Kusisto and Nicole Friedman: "Like many cities in Florida, parts of Tampa are built on filled-in marshland. Many homes, apartment buildings and even a major trauma center are close to sea level."
Key stat: "A 2015 report by catastrophe-modeling firm Karen Clark & Co. found that Tampa is the most vulnerable city in the U.S. to storm-surge flooding. The ranking was based on losses to residential, commercial and industrial property by a once-in-100-years hurricane. It estimated such a storm would cause $175 billion of damage to Tampa."
Why it matters: "The hurricanes that hit New Orleans and Houston showed the enormous risk of building homes in low-lying areas."
N.Y. Times Quote of the Day ... Jacques Charbonnier, a 63-year-old resident of St. Martin, on the Caribbean island's conditions after Irma: "All the food is gone now. People are fighting in the streets for what is left."
https://www.axios.com/newsletters/axios-am-63e64edc-3a35-434d-b6ef-548a01d7b45e.html?chunk=2#story2
3. Harvey likely to be second-costliest U.S. natural disaster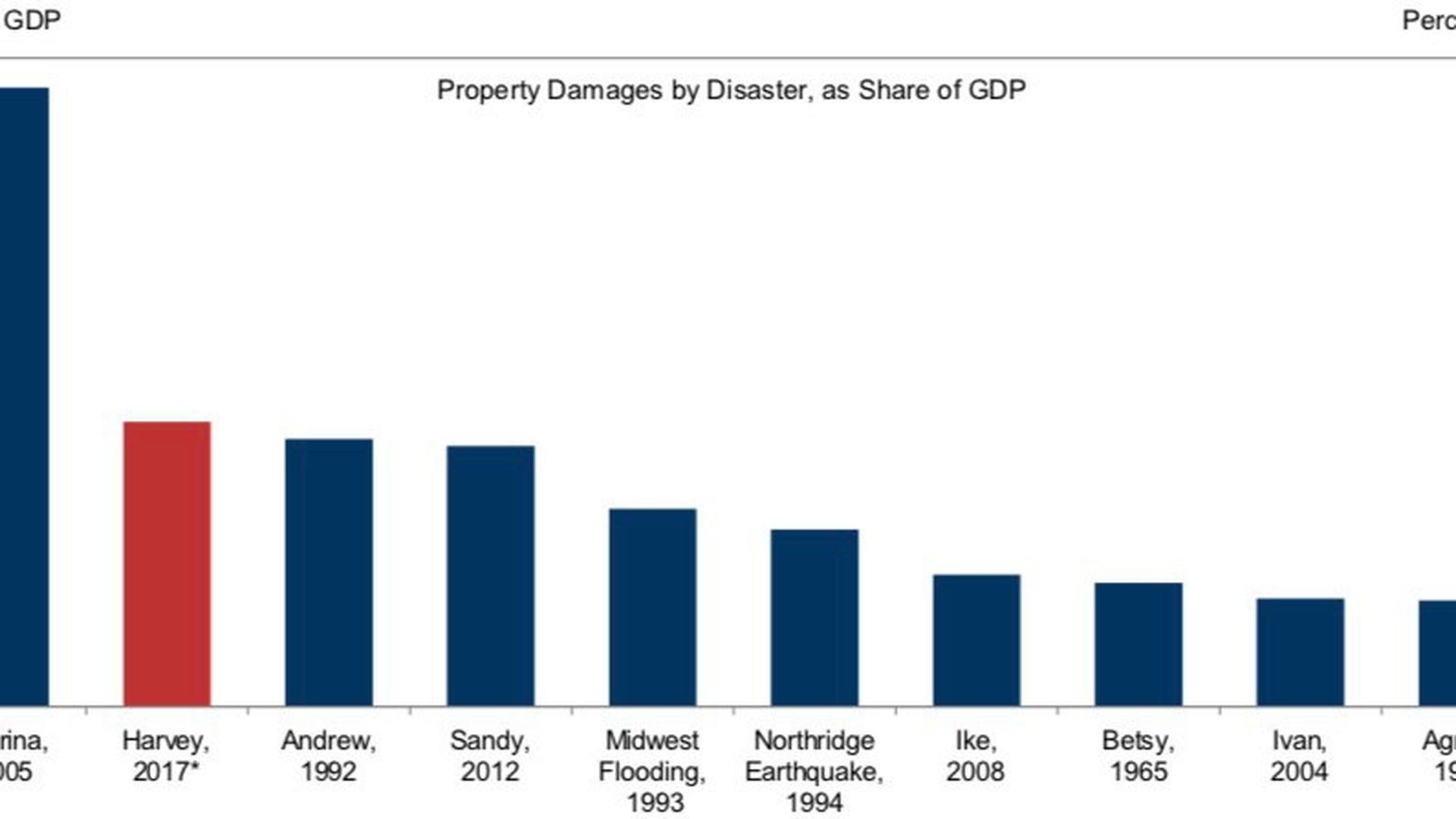 Irma in perspective, from AP Science Writer Seth Borenstein: "Irma's assault — so soon after Harvey's deluge of Houston — marked the first time the U.S. was hit by two Category 4 storms in the same year."
"Irma hit the Sunshine State as a big wide beast, though not quite the monster it once was shaping up to be."
"Winds dropped to a quite potent 115 mph ... by the time Irma made landfall on Marco Island, on the Florida peninsula, still a major and dangerous hurricane yet not near its 185 mph ... former self when it set a record Tuesday for the most powerful storm in the open Atlantic."
"Irma would probably have hit Florida as a Category 5 hurricane if it had missed Cuba."
"Irma avoided what could have been its most destructive paths along the Florida peninsula — over Miami and the heavily developed Atlantic seaboard. Still, at about 400 miles ... wide, it raked much of the state."
"Florida's west coast has about $1 trillion in property at risk to a storm, compared to $1.5 trillion on the east."
"Irma [may] go down as one of the five costliest hurricanes in U.S. history, but not up with the top three of 2005's Hurricane Katrina, 2012's Sandy and this year's Harvey. Still ... it will be grouped with two other South Florida storms: 1992's Andrew and 2005's Wilma."
https://www.axios.com/newsletters/axios-am-63e64edc-3a35-434d-b6ef-548a01d7b45e.html?chunk=3#story3
Bonus: What POTUS is reading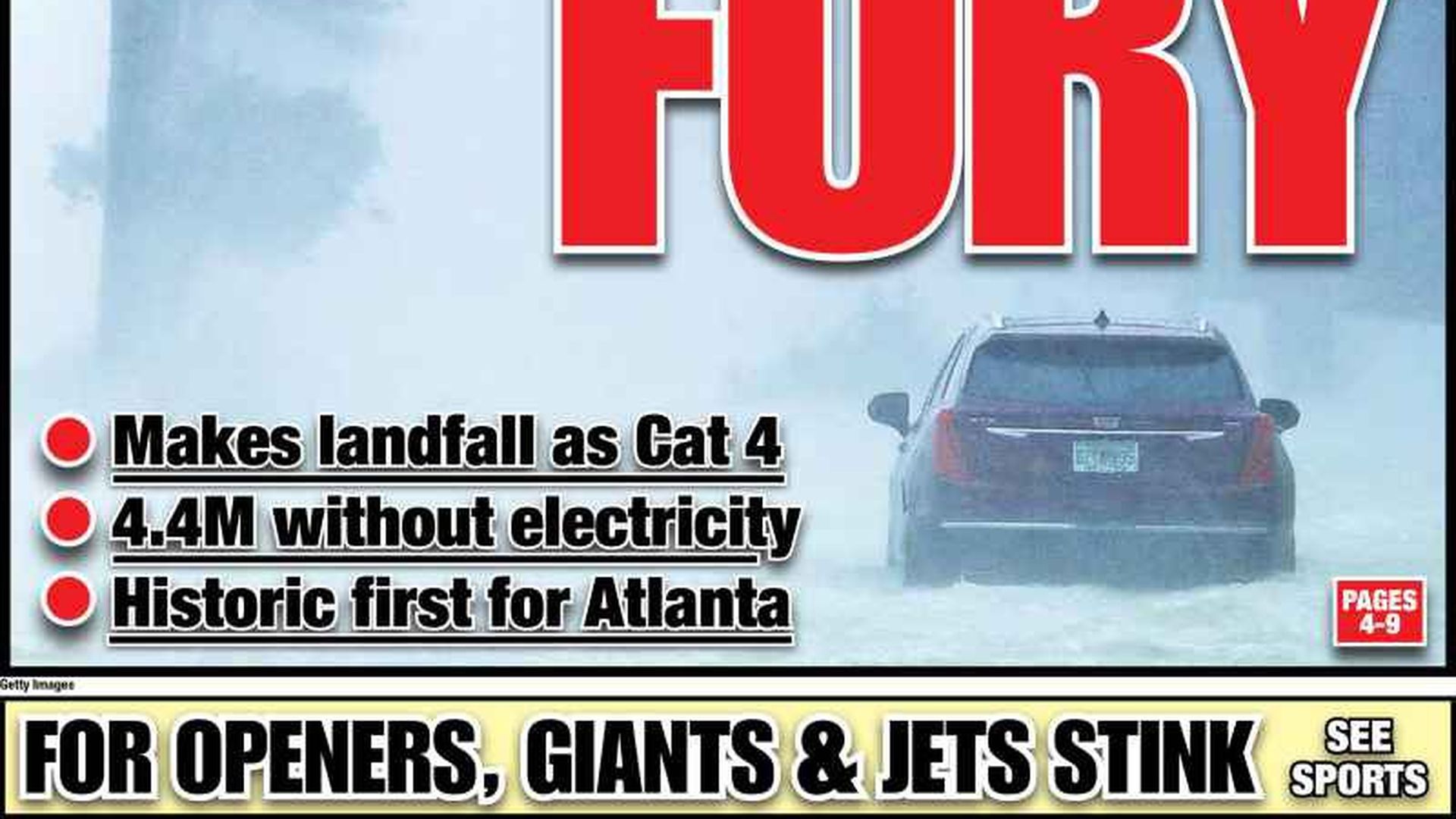 https://www.axios.com/newsletters/axios-am-63e64edc-3a35-434d-b6ef-548a01d7b45e.html?chunk=4#story4
4. Behind the curtain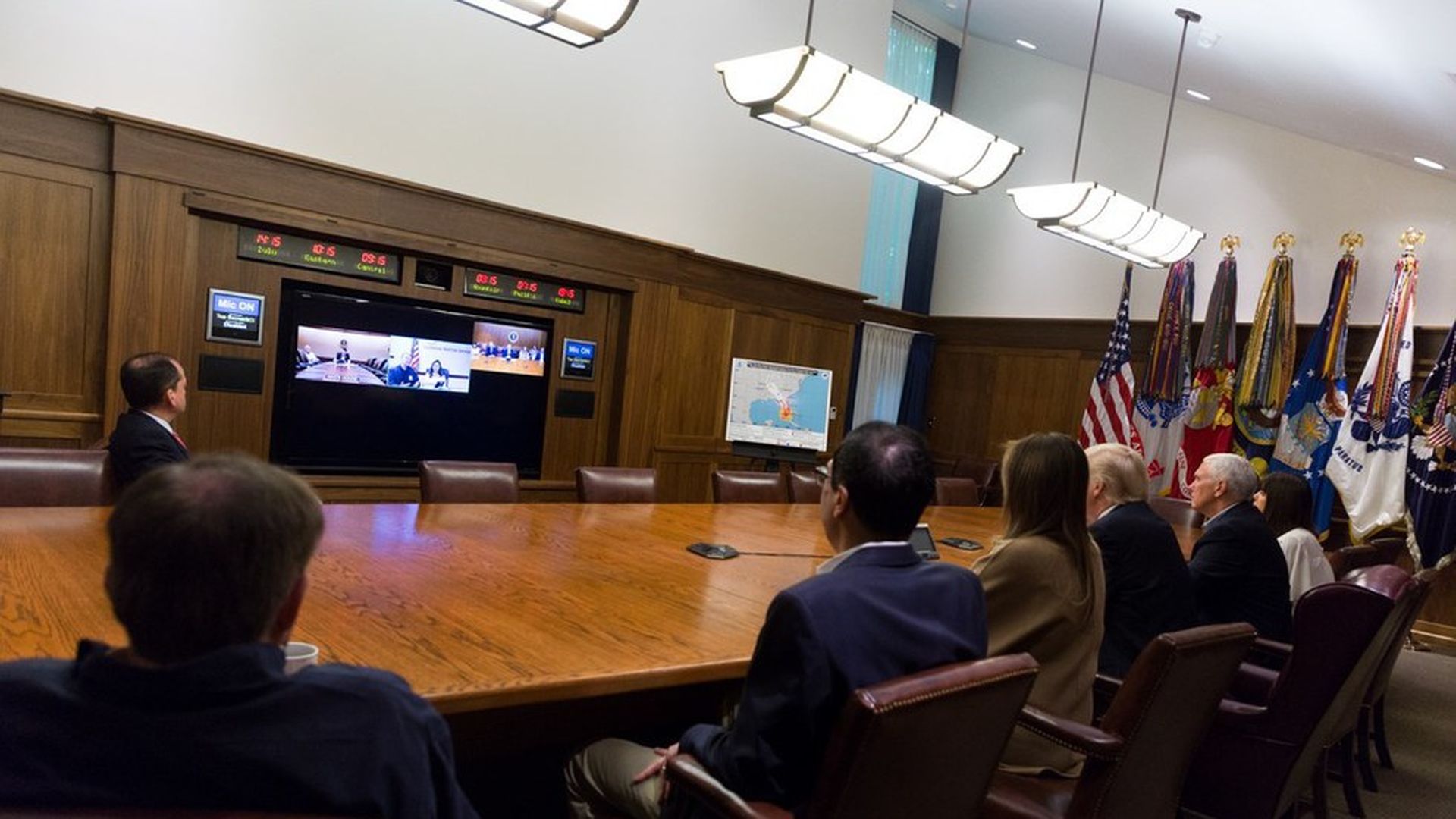 At Camp David yesterday as Irma struck, President Trump and Vice President Pence — along with First Lady Melania Trump, Karen Pence and members of the Cabinet — join a video teleconference with FEMA Administrator William "Brock" Long, Homeland Security and Counterterrorism Adviser Thomas Bossert, Acting Secretary of Homeland Security Elaine Duke, and National Security Adviser H.R. McMaster.
https://www.axios.com/newsletters/axios-am-63e64edc-3a35-434d-b6ef-548a01d7b45e.html?chunk=5#story5
5. Climate change is like diabetes for the planet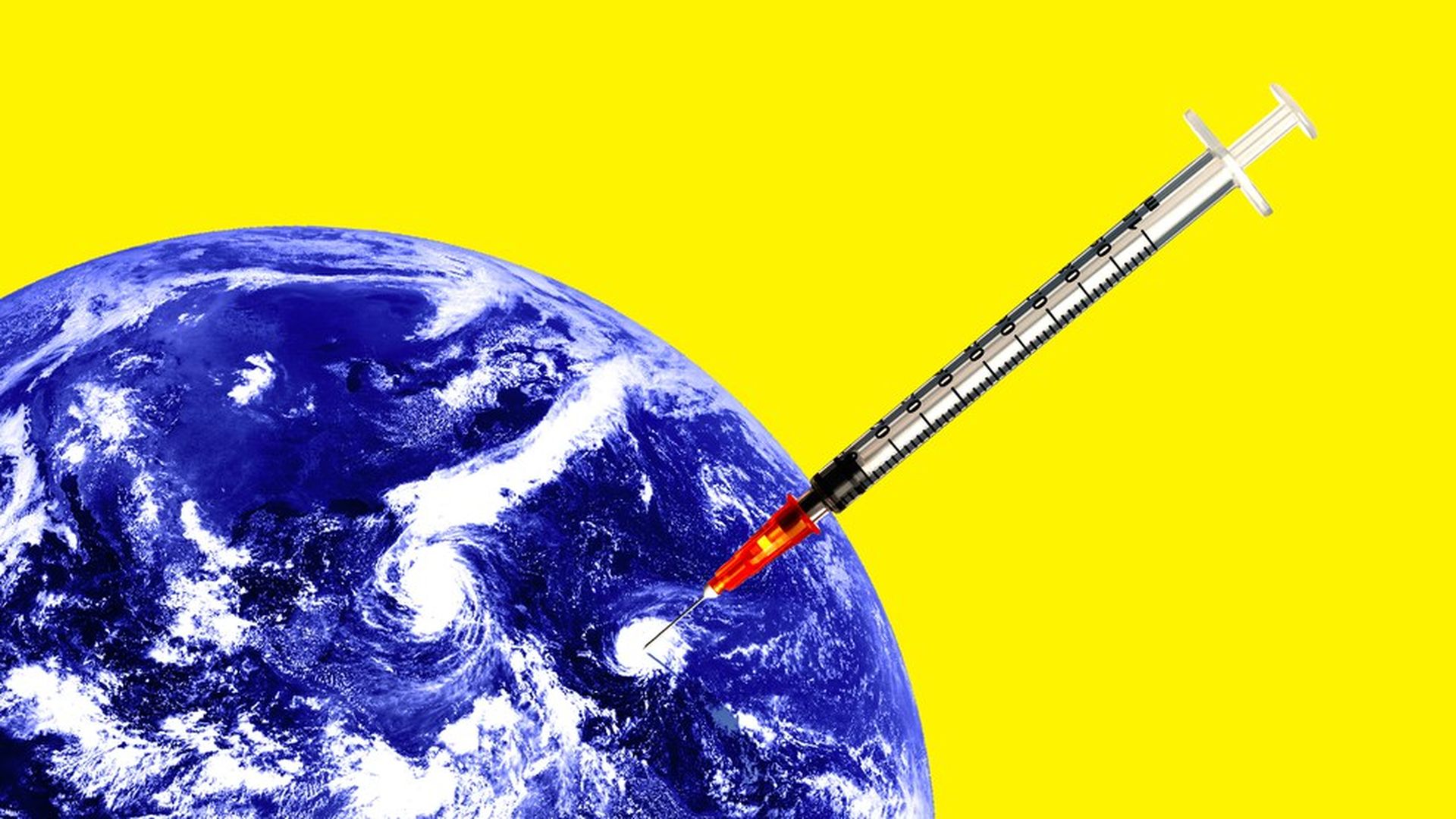 There's a lot of talk about how climate change is affecting the hurricanes and wildfires hitting the United States right now, Axios' Amy Harder writes in her weekly "Harder Line" energy column:
The simple answer: Climate change doesn't cause extreme weather events. It can make them worse, and many scientists are saying that's a factor.
The bottom line: Climate change is not a problem we can solve, full stop, like diabetes isn't completely curable. The best we can do is simultaneously cut carbon emissions and adapt to a warmer planet.
We should be humble about what we don't know regarding the connection between extreme weather and climate change.
Check out Amy's diabetes comparison.
https://www.axios.com/newsletters/axios-am-63e64edc-3a35-434d-b6ef-548a01d7b45e.html?chunk=6#story6
The ex-presidents unite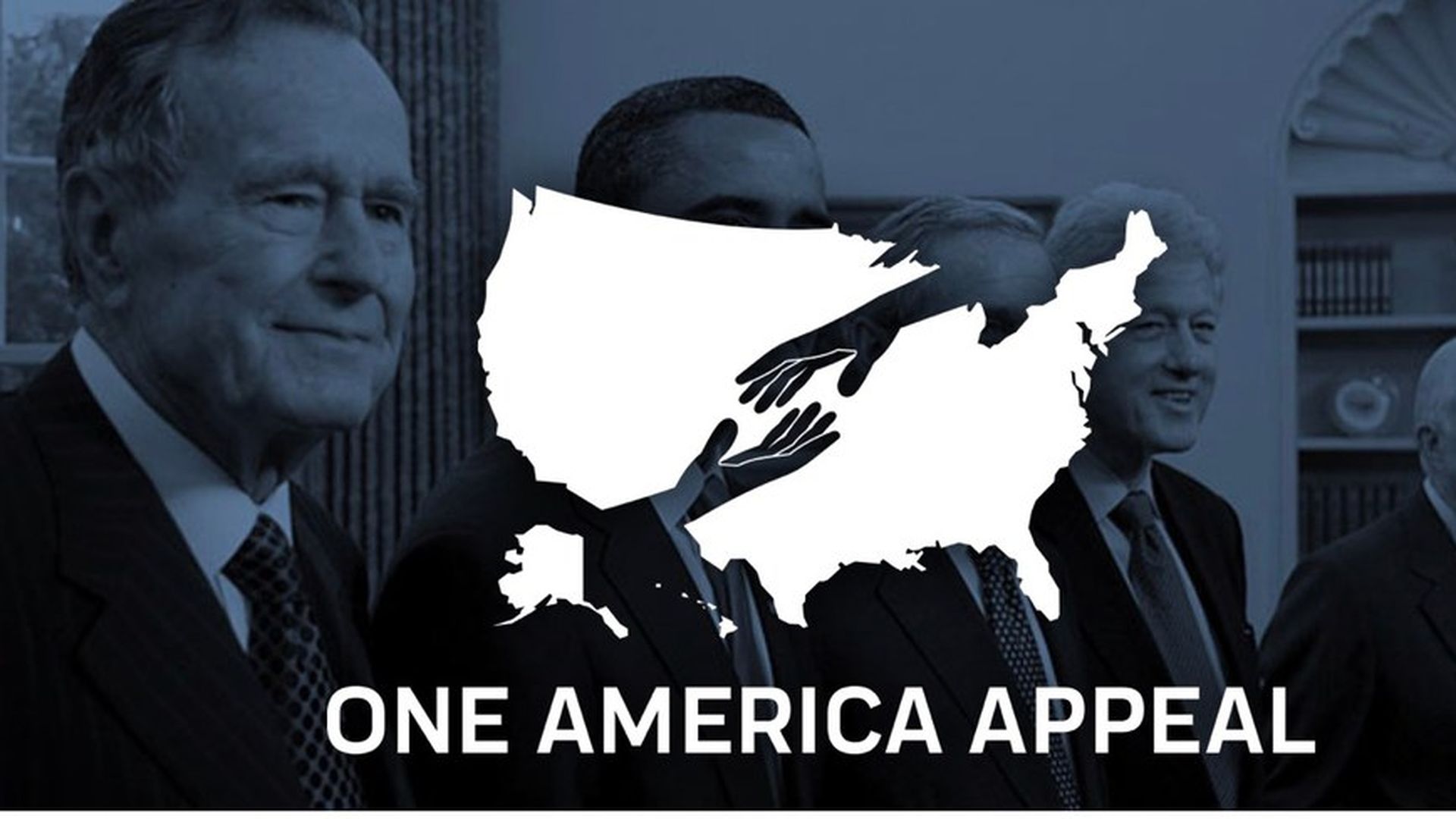 "The 'One America Appeal' launched last week by all five living former presidents to raise private money for hurricane victims ... announced that their efforts will also aid Floridians impacted by Hurricane Irma."
"A special restricted account has been established through the George H. W. Bush Presidential Library Foundation ... to ensure 100 cents out of every dollar goes to assist hurricane victims. In addition to the Florida Disaster Recovery Fund, donations will also be shared with the Hurricane Harvey Relief Fund focusing on the greater Houston region, and the Rebuild Texas Fund."
Donate, and see the former president in two 30-second videos, including one that'll be on "Monday Night Football" tonight.
https://www.axios.com/newsletters/axios-am-63e64edc-3a35-434d-b6ef-548a01d7b45e.html?chunk=7#story7
6. Tech v. terror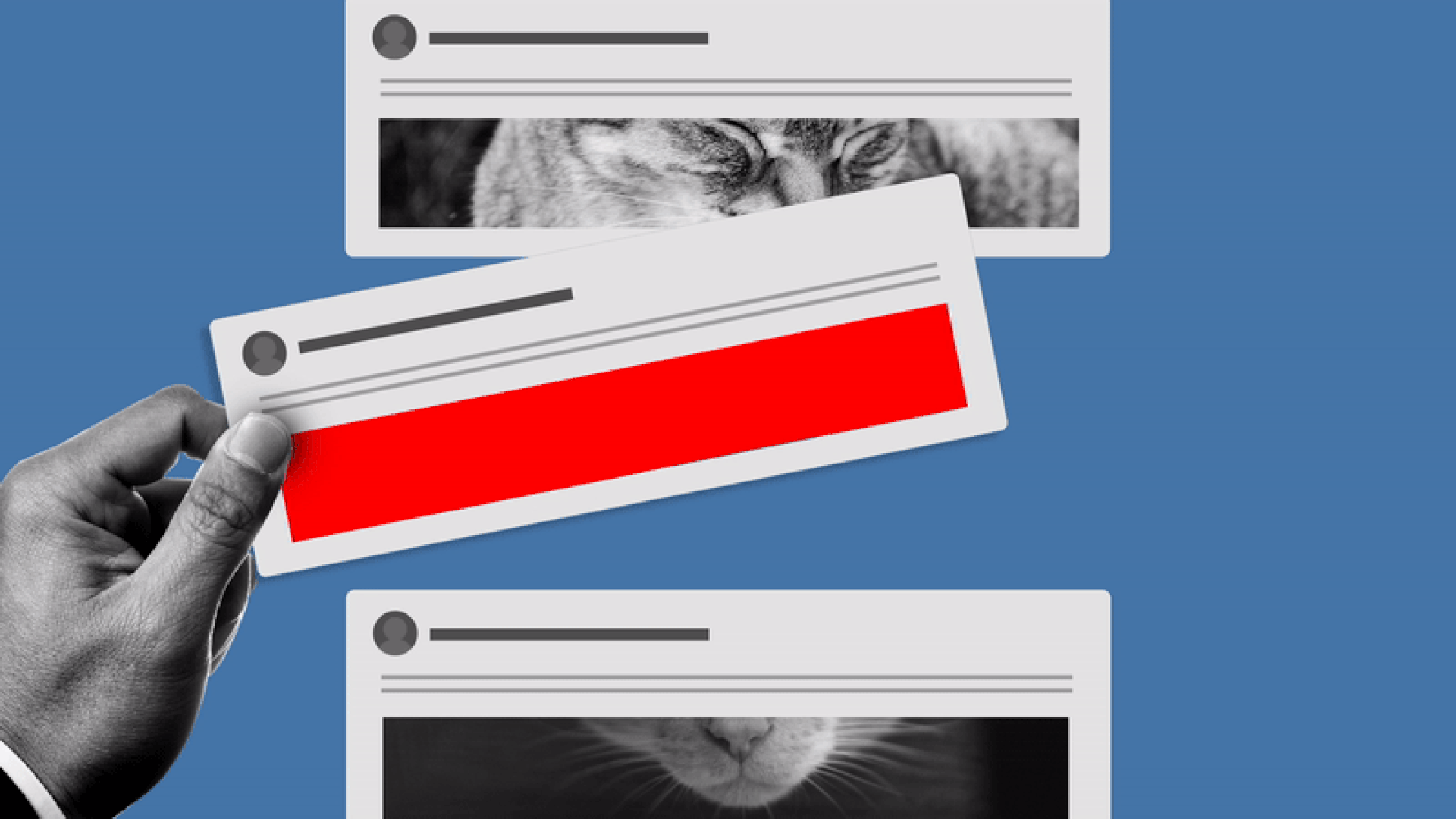 The role of monitoring terrorist content is spreading from governments to technology companies, and this year has seen some of the most aggressive efforts by both groups to get the situation under control, Axios' Sara Fischer writes:
Tech companies built on open platforms — like Google, Facebook and Twitter — have ramped up action in the past several months to ensure that terrorist accounts are blocked and terrorist content is removed.
Their strategies are often two-fold: 1) Improve rapid-response efforts to remove terrorist content or accounts when they are reported, and 2) Invest in artificial-intelligence technologies that can block terrorist content before it's ever uploaded.
https://www.axios.com/newsletters/axios-am-63e64edc-3a35-434d-b6ef-548a01d7b45e.html?chunk=8#story8
7. Bidding frenzy for Amazon's "HQ2"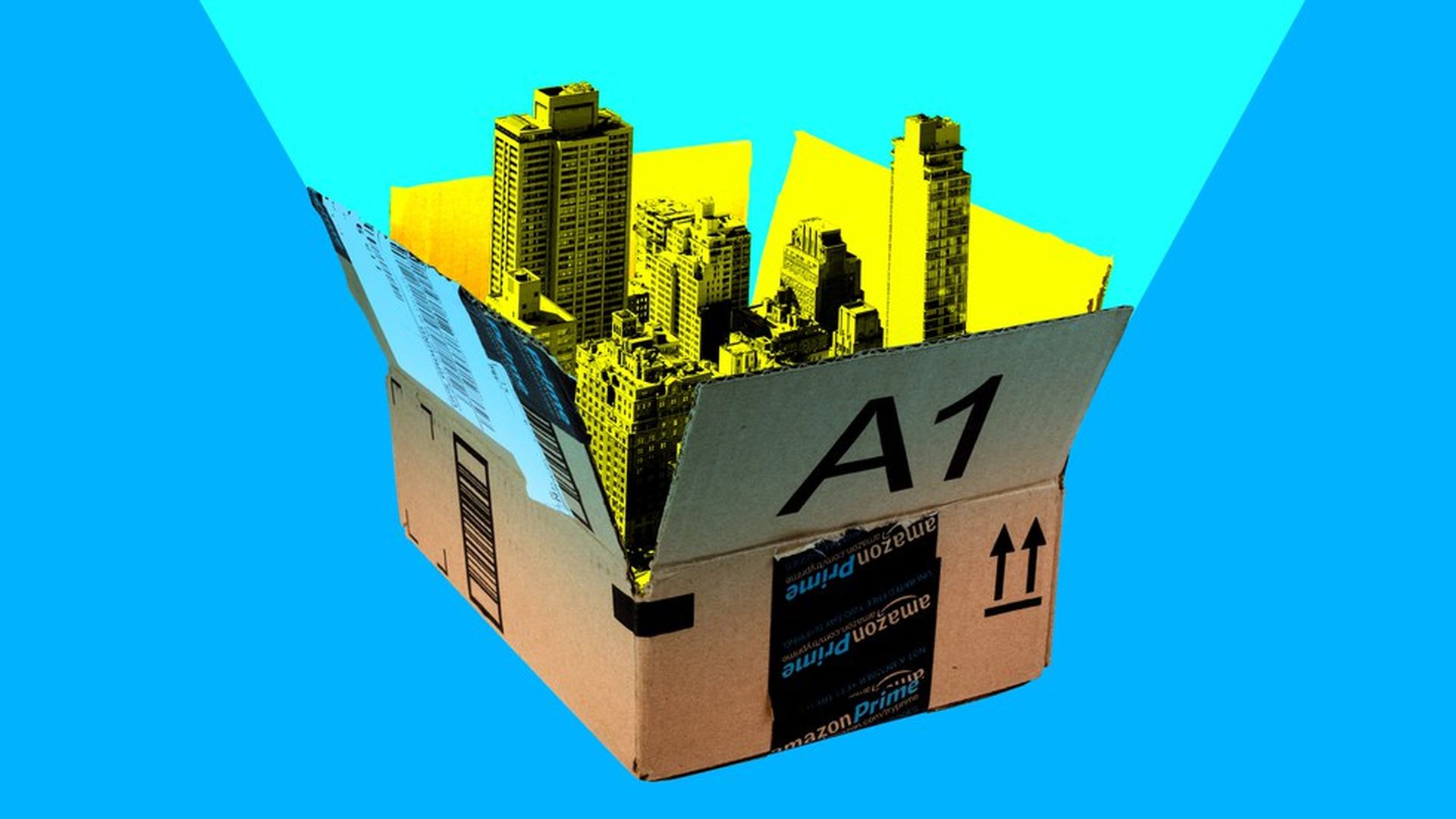 Hot lead by David McCabe to our Sunday-afternoon "Future of Work" newsletter (Sign up here) ...
"Amazon stands to reap billions of dollars in tax breaks and other incentives in what is shaping up as a feverish, sweepstakes-style contest among North American cities to host its second headquarters and up to 50,000 new jobs ... Judging by other recent such competitions, the bids could reach $10 billion or even higher."
https://www.axios.com/newsletters/axios-am-63e64edc-3a35-434d-b6ef-548a01d7b45e.html?chunk=9#story9
8. "The swamp is a business model"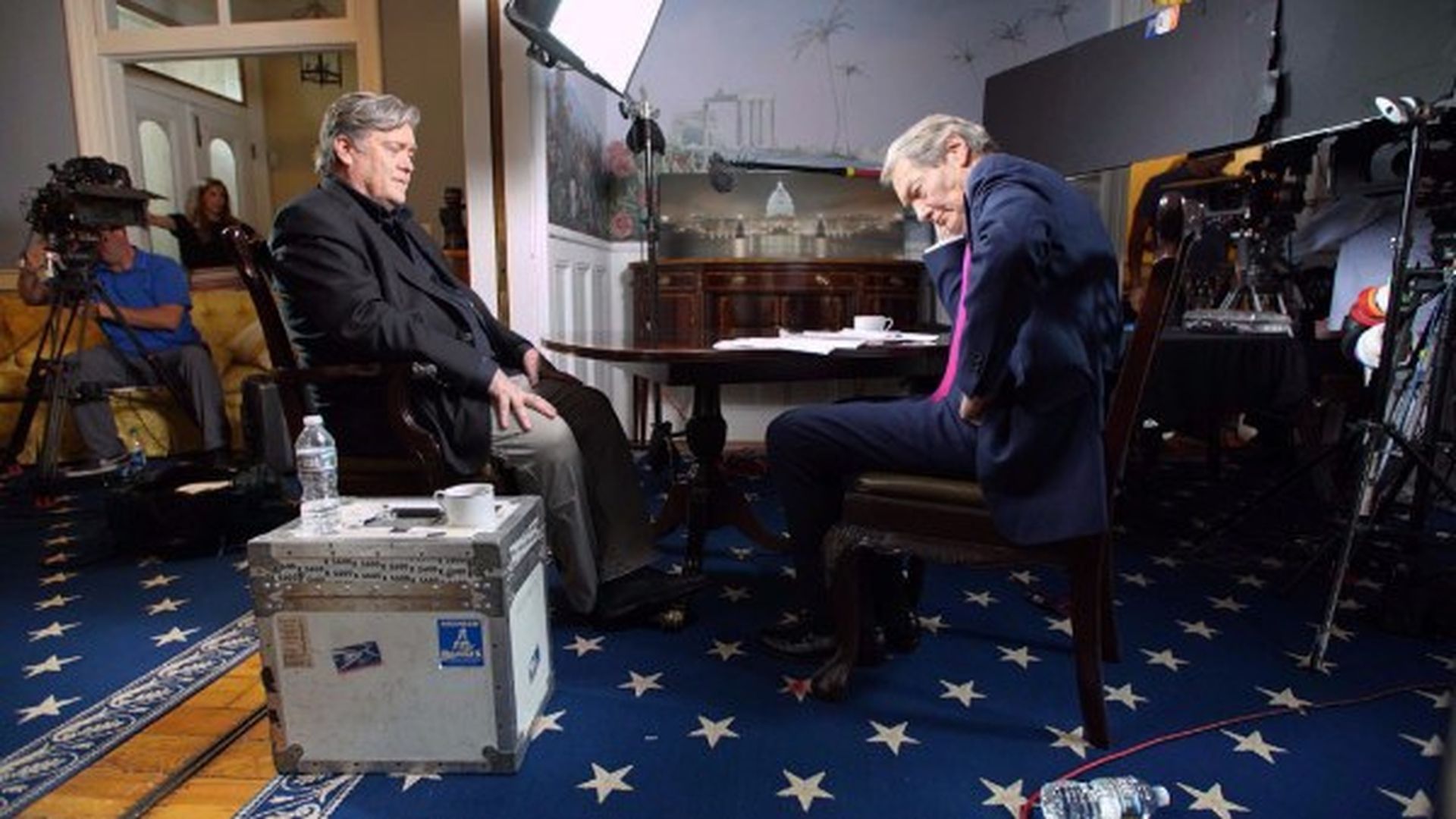 Steve Bannon to Charlie Rose on "60 Minutes": "The Republican establishment is trying to nullify the 2016 election. That's a brutal fact we have to face." Video
On Trump's tweeting: "It's Donald Trump talking directly to the American people. ... [Y]ou're going to get some good there. And every now and again you're going to get some less good, OK? But you're just going to have to live with it."
Cutting-room floor ... Rose: "Do you believe that Mr. Mueller should be fired?"
Bannon: "No, I do not." Video
Go deeper: More key quotes.
https://www.axios.com/newsletters/axios-am-63e64edc-3a35-434d-b6ef-548a01d7b45e.html?chunk=10#story10
9. "Done with being a candidate"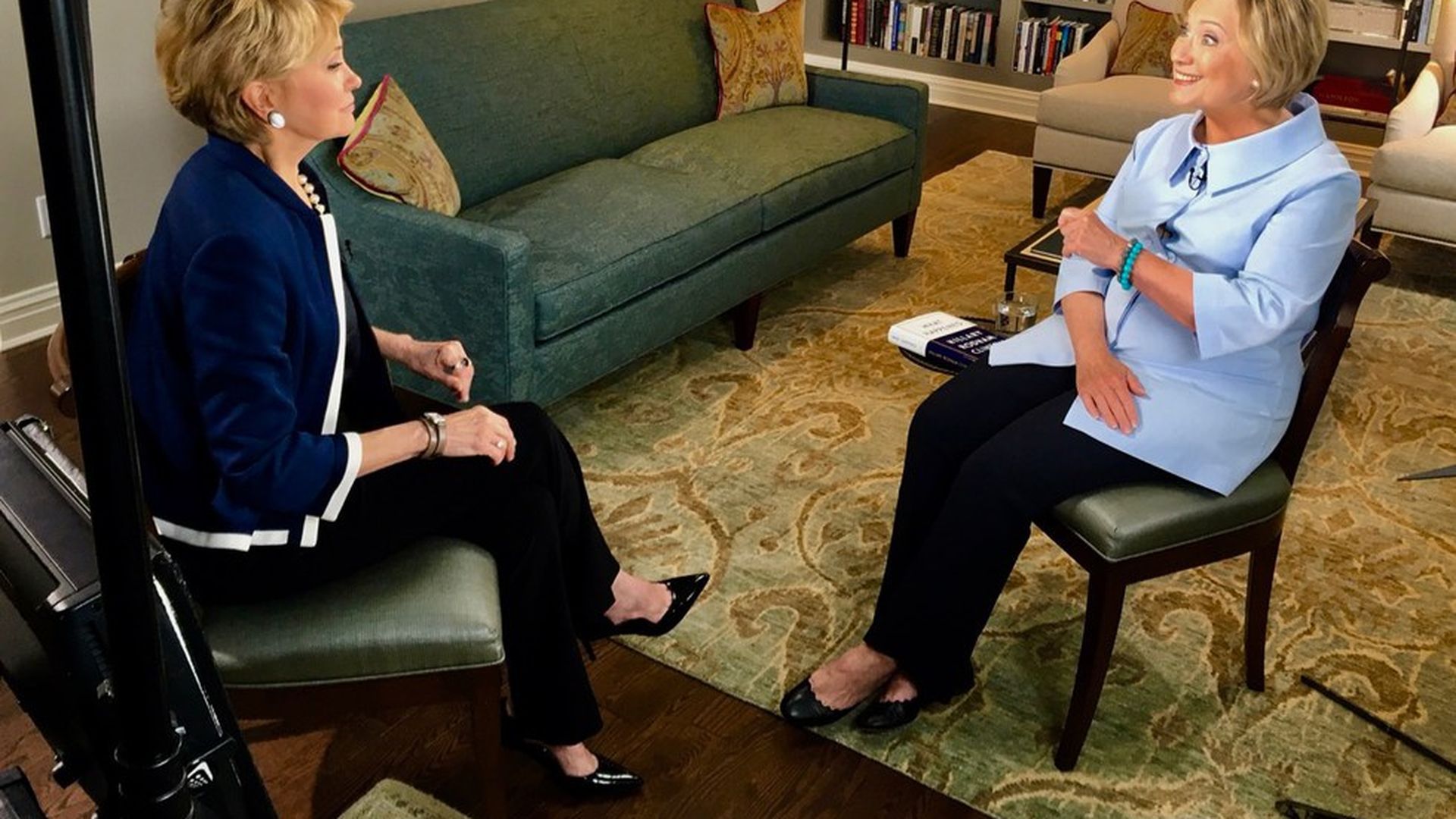 Jane Pauley on "CBS Sunday Morning," in the first rollout interview for Hillary Clinton's book, "What Happened," out tomorrow: "Hillary Rodham Clinton still seems gob-smacked by 'what happened.' She dishes out blame and she accepts responsibility. But while she's proud of her effort, she writes she was 'running a traditional presidential campaign, while Trump was running a reality show.'" Hillary Clinton: "We have a reality show that leads to the election of a president. He ends up in the Oval Office. He says, 'Boy, it's so much harder than I thought it would be. This is really tough. I had no idea.' Well, yeah, because it's not a show. It's real. It's reality for sure."
https://www.axios.com/newsletters/axios-am-63e64edc-3a35-434d-b6ef-548a01d7b45e.html?chunk=11#story11
Bonus: Something we should all shoot for
Sen. John McCain to Jake Tapper on CNN's "State of the Union":
"I'm very happy with my life. I'm very happy with what I have been able to do. And there's two ways of looking at these things. And one of them is to celebrate. I am able to celebrate a wonderful life and I will be grateful for additional time that I have."
https://www.axios.com/newsletters/axios-am-63e64edc-3a35-434d-b6ef-548a01d7b45e.html?chunk=12#story12
10. 1 fun video
Washington Post Satire: "The iPhone gets a new Siri. Meet Sarah" ... Huckabee.