Happy Saturday! 🏀 Situational awareness: Following University of Maryland-Baltimore County's historic upset of Virginia, 74-54, "there are zero perfect brackets remaining in ESPN's Tournament Challenge," per ESPN. "That's out of 17.3 million entries. ... UMBC became the first 16 seed to ever beat a 1 seed." UMBC's mascot: The Retrievers!
https://www.axios.com/newsletters/axios-am-62a960f9-5374-4e9f-b93c-21a51ec3ca18.html?chunk=0#story0
1 big thing: Kelly's day from hell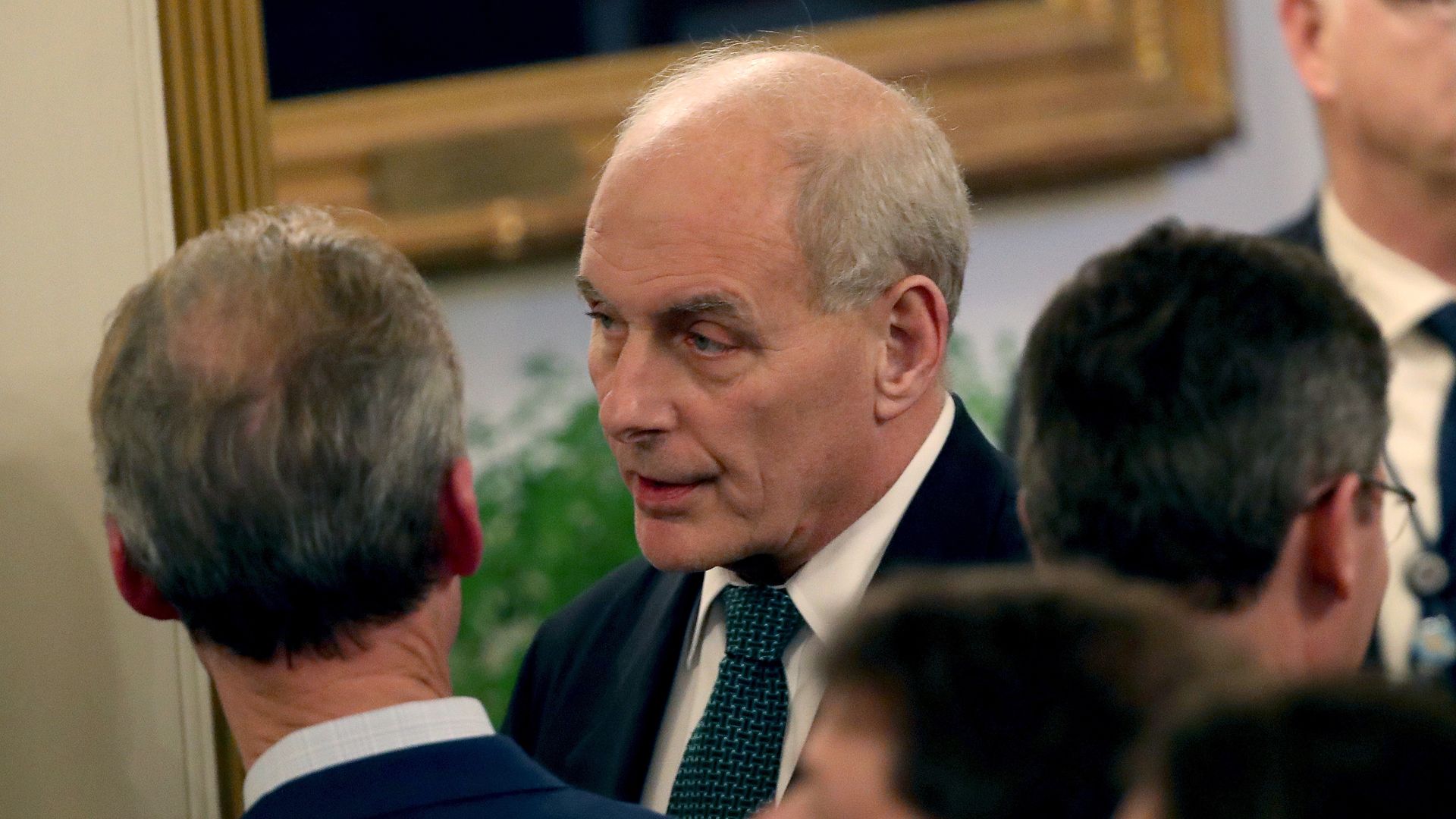 White House Chief of Staff John Kelly started yesterday with prescient bravado.
The retired four-star Marine general told about 20 West Wing officials in the 8 a.m. senior staff meeting: This is on the record, since you're all going to go out and tell the press, anyway.
The staff, including National Security Adviser H.R. McMaster, was seated around the Roosevelt Room's massive conference table.
On the Washington Post front page, above the fold, was the headline: "Trump plans to replace McMaster, maybe others."
Kelly stunned the room by declaring: We all read the same newspapers and watch the same shows. Contrary to what's been reported, H.R. and I are still here.
Kelly then told the silent staffers: The press's worst day was when I came in. The press wants to take down the president. I stand between the press and the president. They have to take me down first.
Lindsay Reynolds, the first lady's chief of staff, broke the tension by joking: "We thought this was Black Friday — everybody gets fired."
Economic adviser Gary Cohn topped her: "I can't get fired. I already resigned."
During senior staff meetings, the staff goes around the room, and General McMaster usually makes several orderly, numbered points.
Yesterday, he passed when his turn came.
All of this was before Kelly called in reporters for an off-the-record meeting (Axios didn't attend or make any agreement, so we're able to share the contents with you) where he acknowledged that Trump himself was probably responsible for a significant number of the stories about staffing chaos.
As Jonathan Swan reported yesterday, and we told you in Axios PM, Kelly said it's likely that Trump is talking to people outside the White House, who then talk to reporters.
Kelly also said that past cocaine use by Larry Kudlow, named this week to succeed Cohn, won't be a problem for his security clearance, as it is public knowledge. Kelly joked that the 1990s were "a crazy time."
Staffers were shocked that Kelly revealed to reporters that Secretary of State Rex Tillerson, during a diplomatic swing through Africa, was suffering from a stomach bug and was using a toilet when Kelly told him to cut the trip short and return to Washington.
Be smart: Kelly defended McMaster at the senior staff meeting — even though the chief is widely known to be casting about for a replacement.
Now you'll better appreciate this bit in the WashPost story: "The mood inside the White House in recent days has verged on mania ... White House officials have begun betting about which staffer will be ousted next."
Go deeper ... "On Leadership" column in WashPost Sunday Business section, "Trump's 'cascade of chaos': When there's too much turnover at the top."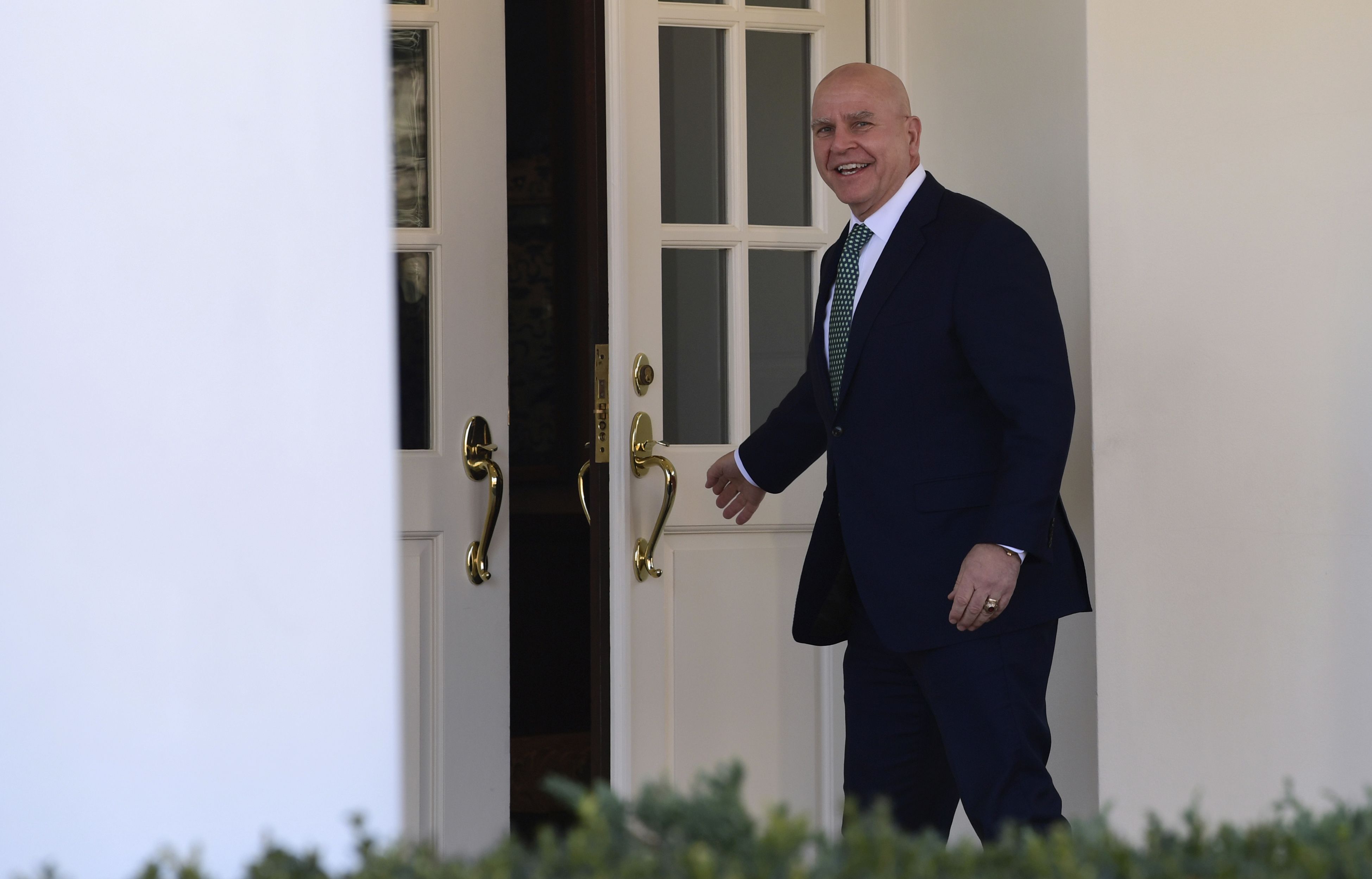 National security adviser H.R. McMaster smiles as he walks into the West Wing yesterday. (AP's Susan Walsh)
https://www.axios.com/newsletters/axios-am-62a960f9-5374-4e9f-b93c-21a51ec3ca18.html?chunk=1#story1
2. Friday night firing
"Attorney General Jeff Sessions late Friday night fired former FBI deputy director Andrew Mc­Cabe, a little more than 24 hours before McCabe was set to retire — a move that McCabe alleged was an attempt to slander him and undermine" Mueller, per the WashPost lead story:
"Sessions announced the decision in a statement just before 10 p.m."
Per N.Y. Times: "McCabe, a 21-year F.B.I. veteran, was eligible for a government pension if he retired on Sunday. The firing jeopardizes that benefit, though it was not immediately clear how much he might lose."
Axios' Jonathan Swan is told McCabe was informed (with his lawyers cc'd) at least nine minutes before the media.
Attorney General Jeff Sessions statement: The Justice Department's Office of the Inspector General "provided its report on allegations of misconduct by Andrew McCabe to the FBI's Office of Professional Responsibility (OPR)."
"Both the OIG and FBI OPR reports concluded that Mr. McCabe had made an unauthorized disclosure to the news media and lacked candor — including under oath — on multiple occasions."
"[B]ased on the report of the Inspector General, the findings of the FBI Office of Professional Responsibility, and the recommendation of the Department's senior career official, I have terminated the employment of Andrew McCabe effective immediately."
https://www.axios.com/newsletters/axios-am-62a960f9-5374-4e9f-b93c-21a51ec3ca18.html?chunk=2#story2
3. System failure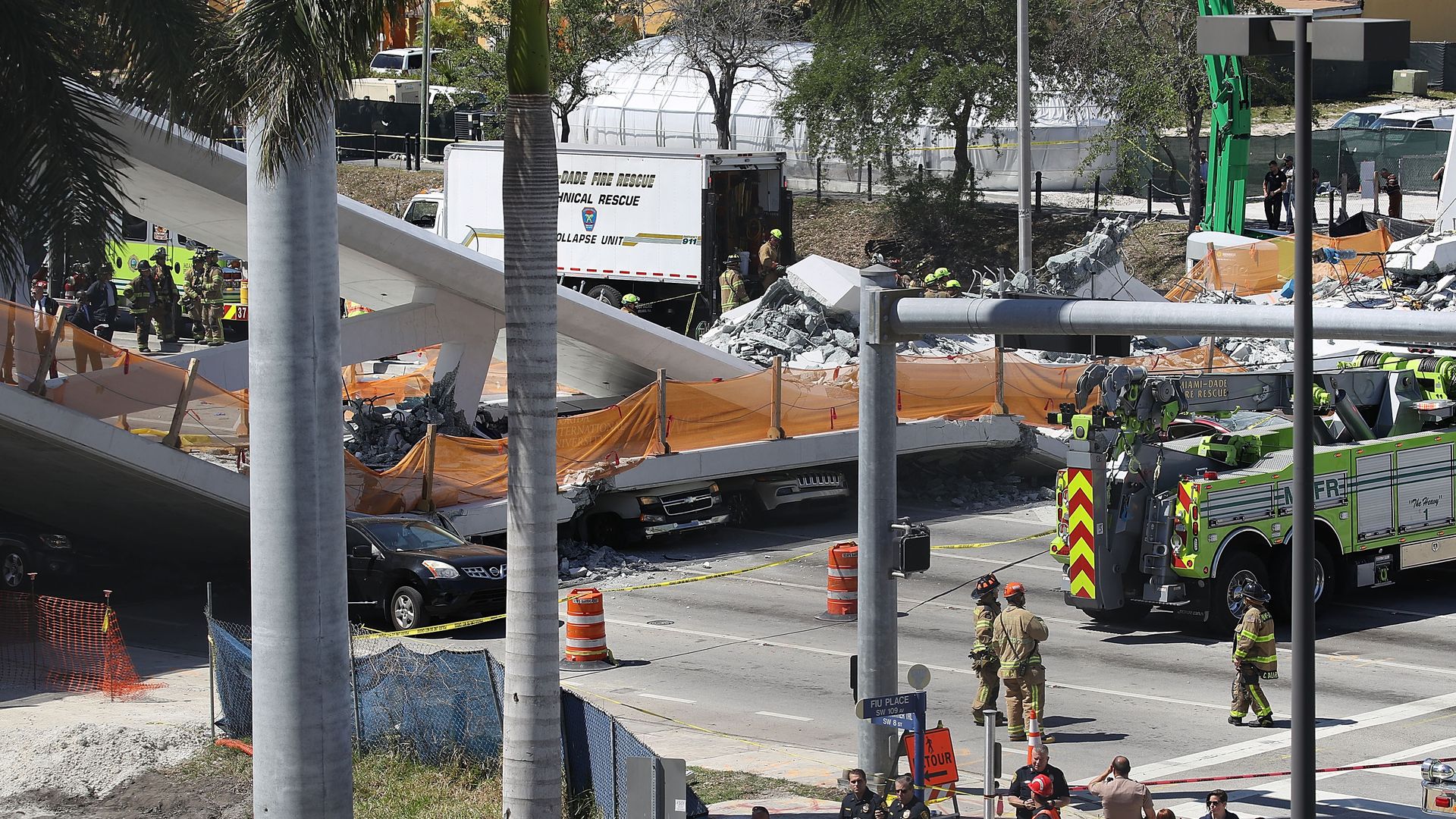 "Two days before a pedestrian bridge collapsed at Florida International University, killing at least six people, an engineer with the firm that designed the structure called the state and left a voicemail to report cracking in the concrete span," the Miami Herald reports:
"It went unheard for three days."
The message: "Hey Tom, this is Denney Pate with FIGG bridge engineers. Calling to, uh, share with you some information about the FIU pedestrian bridge and some cracking that's been observed on the north end of the span, the pylon end of that span we moved this weekend."
Lesson for leaders: What systems do you have in place at your organization to make sure no such message, literal or figurative, goes unheard?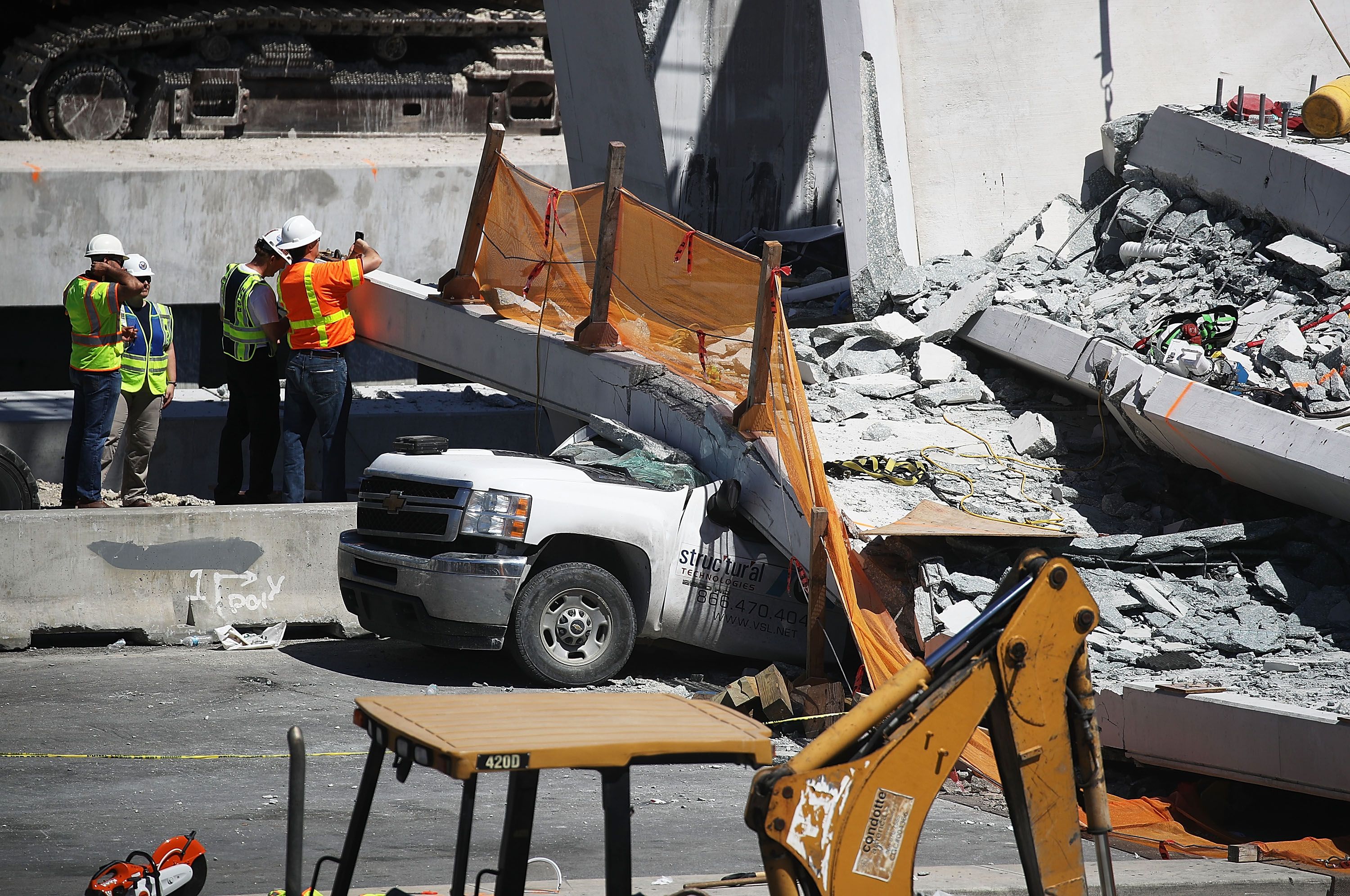 Members of the National Transportation Safety Board investigate the scene. (Joe Raedle / Getty Images)
https://www.axios.com/newsletters/axios-am-62a960f9-5374-4e9f-b93c-21a51ec3ca18.html?chunk=3#story3
Bonus: Cover du jour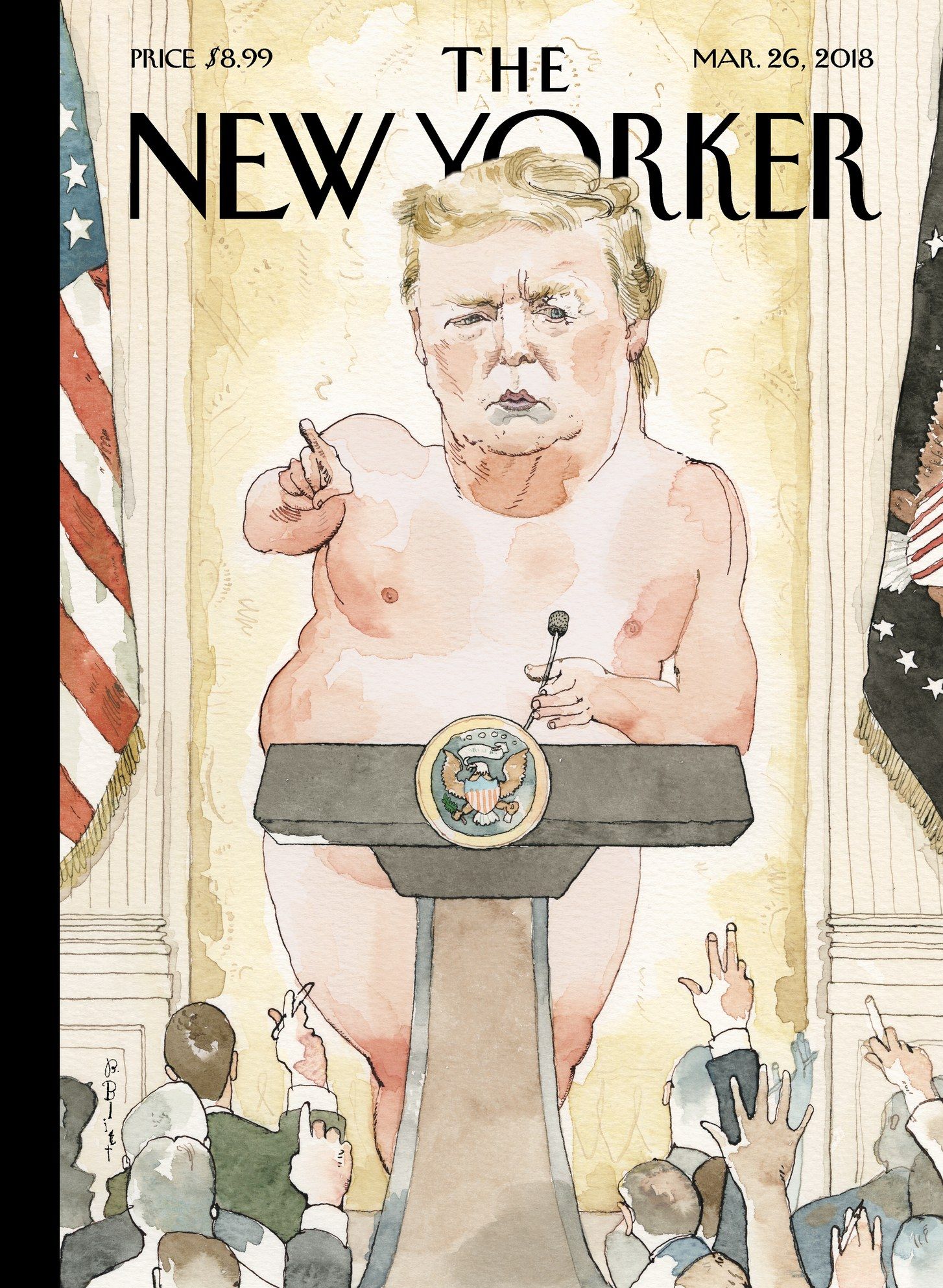 "Exposed," by Barry Blitt / Courtesy The New Yorker
The New Yorker "Cover Story": "Barry Blitt's latest cover for the magazine is his fifteenth to feature Donald Trump. ('The gift that keeps on grifting,' in Blitt's words.)"
"The image of Trump at the lectern, poised nude and cross-legged, recalls the prophet Bob Dylan, who once noted, in 'It's Alright Ma (I'm Only Bleeding),' that 'even the President of the United States must sometimes have to stand naked.'"
"Blitt sends sketches to the magazine each week; this one was chosen from a batch that included riffs on school shootings and the death of Stephen Hawking. Once the image was selected, Blitt honed the cast and contour of certain love handles, then glazed the work in his signature watercolors."
Blitt: "I wanted to address President Trump's stormy relationship with the press."
https://www.axios.com/newsletters/axios-am-62a960f9-5374-4e9f-b93c-21a51ec3ca18.html?chunk=4#story4
4. Bye-bye box seats? Tax law may curb corporate cash at games
"The new tax law ends a benefit prized by business for impressing customers or courting new ones. And the impact could be felt in the pricey boxes at sports stadiums, or even at Double-A baseball games in small towns with loyal company backers. In Washington, lobbyists who helped craft the Republican tax legislation could now be pinched by it," AP's Marcy Gordon writes:
"U.S. companies spend hundreds of millions annually on entertaining customers and clients at sporting events, tournaments and arts venues, an expense that until this year they could partially deduct from their tax bill."
"But ... the new law eliminates the long-standing 50 percent deduction."
Why it matters: "The provision is one of the many under-the-radar consequences slowly emerging from the new tax legislation, the most sweeping rewrite of the tax code in three decades."
P.S. Washington, Inc. feeding frenzy ... "Trump's decision to impose tariffs ... has prompted a stampede by foreign countries and companies and their American partners pressing for exemptions and exclusions that could be worth billions of dollars," per the N.Y. Times lead story, by Ana Swanson and Ken Vogel:
"Corporations and foreign leaders are leaning on personal relationships in vying for meetings with White House officials, hiring lawyers and lobbyists to defend them, and drafting messages to persuade the public of the importance of free trade."
https://www.axios.com/newsletters/axios-am-62a960f9-5374-4e9f-b93c-21a51ec3ca18.html?chunk=5#story5
5. BlackBerry's last loyalists
"Once-popular device, long since upstaged by touch-screen rivals, still has its devoted fans," per Wall Street Journal A-Hed (subscription):
"BlackBerrys, says Andrew Stivelman, a technical writer in Toronto, are 'built like a tank.' Mr. Stivelman bought his first one in 2003 and has owned almost every model since. His ardor has withstood a former employer's policy prohibiting workers from using BlackBerrys because the CEO thought they were outdated."
"[F]ans of BlackBerrys wax lyrical about features like a curved shape that fits the hand, writing in forums such as ... Crackberry.com. A bonus, wrote one person last year, is reduced theft risk, 'because thieves don't know what they are."
"Until recently, devotees could gain affirmation from a [BlackBerry celebrities] website ... showing sightings of users such as Kim Kardashian."
"The last posting from the moderator is from August 2016: Dear Guys, I received tons of mails that ask me to update the blog with new posts. Unfortunately, all the celebrities now own an iPhone, this is so sad. :(."
"Although ... BlackBerry Ltd. ... no longer makes the phones, they live on through licensing agreements with companies that make and sell BlackBerry-branded hardware with Android operating systems. BlackBerry Ltd. says it will support phones that use its own operating system until at least 2020."
"[T]he Canadian government remains a steadfast supporter of the native-born device. Some 125,000 BlackBerrys are in use by government employees, compared with just 1,500 Android devices and 700 iPhones."
https://www.axios.com/newsletters/axios-am-62a960f9-5374-4e9f-b93c-21a51ec3ca18.html?chunk=6#story6
6. 1 hoop thing: Biggest upset in Madness history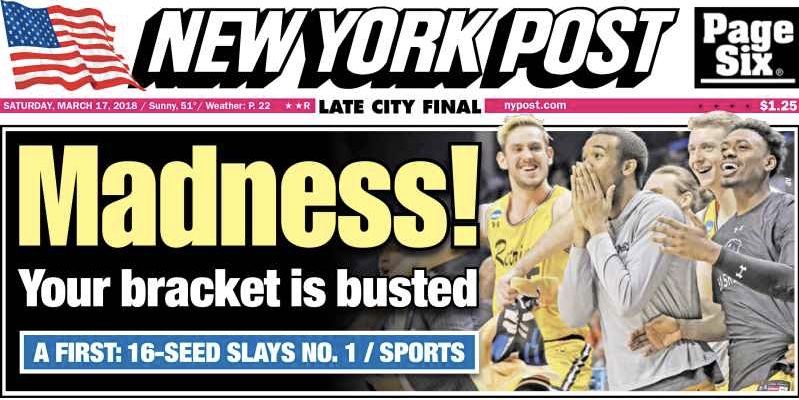 Courtesy N.Y. Post
Etching their name in sports lore ... "The University of Maryland-Baltimore County stunned the sports world by pulling off the most surprising upset in college basketball history, trouncing Virginia 74-54 on Friday night to become the first No. 16 seed ever to beat a No. 1 seed in the men's NCAA Tournament," AP reports from Charlotte.
Why it matters: "The Retrievers secured their underdog legacy in sports lore, alongside [boxer] Buster Douglas, the 1980 United States Olympic hockey team and Joe Namath's Jets.'
The big picture ... "The University of Maryland-Baltimore County — a program with a longer name than resume — goes out and beats Virginia," AP's Eddie Pells writes. "College basketball can't die, and nights like last night are why."
"They are why tears flowed freely in the stands, and on the court, for a basketball game that should have been routine, and turned out to be anything but."
"They are why, despite the sport's growing list of unseemly, unsolvable problems, there is so much worth saving."
"Dozens of programs have been ensnared in an FBI probe and subsequent media reports looking into improper benefits to players provided by unmoored coaches and shady agents."
"That has led the NCAA to trigger an investigation by none other than Condoleezza Rice, who should make her conclusions available shortly after the Final Four."
"She will undoubtedly call for change. Critics will undoubtedly say the calls don't go far enough."
"[T]he NCAA is unlikely to do anything to disassemble this tournament, which is worth more than $820 million a year in TV money and provides the funding that keeps not only basketball, but every other college sport besides football, up and running."
Why it matters: "The unspoken irony is that the tournament provides the stage for the small, out-of-nowhere programs ... to compete against, and sometimes defeat, all those monsters."
"When a little guy beats a monster, the way it happened Friday night in Charlotte, tears well up and beautiful stories get told."
"If it weren't for all those monsters to beat ... the tournament wouldn't be anything more than an extension of a 5,000-game, 351-team regular season, 99 percent of which flies past mainstream America completely unnoticed."