February 24, 2020
😎 Happy Monday! Today's Smart Brevity™ count: 1,172 words ... 4½ minutes.
1 big thing: Bernie's path to the presidency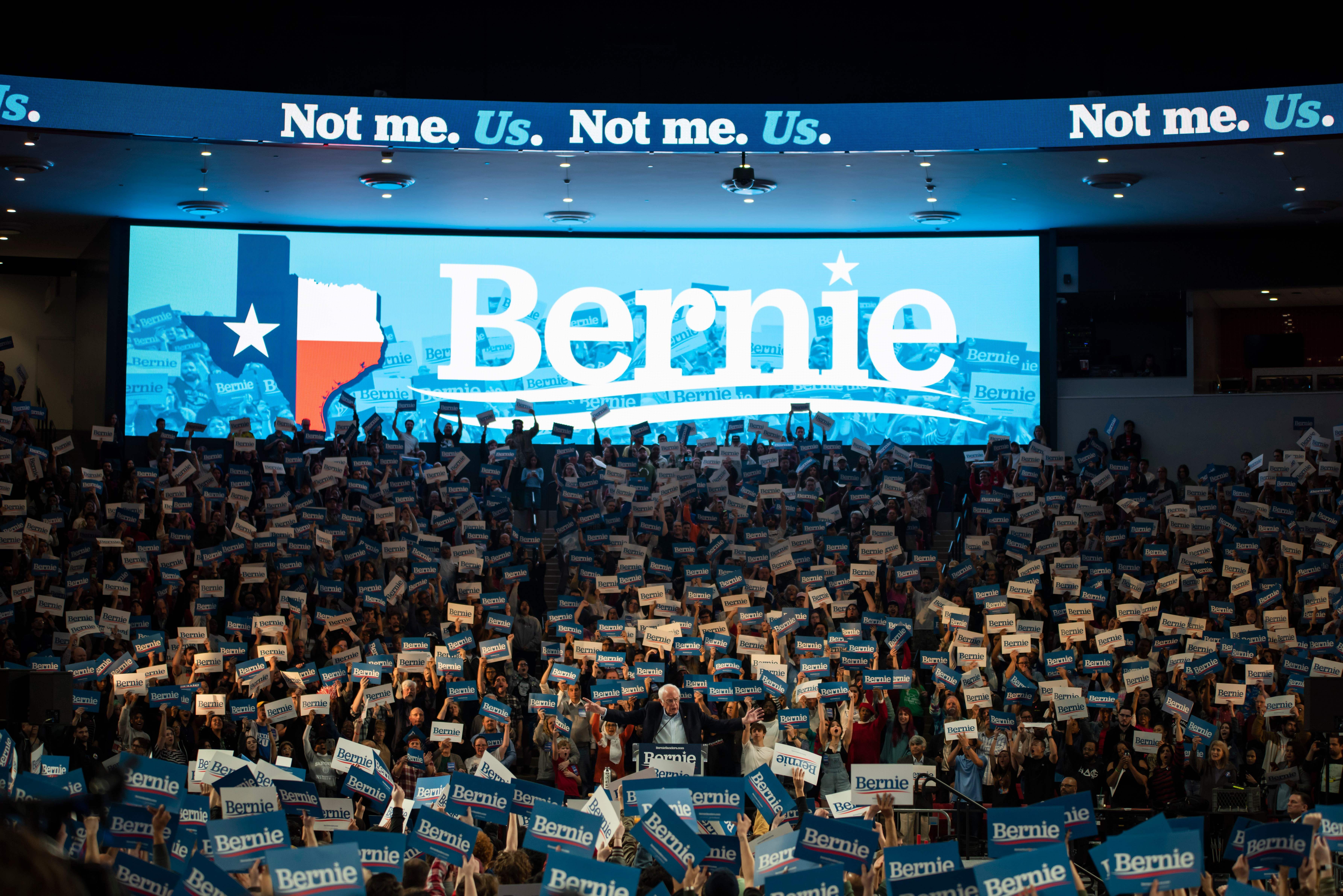 Lots of Democrats are in full panic that Bernie Sanders will win the nomination and get clobbered in the general election — and bring the party down, too. But the evidence, particularly the polling, doesn't back those doomsday warnings, Axios CEO Jim VandeHei writes.
Why it matters: Virtually every national and swing state poll shows Sanders tied with or beating President Trump.  And, unlike every rival, he has a huge base of fervent, unshakable supporters he can only grow.
Just the facts, please: A Quinnipiac Poll last week showed Sanders beating Trump in Michigan and Pennsylvania. A CBS News/YouGov poll showed Sanders beating Trump nationally.
A Texas Lyceum poll shows Sanders doing better against Trump in Texas than any Democrat, losing by just three points.
He's socially savvier: Sanders has much larger followings on Facebook, Instagram, Twitter and other platforms than his rivals — and has consistently shown new media sophistication others lack. 
Loyalty matters: The guy's base writes checks regularly, for years now, making him the best-funded non-billionaire in the Democratic game. His supporters also show up — on social, at rallies, in elections. Ask Trump if this matters. 
Socialism hasn't killed him: It's not like Sanders hides his big government socialism — he has screamed it to the nation for a half-decade. Maybe voters don't care, just like 45% don't care about Trump's outlandishness.
Peter Hamby, who works for Snapchat and writes for Vanity Fair, argues "bed-wetting" Democrats might have it all wrong:
"Instead of asking if Sanders is unelectable, ask another question: What if Sanders is actually the MOST electable Democrat? In the age of Trump, hyper-partisanship, institutional distrust, and social media, Sanders could be examined as a candidate almost custom-built to go head-to-head with Trump this year."
He's a Trump-like celebrity: "Running for president has always been about winning the attention war, and the competition for attention has never been more difficult than it is in 2020," Hamby writes. Sanders has way more old-school and new-age celebrity than the rest of his rivals combined. 
The bottom line: The truth is we are all clueless about what voters want or will accept. That includes everyone on Twitter, inside the Democratic establishment — and me!
2. These swing voters don't like Trump's environmental rollbacks
Swing voters in four battleground states decisively oppose President Trump's sweeping rollbacks of environmental regulations — but it's unlikely to sway their votes, Axios' Amy Harder reports in her "Harder Line" column.
Why it matters: Voters in states like these — Florida, Pennsylvania, Iowa and Michigan — play pivotal in roles choosing a president. So we should listen.
These voters' comments show they have real concerns over the environment and the effects of climate change — but that they don't like any of the 2020 Democrats enough to abandon Trump.
Focus groups in the four states were conducted by the nonpartisan research firms Engagious and Focus Pointe Global. These are small handfuls of voters, and don't offer a statistically significant sample like a poll.
The responses nonetheless provide a richer snapshot inside the minds of voters in key counties.
Most of the voters voted for Barack Obama in 2012, then Donald Trump in 2016.
The big picture: The Florida voters' positions are squarely in line with national polling.
A WashPost-ABC poll from last summer found voters measured Trump most negatively on climate change, while an AP poll from September found two-thirds of voters disapproved of his handling of the problem.
The intrigue: The Florida voters readily acknowledged sea level rise and increased flooding in their state, though it wasn't a topic they brought up unprompted. They don't prioritize this over other worries, despite living where global warming's impact is most explicit.
New this morning: Axios' Alexi McCammond reports from a focus group on Port St. Lucie, Fla.
3. Scoop: Trump's hit list
The White House and its allies have assembled detailed lists of disloyal government officials to oust — and trusted pro-Trump people to replace them, Axios' Jonathan Swan scooped in his Sunday night newsletter, Sneak Peek.
While Trump's distrust has only intensified since his impeachment and acquittal, he has long been on the hunt for "bad people" inside the White House and U.S. government, and fresh "pro-Trump" options. Outside advisers have been happy to oblige.
Why it matters: Since Trump's Senate acquittal, aides say the president has crossed a psychological line regarding what he calls the "Deep State."
He feels his government — from Justice to State to Defense to Homeland Security — is filled with "snakes." He wants them fired and replaced ASAP.
4. Pics du jour: Trump in India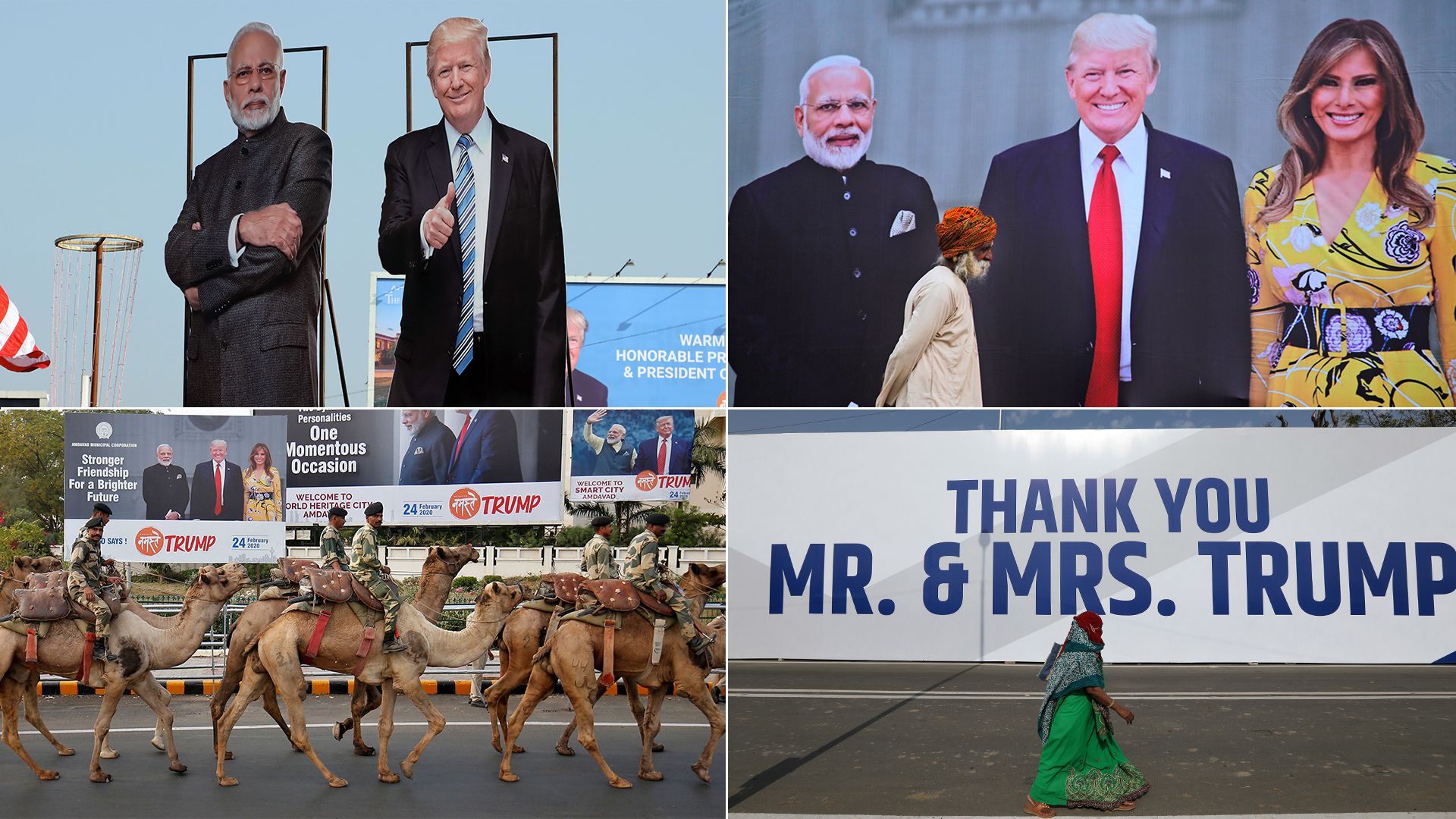 Hundreds of thousands lined streets in India today as President Trump began a two-day visit with the ideologically aligned Prime Minister Narendra Modi — starting with a massive rally, then a sunset visit to the Taj Mahal, AP reports.
After a "Howdy Modi" rally drew 50,000 people in Houston last year, Modi returned the favor with a "Namaste Trump" ("Greetings, Trump") rally — photo below — that packed more than 100,000 people into the world's largest cricket stadium, in the western Indian city of Ahmedabad.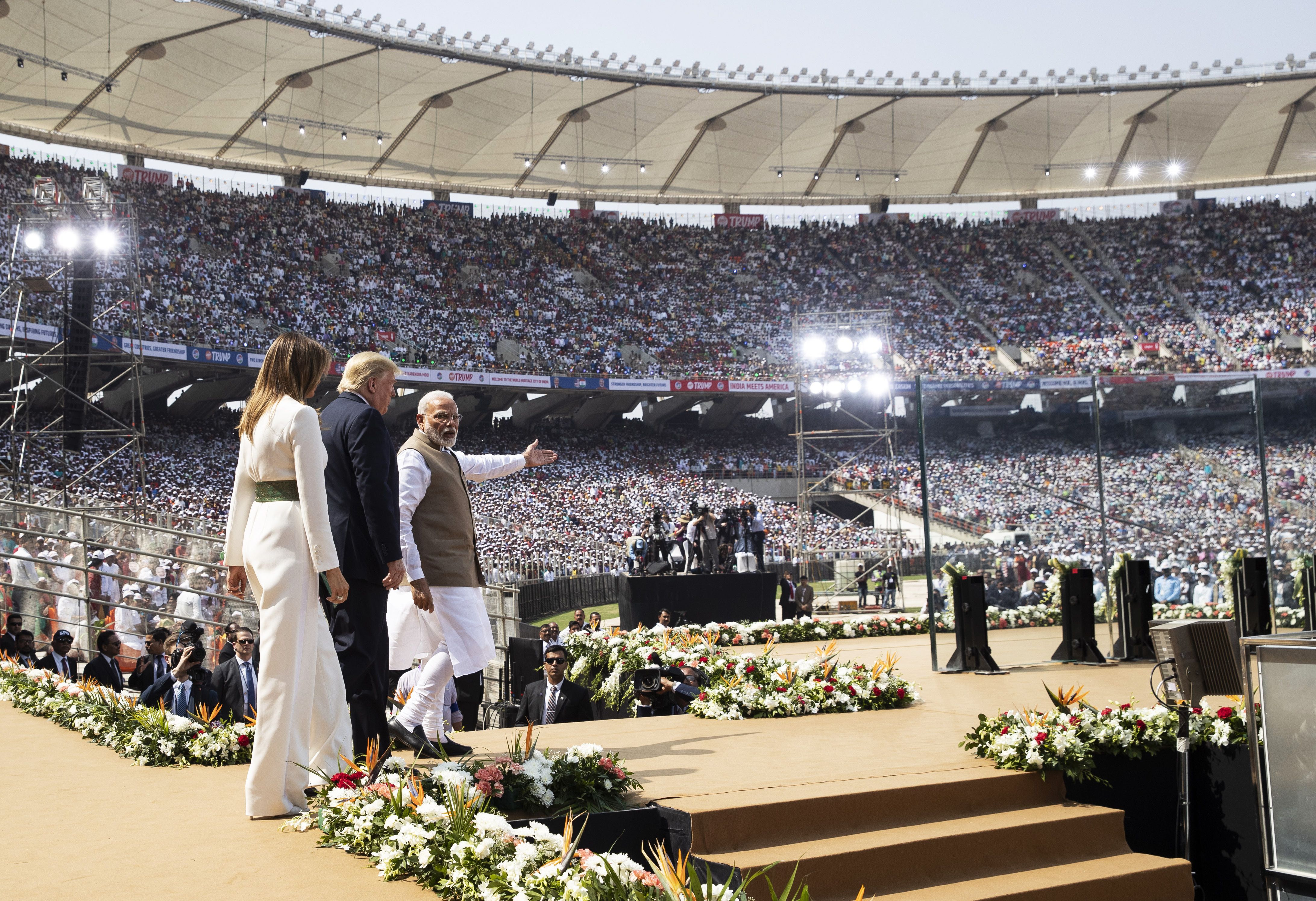 5. Layoffs hit tech startups
As the startup boom deflates, many hot young companies are facing a reckoning — layoffs, shutdowns, uncertainty — after a decade of prosperity, the N.Y. Times' Erin Griffith writes from San Francisco (subscription):
Why it matters: "It's a humbling shift for an industry that long saw itself as an engine of job creation and innovation."
"[T]he layoffs have started coming in droves":
"Last month, the robot pizza start-up Zume and the car-sharing company Getaround slashed more than 500 jobs."
"Then the DNA testing company 23andMe, the logistics start-up Flexport, the Firefox maker Mozilla and the question-and-answer website Quora."
6. What I'm reading ... Rahm: Why mayors matter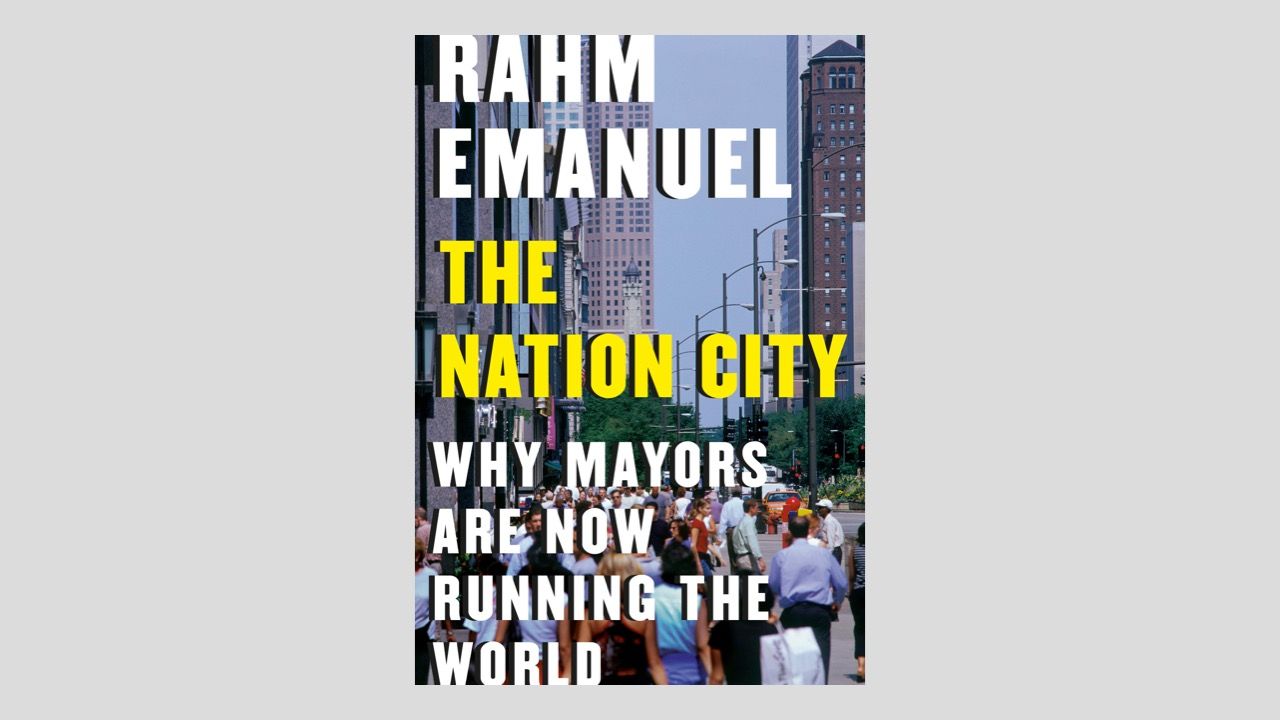 Rahm Emanuel — former Chicago mayor, now an ABC News contributor — draws on his own experiments, plus conversations with other innovative mayors, for "The Nation City: Why Mayors Are Now Running the World," out tomorrow:
Just when the federal government is distant, the local government is intimate. Just when the federal government is dysfunctional, the local government is impactful. Just when the federal government is indifferent, the local government is immediate.
Local governments are politically stable when our national governments are anything but.
Fun fact ... Three former mayors are still in the presidential race: Bernie Sanders (Burlington, Vt.), and, of course, Mike Bloomberg and Pete Buttigieg.
7. Stat of the day: One-third of Venezuelans are hungry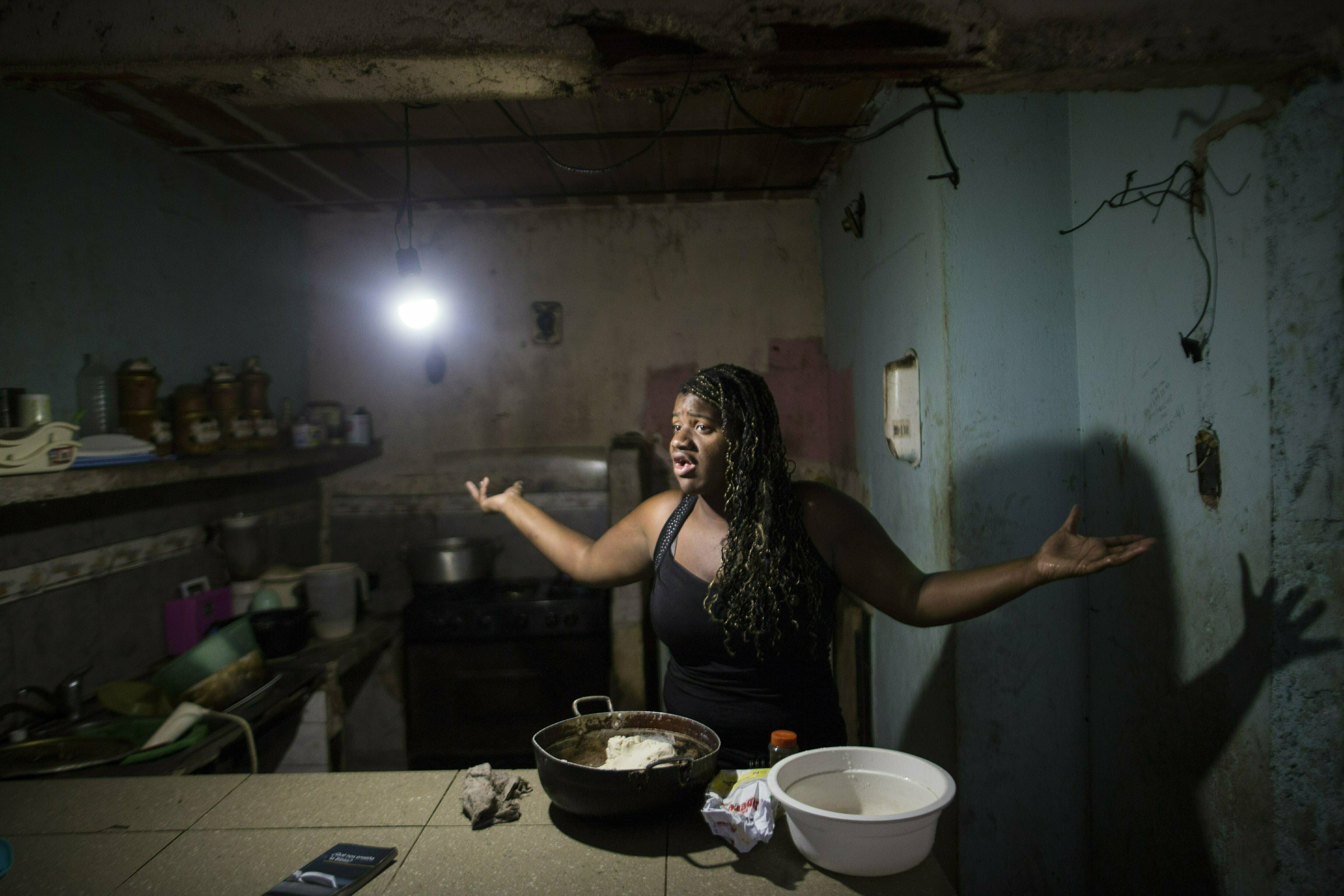 One in three people in Venezuela struggles to put enough food on the table to meet minimum nutrition requirements as the nation's severe economic contraction persists, according to the UN World Food Program, via AP.
The survey found that 74% of families have adopted "food-related coping strategies," such as reducing the variety and quality of food they eat.
60% of households reported cutting portion sizes in meals, 33% said they had accepted food as payment for work and 20% reported selling family assets to cover basic needs.
8. "Person 1": Awkward question on census form
It's a question spouses, domestic partners and roommates are going to be forced to confront in the next few weeks as they fill out their 2020 Census forms, AP's Mike Schneider writes: Who gets to be the primary person in the household?
Everyone else who lives in the home has to be identified on the form by how they are related to so-called "Person 1."
Until 40 years ago, Person 1 was called "head of household" or "head of family."