Axios AM
January 29, 2019
☕ Good Tuesday morning.
Bulletin: The largest utility in the U.S., Pacific Gas & Electric Corp., filed for bankruptcy in San Francisco today, facing billions of dollars in potential damages from wildfires in California. (AP)
Happening today: Chairman Elijah Cummings holds the first hearing of his Committee on Oversight and Reform at 11 a.m., "Examining the Actions of Drug Companies in Raising Prescription Drug Prices." Livestream here.
1 big thing: Starbucks' 2020 problem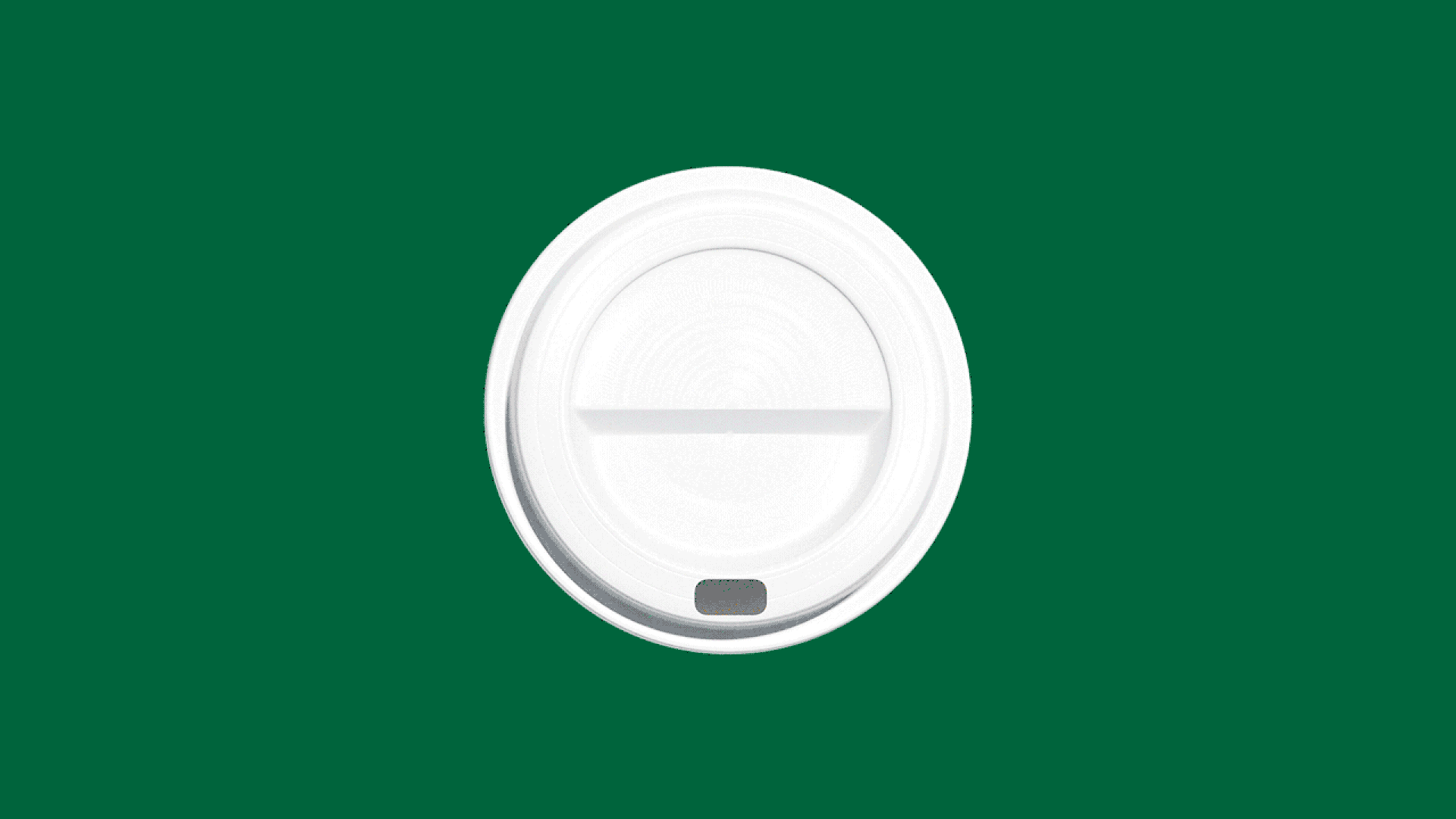 Starbucks chairman emeritus Howard Schultz is a long shot to win the White House, but a sure bet to create headaches for the coffee chain he turned into a global empire, Axios' Dan Primack writes.
Schultz's reputation and fortune comes from his time as the Ray Kroc of coffee, turning a small Seattle roaster with four stores into a 28,000-store phenomenon spanning 77 countries.
Why it matters: That means massive scrutiny of Starbucks, by both the media and political opponents, unlike anything the company has yet experienced.
A former presidential campaign staffer says: "If I were the DNC or RNC, I'd already be sending people to Starbucks stores around the country, looking for employees with serious complaints."
"Maybe complaints that they emailed Schultz about but didn't hear back. Or the former mom and pop coffee shop that was put out of business when Starbucks showed up. It only takes one."
Schultz's successor as CEO, Kevin Johnson, emailed the chain's 350,000 employees worldwide a message at 6 a.m. yesterday that said: "As a company, we don't get involved in national political campaigns. And nothing changes for Starbucks."
Good luck with that. If the company is publicly attacked, it will have little choice but to defend itself.
In fact, Starbucks officials have prepared for a media onslaught, and have studied the cases of other business titans who have run for office.
Schultz and Starbucks are tied at the hip, which means they'll need to work together. Kind of like Mitt Romney and Bain Capital in 2012.
For Schultz, that means quickly identifying supporters in upper Starbucks management (including in the communications and legal departments), and leveraging those people when the campaign needs time-sensitive answers.
It also would be beneficial to tap a former Starbucks executive as a trusted go-between, like Romney did with former Bain Capital co-founder Bob White.
⚡ P.S. ... Dems' 2020 contest is wide open, per a new WashPost/ABC News poll: When asked whom they'd support today, 56% of Democrats did not offer a name.
"No candidate received double-digit support, with former vice president Joe Biden and Sen. Kamala Harris (D-Calif.) leading the pack."
Subscribe to Dan Primack's Pro Rata podcast and Pro Rata newsletter.
2. Forget Twitter nonsense. Here are real threats
"The Trump administration is not prepared for a foreign policy crisis," writes Tony Blinken, who was deputy secretary of state in the Obama administration and now is an opinion contributor to the N.Y. Times:
"[T]he administration has not faced an actual national security crisis that tests it and us in a profound way."
🥊 "There is no shortage of possible candidates — a major terrorist attack; a debilitating cyberattack; an infectious disease outbreak; an incident with North Korea, Iran, China or Russia that escalates into a broader conflict."
"I spent nearly 25 years in government, and almost as much time studying it. When it comes to the effective stewardship of our nation's security — especially during crises — the most successful administrations had three things in common: people, process and policy."
Trump has shortages of all three.
⚡ Breaking ... Threats to the American system of checks and balances have knocked the United States out of the top 20 "cleanest" countries, according to a closely watched annual survey out today from Transparency International. (AP)
3. 4,459 emails
As the government returned after the longest shutdown in history, the WashPost Style section captured "the buzz of activity in Washington's brutalist honeycomb of agencies, associations, departments, foundations, commissions, councils, institutes, bureaus and boards":
Laurel Bryant works at the National Oceanic and Atmospheric Administration, up in Silver Spring. The mood Monday was joyous, like a big family reunion — if your family had to suddenly drop everything and scatter for five weeks. Everyone's equipment had to be left behind, and passwords were forgotten, but the wizards from IT were circulating, checking in with everyone, asking if all was okay. Too many people were logging on at the same time to fill out their timecards, so the system kept crashing.
"I came back to 4,459 emails," Bryant said. "I'm down to 4,222."
Stat du jour: $3 billion in economic activity was permanently lost to the shutdown, the Congressional Budget Office estimates.
"CBO projected economic growth will slow this year to 2.3 percent, compared with the 3.1 percent rate last year, as the benefits of the new tax law begin to fade." (CNBC)
P.S. ... "The 35-day partial government shutdown stopped the National Transportation Safety Board from dispatching investigators to 22 accidents that killed 32 people, jeopardizing some perishable evidence, the agency said." (AP)
4. Pic du jour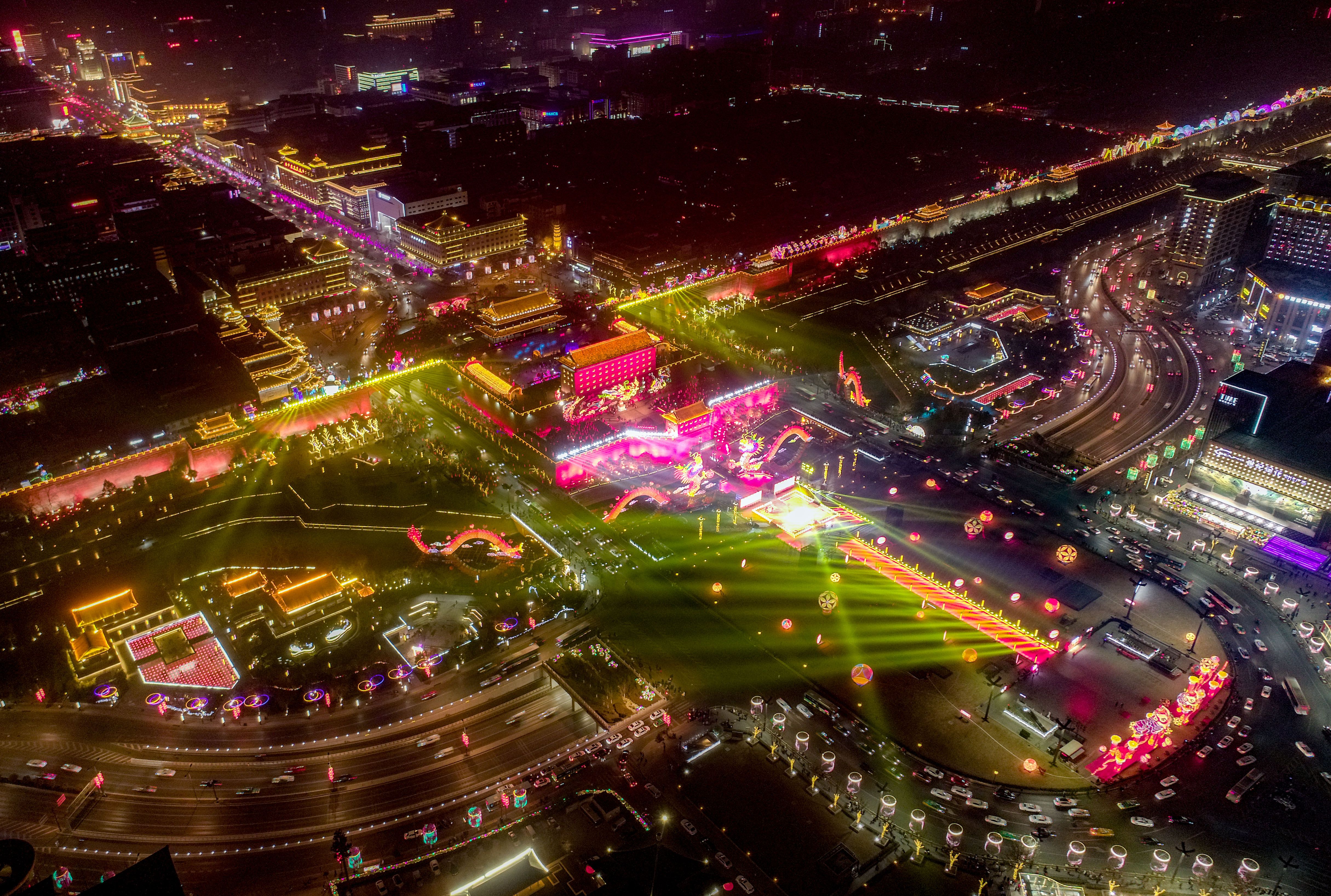 Lunar New Year (Year of the Pig) comes a week from today. The Xi'an, China, city wall lantern show opened yesterday, and will last until March 10.
5. Exclusive poll: Huge number want change in economic system
70% of Americans think the economic system is skewed toward the wealthy and the government should do more to fix it — and they're ready to vote for a 2020 candidate who agrees, according to a new Axios/SurveyMonkey survey. 
Why it matters, from Axios' Dave Lawler: That's a big number. It bolsters Elizabeth Warren's "wealth tax" focus, and gives you a sense of where the 2020 conversation is going.
By the numbers:
89% of Democrats say economic unfairness that favors the wealthy is a bigger problem than overregulation.
68% of independents agree.
But 77% of Republicans say overregulation of the free market is a bigger problem than economic unfairness.
6. Hint for Maduro?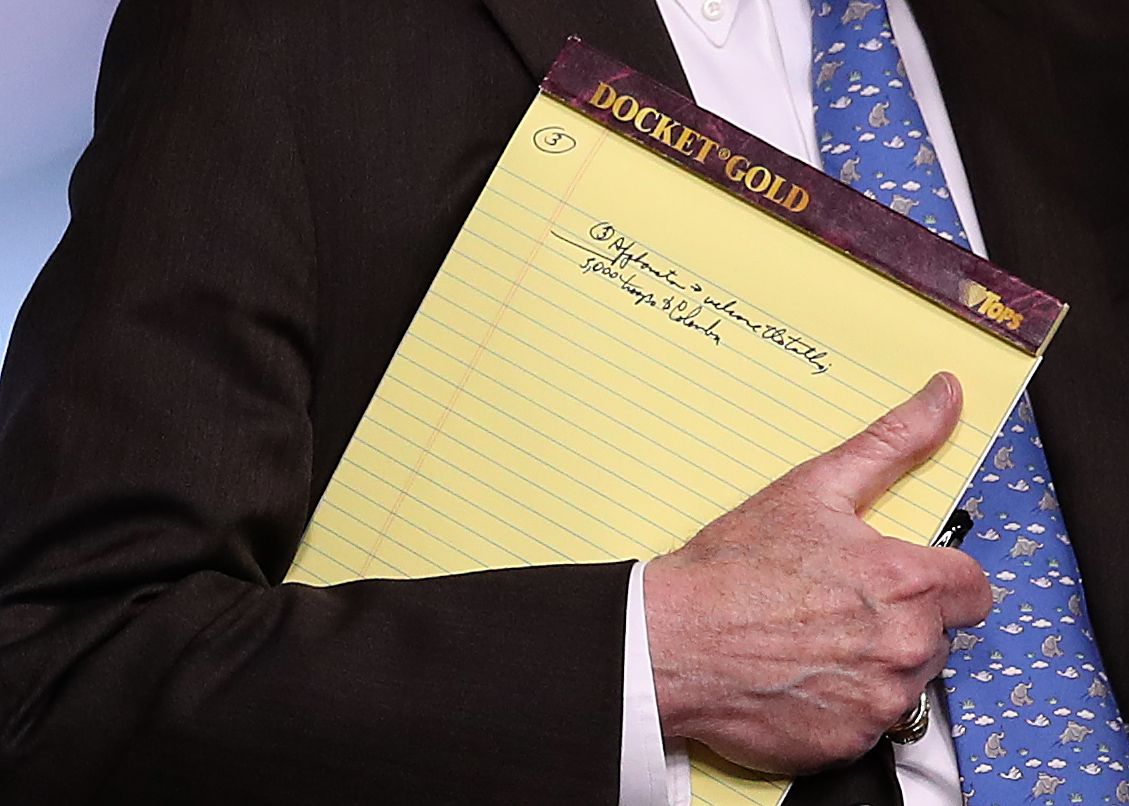 "White House National Security Adviser John Bolton entered a press briefing on new Venezuela sanctions with a yellow legal pad ... turned to face gathered reporters and photographers," Bloomberg's Margaret Talev writes.
"On the pad appeared a hand-written note: 'Afghanistan --> welcome the talks. 5,000 troops to Colombia.'"
"National Security Council representatives didn't respond to questions about whether the U.S. is planning to deploy the military to Colombia, which, of course, borders Venezuela."
7. "Very dangerous situation": Experts sound alarm on measles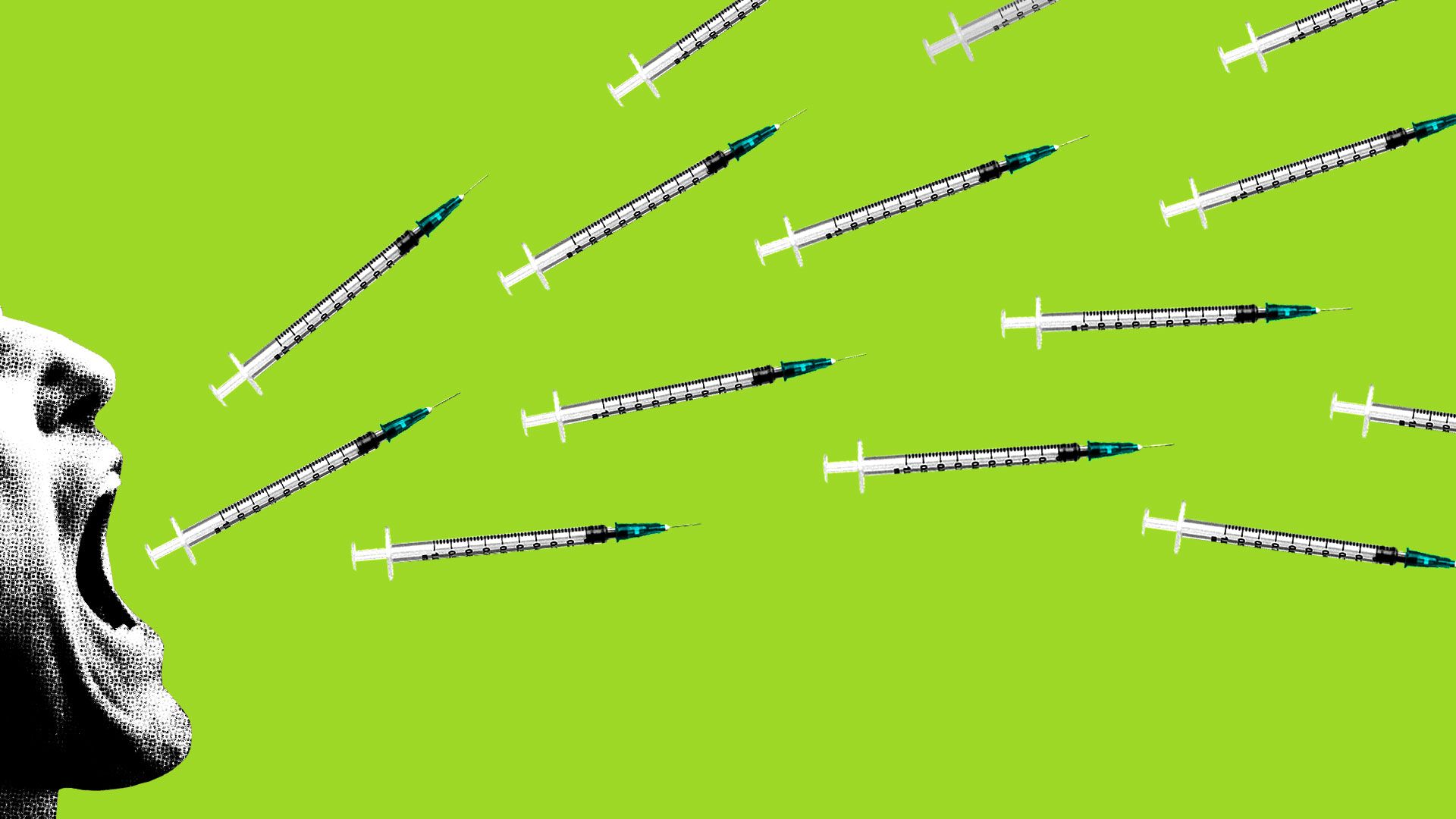 After measles were practically eradicated from the U.S. almost two decades ago, a growing anti-vaccination movement has led to a resurgence of cases, currently focused in the Pacific Northwest and New York, Axios' Eileen O'Reilly reports.
Washington Gov. Jay Inslee declared a state of emergency Friday after multi-county cases caused a "public disaster."
Portland, Ore., has had dozens of possible exposures, from a Portland Trail Blazers game to a children's museum.
Why it matters: Unless doctors and the public step up to counteract the vocal opposition to vaccines with evidence-based facts, infectious diseases like measles could return full-force, public health officials and scientists tell Axios.
The big picture: The growing anti-vaccination movement is mostly due to disbelief that measles is such a bad disease, anti-government sentiment, a misguided sense that the vaccine can be harmful, and "under-immunization" because of poverty.
Public health officials are concerned the pro-vaccination message isn't getting through.
Factors include social media spread of conspiracies and anti-vaccination messages from celebrities and influencers.
8. Facebook's new face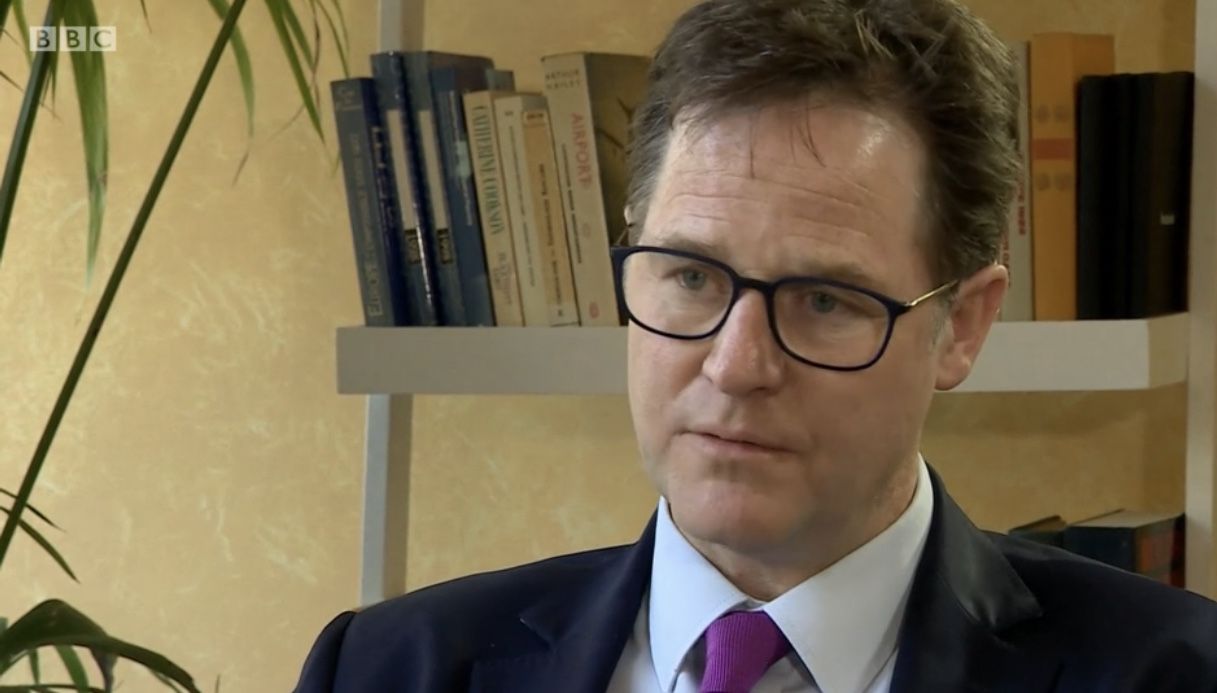 Sir Nick Clegg — former U.K. deputy prime minister, now Facebook's new vice president of global affairs and communications — "acknowledges the company is in a bad place on a range of issues, [and] is casting himself as the adult who can make this young company grow up," BBC media editor Amol Rajan writes:
"On tax, he said the current system isn't working and needs to change."
"On the broader issue of regulation, he said that it's no longer sustainable for tech companies to say they don't like any or all regulation."
Why it matters: "These words ... are part of a more open and conciliatory tone the company wants, through him, to adopt."
See video of Clegg's appearance yesterday in Brussels.
9. HBO's plan to win the streaming wars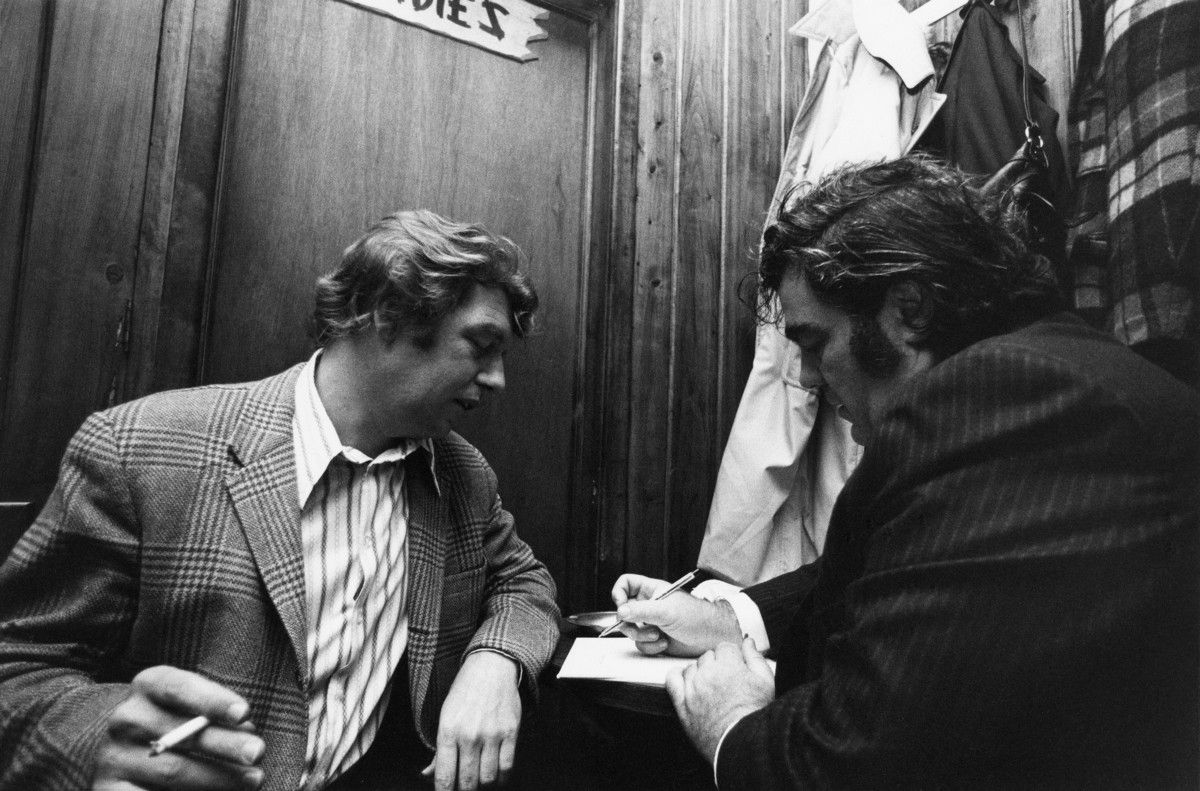 From Vanity Fair's Hollywood issue ... "HBO invented prestige television and long had the category all to itself. But in the age of Netflix and Amazon, the network that brought you 'The Sopranos,' 'Sex and the City,' and 'Game of Thrones' has more competition than ever," Joy Press writes:
HBO chairman and CEO Richard Plepler "says it was obvious to all involved that the network would need to increase its spending and generate more hours of programming to keep up with Netflix, as well as with well-funded competitors like Amazon, Hulu, and soon-to-come Apple and Disney+."
"HBO's past curatorial choosiness may end up looking like a plus in a world where new shows seem to drop from the sky every minute of the day. It's estimated that Netflix produced more than 1,000 hours of original content to land its 23 2018 Emmys; HBO's tally was closer to 450."
"Sunday night on HBO is still an event," says one entertainment executive. "The world's going to know the show is launching, and it's going to live for eight weeks in contemporary culture."
"Plepler describes HBO as a sort of blue-chip art gallery: 'When you see an artist who's a derivative of another artist, even when they're good painters, you say, They're copying them! Because an original's an original.'"
10. 1 life lesson
David Brooks has these practical tips "for fighting a culture of savagery":
When hosting a meeting or meal with people who may disagree: "[H]ave all participants go around the room and describe how they got their names. That gets them talking about their family, puts them in a long-term frame of mind and illustrates that most people share the same essential values."
"The all-purpose question. 'Tell me about the challenges you are facing?' Use it when there seems to be nothing else to say."
"Never have a meeting around a problem. [That's] looking backward and assigning blame. ... Instead, have a possibility conversation."
"Your narrative will never win. In many intractable conflicts, like the Israeli-Palestinian conflict, each side wants the other to adopt its narrative and admit it was wrong the whole time. This will never happen. Get over it. Find a new narrative."
The big one: "Gratitude. People who are good at relationships are always scanning the scene for things they can thank somebody for."