Good Monday morning.
This week, our Future of Work newsletter becomes Axios Future and moves to twice weekly. Editor Steve LeVine explains that he's now taking on the future of mobility, cities, genetics, blockchain and more:
"What became quickly clear when we launched this newsletter ... 11 months ago is that we were covering the biggest stories on the planet."
"And that our primary subject matter — artificial intelligence, robotics and the transformation of retail — was impacting much more than just jobs."
https://www.axios.com/newsletters/axios-am-604f9058-948f-4453-85b5-d64ed6810995.html?chunk=0#story0
1 Big Guest ... Carol E. Lee: A defining week for the Trump Doctrine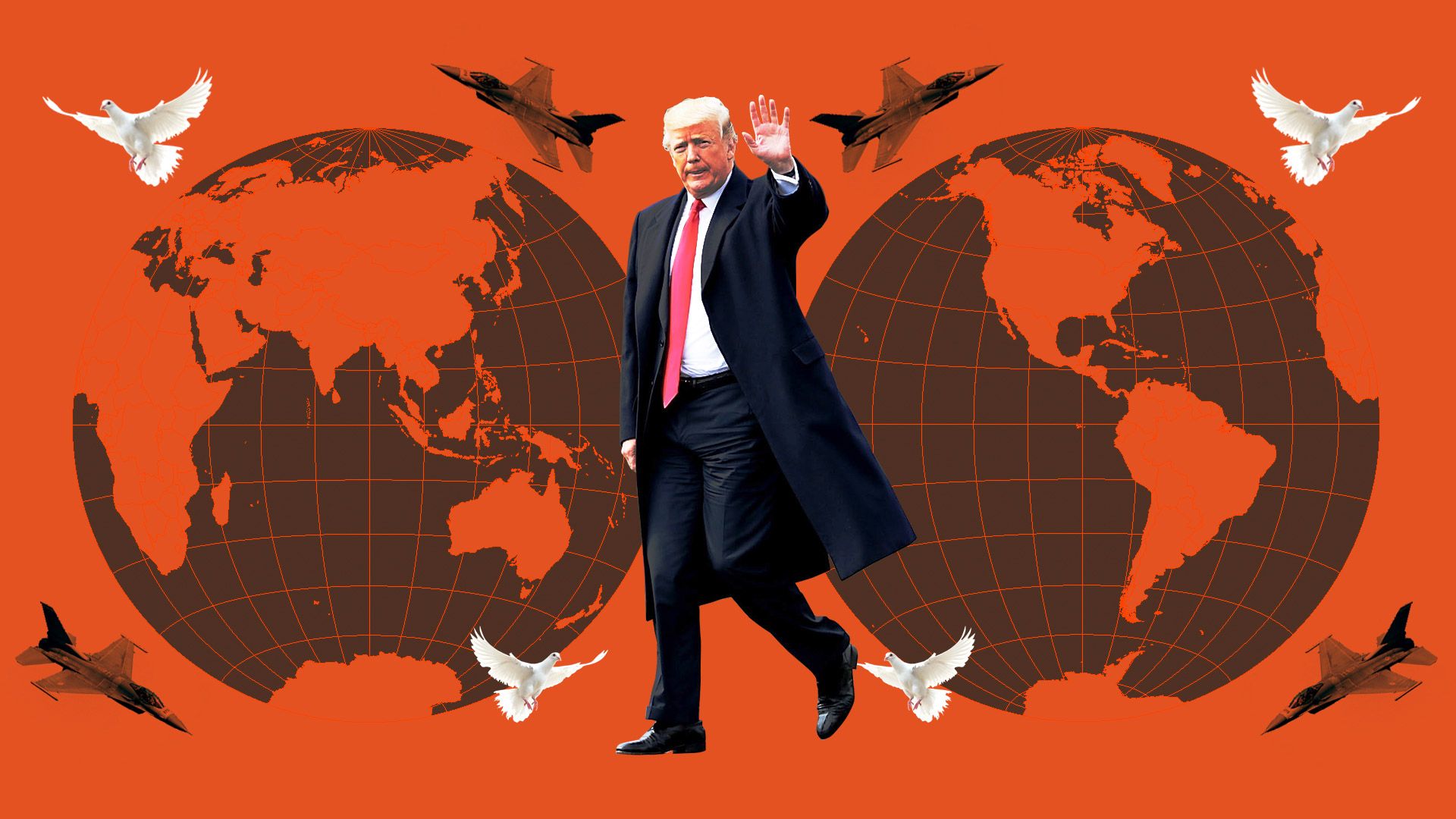 🎣 A note from Mike: Carol E. Lee — a news-breaking national political reporter for NBC News, and a former president of the White House Correspondents' Association — is our final 1 Big Guest as my fun in Maine comes to a close. My huge thanks to Carol and our partners at NBC News.
This high-stakes week could be the most defining yet for the emerging Trump national security doctrine, with major news expected on Iran, North Korea, Israel and the CIA.
Why it matters: This isn't just another round of Trump rhetoric. These are policy decisions with real consequences.
What to watch:
President Trump has to decide by Saturday whether the U.S. will abandon the Iran nuclear deal. Signs suggest Trump will withdraw. If so, watch Iran's next move and how America's European allies respond. Boris Johnson, the British foreign secretary, is keeping up Europe's pressure on Trump to remain in the deal with a visit to Washington and a New York Times op-ed. 

[

Go deeper: The AP outlines some possible scenarios on Iran.]
The White House is expected to announce the date and location of Trump's meeting with North Korean leader Kim Jong-un. Trump has expressed interest in holding it at the DMZ. An announcement could coincide with North Korea's release of three jailed Americans and would lock in an extraordinary shift in U.S. posture toward Pyongyang. For Trump, this is high-risk, high-reward. If the summit fails, there are few diplomatic options left for dealing with the North Korea threat.
Trump's nominee for CIA director, Gina Haspel, faces a potentially brutal Senate confirmation hearing on Wednesday. The White House is gearing up for a fight — leaning on red-state Democrats, and Haspel's potential to become the first woman to lead the CIA — to get her over the finish line. But the confirmation vote has become such a referendum on America's stance on torture, and a political litmus test for Democrats, that she offered to withdraw, per the Washington Post.  [Go deeper: NBC's Ken Dilanian has a "Nightly News" profile on Haspel.]
The Trump administration moves the U.S. embassy in Israel to Jerusalem on May 14. Israel is preparing for a spike in violence to coincide with the move.
Be smart: No one should be surprised by these developments, given Trump's campaign promises. But they nonetheless are likely to create a new era of uncertainty.
The combination alone of Trump withdrawing from the Iran deal and meeting with Kim could have widespread ramifications.
Richard Haass, president of the Council on Foreign Relations, tells me: "The result will violate a cardinal national security rule: avoiding having more than one nuclear crisis at a time."
https://www.axios.com/newsletters/axios-am-604f9058-948f-4453-85b5-d64ed6810995.html?chunk=1#story1
2. Bite of the day
Ernie Moniz — secretary of energy in the Obama administration, who helped negotiate the Iran nuclear deal in 2015 — describing the difficulty of enforcing a similar accord with North Korea, to the N.Y. Times' David E. Sanger and William J. Broad:
"North Korea could make Iran look easy. ... This isn't 'Trust, but verify.' It's 'Distrust everything and verify, verify, verify.'"
https://www.axios.com/newsletters/axios-am-604f9058-948f-4453-85b5-d64ed6810995.html?chunk=2#story2
3. Giuliani: Trump still wants to testify
Rudy Giuliani, loquacious lawyer for President Trump, to George Stephanopoulos on ABC's "This Week":
On whether he's confident the president will not take the Fifth in this case: "How can I ever be confident of that? When I'm facing a situation with the president and all the other lawyers are, in which every lawyer in America thinks he would be a fool to testify.
"I've got a client who wants to testify ... [H]e said it yesterday. ... So he may testify. And we may actually work things out with Bob Mueller, because working with him directly is good."
On whether Michael Cohen make payments to other women for the president: "I have no knowledge of that but ... I would think if it was necessary, yes."
P.S. CNN's Brian Stelter: "The 'White House credibility crisis' was a topic all across TV on Sunday":
"Jake Tapper pressed Kellyanne Conway and other guests about the problem. 'I would like him to stop lying, quite frankly,' Tapper said at one point."
"Conway denied that there's a credibility crisis at all, which just testifies to her own credibility issues."
https://www.axios.com/newsletters/axios-am-604f9058-948f-4453-85b5-d64ed6810995.html?chunk=3#story3
4. Pic du jour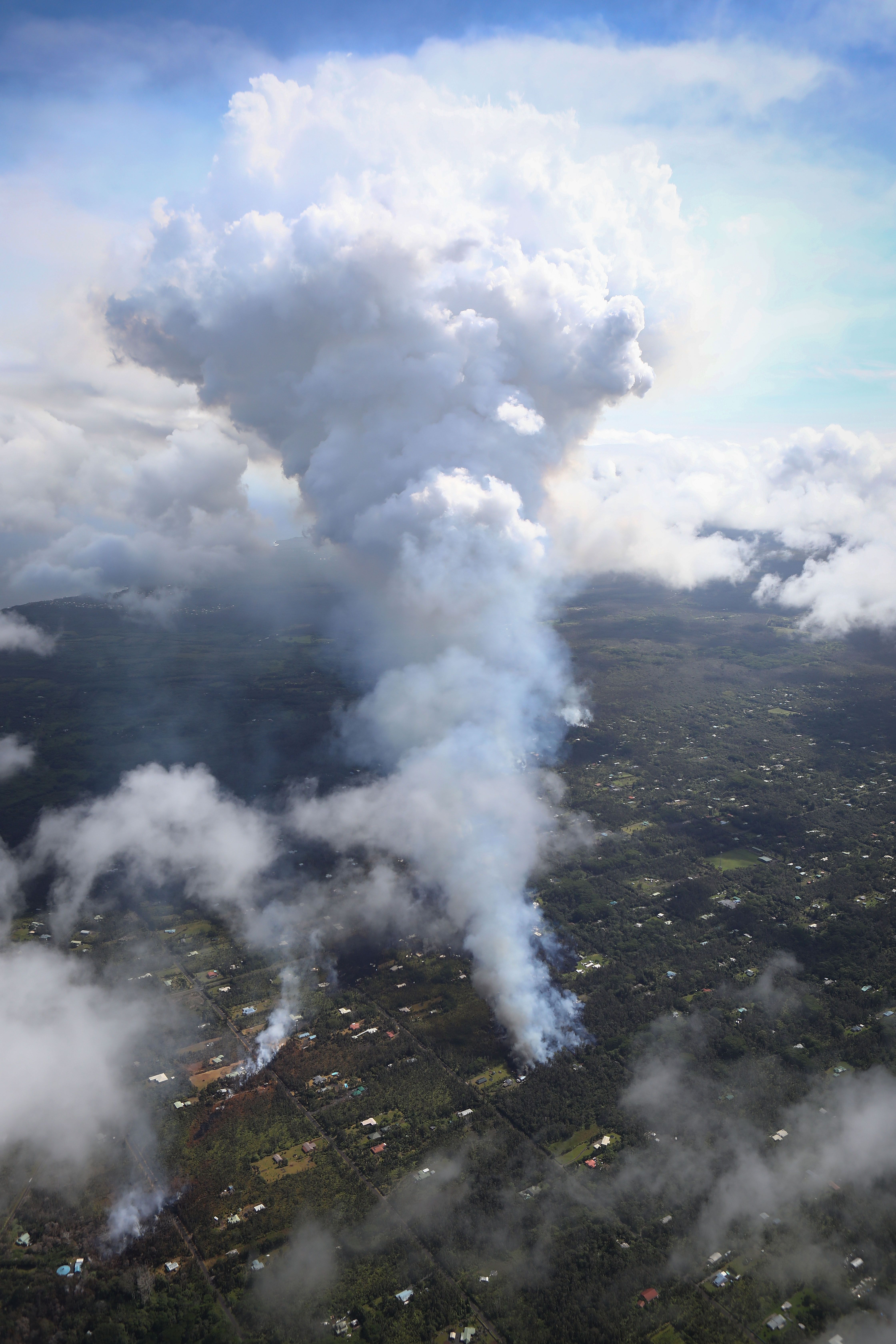 Photo: Mario Tama/Getty Images
A plume of volcanic gas mixed with smoke from fires caused by lava rises amid clouds in the Leilani Estates neighborhood in Pahoa, Hawaii, in the aftermath of eruptions from the Kilauea volcano.
A newly destabilized volcano caused a magnitude 6.9 earthquake Friday that "could be felt across much of the archipelago, including in the state capital, Honolulu." (L.A. Times)
The volcano has destroyed 26 homes, spewing lava and high levels of sulfur dioxide gas into communities and leading to an evacuation order for 1,700.
https://www.axios.com/newsletters/axios-am-604f9058-948f-4453-85b5-d64ed6810995.html?chunk=4#story4
5. Once-safe Republican lawmakers scrambling
"Across the country, dozens of House Republicans who previously coasted to victory are for the first time facing credible and well-financed Democratic opponents — and working furiously to find a strategy for survival," the WashPost's Dave Weigel and Paul Kane report:
"Many newly vulnerable Republicans represent suburban communities ... where Donald Trump won in 2016 but has since lost popularity."
"House Majority Leader Kevin McCarthy (R-Calif.) delivered a stern message last month to the rank and file after a surprisingly narrow special election win in a reliably Republican Arizona district: Wake up, because Democrats are motivated."
https://www.axios.com/newsletters/axios-am-604f9058-948f-4453-85b5-d64ed6810995.html?chunk=5#story5
6. Tracking power: Kevin McCarthy's plans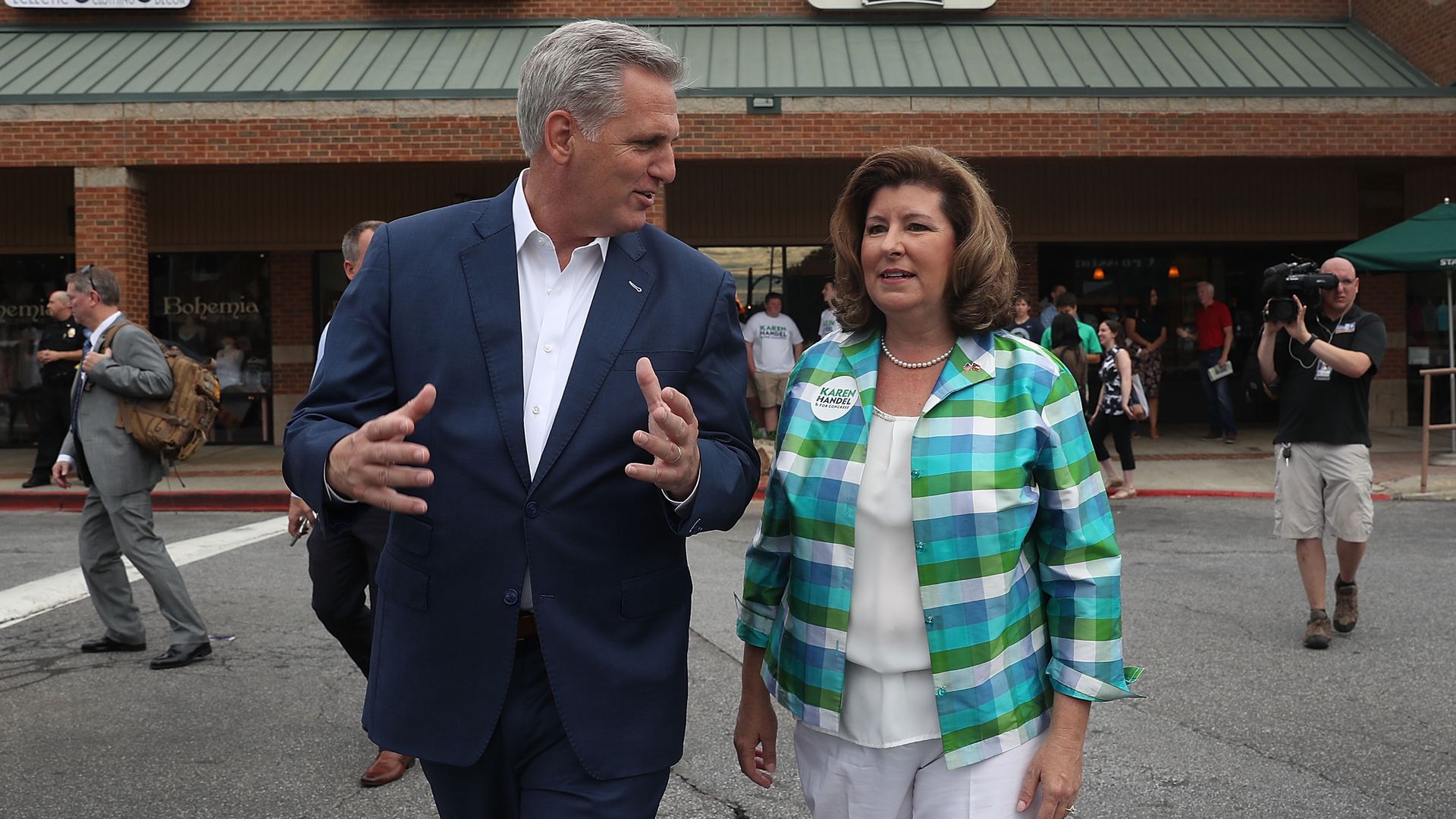 House Majority Leader Kevin McCarthy (R-Calif.), perhaps President Trump's closest Hill ally, is plotting his ascent to House speaker, AP's Lisa Mascaro reports:
California's Trump country (Bakersfield, the gateway to the Central Valley) is beaming with pride.
"Unscripted remarks have caused him trouble and he says he'll talk about the speaker's race after Republicans retain control of the House — and he maintains they will."
"[L]ast week, back at home while Congress was on recess, McCarthy told a group of students he's unlikely to run for another office after serving in the House: 'That's where my political career will probably end.'"
"The silver-coiffed 53-year-old ... would not have had the grades to be accepted into the student leadership program, he told the group, but that didn't stop him."
https://www.axios.com/newsletters/axios-am-604f9058-948f-4453-85b5-d64ed6810995.html?chunk=6#story6
7. Unexpected hot topic under Trump: electricity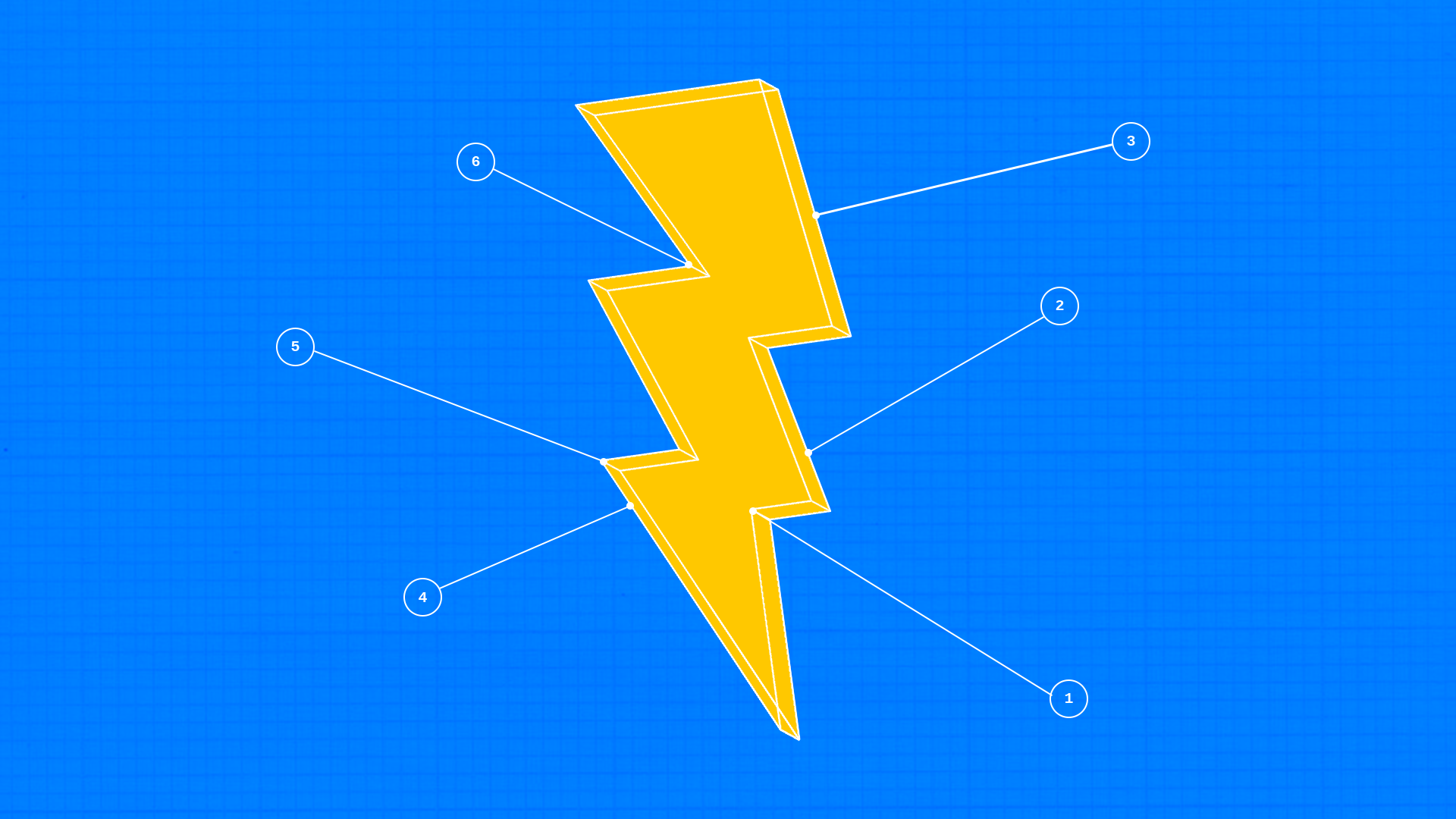 Electricity, the thing we all use but don't really notice, has unexpectedly become a hot topic under President Trump, Axios' Amy Harder writes in her weekly "Harder Line" energy column.
Why it matters: His administration is mulling bailouts for coal and nuclear power plants in a questionable attempt to strengthen the electricity grid. Meanwhile, this winter's cold snaps drove up New England's power bills and Puerto Rico is still grappling with one of the world's worst power outages.
https://www.axios.com/newsletters/axios-am-604f9058-948f-4453-85b5-d64ed6810995.html?chunk=7#story7
8. Undercover campaign to discredit Obama officials
Ronan Farrow in The New Yorker ... "Israeli Operatives Who Aided Weinstein Collected Dirt on Former Obama Officials":
"Using false identities, [an Israeli] private-intelligence firm tried to gather damaging information about the Obama Administration architects of the Iran nuclear deal."
"In the Iran operation, as in its operation for Weinstein, Black Cube focussed much of its work on reporters and other media figures, sometimes using agents who posed as journalists."
"The company compiled a list of more than thirty reporters who it believed were in touch with Obama Administration officials, annotated with instructions about how to seek negative information."
https://www.axios.com/newsletters/axios-am-604f9058-948f-4453-85b5-d64ed6810995.html?chunk=8#story8
9. A Warren Buffett archive
CNBC launches the Warren Buffett Archive, the world's largest video collection of the Oracle of Omaha speaking about business, investing, money and life:
The site is built around 24 years of Berkshire Hathaway annual meeting footage, CNBC interviews and more.
https://www.axios.com/newsletters/axios-am-604f9058-948f-4453-85b5-d64ed6810995.html?chunk=9#story9
10. 1 encouraging thing
"Thrifty Brooklyn Secretary Leaves $8 Million for Needy Students," by the N.Y. Times' Corey Kilgannon:
"Sylvia Bloom, a legal secretary from Brooklyn, worked for the same law firm for 67 years while quietly amassing a fortune. In her will, she left more than $8 million for college scholarships."
"She retired at age 96 and died not long afterward in 2016."
How she did it: "by shrewdly observing the investments made by the lawyers she served."
Jane Lockshin, a niece: "She was a secretary in an era when they ran their boss's lives, including their personal investments ... So when the boss would buy a stock, she would make the purchase for him, and then buy the same stock for herself, but in a smaller amount."
She took the subway to work and lived in a rent-controlled apartment, though 'she could have lived on Park Avenue.'"
The 9/11 attacks hit near her firm's office and Bloom, at 84, walked over the Brooklyn Bridge and took a city bus home.
"Just before she retired, ... the 96-year-old Ms. Bloom [was seen] trudging out of the subway and headed to work in the middle of a fierce snowstorm."