Axios AM
March 23, 2018
☕️ Good Friday morning. Situational awareness: At 12:40 a.m., the Senate passes $1.3 trillion spending bill, 65-32, sending the measure to Trump and averting a third federal shutdown this year. The House earlier approved the measure, 256-167.
That was a full day before Friday's midnight deadline to fund the government! (AP)
Axios' Caitlin Owens writes that it passed because it had to, not out of love.
Livestreaming at 8 a.m. on Axios.com and Facebook ... Please join my News Shapers conversation with Parkland student David Hogg, previewing tomorrow's #MarchForOurLives.
The new Axios "1 Big Thing" segment will be back Monday at 5:55 a.m. on MSNBC's "First Look," in the lead-in to "Morning Joe." Here's a quick-turn clip from today's edition.
1 big thing ... Bolton bombshell: the clashes to come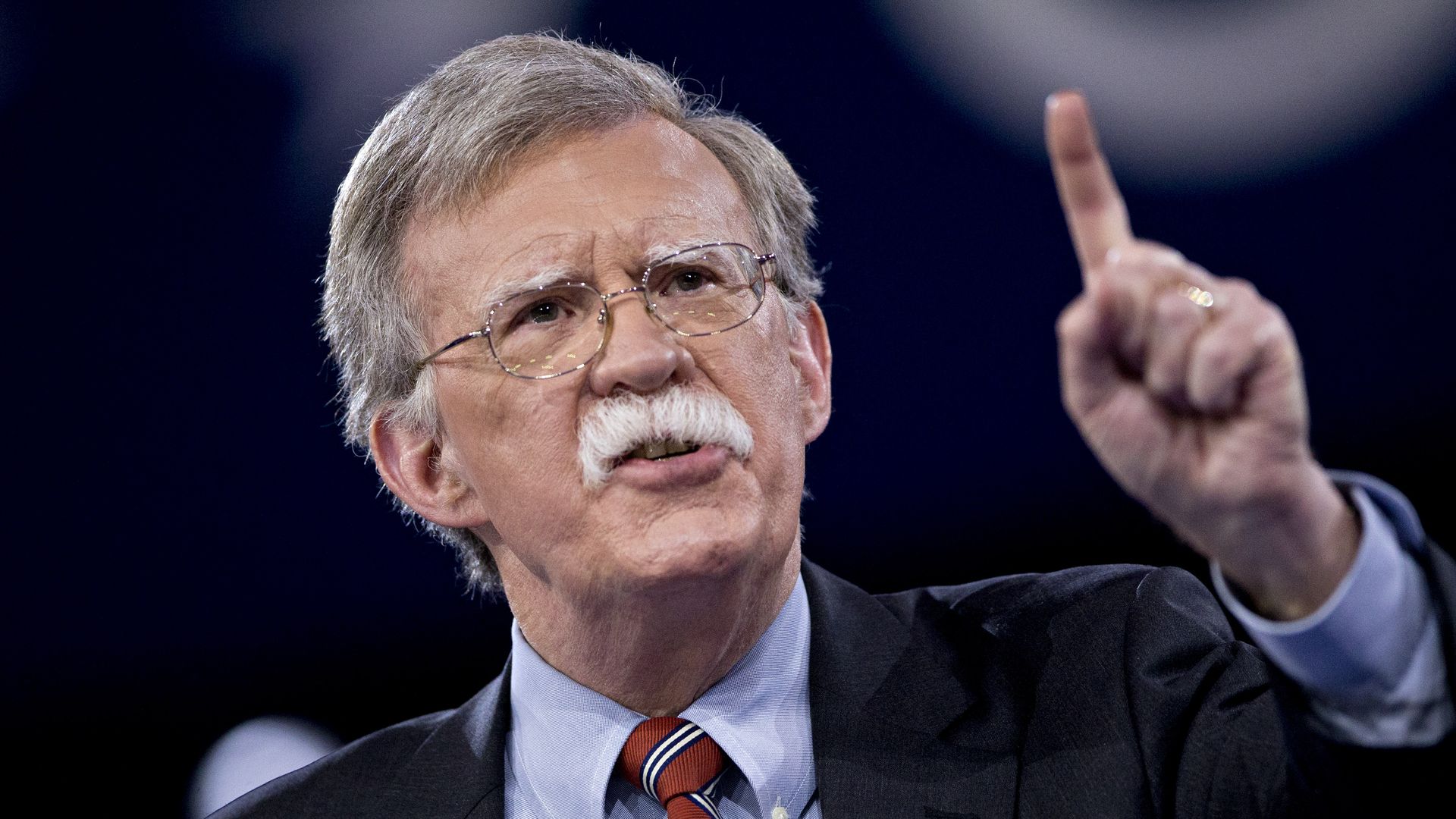 Sources close to President Trump say he feels John Bolton, hurriedly named last night to replace H.R. McMaster as national security adviser, will finally deliver the foreign policy the president wants — particularly on Iran and North Korea, Axios' Jonathan Swan reports:
Bolton, who was U.S. ambassador to the U.N. under President George W. Bush, was not White House chief of staff John Kelly's candidate for the job. Kelly had nothing to do with his appointment, according to a source close to Bolton. Nor was he Defense Secretary James Mattis' choice. 
A source close to Bolton: "He only owes his job to one man and one man only ... And that man is Donald J. Trump." 
We can't overstate how dramatic a change it is for Trump to replace H.R. McMaster with Bolton:
It's not just that Bolton is more hawkish on Iran and North Korea — though of course he is. It's that Bolton knows his way around the bureaucracy and won't take anybody's crap. He won't show deference to Mattis or the generals, say sources who know him well.
Allies of McMaster have long complained that John Kelly, Mattis and outgoing Secretary of State Rex Tillerson considered him a junior partner and treated him like garbage.
A source close to McMaster told Swan: "One of the downsides of what happened is I only wish Tillerson was around to experience this. The two of them that wanted him out most —Mattis and Tillerson — I only wish they were both around to endure the pain of National Security Adviser Bolton. They hated him [McMaster] but they're going to like this a lot less." 
Until now, Mattis and Tillerson have been trying to restrain what they consider some of the president's more dangerous instincts, and have been on the opposite side of major issues, including moving the U.S embassy to Jerusalem and trying to persuade Trump not to tear up the Iran nuclear deal.
Sources who know Bolton expect he will stare down Mattis, tell him when he's wrong, and will be a Henry Kissinger-type presence in the room. Now that Tillerson is gone, he could fundamentally tip the balance of power on Trump's national security team, senior officials expect. 
Our expectations:
In May — the next deadline for action —  Trump will likely follow through on his instincts and effectively terminate the Iran deal, bringing back heavy sanctions on Tehran.
The proposed summit with Kim Jong-Un — already an uncertain proposition — appears even more shaky. Bolton has an uncompromising attitude towards North Korea, and believes the only language Kim understands is the threat of military force. 
A source who has spoken to Bolton said he told Trump he was only interested in two jobs: Secretary of State or national security adviser.
"He said, 'Mr. President you ran on this agenda. You ran against Iran. And if you want to hire me, that's what I'm going to produce for you.'"
"This is a guy that you cannot control — that's the most important thing to know."
"The short term is maybe they [Kelly and Mattis] think they got rid of H.R. McMaster. The long term is you have a person beyond respected by the [conservative House] Freedom Caucus, beyond respected by every foreign policy hawk that supports the president. He rightly views himself as a principal."
Between the lines: Bolton's ideological foes fear him not only because of his hawkish ideas, but because he knows how to accomplish them.
In Bolton's book, "Surrender Is Not an Option," he proudly recalls what Joe Biden told him in his 2001 Senate confirmation hearing for the role of undersecretary of State for arms control and international security affairs in the George W. Bush administration. 
Here's what Biden said to Bolton: "My problem with you, over the years, has been, you're too competent. I mean, I would rather you be stupid and not very effective."
That's why doves and moderates are scared this morning.
2. How Trump decides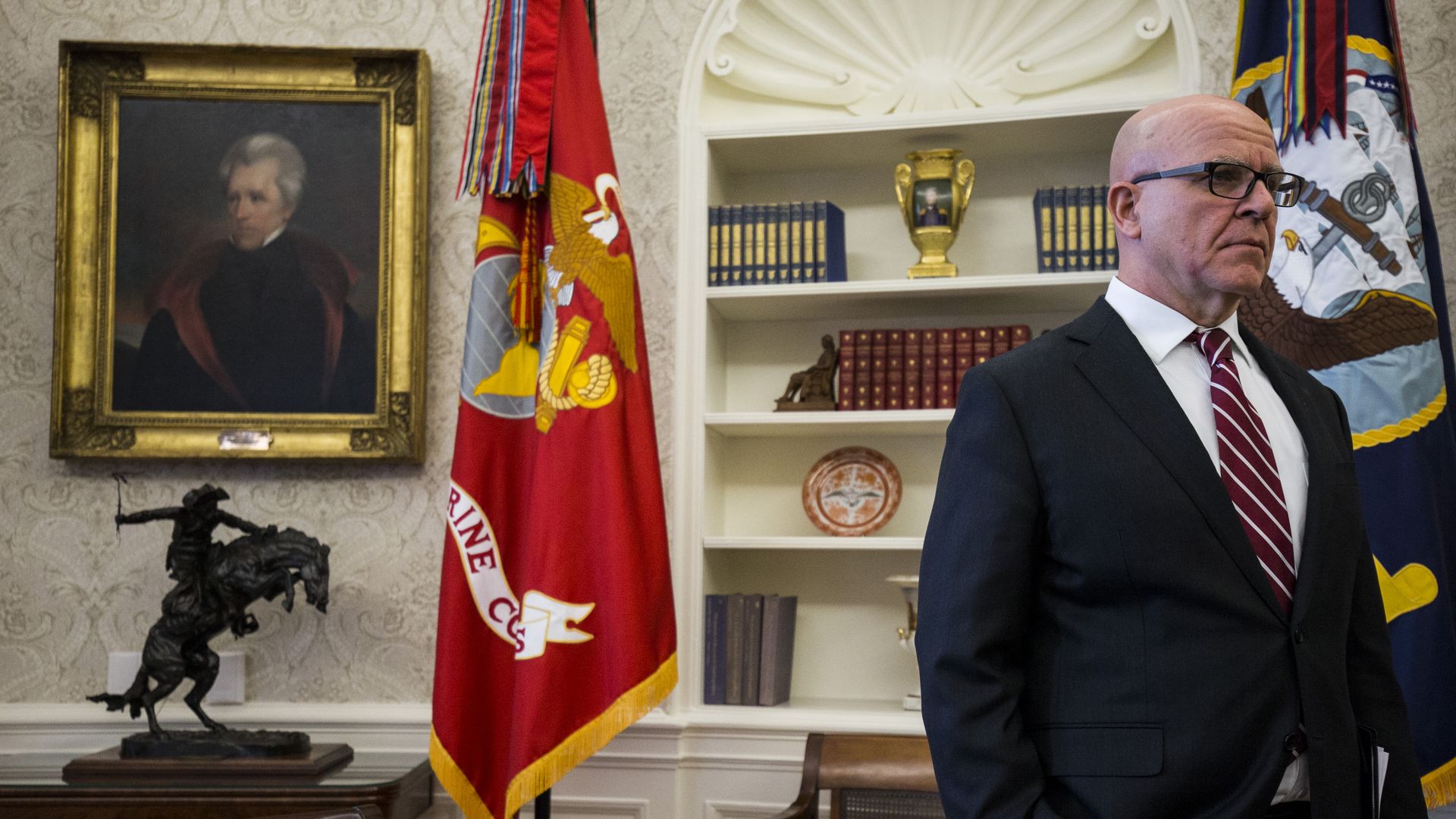 The reason John Kelly and White House communications officials insisted late last week that McMaster wasn't going anywhere for now — despite a WaPo story saying he was done — was because the president told them to say that. And they genuinely thought he'd take some time to ease McMaster out.
An administration source told Jonathan Swan that the aides thought Trump probably believed that in the moment: "He's impulsive. He makes snap decisions but they're weird snap decisions ... He publicly ruminates for six months and then says: 'I have to do this right now.'"
Yesterday's timeline:
Afternoon: Trump met with Bolton.
Afterward: Told H.R. by telephone that he'd made his decision.
Shortly after 5 p.m.: Senior communications officials found out definitively, though they'd been hearing throughout the day that it might be happening.
6:26 p.m. — Trumps tweets: "I am pleased to announce that, effective 4/9/18, @AmbJohnBolton will be my new National Security Advisor. I am very thankful for the service of General H.R. McMaster who has done an outstanding job & will always remain my friend. There will be an official contact handover on 4/9."
And earlier in the day ... N.Y. Times: "John Dowd resigned ... as President Trump's lead lawyer ... as Mr. Trump signaled that he ... wanted a sit-down with investigators."
3. The conversation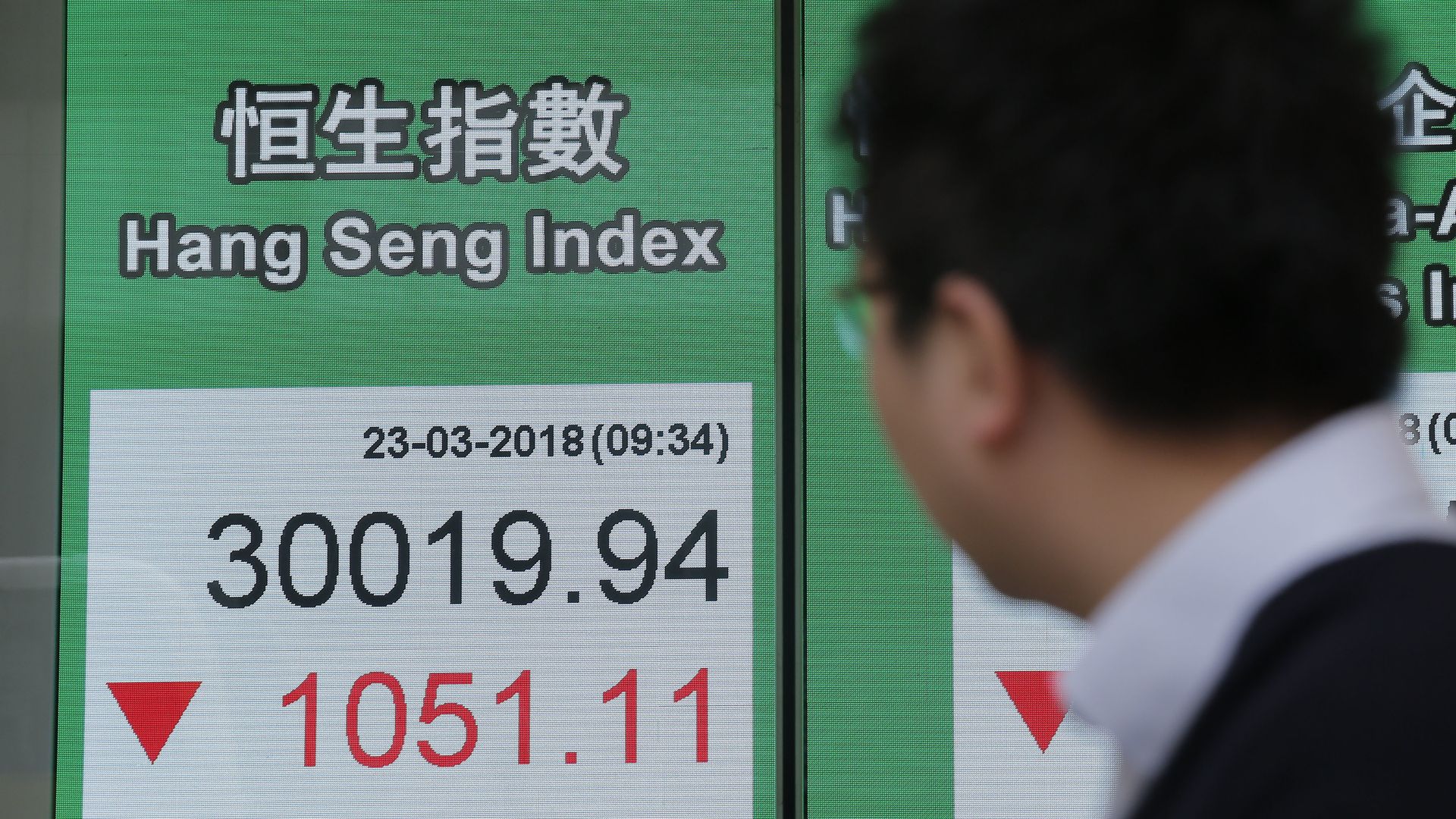 Joe Scarborough column in WashPost, "John Bolton's appointment is a fitting coda to conservatism's failures":
"Six decades of Republican overreach and corrosive causes have instead led to the rise of Donald Trump and a foreign policy run by John Bolton, an economy guided by Larry Kudlow and a legal team led by conspiracy theorist Joseph DiGenova."
"With Bolton, Trump Creates a Historically Hard-Line Foreign Policy Team," the N.Y. Times' David E. Sanger writes:
"Just a month ago, the prevailing wisdom in Washington was that the triumvirate of General McMaster, Secretary of State Rex W. Tillerson and Defense Secretary Jim Mattis was the only restraining influence on Mr. Trump's confrontational urges."
"Now only Mr. Mattis is left, and there are increasing questions about how long he will last."
Statement from Bolton: "It is an honor to be asked by President Trump to serve as his National Security Advisor. I humbly accept his offer. The United States currently faces a wide array of issues and I look forward to working with President Trump and his leadership team in addressing these complex challenges in an effort to make our country safer at home and stronger abroad."
Bonus: Quote du jour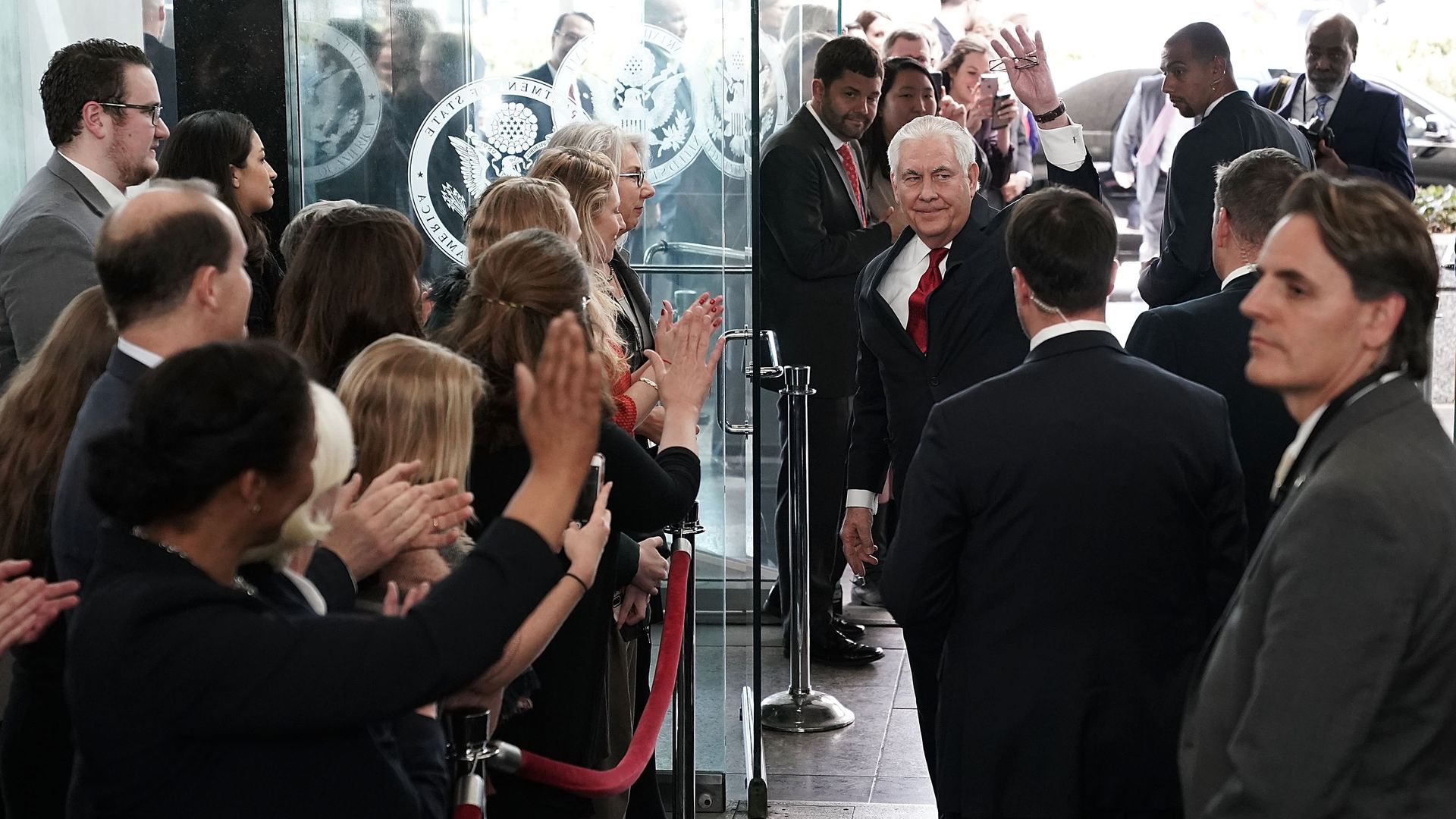 In closing, I'd like to ask that each of you undertake to ensure one act of kindness each day towards another person. This can be a very mean-spirited town. (Laughter and applause.) But you don't have to choose to participate in that. (Applause.) Each of us get to choose the person we want to be, and the way we want to be treated, and the way we will treat others.
— Outgoing Secretary of State Rex Tillerson, delivering farewell remarks yesterday in the State Department's C Street Lobby
4. It's on: trade war with China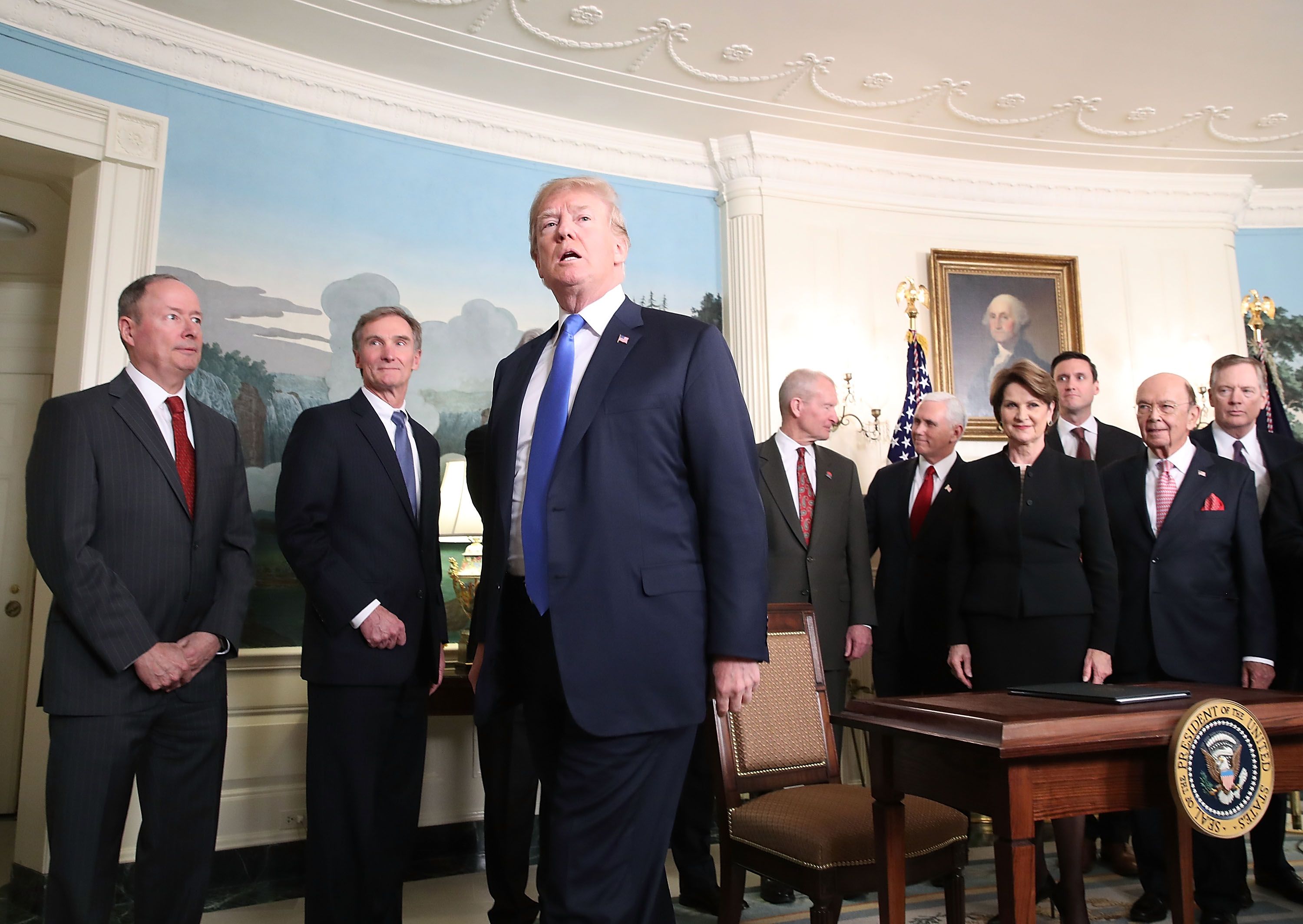 China threatens specific retaliation in a market-rattling war over tariffs — a true war of choice, and a war that has helped tank the stock market:
"Trump Closes Era of Constructive Economic Engagement With China," per Bloomberg:
"After nearly half a century of trying to woo China into the club of major market-based economies, Trump made clear his administration plans to brandish sticks, not carrots, to achieve U.S. trade goals with Beijing."
"Trump ordered tariffs on Chinese imports worth $50 billion and investment curbs on Chinese companies."
China urges the U.S. to "pull back from the brink," per Reuters:
"China showed readiness to retaliate by declaring plans to levy additional duties on up to $3 billion of U.S. imports including fresh fruit, wine and nuts."
N.Y. Times Quote of the Day ... Shi Yinhong, a professor of international relations at Renmin University in Beijing, warning that Chinese leaders have been slow to realize the gravity of a brewing trade battle with Washington:
"People in the U.S. and China have for years said the wolf is coming, the wolf is coming, but the wolf hasn't come. This time, the wolf is coming."
5. China becomes an espionage powerhouse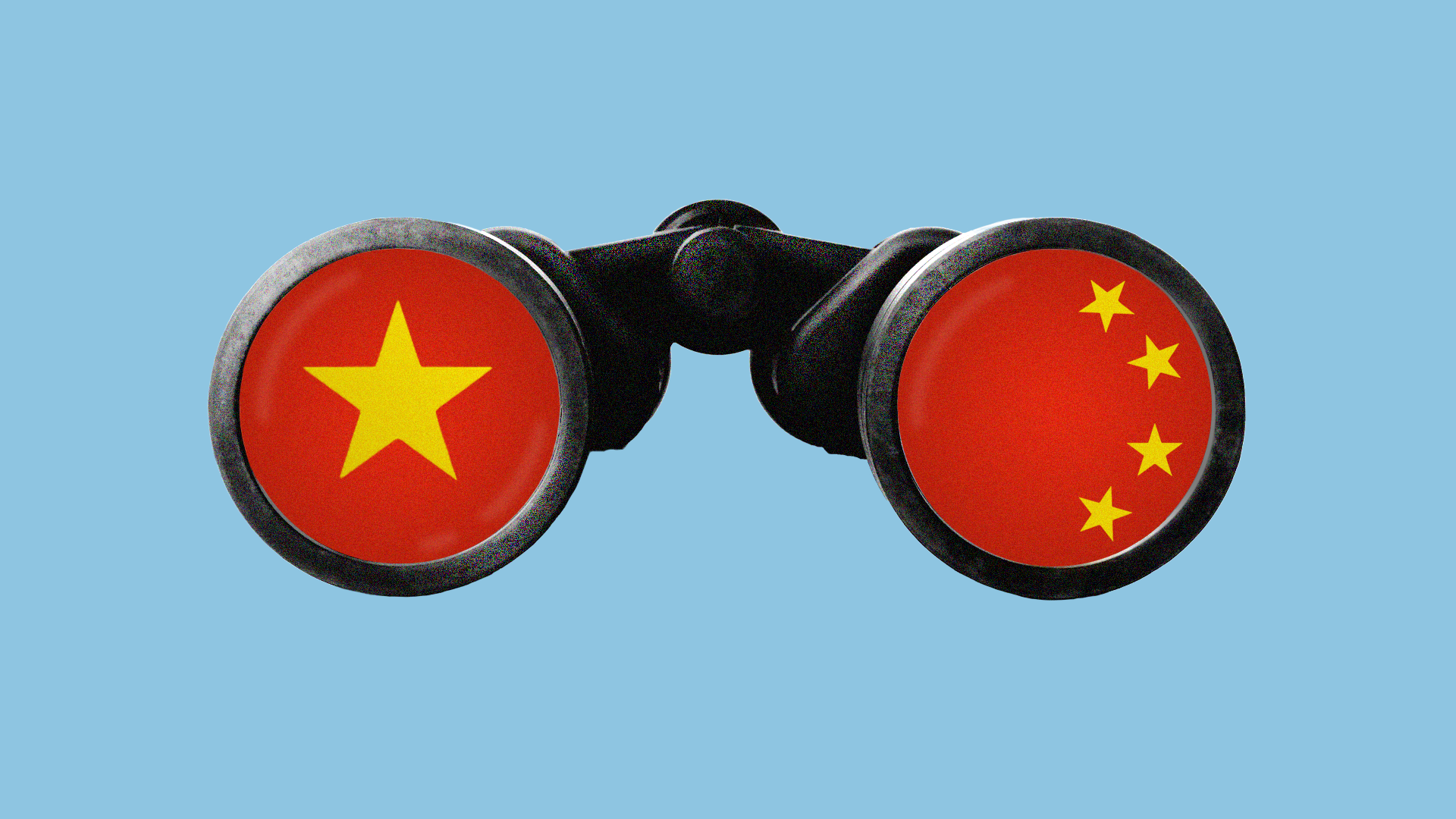 As China's influence spreads to every corner of the globe under President Xi Jinping, so do its spies, Axios' Erica Pandey writes:
Why it matters: China has the money and the ambition to build a vast foreign intelligence network, including inside the United States.
Meanwhile, American intelligence-gathering on China is falling short.
6. How the Parkland teens spearheaded a worldwide movement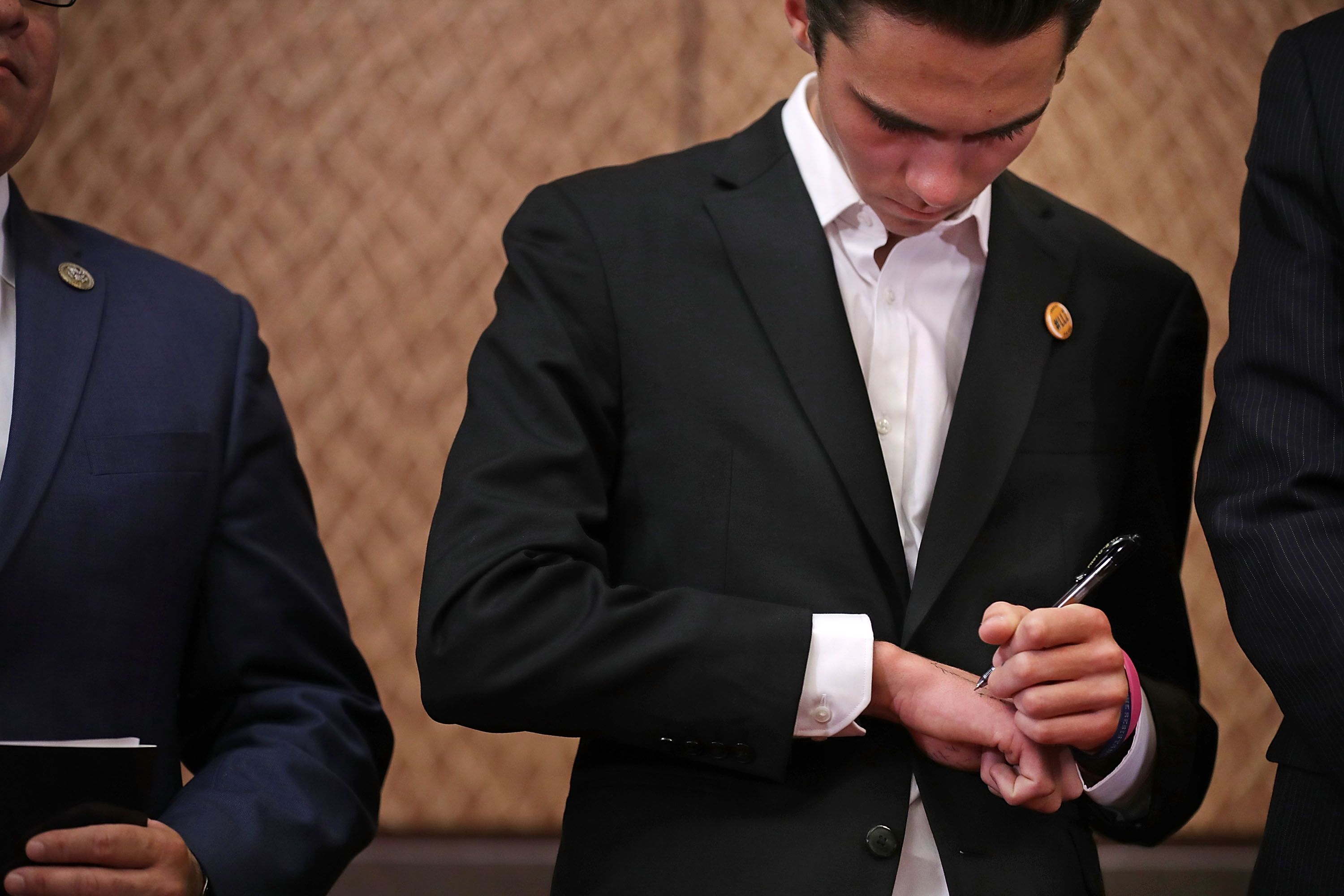 "They can't buy a beer or rent a car and most aren't even old enough to vote, yet the students from Marjory Stoneman Douglas High School have spearheaded what could become one of the largest marches in history with nearly 1 million people expected in Washington and more than 800 sister marches from California to Japan," AP's Kelli Kennedy writes from Parkland, Fla.:
"In the wake of a Valentine's Day shooting that killed 17, the teens have pulled all-nighters, scheduling speakers, petitioning city councils, renting stages and walking march routes with police in a grass-roots movement that has raised more than $4 million."
"Students will walk down Pennsylvania Avenue during March for Our Lives on Saturday alongside pop stars Ariana Grande, Jennifer Hudson, Miley Cyrus and Demi Lovato."
"They have requested 14 Jumbotrons, 2,000 chairs and 2,000 public restrooms."
"Seasoned activists have marveled at what the students accomplished so far, including a sweeping gun bill in Florida and school walkouts attended by [what organizers say is] over a million students last week."
"Oprah Winfrey and George and Amal Clooney have each donated $500,000. The cast of 'Modern Family' did a public service announcement, and Broadway stars Lin-Manuel Miranda and Ben Platt recorded a song for the march."
"The Women's March, Everytown for Gun Safety and the gun violence prevention group founded by former Congresswoman Gabrielle Giffords provided heavy support for the march, opening the youths up to criticism that they are just pawns of left-wing organizations that have been fighting guns for years."
"The students said, however, they are calling the shots, and have refused money and turned down support that doesn't align with their vision."
Officials tell Axios the latest tally stands at 832 marches planned worldwide tomorrow.
According to Everytown for Gun Safety, that includes marches in 387 congressional districts — covering 89% of the country. 
7. A two-part suggestion for Facebook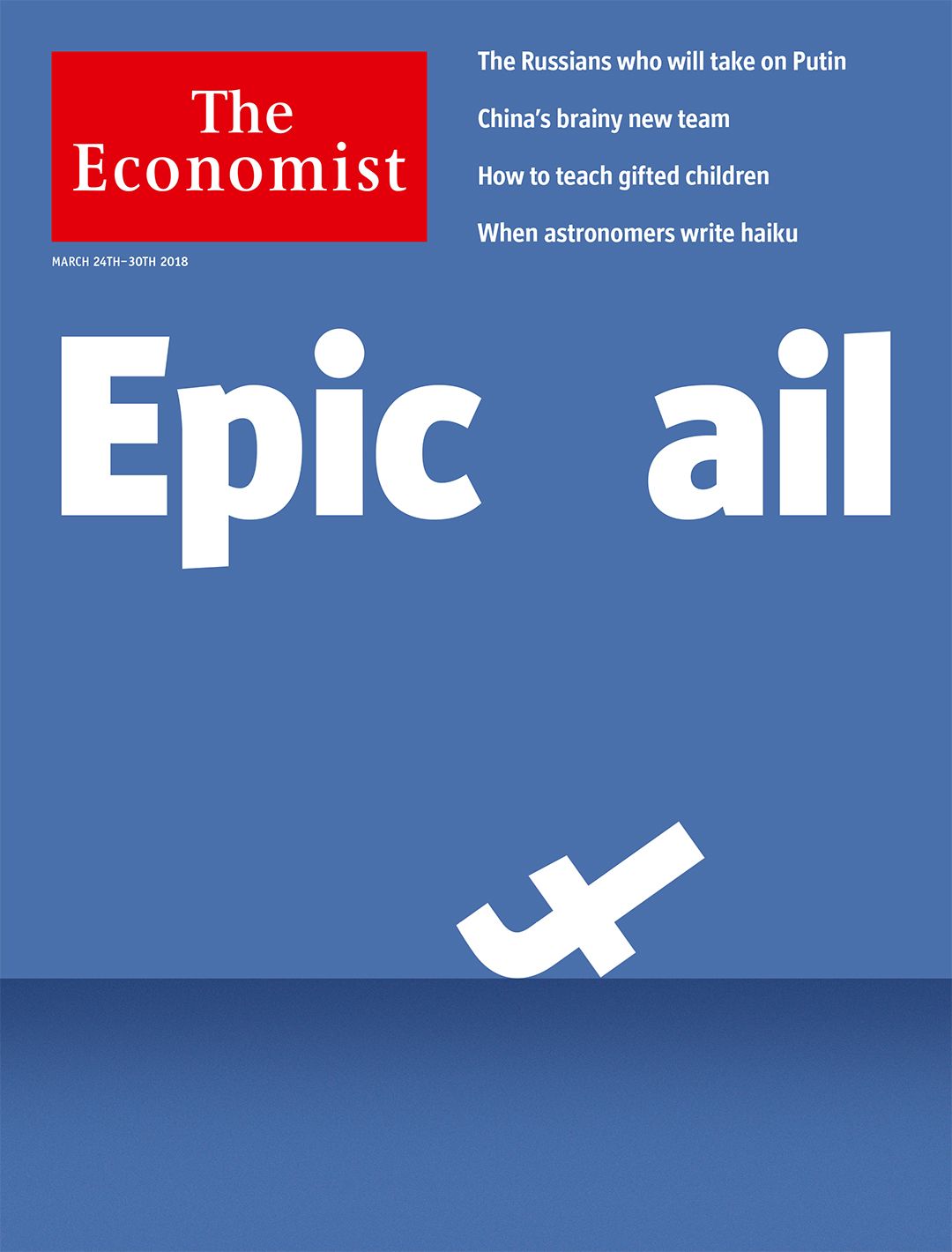 "What Zuckerberg should do ... Facebook faces a reputational meltdown: This is how it, and the wider industry, should respond" — The Economist's lead editorial:
"Facebook needs a full, independent examination of its approach to content, privacy and data, including its role in the 2016 election and the Brexit referendum. This should be made public. Each year Facebook should publish a report on its conduct that sets out everything from the prevalence of fake news to privacy breaches."
"Next, Facebook and other tech firms need to open up to outsiders, safely and methodically. They should create an industry ombudsman — call it the Data Rights Board. Part of its job would be to set and enforce the rules by which accredited independent researchers look inside platforms without threatening users' privacy."
P.S. Facebook COO Sheryl Sandberg, to CNBC's "Closing Bell" yesterday:
"Mark has said, 'It's not a question of 'if' regulation, it's a question of what type.' ... We're open to regulation. We work with lawmakers all over the world."
8. A "moral reckoning" for Silicon Valley
New Yorker Editor David Remnick in "Account Settings," the lead "Talk of the Town" item in next week's issue:
"From the early days of Silicon Valley's Internet-era revolution, ... sanctimony was a distinct feature of the revolutionists. The young innovators of Silicon Valley were not like the largely amoral barons of industry and finance. They were visionaries of virtue."
"The question is whether the barons of Silicon Valley can move beyond ritual statements of regret and assurance to a genuine self-accounting."
"What we've learned from the scandals that have beset Silicon Valley of late is what we learned from the scandals that beset the Catholic Church: a self-protective assumption of righteousness can make it harder to acknowledge and confront patterns of abuse."
9. TV interviews put Trump on spot about past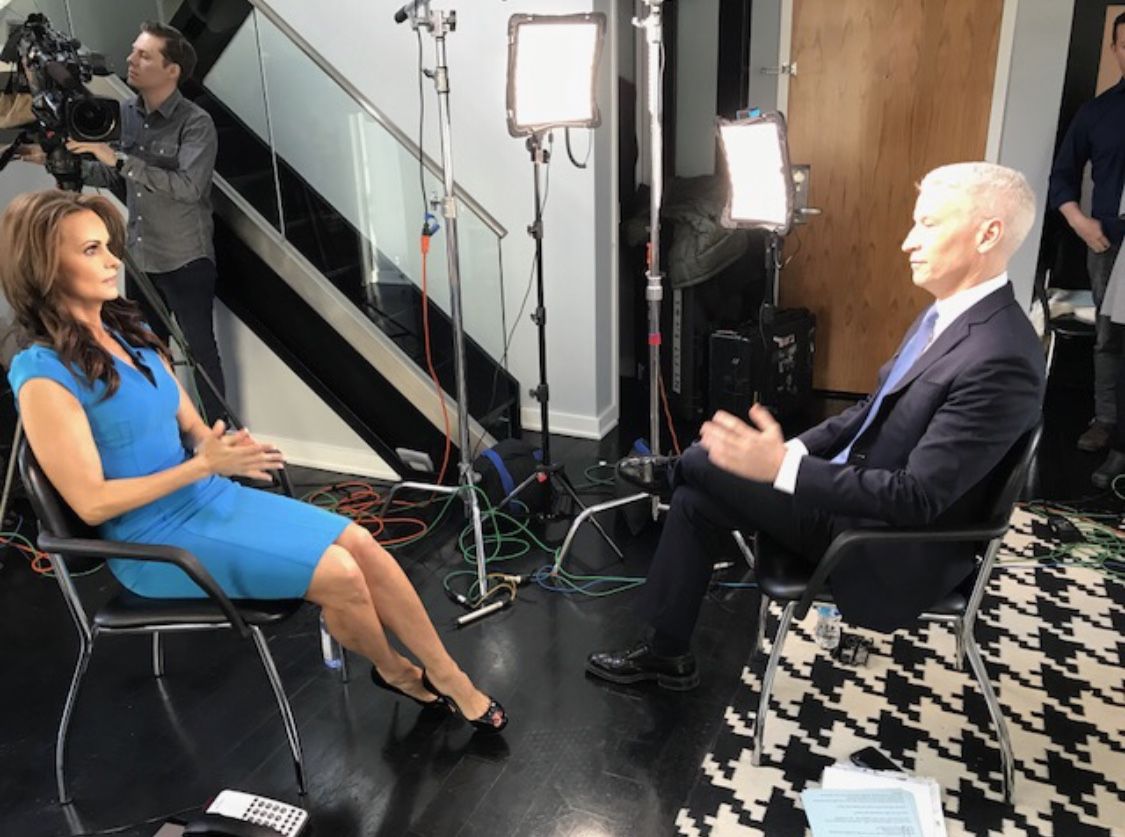 Ahead of Sunday's "60 Minutes" interview with Stormy Daniels, former Playboy model Karen McDougal — who is suing to invalidate a 2016 legal agreement to stay silent — sat down with CNN's Anderson Cooper to talk about what she says was a 10-month affair with President Trump:
McDougal:  "Over the course of 2006 ... I think I ended the relationship April 2007.  So, we were together 10 months before I chose to end it.  So, we saw each other quite frequently."
Cooper:  "So, dozens of times you were together."
McDougal:  "Many dozens of times, yes." 
Cooper:  "And you were intimate ... many dozens of times?"
McDougal:  "Yes." ...
Cooper: "If Melania Trump is watching this, what would you want her to know?" ...
McDougal: "What can you say except, 'I'm sorry'? I'm sorry.  I wouldn't want it done to me. I'm sorry."
10. 1 rant thing: Hating share plates
"Share? Thanks, but I'll Have What No One Else Is Having," by N.Y. Times' Alex Williams:
"In polite circles, the etiquette of shared dining sometimes serves as a progressive tax on the hungry, since good manners dictate that everyone nibble like a Preakness jockey when sharing."
"[T]he etiquette of the shared meal necessitates its own form of Kabuki. Each person at the table must make grand theater of his generosity of spirit, being careful not to overconsume the best dishes, and finishing off the duds because, you know, someone has to."
"[W]hen I'm sharing with a group, I feel like I am left with two choices: chat or eat. You can't do both, especially when you're racked with anxiety at seeing the fried baby artichokes disappear out of the corner of your eye."
"Not to mention the fact that before the meal even commences, you need to agree on ground rules. Is anyone vegan? Does anyone not eat shellfish?"
"Then there's the issue of cost. When you're ordering for yourself and splitting the bill, you tend to inhibit yourself from ordering anything too lavish. You basically don't order anything involving lobster, for example, just because you don't want to be that guy."
"That sense of inhibition flies out the window when ordering in a group. ... It is easy to justify ordering the $90 Kobe beef because, hey, it is for everyone."
👏 Thanks for reading! See you all weekend on Axios.com.