https://www.axios.com/newsletters/axios-am-5d961fe3-3233-4f4d-b2f7-bf850c16eb8b.html?chunk=0#story0
1 big thing: ​Trump's bad idea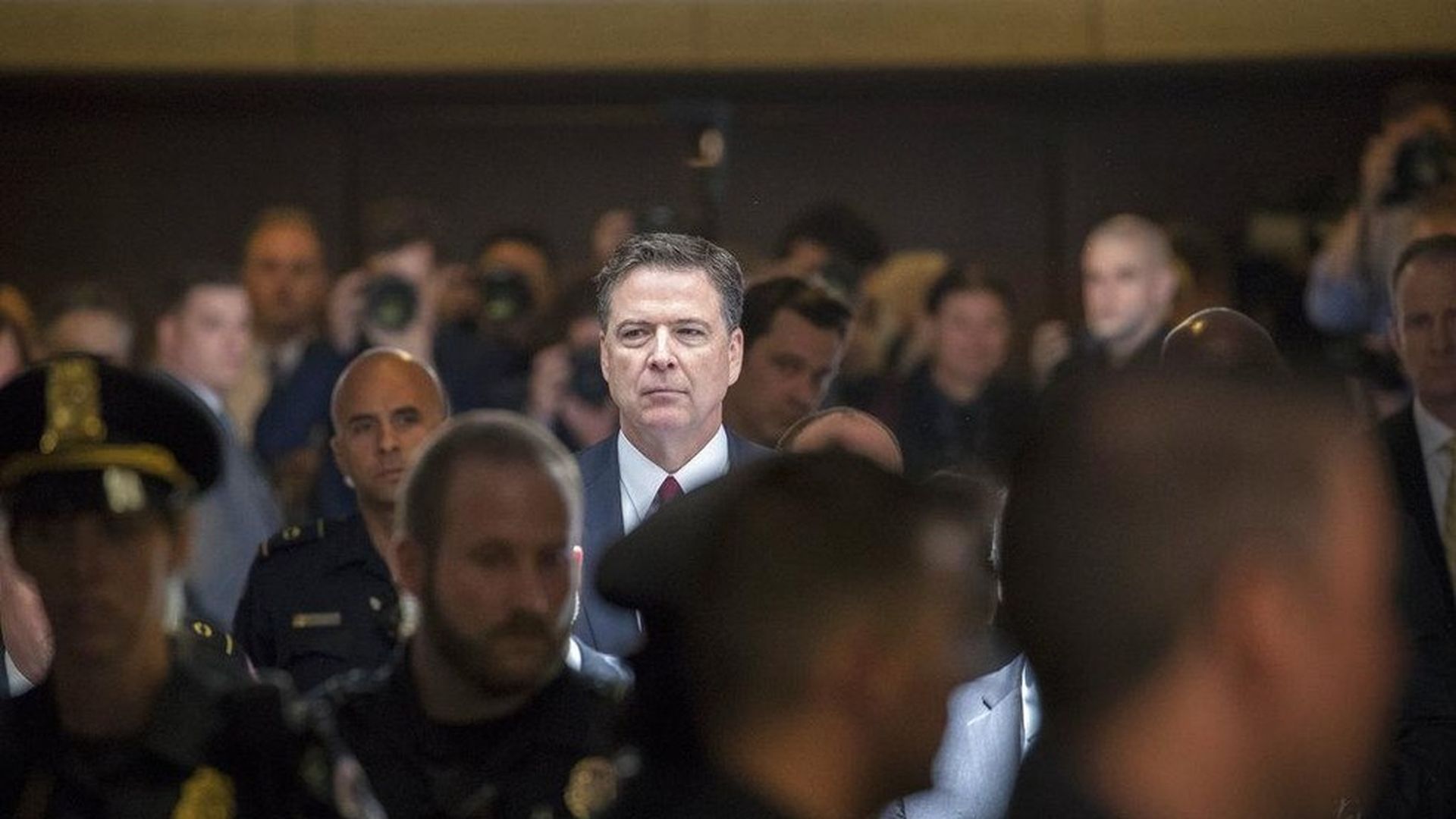 Friends and lawyers were aghast after President Trump brashly declared yesterday that he was willing to testify under oath for special counsel Bob Mueller, to give his own version of events fired FBI director Jim Comey described.
One well-wired Republican said: "The White House says they have the investigation under control. Volunteering to sit down with a special prosecutor is kind of the definition of things not being under control."
These people said the fact that Trump blurted out "100 percent!," in response to a question from ABC's Jon Karl, is proof of why the president shouldn't be giving a deposition to a federal prosecutor. He answered in the moment, with brio, and without regard to what his lawyer or aides might advise.
How lawyers would have advised Trump to answer: "I've said that there's nothing there, but that I want to see this investigation done and done properly, and so of course I will do what I can to help get there." He wants to sound positive, but avoid being specific or overcommitting.
The lawyers pointed out that Trump isn't bound by something he said at a press conference. And his lawyer, Marc Kasowitz, could always set terms that had the effect of delaying or limiting Trump's testimony.
Here are some of the considerations that cause lawyers to strongly advise against such an appearance:
Danger 1: Lawyers said such a meeting would be "a massive false-statements trap," because Trump is inclined to remember things selectively, and often embraces a version of events that is the way he would like them to be. And by the time he talked to the president, Mueller would have an arsenal of evidence. So Trump's characteristic certainty — "I never said that!" or "I never did that!" — could mean trouble. Trump in the Rose Garden yesterday (which made N.Y. Times Quote of the Day): "I didn't say that. ... And there would be nothing wrong if I did say it.")
Danger 2: Trump would be unlikely to prepare adequately. He has little patience and a short attention span, doesn't like to study written documents, and prefers to ad lib.
Be smart: Yesterday's declaration shows that Trump's Russia-related comments aren't being fully vetted by his legal team — meaning that he may keep creating new landmines for himself, as Mueller works away.
And yesterday's tweets won't help: By calling Comey a liar and complaining about the probe, Trump risks coloring prosecutors' impressions of him. Lawyers explain that Trump's temperament and M.O. will be key if prosecutors are looking at intent. And with his tweets and barbs, a top lawyer said: "He is confirming that the way they think he operates, is the way he actually operates."
Extreme case: Marc Kasowitz can refuse to allow testimony — and Trump could direct the firing of Mueller.
https://www.axios.com/newsletters/axios-am-5d961fe3-3233-4f4d-b2f7-bf850c16eb8b.html?chunk=1#story1
2. 'There would be nothing wrong if I did say it'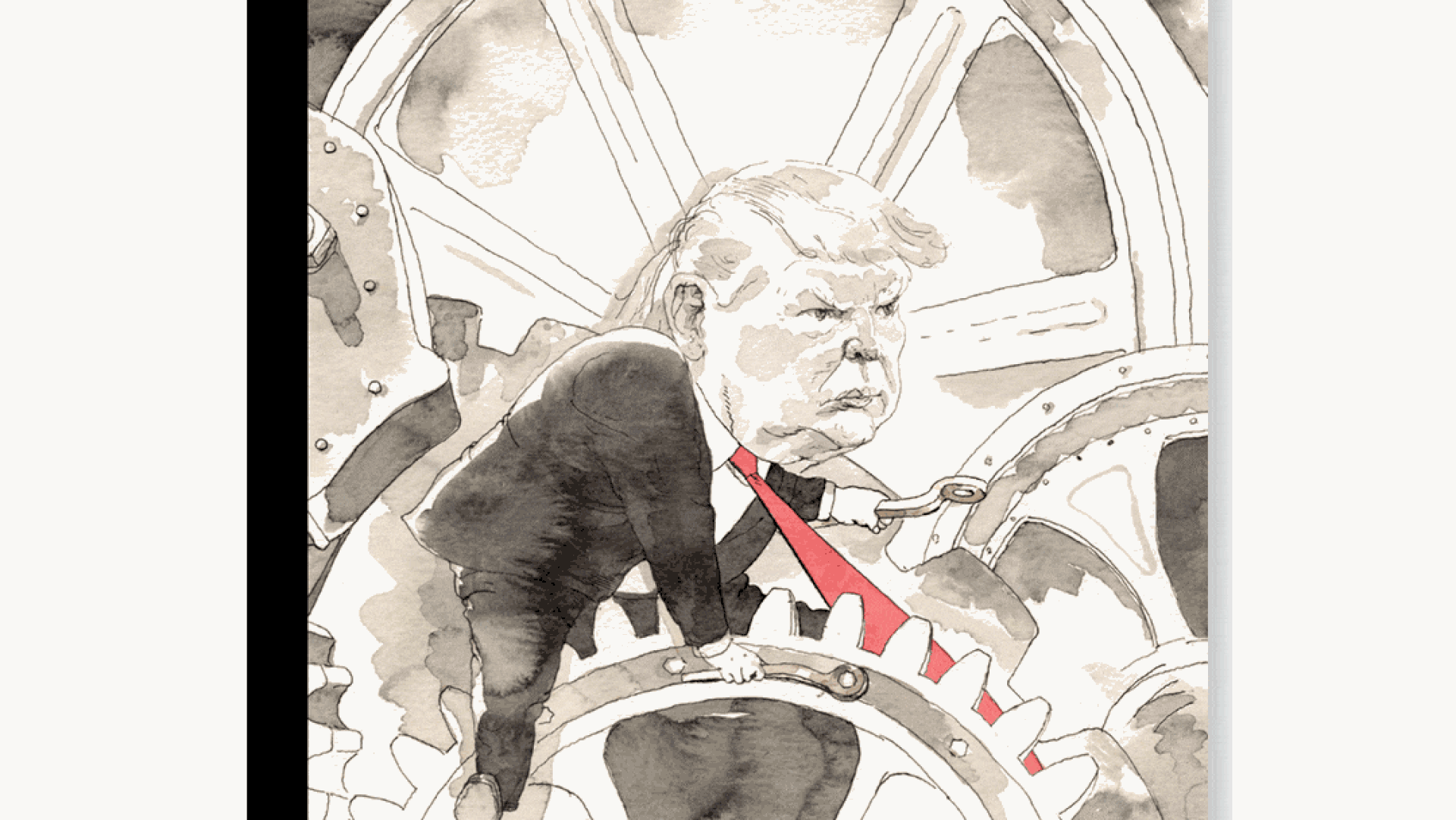 Exchange of a lifetime at Rose Garden presser, where Trump was side by side with Romanian President Klaus Ioannis:
Trump: "Who would like to ask — should I take one of the killer networks that treat me so badly as fake news? Should I do that? Go ahead, Jon. Be fair, Jon."
ABC's Jonathan Karl: "Oh, absolutely."
Trump: "Remember how nice you used to be before I ran? Such a nice man."
Karl: "Always fair. Mr. President, can we get back to James Comey's testimony. You suggested he didn't tell the truth in everything he said. He did say, under oath, that you told him to let the Flynn — you said you hoped the Flynn investigation he could let — "
Trump: "I didn't say that."
Karl: "So he lied about that?"
Trump: "Well, I didn't say that. I mean, I will tell you I didn't say that. ... And there would be nothing wrong if I did say it, according to everybody that I've read today. But I did not say that."
Karl: "And did he ask for a pledge of loyalty from you?" ...
Trump: "No, he did not."
Karl: "So he said those things under oath. Would you be willing to speak under oath to give your version of those events?"
Trump: "One hundred percent. I didn't say under oath — I hardly know the man. I'm not going to say, I want you to pledge allegiance. Who would do that? Who would ask a man to pledge allegiance under oath? I mean, think of it. I hardly know the man. It doesn't make sense. No, I didn't say that, and I didn't say the other."
Karl: "So if Robert Mueller wanted to speak with you about that you would be willing to talk to him?"
Trump: "I would be glad to tell him exactly what I just told you, Jon."
Karl: "And you seem to be hinting that there are recordings of those conversations."
Trump: "I'm not hinting anything. I'll tell you about it over a very short period of time." ...
Karl: "When will you tell us about the recordings?"
Trump: "Over a fairly short period of time. ... Oh, you're going to be very disappointed when you hear the answer. Don't worry."
https://www.axios.com/newsletters/axios-am-5d961fe3-3233-4f4d-b2f7-bf850c16eb8b.html?chunk=2#story2
3. Trump to Miami and Poland
"Trump expected to unveil new Cuba policy as early as next Friday," by Reuters' Matt Spetalnick: "Trump is expected to visit Miami as early as next Friday to announce a new Cuba policy that could tighten rules on trade and travel, rolling back parts of ... Obama's opening to the island."
White House statement yesterday: "President Donald J. Trump accepted the invitation of the President of the Republic of Poland, Andrzej Duda, to visit Poland in advance of the G20 Summit in Hamburg, Germany."
The big story at the G20 summit, in early July: Trump and Putin will both be there, and are expected to meet.
Trumplomacy ... "As Tillerson calls for calm, Trump calls out Qatar on terror" AP's Josh Lederman: "Trump is ramping up pressure on Qatar to stop what he calls a 'high level' of financial support of terrorism, even as Secretary of State Rex Tillerson tries to calm the worst diplomatic crisis in the Persian Gulf in years."
Phrase that pays ... Trump, asked about NATO in the Rose Garden: "I'm committing the United States, and have committed, but I'm committing the United States to Article 5. And certainly we are there to protect. And that's one of the reasons that I want people to make sure we have a very, very strong force by paying the kind of money necessary to have that force. But, yes, absolutely, I'd be committed to Article 5."
https://www.axios.com/newsletters/axios-am-5d961fe3-3233-4f4d-b2f7-bf850c16eb8b.html?chunk=3#story3
Bonus: Tweet du jour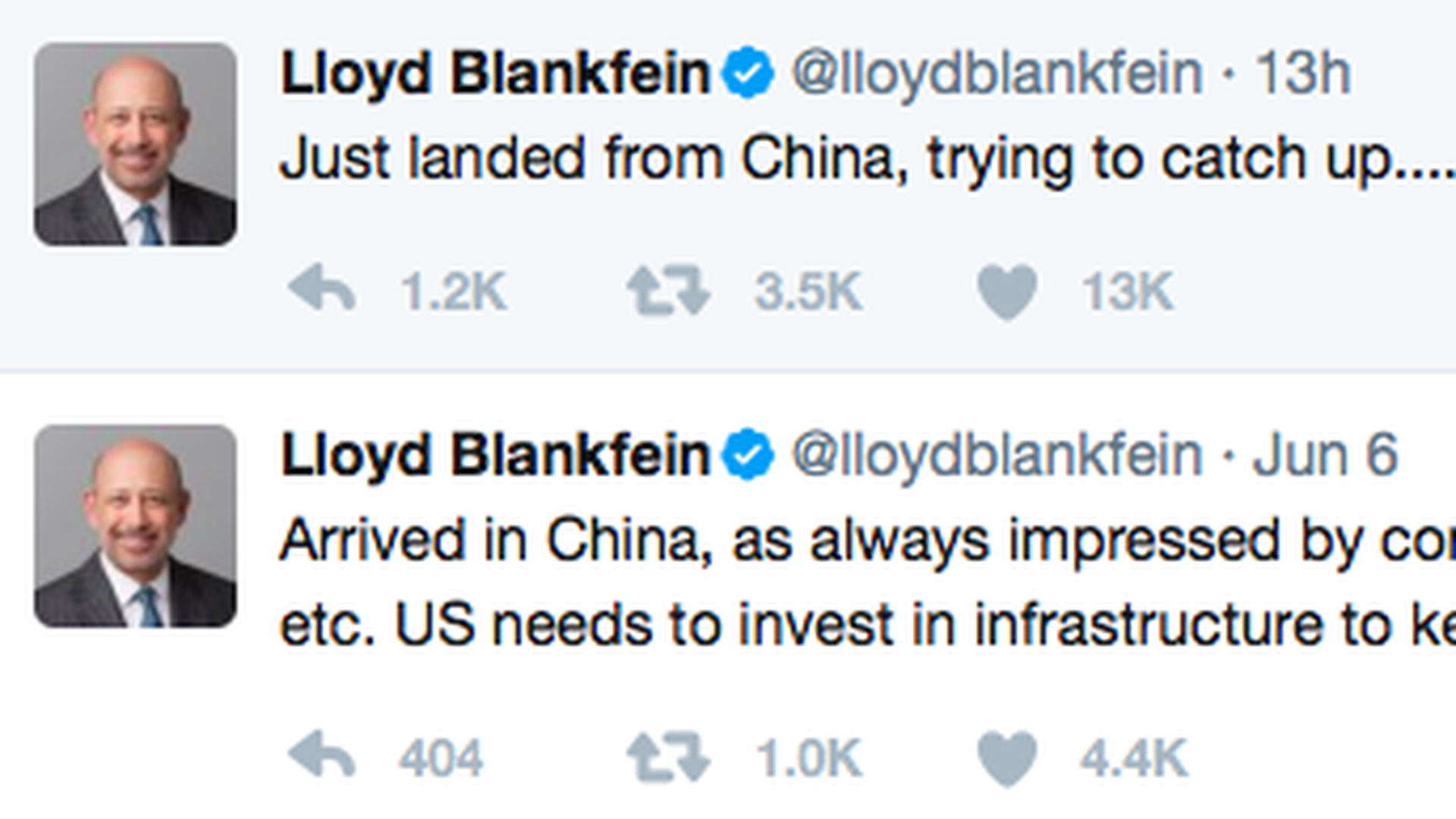 https://www.axios.com/newsletters/axios-am-5d961fe3-3233-4f4d-b2f7-bf850c16eb8b.html?chunk=4#story4
4. Article of the day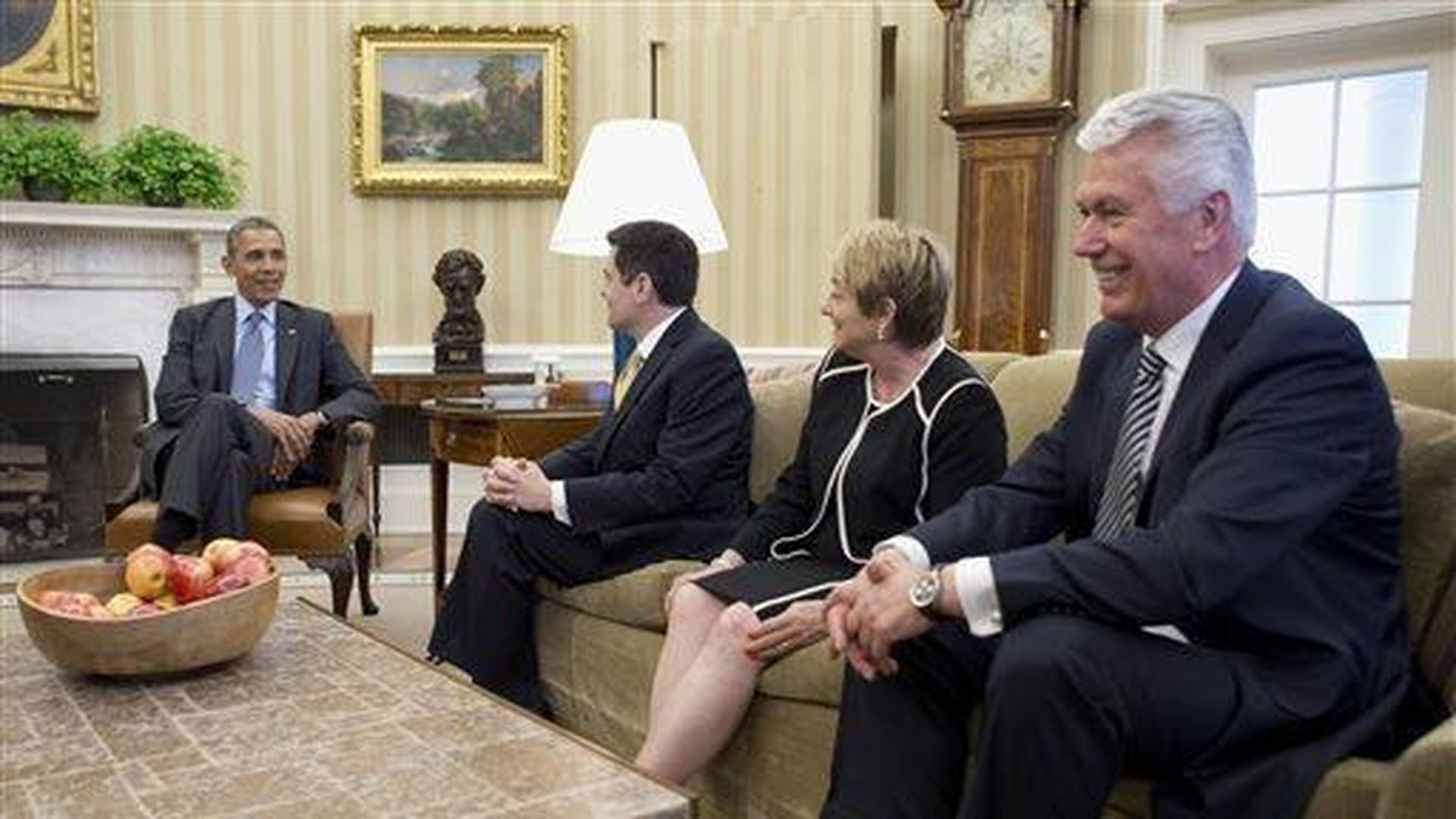 Wall Street Journal front-pager, "Russell Moore, Baptist Leader Who Shunned Trump, Splits the Faithful: The head of the Southern Baptist Convention's public-policy arm triggered a backlash by criticizing Donald Trump's supporters. Now he has no access to the White House," by Ian Lovett in Washington:
"When ... Trump signed an executive order on religious liberty last month, he was surrounded in the White House Rose Garden by religious figures — Catholics, orthodox Jews, Sikhs and a host of evangelical Christians. One prominent evangelical was conspicuously missing: Russell Moore, the public face and chief lobbyist of the Southern Baptist Convention, the country's largest Protestant denomination."
"Moore's absence was a sign of the rift between him and the new administration, and hinted at a rupture within the Southern Baptist Convention itself that is challenging Mr. Moore's leadership and potentially pushing the powerful, conservative institution off the political course he set."
Why it matters: The outcome of Moore's internal and external power struggles will help determine "whether evangelical Christians remain a reliably Republican voting bloc."
Rising stars ... Cover of N.Y. Times Sunday Styles, "'You Can't Rattle Her' ... Katy Tur Is Tougher Than She Looks: The NBC correspondent's swift and surprising rise at the network mirrored that of the presidential candidate she covered and occasionally battled with," by Luisita Torregrossa.
https://www.axios.com/newsletters/axios-am-5d961fe3-3233-4f4d-b2f7-bf850c16eb8b.html?chunk=5#story5
5. 'In office but not in power'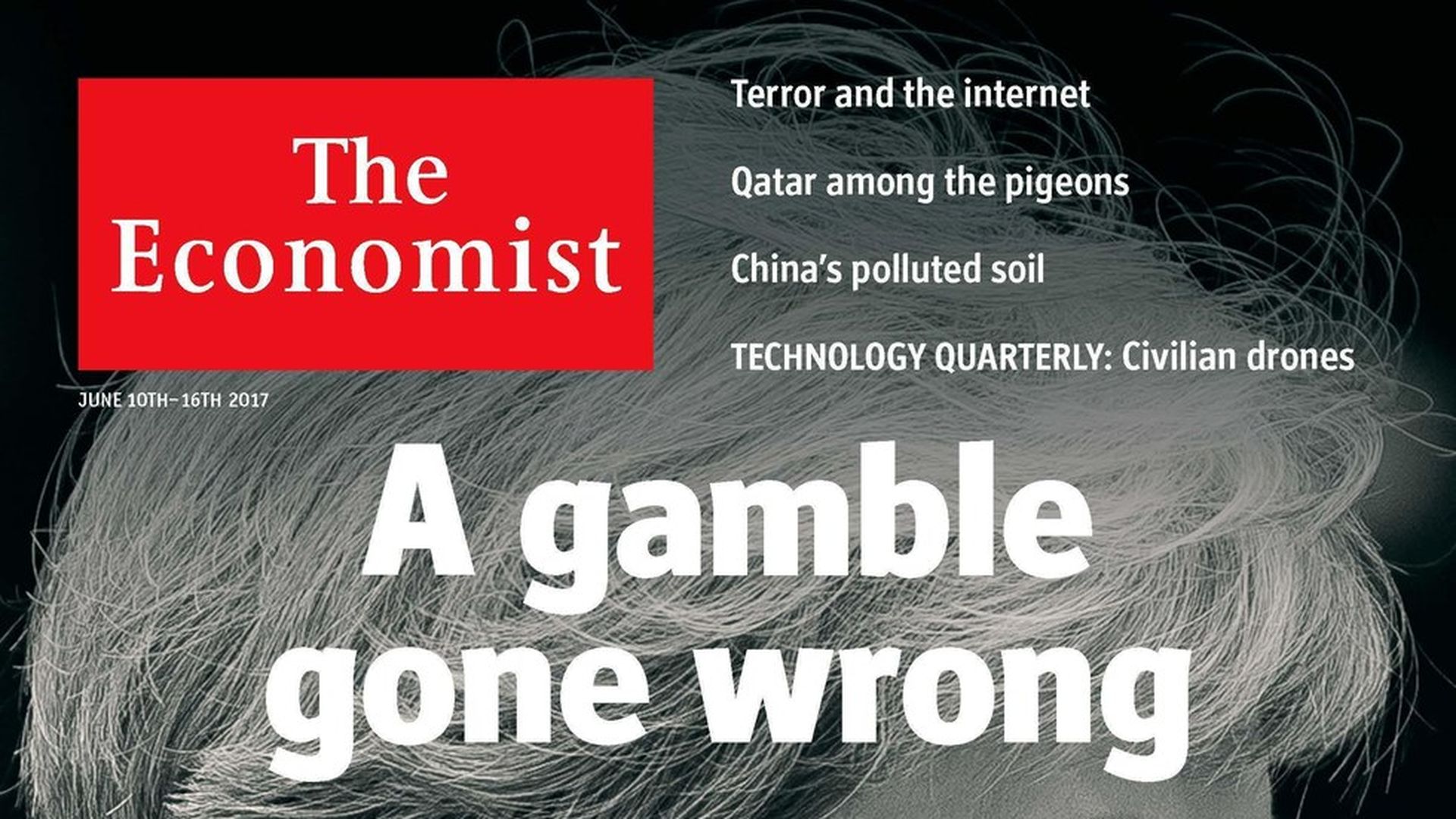 The Nate Silver of London ... "One analyst predicted the UK general election exactly right," by Jim Edwards, founding editor of U.K. edition of Business Insider:
"On May 19, three weeks before the general election, Pantheon Macronomics analyst Samuel Tombs published [a] chart showing the relationship between consumer confidence and the size of a UK government's majority in the House of Commons after a general election. He predicted 'only a slender Tory win.'''
Why it matters: "The economic data, Tombs argued, pointed to an electorate that was unhappy — because of low pay and insecure work — and therefore could not be expected to vote enthusiastically for a sitting government."
Sound familiar? "An election that has deepened UK divisions" — Financial Times front-page column by Editorial Director Robert Shrimsley:
"Far from settling the divisions exposed by the Brexit referendum, this election appears to have sharpened them. To purloin the words used of another Tory leader: [Prime Minister Theresa May] remains 'in office but not in power,' dependent on the goodwill of one of most sectarian and sectional political parties in the UK."
Great N.Y. Times online headline for print lead story: "The British Election That Somehow Made Brexit Even Harder."
Sidebar on A1: Labour Chief "Jeremy Corbyn Lost U.K. Election, but Is Still Its Biggest Winner."
https://www.axios.com/newsletters/axios-am-5d961fe3-3233-4f4d-b2f7-bf850c16eb8b.html?chunk=6#story6
6. 1 fun thing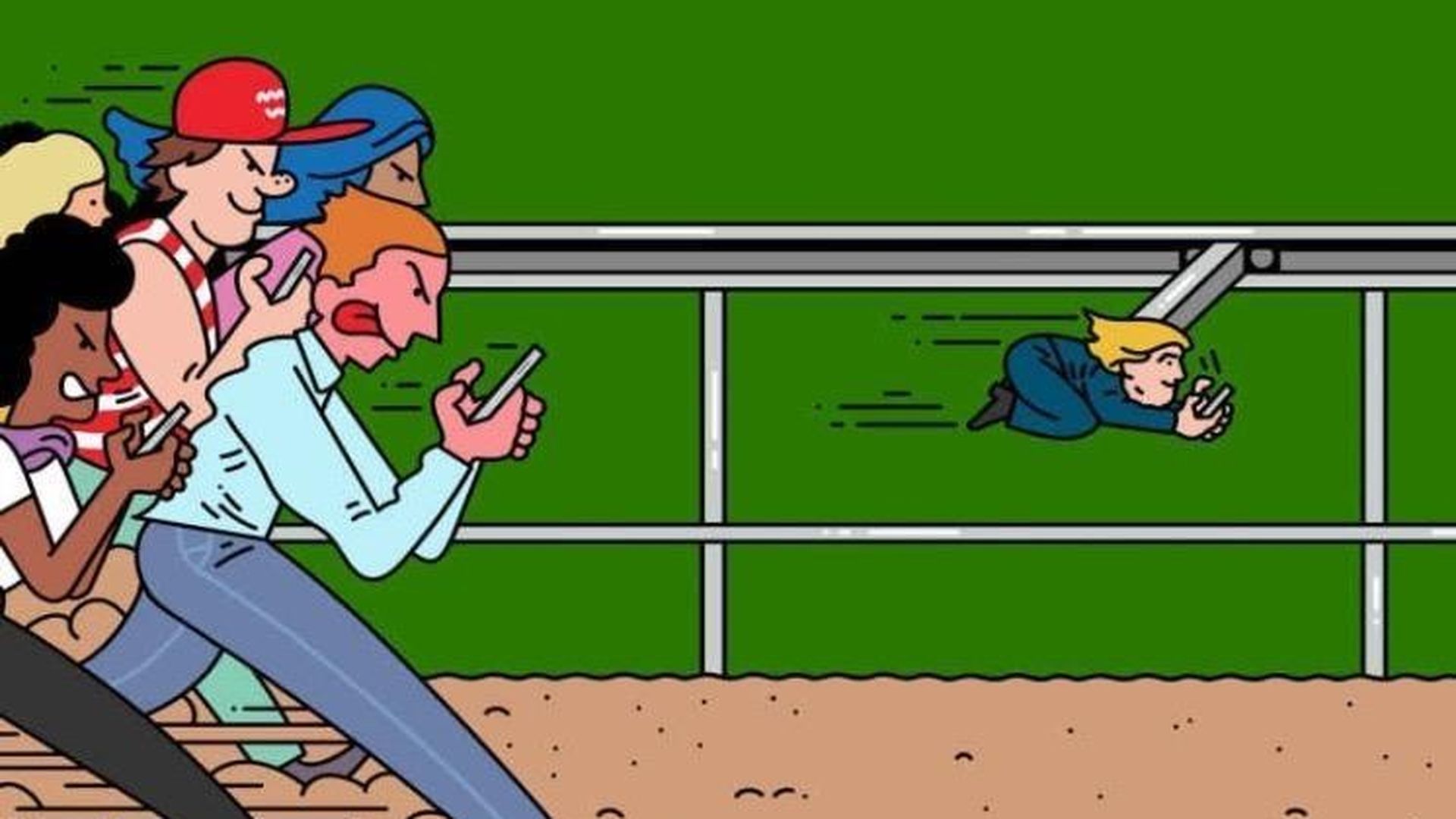 "Inside The Chaotic Battle To Be The Top Reply To A Trump Tweet: The area below the president's tweets is the most valuable real estate on the internet," by BuzzFeed's Charlie Warzel:
"Thanks to Twitter's weighted reply algorithm, you don't even have to be the first to hit 'send' — though it certainly helps. So seconds after the president sounds off to his 31 million–plus followers, he's bombarded with replies — almost all of them extreme.
"There are breathless condemnations of Trump policy; cries for his speedy impeachment; furious demands for his administration to admit its role in any number of global and political conspiracies; #Resist-ers; #TrumpTrain conductors and passengers; impassioned defenses of his character; praise for Trump as chessmaster-in-chief, 10 steps ahead and constantly outwitting enemies. ...
"And within seconds they're all just a few pixels below the president's missive — yelling, arguing, and looking to be the one Donald Trump sees when he checks his Twitter feed."