Good Saturday morning. Axios.com will have all-day coverage from our reporters and videographers at #MarchForOurLives in D.C., and we'll bring you a taste of the 831 other marches planned around the world (including 50 states, 387 congressional districts).
Situational awareness: "Trump released an order [last] night banning most transgender troops from serving in the military except under 'limited circumstances," following up on his calls last year to ban transgender individuals from serving." (AP)
Treat yourself: Maureen Dowd interviews Barry Diller.
On #MeToo: "I hope in the future for some form of reconciliation. Because I think all men are guilty. ... Are we really going to have only capital punishment? Because right now, that's what we have."
https://www.axios.com/newsletters/axios-am-5c33425b-ed51-4e74-add3-f6e522fc05d7.html?chunk=0#story0
1 big thing: Trump's new era of high risk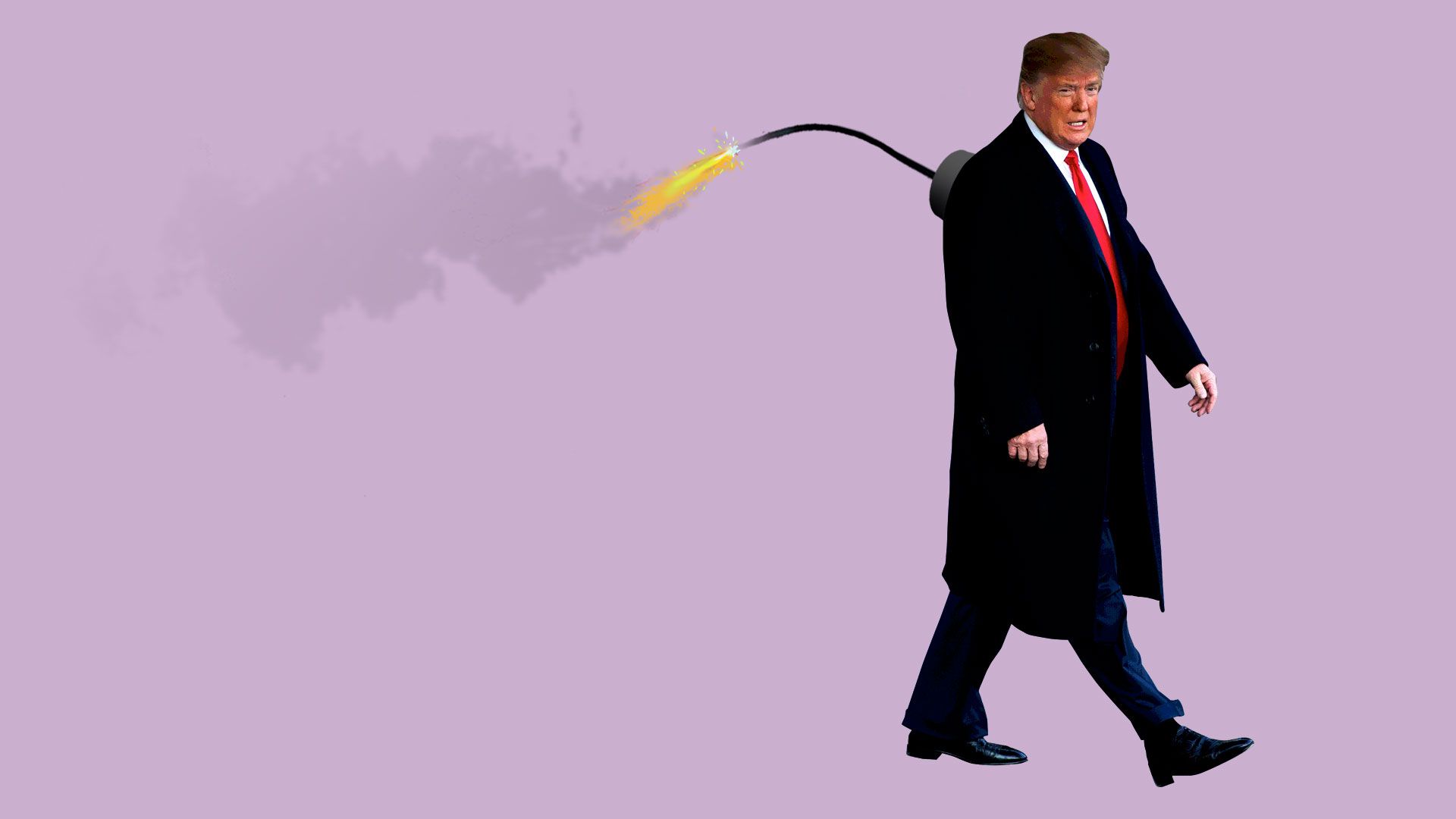 On Jan. 26, just over a year into his presidency, President Trump had a president's dream: peace and prosperity. The Dow Jones industrial average, S&P 500 and Nasdaq all hit record highs.
Since then, Trump has injected multiple new risks into the system.
Yesterday, "U.S. stocks suffered their worst week in more than two years, signaling mounting investor anxiety over whether factors from restrictive trade policies to rising interest rates could disrupt the nine-year bull market." (WSJ)
N.Y. Times: "Aides said there was no grand strategy to the president's actions, and that he got up each morning this week not knowing what he would do. "
So what's happened in the past two months?
Checks inside the White House are gone, and Chief of Staff John Kelly's controls have been circumvented.
Critics of China and trade have been empowered.
Hawks have been installed at NSC and State.
Trump is stirring for a Mueller fight.
The conversation:
CFR President Richard Haass tweets: "This is the most perilous moment in modern American history-and it has been largely brought about by ourselves, not by events."
Jeremy Bash, former CIA and Pentagon chief of staff, on "Morning Joe": "I think the president is assembling a War Cabinet. To take a war to Bob Mueller, he's got Joe diGenova. To take a trade war to China, he's got Larry Kudlow. And now, to actually have a real war, he's got John Bolton. And the only question is: Will we find ourselves in a military conflict vis-à-vis North Korea or Iran or both?"
N.Y. Times Quote of the Day ... Tong Zhao, a nuclear policy expert at the Carnegie-Tsinghua Center for Global Policy in Beijing, on the apprehension of American allies in Asia about the appointment of John Bolton as national security adviser: "People are trying to avoid appearing terrified, but people are deeply concerned."
The Trump view ... A source close to the president told me:
"I personally reject the premise that there is inherent 'risk' in Trump being more Trump."
"He's got 15 months under his belt, and is feeling more comfortable and confident in the job."
"The economy is booming ... ISIS is obliterated. He's got China to the table to help with NoKo in unprecedented ways."
"Now he's continuing to throw Kim off balance with a vocal NoKo hawk, reminding him he's serious."
"He's doing nothing on trade that he didn't openly campaign on."
"It's unorthodox. It's chaotic from a staff level. But I think folks need to relax."
Be smart: The markets can be prescient — they appear to be factoring in rising uncertainty and risk.
Bottom line: We have never seen so much wobbliness and apprehension, internally and externally. 
https://www.axios.com/newsletters/axios-am-5c33425b-ed51-4e74-add3-f6e522fc05d7.html?chunk=1#story1
2. A first: Trump base incensed at Trump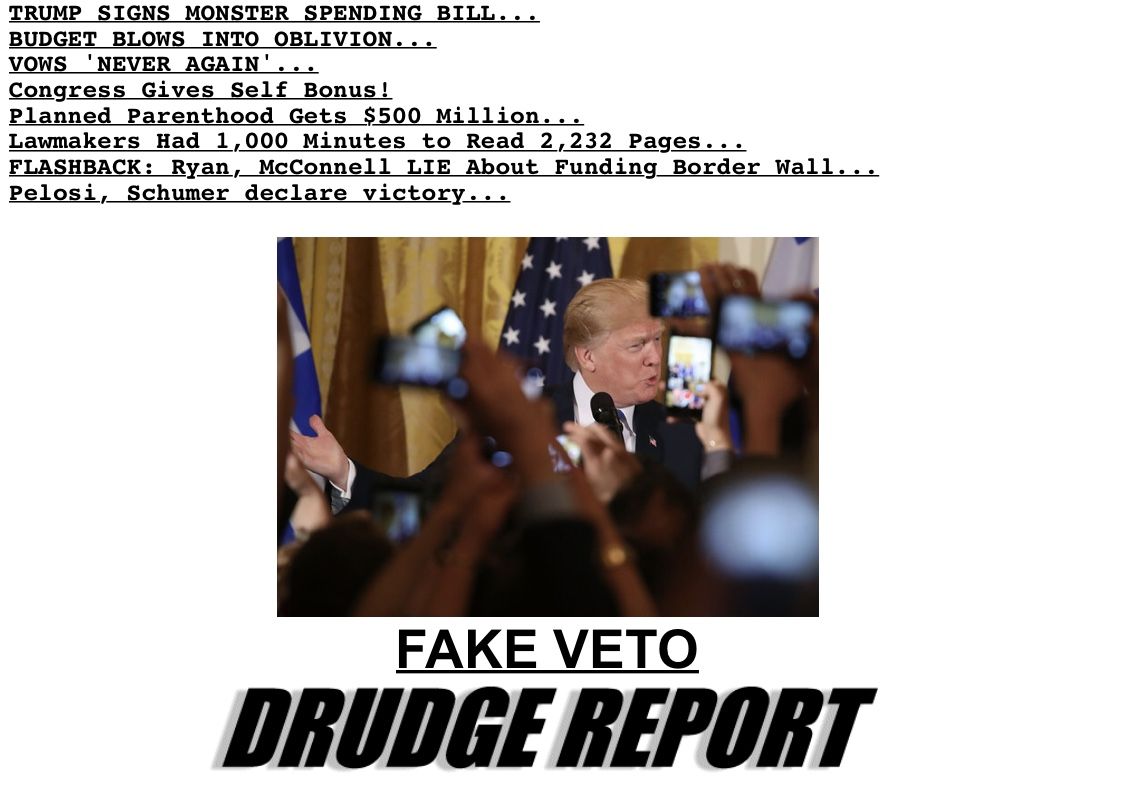 Screenshot of Drudge homepage
A former White House official tells me that online conservative ire (Laura Ingraham, Ann Coulter, Mark Levin, etc.). about the spending bill President Trump signed yesterday — after a puzzling tweeted veto feint — "is the hardest I've seen ever seen the base turn on Trump over anything."
The official continued: "A big reason why people voted for him was because of his apparent willingness to stand up to the entrenched political class in both parties. Voters wanted a fighter who wouldn't back down to 'the swamp' like a 'typical politician.'"
"They were attracted to his strength and alpha mentality, but unfortunately yesterday's fake veto threat did little but make him look weak ... and his base took notice."
"Trump's base is literally begging him to throw McConnell/Ryan under the bus after today. Just search 'McConnell Trump' on Tweetdeck and you will see what I mean."
A White House official replies that a six-month continuing resolution would have led to no better outcome:
"The veto advocates hate Ryan and McConnell. Not good enough reason for us to veto."
"Thought one of the reasons DJT was elected was to get things done in a broken D.C.?"
Touché: "If there was a shutdown, would Axios headline praise Trump as shrewd negotiator, or ridicule as dealmaker who can't make a deal to fund the government?"
https://www.axios.com/newsletters/axios-am-5c33425b-ed51-4e74-add3-f6e522fc05d7.html?chunk=2#story2
3. Stat du jour
Stunning six-figure stat on school shootings ... "Collateral damage of this uniquely American crisis," per WashPost A1:
"Beginning with Columbine in 1999, more than 187,000 students attending at least 193 primary or secondary schools have experienced a shooting on campus during school hours, according to a year-long Washington Post analysis."
"This means that the number of children who have been shaken by gunfire in the places they go to learn exceeds the population of Eugene, Ore., or Fort Lauderdale, Fla."
What to watch today, from N.Y. Times:
https://www.axios.com/newsletters/axios-am-5c33425b-ed51-4e74-add3-f6e522fc05d7.html?chunk=3#story3
Bonus: Pic du jour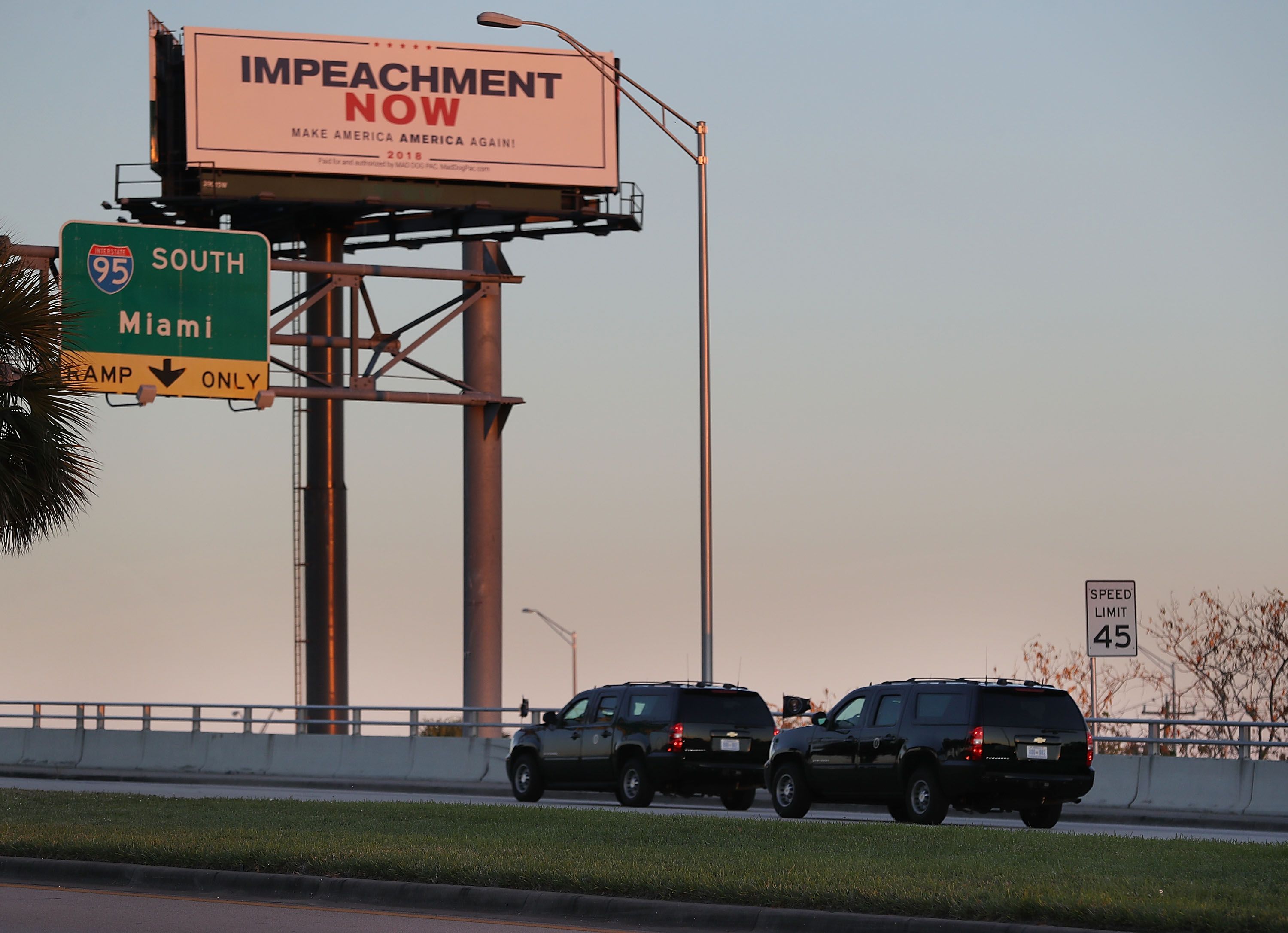 Joe Raedle / Getty Images
Trump's motorcade passed this Mad Dog Pac billboard en route Mar-A-Lago from Palm Beach International Airport yesterday.
https://www.axios.com/newsletters/axios-am-5c33425b-ed51-4e74-add3-f6e522fc05d7.html?chunk=4#story4
4. Tech's terrible week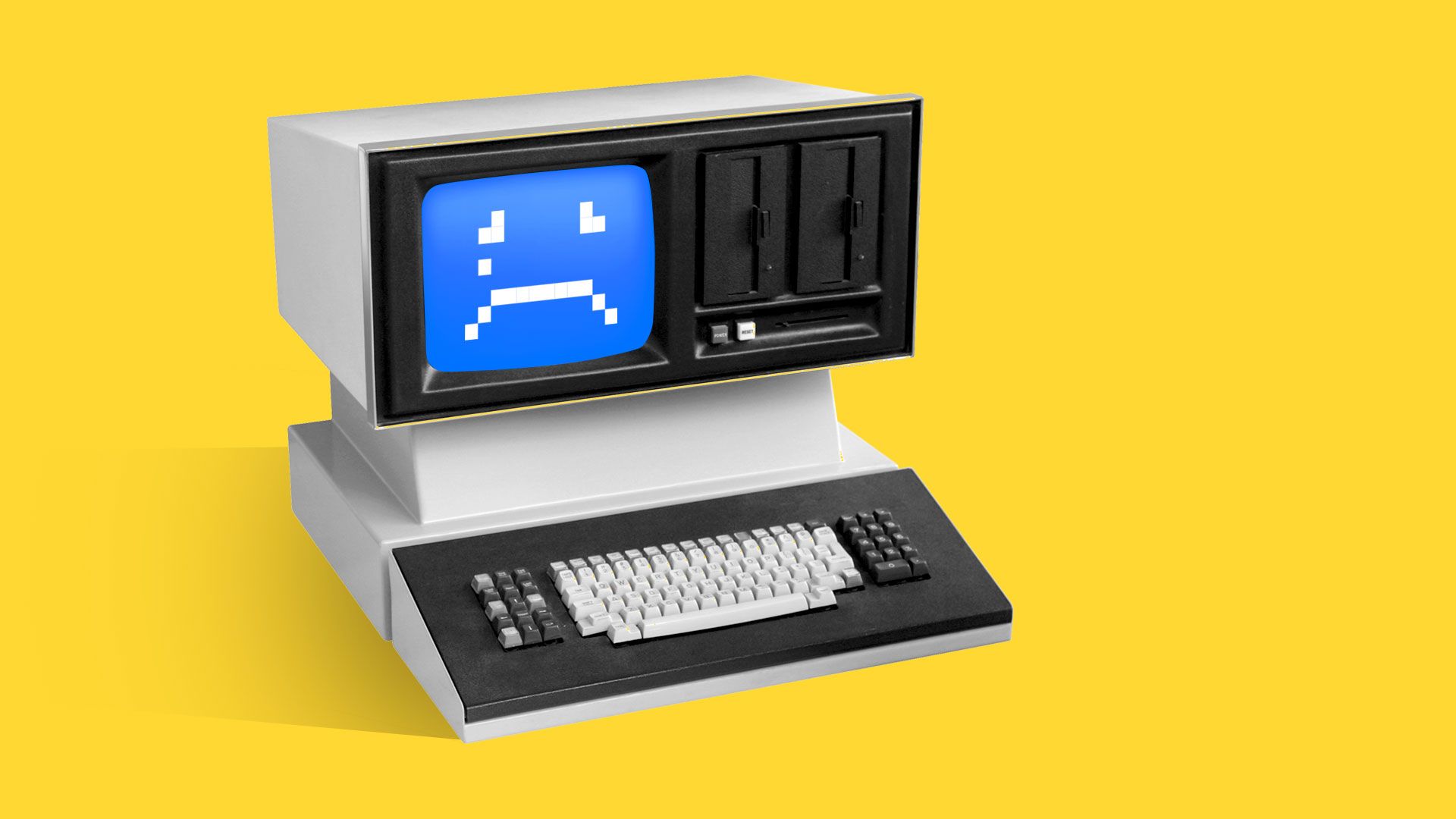 From a fatal car crash to a data nightmare, turning-point scenarios played out in several corners of the technology industry this week, Axios managing editor Kim Hart writes:
Why it matters: The utopian promise of technological progress is giving way to the very thorny challenges of balancing innovation with social accountability.
That means congressional hearings, investigations, probably at least some regulation — and a lot more skepticism about the promise of the tech-driven changes that are transforming our lives.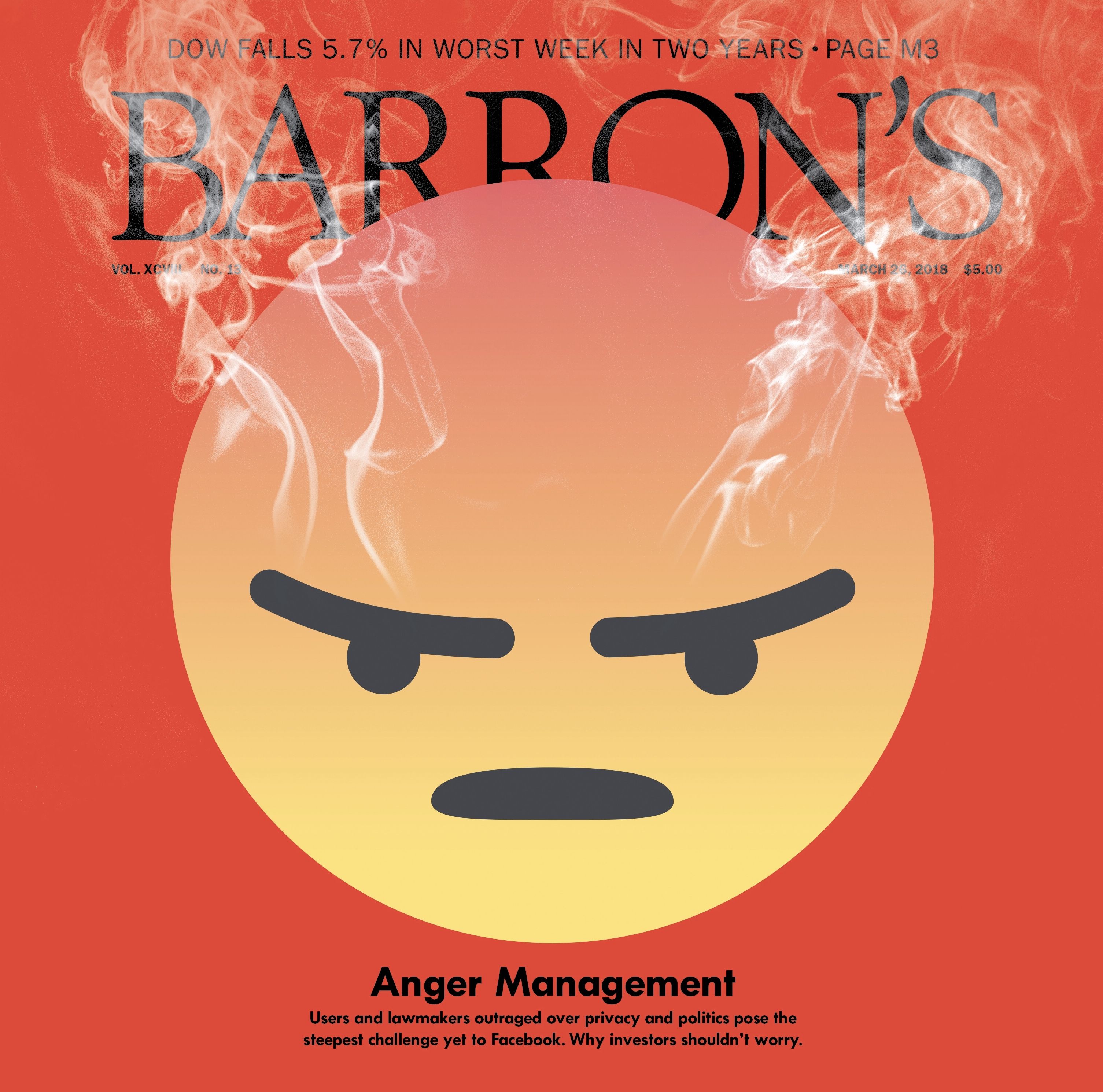 Courtesy Barron's
"With more than two billion users, Facebook is the top target for privacy concerns, and it is almost certain that the company will not walk away unscathed," per the Barron's cover story:
"Pressure by lawmakers and regulators in the U.S. and Europe, unease among advertisers, and anger among its users means that the company's galloping unfettered ride on the back of user content and data is over."
"For investors, the question is whether the company can adapt without undermining the advertising model that has powered years of extraordinary growth. There is considerable doubt at the moment."
"Shares of Facebook slumped 14% last week, erasing $75 billion of market value."
The good news ... "Facebook Shares Look Like a Bargain," per Barron's (with a "Plenty to Like" graphic):
"Facebook's revenue is still growing more than five times as fast as revenues underlying the S&P 500, and its profit margin is three times as high."
The "sin stocks": "Considering its future profit potential, Facebook is priced as scornfully as a maker of cigarettes or assault rifles."
https://www.axios.com/newsletters/axios-am-5c33425b-ed51-4e74-add3-f6e522fc05d7.html?chunk=5#story5
5. Andrew McCabe: Inside the nightmare
Fired former FBI deputy director Andrew McCabe writes in the Washington Post:
"Despite all the preparation for the worst-case scenario, I still felt disoriented and sick to my stomach."
"[A]fter two decades of public service, I found out that I had been fired in the most disembodied, impersonal way — third-hand, based on a news account."
"Shortly after getting word, I noticed an email from a Justice Department official in my work account, telling me that I had been 'removed from the Federal Bureau of Investigation and the civil service.'"
https://www.axios.com/newsletters/axios-am-5c33425b-ed51-4e74-add3-f6e522fc05d7.html?chunk=6#story6
6. "My 6 big things": CNN's Van Jones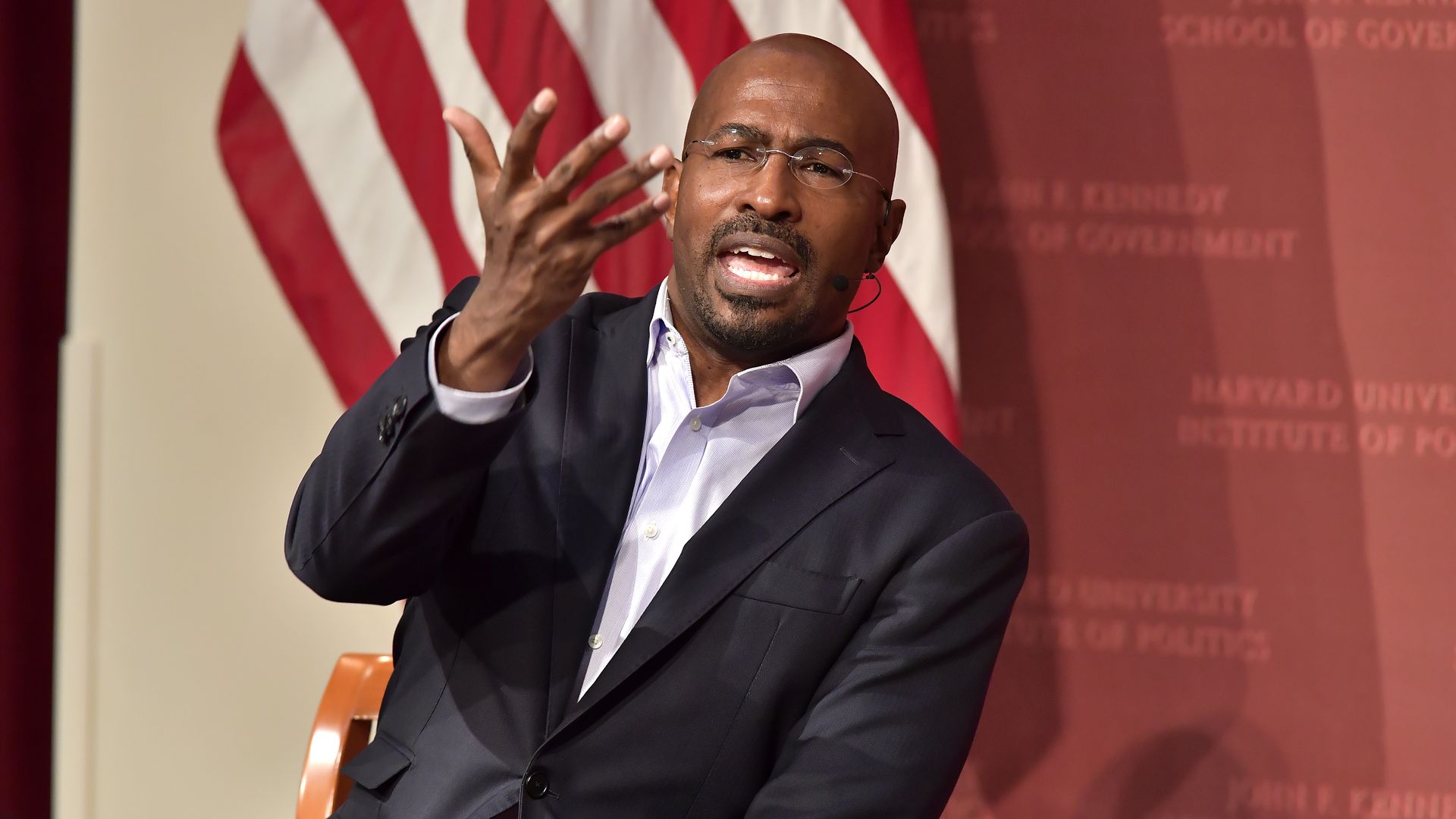 CNN commentator Van Jones — host of "The Van Jones Show," airing tonight at 7 p.m. ET — scored recent interviews with Jay-Z and Oprah.
In "My 6 Big Things," a weekend feature of Axios AM, Jones reveals his one insecurity, the one project on his bucket list, and the single book that has had the biggest impact on his life.
One spoiler ... When asked the app or gadget that saves him time, Jones said: "All of my apps waste my time."