Happy Friday! Remember Mother's Day is Sunday. It's 32 days till the North Korea summit.
Breaking news all day on Axios.com ...
1 big thing: Trump's shock and brawl strategy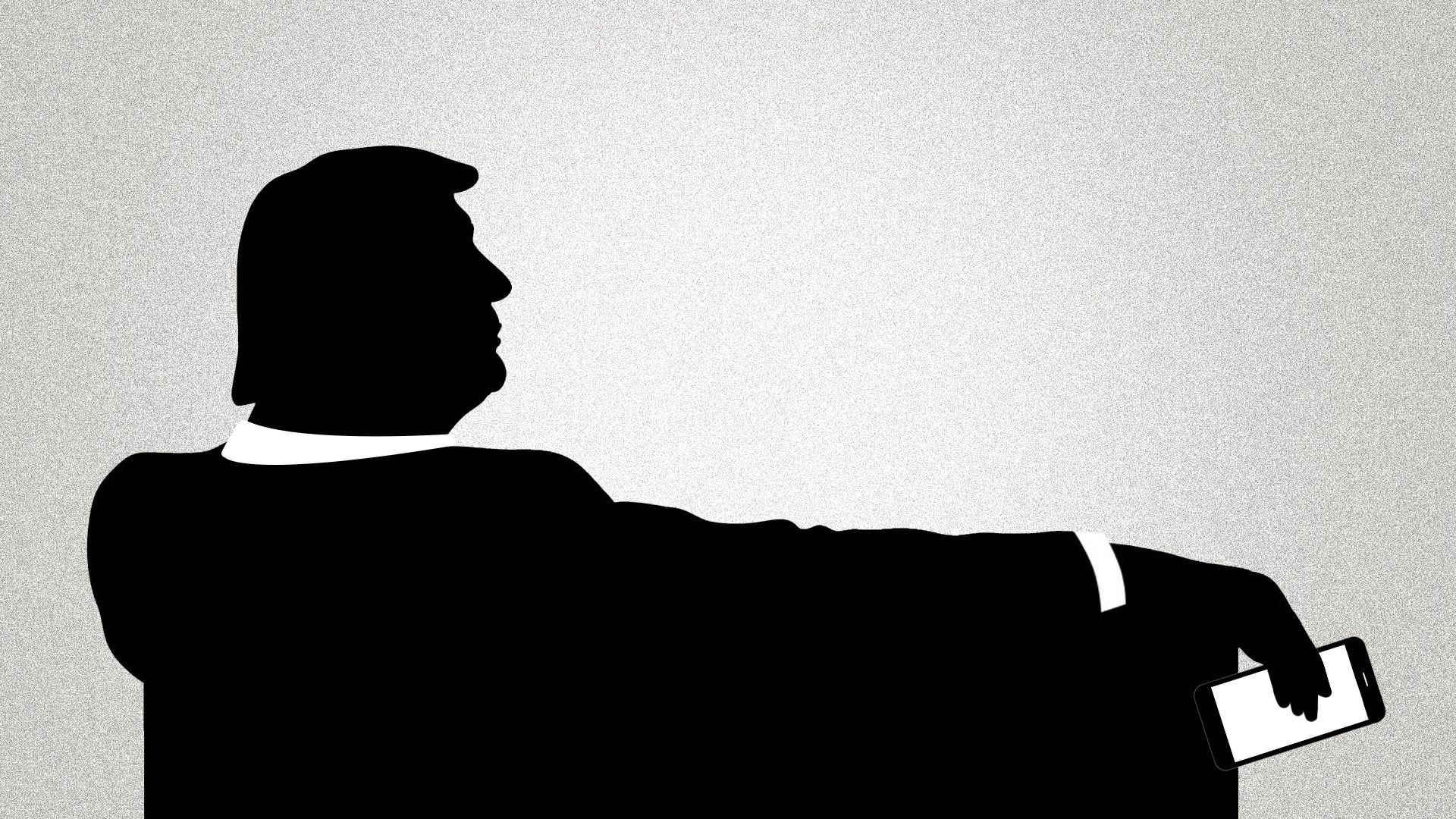 President Trump isn't afraid to punch on foreign turf, even after getting the red carpet.
As the White House prepares for the summit with North Korea in Singapore on June 12 ("a once unimaginable encounter," the N.Y. Times calls it), Axios' Jonathan Swan has rich new reporting about how President Trump handles foreign leaders when the doors are closed:
Trump wound up U.S. Trade Representative Bob Lighthizer and let him go to town in Beijing when meeting with President Xi Jinping and a whole bunch of Chinese representatives in November.
In fact, Trump egged Lighthizer on. POTUS asked Lighthizer leading questions at the table in the bilateral meeting, which included Xi and the U.S. and Chinese delegations.
Trump: "Bob, why don't you walk them all through what our trade deficit is and [how] all these dialogues have produced nothing? ... Take them through the history." Lighthizer was all too happy to do it.
Trump likes to walk into a meeting with a head of state and throw out the protocol, which he believes throws rivals off balance.
Trump operates almost purely on gut instinct. "He never wanted to be briefed all that much before these foreign leader meetings," a former senior administration official said. "He was annoyed when [former national security adviser H.R.] McMaster would come in and say here's what we need to do and give him note cards and all the information."
"Trump lives by improvisation," said another source who has seen Trump at close quarters in foreign leader meetings. "He believes he doesn't need to prepare, that he performs best when he flies by the seat of his pants and stays flexible. He believes this approach has always worked for him in business and so far at least, politics."
Trump will get awkwardly tough with leaders after showering them with praise in public only hours earlier:
That happened in his recent meeting with Japanese leader Shinzo Abe. Trump took him to task on trade and was very aggressive, said a source with direct knowledge of the meeting.
"He just has no aversion to awkwardness," said another source who's sat with Trump in meetings with foreign leaders. "Most people, even if they wanted to make a point, they'd do it in a way that the other person isn't flailing out there."
2. How Trump scares staff
President Trump sees his improvisational and impulsive style as the indispensable key to his leadership. Those around him often see it as infuriating — and reason to quit. 
The latest incident: "Kirstjen Nielsen, the homeland security secretary, told colleagues she was close to resigning after President Trump berated her on Wednesday in front of the entire cabinet for what he said was her failure to adequately secure the nation's borders," the N.Y. Times and others report.
The list of top Trump officials who have threatened to quit after Trump pulled a Trump is astonishing:
Reality check: In Normal Times, over the course of an entire presidency, it's unusual for even one or two top-level people to let it be known publicly they want to resign out of frustration.
3. The conversation
The N.Y. Times surely caused a few readers to choke on their quinoa flakes with the headline, "President Trump a Nobel Laureate? It's a Possibility":
"[T]he idea of his 2019 nomination, ... heartily endorsed by President Moon Jae-in of South Korea, has started to take root among his supporters."
Trump said with a laugh on Wednesday when asked if he deserved the prize: "Everyone thinks so, but I would never say it."
The idea is "being met by smirks and eye rolls in Europe," AP's Jill Colvin reports:
"As a member of the European Parliament, [the U.K.'s right-wing Nigel] Farage is among those who can nominate people for the prize, and said he would be setting up a petition to bolster Trump."
"Nominations can come from university professors, directors of peace research and international affairs institutes, and former recipients, as well as members of national assemblies and national governments."
Be smart: Let's have the summit, first.
4. Reality check: Anti-Trump midterm wave could be a ripple
Early forecasts suggest that an anti-Trump midterm wave probably won't be of historic proportions, based on Cook Political Report's latest predictions, per Axios' Harry Stevens:
At most, it could allow Dems to win the House while barely shifting the Senate.
As this chart shows, both the House and Senate usually move against incumbent presidents in midterms.
Democrats will almost certainly make gains in the House — Cook Political Report predicts Democrats will gain between 25 and 40 seats, enough to win back control of the chamber.
In the Senate, Cook predicts Democrats will gain as many as two seats, which would give them control of both chambers. But they may also lose one.
Fun fact: If the Democrats gain seats in the House while the GOP gains in the Senate, it would be the first midterm in 36 years in which the two chambers moved in different directions.
5. Novartis payments to Cohen were excessive even by D.C. standards
STAT reports that there "weren't any contracts under which an individual company paid a single lobbying firm [as much as] $1.2 million in 2017," the amount the Swiss drug maker paid Michael Cohen.
"The record-setter was PricewaterhouseCoopers, which brought in $950,000 to represent the Alliance for Competitive Taxation in 2017, according to a Politico analysis of 2017 filings."
6. First look: Mueller gains credibility among swing voters
Firehouse Strategies, a Republican firm, partnered with the data analytics team at Optimus to interview 2,486 likely midterm voters in four swing states (Florida, Ohio, Pennsylvania and Wisconsin), and found:
"[T]he Mueller investigation is gaining credibility among independent voters."
The survey finds independents in the states trust Mueller over Trump by 19 points.
In a February survey by the two firms, swing-state independents picked Mueller over Trump by 4 points.
7. Rivals the entire venture-capital industry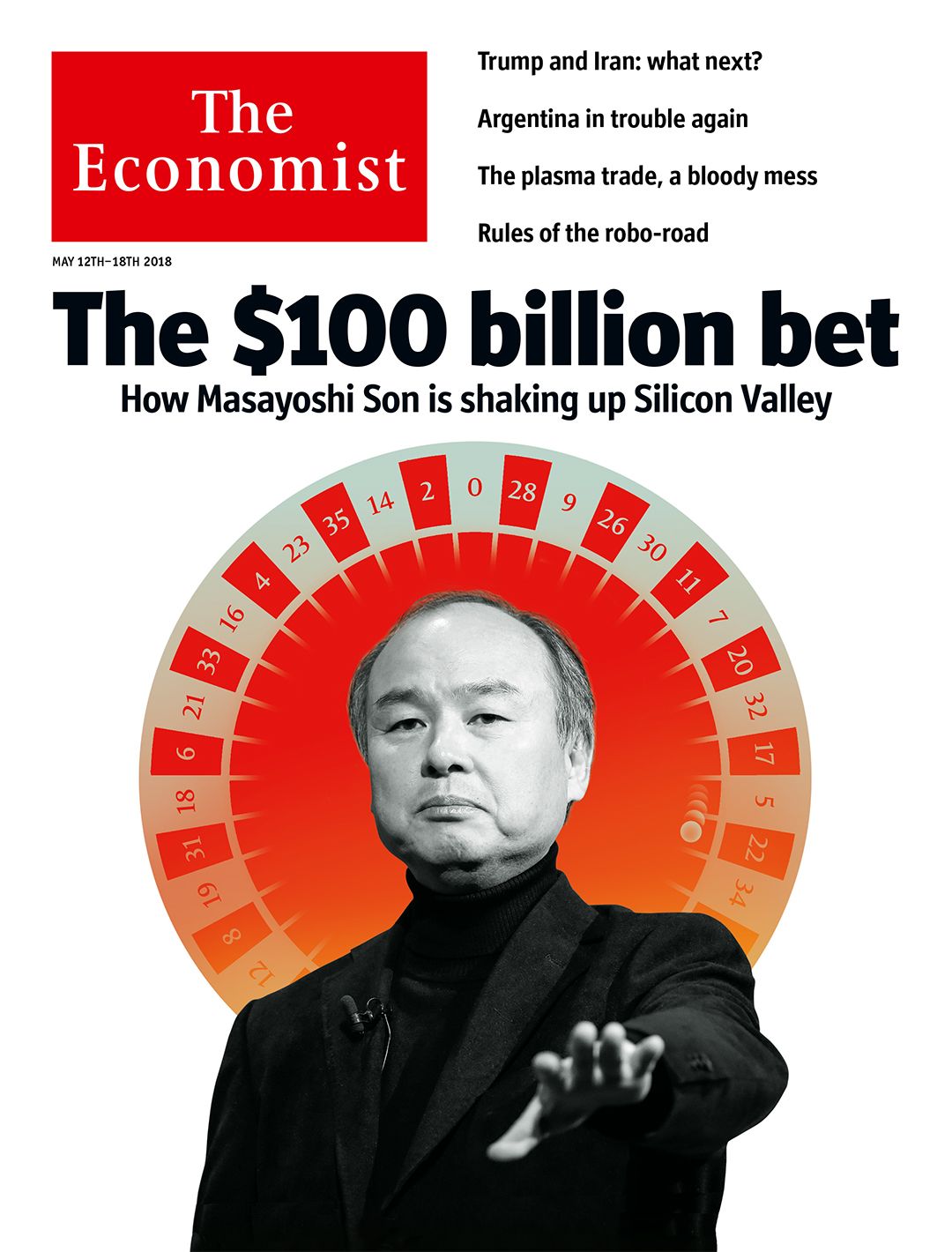 Courtesy The Economist
The Economist cover features Masayoshi Son, founder of SoftBank and the man behind the Vision Fund, which over five years plans to invest in 70-100 tech unicorns (privately held startups valued at $1bn or more):
Why he matters: "In scale and ambition the fund rivals the entire venture-capital industry."
"Two years ago, if you had asked experts to identify the most influential person in technology, you would have heard some familiar names: Jeff Bezos ... Jack Ma ... Mark Zuckerberg. Today there is a new contender: Masayoshi Son."
"The founder of SoftBank, a Japanese telecoms and internet firm, has put together an enormous investment fund that is busy gobbling up stakes in the world's most exciting young companies."
8. This is fascinating: How China thinks
When was the last time you hear a U.S. leader talk about 2050?
Chinese President Xi Jinping does.
A recently released 272-page book of Xi's remarks on "national security" includes previously unreleased comments that give a stark view of the president's motivations, the N.Y. Times' Chris Buckley and Paul Mozur report from Beijing:
In 2013, Xi "pointedly said that Western domination came thanks to technology":
"Advanced technology is the sharp weapon of the modern state. ... You cannot buy the truly core technologies."
"Our technology still generally lags that of developed countries ... In core technological fields where it would be impossible for us to catch up by 2050, we must research asymmetrical steps to catch up and overtake."
Also in 2013, he made clear he was alarmed by U.S. surveillance capabilities exposed by Edward Snowden:
"The internet has become the main battleground of struggle over public opinion."
"Western anti-China forces have constantly and vainly tried to exploit the internet to 'topple China.'"
"Whether we can stand our ground and win this battle over the internet has a direct bearing on our country's ideological and political security."
In 2014, Xi warned Chinese military officials that they risked being eclipsed technologically by the U.S.:
"A new technological and industrial revolution is brewing ... The United States is the leader of the pack in this revolution in military affairs." advantages in military technology."
"The United States is accelerating development of ... advanced weaponry has technologically broken through spatiotemporal boundaries. Once they are deployed for actual combat, they will fundamentally transform the traditional array of offense and defense in warfare."
And in 2016, he said he worries about debt:
"[R]isks are accumulating from ... government debt, and internet financing ... The United States subprime crisis erupted in a night. If we're going to have big trouble in the future, it could well be in this area."
9. China's long game for Middle East influence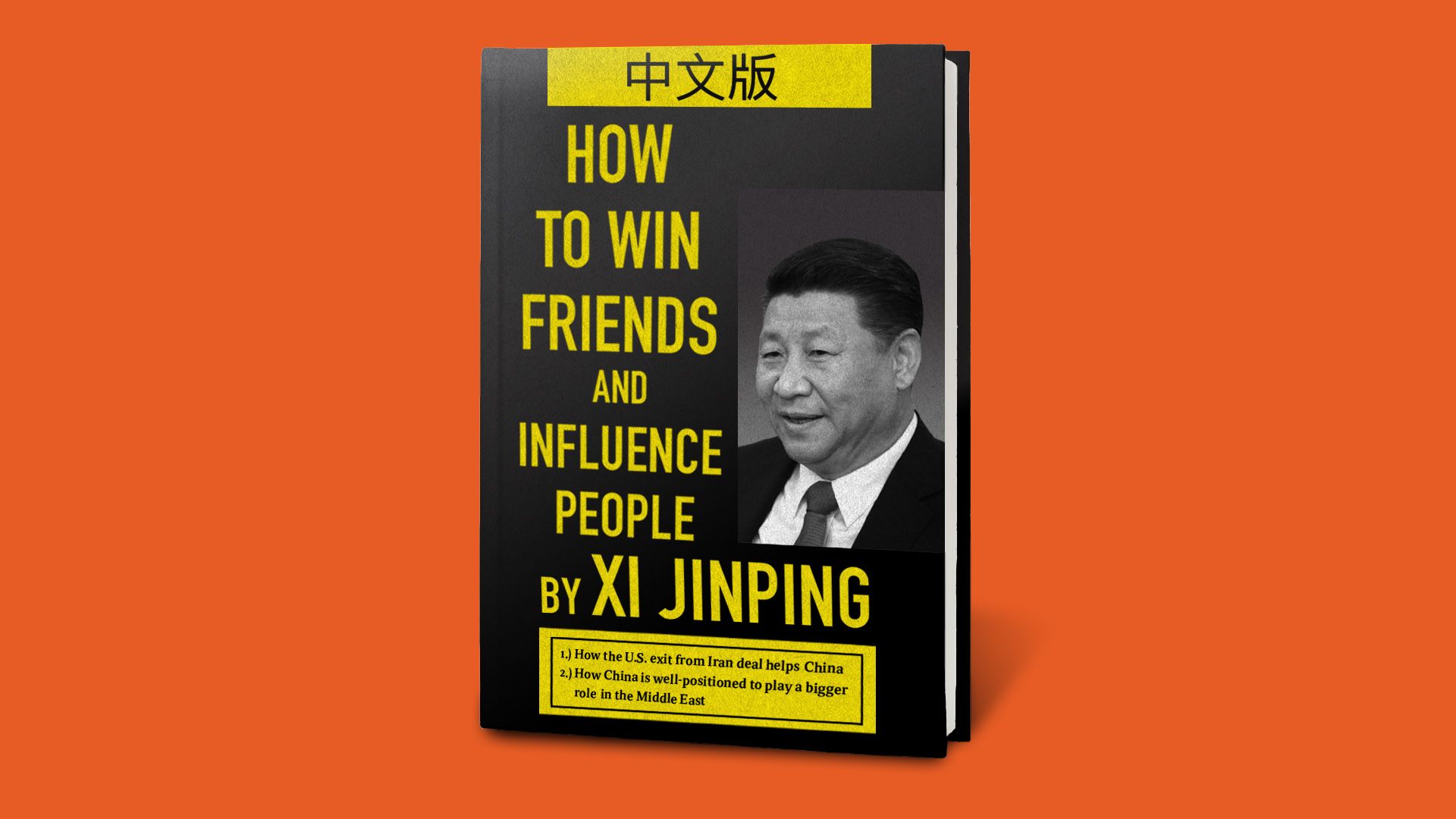 China has stayed out of regional conflicts in the Middle East for decades. But with its massive international infrastructure plan, Beijing is finally ramping up involvement — and it's determined to win influence, Axios' Erica Pandey writes:
Between the lines: If it's successful, a big reason will be that China hasn't taken sides or made enemies in the Middle East.
10. 1 food thing: Menu options multiply
"[D]iners are suffering from option paralysis," The Wall Street Journal's Julie Jargon writes in an A-hed (subscription):
"Especially troublesome are assembly-line-style chains in 'fast casual' restaurants where diners have just seconds to answer rapid-fire questions such as whether they want tahini or aioli sauce on their chicken shawarma, or prefer the turmeric almonds or pickled ginger on their beet falafel bowl."
Ordering anxiety: "People who get nervous at the counter say they worry about being judged for stumbling through their order, or feel pressured by having customers waiting behind them in line."
Thanks for reading. Happy almost-weekend.