💐 Good Tuesday morning, and happy May Day.
Situational awareness: "Trump has postponed the imposition of steel and aluminum tariffs on Canada, the European Union and Mexico until June 1, and has reached agreements for permanent exemptions for Argentina, Australia and Brazil." (Reuters)
https://www.axios.com/newsletters/axios-am-58afe214-f9aa-43f9-93ad-1e75be87b918.html?chunk=0#story0
1 big thing: Comey says Trump should submit to Mueller interview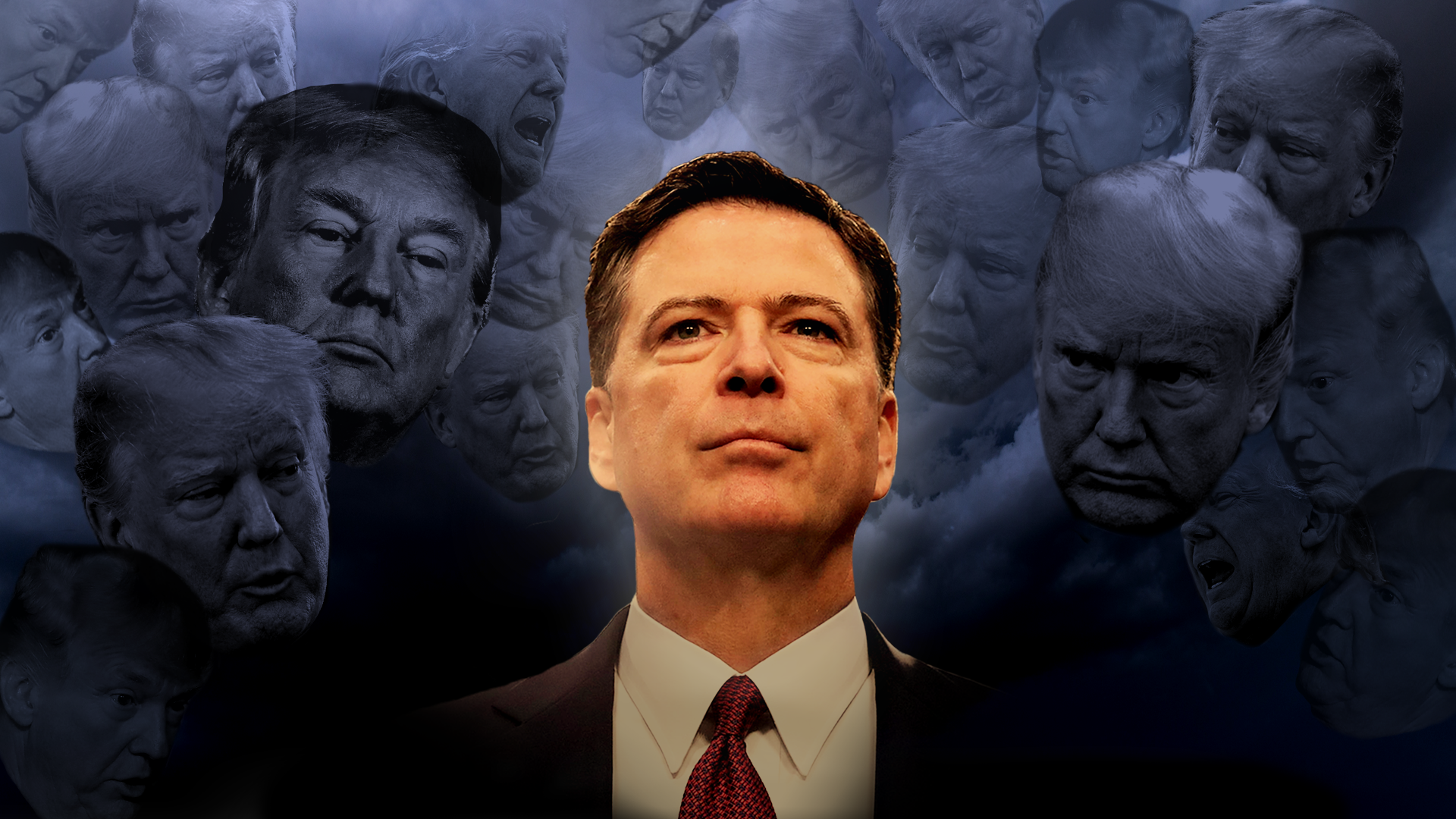 James Comey told me last night during an hourlong, onstage conversation that President Trump should submit to an interview by special counsel Robert Mueller, but is skeptical that will happen.
Comey: "[I]t is hard in almost all investigations to imagine getting to that without some interaction with the subject. But whether [Mueller] gets it or not, I hope he's free to get to the truth."
"In a normal world, it would be very hard for the President of the United States not to submit to an interview in connection with an investigation that touches upon ... his conduct and that of people around him."
"In a normal world, the American people would find that very, very difficult to accept."
"I'm only hesitating because we don't live in that world. ... [S]o many norms have been broken that disturb me greatly ... On a regular basis, the president tweets that I should be in jail, and even I go, 'Eh.' [Shrugs.] And that's crazy, right?"
Comey on the numbing effect of these times: "I keep saying to Republicans, 'Close your eyes and imagine Barack Obama waking up some morning and saying that somebody he doesn't like should be in jail.' Republicans would freak out about that."
"So, that's a long way of saying ... I don't know. In a normal world, everyone would freak out [if he didn't submit to an interview], but I don't know."
What Comey, as a prosecutor, would insist on in the interview: "Unlimited time ... and I would look to negotiate away any boundaries, because I need to be able to ask any follow-up questions that I wish. And then, I'd want to make sure there was a clear understanding on the part of the subject of the interview that, whether or not it was within the grand jury, still a false statement would be prosecutable."
"Those would be the key things: open-ended as to time; open-ended as to subject; and a clear understanding that you are obligated to tell the truth, and failing to do so will be at your peril."
Comey spoke at a book-signing event for "A Higher Loyalty" at George Washington University, presented by Axios and Politics and Prose bookstore, and carried live by C-SPAN.
My favorite quote: "I'm kind of like a breakup that [President Trump] can't get over for some reason. ... I'm out there living my best life, and he wakes up tweeting at me."
Other quick hits by Comey:
On the repercussions if Trump were to fire Mueller: "[I]t would be utterly ineffective in practice, that you'd have to fire the entire FBI and the entire Justice Department ... I don't know that if the President followed the normal course, he would be able to find an executive who would carry out an order to fire Robert Mueller. And so, then maybe he does away with the regulation that appointed Mueller and then fires him."
"But something really interesting might happen, then, because there is no deep state, but there's a deep culture and commitment to the rule of law that runs all the way down through not just the Department of Justice and the FBI, but the military services and the intelligence community."
"It would be interesting to see what would happen next, because I could imagine U.S. attorney's offices picking up pieces of it, different FBI offices picking up pieces of it."
On his message to Trump about firing Mueller: "I would hope it would be disastrous in the eyes of the American people without regard to their political affiliation, but it would also be ineffective. So, don't do disastrous things at all. Don't do disastrous things that won't make a difference."
On whether he wishes Hillary Clinton had won: "That's one I'm not going to answer."
On what his life would be like if she had: "I think I would still be the FBI Director." [Laughter and applause.]
Comey's drop-the-mic moment ... From today, it's 189 days until midterms. I asked if Mueller will likely take the election into account in his timing:
Comey said the special counsel "likely will because of the norms of the Department of Justice. Despite what you've read or you've heard, there aren't any rules around how we act in the run-up to an election. ... There's a norm: You avoid any action in a run-up to an election that might have an impact if you can."
Then I asked him what his advice would be to Mueller about coming out and saying something:
"It's worked well for me." [Laughter and applause.]
Go deeper: Thank you to the hundreds of Axios AM readers who suggested questions — I used a bunch of them. See more of the interview here.
https://www.axios.com/newsletters/axios-am-58afe214-f9aa-43f9-93ad-1e75be87b918.html?chunk=1#story1
2. Mueller wants to ask about obstruction, Russia
"Robert S. Mueller III ... has at least four dozen questions ... he wants to ask President Trump to learn more about his ties to Russia and determine whether he obstructed the inquiry," the N.Y. Times' Michael Schmidt scoops:
"They deal chiefly with the president's high-profile firings of the F.B.I. director and his first national security adviser, his treatment of Attorney General Jeff Sessions and a 2016 Trump Tower meeting between campaign officials and Russians offering dirt on Hillary Clinton."
"But they also touch on the president's businesses; any discussions with his longtime personal lawyer, Michael D. Cohen, about a Moscow real estate deal; whether the president knew of any attempt by Mr. Trump's son-in-law, Jared Kushner, to set up a back channel to Russia during the transition; any contacts he had with Roger J. Stone Jr., a longtime adviser who claimed to have inside information about Democratic email hackings; and what happened during Mr. Trump's 2013

trip to Moscow

for the Miss Universe pageant."
Read the questions, including:
"What was your opinion of Mr. Comey during the transition?"
"Regarding the decision to fire Mr. Comey: When was it made? Why? Who played a role?"
"What did you mean in your interview with Lester Holt about Mr. Comey and Russia?"
"What is the reason for your continued criticism of Mr. Comey and his former deputy, Andrew G. McCabe?"
"Why did you hold [Attorney General] Sessions's resignation until May 31, 2017, and with whom did you discuss it?"
"When did you become aware of the Trump Tower meeting?"
"What involvement did you have in the communication strategy, including the release of Donald Trump Jr.'s emails?"
"During the campaign, what did you know about Russian hacking, use of social media or other acts aimed at the campaign?"
"What did you know during the transition about an attempt to establish back-channel communication to Russia, and Jared Kushner's efforts?"
https://www.axios.com/newsletters/axios-am-58afe214-f9aa-43f9-93ad-1e75be87b918.html?chunk=2#story2
3. Two huge economic trends you should be aware of
Shot ... WashPost front page, "A cruising economy encounters rough seas ... Rare trifecta of soaring stocks, cheap loans and low inflation coming to an end," by David J. Lynch:
"[F]or most of the past decade, ... the U.S. economy marched through the second-longest expansion in its history."
"But suddenly, the good fortune is melting away."
Why it matters: That imperils "the props that have supported American economic confidence and incomes and [intensifies] pressure on President Trump to deliver the faster growth and higher wages he has promised."
Chaser ... Wall Street Journal front page, "How Bad Is the Labor Shortage? Cities Will Pay You to Move There," by David Harrison and Shayndi Raice (subscription):
"Towns with unfilled jobs are handing out money, student-debt relief and home-purchase assistance to lure potential employees — one by one."
https://www.axios.com/newsletters/axios-am-58afe214-f9aa-43f9-93ad-1e75be87b918.html?chunk=3#story3
4. Pic du jour: Disappearing jobs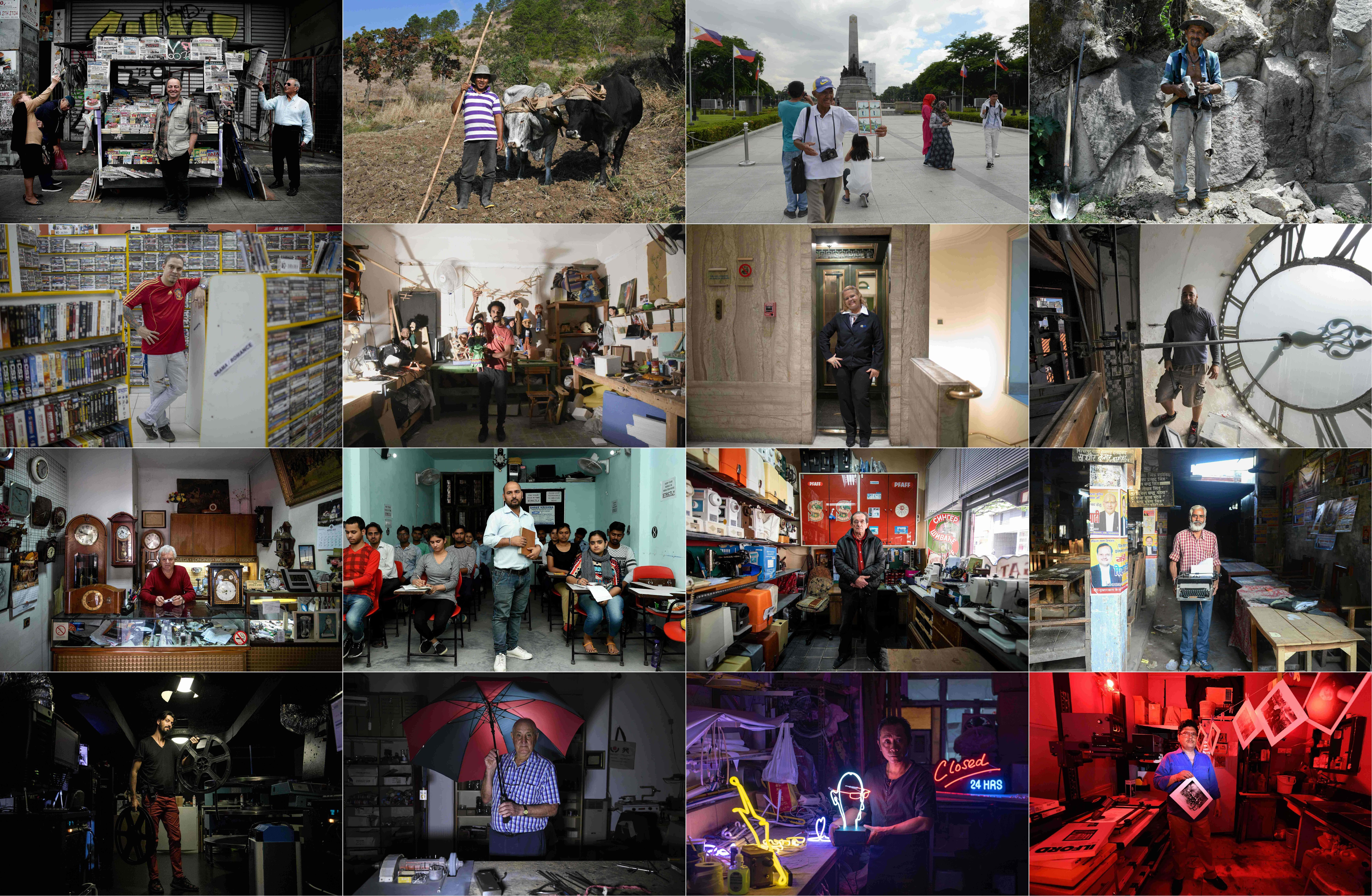 For May Day, which in many countries is a celebration of workers, AFP presents a photo essay of images — taken by photographers around the world in March and April — of jobs that may disappear because of technological changes.
Row 1: Kostas, a newsstand owner in central Athens ... Carlos Acosta, 43, a plowman with a yoke of oxen in Honduras ... Joel Estrella, a park photographer in Manila ... Jose Diaz, 66, a stonecutter in Honduras.
Row 2: Mario Olavo Campanha, 36, owner of a video rental store in Rio de Janeiro ... Egyptian artist and marionette maker Mohamed Fawzi Bakkar, 32 ... Lizie da Silva, 49, elevator operator in Rio de Janeiro ... Uruguayan clock-keeper Abdel Ghaffar at Montevideo's Cathedral.
Row 3: Dragan Dragas, 70, in his watch repair shop in Belgrade ... Surbir Singh, 35, an Indian shorthand teacher ... Andreja Nikolic, 69, in his sewing machine repair shop in Belgrade ... Daya Shankar, 58, an Indian typist, outside a district court and lawyers' chambers.
Row 4: Benjamin Louis, projectionist at the Louxor cinema in Paris ... Elias Fernandez, 87, an umbrella fixer in Buenos Aires ... Wu Chi-kai, a neon sign maker in Hong Kong ... Vicky Luthra, an expert photograph developer and printer, at his printing studios in New Delhi.
https://www.axios.com/newsletters/axios-am-58afe214-f9aa-43f9-93ad-1e75be87b918.html?chunk=4#story4
5. More people are blaming opioid crisis on drug companies
Pharmaceutical companies are shouldering a greater share of the blame for the opioid crisis, although individual users are blamed most often, according to a new Survey Monkey/Axios poll.
Why it matters, from Axios' Caitlin Owens: This shift in blame mirrors a shift in Washington policymakers' thinking. Some lawmakers — particularly liberal Democrats — have introduced legislation punishing drug companies, while the Department of Justice is backing lawsuits against drug manufacturers and distributors.
https://www.axios.com/newsletters/axios-am-58afe214-f9aa-43f9-93ad-1e75be87b918.html?chunk=5#story5
6. Uninsured rate is rising again
The number of Americans without health insurance is creeping back up, after seeing a big drop once the Affordable Care Act took effect, according to the latest tracking survey from the Commonwealth Fund.
The numbers that matter, via Axios' Sam Baker: About 15.5% of adults are uninsured, by Commonwealth's count, up roughly three percentage points from the same time in 2016. That represents an increase of about 4 million people, the organization said.
https://www.axios.com/newsletters/axios-am-58afe214-f9aa-43f9-93ad-1e75be87b918.html?chunk=6#story6
7. Tracking power: Meet the Schlapps, Washington's "it couple"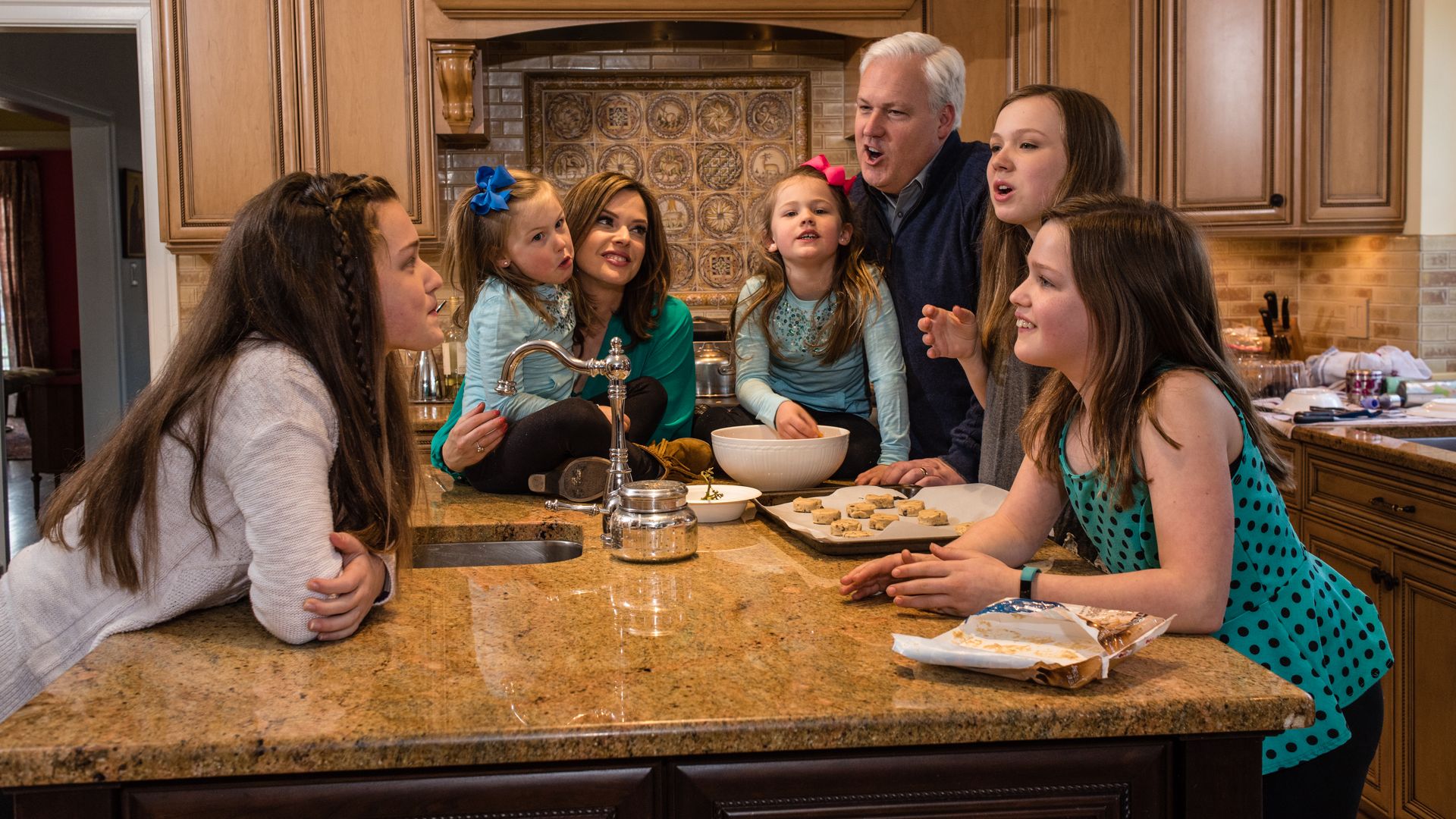 "Matt Schlapp, the pro-Trump chairman of the American Conservative Union, ... and his wife, Mercedes Schlapp, the director of strategic communications at the White House, are the most visible in the city's cadre of conservative Republicans who, faced with a populist Trump juggernaut, chose to scramble aboard," the N.Y. Times' Elizabeth Williamson writes on A1:
"[T]hey're symbolic of a deep rift within their party. ... 'I don't have that many friends left,' Mr. Schlapp said."
"Business is ... booming at Cove Strategies, the lobbying and public relations firm the Schlapps founded in 2009 (Ms. Schlapp stepped away from the business when she took her White House job). Their lobbying income alone

has surged

in the year since Mr. Trump took office, to more than $1 million in 2017 from $600,000 in 2015."
"[T]he Schlapps just bought a $3 million home [in Alexandria] to go with their weekend retreat, Victory Farm, a 30-acre idyll in the Blue Ridge Mountains."
"The Schlapps had spent the weekend schlepping to multiple performances of their daughter Viana's school play, in which she played Liesl in 'The Sound of Music.'"
Paragraph of the day: "This past weekend they aired their disgust at the comedian Michelle Wolf's takedown of Sarah Huckabee Sanders, the White House press secretary, at the White House Correspondents' Association Dinner. 'It's why America hates the out of touch leftist media elite,' Ms. Schlapp tweeted from a limousine en route to an exclusive after-party organized by NBC/MSNBC."
https://www.axios.com/newsletters/axios-am-58afe214-f9aa-43f9-93ad-1e75be87b918.html?chunk=7#story7
8. First look: Joe Lockhart's new gig
Edelman, the global communications marketing firm, names Joe Lockhart — most recently a top NFL exec, and before that White House press secretary for Bill Clinton and a co-founder of the Glover Park Group — to be vice chairman, Public Affairs.
Joe will work out of both the New York and D.C. offices, providing reputation counsel to CEOs and C-suite executives.
https://www.axios.com/newsletters/axios-am-58afe214-f9aa-43f9-93ad-1e75be87b918.html?chunk=8#story8
9. "Growing timeliness" for Karl Marx at 200
"As Germany prepares to mark Karl Marx's 200th birth anniversary [Saturday; born May 5, 1818], the revolutionary philosopher's legacy remains divisive more than a quarter century after the fall of the Berlin Wall," AFP reports:
"With scars from the Cold War still fresh, people from capitalist former West Germany and the once communist East are of two minds about the 19th-century philosopher."
"Some hail Marx as a visionary scholar who foretold the ills of the market economy, while others revile him for inspiring Stalinist regimes."
"In the western town of Trier, the icon's birthplace which is planning 600 events for his bicentenary, it is not lost on critics that the centerpiece of the celebrations is a gargantuan statue offered as a gift from communist China":
Why it matters: "Over the last decade in particular, unbridled capitalism and its discontents have fueled renewed interest in Marx's work on the oppression of the working class and inequality."
"The theories, developed as the Industrial Revolution gathered pace in the 19th century, find resonance today as societies once again see social and political upheaval."
https://www.axios.com/newsletters/axios-am-58afe214-f9aa-43f9-93ad-1e75be87b918.html?chunk=9#story9
10. 1 fun thing
"The Airport Lounge, Once a Refuge, Is a Total Zoo ... Credit-card rewards programs have vastly expanded access, tarnishing that 1% feeling; scanty buffets and cheap Chardonnay" — Wall Street Journal A-hed by AnnaMaria Andriotis (subscription):
"[W]hat was once an oasis now is more like a mall food court."
"Grousers say gourmet meals once on offer are now finger foods, and beverages are more likely to be guzzled than sipped. Overcrowding means seats often aren't available."
"[W]ait lists at lounges are now a thing. Mary Osorno and her husband tried to visit one in March at the Dallas Fort Worth International Airport. A receptionist told Ms. Osorno to expect a 45 minute wait to get in. Ms. Osorno said they didn't bother — the wait would be longer than their layover."