Axios AM
January 14, 2022
📺 Happy Friday. NBC's "Today" show is 7-0 today. YouTube of first show.
Smart Brevity™ count: 1,488 words ... 5 minutes. Edited by Zachary Basu.
🎾 Bulletin: Novak Djokovic faces possible deportation from Australia after his visa was revoked today for a second time — three days before he was due to begin the defense of his Australian Open title.
1 big thing: Biden's epic failures
In the two months since signing the $1 trillion infrastructure bill into law, President Biden has by almost every measure bombed big time on the things that matter most.
Biden, who marks one year in office next Thursday, has never been less popular nationally, after personally lobbying his party and the public on Build Back Better and voting rights — and failing.
Baffling COVID messaging caused former Biden advisers to stage a media intervention, going public with a call for a less reactive strategy. And, yesterday, the Supreme Court overturned his vaccine mandate for businesses.
Why it matters: Biden is on the verge of losing two big fights of his choosing — with his party controlling both ends of Pennsylvania Avenue.
It's rare for a president to be at odds with Republicans, moderate Democrats and liberal Democrats — all at once. But that's where Biden finds himself at the start of an election year that many Democrats believe will result in the loss of the House and maybe the Senate.
The latest: Yesterday was the third time in 3½ months Biden made an in-person trip to the Hill — and the third time he walked away having failed to persuade his party to back his plans.
Biden can't be faulted for having a 50-50 Senate and an unmovable Democratic centrist in Sen. Joe Manchin (D-W.Va.). But he knew the daunting numbers game full well as he went into these fights.
Biden aides point out he passed bigger legislation than any president in history, with a signing ceremony for infrastructure just two months ago.
As America reopened, the U.S. broke records for the number of jobs created in a year, and for reduction in the unemployment rate.
Biden sources sketch this plan for coming weeks:
White House officials hope for progress soon on a reworked version of Build Back Better, based on Manchin's public statements.
Biden soon will send the Hill a COVID supplemental budget request to buy more boosters, antiviral pills, masks and tests.
Third, aides say Biden will keep pushing for voting-rights legislation. Even as he conceded likely defeat for now, Biden said on the Hill yesterday: "Like every other major civil rights bill that came along ... we can come back and try it a second time."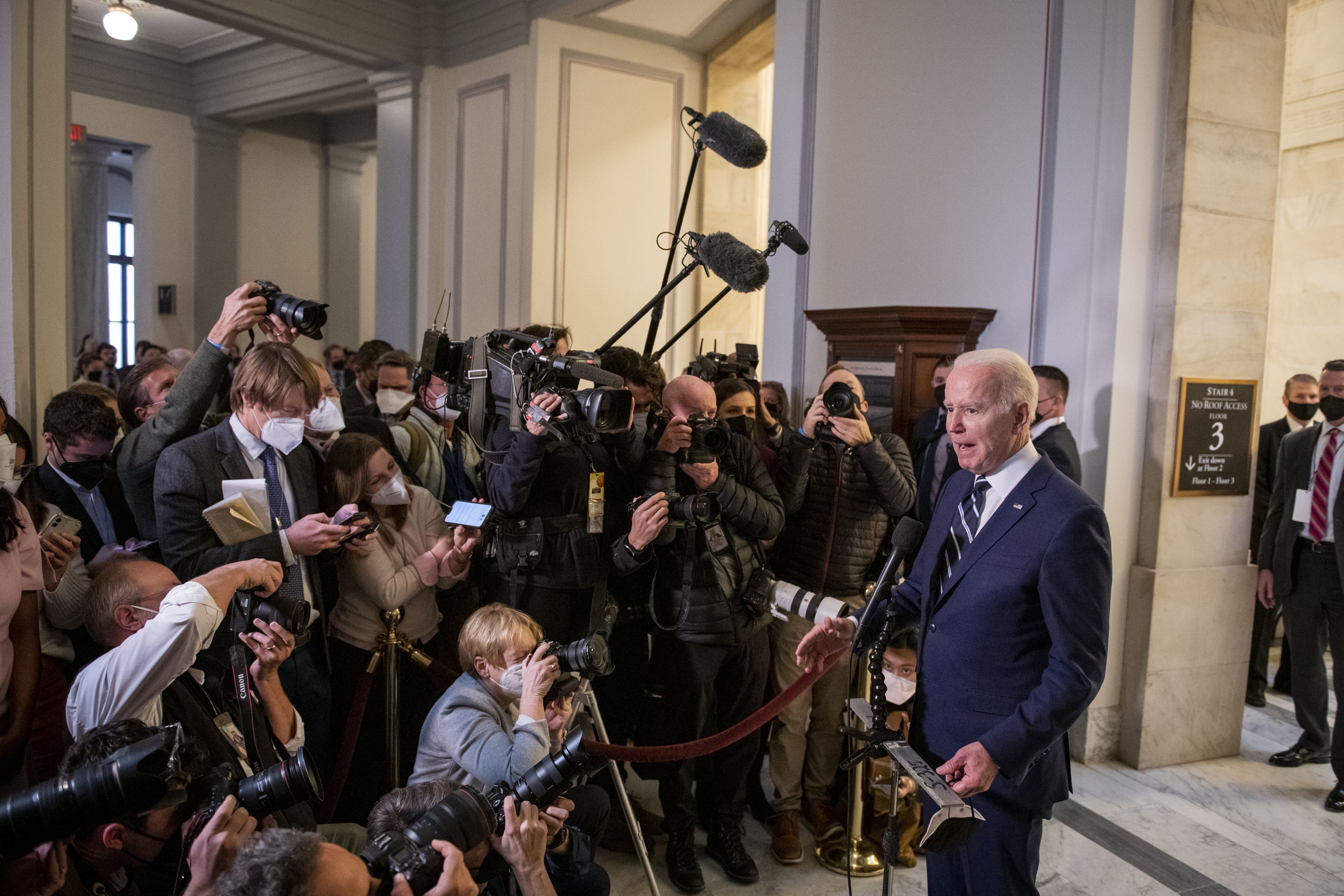 What's happening:
Rising anger among Black activists: Members of some civil-rights group refused to appear with Biden for his voting speech in Atlanta. New York Times columnist Charles Blow piled on: "Biden has been dillydallying on getting rid of the filibuster to protect voting rights for essentially his whole administration, until this week."
Sen. Dick Durbin of Illinois, the Senate's No. 2 Democrat, distanced himself from some of Biden's rhetoric in Atlanta, where he invoked the Confederacy and Bull Connor. "Perhaps the President went a little too far," Durbin told CNN.
Most polls put Biden around 42-43% approval, with over 50% disapproval. In a Quinnipiac poll this week, Biden had a 33% approval. The White House calls that an "outlier."
The Afghanistan pullout played out about as poorly as it could have.
Russia is messing with him: Biden's warnings haven't deterred Vladimir Putin from continuing to build toward a Ukraine invasion.
Inflation is soaring: It's the worst in 39 years.
Empty grocery shelves get network-news coverage. It's partly the weather, partly COVID, partly the supply chain — but makes a handy visual shorthand for national pessimism.
The bottom line: Build Back Better was supposed to be Biden's FDR moment. Voting rights could have been his LBJ moment. Instead, he's likely to end Year 1 with neither.
2. Vaccination drives run out of gas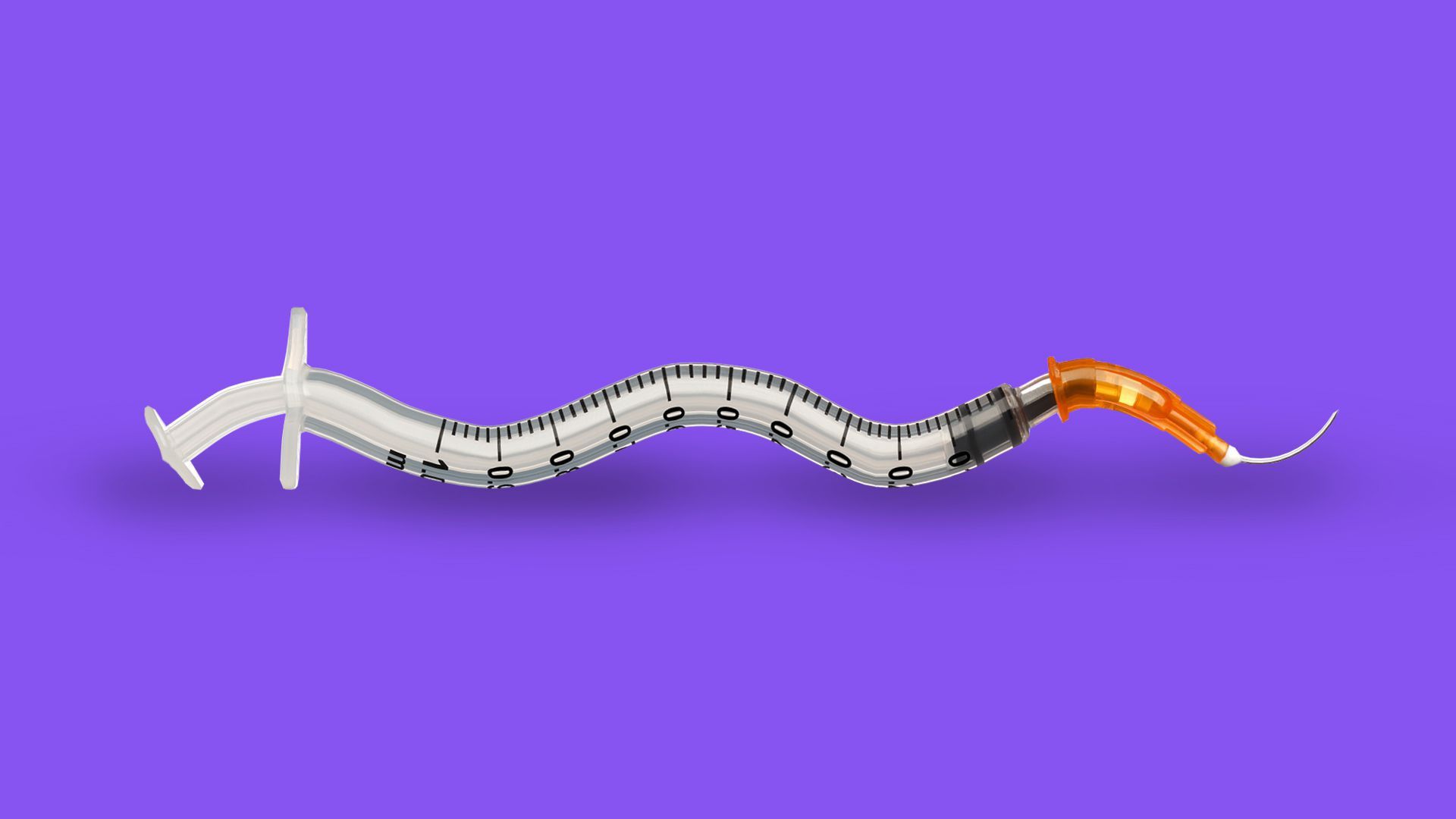 The U.S. is likely reaching the end of the road on new vaccinations, after the Supreme Court blocked the Biden administration's vaccine mandate for large employers, Axios' Tina Reed and Emily Peck write.
Why it matters: Cash prizes and other incentives barely moved the needle on vaccinations. So the government turned from carrots to sticks — but now has lost its biggest stick.
Celine Gounder, an infectious disease expert and former Biden administration advisory board member, tweeted: "It is now highly unlikely that the U.S. will hit the ~85-90% of Americans vaccinated to get to the other side of the pandemic."
By the numbers: 63% of eligible Americans are fully vaccinated and about 38% have gotten boosted.
3. Labor shortage will outlast COVID
The shortage of workers in the U.S. has become a flywheel of doom, messing up our lives and society writ large.
And many of the underlying problems that led to this breakdown are bigger than the pandemic, Axios' Emily Peck writes.
Millions of immigrants, older workers and mothers are missing from the labor force. Those labor shortages create problems like supply chain woes, school closures, and skyrocketing childcare costs — and some of those problems further exacerbate the worker shortages.
U.S. CEOs say labor shortages are the top threat to their businesses this year, in a survey released by the Conference Board yesterday.
These problems have pre-pandemic roots:
Lost immigrants: There are about 2 million fewer working-age immigrants in the U.S. because of COVID immigration restrictions, according to calculations by U.C. Davis economists. The immigration slowdown began during the Trump administration.
The Great Retirement: Flush with cash from the booming stock market and fearful for their health in a pandemic, many older workers left the workforce.
Beleaguered moms: Lack of social policy support for parents, particularly mothers — a key issue during the pandemic — has long depressed labor force participation rates for women in the U.S.
4. China shuts city over 2 cases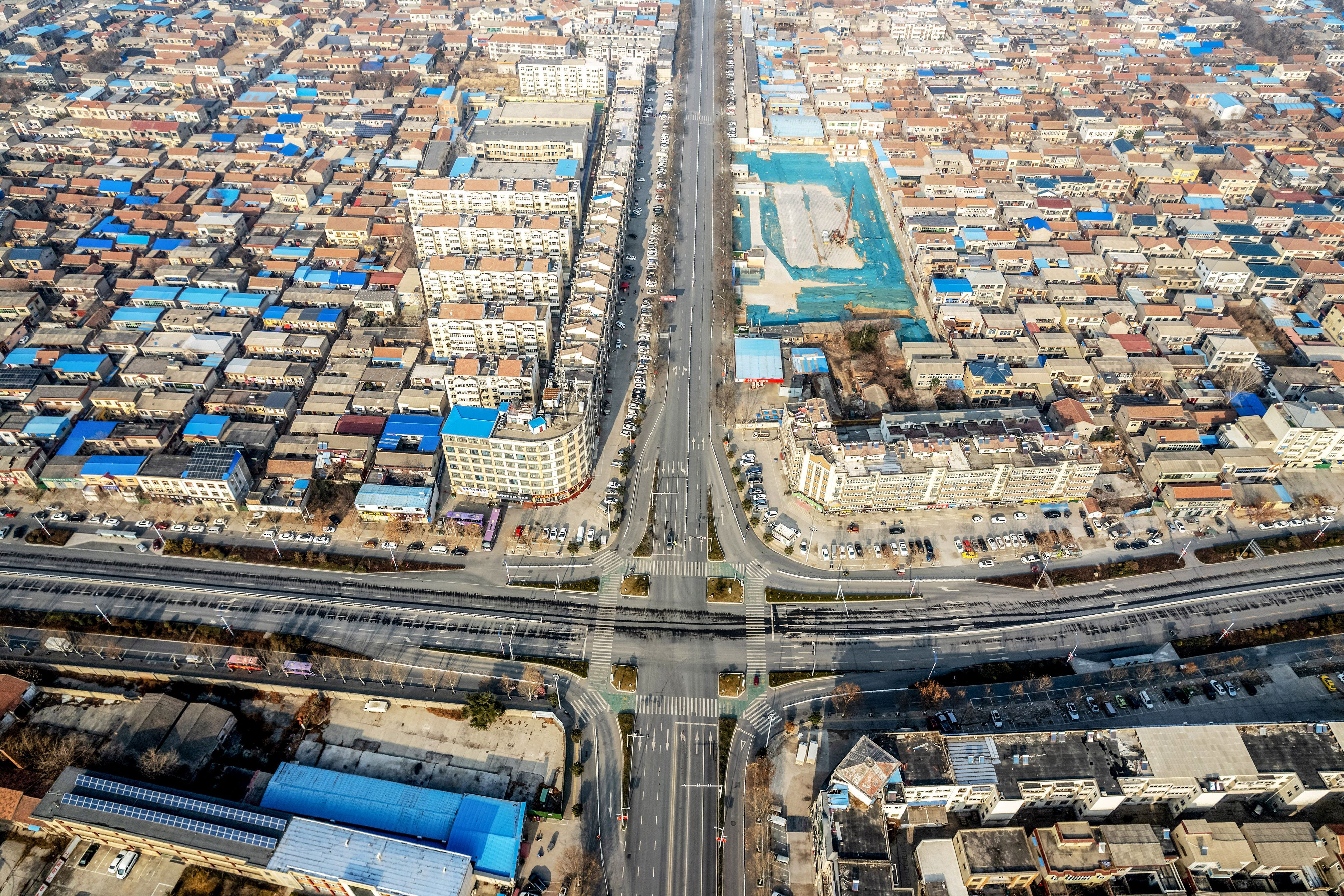 These empty roads are closed off because of a COVID outbreak in Anyang, a city of 5.5 million people in China's central Henan province.
The lockdown was announced this week after two — not a typo — Omicron cases were reported, per AP.
Why it matters: The approach of the Winter Olympics, which opens three weeks from today, has brought back citywide lockdowns in China, which has a "zero-tolerance" COVID policy.
The lockdowns — which affected at least 20 million Chinese this week, at a time when there's normally heavy travel ahead of Lunar New Year — are the broadest since Wuhan closed in early 2020.
5. Tech giants' blame game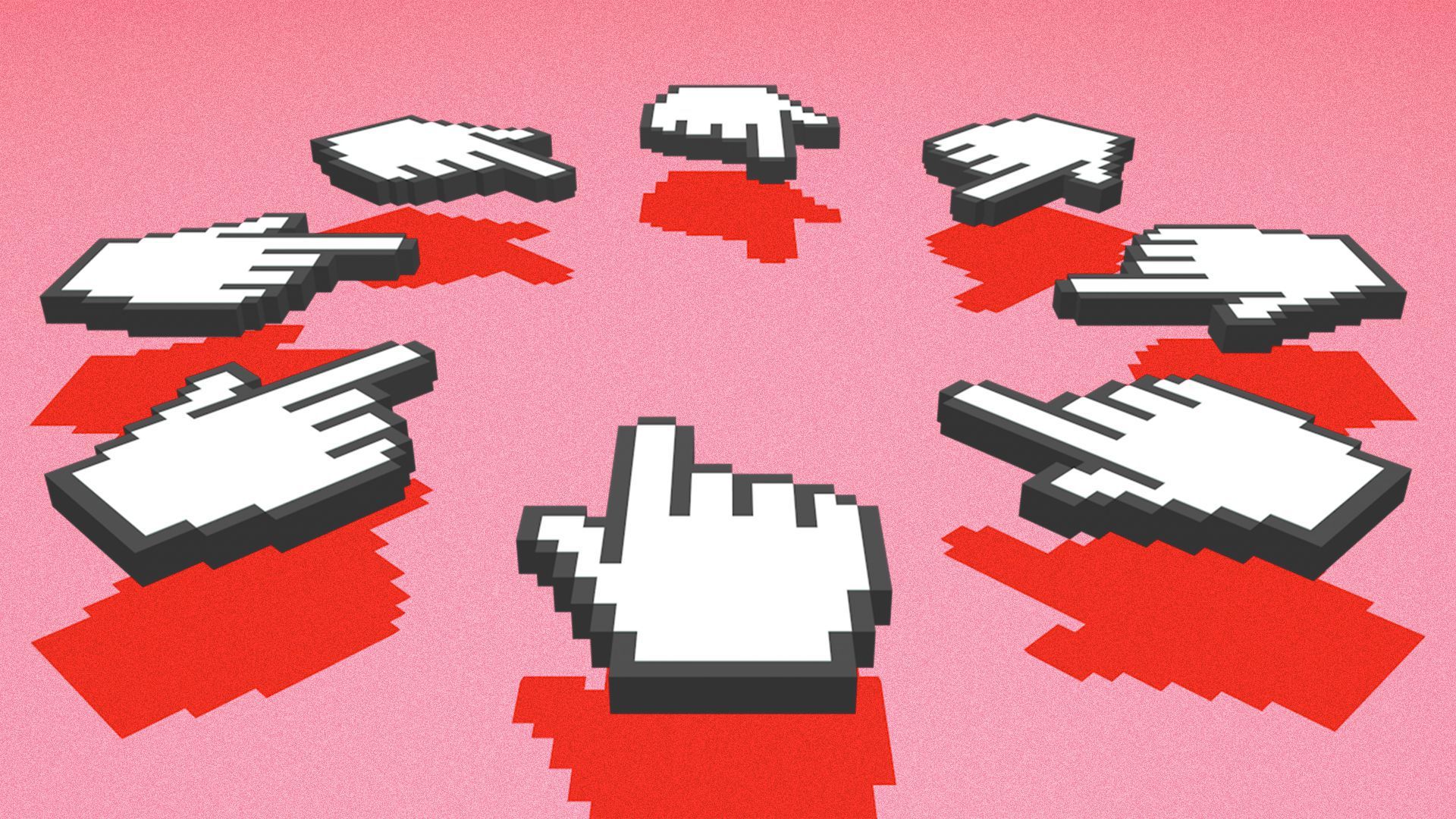 With regulators around the world looking at reining in Big Tech, the companies in the crosshairs are increasingly eager to point out their rivals' sins, Axios' Ina Fried writes in her weekly "Signal Boost" column.
Why it matters: To make their case, regulators would need to show the companies are squelching competition — a task the tech giants could aid with their infighting.
An increasing part of each company's game plan seems to be to try to shift the spotlight and hope that regulators will put their limited time and resources against some other target:
A top Google executive recently called out Apple for its control over iMessage.
Facebook has criticized Apple and Google for the commissions they take on apps and in-app purchases.
Apple CEO Tim Cook regularly derides Facebook for its monetization of customer's private information.
6. 🔮 Google's faith in future of office
Google spent $1 billion to buy a central London building where it's currently a tenant, showing confidence in the future of the physical office, Reuters reports.
Google plans to refit the building for in-person teamwork, with meeting rooms for hybrid work.
7. 🌐 Rise of "bossy state"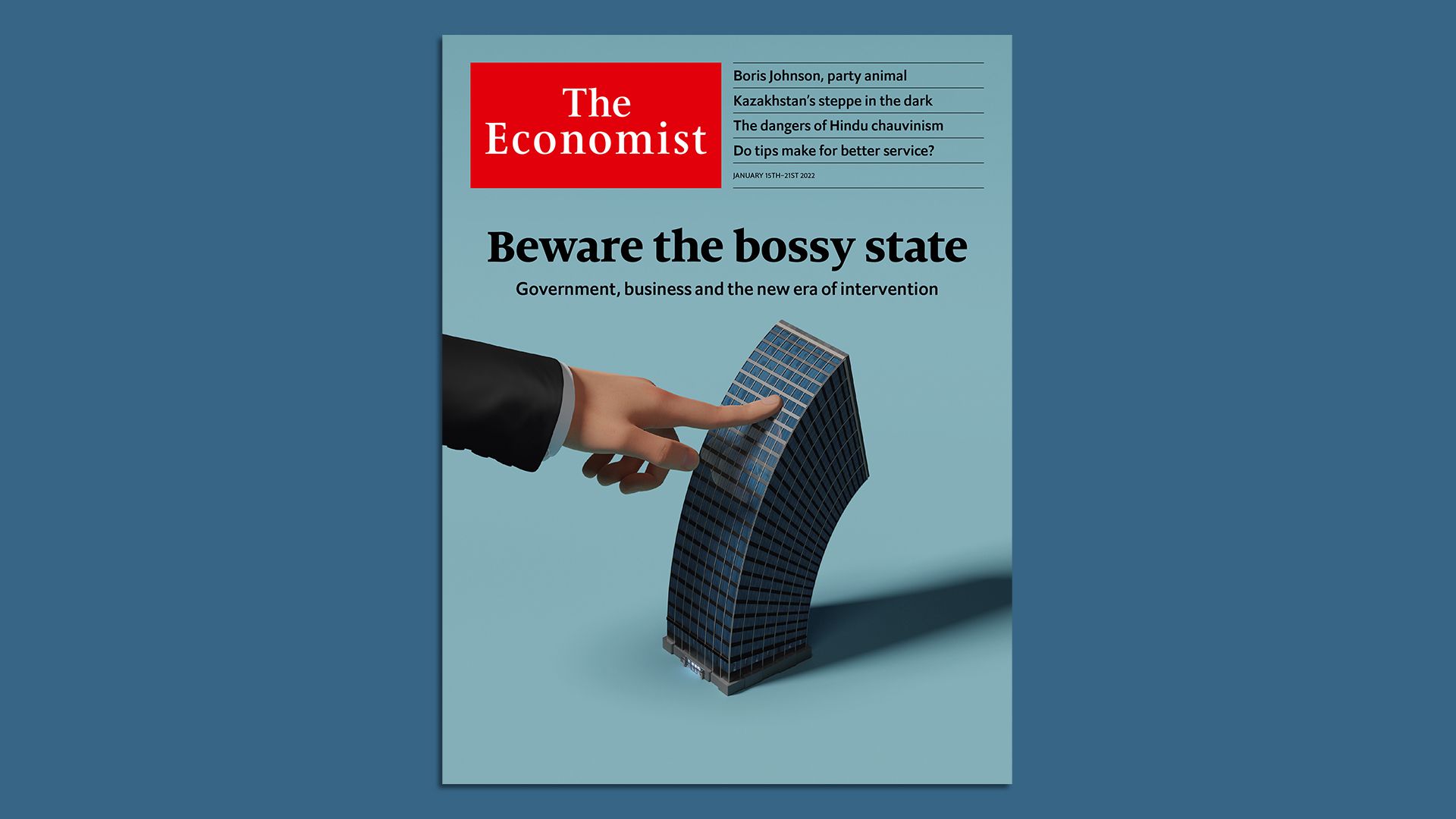 Governments around the world are getting more interventionist with business, The Economist reports in its new cover story:
As more citizens demand action on problems, from social justice to the climate, countries "are directing firms to make society safer and fairer. ... [T]he state has become the backseat driver."
President Biden "is pursuing an agenda of soft protectionism, industrial subsidies and righteous regulation," The Economist adds.
In China, "Xi Jinping's 'Common Prosperity' crackdown is designed to curb the excesses of its freewheeling boom."
"The European Union is drifting away from free markets to embrace industrial policy and 'strategic autonomy.'"
Keep reading (subscription).
8. Faux-booze boom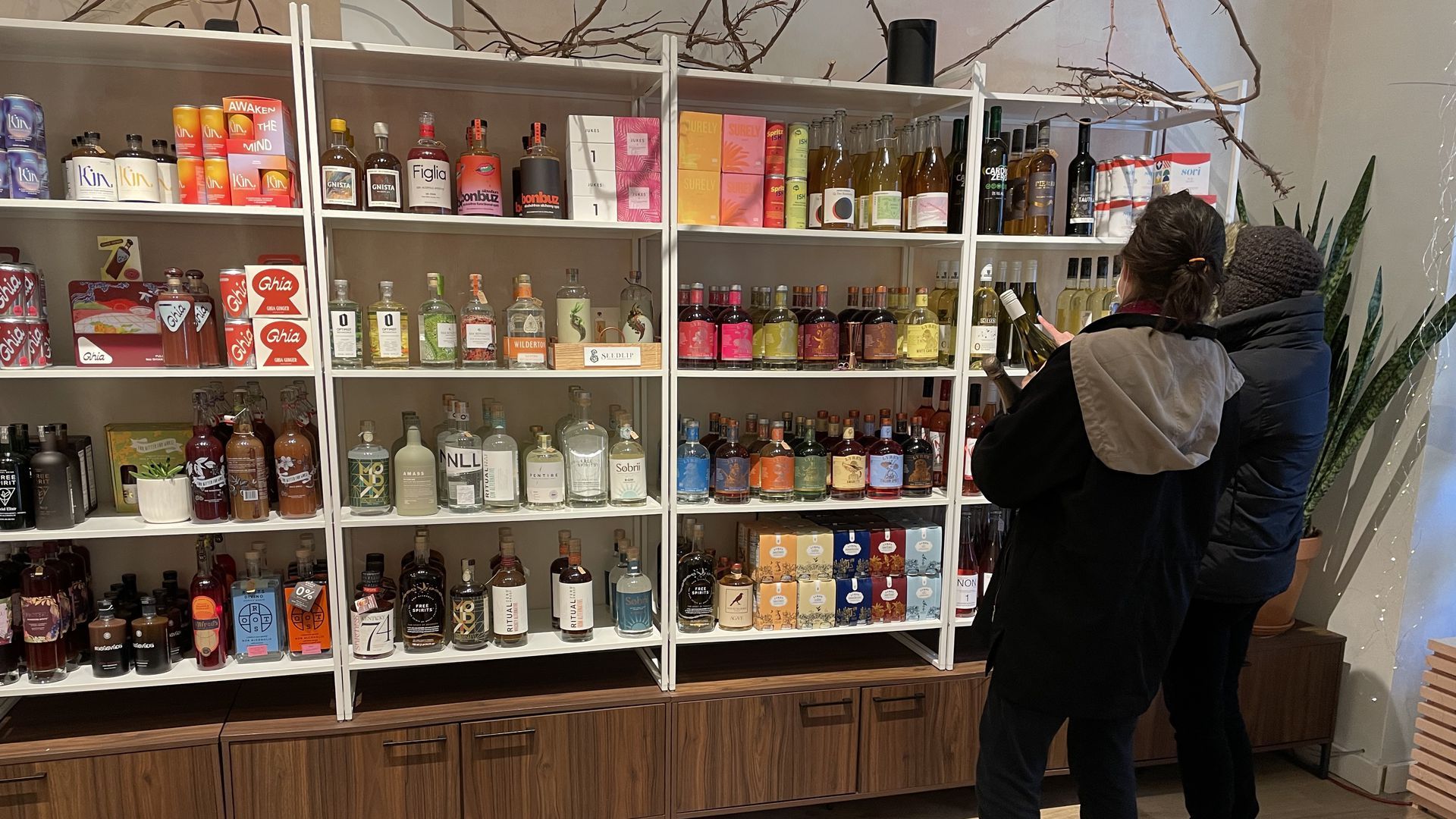 Companies are doubling down on the mocktail market, which is being pitched as a healthful alternative for social drinkers who want to take a day off from their nightcap, Axios' Jennifer A. Kingson writes.
Sales of zero-alcohol drink substitutes used to be a blip on the radar screen, but now there are hundreds of brands — and even entire stores selling nothing but booze-free booze.
📬 Was this email forwarded to you? Sign up here for your own personal copy of Axios AM and Axios PM.