Axios AM
March 25, 2018
☕️ Good Sunday morning ... It's Palm Sunday. "Pope Francis, starting Holy Week services leading to Easter, urged young people [today] to keep shouting and not allow the older generations to silence their voices or anesthetize their idealism." (Reuters)
1 big thing: What it was like on Pennsylvania Ave.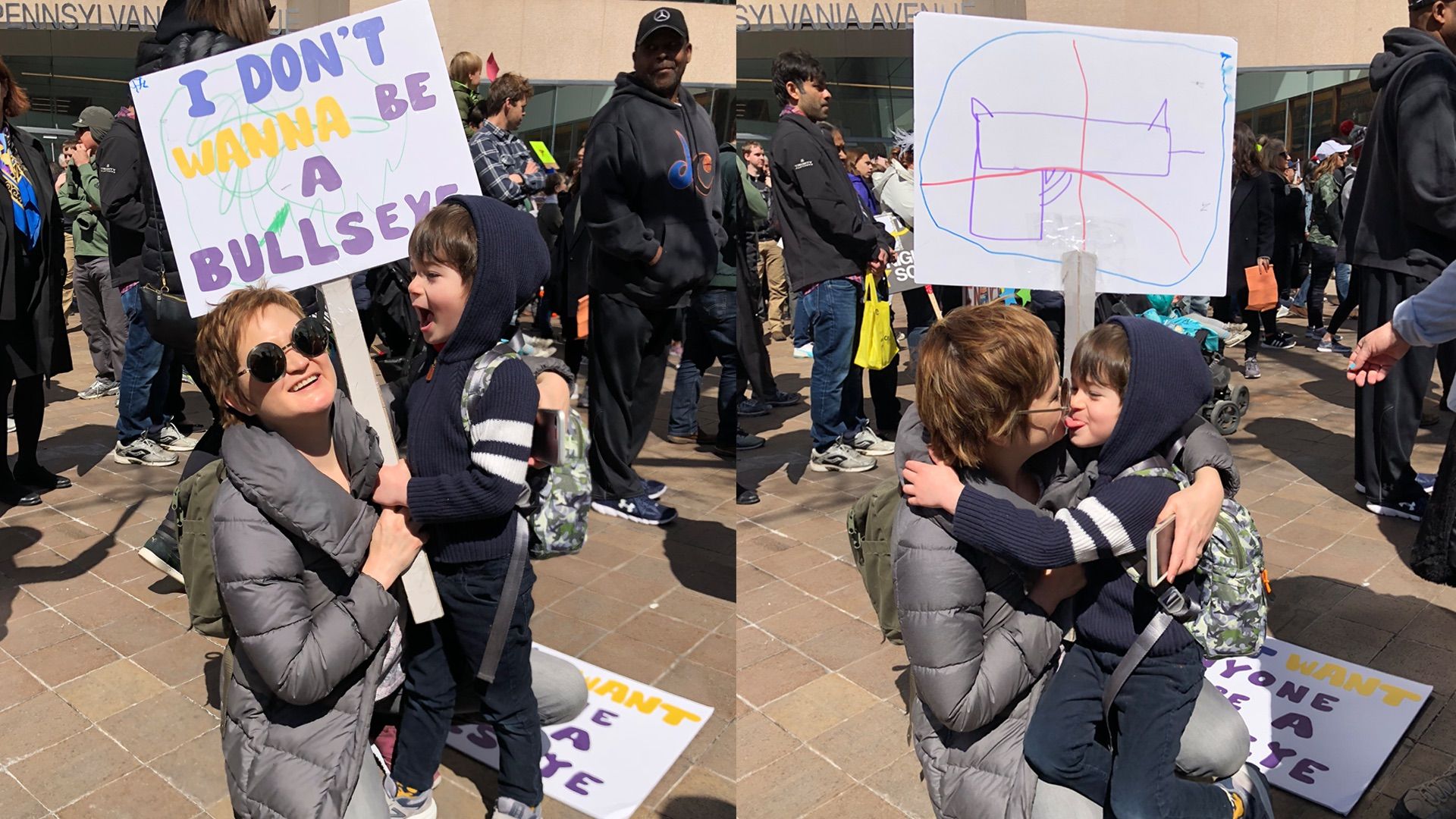 Yesterday's massive marches — with youthful faces but grown-up organizing muscle — transcended school shootings to a global roar for gun control, infusing energy and urgency into an issue where the sides have long been static.
Democrats, who used the rallies as massive voter-registration drives, said they're hopeful that after several decades of apathy among young voters, there's now a new cohort of young, imaginative, digitally deft activists.
I talked to two "fighting grandmas" — sisters-in-law Nina Human, 57, of Atlanta, and Susan Knox, 62, of Norman, Oklahoma — who were toting the sign of our times: "THIS IS NOT NORMAL."
Chants that could be heard clearly during all-day cable news coverage included: "We want change" ... "Never again" ... "Vote them out" ... "This is what democracy looks like."
Axios reporter Stef Kight, spent four hours on Pennsylvania Avenue, and emailed me these observations after she had filed her photos and reporting:
Overall, people were friendly and earnest. I personally didn't have any really negative interactions ... maybe a few grumpy adults who weren't expecting how crowded it was.
There was a lot of focus on the screens projecting what was going on on stage — lots of reactions, encouragement, chants and cheers to the stories being shared. 
At one point, I climbed up on a statue and looked out in three different directions and couldn't see the end of the protesters, most carrying signs and wearing "March For Our Lives" and other gun-control T-shirts.
An hour before the march even officially began, I wasn't even close to seeing the stage and was being crushed from all sides by teenagers, children, people in wheelchairs, parents, grandparents of all races and backgrounds.
A teenager who had clambered up on top of a wall shouted: "Show me what democracy looks like." It was raw and emotional, but also was much more than a reaction.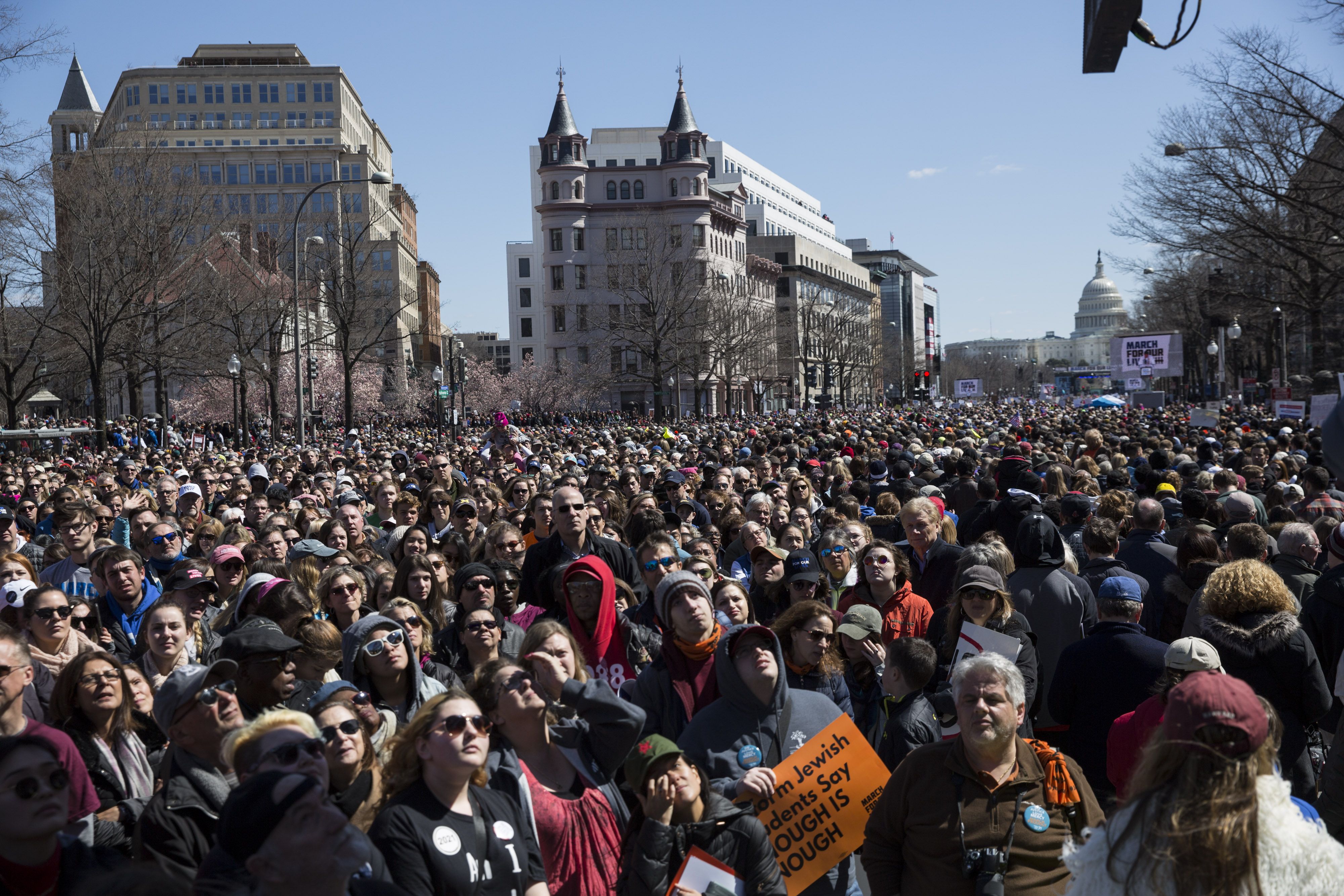 By the numbers:
3.3 million tweets were sent yesterday using the #MarchForOurLives hashtag, Twitter tells me.
AP: "By all appearances — there were no official numbers — Washington's March for Our Lives rally rivaled the women's march last year that drew far more than the predicted 300,000."
Outside of D.C., more than 1.7 million people marched in 752 sibling marches across the U.S., in all 50 states and in 387 congressional districts, according to the Bloomberg-backed Everytown for Gun Safety, which helped organize them.
So that's roughly 2 million across the U.S.
104 other marches were held outside the U.S., on every continent except Antarctica, for a total of 856.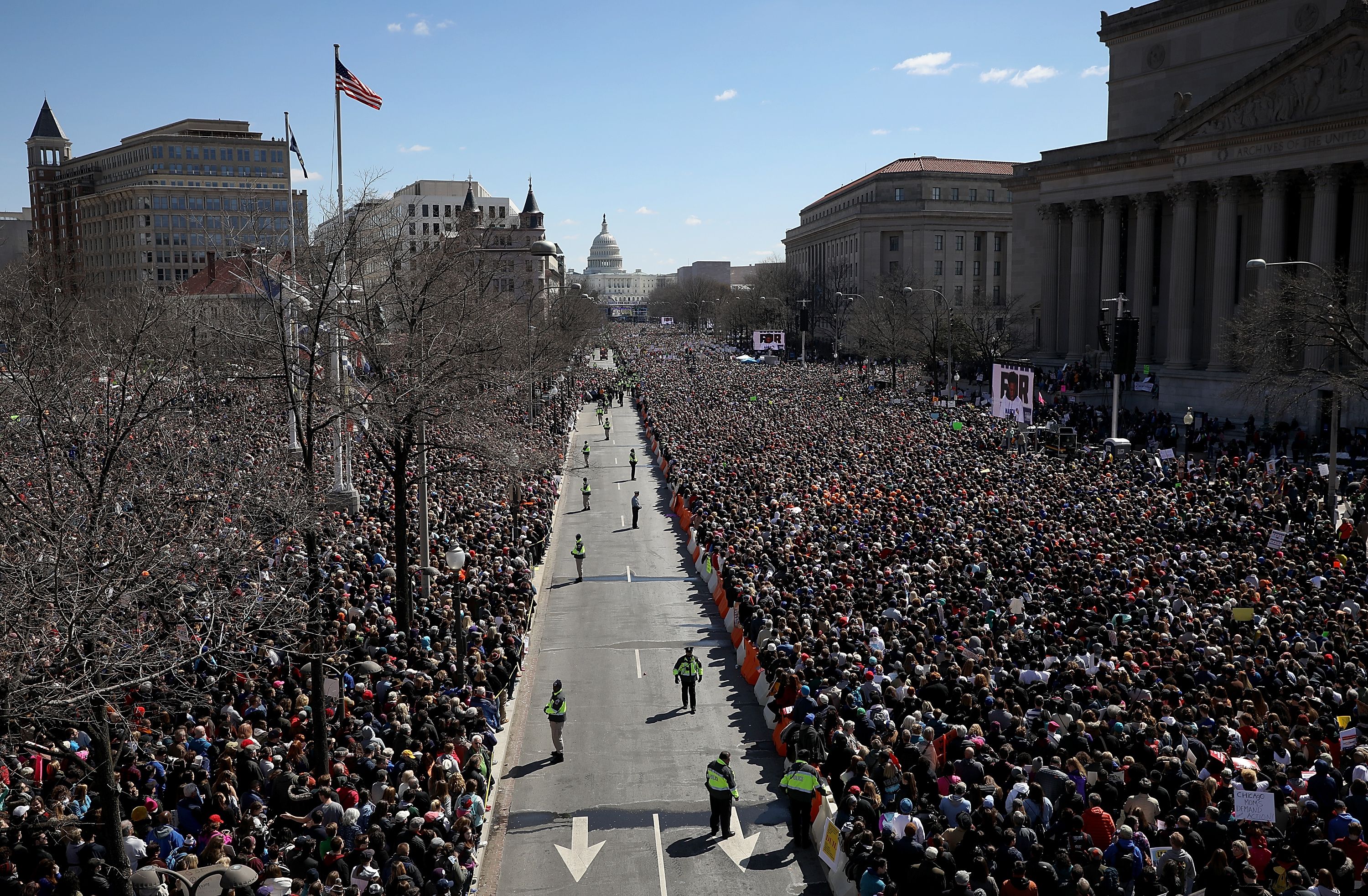 N.Y. Times Quotation of the Day ... Delaney Tarr, a Marjory Stoneman Douglas High School student speaking to the crowd in D.C. (Twitter bio: "student. journalist. fighter. meddling kid. #neveragain")
"If they continue to ignore us, to only pretend to listen, then we will take action where it counts. We will take action every day in every way until they simply cannot ignore us any more."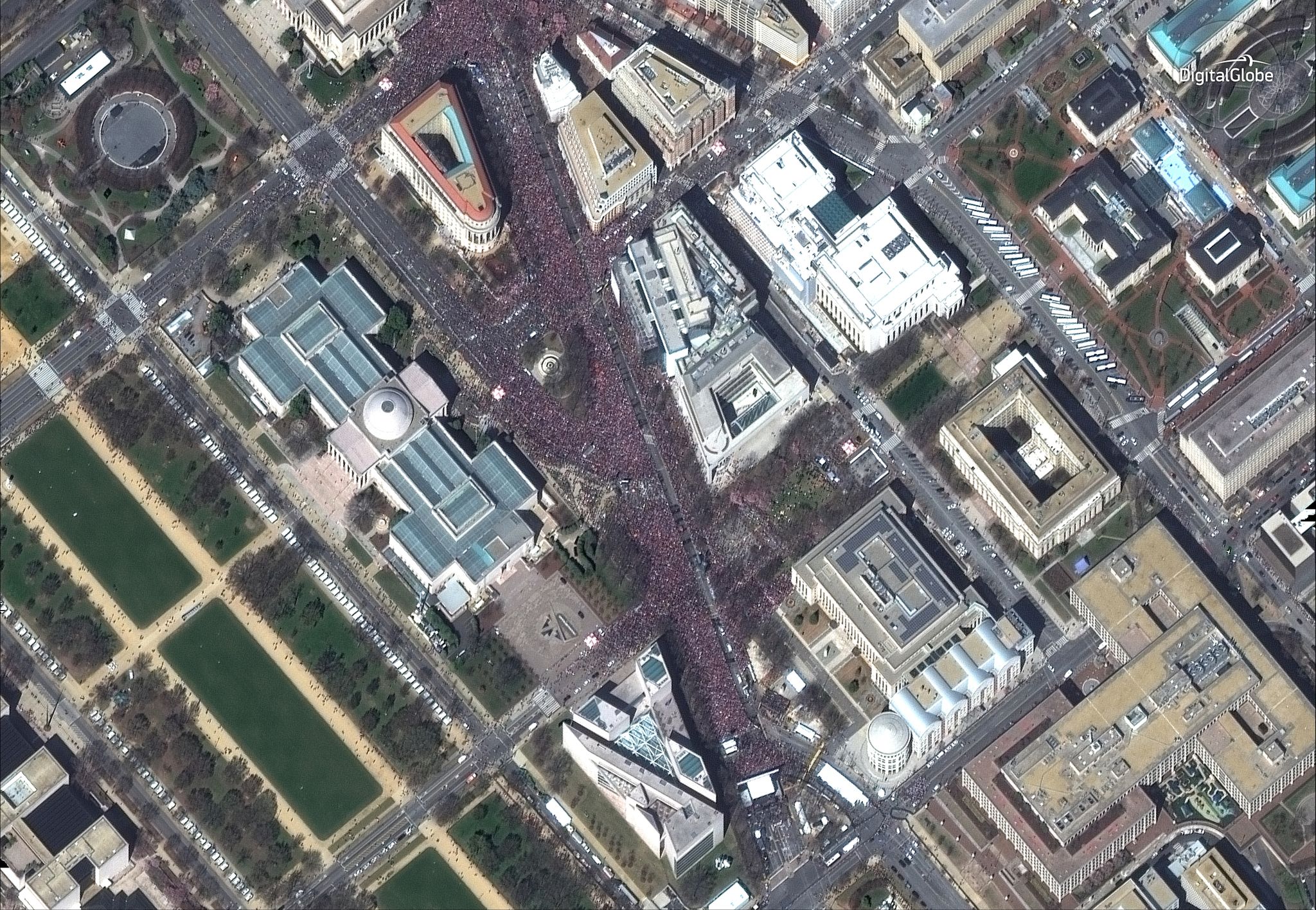 Marching for their guns ... Some Second Amendment groups gathered at the same marches, per CNN:
In D.C., "Eric Ciabottonia, 19, and John Bolduc, 18, traveled with a group of students from Pennsylvania State University to march for gun rights. The freshman engineering majors said they are supporters of President Donald Trump and came to voice their beliefs about the Second Amendment and see what the opposing side thinks."
In Boston, "counter-protesters and marchers shouted at each other and police had to step in to keep the peace. It got to the point where police had to from a perimeter around the counter-protesters to prevent any potential clashes."
"Protesters and counter-protesters were separated by a fence during the March for Our Lives demonstration in Bentonville, Arkansas."
2. 2 cities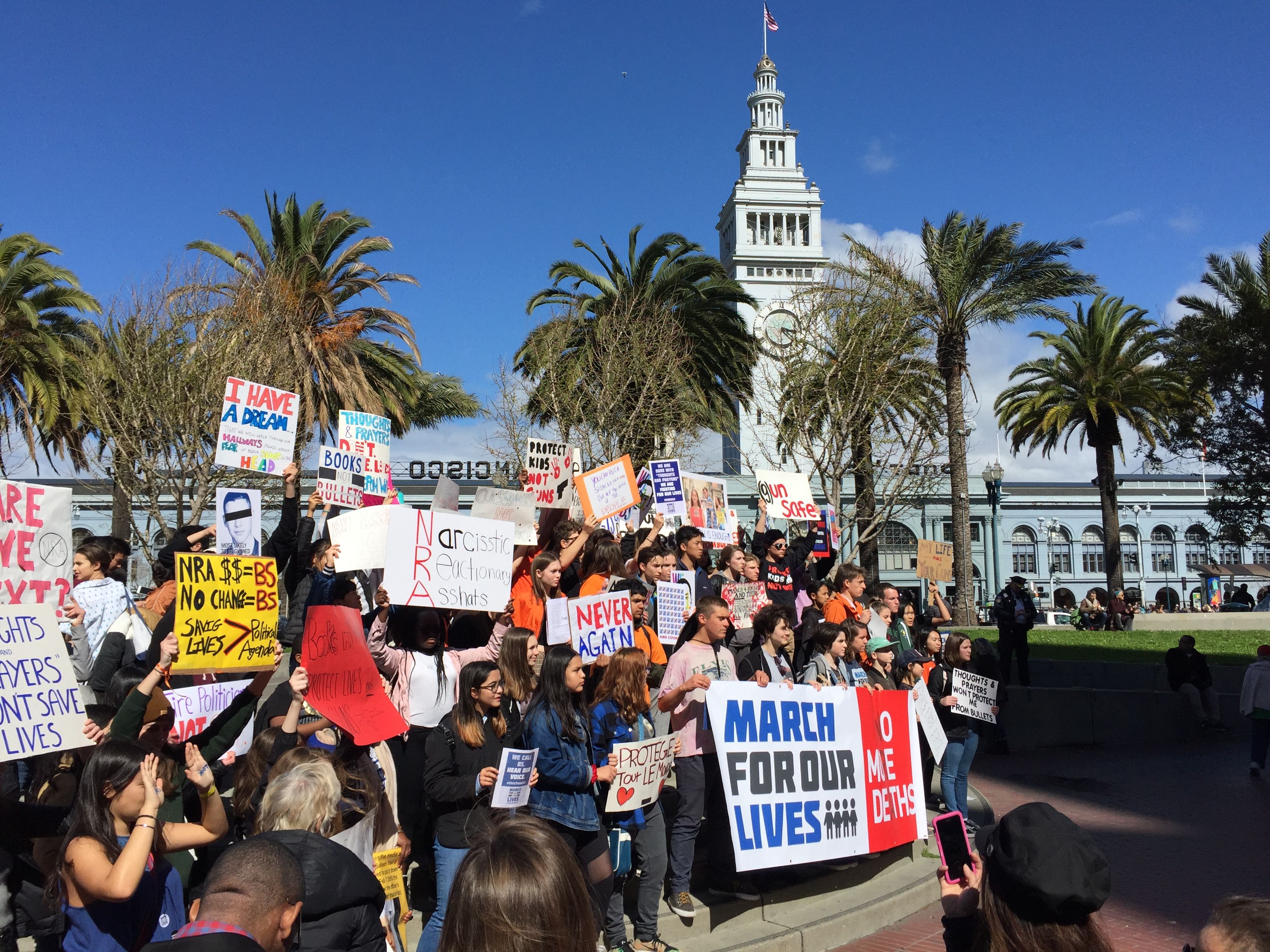 Large rallies included San Francisco (above) and New York (below).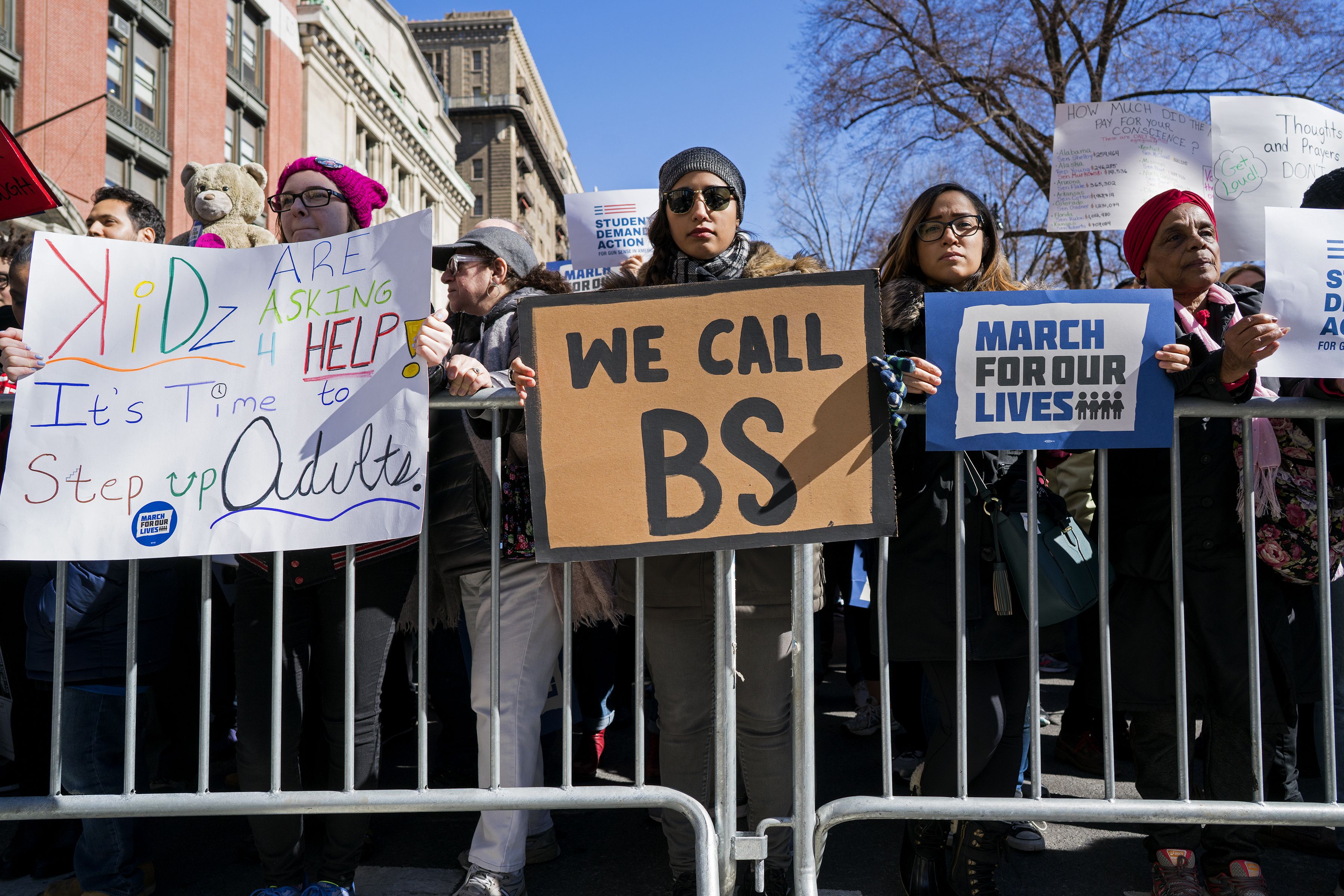 Doubling down ... Delta Air Lines has donated three round-trip charter flights that allowed hundreds of Parkland students to come to D.C., per AP:
After last month's shooting, Delta said it would no longer offer discounted fares to NRA members, which led to a backlash from gun advocates. The state of Georgia eliminated a proposed tax break on jet fuel in retaliation.
3. 3 faces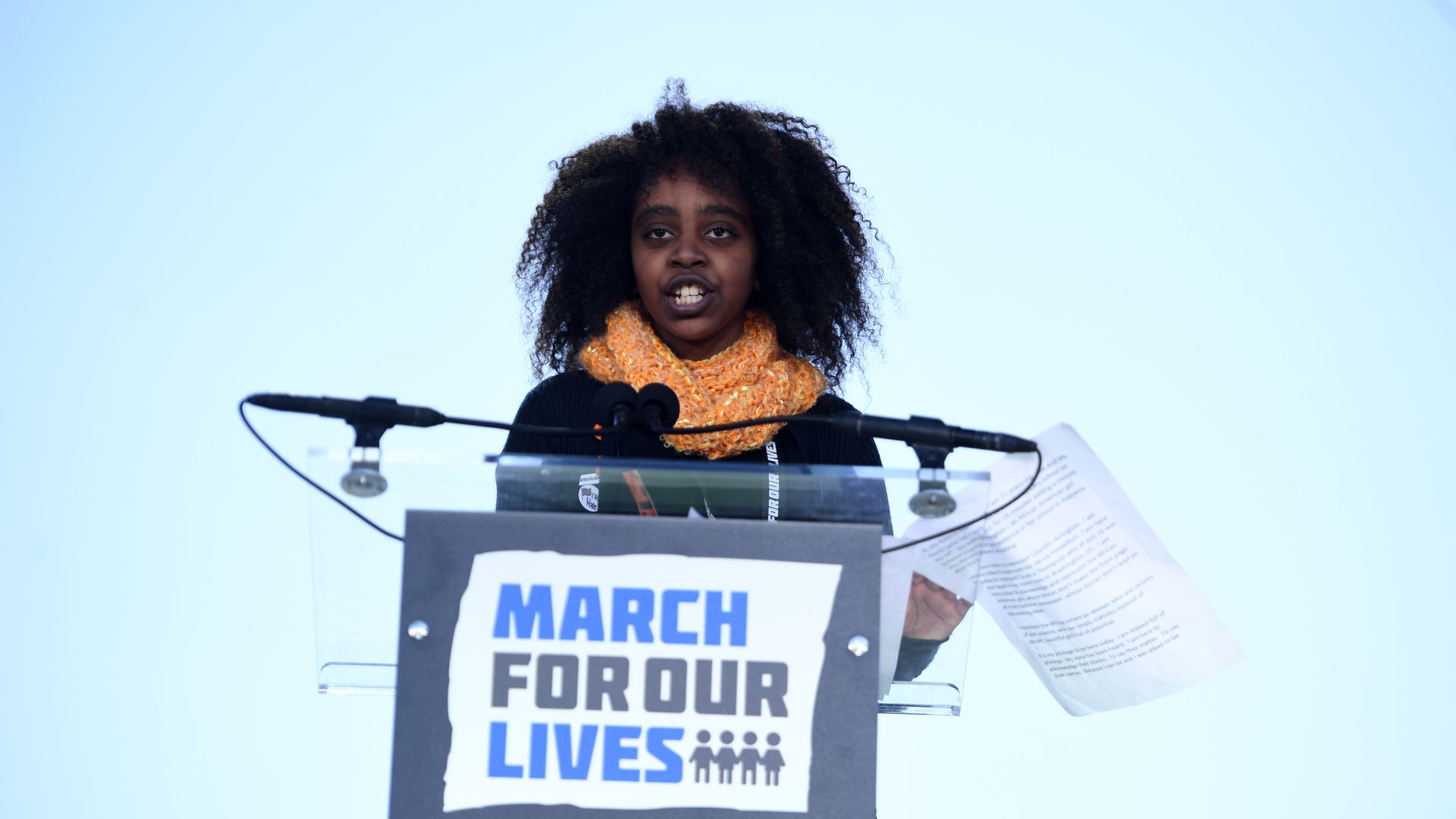 Naomi Wadler, 11, a student from Alexandria, Va., speaks on the main stage at the Capitol:
"I am here today to acknowledge and represent the African American girls whose stories don't make the front page of every national newspaper, whose stories don't lead the evening news."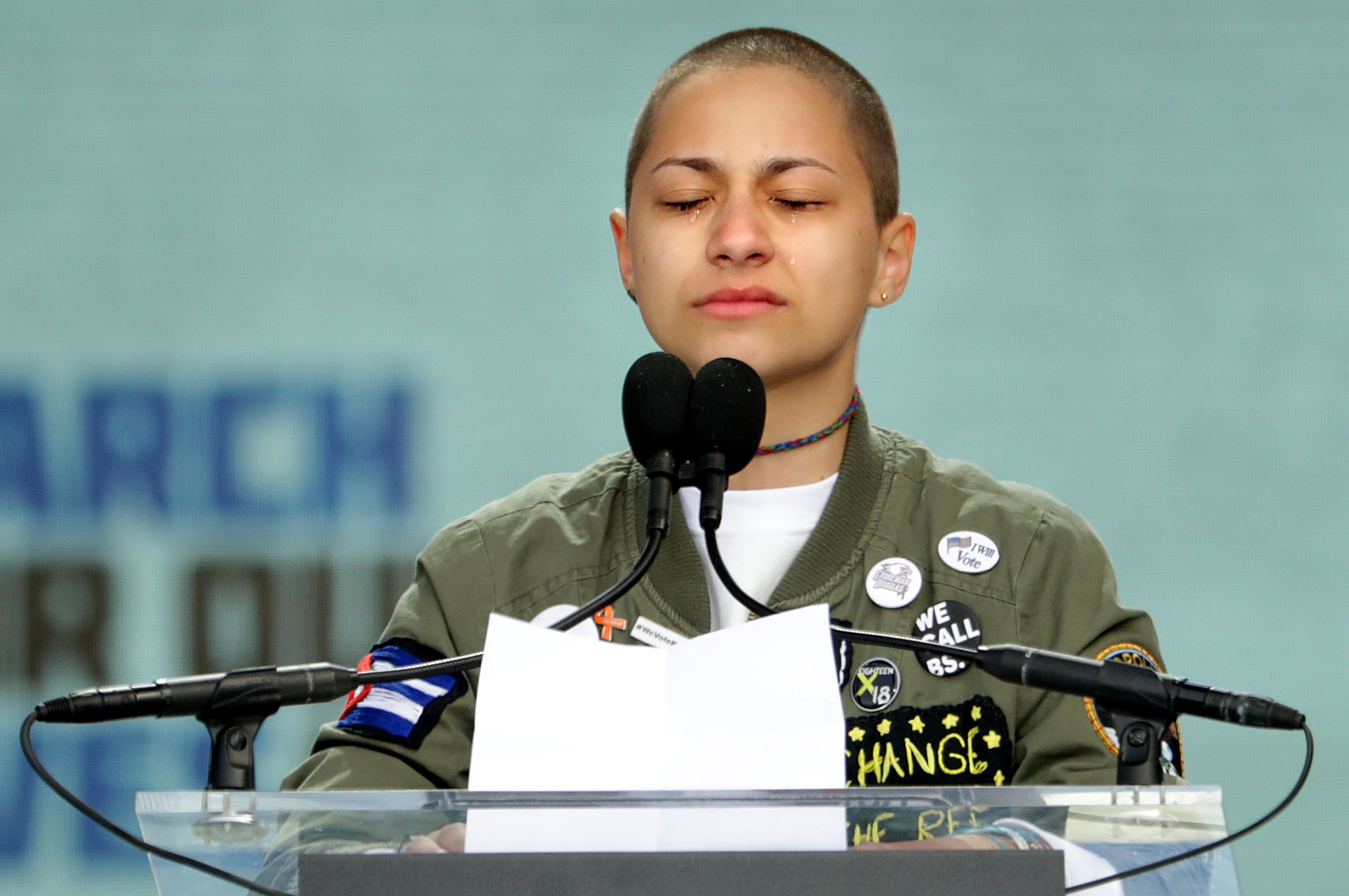 6 minutes of silence ... "Chin high and tears streaming, Florida school shooting survivor Emma Gonzalez stood... silently as a few crowd members shouted out support. She remained silent as tentative chants broke out. Her silence continued as those attending also fell quiet, many weeping," AP reports:
"The gripping moment stretched for 6 minutes and 20 seconds, the amount of time Gonzalez said it took a shooter to kill 17 people and wound 15 others."
Gonzalez: "Six minutes and 20 seconds with an AR-15 and my friend Carmen [Schentrup] would never complain to me about piano practice ... Aaron Feis would never call Kyra 'Miss Sunshine.'"
Gonzalez went on, listing name after name.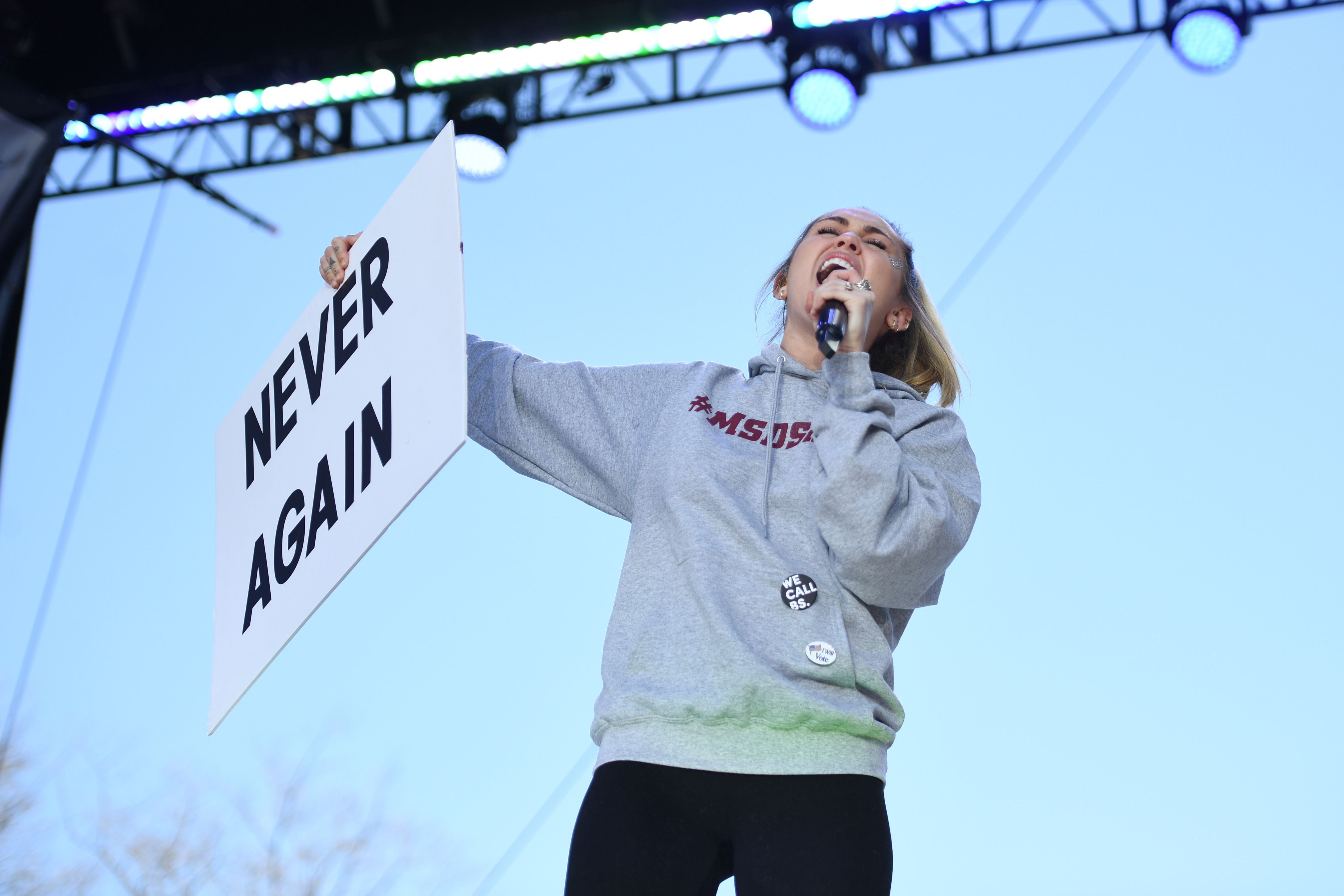 Miley Cyrus sang "The Climb": "Keep the faith, baby."
4. 4 consecutive photos

The Eiffel Tower submerges into darkness as part of last night's Earth Hour switch-off.
Organized by the World Wildlife Fund, hundreds of millions of people across more than 150 countries turned off their lights at 8:30 p.m. local time.
5. Tim Cook calls for data privacy regulation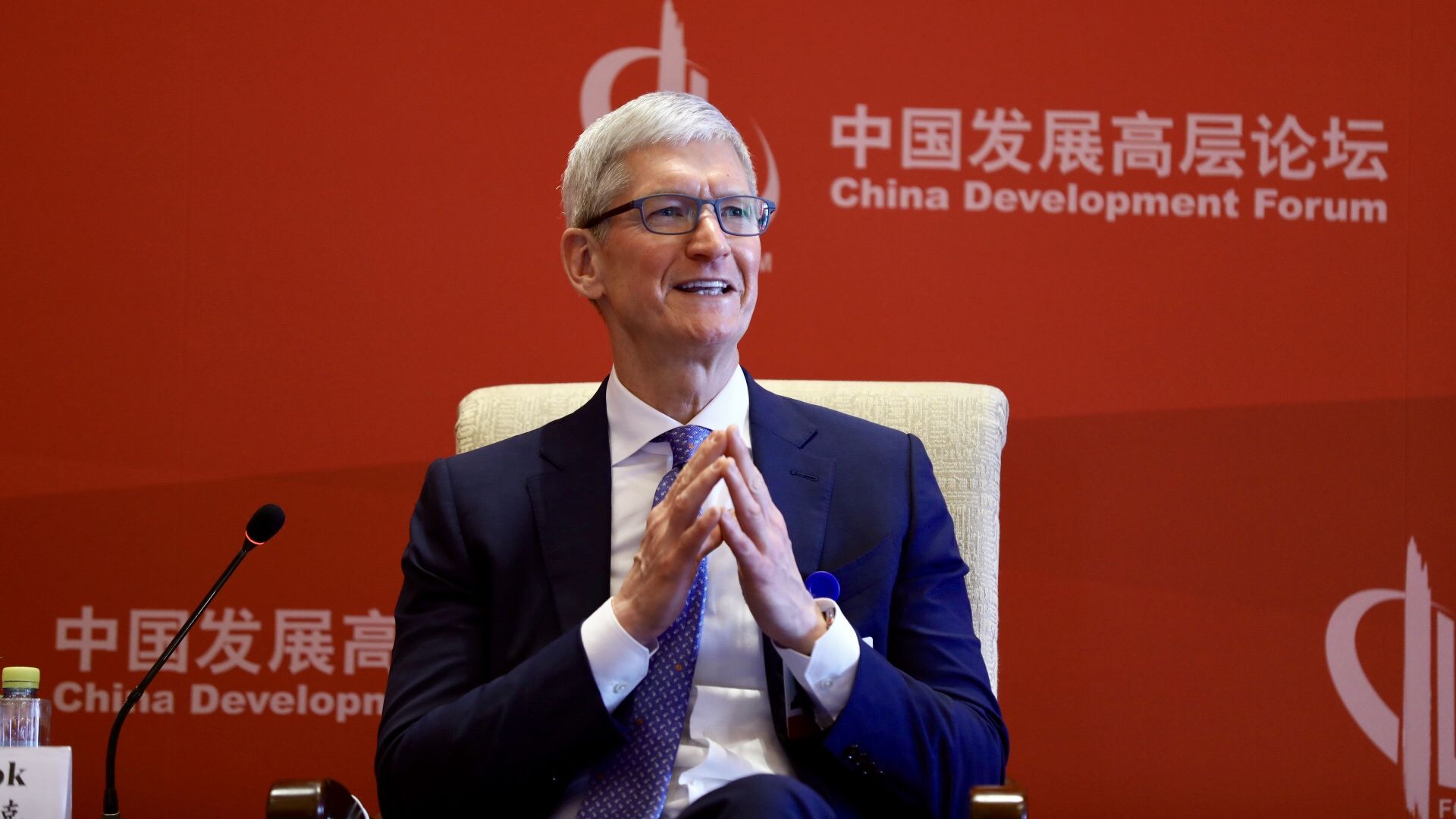 In Beijing, Apple CEO Tim Cook "called for stronger privacy regulations that prevent the misuse of data in the light of the controversial leak of Facebook user information," per Bloomberg.
What happened: "Cook called for 'well-crafted' regulations that prevent the information of users being put together and applied in new ways without their knowledge."
Cook spoke yesterday during a session on global inequality at the annual China Development Forum.
Why it matters: "His comments will ramp up pressure on Facebook Inc. and other technology companies."
6. Facebook is running this full-page ad ...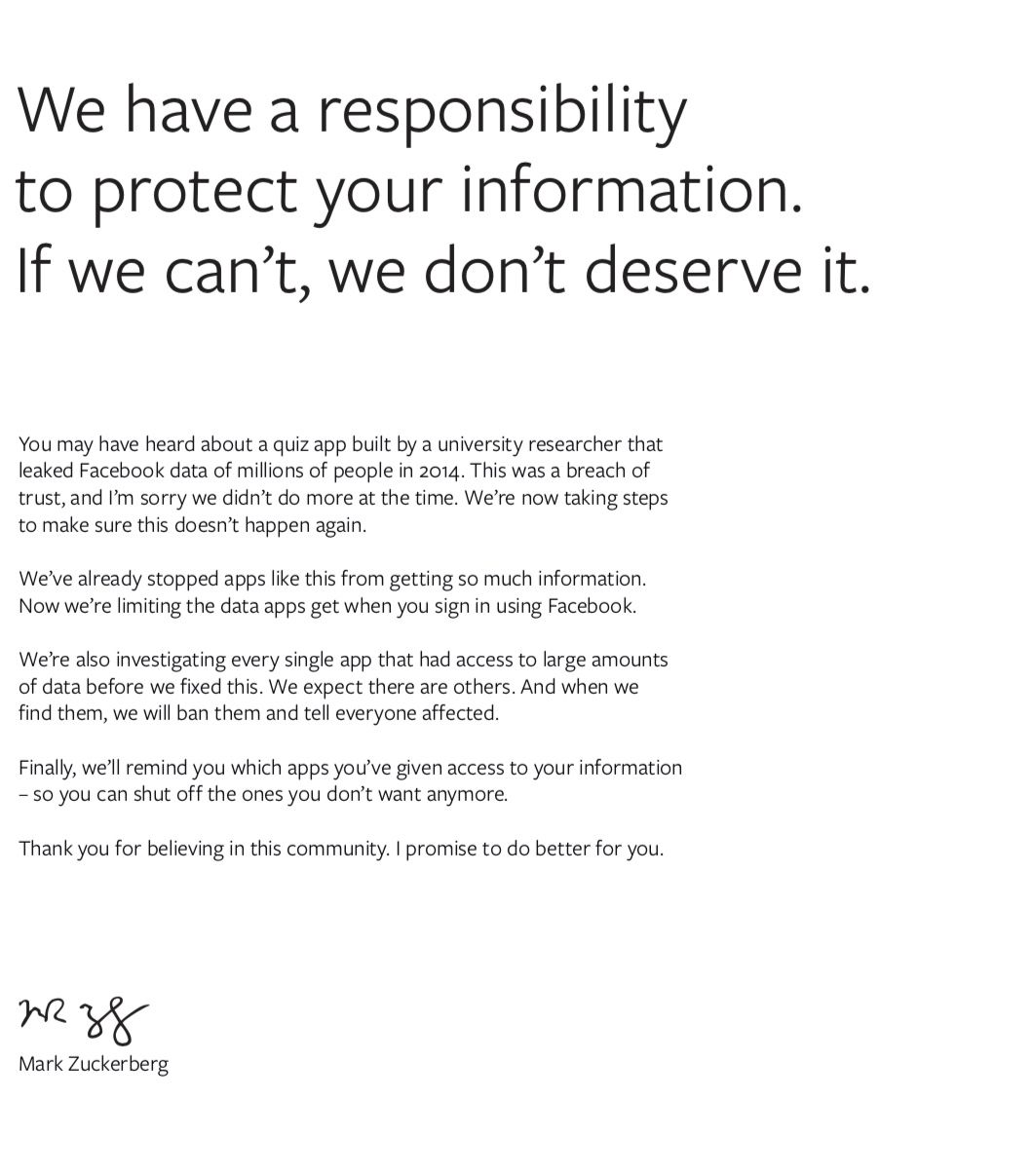 ... inside the front section of today's N.Y. Times, on the back cover of today's WashPost, and in The Wall Street Journal.
In London, it's running in The Sunday Times, The Sunday Telegraph, The Observer, The Mail on Sunday, Sunday Mirror and Sunday Express.
7. Congress mostly done legislating for the year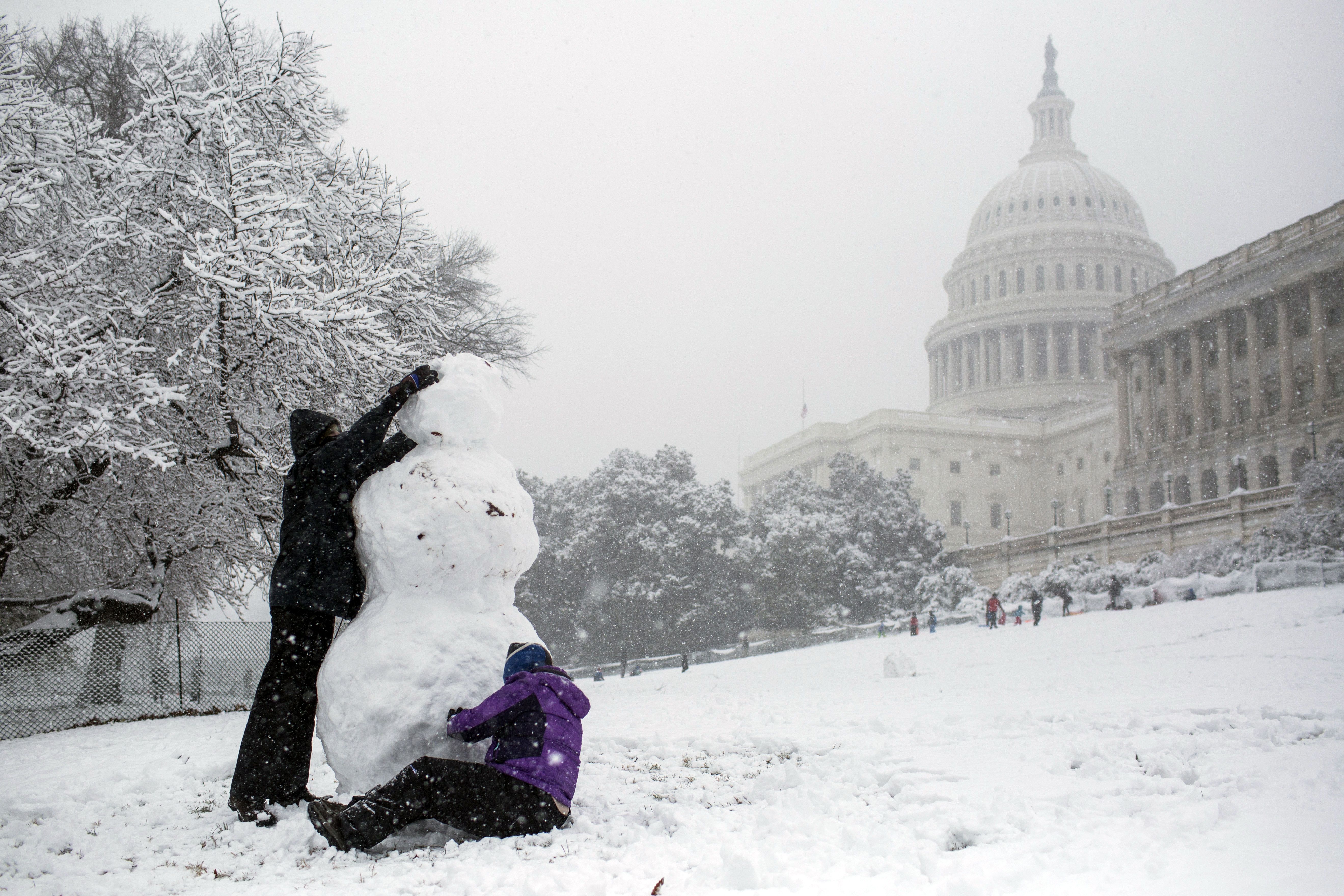 "With passage of an enormous budget bill, the GOP-controlled Congress all but wrapped up its legislating for the year," per AP.
The tale of the tape:
"In two big ways, Republicans have done what they promised. They passed a long sought tax overhaul bill that slashed tax rates. They've rolled back regulations, in ways they claim are boosting the economy. In the Senate, they confirmed a justice to the Supreme Court."
"But there are signs Americans wanted more: immigration reforms, gun control legislation, even an infrastructure plan that President Donald Trump promised voters. Tax cuts, for now, will have to do."
8. Early warning
"Health-Insurance Premiums Loom as Election Issue," per Wall Street Journal's Stephanie Armour (subscription):
"Lawmakers ... omitted from spending bill an effort to restore payments to insurers. Now they're rushing to assign blame for expected rate increases."
Why it matters: "Health-insurance premiums are likely to jump right before the November elections."
9. 📺 What I'm watching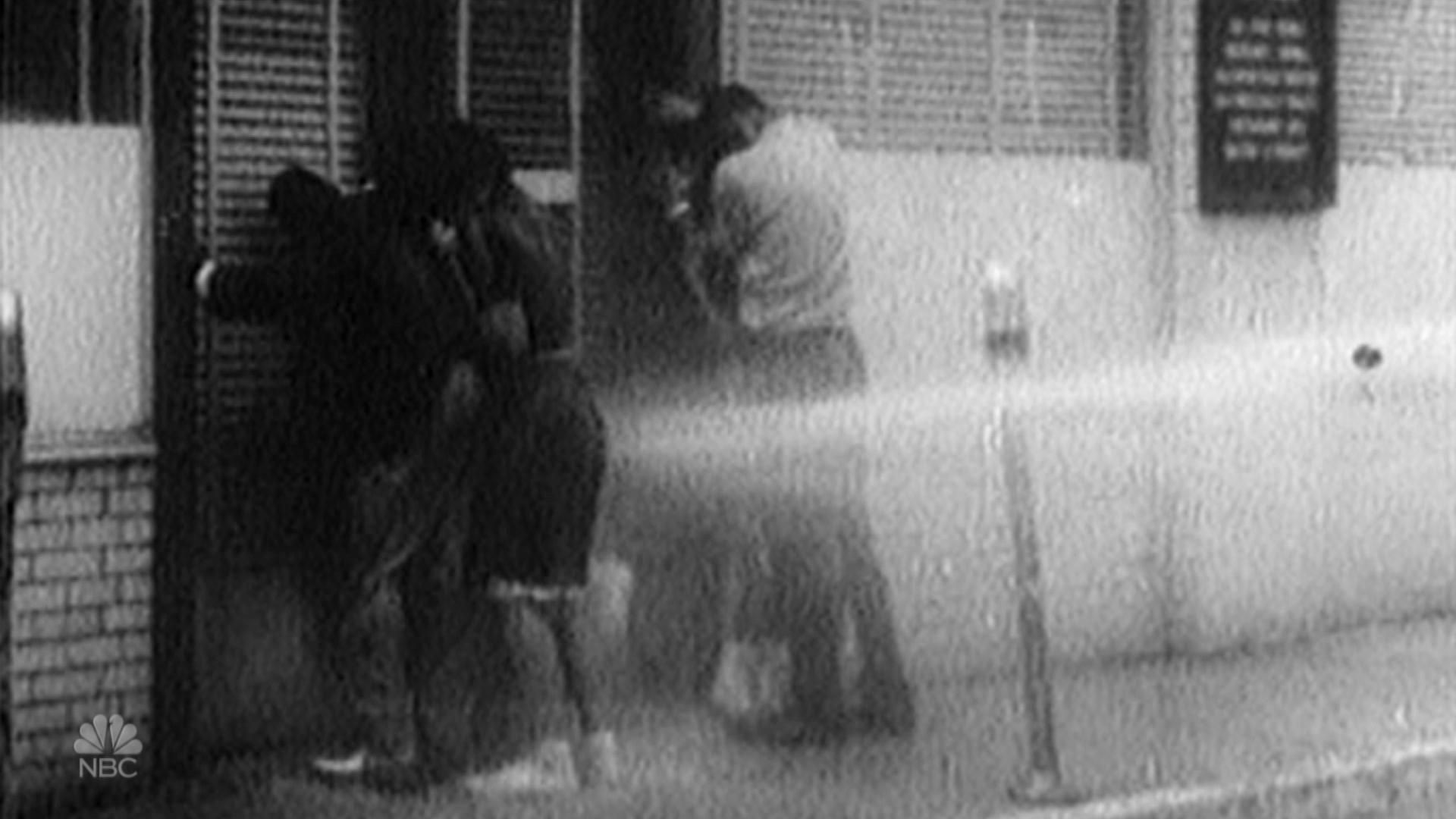 Tonight from 9 to 11 ET on MSNBC (I watched the first hour last night on NBC and found it riveting, and so relevant and resonant for today's journalists) ...
"Hope & Fury: MLK, The Movement and The Media" is narrated by Lester Holt and told by "civil rights leaders, pioneering African-American reporters who chronicled the movement, journalists from across generations, as well as present-day activists who have adopted the tactics."
April 4 is the 50th anniversary of the Rev. Dr. Martin Luther King's assassination.
"From the murder of Emmett Till, Little Rock and Selma to modern-day events in Charlottesville and Ferguson, the film ... highlights how today's protestors communicate directly to mass audiences via digital platforms."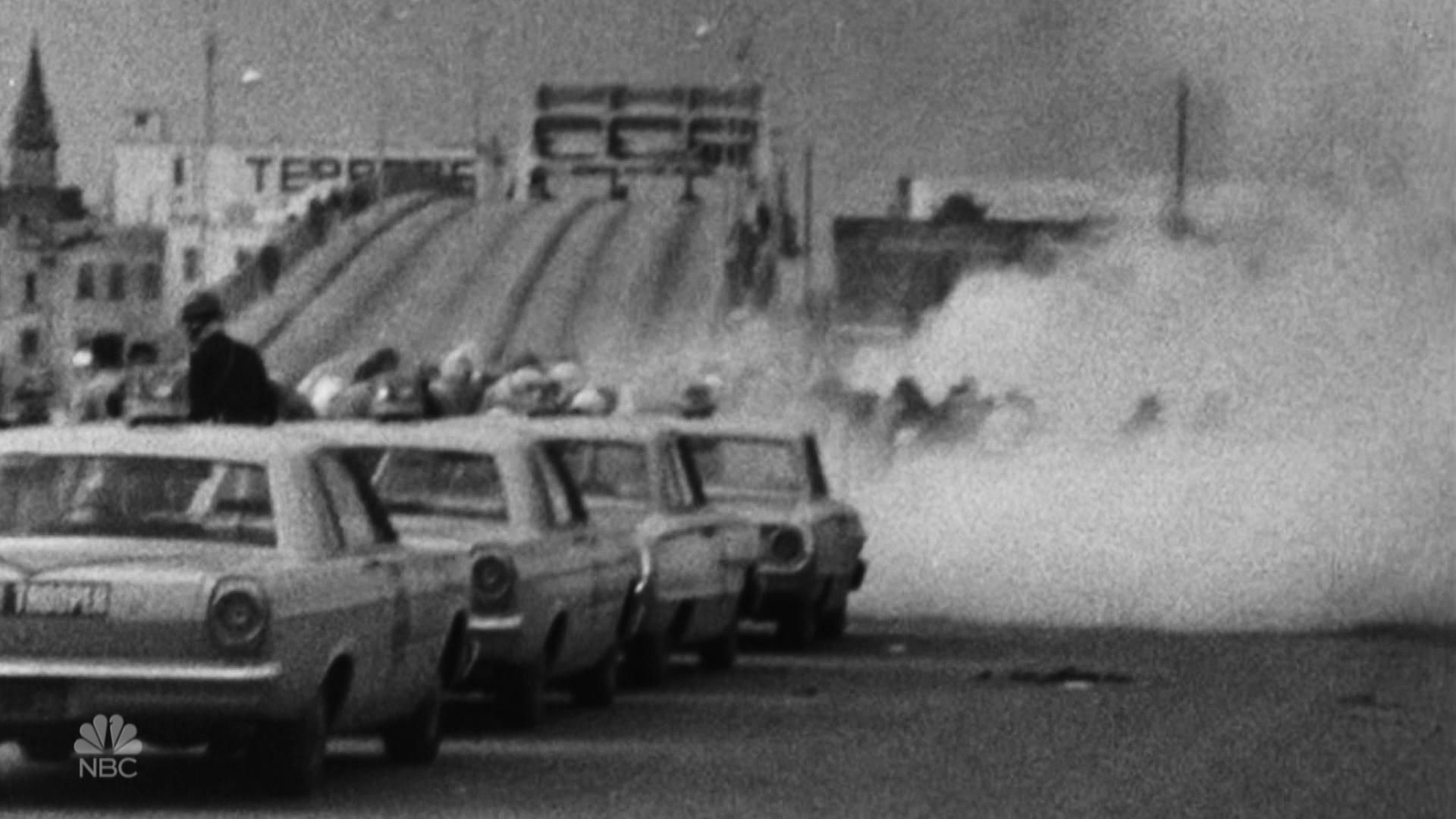 10. ⚾️ 1 fun thing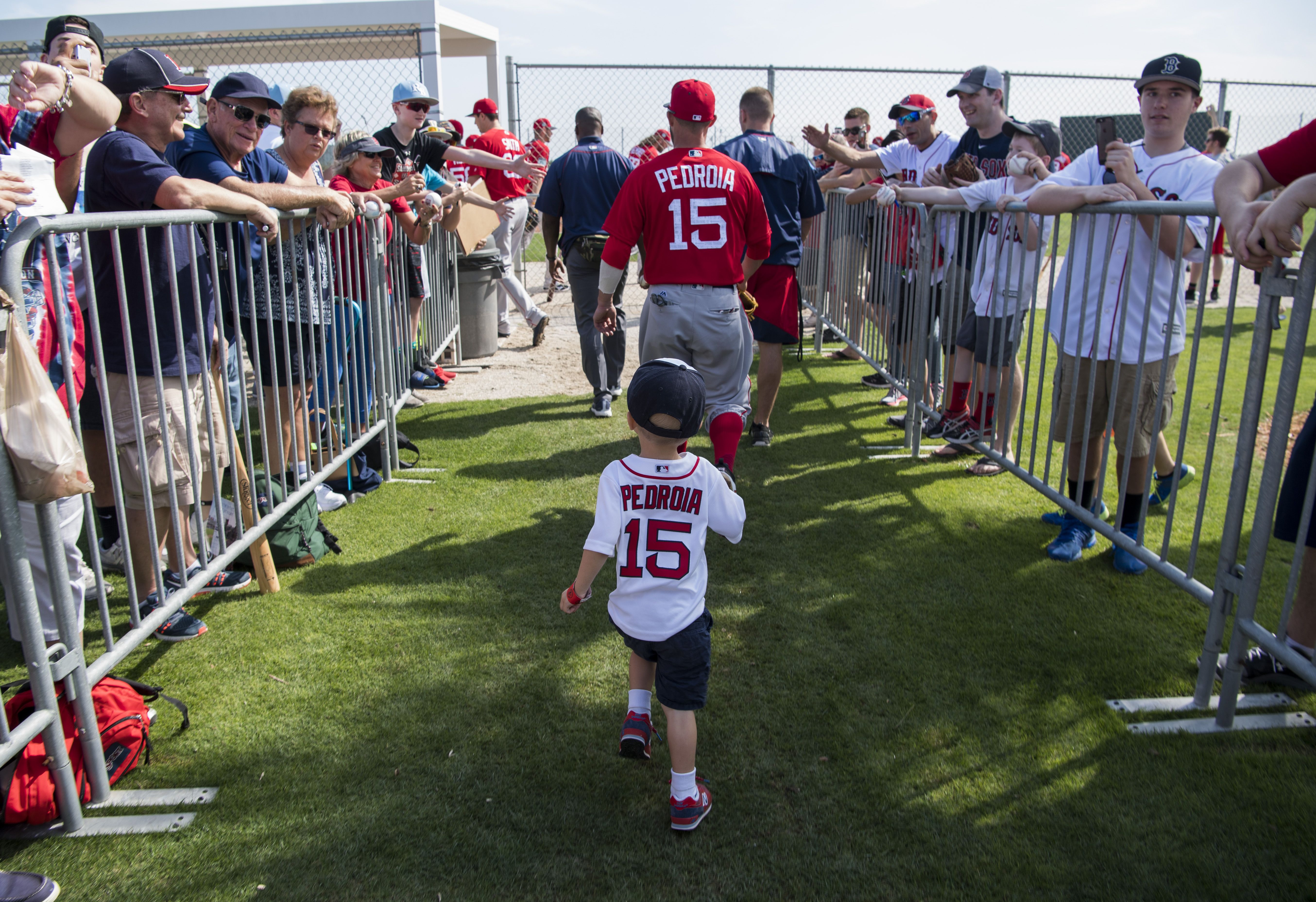 Thursday is Opening Day for all 30 Major League Baseball teams — the first time every team is opening on the same day since 1968. From AP's preview:
"In a game of numbers, make way for some new letters to go along with ERA, OPS and WAR: MVs. Mound visits will be posted on scoreboards, tracking how many times catchers, infielders, managers and coaches go talk with a pitcher."
"It's part of MLB's new pace-of-play rules, designed to cut down the incessant back-and-forth between batteries. Teams are allowed six trips without making a change. After that, every visit requires a new pitcher."
"All 30 teams will have expanded netting to protect fans, reaching at least to the far end of the dugouts."
"At Dodger Stadium, there will be ... a painted blue seat in right field to mark where Kirk Gibson's home run landed to win the 1988 World Series opener."
Concession corner: "In Texas, the Dilly Dog is a dill pickle, hollowed out and stuffed with a hot dog, served up battered and fried. PNC Park [in Pittsburgh] presents Greens and Grains ... kale, quinoa, sunflower seeds.
A Fenway Park dessert: crème brûlée French toast, topped with Vermont maple syrup.
Thanks for reading! See you all day on Axios.com ...