October 01, 2020
🎃 Good Thursday morning, and welcome to October! President Jimmy Carter is 96.
Today's Smart Brevity™ count: 1,292 words ... 5 minutes.
1 big thing: America's nightmare foretold
President Trump made it clear at the debate that he'll continue to call the results fraudulent — and contest the outcome in key states — no matter how wide the margin.
That'll be amplified by a massive amount of disinformation, even though the platforms are trying to curtail it.
Why it matters: Back in 2000, we didn't know Bush v. Gore was going to happen. We know this is going to happen.
Trump is telegraphing with clarity that even if he gets blown out, he'll claim the election was rigged and votes were stolen.
Election officials, especially in areas with significant minority voting populations, need to prepare for an increased danger of "rogue Trump supporters taking matters into their own hands," said Rick Hasen, a national election law expert at UC Irvine.
Pennsylvania, with a GOP legislature that could try to bolster Trump in the case of contested results, is a major focus of both parties' post-election planning.
Kristen Clarke, president and executive director of the Lawyers' Committee for Civil Rights Under Law, told Axios: "The president's statements, in combination with real activity on the ground in Philadelphia, has us sounding an alarm today and escalating our efforts to understand what's happening."
Minnesota Secretary of State Steve Simon told Stef Kight: "What is distressing about the president's remarks is I fear his supporters will take it upon themselves to mobilize large numbers to go to the polls" as poll watchers.
Simon said they'll be denied access: Minnesota allows only one poll watcher (called a challenger) per political party at each polling station.
Simon added: "I fear ... folks on the other side will feel the need to counter-mobilize."
Share this story. Margaret Talev and Alayna Treene contributed reporting.
2. SurveyMonkey poll: Disappointment, anger, four-letter words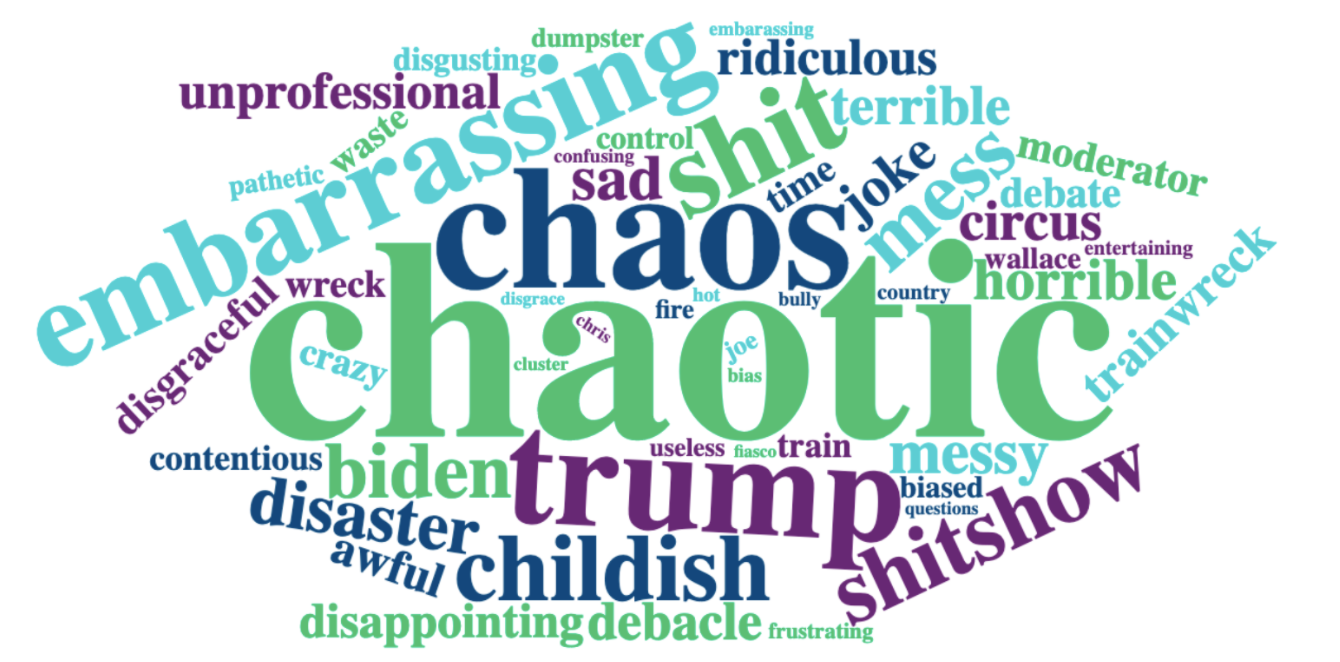 Three words Americans associated most with President Trump's debate performance: Bully, childish and rude.
Joe Biden: Weak, presidential and poor.
The debate itself: Chaotic, Trump and variations on the word sh*t.
An Axios-SurveyMonkey poll (2,618 U.S. adults: ± 2-point margin of error) shows that Trump hurt himself more than Biden in what's been called the worst U.S. presidential debate in history, Margaret Talev writes.
Three times as many voters said President Trump did worse than they expected in the debate — 39% compared with 13% for Biden.
A majority of Republicans (57%) and independents (61%) said their primary reaction was disappointment.
The bottom line: More than 9 in 10 people who say they'd already decided on Trump or Biden ... planned to stick with their choice.
3. Focus group in Ohio: Nothing can change these voters' minds
Several voters in Youngstown, Ohio, who previously supported President Trump decided to stick with him, even if they were embarrassed by his debate performance, Alexi McCammond writes from a focus group.
These voters largely felt that neither Trump nor Biden were speaking directly to them, or addressing the issues they care most about.
The Engagious/Schlesinger focus group included 11 voters who voted for Barack Obama in 2012 but Trump in 2016.
The bottom line: These voters indicated there's almost nothing that could change their minds between now and November.
Adam A. said: "The 15 minutes I watched I didn't get anything out of it, so I turned it off."
4. Our weekly map: Virus cases rise in 25 states
New coronavirus infections rose over the past week in half the country, Sam Baker and Andrew Witherspoon write.
Why it matters: The U.S. remains largely unable or unwilling to control the spread of the virus.
Nationwide, the U.S. averaged roughly 43,000 cases per day during the past week — essentially unchanged from the week before.
Testing was up almost 9%. The U.S. is now conducting about 935,000 tests per day.
5. Holiday season begins Oct. 13
Amazon's decision to move Prime Day to Oct. 13-14 this year will pull the whole holiday shopping season forward by more than a month — and help make online retail bigger than ever, Dion Rabouin writes in his daily Axios Markets.
Why it matters: The pandemic push toward online shopping, combined with the pull of Amazon Prime Day and the Christmas season, is setting up a bonanza for retailers — but only those with the ability to offer steep discounts, delivery and an attractive online platform.
Global online holiday sales are predicted to grow 30% from 2019's strong levels, and digital revenue is expected to grow by an average of 90% over last year's holiday season for companies offering options to buy online and pick up in-store, new projections from Salesforce show.
The forecast says Prime Day's move to October will pull 10% of November's Thanksgiving, Black Friday and Cyber Monday sales forward a full month.
That translates to $26 billion globally and $6 billion in the U.S.
What we're hearing: "This is something we tried to do for decades," Rob Garf, Salesforce's VP of Industry Strategy and Insights, said during a presentation Wednesday — online retailers tried to offer smaller discounts in autumn hoping to lure customers through a game of "discount chicken."
Between the lines: The jump in online sales comes largely at the expense of brick-and-mortar retailers, Deloitte says in "A Tale of Two Holiday Seasons."
💰 Sign up for Dion Rabouin's daily Axios Markets newsletter.
6. Congress squeezes Big Tech ahead of election
Lawmakers are moving to push back on social media platforms in the days leading up to the election, Ashley Gold writes.
Why it matters: Big Tech has become a punching bag for both the right and left. Tech policy has become increasingly fertile ground for grievance politics.
Today, the Senate Commerce Committee will vote to authorize subpoenas of three CEOs — Twitter's Jack Dorsey, Google's Sundar Pichai and Facebook's Mark Zuckerberg — to testify at a hearing on Section 230 of the Communications Decency Act, the tech industry's prized third-party content liability shield.
Our thought bubble: Time is on tech's side to endure these particular regulatory headwinds. But a fuller reckoning may come next year.
⚡ Google will pay publishers more than $1 billion over the next three years to create and curate high-quality journalism for a new set of features called Google News Showcase, executives tell Axios' Sara Fischer. Go deeper.
7. Far-right groups "stand by" for Trump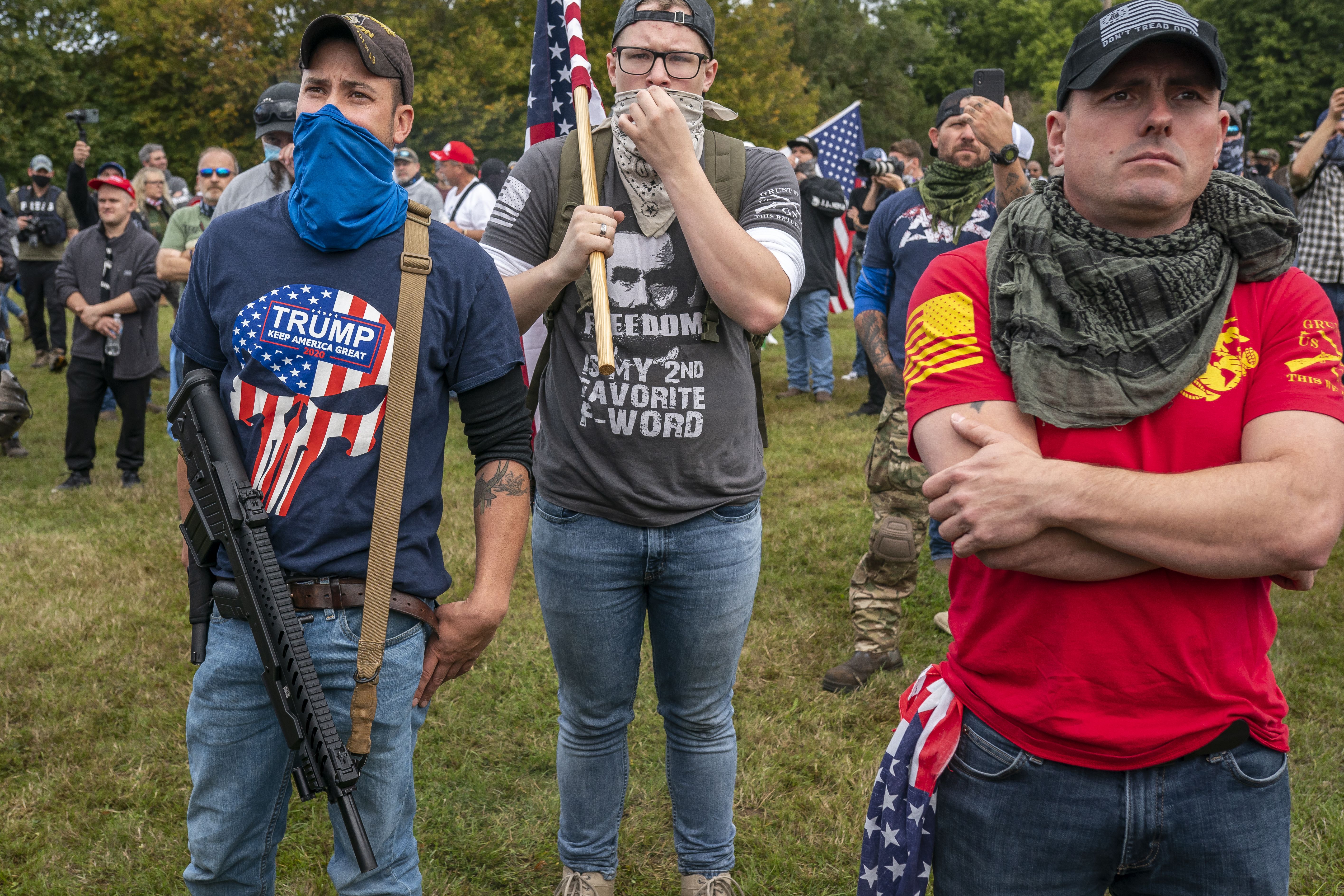 A variety of far-right fringe groups, just slivers on their own, together constitute a potential paramilitary force that's hungry for violent clashes with political opponents, Axios' Kyle Daly writes.
Why it matters: President Trump's failure to condemn extremist groups has been welcomed as an endorsement by a wide constellation on the fringes.
The Proud Boys remain relatively small — a Portland rally this past weekend billed as the group's largest-ever gathering drew just a few hundred people.
But the Proud Boys are part of a growing set of relatively new, often heavily armed far-right groups with ideologies and memberships that often overlap. The groups have pledged to violently oppose the left, and do much of their organizing online.
Go deeper: Other groups.
8. Over 73 million watched debate on TV
More than 73 million people watched Tuesday's debate on television, according to Nielsen — down more than 13% from the record number who tuned in for the first debate of the 2016 election, Axios' Sara Fischer writes.
The ratings drop partly reflects the fact that more people are streaming now: About 15% fewer U.S. households have pay-TV than four years ago.
9. Partnership for Public Service names Sammies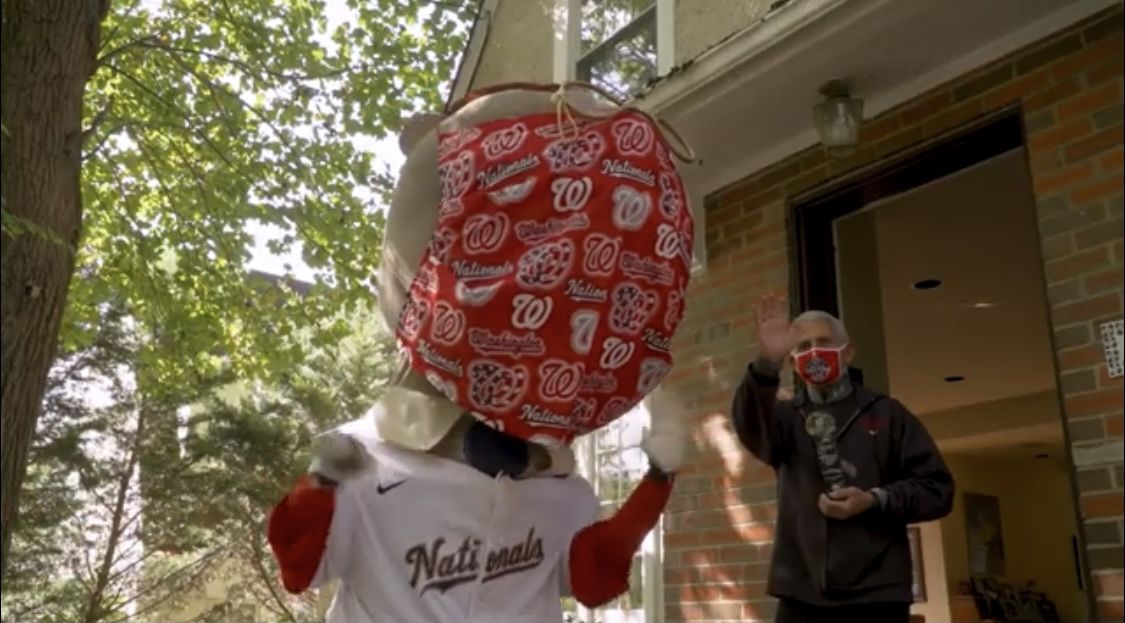 The Partnership for Public Service named Dr. Anthony Fauci the 2020 Federal Employee of the Year as part of the group's Service to America medals, the "Oscars of federal government."
Join us on Axios.com on Monday at 8 p.m. ET for a virtual awards ceremony celebrating the best in government.
Click here to watch a video of Dr. Fauci getting home delivery of his award.
10. 🍽️ Scanners help restore indoor dining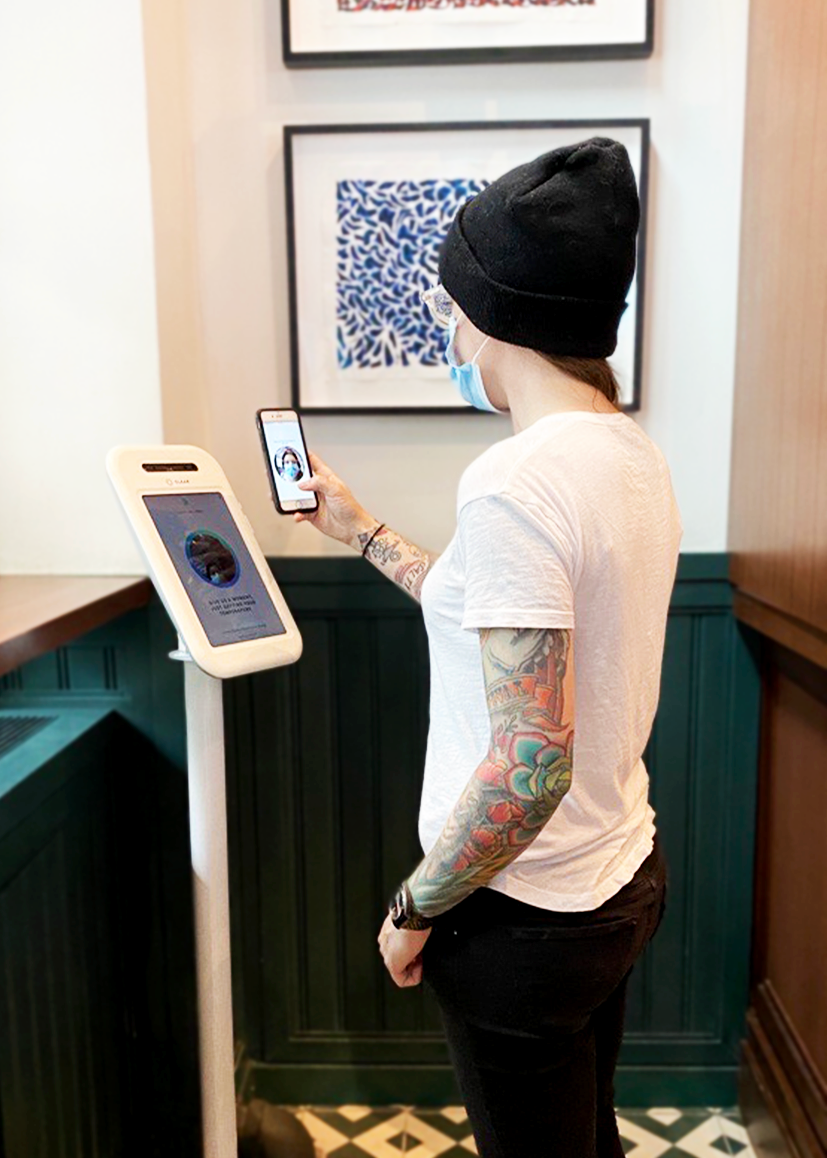 CLEAR, the secure-identity system familiar at airports and stadiums, is now being used to help restaurants reopen indoor dining for winter.
In Manhattan, Danny Meyer's Union Square Hospitality Group is using CLEAR Health Pass as part of employees' daily COVID screenings at Gramercy Tavern, Union Square Cafe and Blue Smoke.
How it works, per CLEAR: "Employees approach a CLEAR kiosk, where they receive a temperature check, and scan their QR code to share their health insights. ... [E]mployees are issued a red or green Health Pass on their app."
📱 Thanks for starting the day with AM! Invite your friends to sign up for Axios AM/PM.