Axios AM
January 19, 2021
🎂 Good Monday morning. Axios is 4 years old! CEO Jim VandeHei tweets: "Thank u. to those who read, watch, listen, support us. And props to the hundreds of Axions who showed you can have killer ambition/talent AND still put the cause, colleagues first. We promise a smooth transition to our 2nd term."
Today's Smart Brevity™ count: 1,462 words ... 5½ minutes.
⚡ President-elect Biden plans to unveil a sweeping immigration bill on Day One, hoping to provide an eight-year path to citizenship for an estimated 11 million people living in the U.S. without legal status, a massive reversal from the Trump administration's harsh immigration policies, AP reports and Axios confirms.
1 big thing ... "Off the rails," Ep. 6: Trump's last stand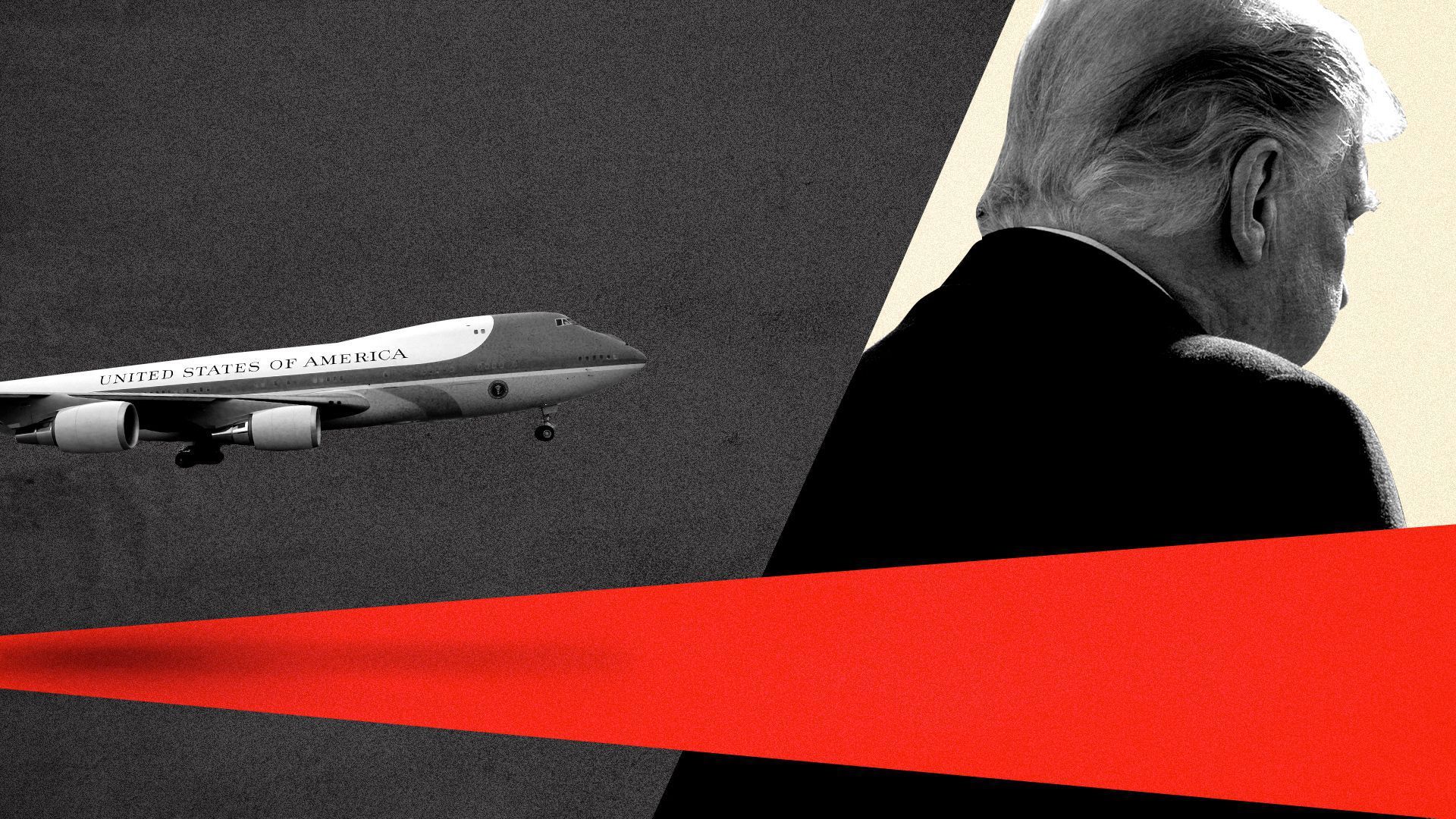 Episode 6 of "Off the rails," our fly-on-the-wall series about President Trump's final days, by Axios' Jonathan Swan and Zachary Basu:
On Air Force One, President Trump was in a mood. He had been clear he didn't want to return to Georgia, and yet somehow he'd been conscripted into another rally on the night of Jan. 4.
If both David Perdue and Kelly Loeffler — the two embattled Senate runoff candidates he was campaigning for — lost the following day, the GOP would lose the U.S. Senate. Trump didn't want the blood of Georgia on his hands.
The TV in the plane's conference room was set to Fox News, with the sound off.
As the screen showed footage of supporters filling up the rally space, Trump's spirits lifted briefly: "Look at that crowd."
Club for Growth president David McIntosh, a former Indiana congressman, tried to buck Trump up during the flight, pleading for a full-throated endorsement of Loeffler and Perdue: "Look — if they win, you'll be vindicated."
"No, they won't, David," Trump retorted. "They'll blame me if we lose. But if we win, they won't give me the credit."
At one point in the flight, Trump pulled McIntosh into his private office cabin to sign an autograph for McIntosh's personal trainer, an avid supporter of the president. McIntosh tried to open a conversation about the future.
"Mr. President, you know, if it doesn't turn out — "
Trump interrupted: "What do you think my odds are?" — referring, 62 days after the election, to his chances of serving a second term.
McIntosh leveled: "It doesn't look great, sir."
Trump agreed: "Yeah, that's probably right."
"Mr. President, if it doesn't work out, will you run again?" McIntosh asked.
"Yeah, I'm thinking about that," Trump said. "But you know, I'm going to be four years older."
Go deeper: Read the whole episode in the Axios stream.
2. FBI traces digital trail to Capitol rioters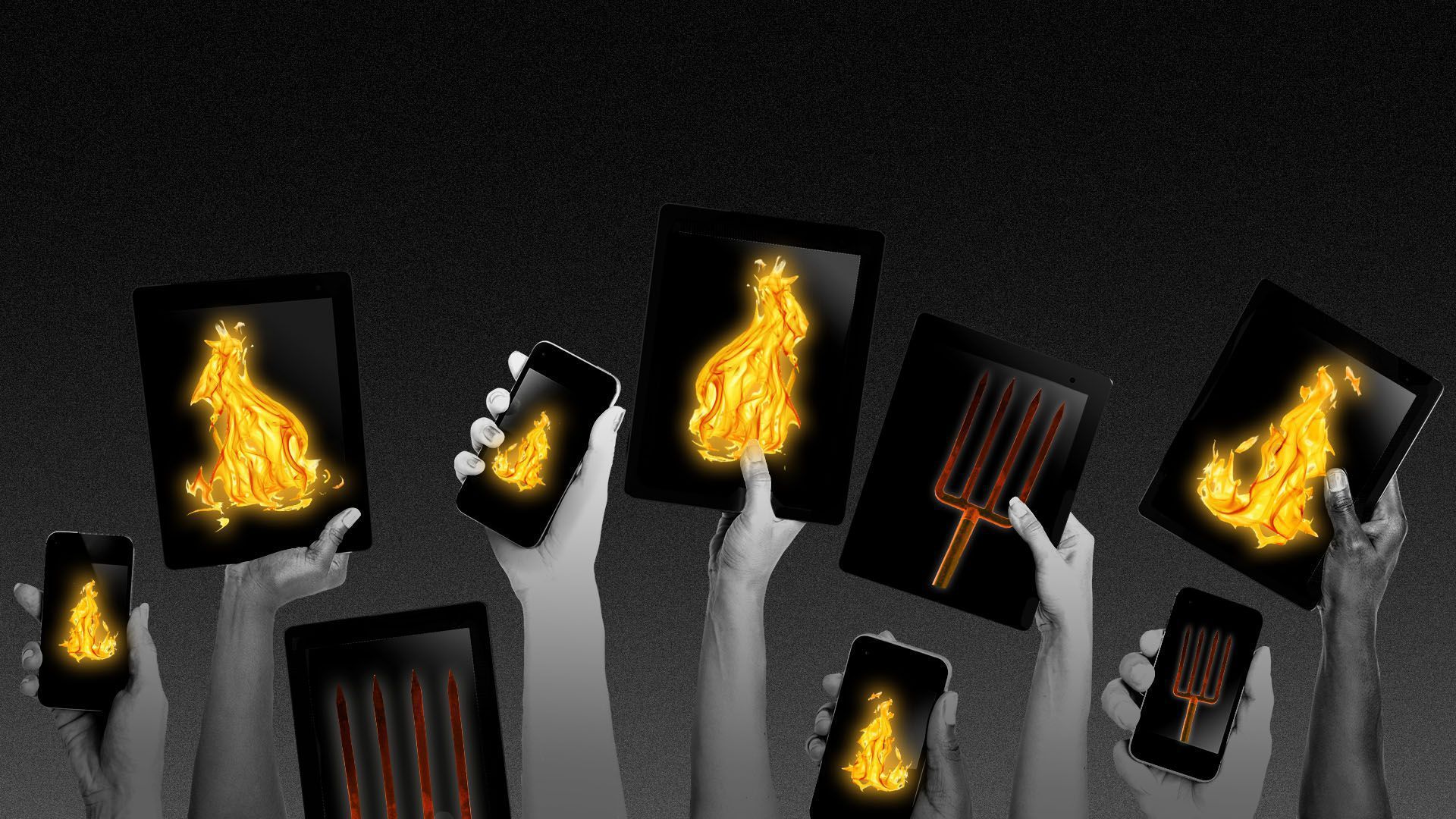 The Justice Department is using iPhone searches and WiFi location data to build cases against the Capitol mob, court filings show.
The rioters, eager to share proof of their efforts with other extremists online, left a digital footprint of at least 140,000 photos and videos that's helping the feds find and arrest them, Axios' Sara Fischer and Ashley Gold write.
Law enforcement's use of digital tracing has long been at the center of fierce battles over privacy and civil liberties. The Capitol siege is opening a fresh front in that debate.
The FBI said Friday that it has identified more than 270 suspects involved in criminal activity in and around the Capitol, largely due to incoming tips that help match pictures and videos uploaded online from the attacks.
There are dozens of instances of people posting themselves on social media invading the Capitol or being spotted on video later, leading to arrests.
Investigators aren't saying whether any arrests have been helped along by facial recognition. The technology could finger yet-to-be-identified rioters, but raises serious concerns about privacy, ethics and accuracy.
The FBI's use of facial recognition to surveil Black Lives Matters protesters last summer drew outrage.
3. Biden's inflation danger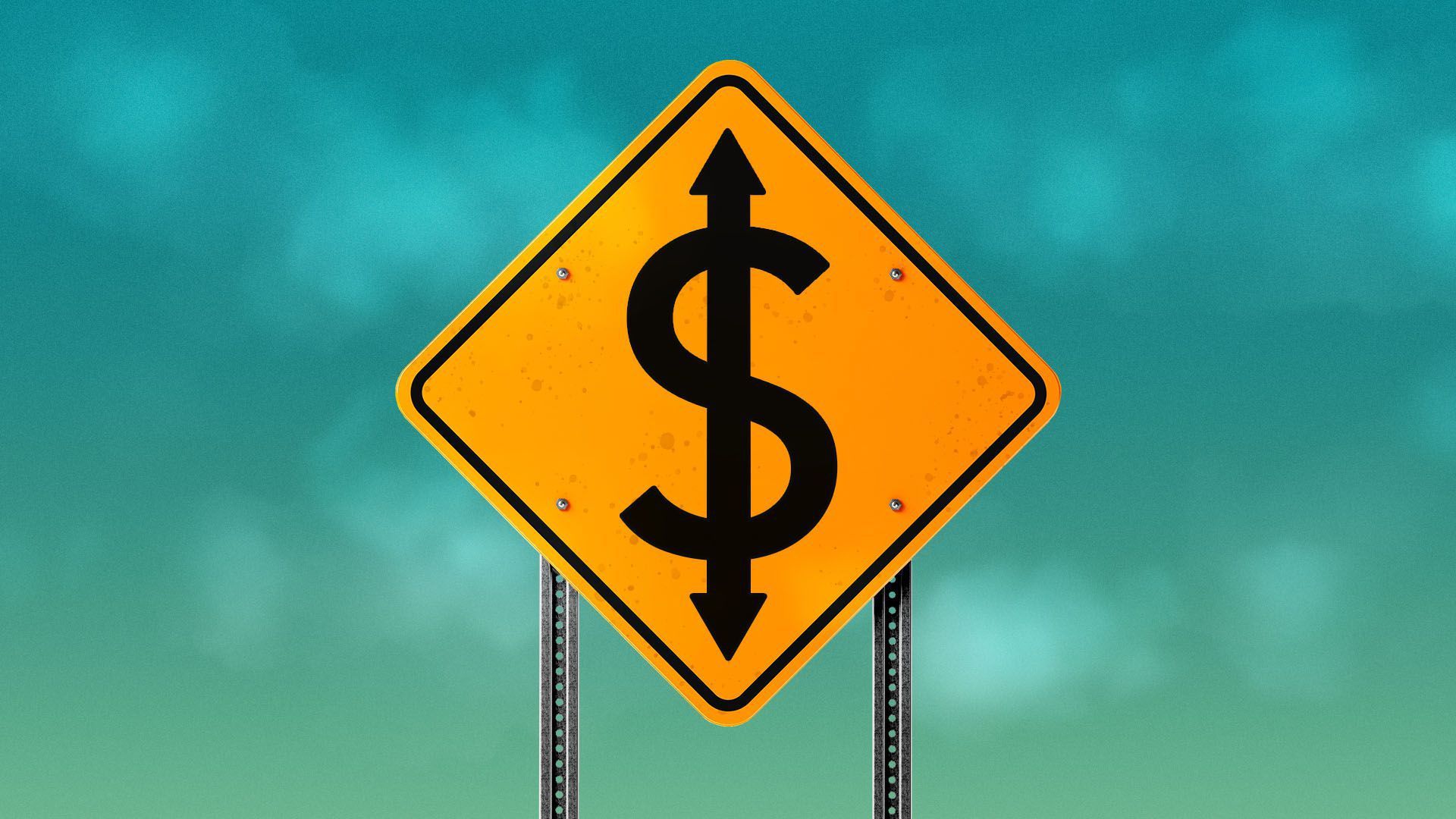 President-elect Biden's $1.9 trillion stimulus proposal has economists and analysts raising growth expectations, with a possible "reflation" of the economy and booming returns for investors, Dion Rabouin writes in Axios Markets.
But others warn the result could be inflation, which would threaten both the real economy and the stock market.
Why it matters: Low inflation and interest rates have been a tentpole of the incredible boom we've seen from the stock and housing markets. The return of inflation would threaten to undermine everything underpinning that boom.
Goldman Sachs economists raised their 2021 U.S. GDP forecast to 6.6% — a full 2.5 points above economists' consensus — and are projecting an unemployment rate of 4.5% at the end of 2021, down from 4.8%.
Those are well above the already rosy forecasts of most economists.
What we're watching: We'll know whether its reflation or inflation based on whether prices are going up because we've got a growing economy with plentiful jobs and consumer spending — or because supplies are short and money is flooding into the economy from the government and the Fed.
💰 Sign up for Dion Rabouin's daily Axios Markets newsletter.
4. Pic du jour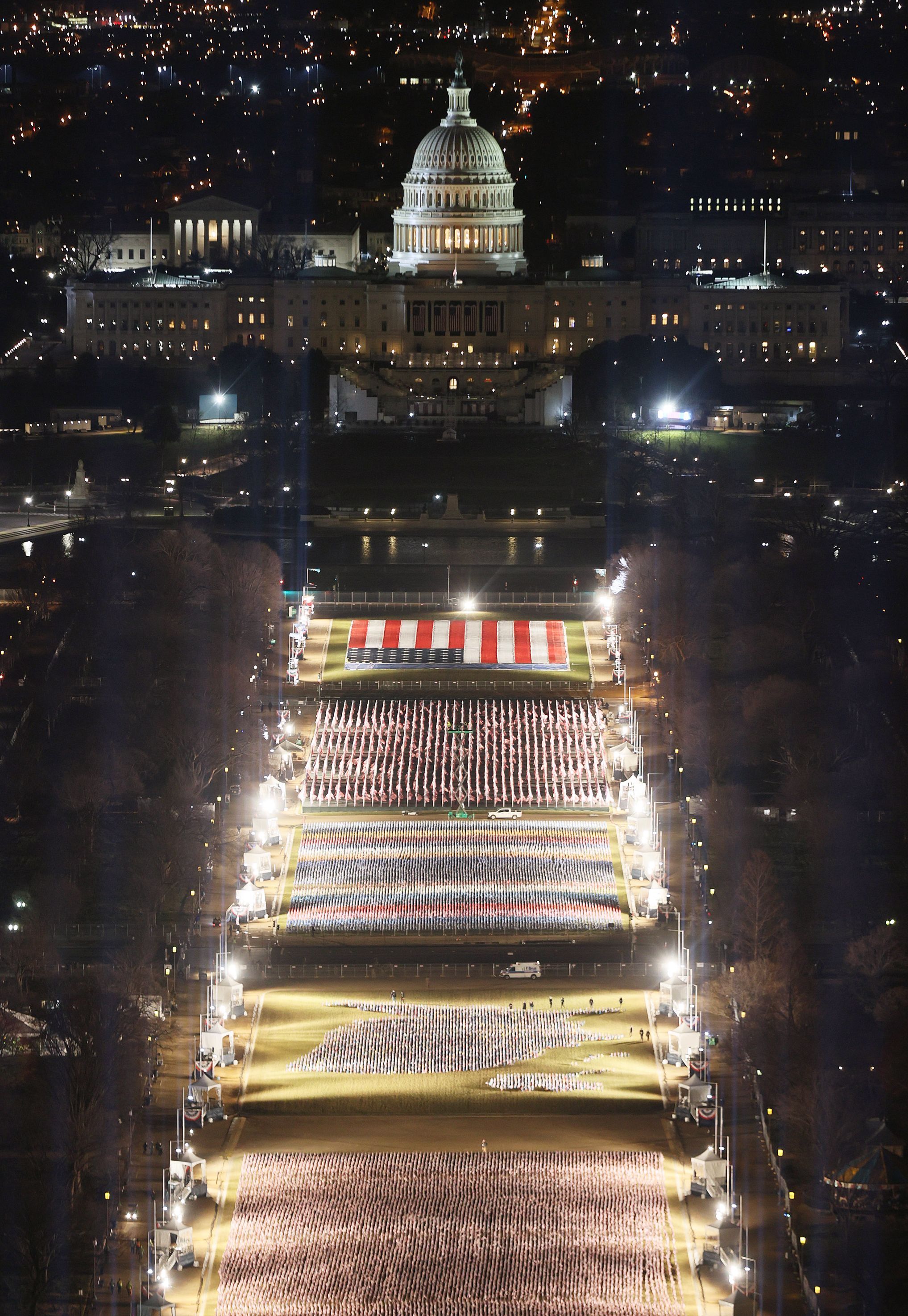 The National Mall was lit last night by the "Field of Flags" from the Presidential Inaugural Committee — "approximately 191,500 U.S. flags of varying sizes, including flags representing every state and territory, and 56 pillars of light," representing "the American people who are unable to travel to Washington."
5. Trump throws himself a farewell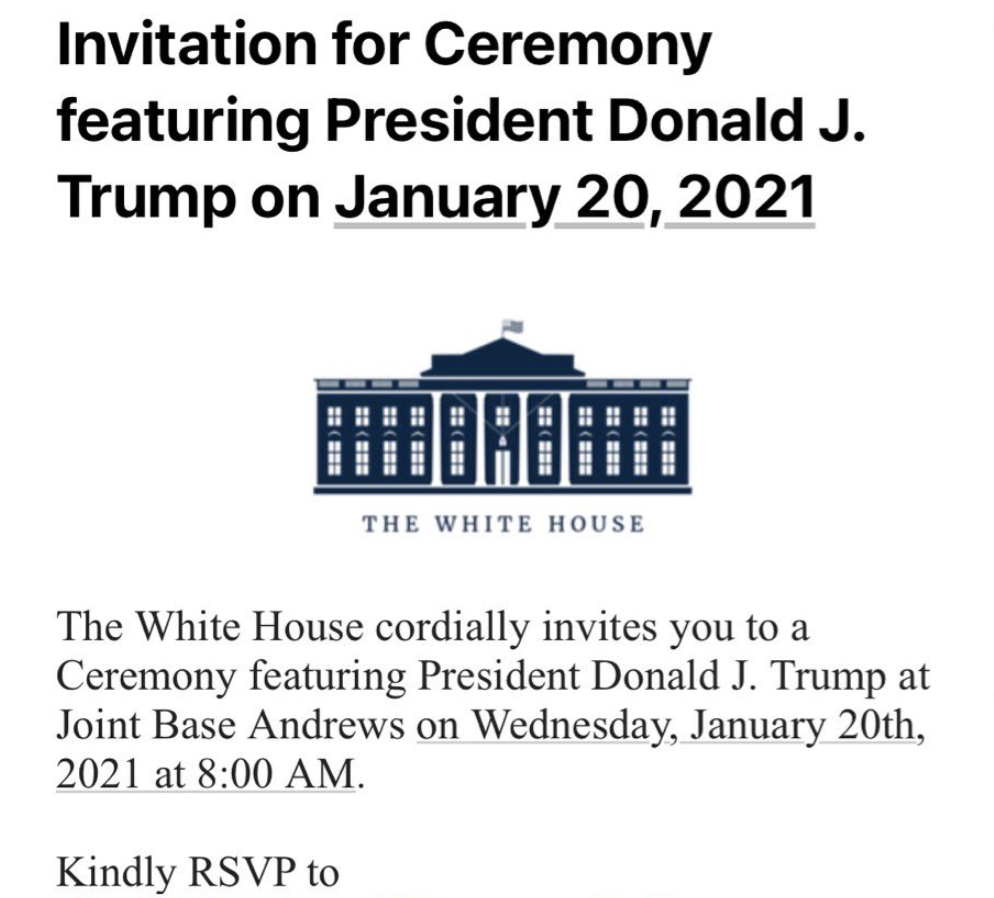 President Trump is inviting supporters to a sendoff ceremony at Andrews tomorrow before he flies to Florida ahead of President-elect Biden's inauguration
Invitees may bring "up to five guests," and must show up by 7:15 a.m.
Trump requested a military-style sendoff, with a band and possibly a flyover.
This is the first time in 152 years that a president refused to attend his successor's inauguration — since Andrew Johnson snubbed Ulysses Grant in 1869.
6. Trump's "American Heroes" are 73% men
Delivering on a promise he made at Mount Rushmore this summer, President Trump yesterday released his 244 candidates for a "National Garden of American Heroes."
Axios data visualization editor Danielle Alberti fired up a spreadsheet and found:
Men outnumber women nearly four to one (192 to 52).
86 of the nominees, nearly a third, were born between 1900 and 1950. 
The first person born was Christopher Columbus, in 1451.
Last born was Kobe Bryant, in 1978.
Most recent death was Alex Trebek.
Oldest was NASA mathematician Katherine Johnson at 101.
Youngest was Nathan Hale, the Revolutionary War soldier and spy who was executed by the British at 21.
I asked historian Michael Beschloss, whose Twitter feed is a gusher of fascinating period photos, for his view of the list:
No President of the United States or federal government has any business dictating us citizens who our historical heroes should be. ...
Any American who loves democracy should make sure there is never some official, totalitarian-sounding "National Garden of American Heroes," with names forced upon us by the federal government.
Keep reading Beschloss' take.
7. 📉 Trump sets record for lowest average approval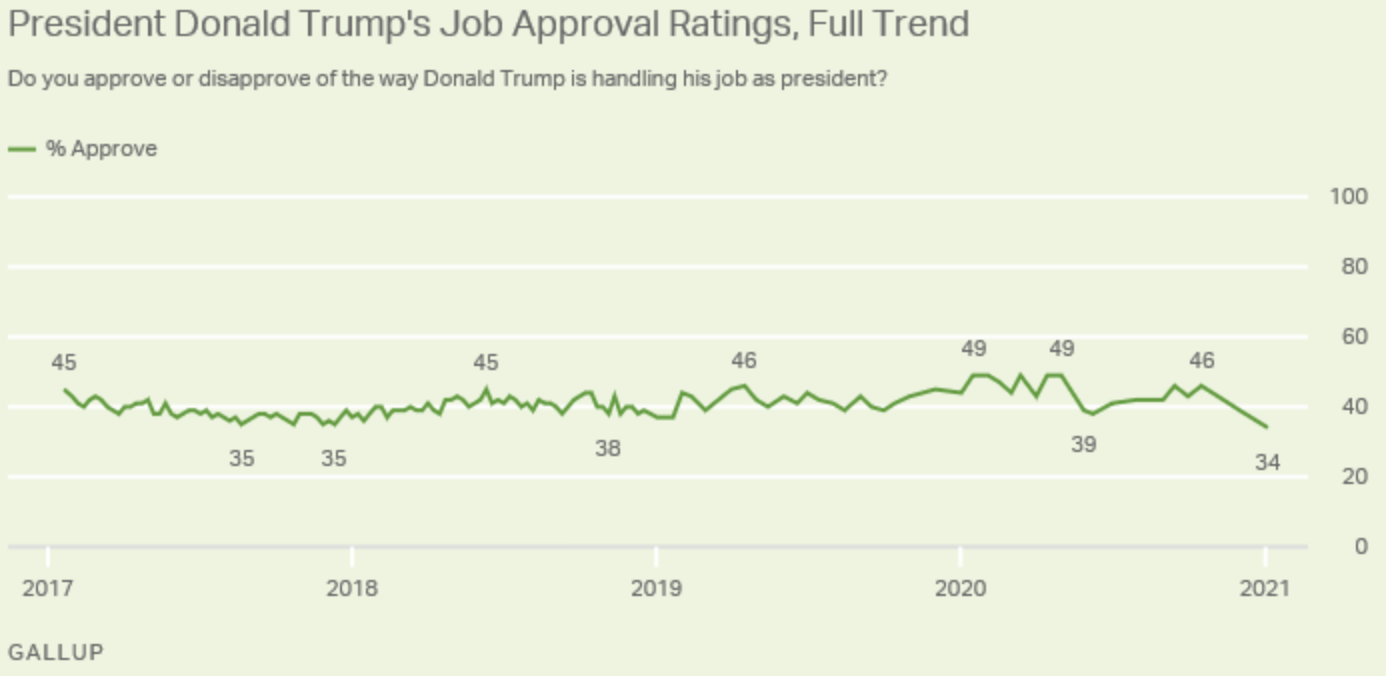 Gallup reports that President Trump leaves office with a 34% approval rating, a new low for him — but beating the worst final presidential poll, Harry Truman's, by 2 points.
Trump's 41% average approval rating throughout his presidency is four points lower than any president since Gallup started polling in 1938. The previous record-holder was Jimmy Carter, at a lofty 46%.
Trump's approval gap between Rs and Ds averaged 81 points — a record.
Trump is the only president never to hit 50% approval at any point.
🥊 New this morning: Gallup puts President-elect Joe Biden's approval at 68%.
8. Graphic of the day: Losing Oakland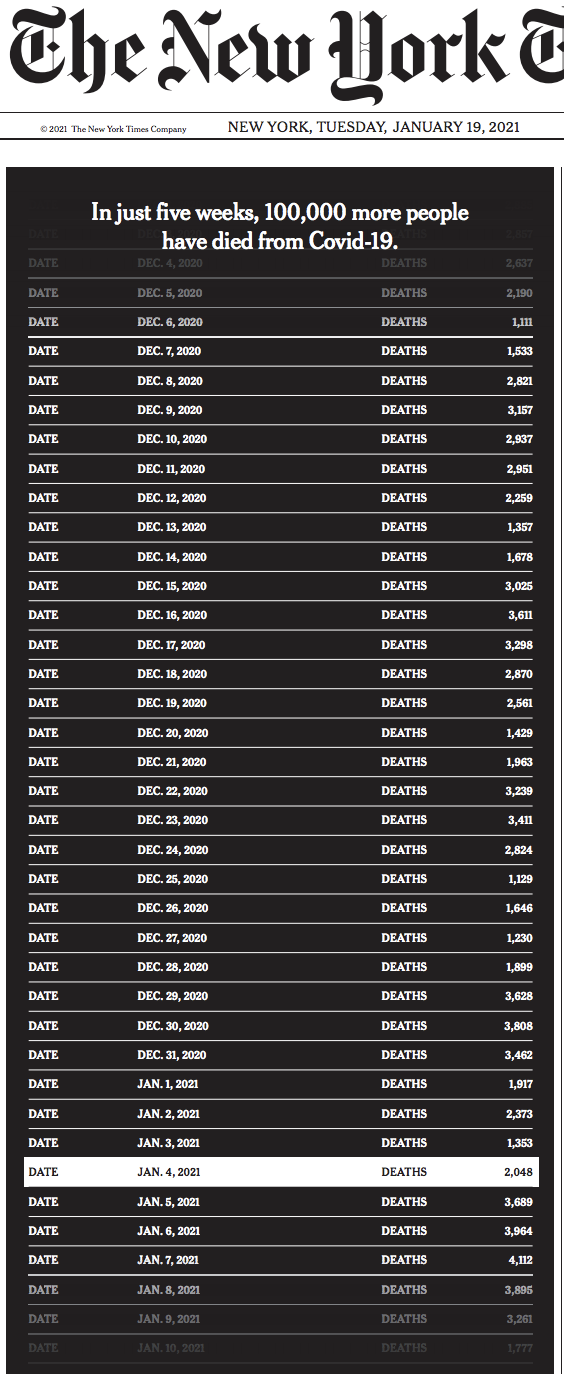 "As the national death toll from the virus nears 400,000, a horrifying milestone," the N.Y. Times writes (subscription), "people in the United States have been dying of Covid-19 at the highest rate of the pandemic. The new tally is the equivalent of wiping out a city the size of Oakland, Calif.
"It is on the order of Sept. 11 deaths more than a hundred times over."
"At that scale, the human brain compensates with a defense that political psychologists call 'psychic numbing.'"
9. First look ... Biden's parade: 9 dogs, 90 horses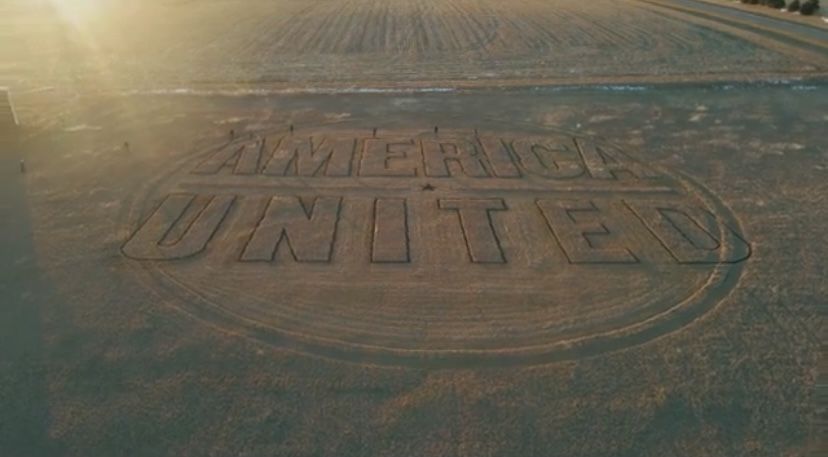 Since COVID knocked out the traditional parade down Pennsylvania Avenue, President-elect Biden's inauguration is mirroring his convention's popular "virtual roll call" for a "Parade Across America," including 56 states and territories.
The parade, showcasing America's diversity and heroes, includes 1,391 people (not counting the military escort), 90 horses and nine dogs.
Crop artist Stan Herd creates an original earthwork art piece that spells "America United," Biden's inauguration theme, in a field in Lawrence, Kansas.
Herd executes his designs by planting, mowing, burning and plowing.
10. 📷 Parting shot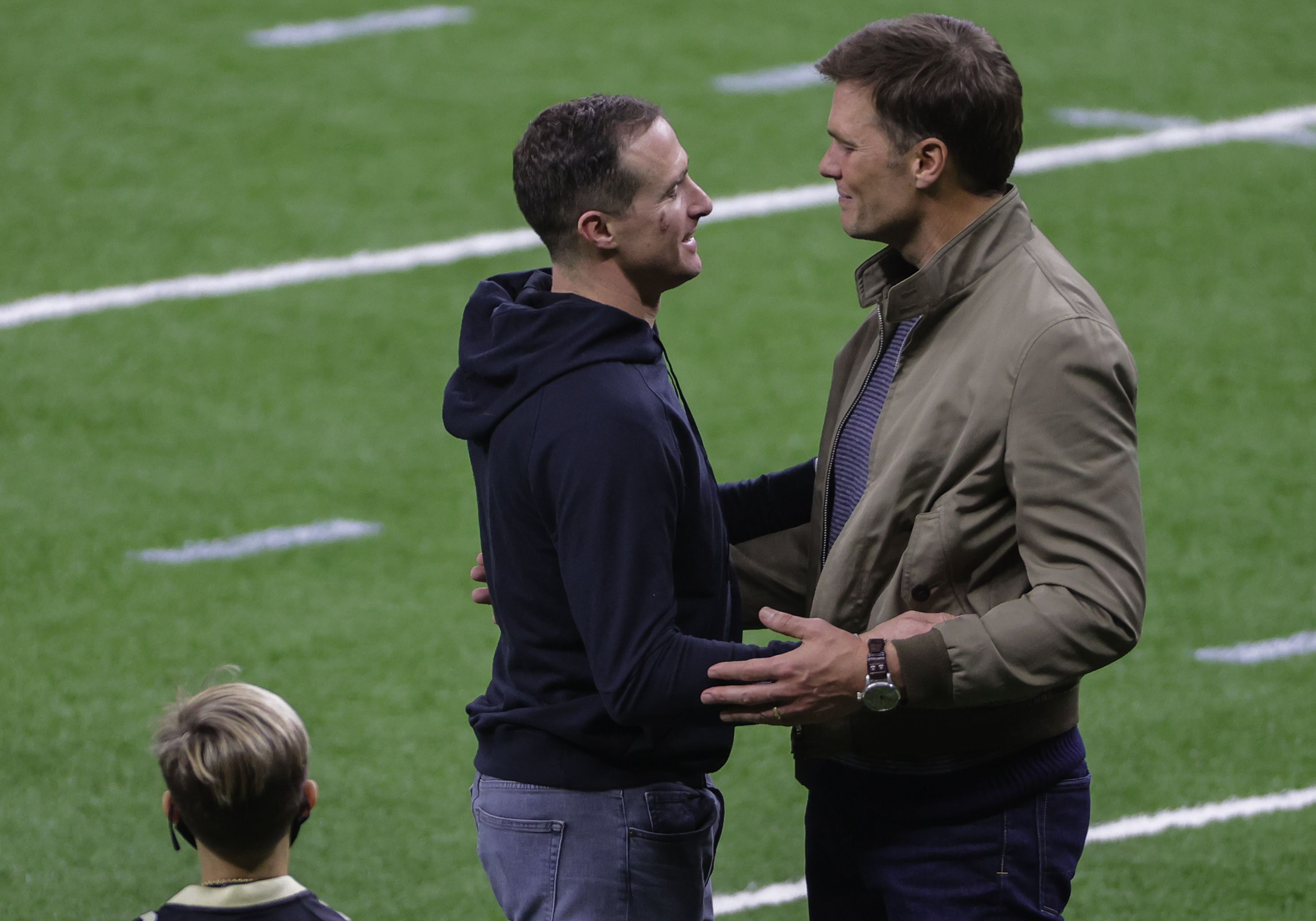 It's only January, but this has gotta be a picture of the year.
At 10:50 p.m., about two hours after Sunday's Brady vs. Brees showdown ended at the Superdome in New Orleans, the two quarterback legends walked back on the field with their families, NFL Network's James Palmer reports:
As Tom Brady and Drew Brees hug and say goodbye after a long talk on the field, Brady throws a touchdown pass to Brees' son. One walks off to play in the NFC championship, the other stays to play with his kids.
🎥 Watch Palmer's video, which has 13 million views.
📬 Thanks for starting your work week with us. Please invite your friends to sign up for Axios AM/PM.