https://www.axios.com/newsletters/axios-am-563f8b66-7182-4d6a-94df-9be194595b74.html?chunk=0#story0
1 big thing: Trump's long-term peril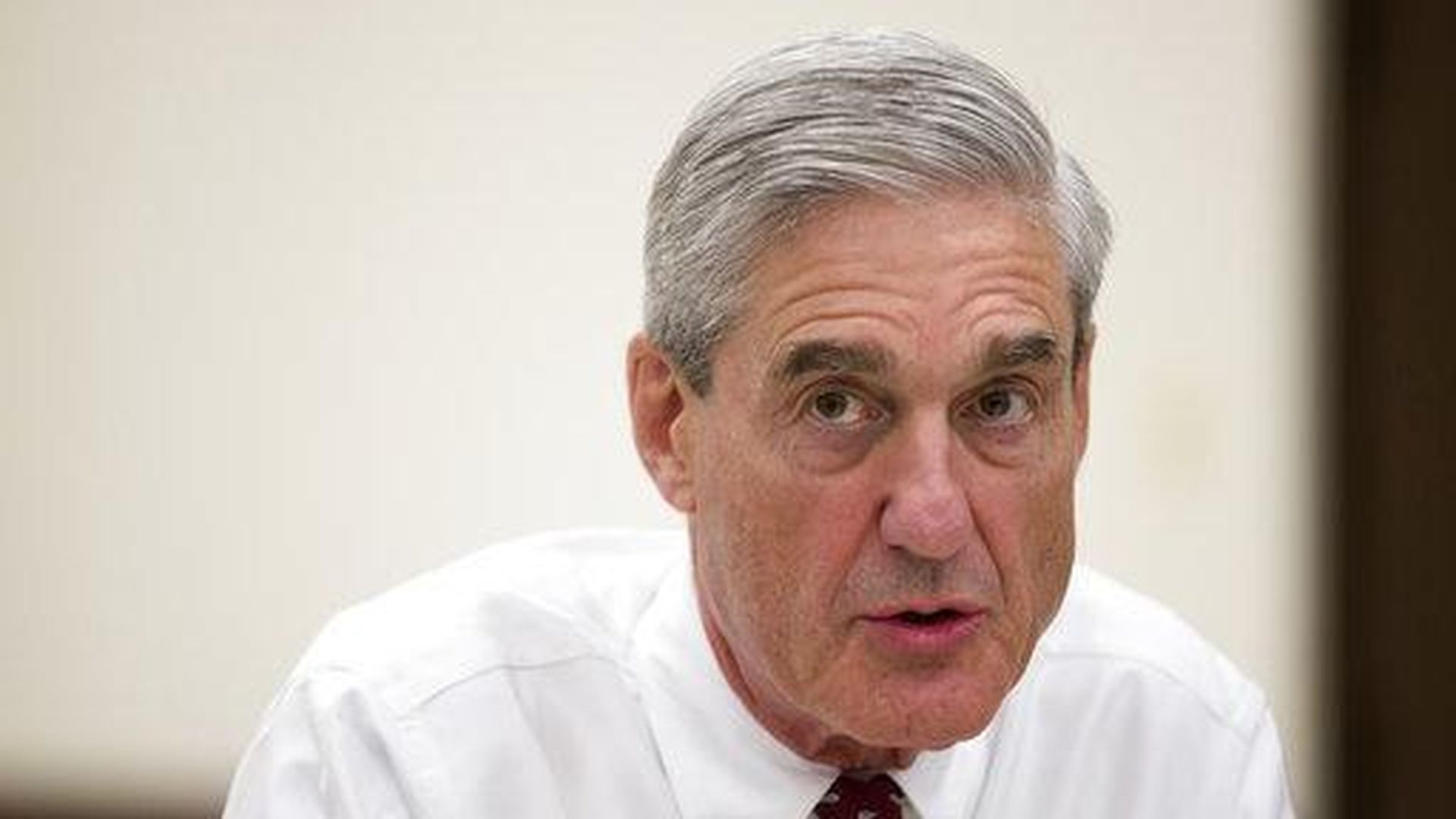 President Trump gets a Russia respite — at the price of long-term peril.
The surprise appointment of straight-arrow former FBI Director Robert Mueller as Special Counsel ("to oversee the previously-confirmed FBI investigation of Russian government efforts to influence the 2016 presidential election and related matters") lets the White House and Hill try to get traction on other topics.
But Yahoo's Michael Isikoff, steeped in federal law enforcement, told Greta Van Susteren on MSNBC that the selection was the "worst possible choice for the White House ... dangerous." Mueller is by-the-book, focused on making cases, viewed as impervious to outside influence.
Mueller also happens to be friends with the spurned Jim Comey, another reason that the choice — announced by Deputy Attorney General Rod Rosenstein, who apparently was irate that the Comey firing was initially pinned on him by the White House — is worrisome for the West Wing.
The capital chaos finally took its toll in markets, which had their worst day of 2017. The trend continued today in Europe and Asia, on growing nerves about the future of Trump's agenda. (Dow down 383, or 1.78% ... Worst NASDAQ day since Brexit vote 11 months ago ... Wall Street Journal front-pager: "Stocks, Dollar Sink on Washington Turmoil" ... N.Y. Times A1, "Capital Drama Rattles Wall St. And Stocks Dive.")
Chris Krueger of Cowen Washington Research Group emails us about what he's hearing from his Wall Street clients: "Very anxious ... No one knows what to make of anything ... Markets strive and thrive with certainty and nothing about this is certain ... The D.C. Dumpster fire rages."
What it means: The markets, and White House, are right to be skittish. Here's the big picture, from the forthcoming edition of The Economist (which loves to patronize the ex-colonies) under the headline, "Deep breath, America":
"The dismay Americans felt at their governing system's previous round of tribalism and dysfunction fuelled the rise of Mr Trump. There is no reason to suppose this cycle will lead to anything better."
UPDATE ... Breaking ... "Trump campaign had at least 18 undisclosed contacts with Russians," by Reuters: "Michael Flynn and other advisers to ... Trump's campaign were in contact with Russian officials and others with Kremlin ties in at least 18 calls and emails during the last seven months of the ... presidential race."
https://www.axios.com/newsletters/axios-am-563f8b66-7182-4d6a-94df-9be194595b74.html?chunk=1#story1
2. A new syndrome
I'm not a doctor. But I have noticed a growing number of longtime Washingtonians in a prolonged, deep Trump-induced funk. It's ... Trumpression. The daily challenge to "normal" — normal behavior, normal practices, normal responses — is grinding on people's psyches.
Its symptoms include not only anger or Twitter rage, but a genuine concern for the health of our democracy. This is not a Democratic or media condition.
I see it the eyes of people I have known for years, who now work in the White House. For readers who love Trump, you probably love the shock and change. But the accompanying Trumpression is like nothing I have seen in 30 years of doing this.
https://www.axios.com/newsletters/axios-am-563f8b66-7182-4d6a-94df-9be194595b74.html?chunk=2#story2
3. "Putin defends Trump"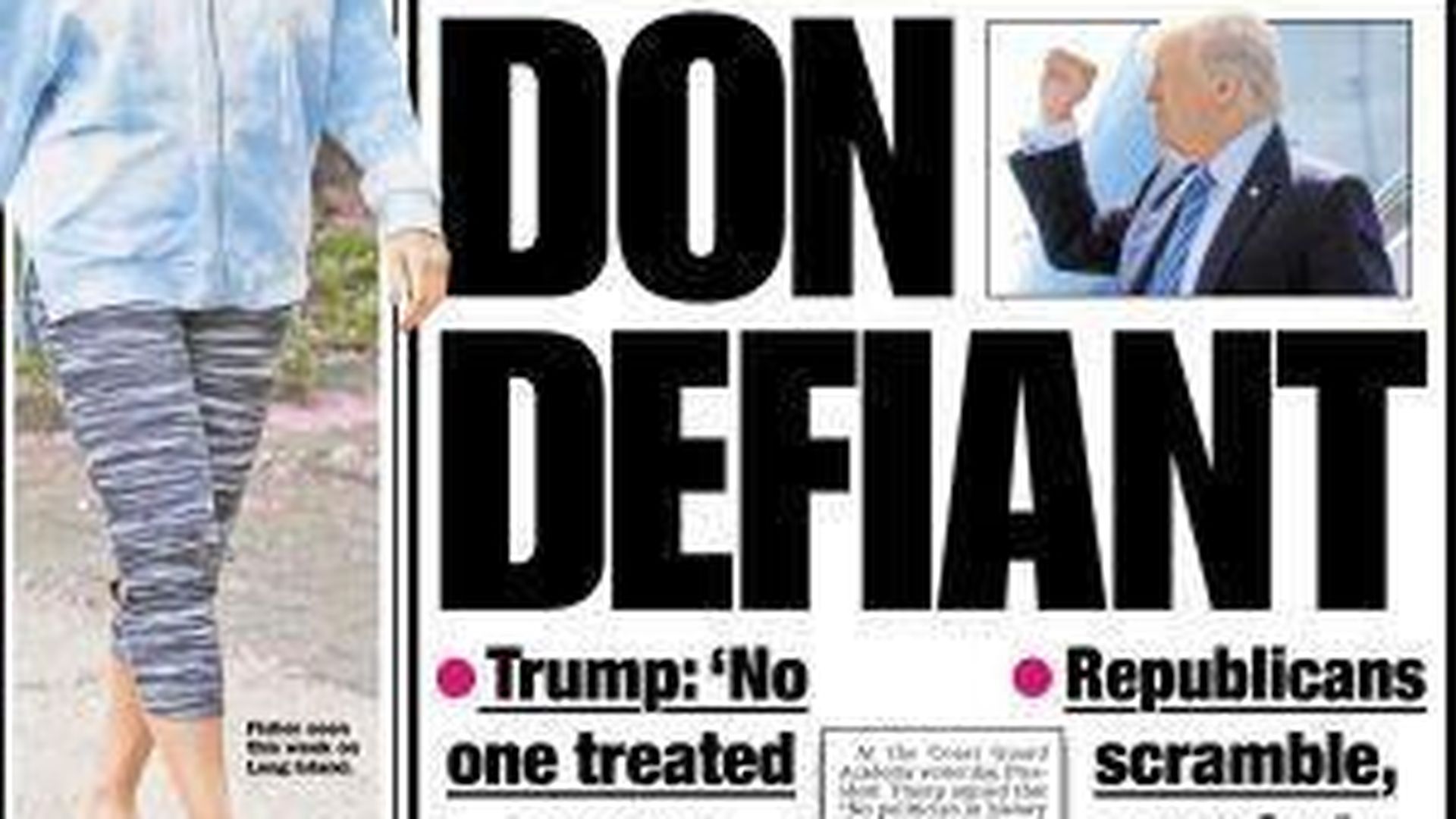 That's a headline on the cover of this morning's Times of London, and a worthy plot twist for today's episode of "The Trump Show." Reuters picks up the story:
"Vladimir Putin said ... Trump had not divulged any secrets during a meeting in Washington with Russian officials and offered to prove it by supplying Congress with a transcript." (Axios AM asks: Why not? The Russians supplied the pictures!)
Putin deployed his trademark sarcasm: "I'll be forced to issue him [Russian Foreign Minister Sergei Lavrov] with a reprimand because he did not share these secrets with us. Not with me, nor with representatives of Russia's intelligence services. It was very bad of him."
"A Kremlin aide ... later told reporters that Moscow had a written record of the conversation, not an audio recording."
P.S. What Trump divulged, according to a USA Today front-pager by Tom Vanden Brook: ISIS operatives "have determined how to implant and mask an explosive inside the battery of a laptop computer, increasing the likelihood that a bomb can be slipped past screeners onto an airplane."
"The battery with the explosive charge still functions enough to allow airport security officials to power up the laptop, a standard test to determine if the machine is safe."
https://www.axios.com/newsletters/axios-am-563f8b66-7182-4d6a-94df-9be194595b74.html?chunk=3#story3
4. Quick history lesson ...
... from John Yoo, a leading thinker on executive power who was a George W. Bush deputy assistant attorney general in the aftermath of 9/11, and is now a Berkeley law professor. In a N.Y. Times Op-Ed, "Forget Watergate. Think Iran-Contra," Yoo writes:
Trump's comments [in the Comey notes] come close to obstruction of justice but don't clearly cross the line. ... While he set out his favorable opinion of Mr. Flynn, he stopped short of ordering Mr. Comey to drop the investigation. Mr. Trump's words carried an implicit recognition that Mr. Comey would make the final call. ...
Unlike in the Watergate case, there is no evidence that the president ordered witnesses to lie, destroyed evidence or tried to block F.B.I. agents from doing their job. At least, no evidence yet. ... [P]ursuing the president for obstruction of justice is likely to fail ...
Trump should look to the example of ... Ronald Reagan. The Iran-contra scandal nearly destroyed Reagan's presidency and could have led to his impeachment. After the revelations [in 1986] that his national security staff had traded arms for hostages held by Iran and transferred funds to the Nicaraguan contras, Reagan cleaned house and agreed to reforms of government oversight of covert action. After that, his presidency not only survived but also thrived.
https://www.axios.com/newsletters/axios-am-563f8b66-7182-4d6a-94df-9be194595b74.html?chunk=4#story4
5. "Swear to God"
A crazy story that posted right after the Mueller announcement (adding to the feeling that, per a tweet quoted by CNN's Brian Stelter, this is "The Longest Week in the History of American Politics"):
A WashPost front-pager, "Ryan swore Republicans to secrecy," by Adam Entous, quotes House Majority Leader Kevin McCarthy as telling fellow GOP leaders in a recorded conversation on June 15, 2016: "There's two people I think Putin pays: [Rep. Dana] Rohrabacher [R-Calif.] and Trump. ... Swear to God."
Speaker Ryan interjected: "This is an off the record." The Post adds: "Some lawmakers laughed at that."
A Ryan spokesman called MCarthy's remark "clearly an attempt at humor," and McCarthy's spokesman called it "a failed attempt at humor."
Entous told Chris Matthews on "Hardball": "I listened to it very carefully. ... [H]e said it very seriously."
Why it matters: Whatever McCarthy's intent (and he's inclined to leaven a serious moment with humor), this shows how long Trump and Russia have been fodder for speculation, even by close allies like McCarthy.
https://www.axios.com/newsletters/axios-am-563f8b66-7182-4d6a-94df-9be194595b74.html?chunk=5#story5
6. Arrests of immigrants soar
"Federal immigration agents are arresting more than 400 immigrants a day, a sharp leap from last year," reports a WashPost front-pager by immigration reporter Maria Sacchetti:
"In Trump's first 100 days, ... Immigration and Customs Enforcement arrested 41,318 immigrants, up 37.6 percent over the same period last year."
"Almost 3 out of 4 of those arrested have criminal records, including gang members and fugitives wanted for murder. But the biggest increase by far is among immigrants with no criminal records."
"[D]eportations have fallen ... attributed to a severe backlog in federal immigration courts."
https://www.axios.com/newsletters/axios-am-563f8b66-7182-4d6a-94df-9be194595b74.html?chunk=6#story6
7. Russia targets influencers' social streams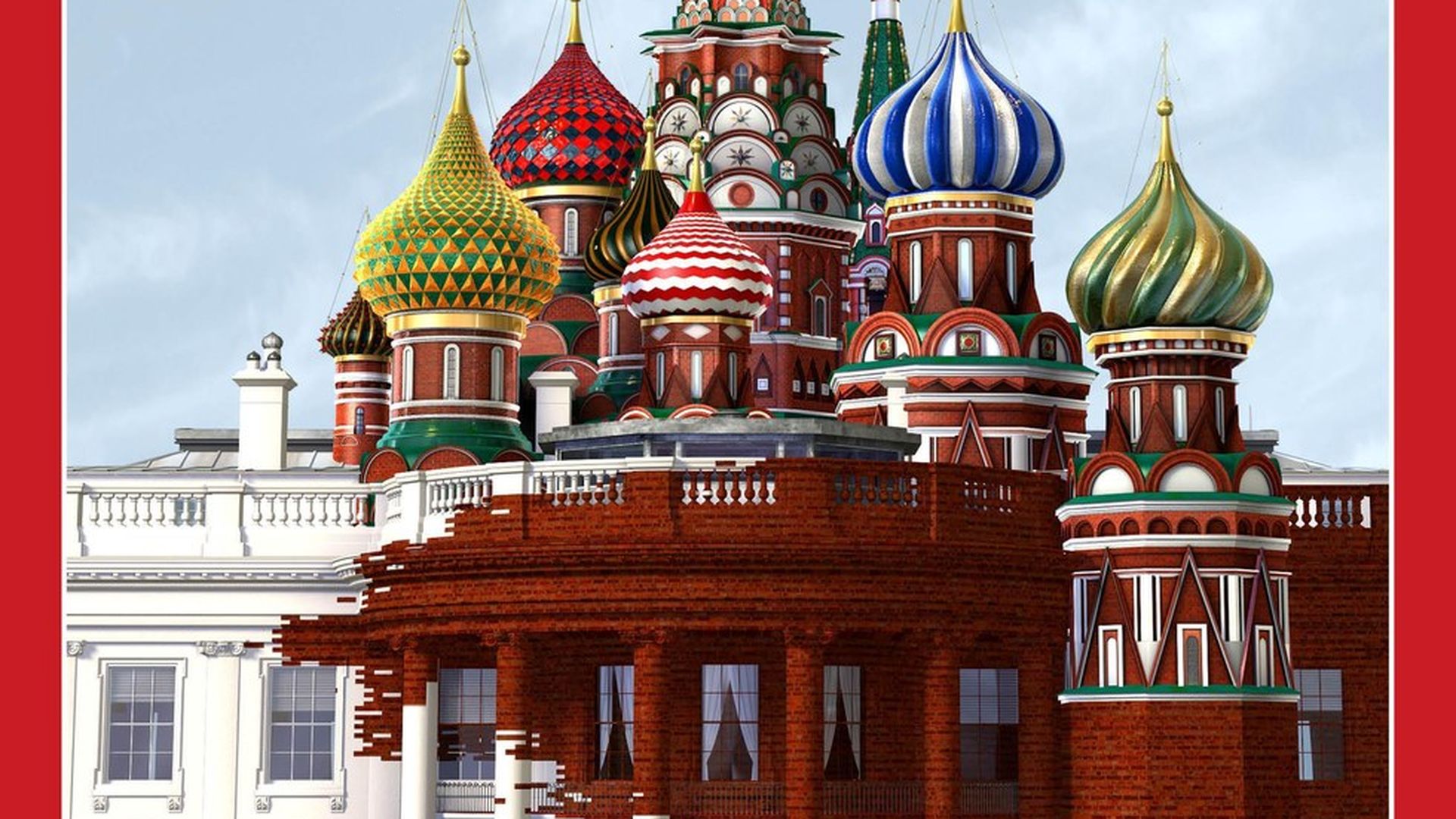 In the new issue of TIME, Massimo Calabresi on Russia's social media war on America:
"Russia created a fake Facebook account to spread stories on hot-button political issues like refugee resettlement to targeted reporters they believed were susceptible to influence."
"Moscow's agents bought ads on Facebook to target specific populations with propaganda."
Senior intelligence official on how Russian agents apply new social media operations on key members of Congress and aides: "The Russians started using it on the Hill with staffers to see who is more susceptible."
Senior intelligence official on how Russia used algorithmic techniques to target social-media accounts of particular reporters and "influencers" during the election: "It's not necessarily the journal or the newspaper or the TV show. It's the specific reporter that they find who might be a little bit slanted towards believing things, and they'll hit him" with a flood of fake news stories.
https://www.axios.com/newsletters/axios-am-563f8b66-7182-4d6a-94df-9be194595b74.html?chunk=7#story7
https://www.axios.com/newsletters/axios-am-563f8b66-7182-4d6a-94df-9be194595b74.html?chunk=8#story8
9. Inside Apple's new mothership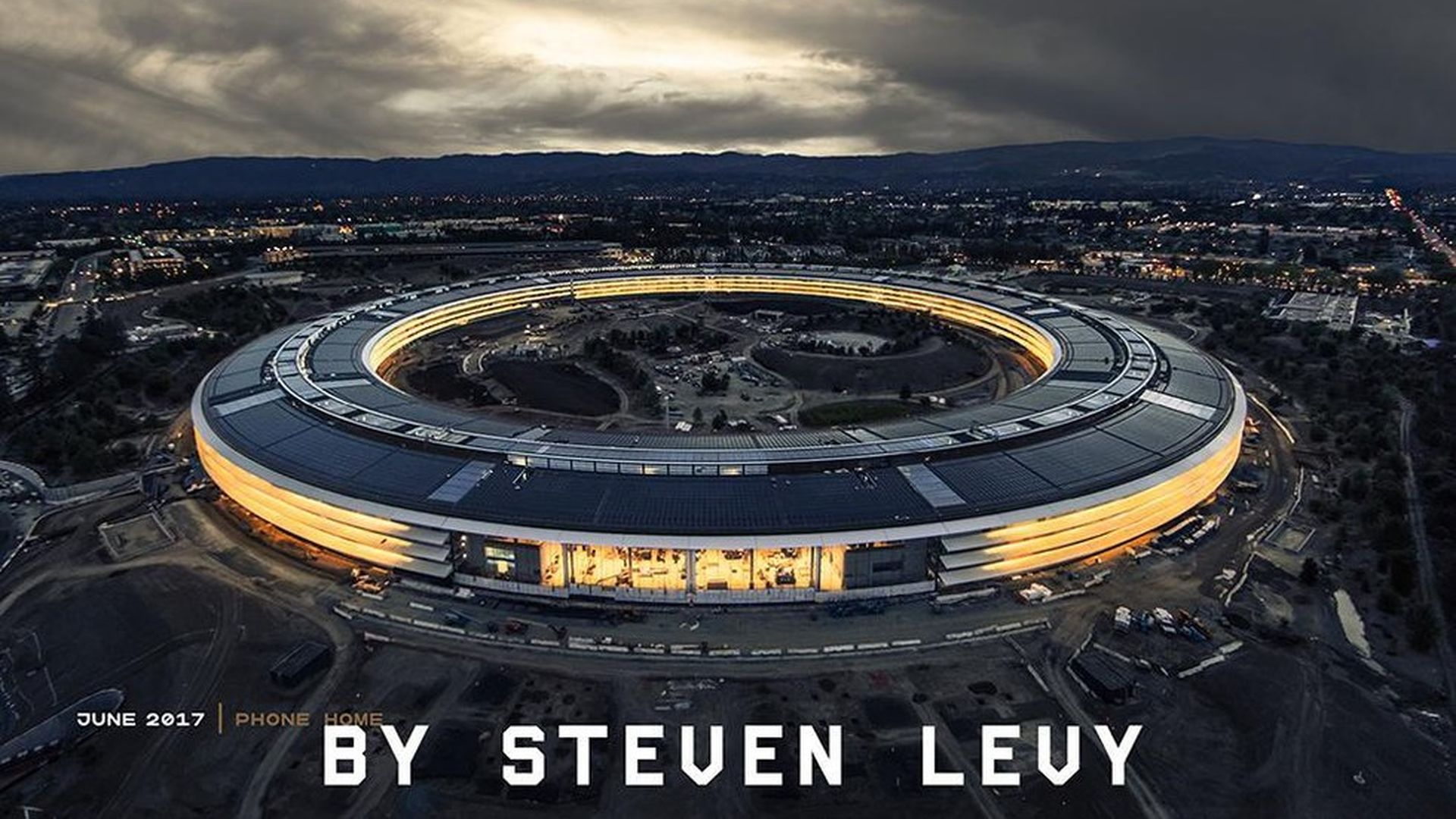 "Apple's New Campus: An Exclusive Look Inside the Mothership" in Mountain View, Calif., by Wired's Steven Levy:
From planes descending to SFO, and even from drones that buzz the building from a hundred feet above it, the Ring looks like an ominous icon, an expression of corporate power, and a what-the-[heck] oddity among the malls, highways, and more mundane office parks of suburban Silicon Valley.
As with any Apple product, its shape would be determined by its function. This would be a workplace where people were open to each other and open to nature, and the key to that would be modular sections, known as pods, for work or collaboration.
[Steve] Jobs' idea was to repeat those pods over and over: pod for office work, pod for teamwork, pod for socializing, like a piano roll playing a Philip Glass composition. They would be distributed democratically. Not even the CEO would get a suite or a similar incongruity.
And while the company has long been notorious for internal secrecy, compartmentalizing its projects on a need-to-know basis, Jobs seemed to be proposing a more porous structure where ideas would be more freely shared across common spaces. Not totally open, of course — [Jonathan] Ive's design studio, for instance, would be shrouded by translucent glass — but more open than Infinite Loop.
https://www.axios.com/newsletters/axios-am-563f8b66-7182-4d6a-94df-9be194595b74.html?chunk=9#story9
10. 1 fun thing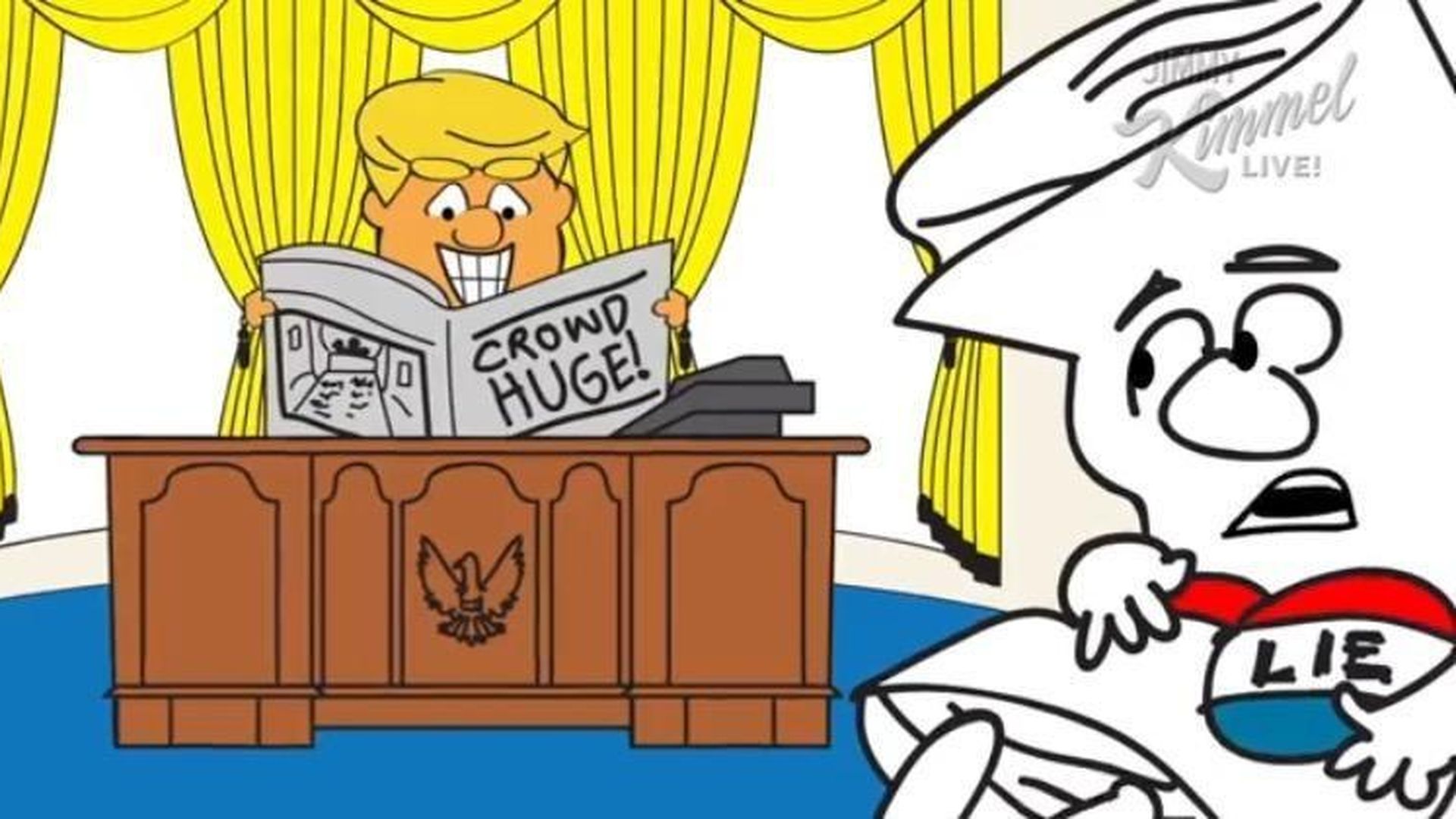 YouTube: How a lie becomes a fact ... Jimmy Kimmel's update of the Schoolhouse Rock classic, "How a Bill Becomes a Law."
Bonus fun thing ... "Jimmy Fallon Was on Top of the World. Then Came Trump," by N.Y. Times' Dave Itzkoff:
He is weathering the most tumultuous period in his tenure there — a predicament for which he has himself to thank, and one that raises the question of whether the multitalented but apolitical Mr. Fallon can ride out the current era of politicized, choose-your-side entertainment, when he just wants to have a good time."