Good Monday morning. You're invited ... to a blockbuster Axios News Shapers conversation at noon Wednesday in downtown D.C.: I'll host back-to-back conversations with Vice President Pence, just back from the Olympics, and Sen. Amy Klobuchar (D-Minn.), who has a new six-point plan for protecting U.S. elections. RSVP.
Because of security, doors open at 10 a.m. I'll be there to visit with you.
Outside cameras and correspondents welcome. Hope to see you there.
If you're in the Bay Area ... Please join us for cocktails and conversation tomorrow (Tuesday) at 5 p.m. at The Pearl in San Francisco, with Axios media editor Sara Fischer and Richard Edelman, president and CEO of Edelman. RSVP.
https://www.axios.com/newsletters/axios-am-556cf1c9-aa9d-4d22-a93f-dacbf3949572.html?chunk=0#story0
1 big thing: Trump's real plan for '18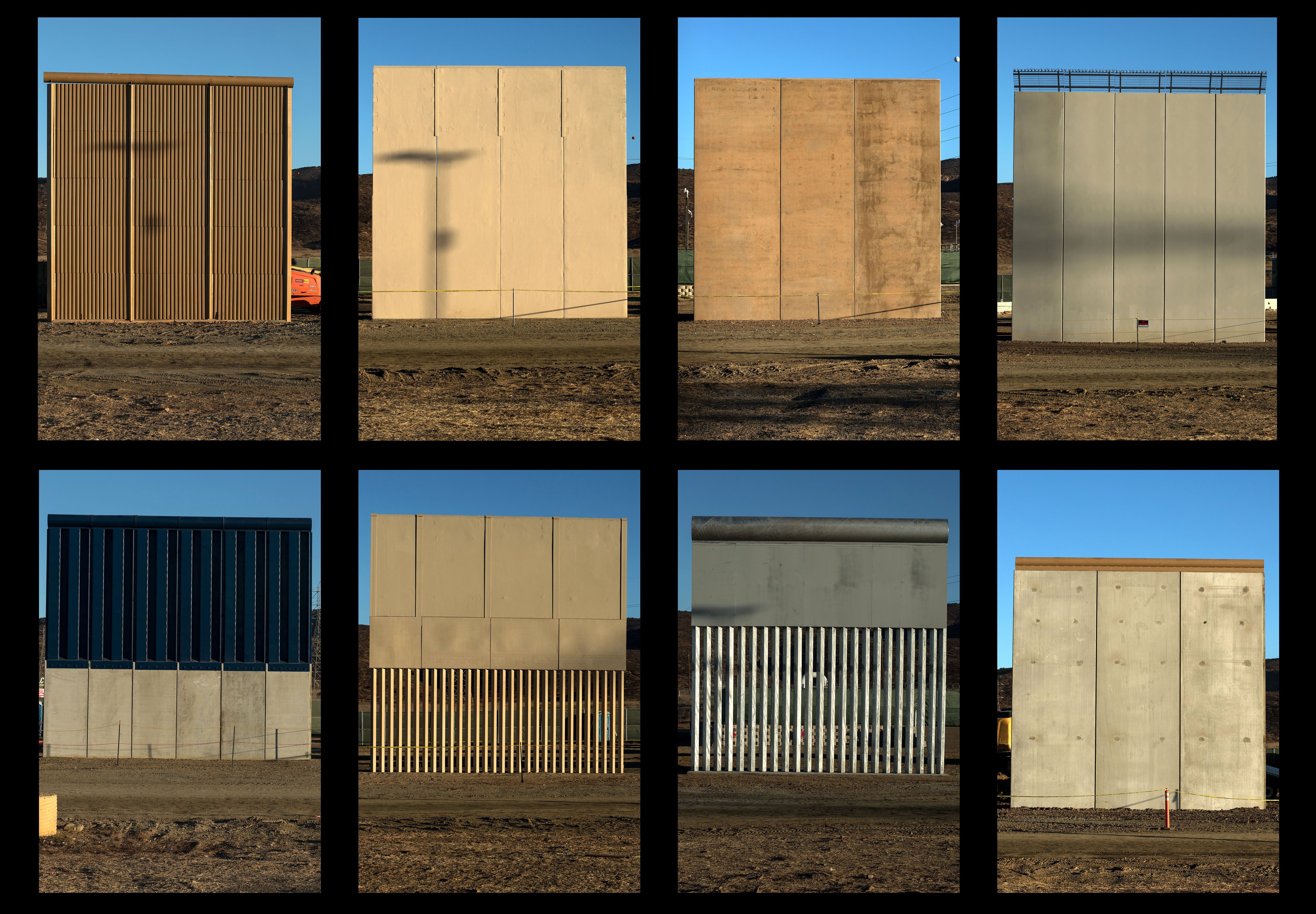 This combination of pictures shows eight prototypes of President Trump's U.S.-Mexico border wall that have been built near San Diego, across the border from Tijuana, Mexico. (Guillermo Arias / AFP / Getty Images)
President Trump today will unveil a $1.5 trillion infrastructure plan that his own aides don't think will pass, and a $4 trillion budget that Axios' Jonathan Swan calls "science fiction."
It's the strangest of year-ahead plans for a party that controls the White House and both chambers of Congress: Top Republicans see Job 1 for this year as promoting the tax cut they passed last year.
With the House in danger in November's midterms, a Republican close to the White House tells me this is a year for pumping Trump's base on taxes, economic growth and the wall (or the fight for the wall), "while the Dems help with focus on immigrants. For Rs, this is a year to avoid losing."
So ignore the documents and blather today. Here's Trump's real plan for '18:
A source close to the White House tells me that with an eye to getting Republicans excited about voting for Republicans in midterms, the president this year will be looking for "unexpected cultural flashpoints" — like the NFL and kneeling — that he can latch onto in person and on Twitter.
The source said Trump "is going to be looking for opportunities to stir up the base, more than focusing on any particular legislation or issue."
One of D.C.'s savviest Democrats had come to the same conclusion, without my even mentioning it.
Matt Bennett, c0-founder of the centrist Democratic group Third Way, said: "His administration is cranking away on these Potemkin legislative efforts."
"But what he's really interested in is storylines revolving around him — driving the conversation with whatever crosses his mind at that moment, and then comes out of his mouth or his fingers."
Be smart ... All that is more evidence for our continuing reminder to you that Trump will be more Trump this year:
With the departure of centrist aides and the gravitational pull of midterms in November and his reelection race in 2020, Trump's nationalist campaign instincts are likely to get even more sway than they did last year.
P.S. The White House begins this week with unfinished business — continuing fallout from the messy resignation of Staff Secretary Rob Porter:
N.Y. Times: "Even when reporters called the White House press office roughly three weeks ago asking about Mr. Porter's divorces and whether they had affected his security clearance, that did not stir concern."
NYT: Without longtime deputy Kirstjen Nielsen, now Secretary of Homeland Security, Chief of Staff John Kelly "sometimes does not remember what he has said to different people, two officials said."
L.A. Times: "Over and over again the past few days, various White House aides have buttonholed reporters to tell them ... that they think Kelly either lied to them or tried to get them to lie about what he knew when."
https://www.axios.com/newsletters/axios-am-556cf1c9-aa9d-4d22-a93f-dacbf3949572.html?chunk=1#story1
2. For markets, "a much bigger shakeout coming"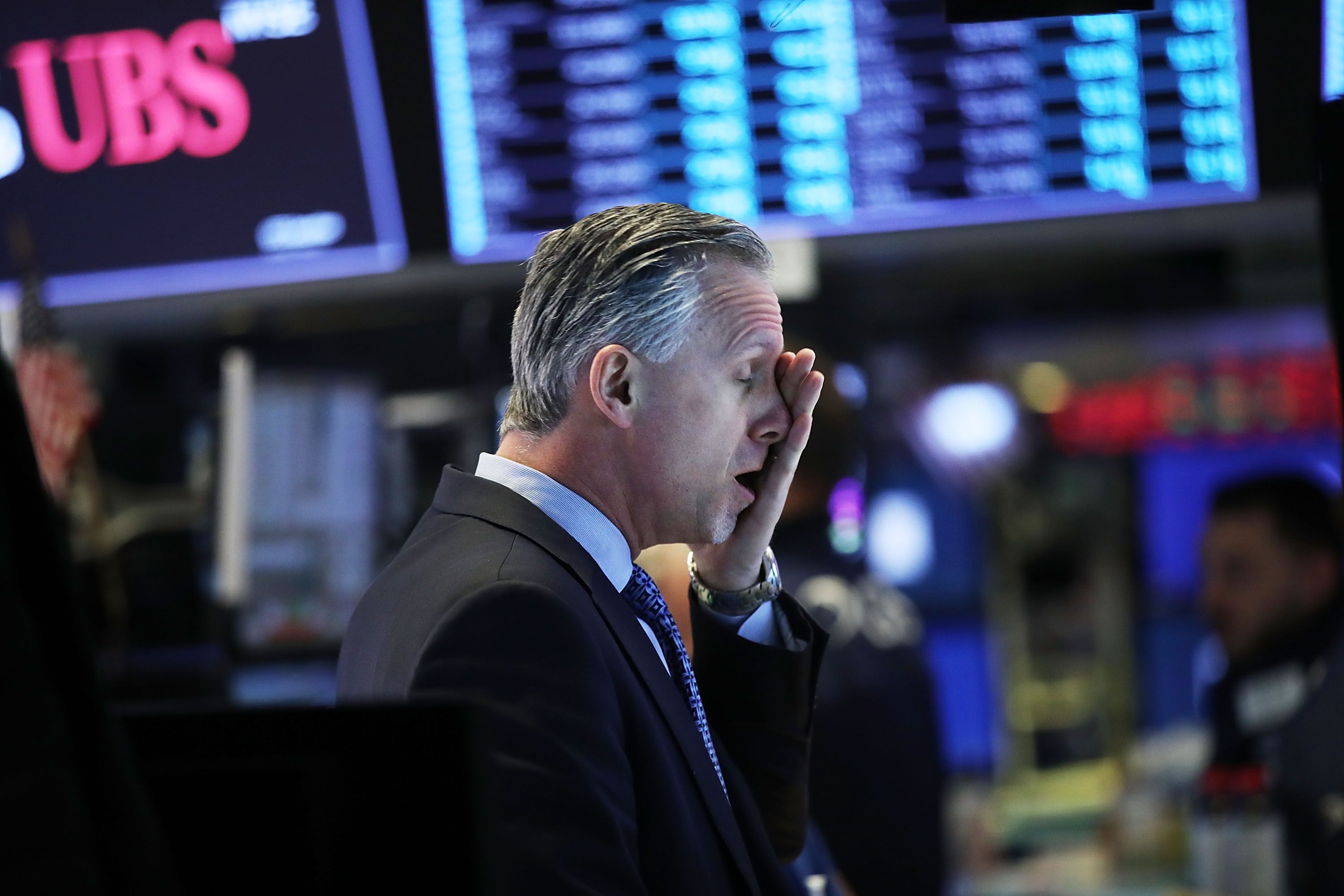 Traders work on the floor of the New York Stock Exchange last week. (Spencer Platt / Getty Images)
"The world's biggest hedge fund ... warned that global markets are entering a new era of volatility as the world adjusts to higher interest rates after a decade of ultra-loose monetary policy," the Financial Times reports on the front page:
Bob Prince, co-chief investment officer at Bridgewater, said last week's turbulence is set to continue: "There had been a lot of complacency built up in markets over a long time, so we don't think this shakeout will be over in a matter of days. ... We'll probably have a much bigger shakeout coming."
Why it matters: After Wall Street's worst week in six years, the FT pointed over the weekend to "The end of an era of tranquility" and the beginning of "The age of instability."
P.S. "New Tax Law Haunts Companies That Did 'Inversion' Deals,'" per Wall Street Journal front-pager:
"Companies that engineered ... inversion deals ... have been able to reduce their tax rates and take certain deductions by shifting their tax homes to other nations. ... [P]rovisions in the new tax code restrict some of those deductions."
https://www.axios.com/newsletters/axios-am-556cf1c9-aa9d-4d22-a93f-dacbf3949572.html?chunk=2#story2
3. Space race goes private
The most interesting revelation in today's White House budget, via WashPost:
"The Trump administration wants to turn the International Space Station into a kind of orbiting real estate venture run not by the government, but by private industry."
Axios' Erica Pandey points out: "Corporations have accessed and used space alongside governments since the 1960s — but now companies are on the front lines of innovation."
https://www.axios.com/newsletters/axios-am-556cf1c9-aa9d-4d22-a93f-dacbf3949572.html?chunk=3#story3
4. Tweet du jour
https://www.axios.com/newsletters/axios-am-556cf1c9-aa9d-4d22-a93f-dacbf3949572.html?chunk=4#story4
5. Weinstein's "wing women"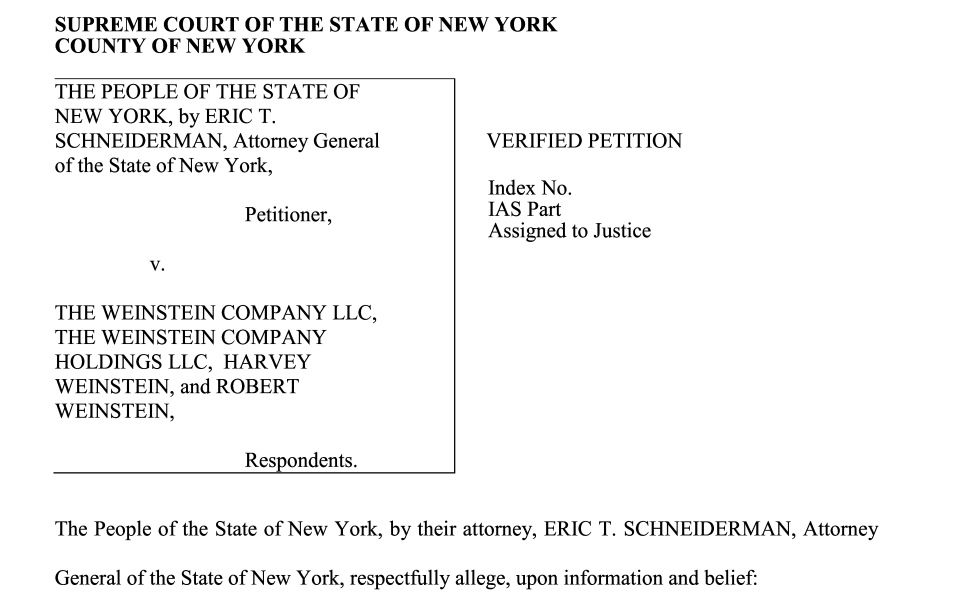 New York State Attorney General
"The New York Attorney General's office ... filed a blistering civil rights lawsuit against the Weinstein Co. and its founders, detailing a company culture that routinely violated the state's human rights laws and business regulations," per Variety.
From the suit: The Weinstein Co. "employed one group of female employees whose primary job it was to accompany [Harvey Weinstein] to events and to facilitate [his] sexual conquests."
"[T]heir primary responsibility included taking [Weinstein] to parties at which he could meet young women ... These women were described by some witnesses as ... his 'wing women.'"
"One of the members of this entourage was flown from London to New York to teach [his] assistants how to dress and smell more attractive."
https://www.axios.com/newsletters/axios-am-556cf1c9-aa9d-4d22-a93f-dacbf3949572.html?chunk=5#story5
6. Left's civil war over climate change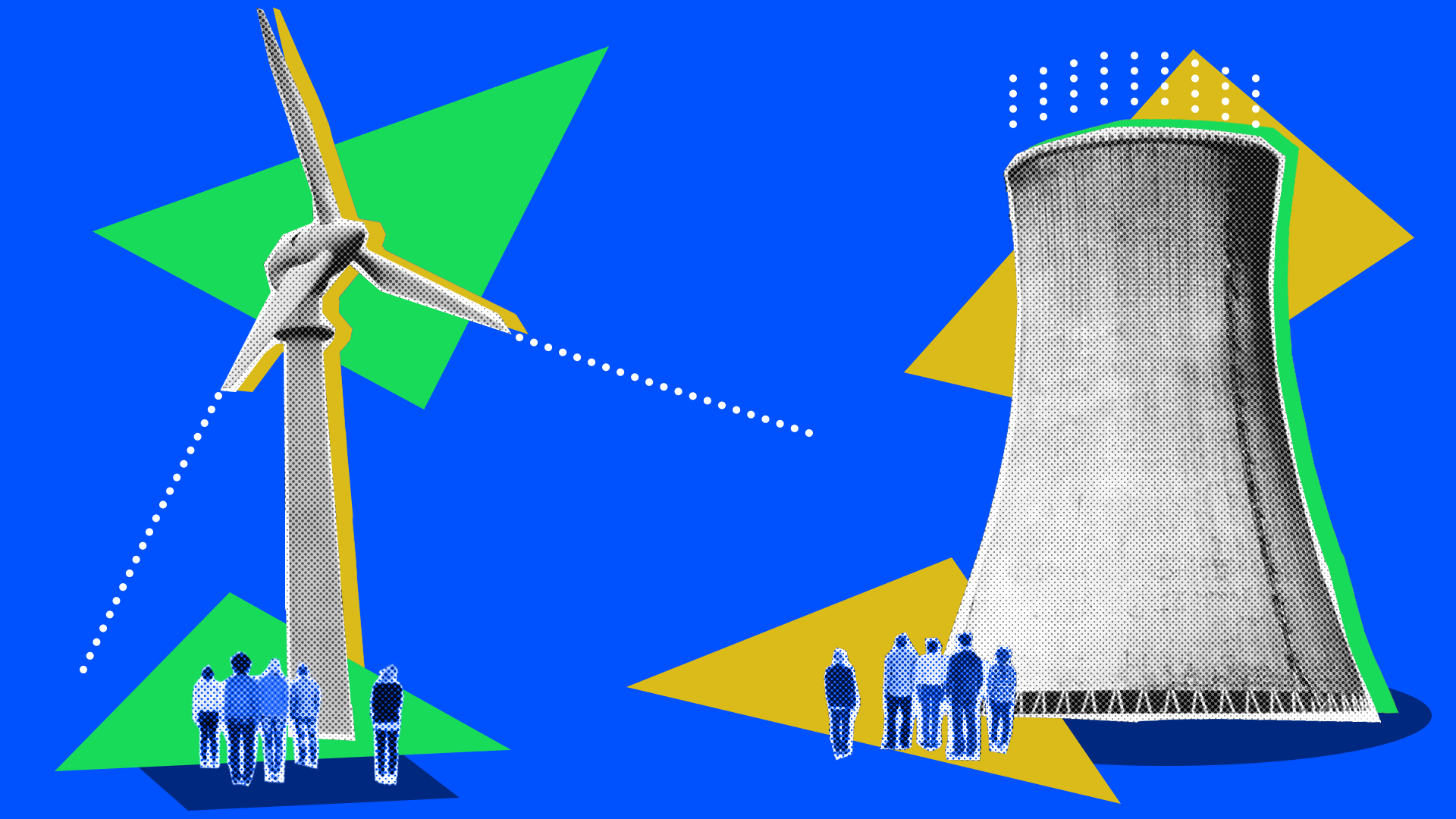 Illustration: Rebecca Zisser / Axios
The Democratic Party, environmental groups and clean-energy leaders pushing action on climate change are at odds over how best to address it, Axios' Amy Harder writes in her weekly "Harder Line" energy column:
Why it matters: Conflict is erupting over the best technologies and messaging, and experts worry the fighting could stifle progress toward the big thing they agree on: the need to address climate change.
The main flashpoint: how large a role renewable energy should play in America's future energy mix.
https://www.axios.com/newsletters/axios-am-556cf1c9-aa9d-4d22-a93f-dacbf3949572.html?chunk=6#story6
7. If gun permits are more like driver's licenses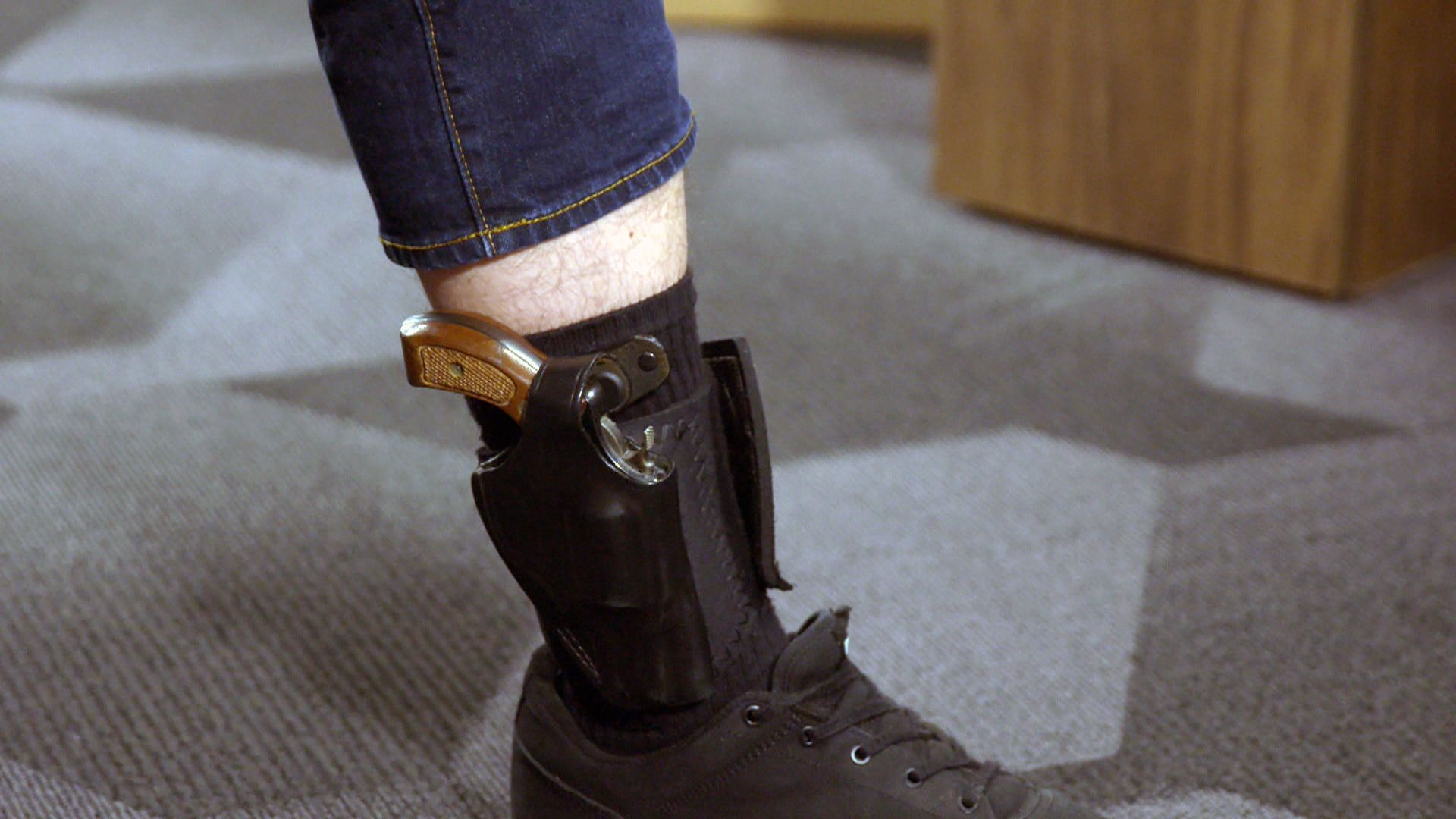 Ankle holster shown on "60 Minutes" / CBS News
"Of all the political and cultural issues that divide red states from blue ones, none is more volatile than guns and who can carry them," CBS' Steve Kroft said last night on "60 Minutes":
"[A] piece of legislation quietly churning its way through Congress [the Concealed Carry Reciprocity Act] may [make] gun permits more like driver's licenses, transportable across state lines."
"If you are allowed to carry a concealed weapon in your home state, you would be allowed to carry it in all of them."
Why it matters: "Every year, New York takes in nearly 50 million visitors from all over the country into a congested, sometimes chaotic city. Even if a tiny fraction were legally carrying concealed weapons, it would mean hundreds of thousands of additional guns for what is right now the safest big city in America."
P.S. "Sen. Kirsten Gillibrand on '60 Minutes': 6 key quotes."
https://www.axios.com/newsletters/axios-am-556cf1c9-aa9d-4d22-a93f-dacbf3949572.html?chunk=7#story7
8. Harvard's 29th president in 382 years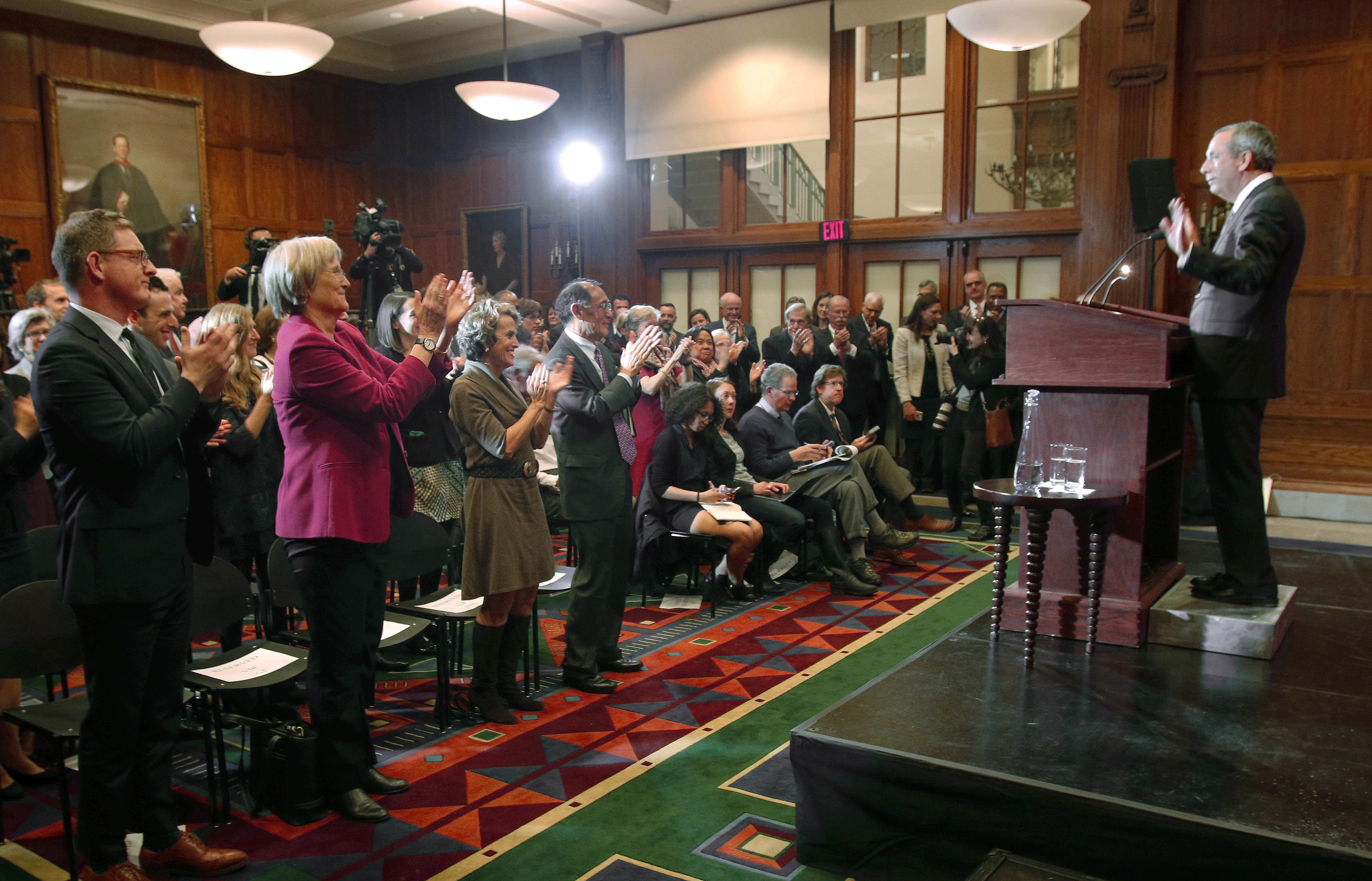 Lawrence Bacow receives applause from Harvard University president Drew Faust (second from left) and others in Cambridge yesterday. (AP's Bill Sikes)
"The next president of Harvard University is the son of an Eastern European refugee and an Auschwitz survivor," the Boston Globe writes in its lead story:
"Lawrence S. Bacow, whose father worked full time while attending a state college in Detroit at night to earn his degree, will take the helm of the country's most prominent private university on July 1."
Why it matters: "Bacow, the former president of Tufts University [and an advocate for broader access to higher education], takes over at Harvard at a time when higher education is under attack for being out of touch and out of reach to many Americans."
Our thought bubble: Axios' David McCabe points out in Slack that the nation's oldest university has now had more presidents named Larry (three) than it has presidents who are women (one).
https://www.axios.com/newsletters/axios-am-556cf1c9-aa9d-4d22-a93f-dacbf3949572.html?chunk=8#story8
9. Fifty Shades of Gray Lady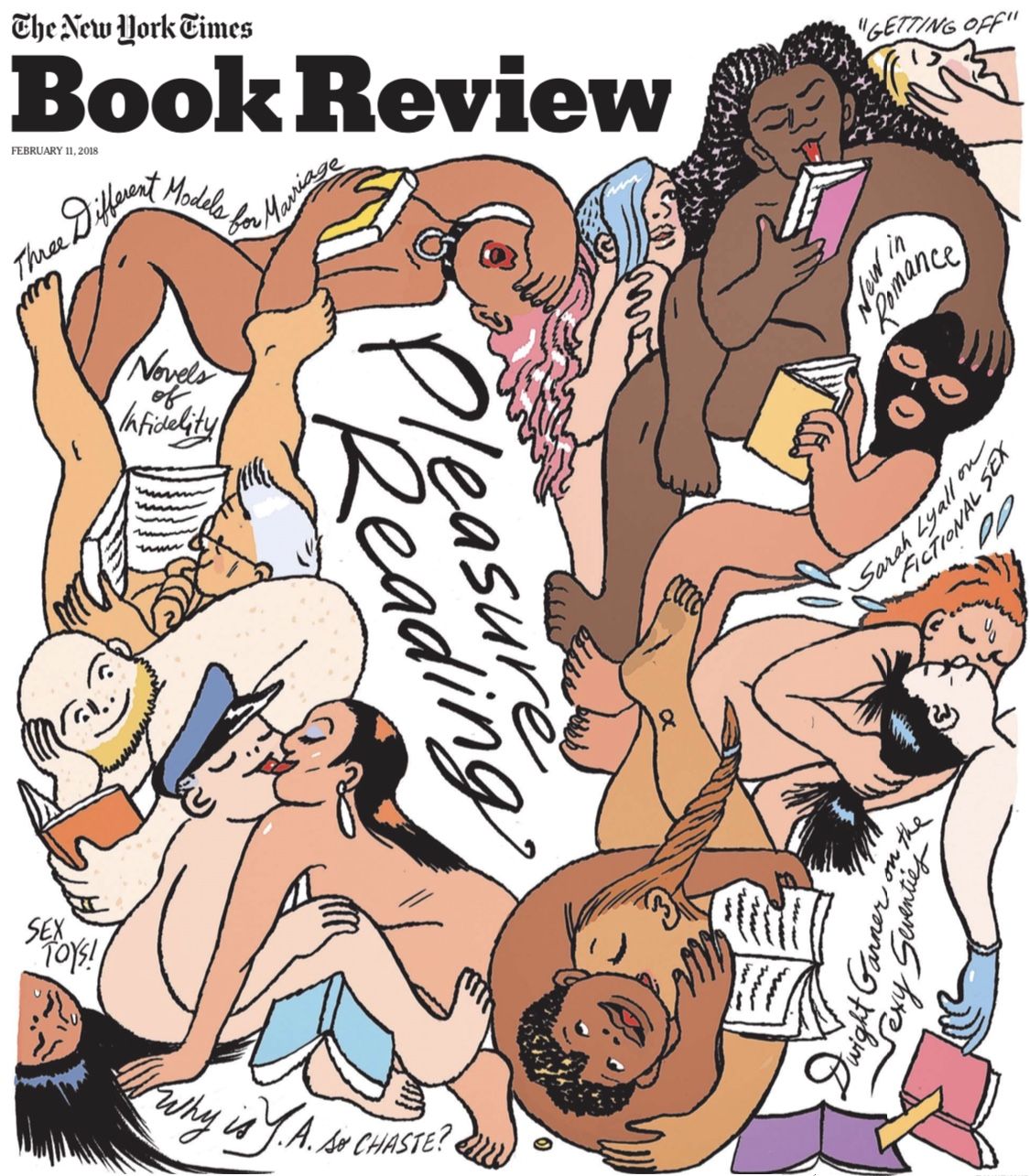 Courtesy The New York Times
To get a jump on Valentine's Day (two days from now!), the N.Y. Times Book Review yesterday published a tastefully titled "Pleasure Reading" edition — "an entire issue devoted to books about orgasms, porn, kissing, vibrators, bedroom fantasies, extramarital affairs and even teenage hookups."
Lauren Christensen, who as the staff's lone 20-something was chosen by Book Review Editor Pamela Paul to oversee the issue, wrote for Times Insider:
"I started by pooling my resources, aggregating 50 covers of the most erotic books throughout literary history for the week's visual back page, 'Under the Covers.'"
"The day that email went out revealed my impossibly erudite colleagues in a new light, instantly transformed as they were into giddy schoolchildren trading naughty jokes."
"One by one the previewers revealed the steamy, guilty pleasures of their literary pasts."
Perhaps as a coincidence, I was introduced at a speech in Fort Worth this weekend as the founder of Playboy. The after-lunch audience woke right up.
https://www.axios.com/newsletters/axios-am-556cf1c9-aa9d-4d22-a93f-dacbf3949572.html?chunk=9#story9
10. 1 snow thing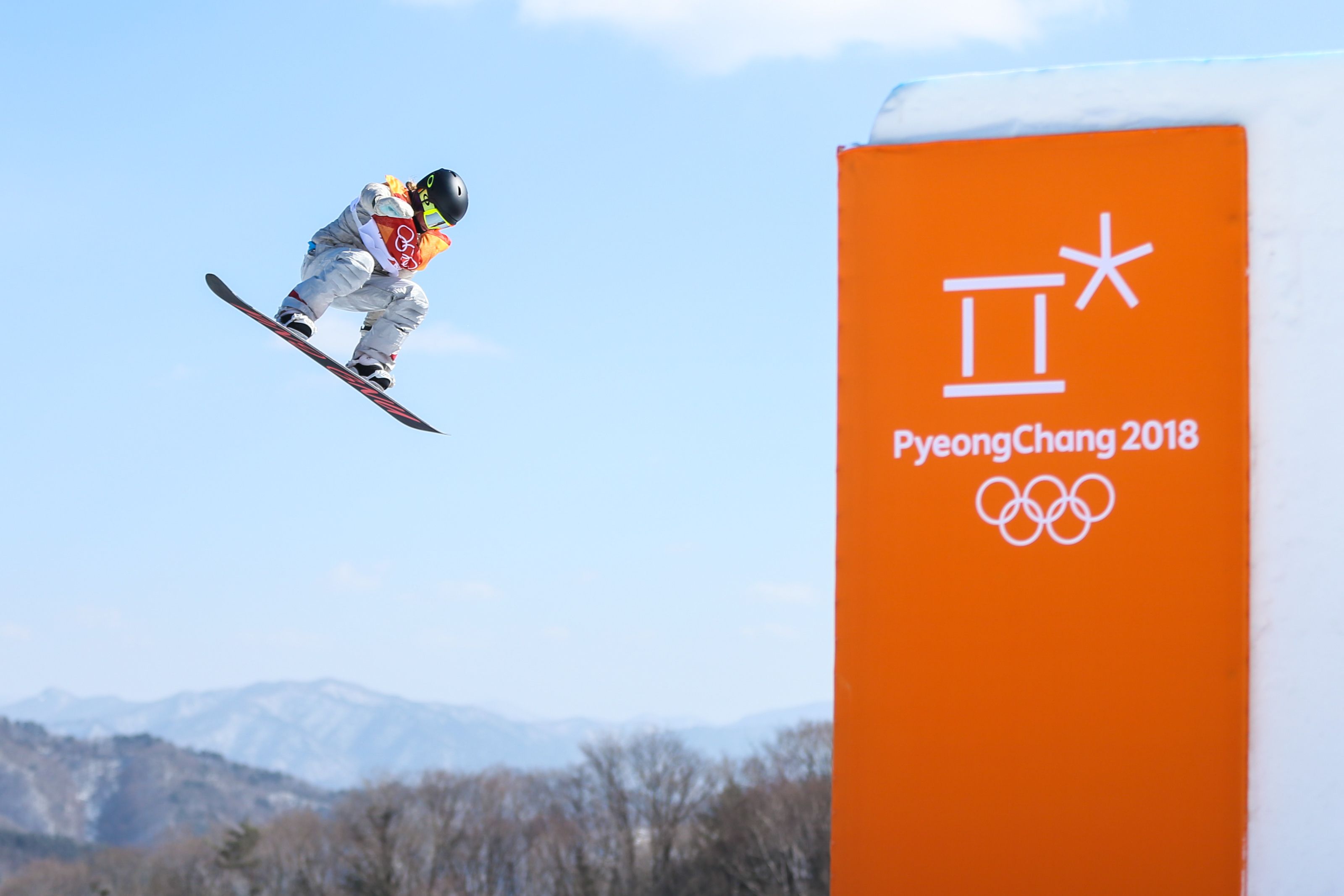 USA snowboarder Jamie Anderson repeats as Olympic champion, taking gold in women's slopestyle finals. (Laurent Salino / Agence Zoom / Getty Images)
USA's Jamie Anderson, 27, snowboarding's biggest gamer and its No. 1 big-day rider, "will almost certainly spend more time gazing at her newest Olympic gold medal than watching replays of the slopestyle run she put down to win it," AP's Eddie Pells writes from Pyeongchang:
"Shifting, bitter winds whipped tiny ice pellets across the iced-over jumps at the Phoenix Snow Park."
"Hundreds of numbed fans streamed toward the exits while the action was ongoing, and the stands were half empty as the afternoon wore on, with wind chills dipping to 5 degrees ... and below."
"Twenty-five riders each took two trips down a course that, by many of their accounts, should not have been open for action."
"Of the 50 runs, 41 ended with a rider on her backside, or in a face plant."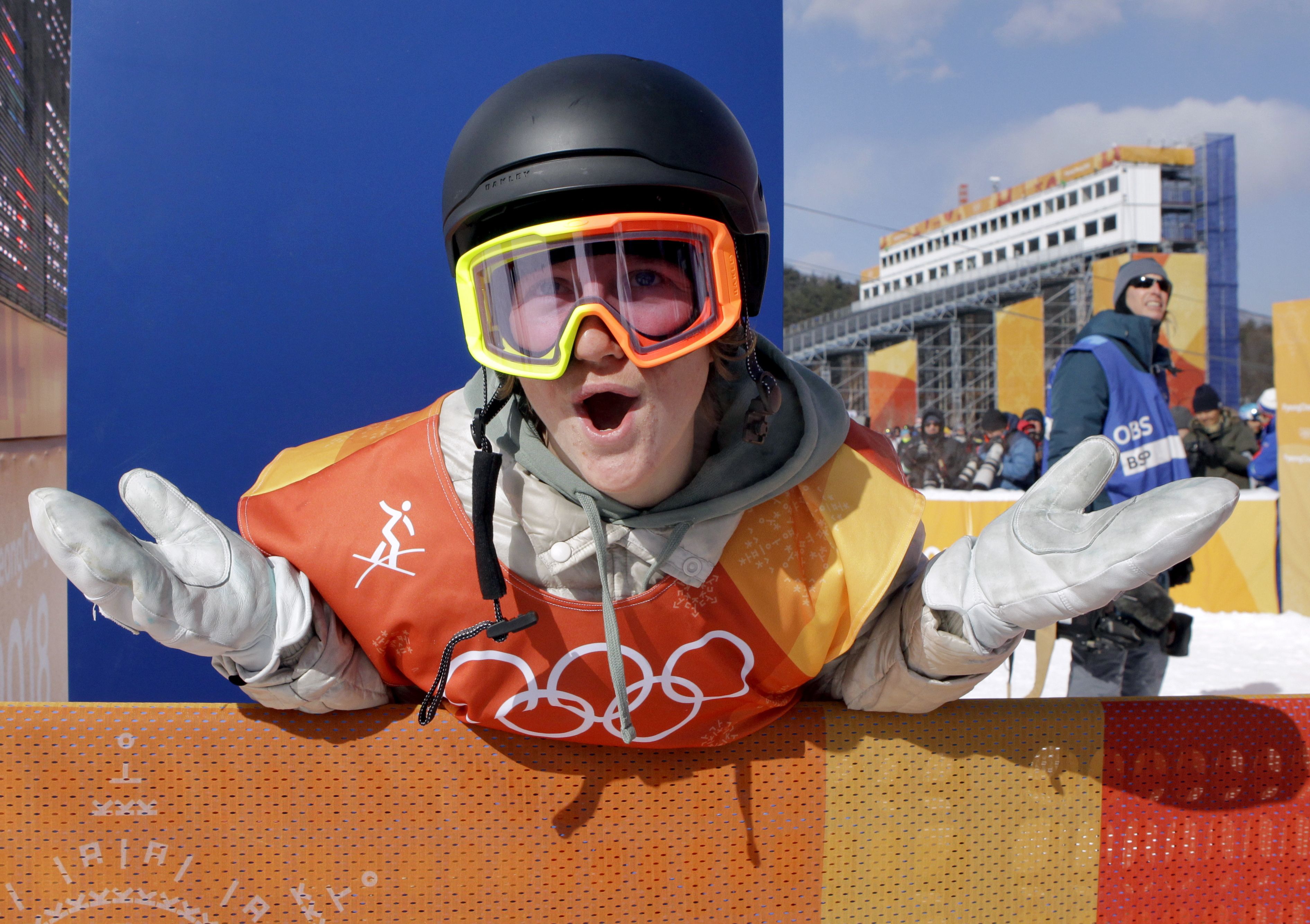 Red Gerard, 17, from Colorado, wins USA's first medal (gold), in snowboarding's men's slopestyle final. (AP's Lee Jin-man)