Good Wednesday morning. Situational awareness: Rep. Frederica Wilson (D-Fla.) tells CNN that President Trump told the young widow of a U.S. serviceman killed in Niger, "basically," that "he knew what he signed up for, but I guess it still hurt." The body of Sgt. La David Johnson was returned to the Miami area yesterday. The Miami Herald says the congresswoman "heard the call [to his widow] on speakerphone in the car."
https://www.axios.com/newsletters/axios-am-54604e44-6931-41bb-bf6b-4b4aa6e50a3c.html?chunk=0#story0
1 big thing: Trump's alternative reality, Part Deux
I wrote yesterday about President Trump's war with the truth, after a stunning string of false statements during double-header press avails. But his war with his own Cabinet, over his own ideas, is equally stunning.
It's a feature, not a bug, of this White House for Trump to say one thing about policy, and for his Cabinet or hand-picked officials to say or do the exact opposite:
Yesterday, FCC Commissioner Ajit Pai subtly shot down Trump's threat to revoke NBC broadcast licenses: "I believe in the First Amendment."
SecState Rex Tillerson says North Korean diplomacy "will continue until the first bomb drops"; Trump tweets that he's "wasting his time."
SecDef Jim Mattis tells Congress that holding onto the Iran nuclear pact is in the interest of the national security of the United States; 10 days later, Trump threatens cancellation.
Trump blames "both sides" for racial violence in Charlottesville; Tillerson says the president "speaks for himself," and economic adviser Gary Cohn says the administration "must do better."
Trump threatens extreme action on immigrants, Muslims, "Dreamers," trade, NATO and more, but aides and advisers wind up softening or delaying most — with the notable exception of the Paris climate deal.
Why this matters: This dynamic — like the spreading of fake news or false statements — makes it hard for the media, Republicans and his Cabinet to determine when to take the leader of the free world seriously.
Sound smart: This is not a plot of evil genius to keep friends and foes guessing. It's the inevitable output of an improvisational president who often says whatever pops into his head.
https://www.axios.com/newsletters/axios-am-54604e44-6931-41bb-bf6b-4b4aa6e50a3c.html?chunk=1#story1
2. Alexander joins Axios onstage today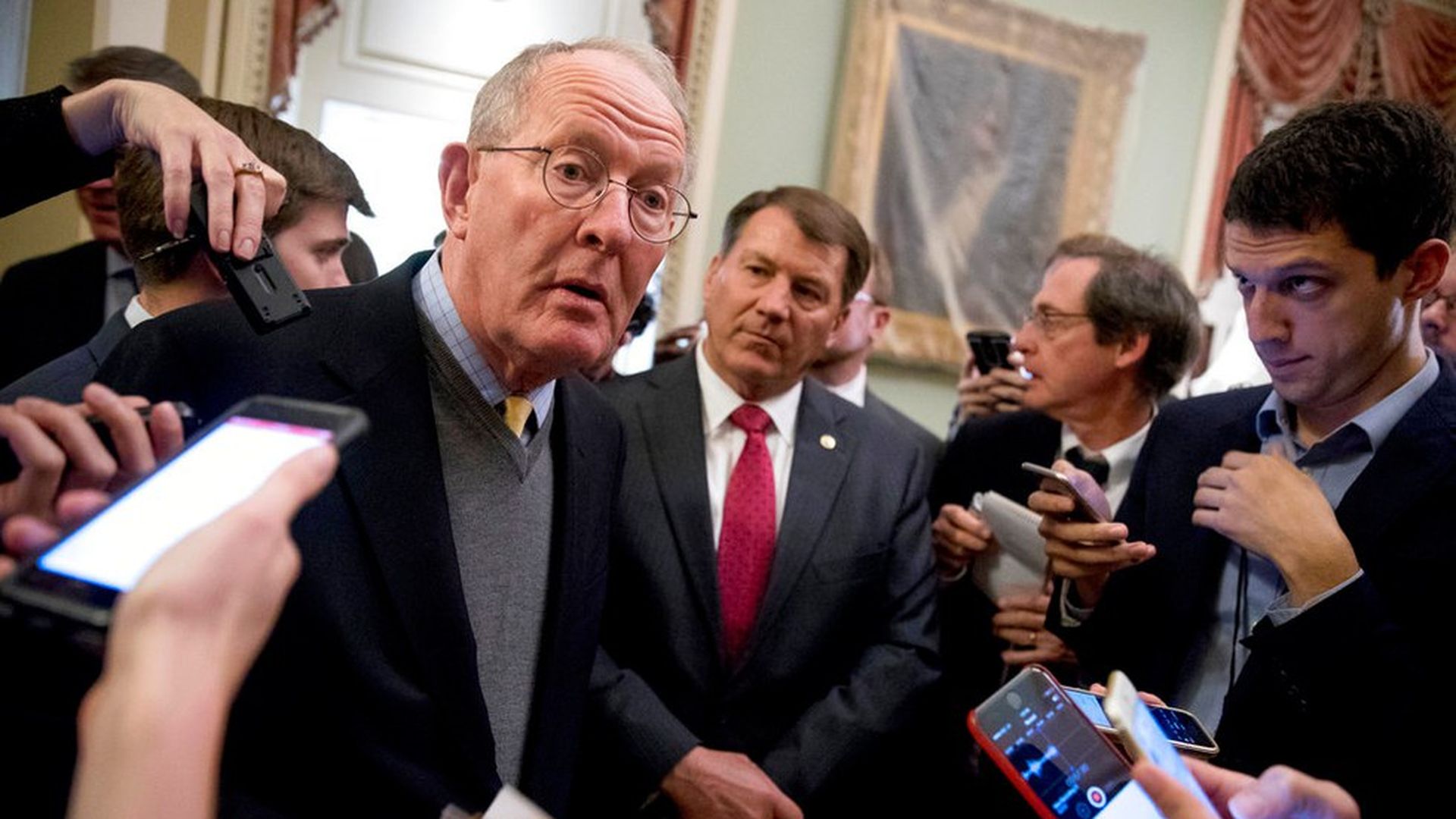 The short-term health care deal announced yesterday by Sens. Lamar Alexander (R-Tenn.) and Patty Murray (D-Wash.) would leave millions of people better off, Axios' Caitlin Owens writes: It includes policies that experts across the ideological spectrum say will help stabilize the marketplaces.
But the outlook is shaky: The WashPost says momentum "stalled within hours of its release, ... with President Trump sending mixed signals and Republicans either declining to endorse ... or outright opposing."
What's in it: The accord was announced five days after Trump said he was halting federal subsidies to insurers. Under the agreement, payments would continue for two years while states were given more leeway to let insurers sidestep some coverage requirements under Obama's law.
Trump at first called the deal "a very good solution," but said last night at the Heritage Foundation: "I continue to believe Congress must find a solution to the Obamacare mess instead of providing bailouts to insurance companies."
The bottom line: A White House official told AP that Trump's statement was aimed at conveying opposition to the Alexander-Murray plan.
Choose your news ... The Wall Street Journal's banner headline: "Bipartisan Health Bill Gains Steam."
You're invited ... Senate Health Chairman Lamar Alexander joins Axios onstage this morning for a conversation about next steps in health care, along with Sen. Tim Kaine (D-Va.) and Sen. Bill Cassidy (R-La.).
I'll interview each of the three, beginning at 8 a.m. (doors open 7:30) at AJAX, 1011 4th St. NW (near L).
RSVP here. Or join us on social media: #Axios360.
https://www.axios.com/newsletters/axios-am-54604e44-6931-41bb-bf6b-4b4aa6e50a3c.html?chunk=2#story2
3. Backstory to that opioid blockbuster
Rep. Tom Marino (R-Pa.), Trump's nominee to be drug czar, withdrew yesterday following the joint WashPost/"60 Minutes" investigation revealing his role in legislation that weakened the DEA's authority to control rogue distribution of opioids.
That's a big triumph for the journalists, but here's a few things you may have missed:
The Post has added a notable correction to Sunday's splash: A chart with the story "incorrectly said that the Pharmaceutical Research and Manufacturers of America supported the Ensuring Patient Access and Effective Drug Enforcement Act. The organization ... took no position on it."
The bill benefited the middlemen, distributors. The manufacturers' group, PhRMA, yesterday called for the bill to be repealed: "Contrary to media reports, PhRMA did not previously endorse the [bill] or advocate for its enactment."
Used news: A front-page article by the N.Y. Times on May 16, 2016, "Congress Mixes Opioid Messages," featured the same whistleblower, former DEA official Joe Rannazzi.
Be smart: The Post and "60 Minutes" had the goods — middlemen shipping millions of pills to remote clinics. Astonishing to think Republicans and Democrats alike with no fanfare, and minimal scrutiny, enacted a law to make it easier for those middlemen to turn so many people into addicts.
https://www.axios.com/newsletters/axios-am-54604e44-6931-41bb-bf6b-4b4aa6e50a3c.html?chunk=3#story3
Bonus: Pic du jour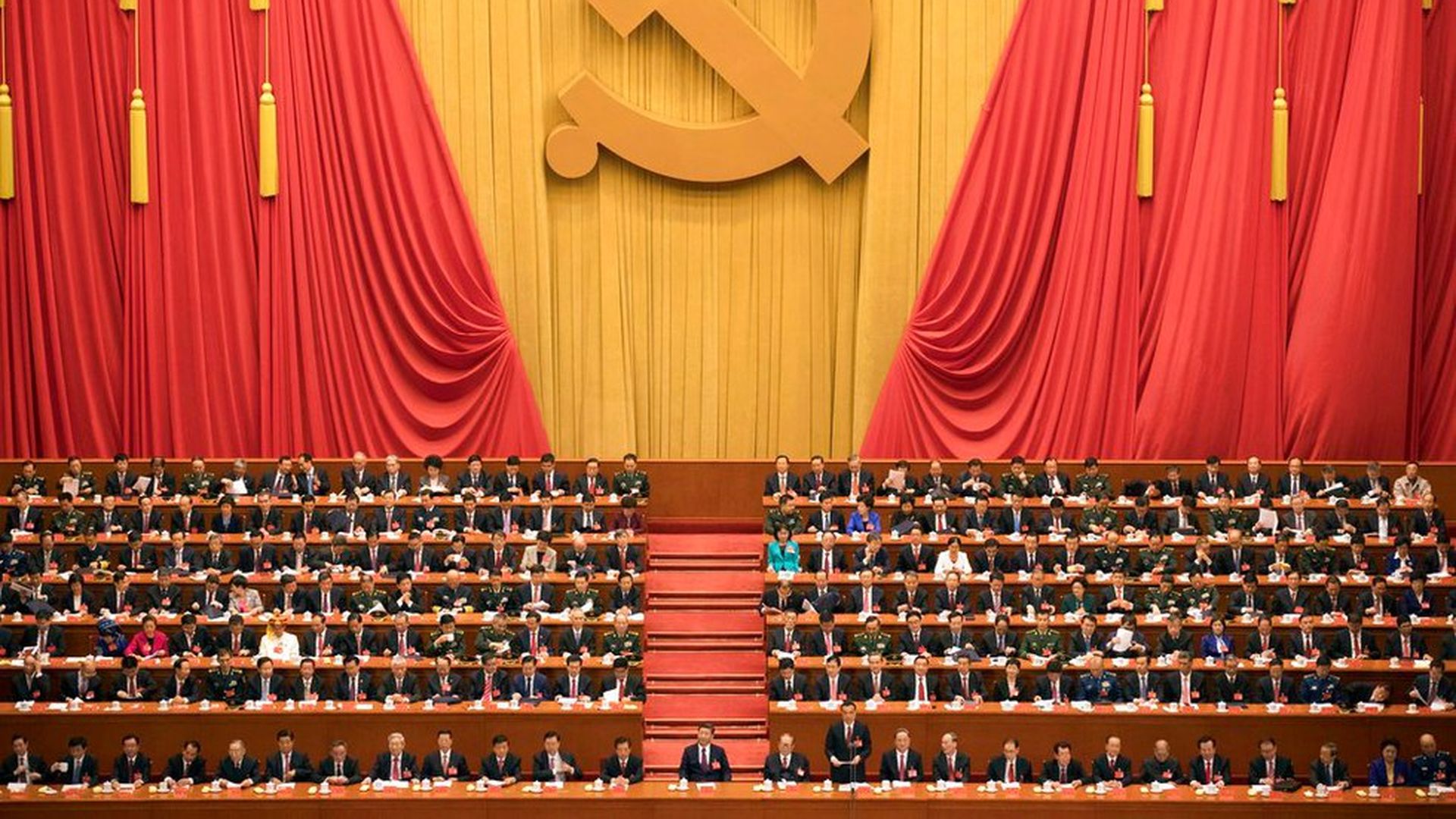 China President Xi Jinping (center) presides over the opening ceremony of the 19th Party Congress, at the Great Hall of the People, in Beijing.
Graham Allison, Harvard government professor, says in a Wall Street Journal op-ed that Xi is "the New Emperor of China ... the most powerful leader since Mao [died 1976, 41 years ago] ... set to hold power for as long as he wants."
https://www.axios.com/newsletters/axios-am-54604e44-6931-41bb-bf6b-4b4aa6e50a3c.html?chunk=4#story4
4. Instant giant: Second to Gates Foundation
"George Soros, who built one of the world's largest fortunes through a famous series of trades, has turned over nearly $18 billion to Open Society Foundations," the Wall Street Journal reports on the front page:
Why it matters: "Now holding the bulk of Mr. Soros's fortune, Open Society has vaulted to the top ranks of philanthropic organizations, appearing to become the second largest in the U.S. by assets after the Bill and Melinda Gates Foundation, based on 2014 figures from the National Philanthropic Trust."
Abroad: "Open Society ... operates through a network of more than 40 foundations and offices in countries from Afghanistan to South Africa. It has funded refugee relief, public-health efforts ... Open Society's activism has sometimes angered nationalist governments."
At home: "In the U.S., where Mr. Soros is a major contributor to liberal and Democratic causes, he is a lightning rod for conservatives. Open Society has supported efforts to overhaul immigration policies and the criminal-justice system ... It has supported activists working on issues raised by ... Black Lives Matter."
https://www.axios.com/newsletters/axios-am-54604e44-6931-41bb-bf6b-4b4aa6e50a3c.html?chunk=5#story5
5. Huge blow to heart of ISIS: Capital falls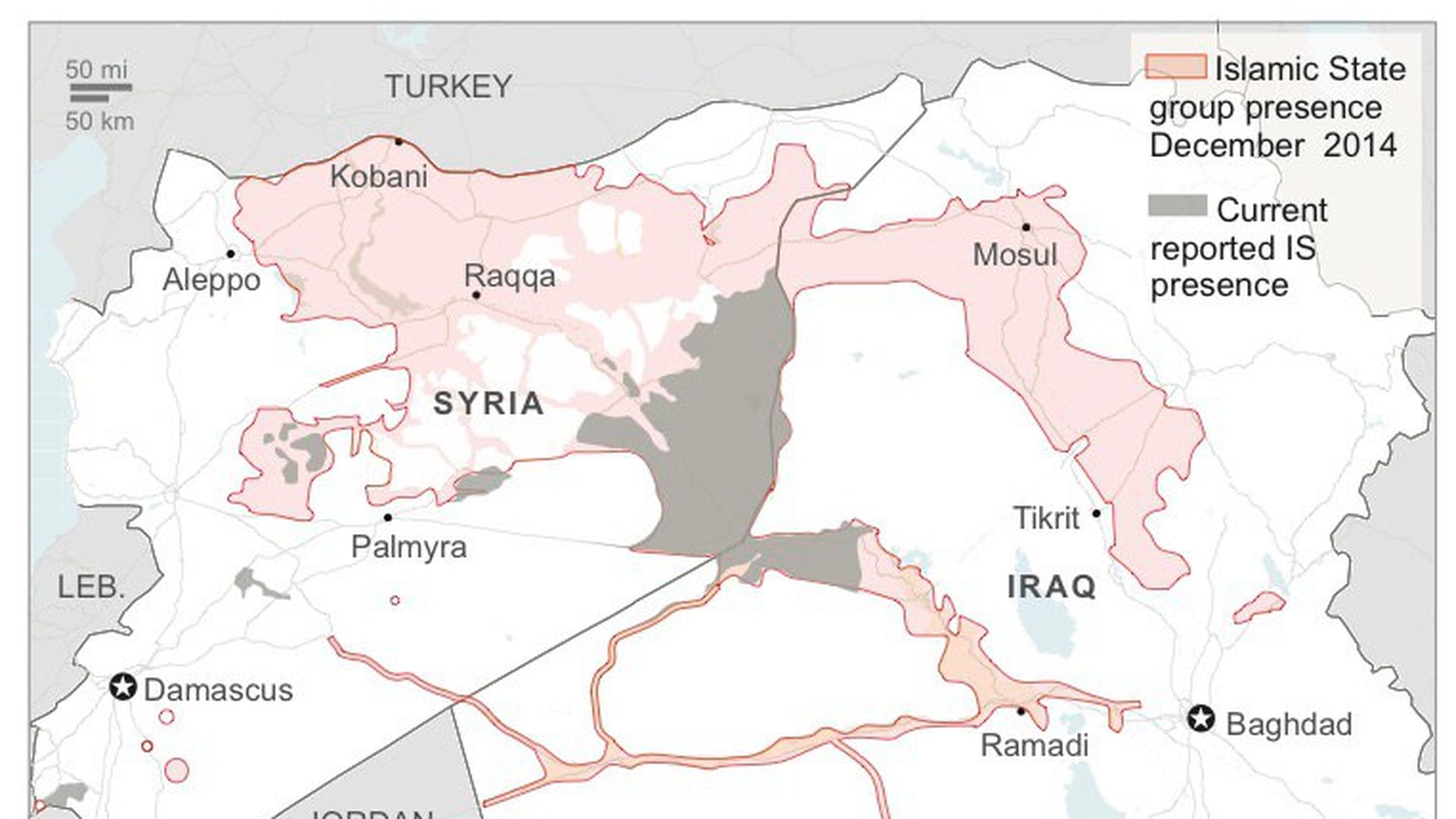 "U.S.-backed forces said they have captured Islamic State's de facto capital of Raqqa, driving the extremists from a Syrian city that became synonymous with their reign of terror and was used as a nerve center to stage attacks on the West." (WSJ)
What's next: "The U.S. military said a formal victory announcement will come after [Syrian defense] forces are sure that no pockets of Islamic State resistance remain in the city, but the SDF portrayed the battle for Raqqa as over." (WashPost)
https://www.axios.com/newsletters/axios-am-54604e44-6931-41bb-bf6b-4b4aa6e50a3c.html?chunk=6#story6
6. Trump seeks more immigration jails
"The Trump administration is planning an increase in federal immigration jails across the country for the thousands of additional undocumented immigrants its agents are arresting," USA Today's Alan Gomez reports in the paper's banner story:
"In recent weeks, the Immigration and Customs Enforcement (ICE) agency has put out requests to identify privately-run jail sites in Chicago, Detroit, St. Paul, Salt Lake City and southern Texas, according to notices published on a federal contracting website."
"It did not publicly announce its plans to house 4,000 more detainees at the facilities."
https://www.axios.com/newsletters/axios-am-54604e44-6931-41bb-bf6b-4b4aa6e50a3c.html?chunk=7#story7
7. #MeToo
"Weinstein Fallout Moves to Halls of California's Capitol: In Sacramento, Fury Over Pervasive Harassment," by N.Y. Times' Adam Nagourney and Jennifer Medina, on A1:
"[M]ore than 140 women — including legislators, senior legislative aides and lobbyists — came forward to denounce what they describe as pervasive sexual misconduct by powerful men in the nation's most influential legislature. Women complained of groping, lewd comments and suggestions of trading sexual favors for legislation."
"The women who drafted the letter say they were flooded with anguished responses from women who reported enduring, or witnessing, sexual harassment from male legislators, aides and lobbyists."
The Weinstein scandal has "set off a wave of investigations, recriminations and accusations across the nation, including in state capitals in Rhode Island and South Dakota. Women from all walks of life — from actresses to corporate leaders — have used social media to report instances of abuse, often marked #metoo."
https://www.axios.com/newsletters/axios-am-54604e44-6931-41bb-bf6b-4b4aa6e50a3c.html?chunk=8#story8
8. Wooing Amazon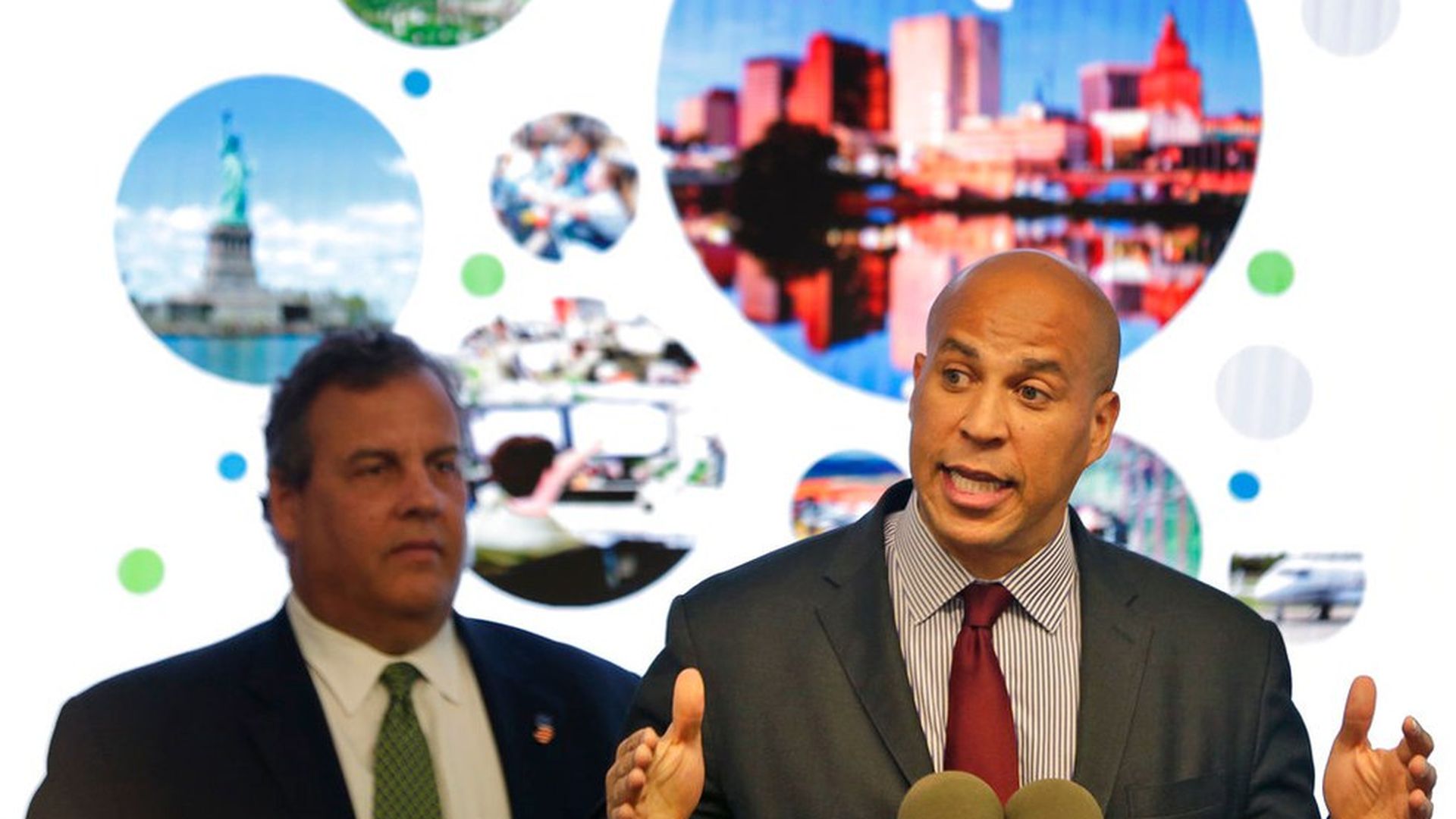 Cities' bids are due tomorrow for the "HQ2" that Amazon plans to supplement its Seattle headquarters, with the prospect of $5 billion in investments and 50,000 jobs. Mayors from Toledo to Tulsa are brandishing bourbon, selling the sun — and making expensive promises that are uncertain to pay off.
AP talked to leaders of more than 50 cities or metropolitan regions about the different ways they're showcasing themselves, and assessed the risk/reward:
"The winning city would have to provide Amazon with generous tax breaks and other incentives that can erode a city's tax base. Most economists say [it's probably worth it] — that an Amazon headquarters is a rare case in which a package of at least modest enticements could repay a city over time."
"That's particularly true compared with other projects that often receive public financial aid, from sports stadiums to the Olympics to manufacturing plants, which generally return lesser, if any, benefits over the long run. "
Enrico Moretti, an economist at the University of California, Berkeley and author of "The New Geography of Jobs": "This definitely beats other deals that I have seen."
Why it matters: "High-tech firms like Amazon create a 'clustering effect,' Moretti's research has found, whereby a company attracts workers with specialized knowledge in, say, software and data analysis. These workers are rare in other cities but reach a critical mass in a tech hub. And higher-skilled workers are more productive when they work in proximity to each other, sharing ideas and experiences."
https://www.axios.com/newsletters/axios-am-54604e44-6931-41bb-bf6b-4b4aa6e50a3c.html?chunk=9#story9
9. "America's richest are richer than ever"
https://www.axios.com/newsletters/axios-am-54604e44-6931-41bb-bf6b-4b4aa6e50a3c.html?chunk=10#story10
10. 1 youth thing