Axios AM
November 21, 2019
🍷 Good Thursday morning from Charlottesville. When I flew in from our event in Dallas, I went straight to Little Star, opened on West Main this year by Ryan Collins, formerly a José Andrés chef in D.C.
My buddy Rob Hoppin and I split both the pork spare ribs and the beef back ribs.
Today's Smart Brevity™ count: 1,159 words ... 4½ minutes.
1 big thing ... Scoop: Impeachment witness to warn of "fictional narrative"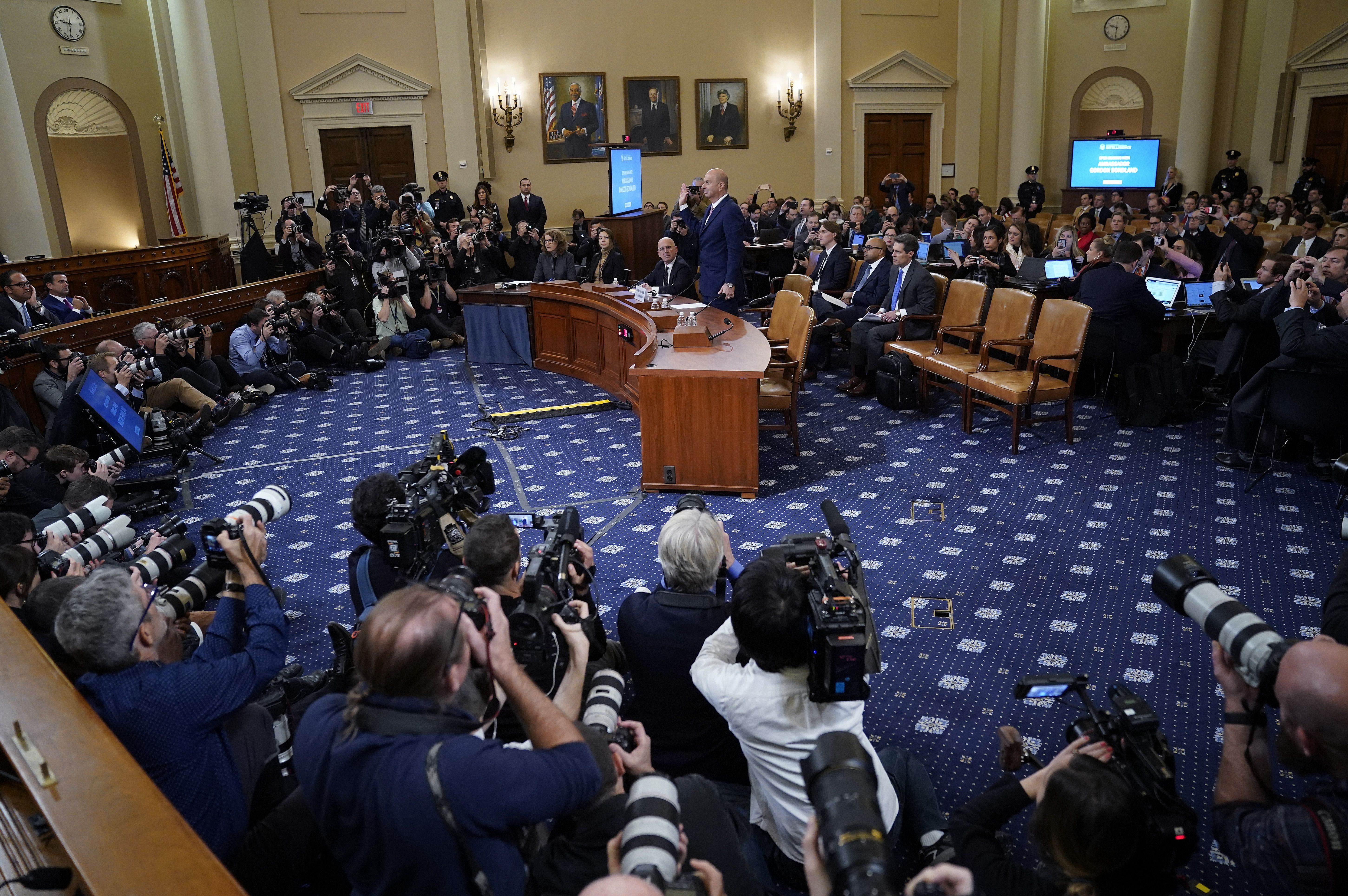 Former White House official Fiona Hill will tell today's impeachment hearing that a "fictional narrative" about Ukraine, driven by partisan politics, distracted President Trump from the real threat that Russia poses to America's democracy.
Why she matters: Hill, who left last summer as Trump's top adviser on Russia and Europe, gives House investigators a window into former national security adviser John Bolton's objections to Trump's Ukraine activities.
In closed testimony last month, Hill said Bolton called Rudy Giuliani a "hand grenade that is going to blow everybody up."
A "John Dean moment"? Ambassador Gordon Sondland declared at yesterday's hearing that Trump and his lawyer Rudy Giuliani explicitly sought a "quid pro quo" with Ukraine, leveraging an Oval Office visit for political investigations of Democrats, AP writes in its recap.
"Was there a 'quid pro quo?'" Sondland asked. "With regard to the requested White House call and White House meeting, the answer is yes."
The rest, he said, was obvious: "Two plus two equals four."
Sondland testified that it was also his understanding Trump was holding up $400 million in military aid, which Ukraine badly needed with an aggressive Russia on its border, in exchange for an announcement of Biden investigations.
Republicans' key point: Sondland conceded that Trump never told him directly why the security assistance was blocked.
Why he matters, per the N.Y. Times: "Sondland linked the most senior members of the Trump administration to the effort — including the vice president, the secretary of state, the acting chief of staff and others."
"He said they were informed of it at key moments, an account that severely undercut Mr. Trump's frequent claims that he never pressured Ukraine."
Vice President Pence instantly denied discussing the investigations.
How it's playing:


Today's top witness: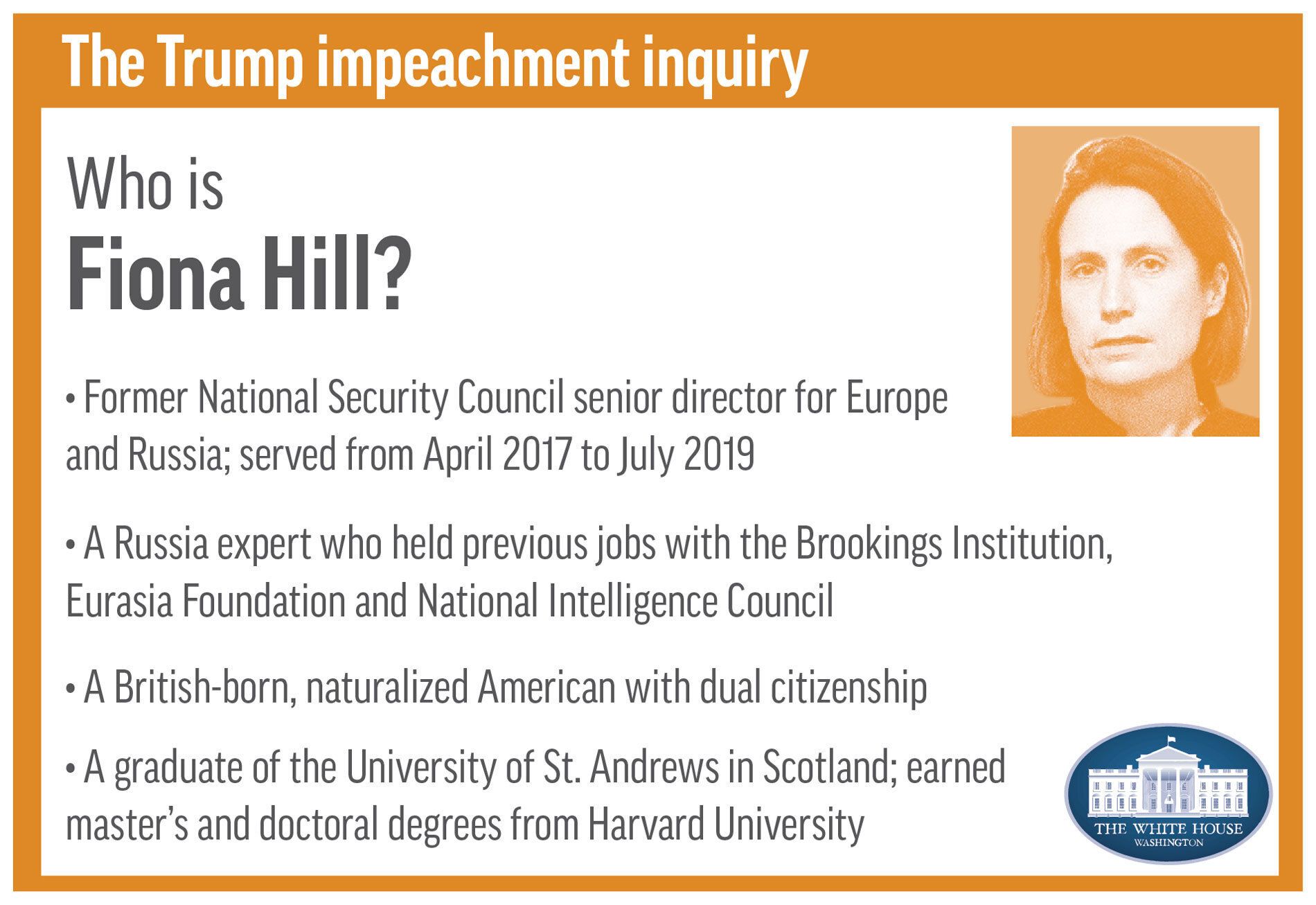 2. Last night's best zinger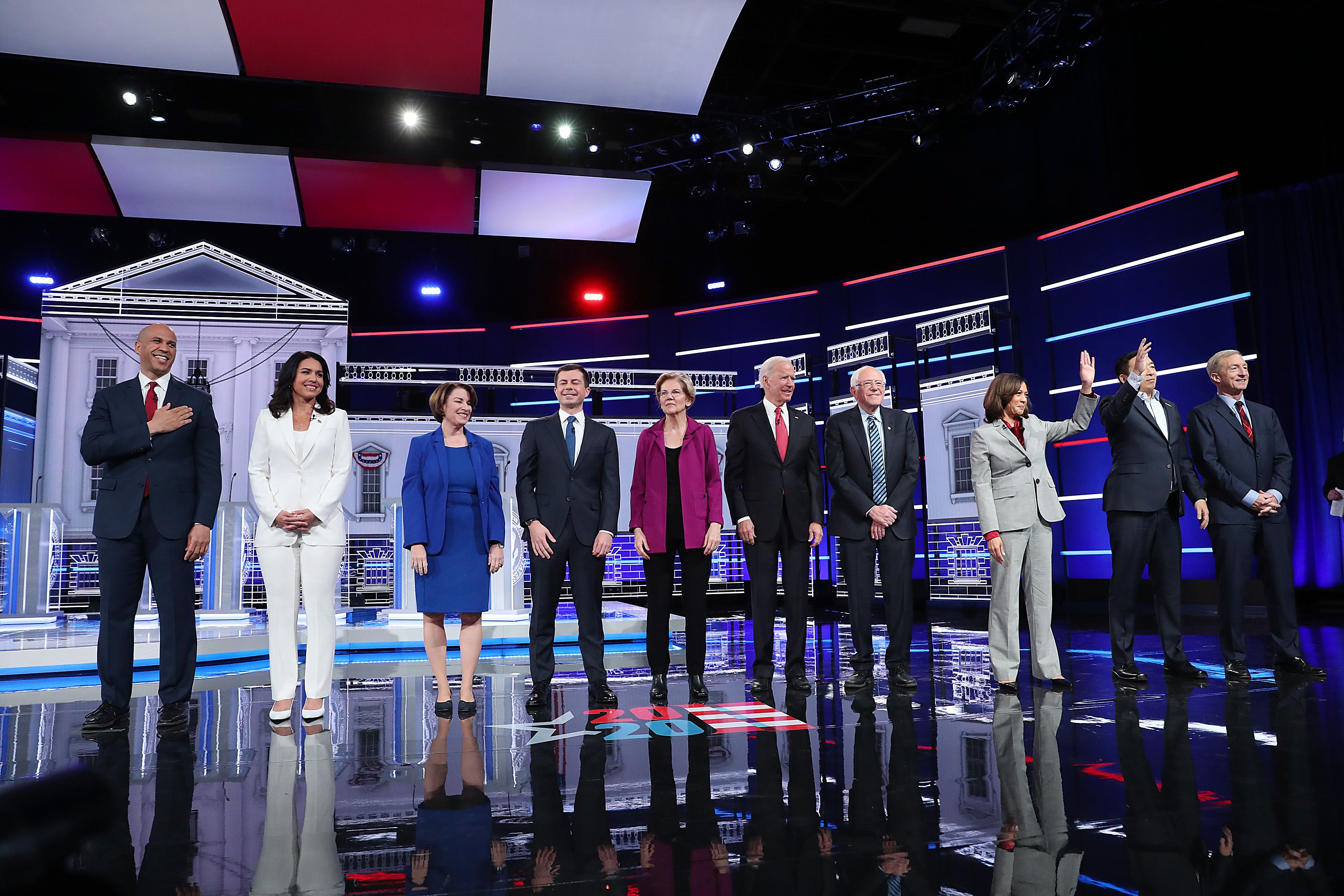 My favorite zinger from last night's Democratic debate in Atlanta came from Amy Klobuchar:
"[I]f you think a woman can't beat Donald Trump, Nancy Pelosi does it every single day."
During the Dems' fifth debate, the Pete Buttigieg pile-on landed more softly than expected, Axios' Zach Basu writes.
Instead, the top four candidates in early-state polling — Buttigieg, Joe Biden, Elizabeth Warren and Bernie Sanders — pulled punches, giving lower-tier candidates a chance to make waves.
Buttigieg and Kamala Harris both sparred with Tulsi Gabbard, who has become a favorite among conservatives for her anti-interventionism and attacks on the Democratic establishment.
In the shadow of the day's impeachment hearings, the candidates agreed that President Trump should be impeached on a charge of abuse of power.
Biden, whose family is at the center of the Ukraine allegations, said he wouldn't direct the Justice Department to investigate Trump after he left office: "I'd let them make their independent judgment."
Five of the candidates — Warren, Sanders, Harris, Klobuchar and Cory Booker — would sit as jurors if articles of impeachment went to the Senate.
Buttigieg and Biden would be free to campaign in Iowa during a trial, while the senators were in D.C.
Milestone: The debate had a greater focus on women's issues than earlier ones, with questions about abortion rights, paid family leave and the cost of child care.
This was history's third primary debate moderated by an all-woman panel — MSNBC's Rachel Maddow, NBC's Andrea Mitchell and Kristen Welker, and Ashley Parker of the Washington Post.
It was also the first debate of the cycle in which the first two questions went to female candidates, the N.Y. Times' Michael Grynbaum noted.
What to watch: Booker, the highest-profile candidate who hasn't qualified for the next debate, began his closing statement with a plea for donations to get on the December stage.
The bottom line: Biden, still atop most national polls, had gaffes (the nation needs to "keep punching at" sexual violence and harassment against women), but showed command of foreign policy.
Axios' Margaret Talev notes that the wide swing of Biden highs and lows underscores why he remains the frontrunner — but with real vulnerabilities.
Go deeper, issue-by-issue: See what the candidates said on voting rights, legalizing marijuana, health care, climate, a wealth tax and more.
3. 📈 Goldman forecast: "A Break in the Clouds"
"Slightly better growth, limited recession risk, and friendly monetary policy should provide a decent background for financial markets in the early part of 2020," Goldman Sachs Economics Research says in a 21-page forecast by Jan Hatzius, Daan Struyven and Ronnie Walker.
"We expect the global growth slowdown that began in early 2018 to end soon, in response to easier financial conditions and an end to the trade escalation."
"However, concerns about the impact of higher corporate taxes on profits could rise in the run-up to the U.S. presidential election. Even aside from politics, rising wage growth looks set to reduce profit margins over the next several years."
Axios thought bubble: If you're the Trump campaign, you heart this forecast.
4. TIME's Idea of the Year: "How the elites lost their grip"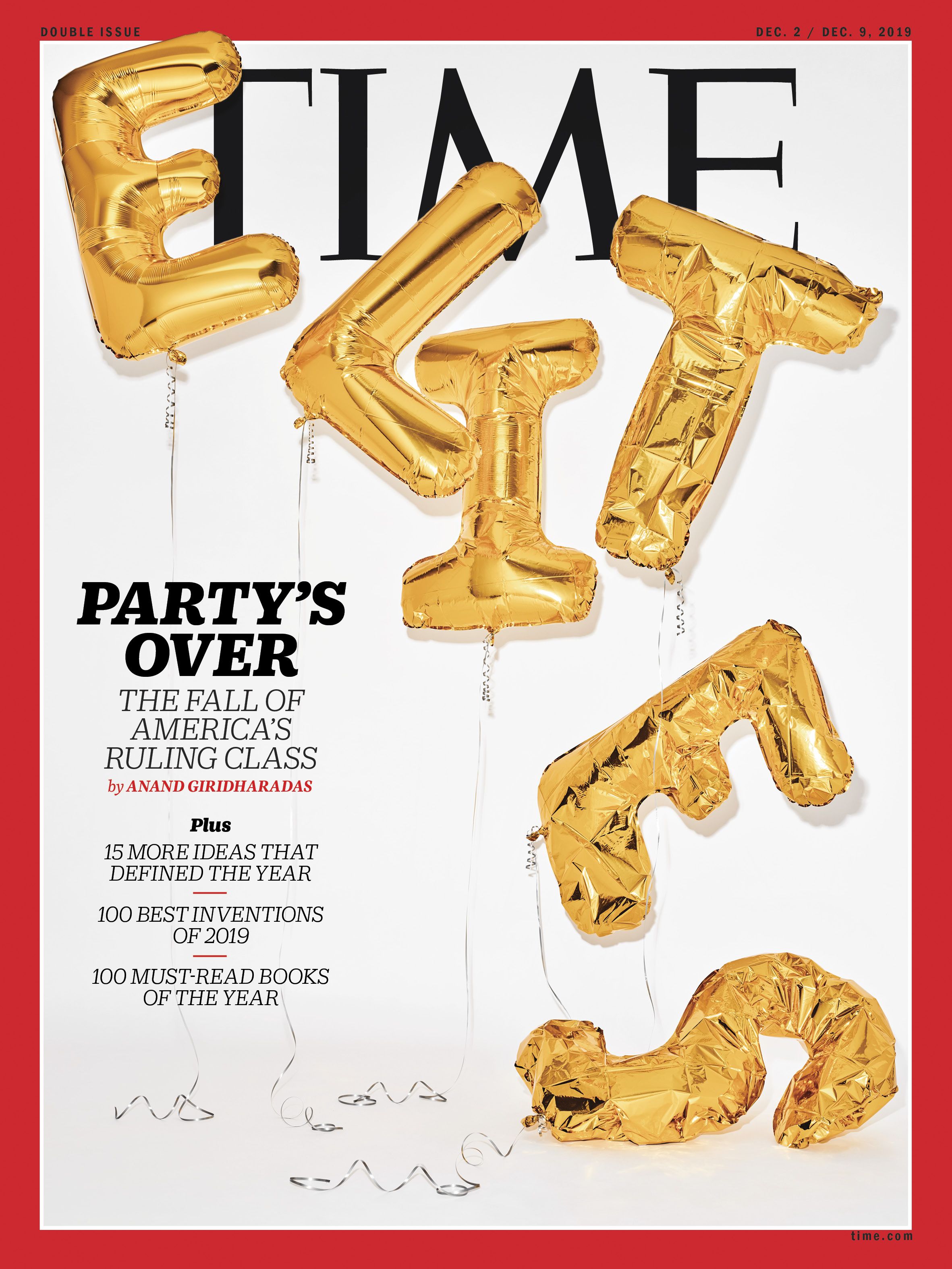 "In 2019 America's 1% behaved badly — and helped bring about a reckoning with capitalism," writes TIME editor-at-large Anand Giridharadas, author of "Winners Take All: The Elite Charade of Changing the World":
This year, America's ultra-elites [including Jeffrey Epstein] seemed to bend over backwards to lend support to the idea that maybe the system they superintend needs gut-renovating. As a political movement challenging their wealth and power bubbled up, the elite's own misbehavior trickled down. And where the two met, ideas that once seemed unutterable started, to many, to sound like the future. ...
The Overton window was moving [with the 2016 election]. Then came the 2018 midterms and a new wave of Democratic candidates — most prominently, Representative Alexandria Ocasio-Cortez of New York — questioning capitalism-as-capitalism in a way that seemed unfamiliar and fresh.
As the 2020 campaign approached, Warren jumped into the race, a beneficiary of the opening Sanders had helped carve for capitalist-critical aspirants to America's highest office. ...
Warren detailed an agenda that would put American business in a headlock. That she and Sanders, both veritable enemies of Big Business, are among the top candidates shows how much the politics of capitalism has changed.
5. ⚖️ Two worlds
These were the contrasting headlines on MSNBC and Fox News as yesterday's impeachment hearing broke at 11:03 a.m. after explosive morning testimony: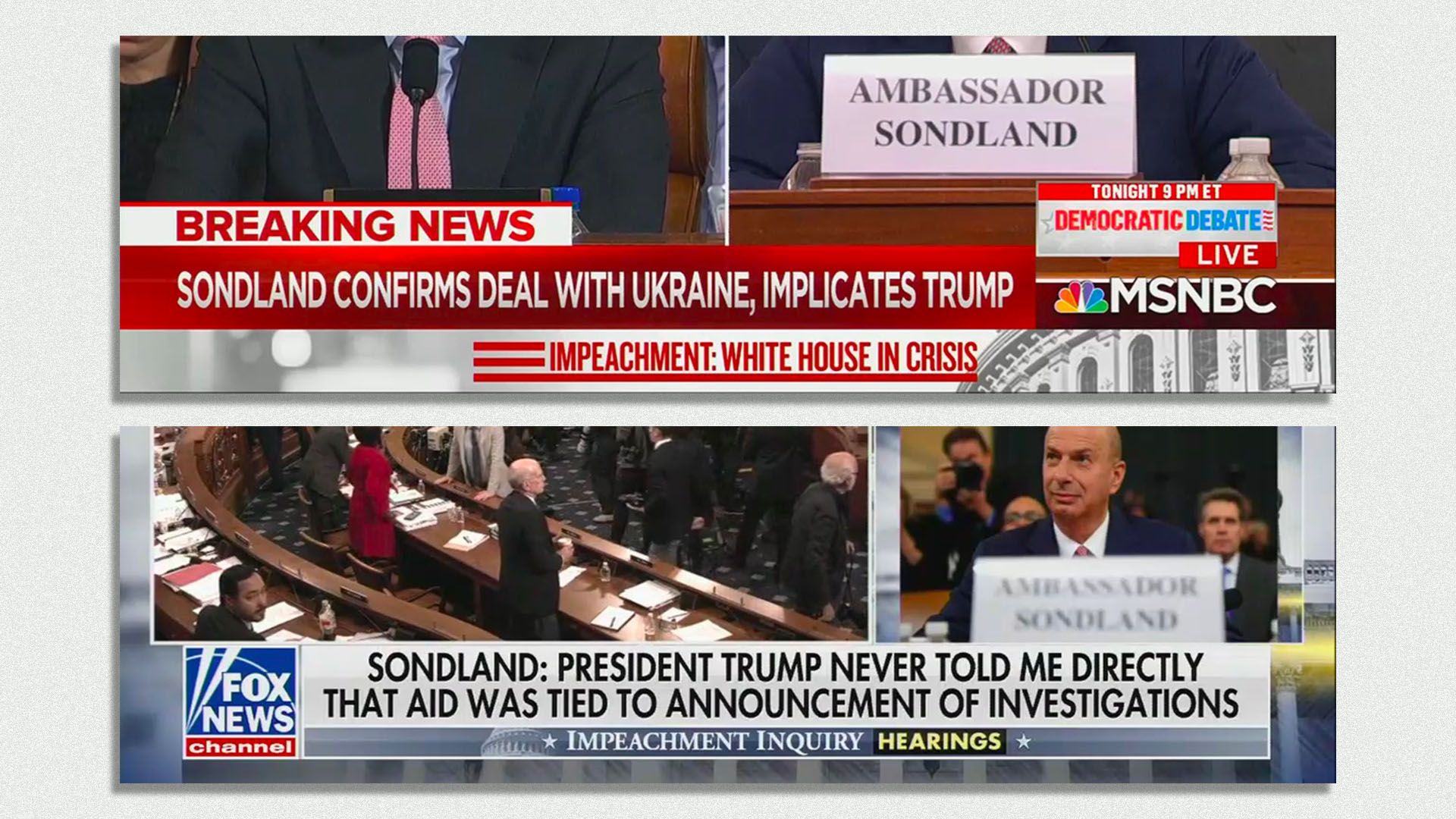 CNN's "lower third" chryon at the same moment: "SONDLAND TIES TRUMP, PENCE, POMPEO TO UKRAINE PRESSURE CAMPAIGN."
6. Living history
Here's the N.Y. Times' front page for the ages: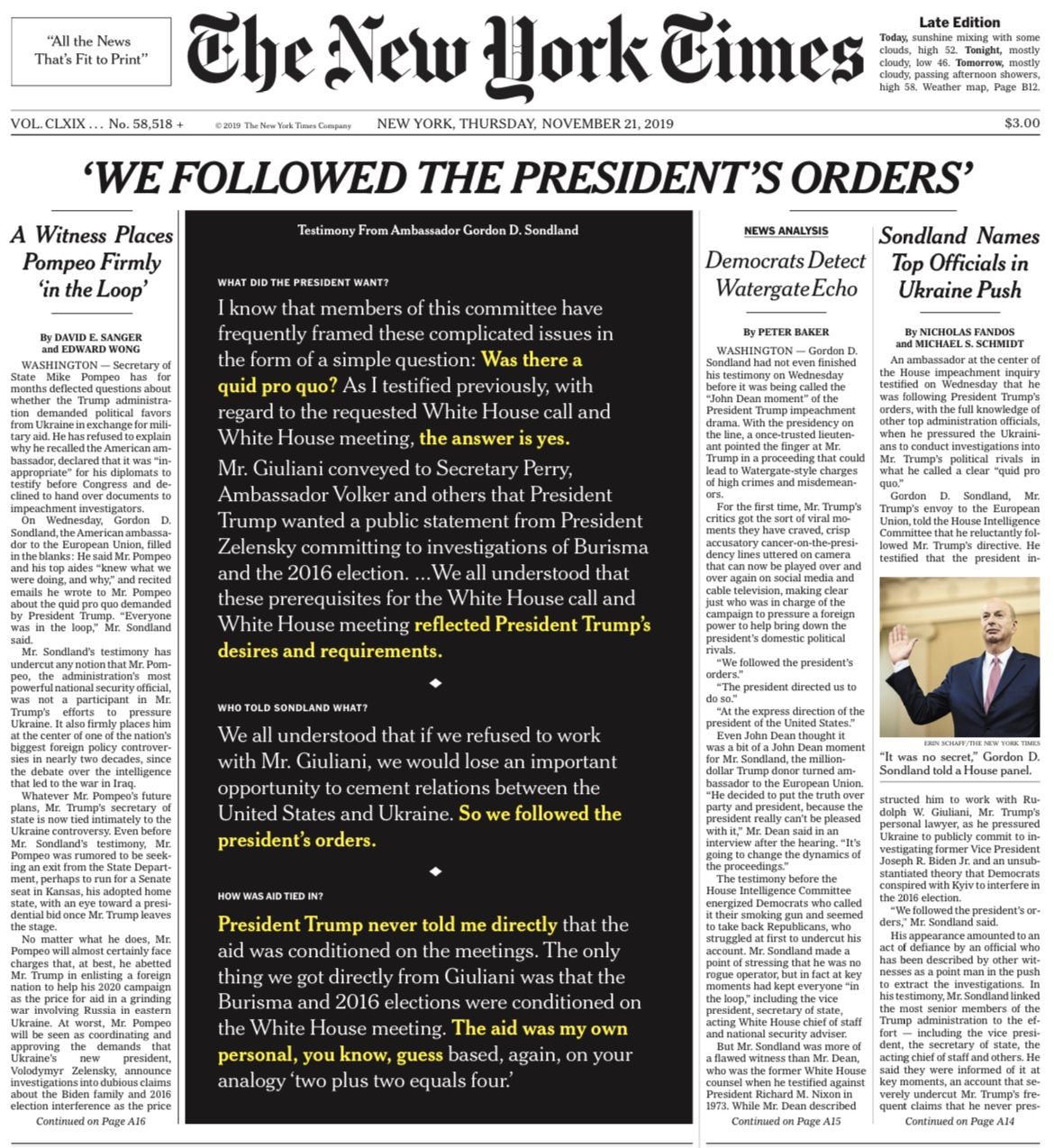 7. You saw this first in Axios PM
President Trump used these notes as he spoke to reporters on the White House South Lawn during the hearing, and held them so photographers could see: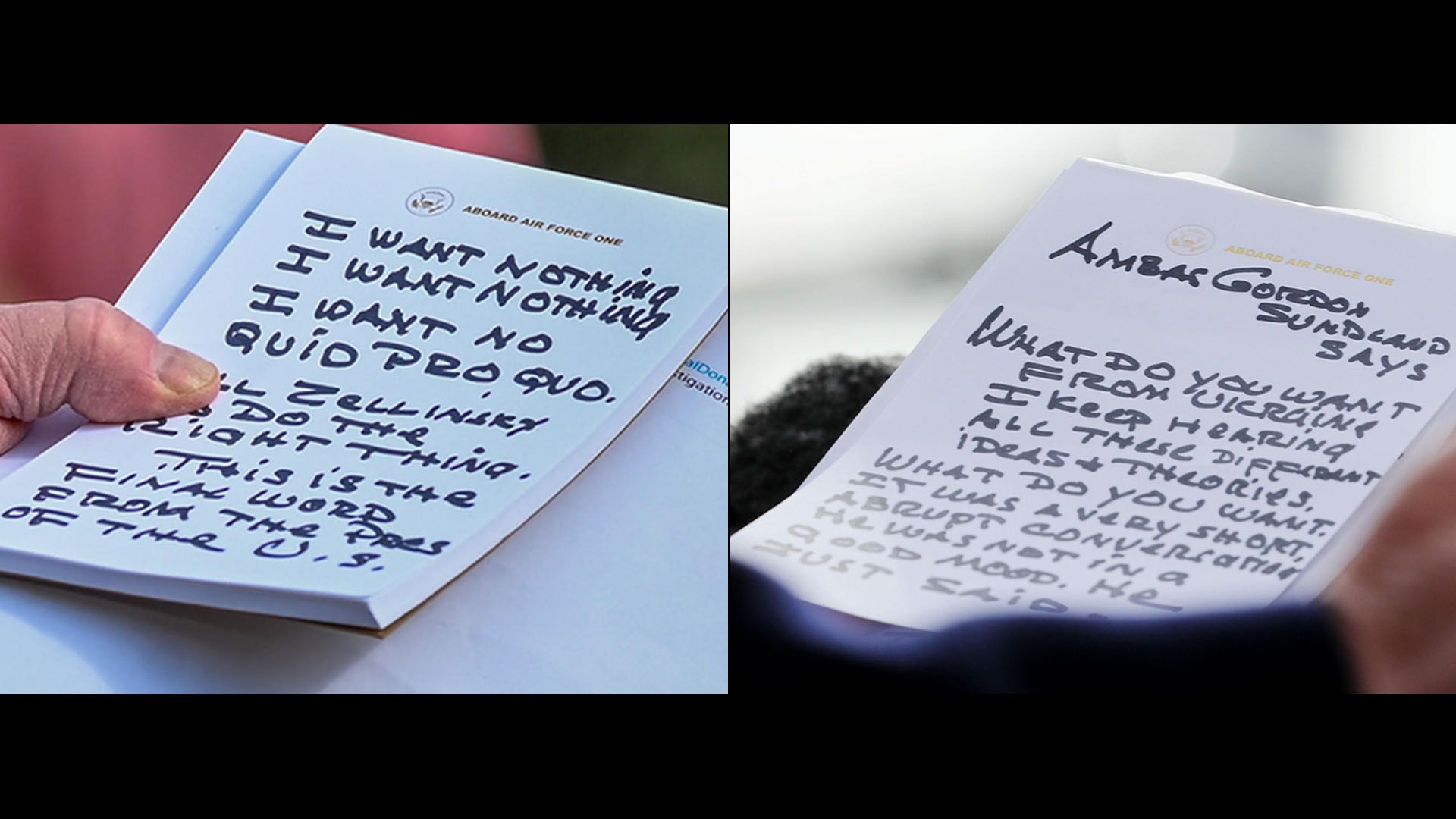 📬 Missing Axios PM, my afternoon dispatch? Sign up here.
8. Catholic reckoning: Review board failures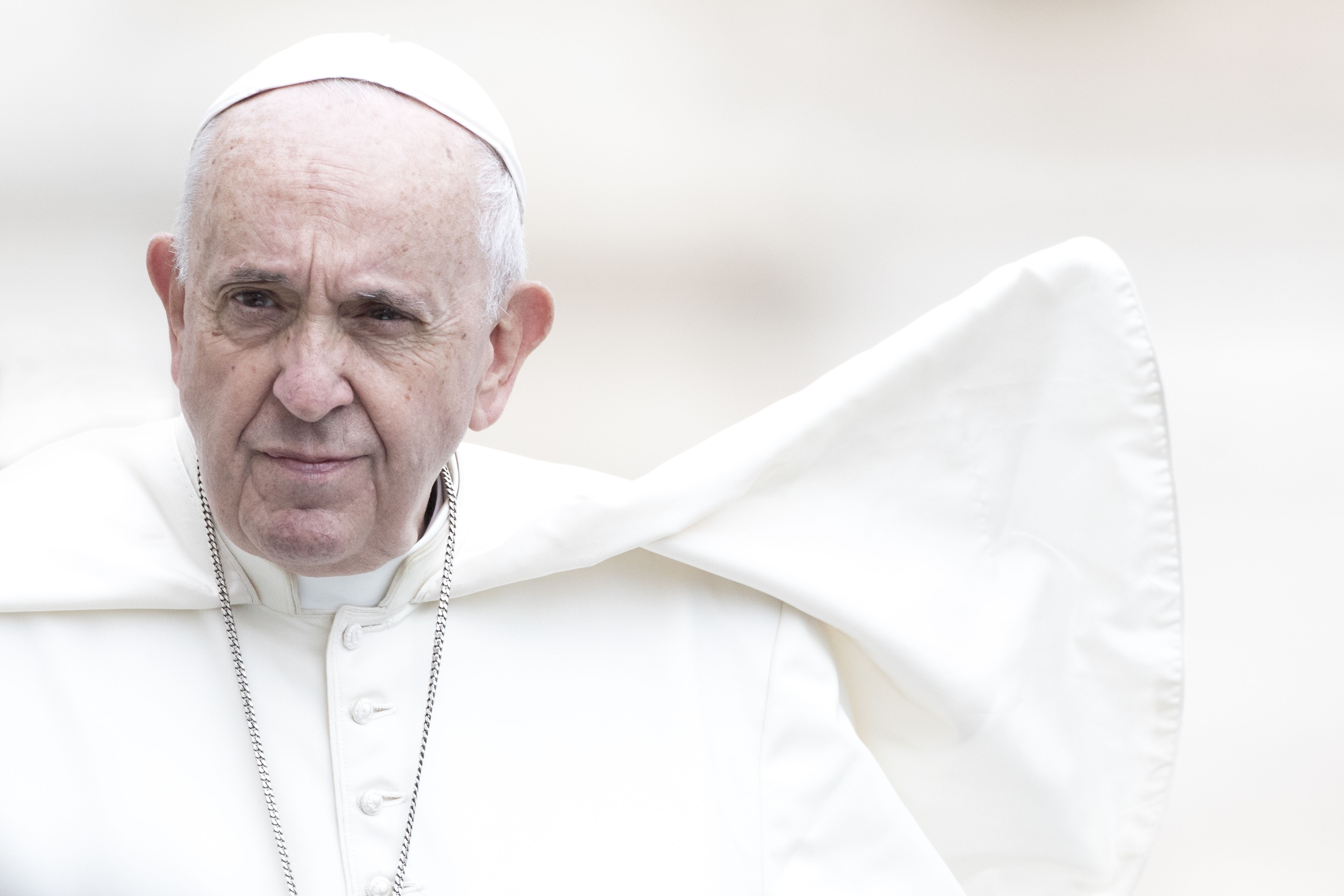 An AP investigation of Catholic mandatory review boards across the country found that they have broadly failed to uphold commitments to investigate sexual abuse allegations fairly and kindly.
Why they matter: The boards were meant to help dioceses root out abusive priests.
Instead, review boards operating in secrecy have routinely undermined abuse claims, shielded accused priests and helped the church avoid payouts.
The investigation found dozens of cases in which review boards rejected complaints from survivors, only to have them later validated by secular authorities.
9. One-third of us don't believe the news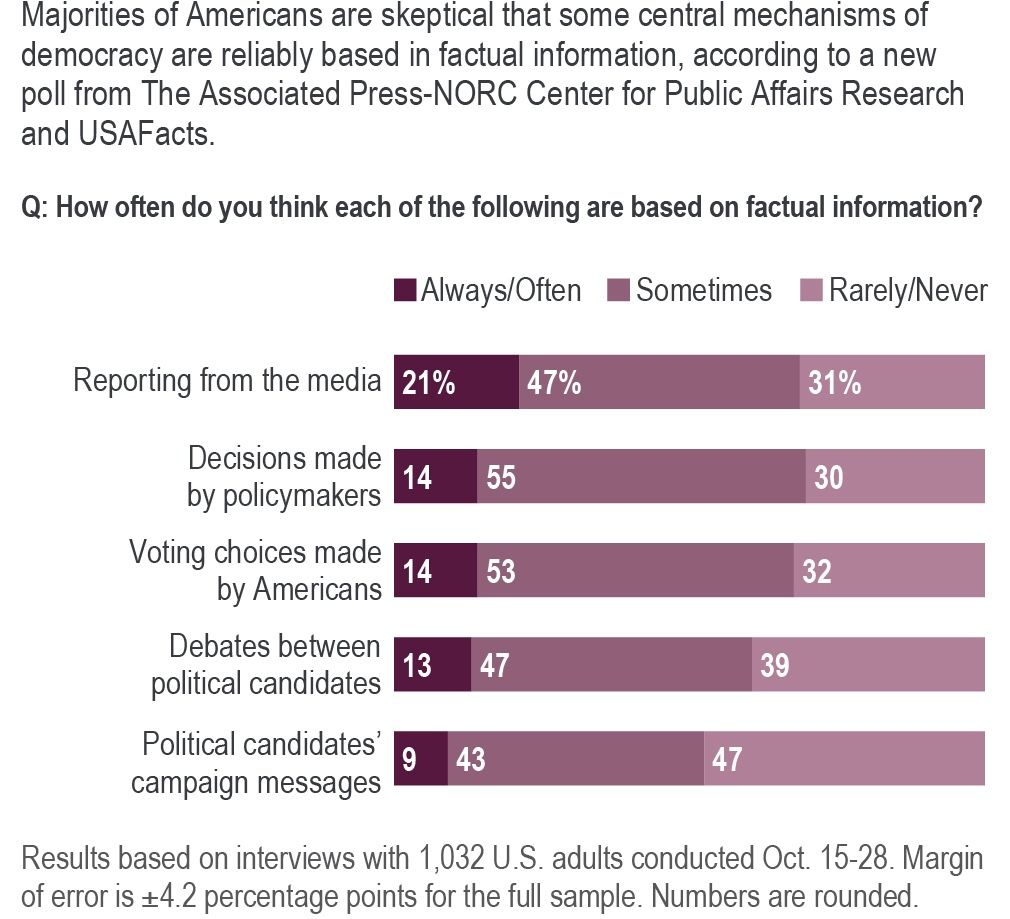 10. 1 🎵 thing
Nipsey Hussle garnered three posthumous Grammy nominations, leading a strong showing for L.A. hip-hop. (L.A. Times)