Axios AM
September 05, 2019
Good morning. Today's Smart Brevity count: 1,273 words ... 5 minutes.
1 big thing: Bahamas aid could pit superpowers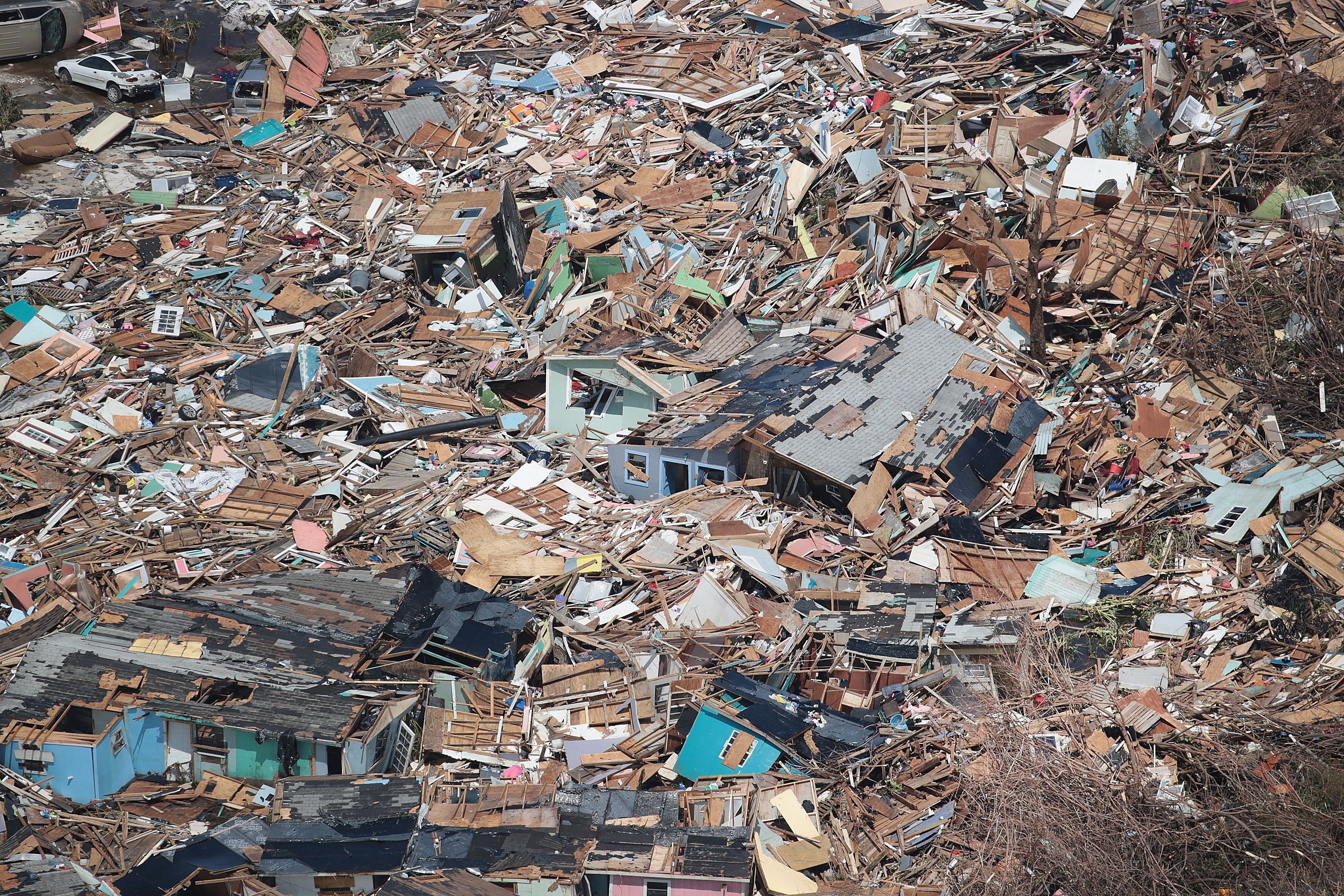 The Bahamas soon will seek billions in post-Dorian foreign aid, and the Trump administration is considering the national security implications if China rushes to help.
Why it matters: China has projected power around the globe through infrastructure spending, and this will create an opening for massive investments just off U.S. waters.
Sources tell Axios' Margaret Talev that the U.S. is working with Bahamian officials to help them navigate the bureaucracy to pursue avenues of assistance.
Administration sources say it's too soon for detailed conversations on how the China rivalry could play out in the hurricane's aftermath.
But officials involved in diplomacy, national security and foreign assistance understand that will be part of the equation after the initial response. 
The big picture: The official Bahamas tourism site has a whole page on "Our Proximity to the United States," with one island "[j]ust 50 miles off the coast of Florida" and Nassau, the capital, a "45-minute plane ride from Miami."
Chinese President Xi Jinping's Belt and Road Initiative intertwines his nation with countries throughout Asia, Europe and Africa by investing in ports, railways, power grids, gas pipelines, oil pipelines and other massive infrastructure developments.
President Trump's approach to the Bahamas could be shaped by a foreign policy that includes supporting regime change in Venezuela; interest in buying Greenland from Denmark; trying to limit the reach of Chinese telecom giant Huawei into the U.S. and allies; and the trade war with Beijing.
Bahamian Prime Minister Hubert Minnis was among the Caribbean leaders who visited Trump at Mar-a-Lago in March after agreeing to stand with the U.S. in supporting Venezuelan opposition leader Juan Guaidó.
In exchange, Trump promised enhanced U.S. lending and investment. The White House previewed the summit by saying Trump is "working with countries in the region to strengthen our security cooperation and counter China's predatory economic practices."
Between the lines: Huawei has already spent years been investing in telecom infrastructure and hardware in Caribbean nations, including the Bahamas. Large swaths of the Bahamas' wiring has been wiped out and must be restored.
2. From paradise to smithereens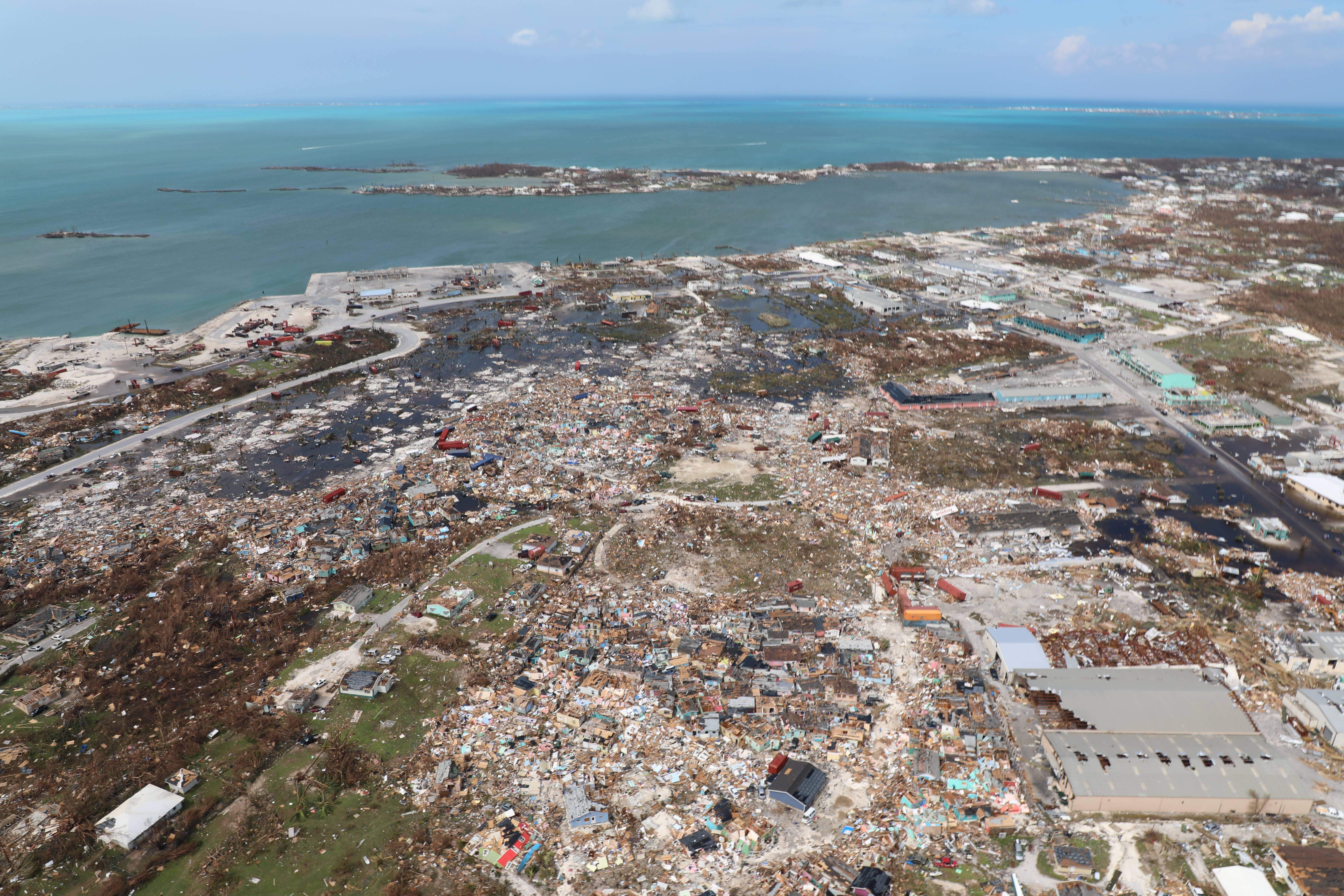 Hurricane Dorian, back to Category 3, began raking the Southeast U.S. today, threatening to inundate low-lying coasts from Georgia to Virginia, AP reports.
What's next: A combined high tide and storm surge at the harbor in Charleston, S.C., is projected at 10.3 feet. The record, 12.5 feet, was set by Hugo in 1989.
The UN says 70,000 people in the Bahamas need immediate humanitarian relief.
"Aerial video of the worst-hit Abaco Islands in the northern Bahamas showed widespread devastation, with the harbor, shops and workplaces, a hospital, and airport landing strips damaged or blown to pieces, all of which was frustrating rescue efforts," Reuters reports.
Dorian, one of the most powerful Caribbean storms on record, killed at least 20 people in the Bahamas, with that number expected to rise.
Dorian turned the Bahamian paradise into a miserable heap, per the WashPost:
"The Washington Post flew to Grand Abaco on a helicopter chartered by [José Andrés'] World Central Kitchen. The island came into view 25 minutes out of Nassau: the white sand beaches and turquoise waters of the northern half, largely spared Dorian's wrath. In the south, watery cays and island scrub show nature's blitzkrieg."
"Much of the island is still flooded. Homes remain submerged. Inland brush has turned to marshland. There are forests of fallen trees."
"Marsh Harbour lived off tourism. But the infrastructure has been flattened. Two power plants were crippled. The marinas, destroyed."
3. First look: New research encourages CEOs to act on guns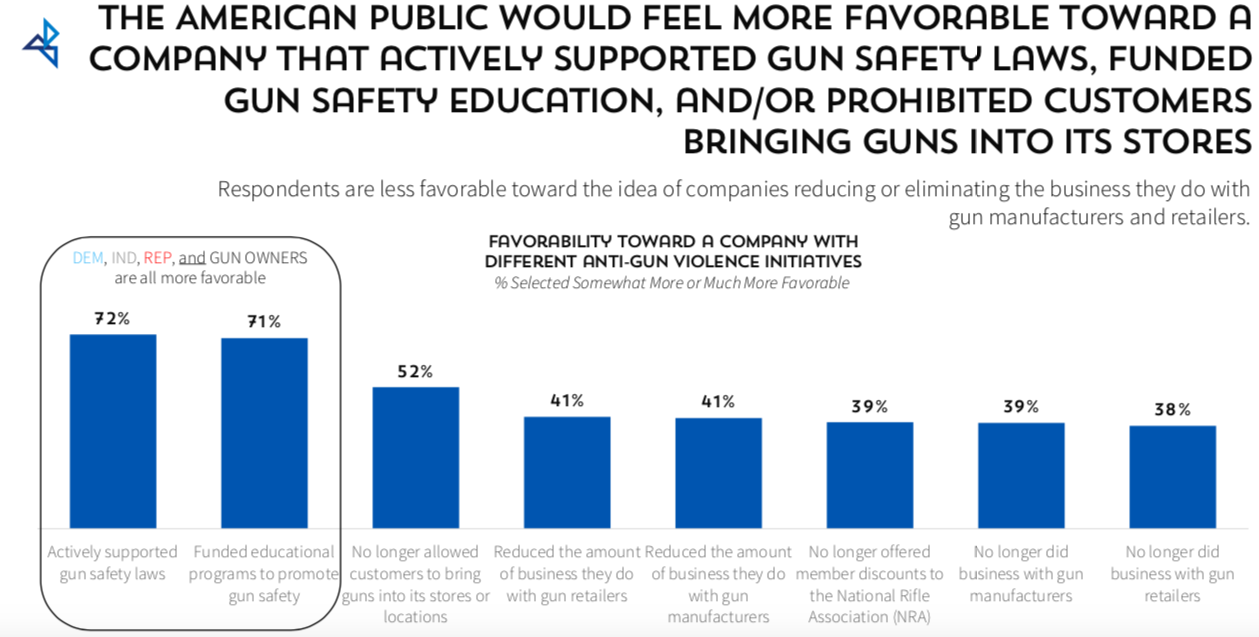 The majority of U.S. adults in a new poll by Edelman Intelligence would feel more favorably toward a company whose CEO backs tougher background checks for gun purchases.
Why it matters: CEOs traditionally were reluctant to wade into polarizing issues, but they face pressure from shareholders, employees and customers to show their values.
The global communications firm, which has conducted the Edelman Trust Barometer research for 19 years, gave Axios a first look at the poll.
The bottom line: Companies have "more to gain than they put at risk by taking a stand" on guns.
Just this week, Walmart halted ammo sales for handguns and assault-style weapons. Kroger joined Walmart in asking shoppers not to carry guns openly.
Edelman's advice to CEOs, based on the research:
"Executives have the public's permission to use their platforms to draw visibility to the issue and support gun safety laws."
"Businesses can choose from a variety of unifying initiatives — like background checks, red flag laws and educational program funding."
"Consumers are 3x more likely to respond positively than negatively to a CEO or company that takes action to address gun violence."
Go deeper: See the full report. ... Jim VandeHei, "CEOs are America's new politicians" .... Sara Fischer and Courtenay Brown, "Issues haunting CEOs."
4. Back to school in America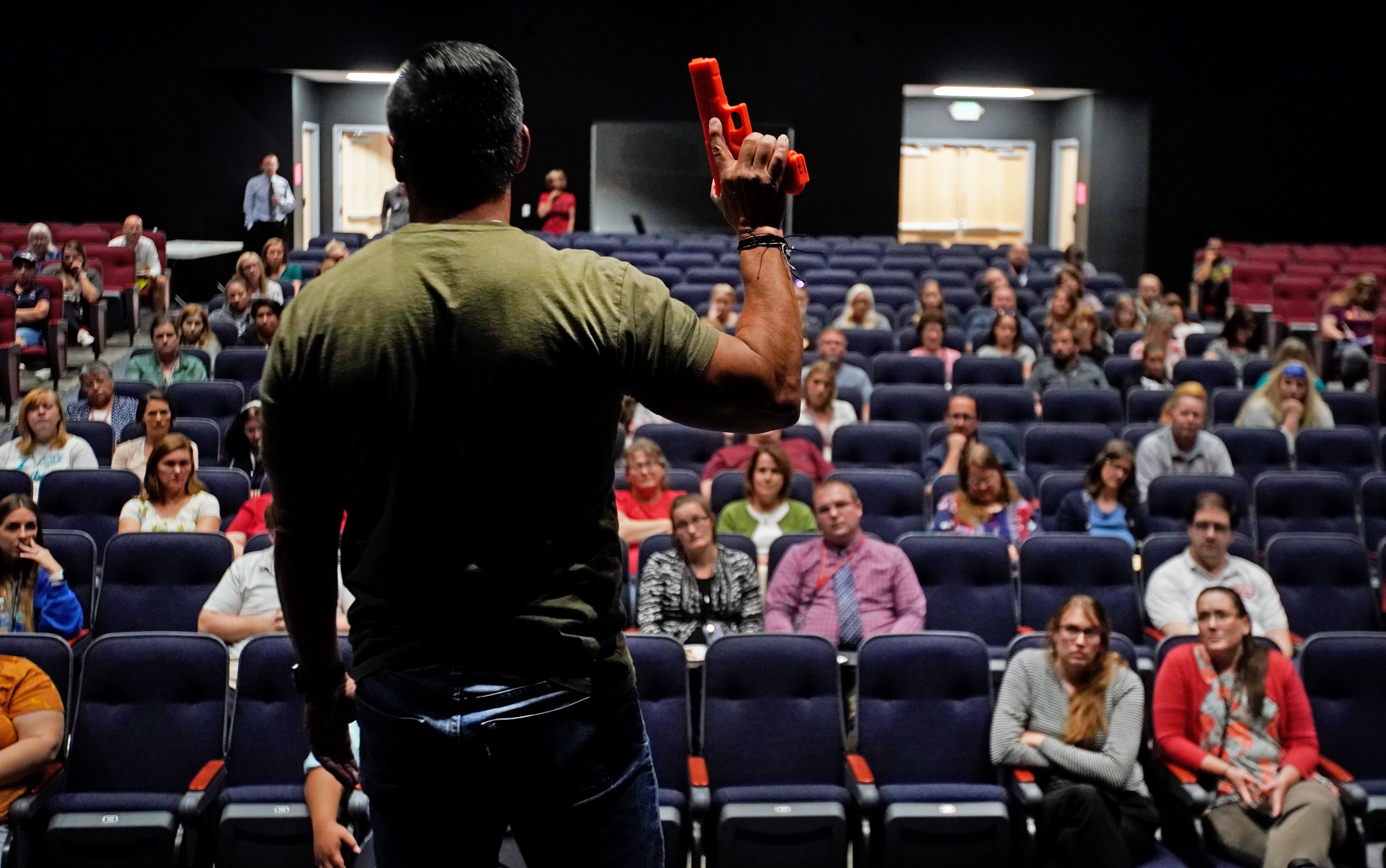 Dave Acosta, who teaches tactical response, holds a dummy handgun during active-shooter training for teachers in Provo, Utah, yesterday.
5. U.S. rules banking sector
"A decade after fueling a crisis that nearly brought down the global financial system, America's banks are ruling it," writes the Wall Street Journal (subscription).
"Last year, U.S. banks took home $7 of every $10 in merger fees, $6 of every $10 in stock commissions, and $6 of every $10 paid to hold and move corporate cash."
Why it matters: "Today's companies are increasingly global. They make more of their money in the U.S. and have swapped a shareholder register stacked with old-line European families and trusts for ... U.S. investment giants."
6. Climate debate gets serious
Ben Geman, author of Axios Generate, watched all seven hours of CNN's climate town hall with 10 2020 Dems, and was struck by how much more serious the debate has become.
Why it matters: CNN is past asking if candidates believe in human-induced warming. Instead, the questions from moderators and the audience were wide-ranging and detailed.
The conversations captured the vast dimension of the problem, going way beyond coal and cars to touch on farming, industry, human migration, deforestation, trade, the food system, economic justice and more.
Go deeper: What you need to know from the Climate Crisis town hall.
7. Coal's decline is hitting railroads
No matter what President Trump says, coal in America isn't coming back — and it's bringing other industries down with it, writes Axios' Amy Harder.
What's new: Coal demand for electricity is likely to drop by more than 50% in 11 years, according to a report by the rating agency Moody's.
In turn, revenue from transporting that coal around the country via trains is expected to drop $5 billion by 2030, or 5.5% of the railroad industry's 2018 revenue.
Why it matters: Coal makes up 13% of total freight volume, which is the largest single freight commodity moved by rail.
8. First look: Sarah Sanders book coming shortly before election
St. Martin's Press will announce today that former White House press secretary Sarah Sanders will publish a memoir about her Trump administration experiences in fall 2020 — right before the election.
Why it matters: Sanders, who could be combative with reporters and is seriously considering a run for Arkansas governor in 2022, will be a high-profile supporter of President Trump's re-election.
Sanders says in a release out later today: "From Arkansas to the White House and back, I'm excited to tell my story about the challenges of being a working mom at the highest level of American politics, and my role in the historic fight raging between the Trump administration and its critics for the future of our country."
Sanders, a Fox News contributor, lives in Little Rock.
9. 🇬🇧 Across the pond
10. 🎥 Coming attraction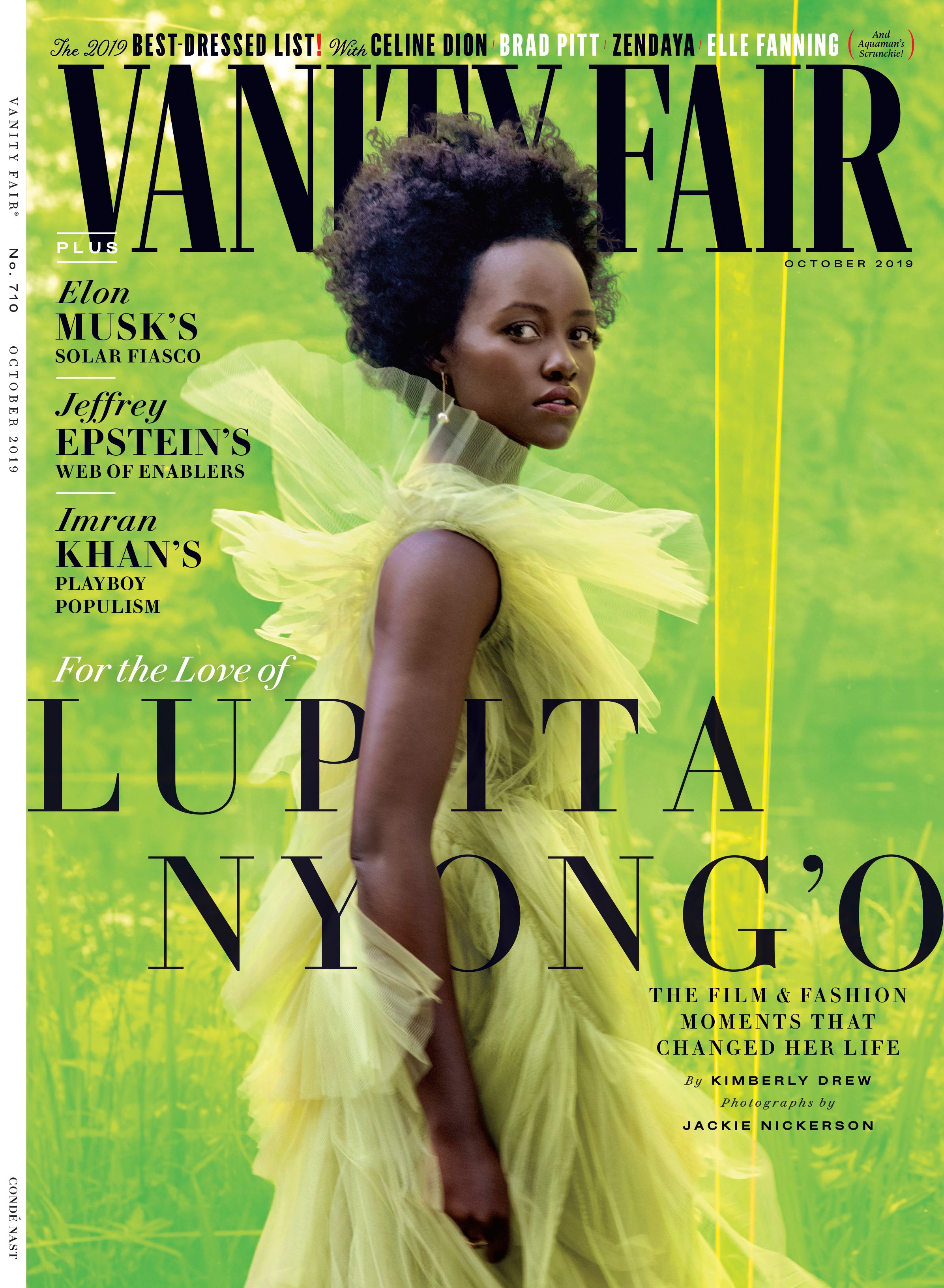 The theme for Vanity Fair's sixth New Establishment Summit is "the changing nature of power as Hollywood, Washington and Wall Street are transformed by Silicon Valley."
Disney CEO Bob Iger joins "Lion King" director Jon Favreau and Vanity Fair editor in chief Radhika Jones to discuss emerging technology in filmmaking.
Headliners for the event, set to take place Oct. 21-23 in L.A., include Ted Sarandos, Sheryl Sandberg, Edward Norton, Jodie Turner-Smith, Katie Couric, Bob Bakish and Gwyneth Paltrow.