Axios AM
November 12, 2021
Happy Friday! Smart Brevity™ count: 1,142 words ... 4½ minutes. Edited by Zachary Basu.
1 big thing — Exclusive: Trump defends threats to "hang" Pence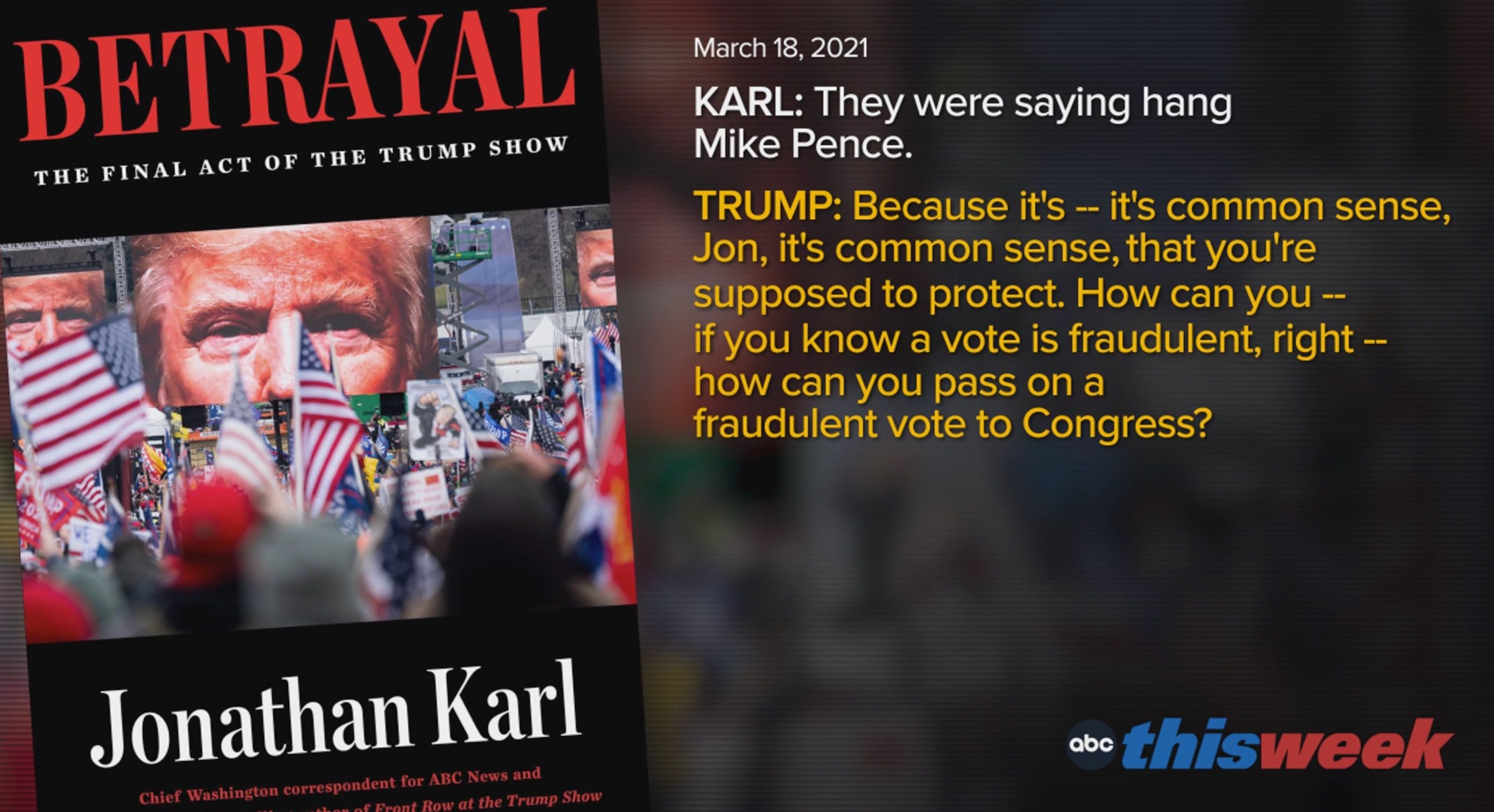 Former President Trump — in a taped interview with Jonathan Karl of ABC News that was shared with Axios — defended, quite extensively, supporters who threatened to "hang" former Vice President Mike Pence.
Why it matters: Well, it is unprecedented for a former president to openly say it was OK to threaten the life of his vice president.
Oh, the two men are on track to run against each other for the GOP nomination in 2024.
Zoom out: This is a slice of a 90-minute interview — conducted at Mar-a-Lago on March 18 — for Karl's book, "Betrayal," out on Tuesday.
More news-breaking audio from the interview will air Sunday on ABC's "This Week."
Go deeper: We will let the Q&A tell the story.
Jonathan Karl: "Were you worried about him during that siege? Were you worried about his safety?"
Trump: "No, I thought he was well-protected, and I had heard that he was in good shape. No. Because I had heard he was in very good shape. But, but, no, I think — "
Karl: "Because you heard those chants — that was terrible. I mean — "
Trump: "He could have — well, the people were very angry."
Karl: "They were saying 'hang Mike Pence.'"
Trump: "Because it's common sense, Jon. It's common sense that you're supposed to protect. How can you — if you know a vote is fraudulent, right? — how can you pass on a fraudulent vote to Congress? How can you do that? And I'm telling you: 50/50, it's right down the middle for the top constitutional scholars when I speak to them. Anybody I spoke to — almost all of them at least pretty much agree, and some very much agree with me — because he's passing on a vote that he knows is fraudulent. How can you pass a vote that you know is fraudulent? Now, when I spoke to him, I really talked about all of the fraudulent things that happened during the election. I didn't talk about the main point, which is the legislatures did not approve — five states. The legislatures did not approve all of those changes that made the difference between a very easy win for me in the states, or a loss that was very close, because the losses were all very close."
2. 💨 Home sales record: 1 week on market
"American home buyers are having to pounce faster than ever to clinch a deal, forcing many of them to make snap decisions about what house to purchase," The Wall Street Journal reports (subscription).
"Home sales between July 2020 and June 2021 sat on the market for a median period of only one week before going under contract, according to ... the National Association of Realtors."
"That is down from three weeks a year earlier and marks a record low in data going back to 1989."
Go deeper: Read the Realtors release.
3. Xi gets more power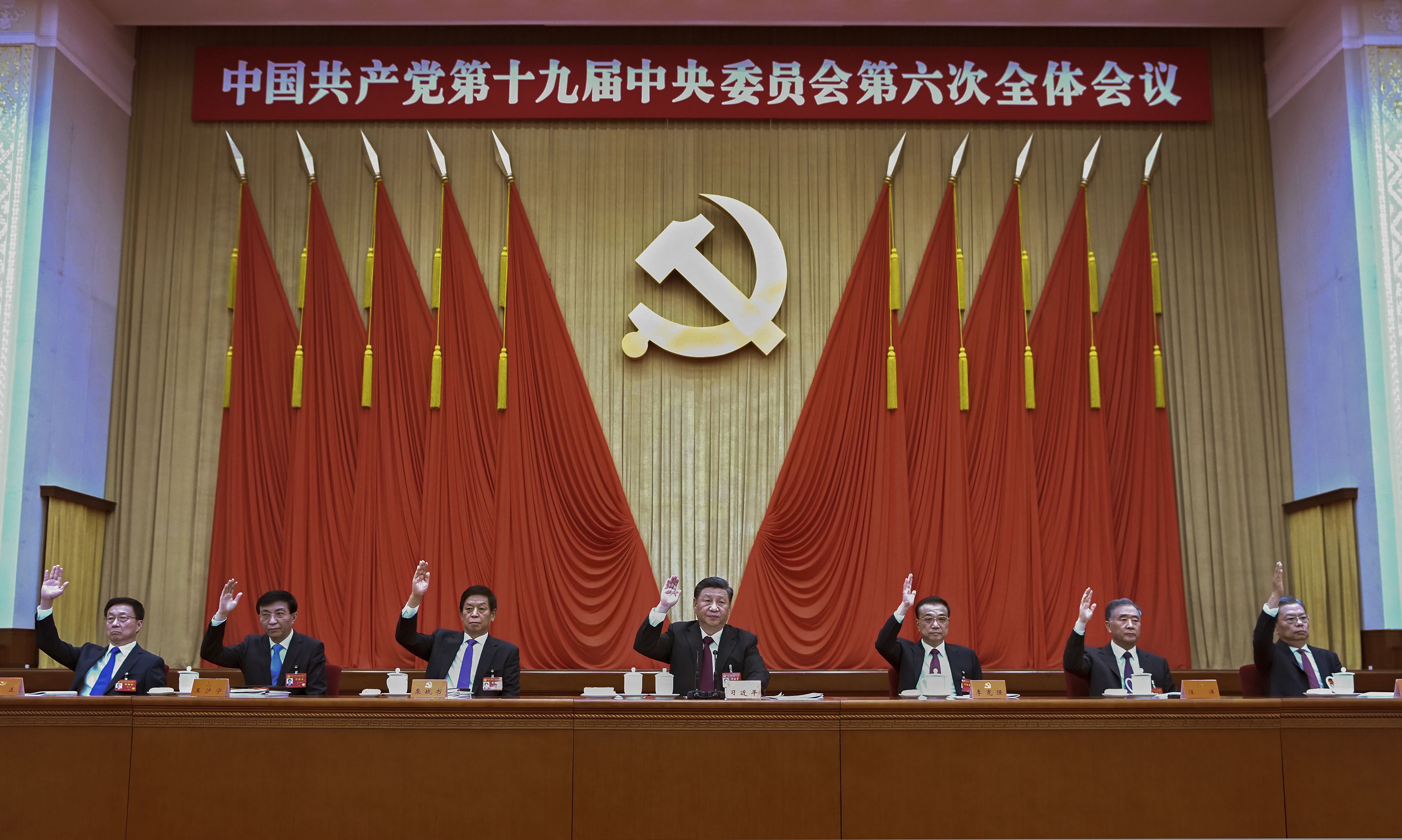 Leaders of China's Communist Party set the stage for Xi Jinping to extend his rule of the world's most populous country, AP reports.
Why it matters: Xi, who has amassed more power than any Chinese leader since at least "paramount leader" Deng Xiaoping in the 1980s, is expected to pursue a third five-year term.
Between the lines: That would break with a two-decade-old party tradition that would have required the 68-year-old leader to step down next year.
Xi's bid to stay in power has the potential to alienate younger party figures who might see their chances for promotion diminished.
"A party resolution on China's past ignores mistakes and cements the president's power," as the L.A. Times puts it.
🔭 The long view: Countries in Asia, Africa and Latin America have shown that long periods of one-person rule can lead to poor official decisions and economic performance.
Go deeper: Sponsors asked to defend support for Beijing Winter Olympics.
4. Veterans Day in America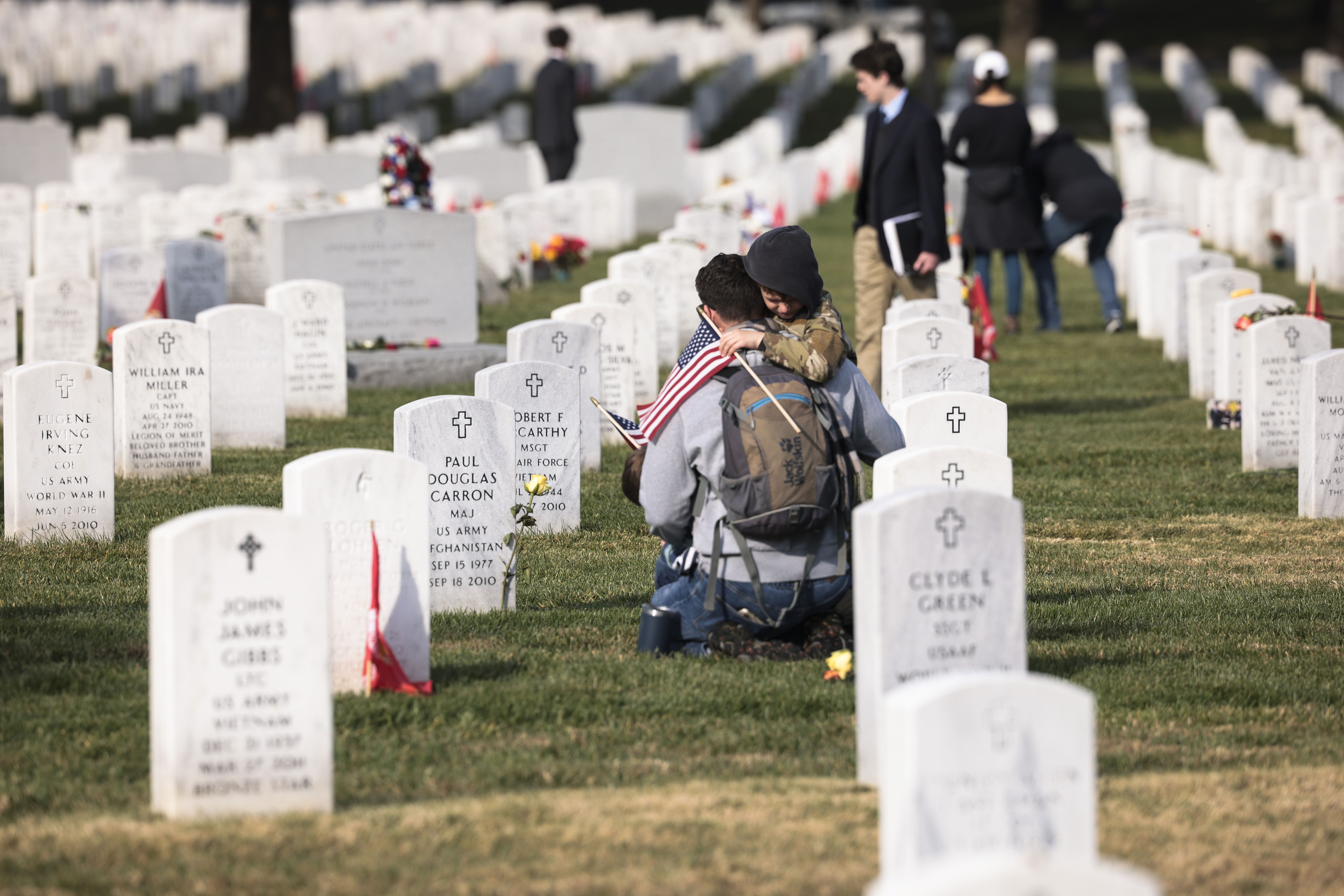 Army veteran Stephen Hedger is hugged by his son, Lincoln, as they visit the gravesite of U.S. Army Major Paul Douglas Carron at Arlington National Cemetery yesterday.
5. ⛽ Data of the day: California is 2¢ from gas record
The average price of self-serve regular gas in California is $4.65 — just two cents under the record, set Oct. 9. 2012, AAA reports.
The average national price is $3.42, unchanged from a week ago.
Californians: See a table of gas prices by metro area + the record price.
6. 🌐 Bloomberg personally pitches centrists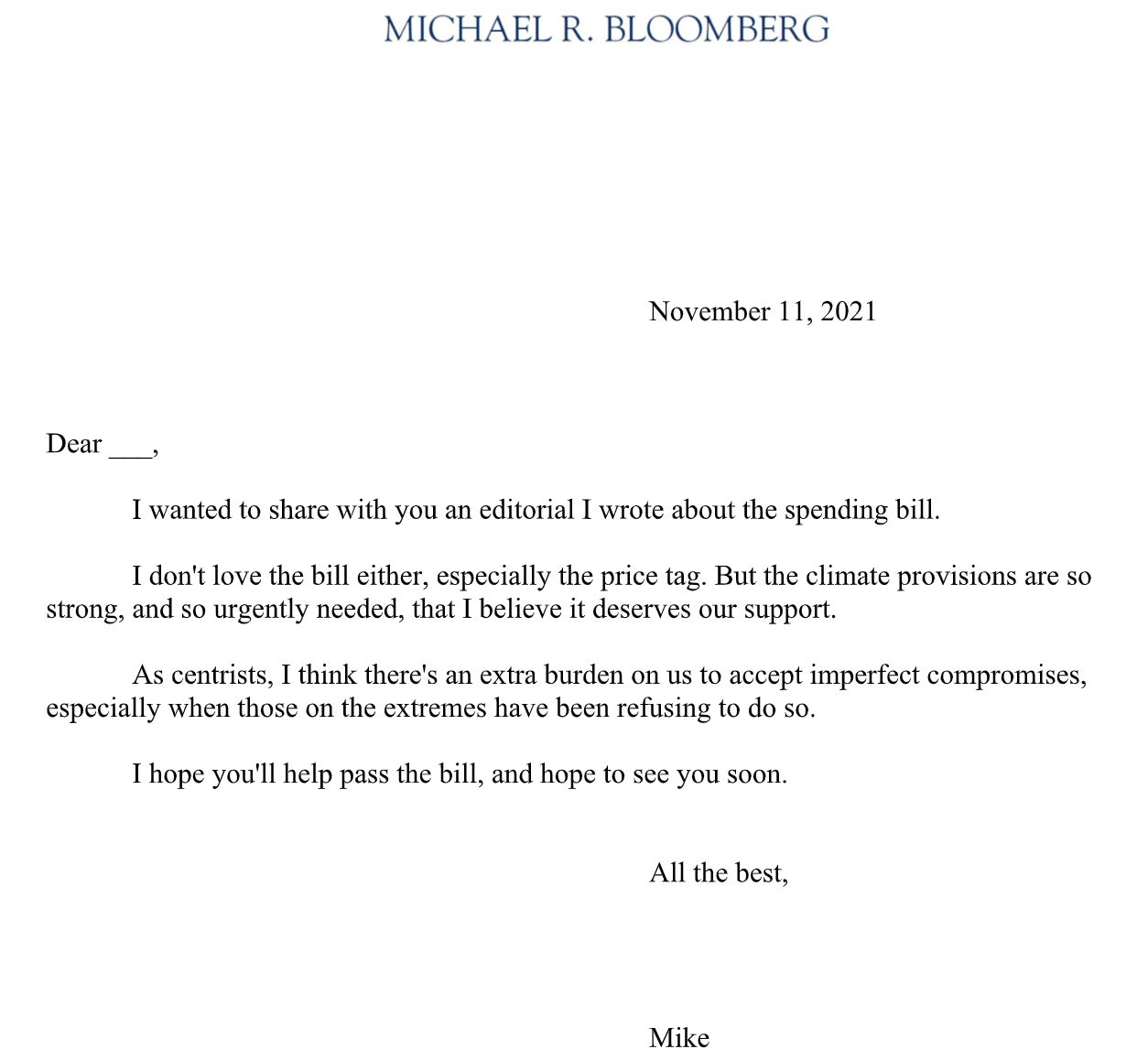 Former New York Mayor Mike Bloomberg, after speaking at the Glasgow summit, is personally asking centrist House Democrats to support President Biden's Build Back Better package because of its climate provisions.
"Democrats won't get this chance again, and neither will the nation," Bloomberg writes in an editorial for Bloomberg Opinion. "The overall bill is hardly perfect, but a major portion of it would produce health, environmental and economic benefits that we can't afford to lose."
7. ✈️ American Airlines tries to head off holiday mayhem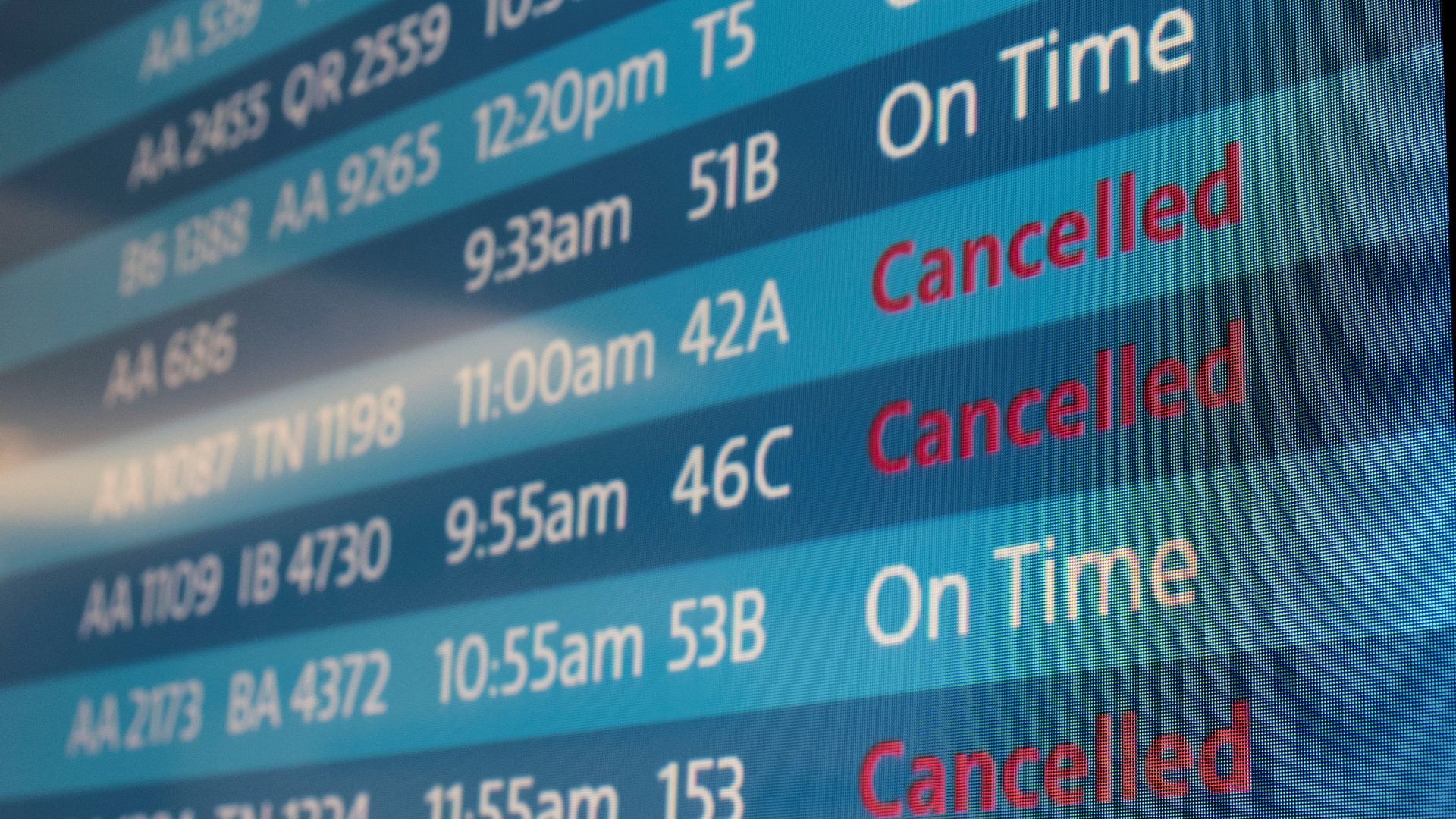 Trying to head off mass flight cancellations, American Airlines offered flight attendants and pilots extra pay for working during the holidays. The pilots union voted to reject the offer, reports Michael Mooney of Axios Dallas.
Why it matters: Flight demand is slowly approaching 2019 levels. Mass disruptions in December could be infuriating for passengers and incredibly costly for airlines.
Flight attendants could make as much as triple their usual pay for working holiday flights and having perfect attendance.
American offered pilots a 50% pay increase for flying peak days around Thanksgiving, Christmas and New Year's Day — and an additional 50% increase for picking up extra holiday trips.
The pilots union says it wants more permanent changes to how the airline schedules flights.
Flashback: American Airlines had to cancel more than 2,000 flights in only a few days at the end October and early November, citing weather problems and understaffing.
Southwest experienced similar problems, which cost the airline a reported $75 million.
8. 🤖 Parting shot: Robot truck route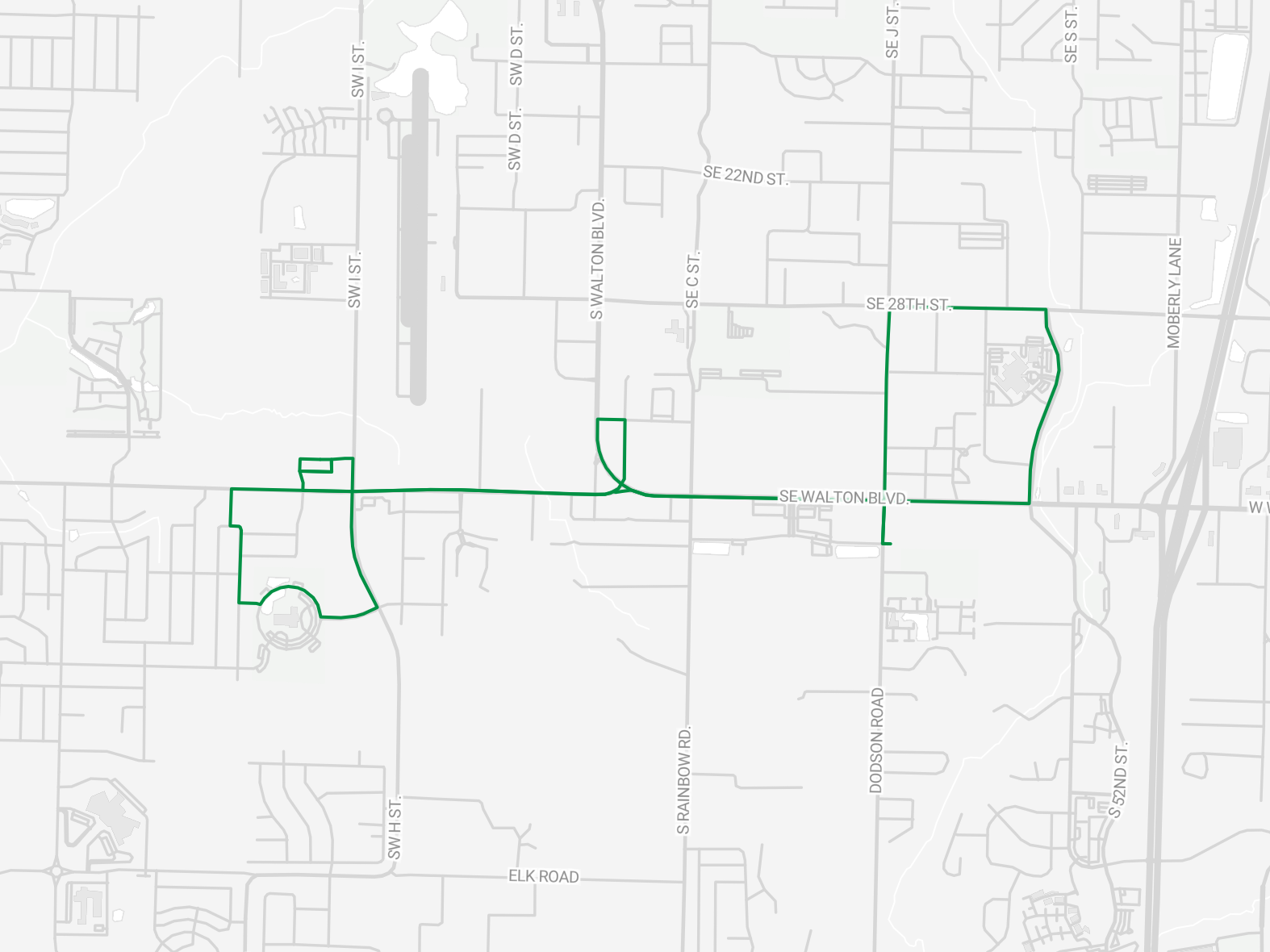 Driverless trucks are a daily sight in Bentonville, Ark., as they shuttle Walmart merchandise from a warehouse to a Neighborhood Market, Axios' Joann Muller and Worth Sparkman report.
Walmart and its self-driving technology partner, Gatik, pulled the human safety driver from autonomous delivery trucks on a 7-mile route in the retailer's hometown — an industry first.
A passenger rides along as an observer, with the ability to stop the truck in an emergency. A chase vehicle follows behind.
How it works: The trucks move customer orders from a Walmart "dark store" (micro-fulfillment center) to a nearby Neighborhood Market.
The route avoids schools and hospitals, and favors right turns — a practice pioneered by UPS.
Lingo: Gatik is targeting the "middle mile" of the supply chain — short, fixed, repeatable routes.
📬 Was this email forwarded to you? Sign up here for your own copy of Axios AM and Axios PM.