Good Wednesday morning. If you're in the Raleigh area ... Please join Axios CEO Jim VandeHei and me in Chapel Hill tomorrow as we launch the "Smarter Faster Revolution" at 12:15 p.m. in UNC's Great Hall, at the Carolina Union. Our guests will include Jeff Immelt. I pre-gamed with Tyler Fleming, editor-in-chief of The Daily Tar Heel. We'll talk future-of-media onstage tomorrow. RSVP via The Daily Tar Heel.
https://www.axios.com/newsletters/axios-am-4f7f7284-ecbf-4ea0-a4ff-a3f5bf40a34d.html?chunk=0#story0
1 big thing: Dems' old-people problem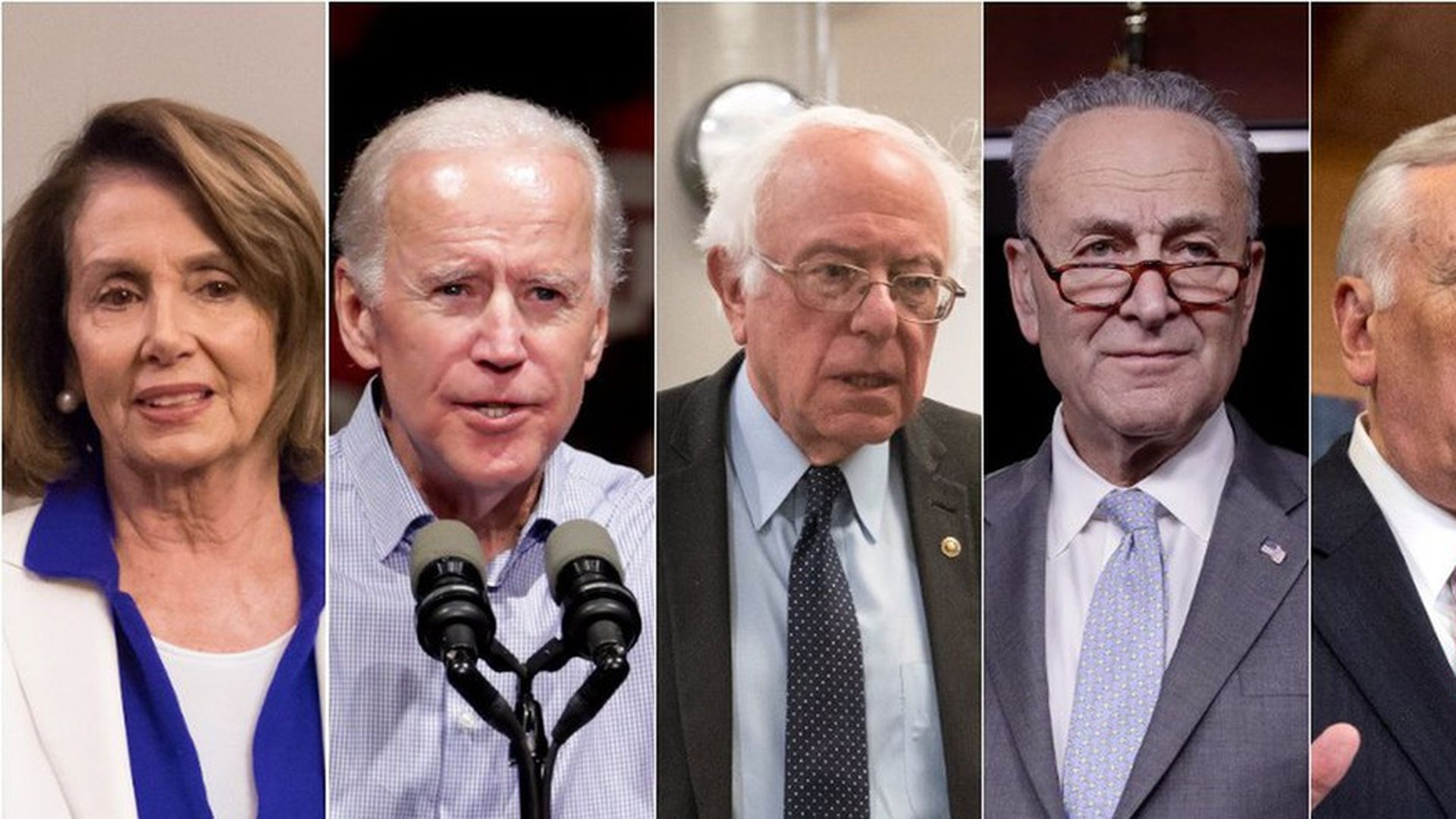 Democrats are rethinking their future — but doing it with the leadership of old men and women deeply rooted in the past, Axios' Alexi McCammond writes:
The top three House Democrats in leadership are all nearly 80 years old.
By the numbers: The average age of Democrats serving under these leaders is 61. Three of the most talked-about 2020 contenders are Sen. Bernie Sanders, 76; Sen. Elizabeth Warren, 68; and Joe Biden, 74.
Why it matters: Older Democratic leaders are unwilling to give up their seats, even as younger Democrats call for "a new generation of leaders," as top House Democrat Linda Sanchez said when she asked for Nancy Pelosi to step down.
Former DNC Chair Howard Dean told MSNBC: "Our leadership is old and creaky, including me."
A recent CNN poll found that five of the six people voters view as the leaders of the Dem Party average 71 years old (Sanders, Clinton, Schumer, Warren, Biden).
A handful of younger Dems have considered running for president in 2020, like Mayors Eric Garcetti, 46, and Mitch Landrieu, 57. Rep. Tim Ryan of Ohio, 44, hasn't ruled out running, and challenged Pelosi for her leadership post last year. Californians like Sen. Kamala Harris, 53, and billionaire Tom Steyer, 60, also could run in 2020.
https://www.axios.com/newsletters/axios-am-4f7f7284-ecbf-4ea0-a4ff-a3f5bf40a34d.html?chunk=1#story1
2. Underplayed, exploding story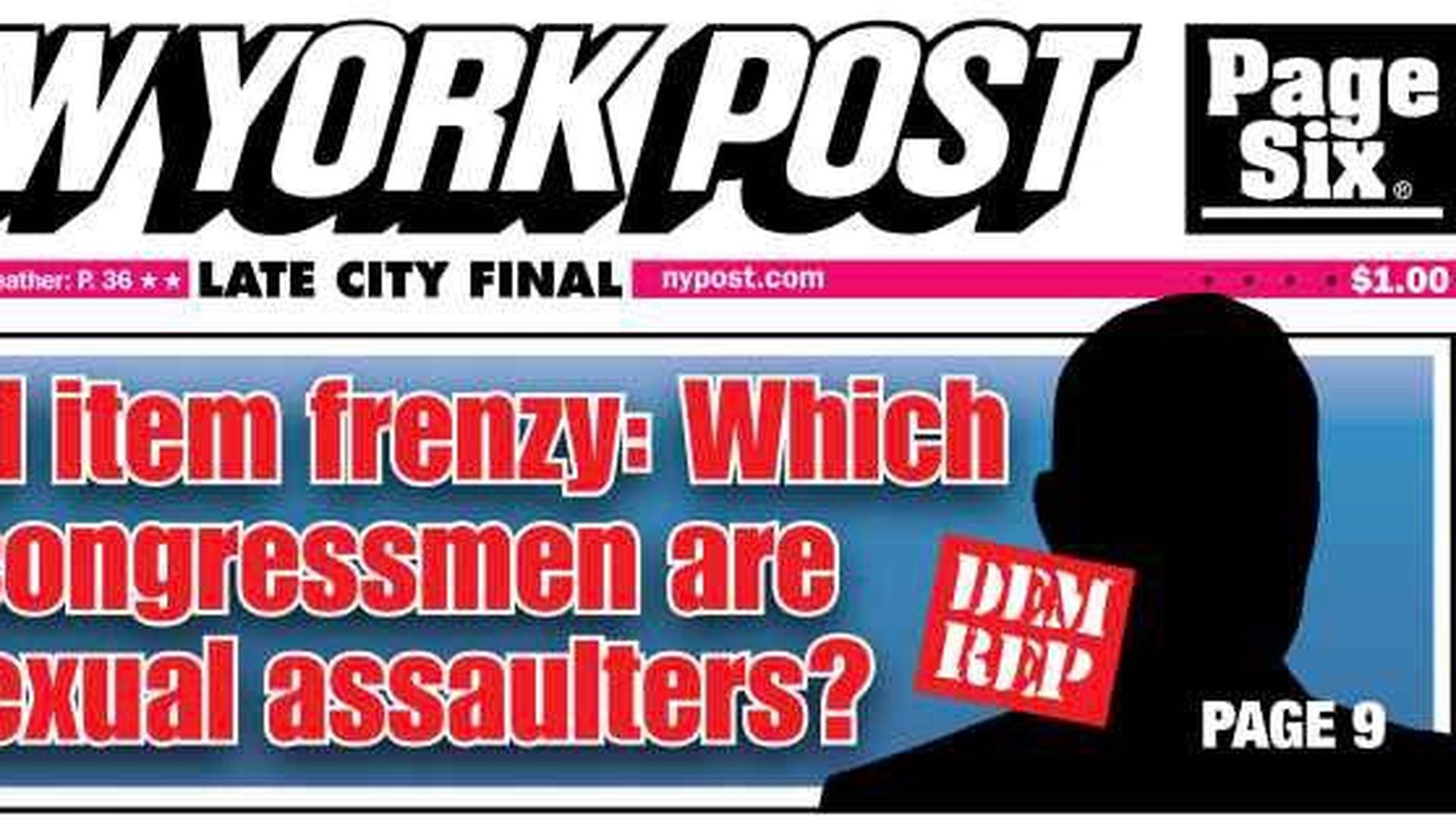 Speaker Ryan said "that the House will require anti-harassment and anti-discrimination training for all members and their staffs," AP reports. "The announcement came just hours after a hearing in which two female lawmakers spoke about sexual misconduct involving sitting members of Congress."
"The move comes days after the Senate unanimously approved a measure requiring all senators, staff and interns to be trained on preventing sexual harassment."
"During a House Administration hearing [yesterday] on sexual harassment prevention, Rep. Barbara Comstock, R-Va., said she was recently told about a staffer who quit her job after a lawmaker asked her to bring work material to his house, then exposed himself."
"At the same hearing, Rep. Jackie Speier [D-Calif.] said two current lawmakers have been involved in sexual harassment."
Why it matters: "With each passing day, new revelations of sexual misconduct continue to rock the political sphere."
https://www.axios.com/newsletters/axios-am-4f7f7284-ecbf-4ea0-a4ff-a3f5bf40a34d.html?chunk=2#story2
3. Business zeitgeist 📈
"American Industry Picks Up Steam," says the Wall Street Journal lead story:
What's new: "U.S. Manufacturing Rides Rising Tide, Buoyed by Global Growth, Optimism: Makers of everything from bulldozers to food products are on an upswing as production, spending and sentiment improve."
"[B]usiness investment has risen, a sign companies are spending to increase productivity."
"The gains have happened even though important parts of Mr. Trump's manufacturing agenda haven't come to fruition."
https://www.axios.com/newsletters/axios-am-4f7f7284-ecbf-4ea0-a4ff-a3f5bf40a34d.html?chunk=3#story3
Bonus: Pic du jour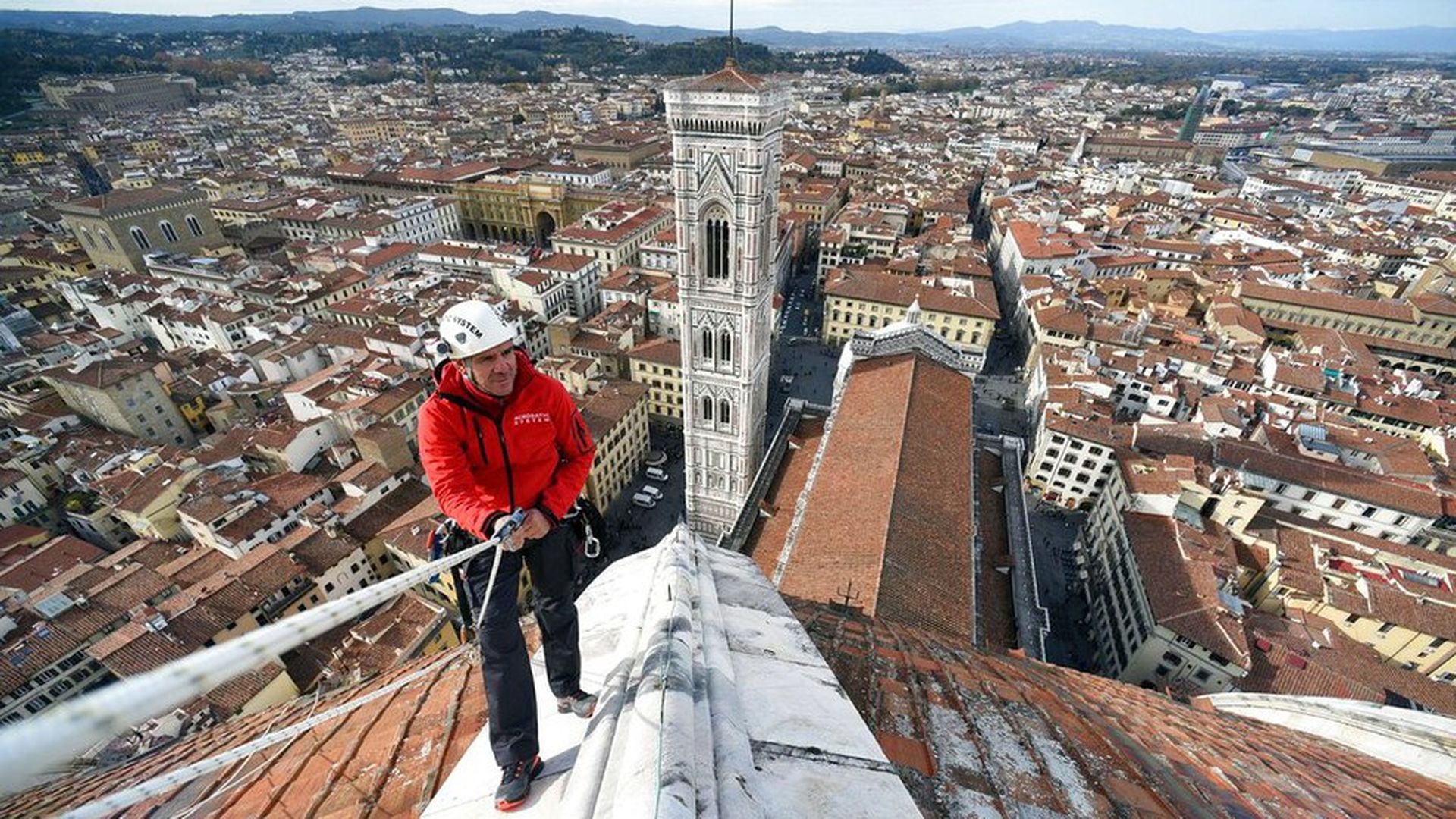 A worker in Florence, Italy, climbs atop Santa Maria del Fiore cathedral's Brunelleschi Dome to perform maintenance works and regular checks yesterday.
In the background is the famous Giotto's Campanile, or bell tower.
https://www.axios.com/newsletters/axios-am-4f7f7284-ecbf-4ea0-a4ff-a3f5bf40a34d.html?chunk=4#story4
4. Attorney general changes his recollection, again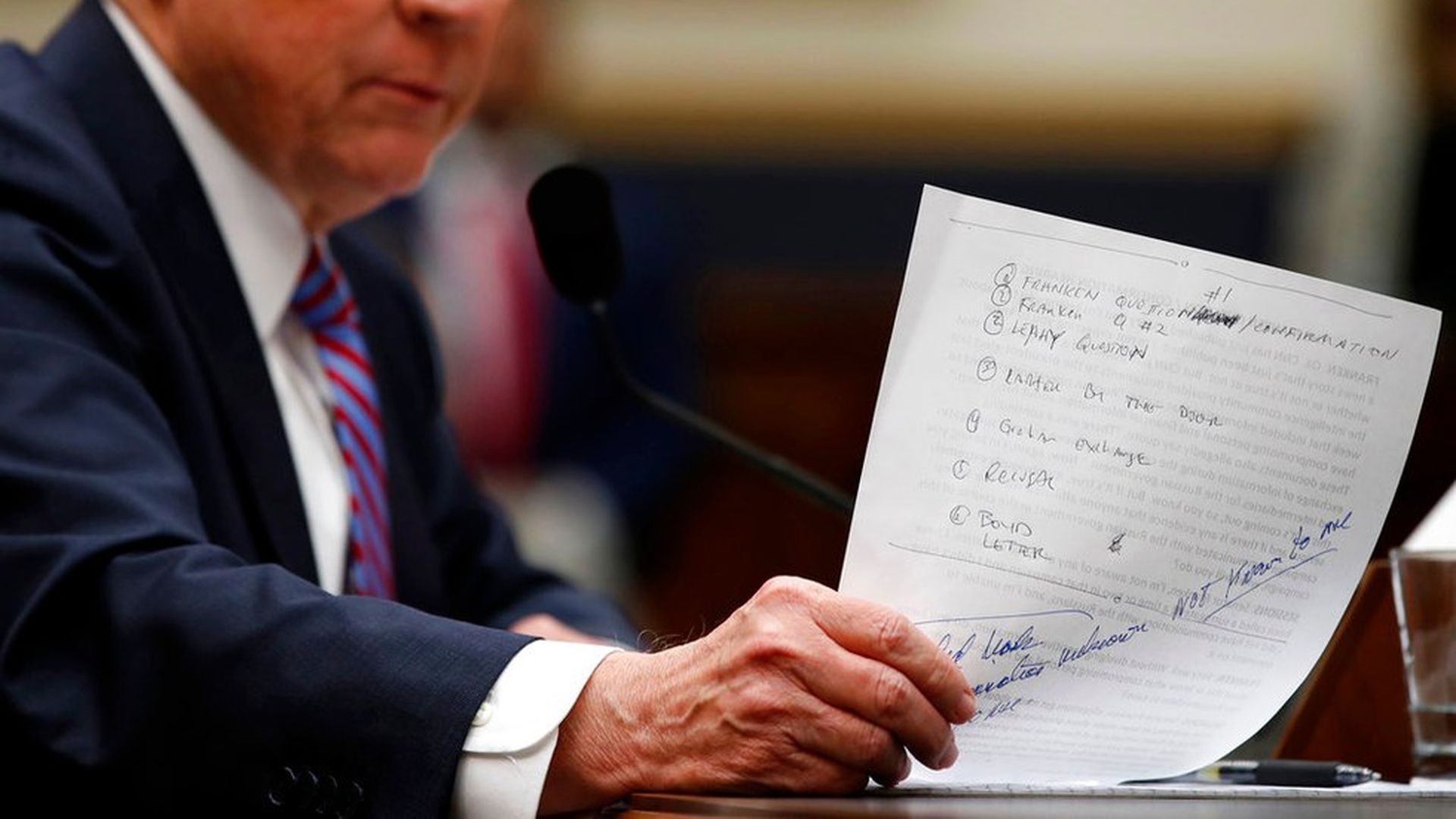 "Attorney General Jeff Sessions ... again revised his account of what he knew about the Trump campaign's dealings with Russians, acknowledging for the first time that he recalled a meeting where a foreign policy adviser mentioned having contacts who could possibly broker a meeting between" Trump and Putin, the WashPost writes in its lead story.
N.Y. Times Quote of the Day ... Sessions, testifying that he did not intentionally mislead anyone about fleeting and forgotten meetings involving Russia during the campaign: "You're accusing me of lying about that? I would say that's not fair, colleagues."
https://www.axios.com/newsletters/axios-am-4f7f7284-ecbf-4ea0-a4ff-a3f5bf40a34d.html?chunk=5#story5
5. Data du jour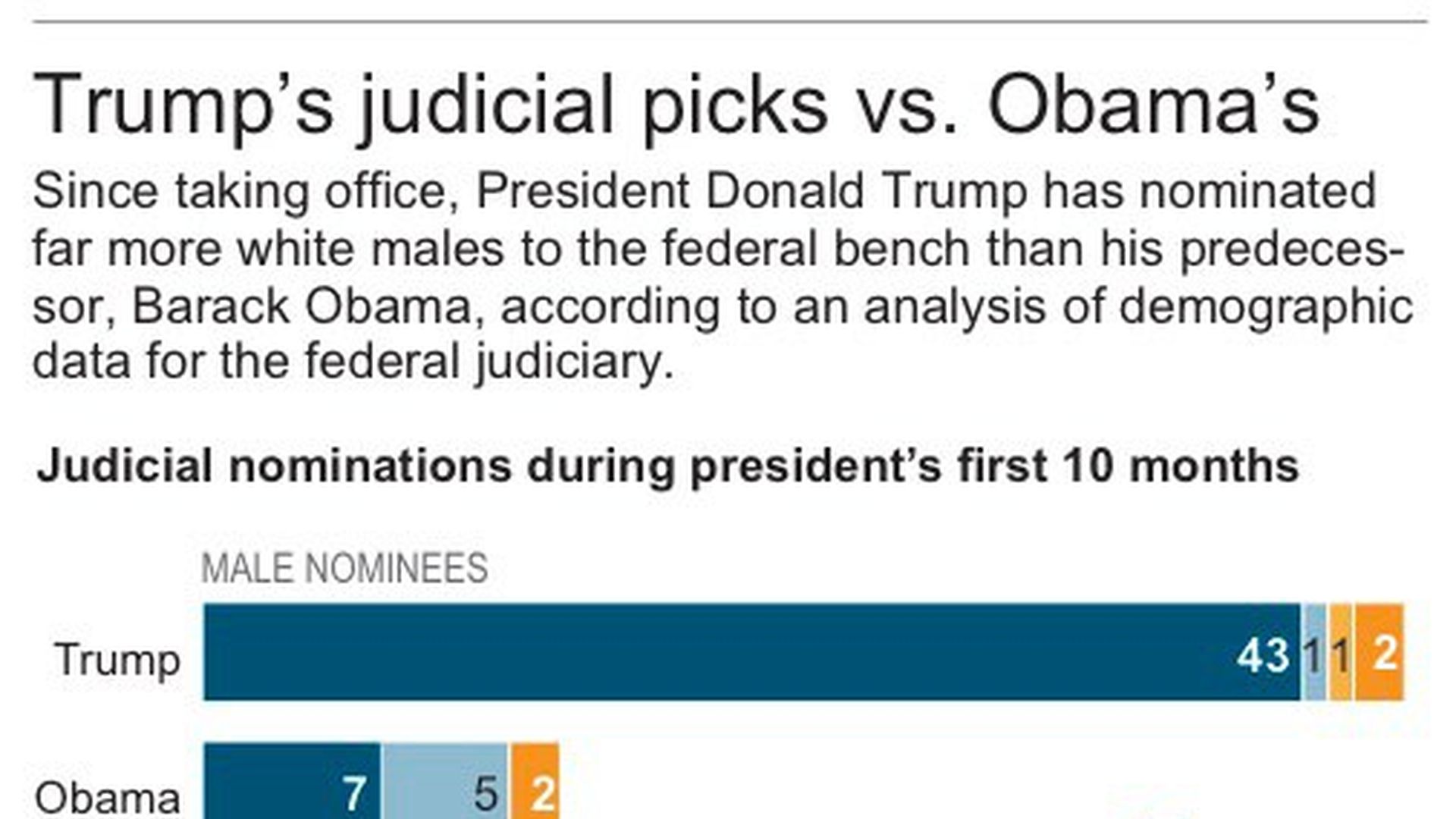 "Trump is nominating white men to America's federal courts at a rate not seen in nearly 30 years, threatening to reverse a slow transformation toward a judiciary that more closely reflects the nation's diversity," AP reports:
"91% of Trump's nominees are white, and 81 percent are male."
"Three of every four are white men, with few African-Americans and Hispanics ... The last president to nominate a similarly homogenous group was George H.W. Bush."
Why it matters: "The shift could prove to be one of Trump's most enduring legacies. These are lifetime appointments, and Trump has inherited both an unusually high number of vacancies and an aging population of judges."
https://www.axios.com/newsletters/axios-am-4f7f7284-ecbf-4ea0-a4ff-a3f5bf40a34d.html?chunk=6#story6
6. Trump's post-trip TV tips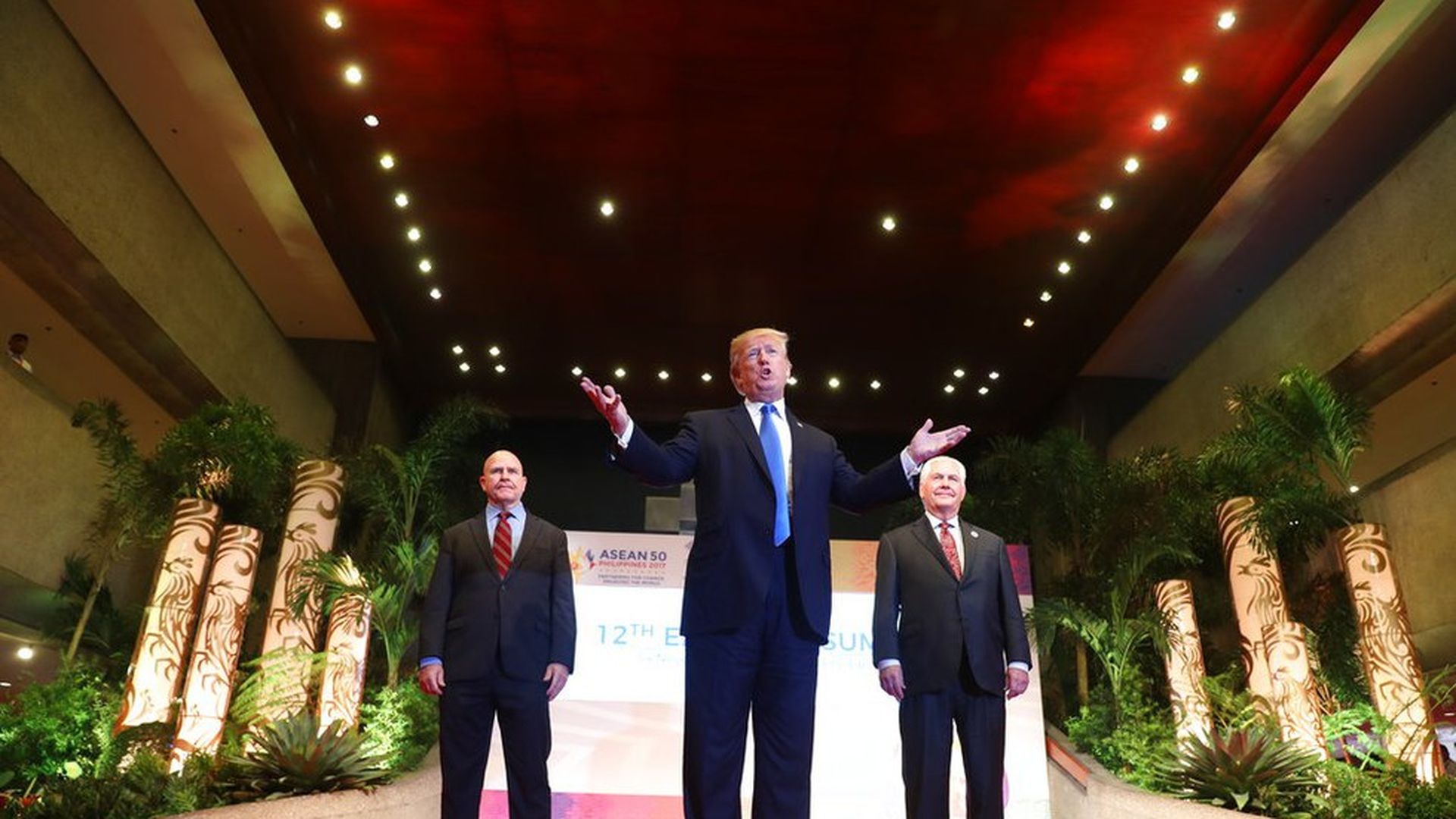 President Trump arrived back at the White House just before 9 last night after his first Asia swing — five nations, six cities, three summits, 20,295 miles.
AP's Jonathan Lemire and Jill Colvin: "For all his tough campaign talk on trade, Trump appeared reluctant to take a confrontational stance. He cajoled and flattered leaders in Tokyo and Seoul without eliciting firm commitments for a more balanced economic relationship."
Behind-the-scenes nugget: "As Trump and Chinese President Xi Jinping wrapped up their joint statements to the press in Beijing [and] ducked backstage, Xi summoned his interpreter and posed an inquiry to Trump: 'Who is Roy Moore?'"
Not The Onion ... The president at 5:40 a.m. tweeted that "Fox & Friends" will be "showing much of our successful trip to Asia, and the friendships & benefits that will endure for years to come."
"While in the Philippines I was forced to watch @CNN, which I have not done in months, and again realized how bad, and FAKE, it is. Loser!"
He also pointed America to a tweet from a citizen saying "best president ever!"
Developing ...
Be smart: Trump has been teasing a "major" post-trip announcement, sending Washington's business and trade communities scrambling. Axios' Jonathan Swan poked around and found out it's less than meets the eye: He'll do a wrap-up of the trip, but don't hold your breath. Big stuff coming — it's just not baked yet.
P.S. The Trumps are "set to spend Thanksgiving in Palm Beach, ... continuing a family tradition he maintained before moving to the White House," writes AP's Zeke Miller, a pilot, based on FAA guidance for the area.
Jeffrey Toobin of CNN and The New Yorker is writing a book for Doubleday on Trump and Russia; no release date set.
https://www.axios.com/newsletters/axios-am-4f7f7284-ecbf-4ea0-a4ff-a3f5bf40a34d.html?chunk=7#story7
7. Uh-oh: GOP tries two-fer on tax, health reform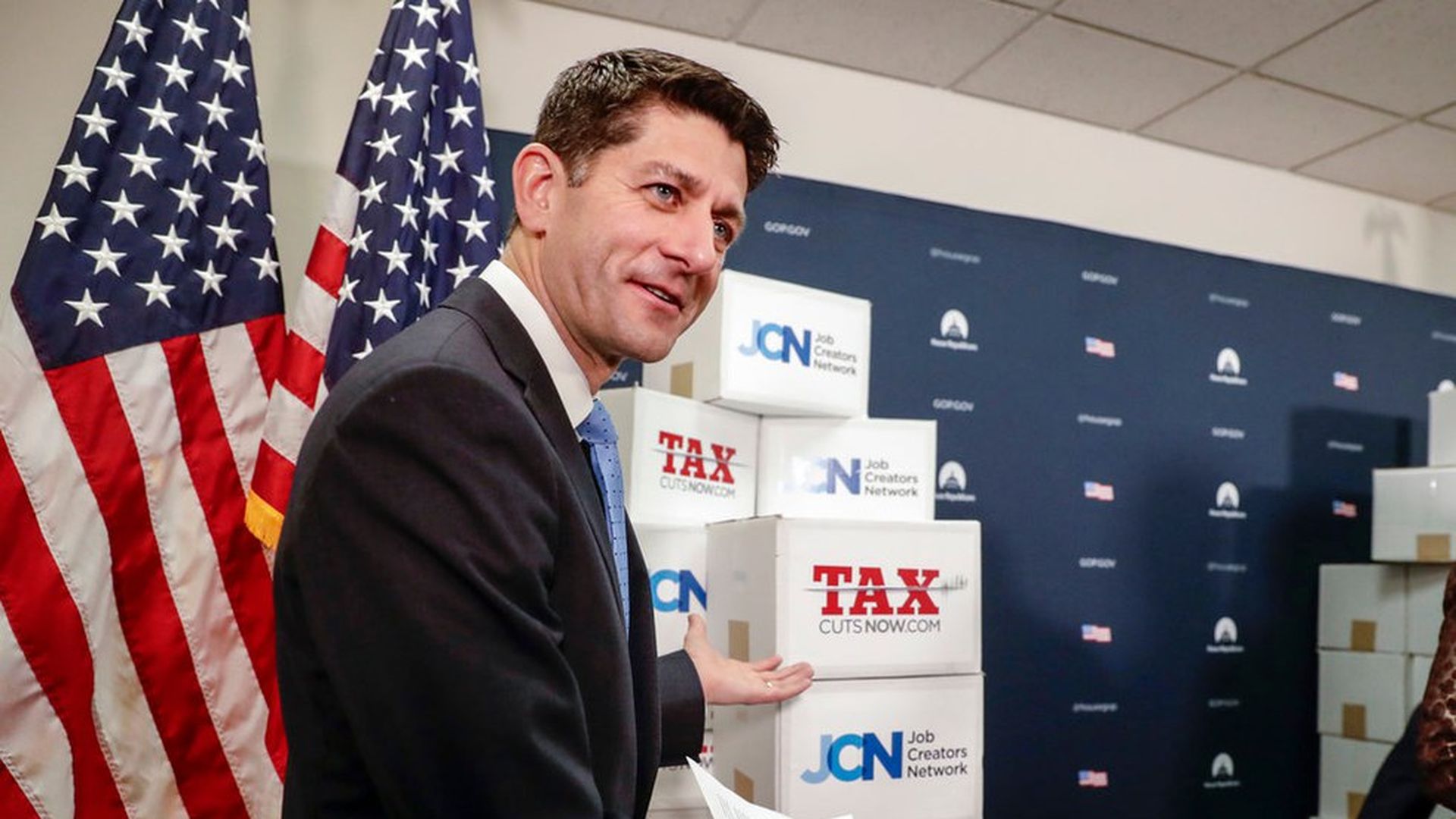 "Senate Republicans took a big gamble ... with their tax reform bill, adding a partial Obamacare repeal provision that would free up more money for tax cuts, but also inject significant new political hurdles," the L.A. Times reports in its lead story:
"The change, backed by President Trump and a handful of senators, would end the mandate under the Affordable Care Act that all Americans have health coverage."
Be smart, from Axios' Jonathan Swan: Tax reform has been a sleepy debate until now. Democrats haven't been able to land a good punch. Bringing health care into the tax debate will awake the Dem base and supercharge their outside groups. Could be a disaster for the public opinion of this bill.
https://www.axios.com/newsletters/axios-am-4f7f7284-ecbf-4ea0-a4ff-a3f5bf40a34d.html?chunk=8#story8
8. First look: DACA push from national-security bigs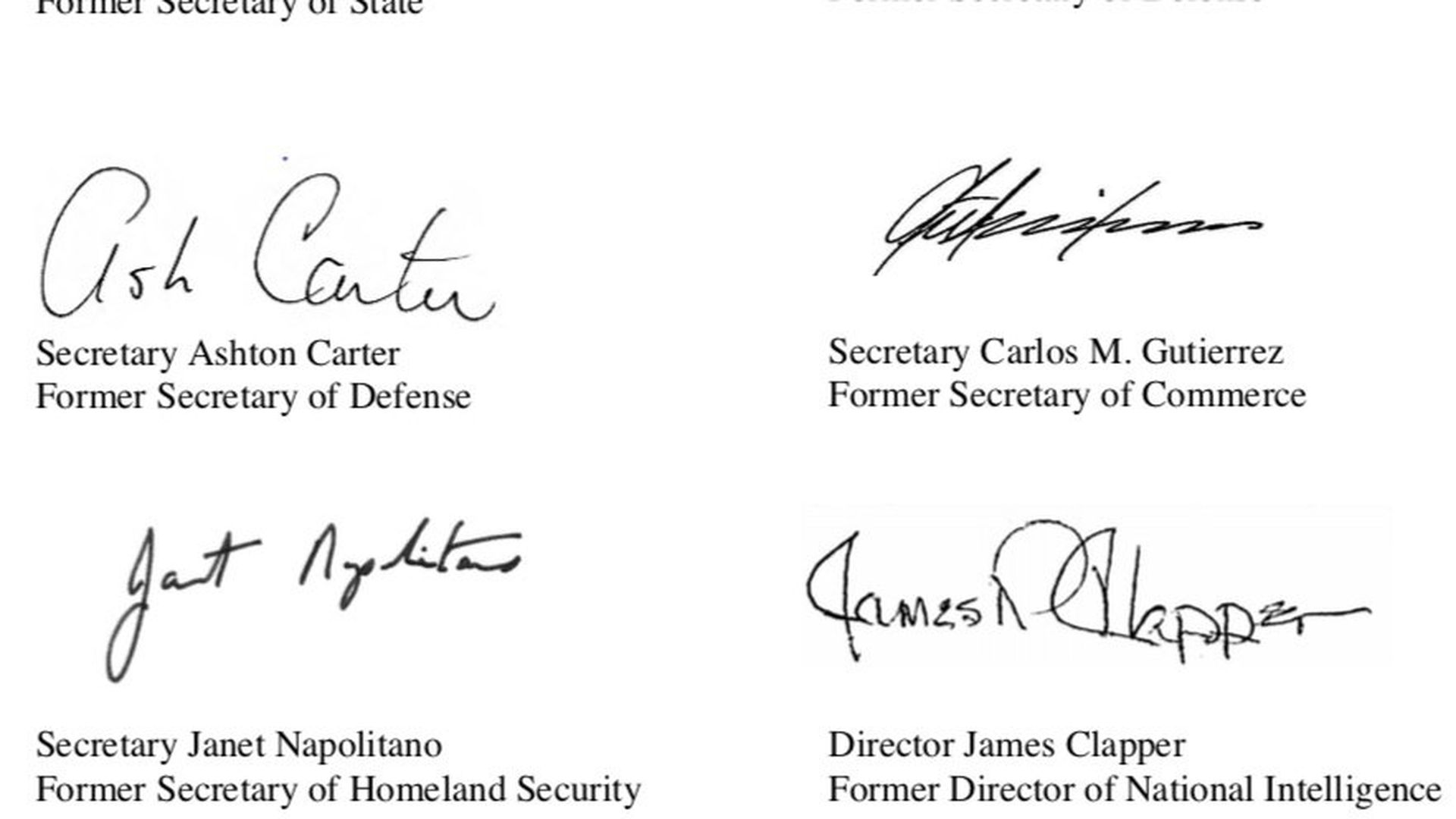 A bipartisan group of 13 former top national security officials write the top four congressional leaders to argue for the urgency of passing an immigration fix for "Dreamers" by Dec. 8.
Why it matters: It's very unusual for bipartisan former officials of this stature to collectively speak out on any issue.
https://www.axios.com/newsletters/axios-am-4f7f7284-ecbf-4ea0-a4ff-a3f5bf40a34d.html?chunk=9#story9
9. 1 thing we don't have in Washington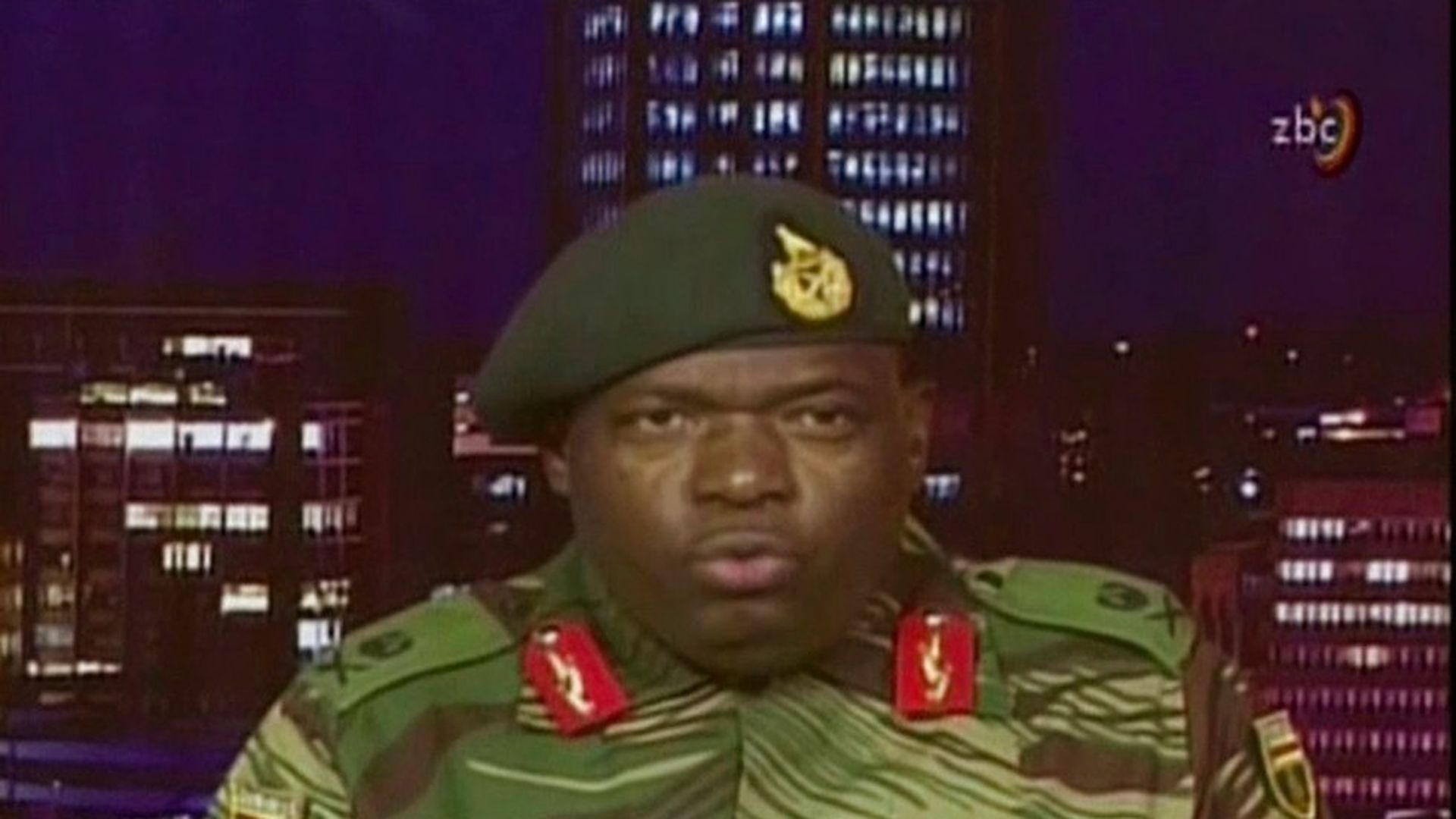 The military has taken control in Zimbabwe, in southern Africa, and says it has taken custody of President Robert Mugabe, 93 — the world's oldest head of state, in power since 1980.
BBC: "After seizing state TV, an army spokesman announced it was targeting people close to Mr. Mugabe who had caused 'social and economic suffering.'"
"The move came after Mr Mugabe sacked his deputy, Emmerson Mnangagwa, in favor of his wife, Grace," also in custody.
Why it matters, from Reuters: "In contrast to his elevated status on the continent, Mugabe is reviled in the West as a despot whose disastrous handling of the economy and willingness to resort to violence to maintain power destroyed one of Africa's most promising states."
An awesome background paragraph, from AP: "Mugabe last week ... accused [his sacked vice president] of plotting to take power, including through witchcraft."
https://www.axios.com/newsletters/axios-am-4f7f7284-ecbf-4ea0-a4ff-a3f5bf40a34d.html?chunk=10#story10
10. 1 sports thing
Major League Baseball wants to speed up games ... "The average time of a nine-inning contest [last season] was a record 3 hours, 5 minutes, ... up from 2:56 in 2015. The postseason average was 3:29," AP's Ronald Blum writes from the annual GM's meeting in Orlando:
"Many owners and general managers want to cut down trips to the mound by catchers. Whether the reason is changing signs, talking about pitch selection or just giving a pitcher a breather during long plate appearances, management wants to cut back."
The paranoia factor: "Pitchers and catchers say they are being extra cautious in an era where dozens of high-definition cameras are focused on them, and each team has employees in video rooms seeking any advantage."
"There ... has been discussion about cutting the time between innings by using split screens to broadcast commercials while half-innings get underway."
Dick Keil — a Red Sox fan who jokes that he sometimes "trades off" late innings with a friend, one napping on the couch and the other watching — emails: "Anyone who doesn't live in Hawaii will applaud this."