Axios AM
August 25, 2022
Happy Thursday. Smart Brevity™ count: 1,491 words ... 5½ mins. Edited by Jennifer Koons.
⚡ Situational awareness: Uvalde fires school police chief over shooting response.
L.A. County must pay $16 million to Vanessa Bryant, Kobe Bryant's widow, over crash-site photos (L.A. Times).
1 big thing: Dems' stunning turnaround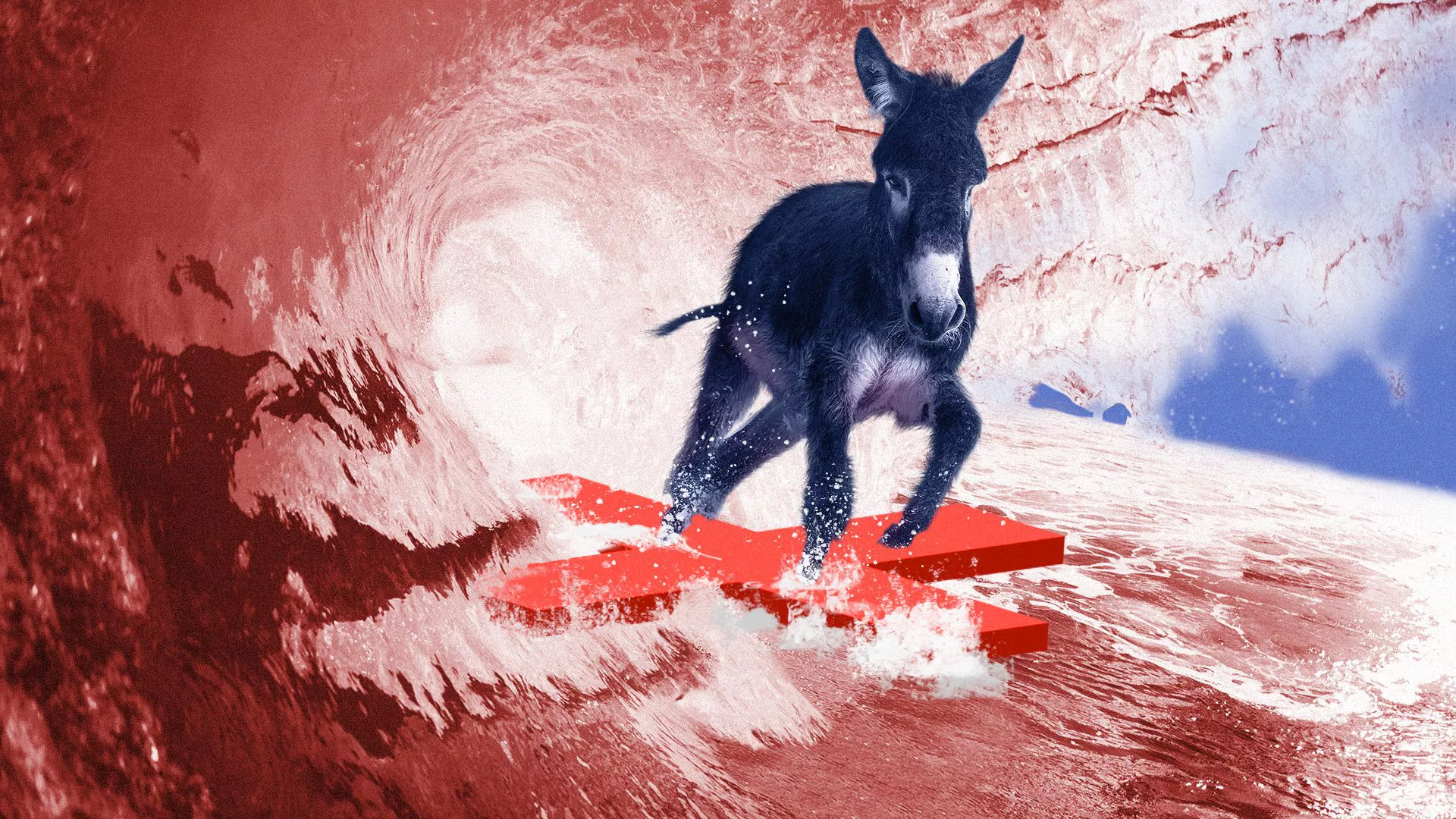 Passion about abortion rights has fueled a stunning turnaround in Democrats' midterm fortunes.
75 days from Election Day, Democrats have a good chance of keeping the Senate. And keeping the GOP to a narrow win in the House is now a realistic possibility, Axios' Josh Kraushaar writes.
Why it matters: Inflation's slowdown and lower gas prices are big factors. But officials in both parties tell us abortion has animated Democratic engagement like no other issue since President Trump left office.
The result: A reset for a party that was defensive and disillusioned before the Supreme Court ruling in June that overturned Roe v. Wade.
What's happening: Abortion has helped drive primary-season triumphs for Democrats both in fundraising — and in turnout that approaches, and in some cases exceeds, historic 2018 levels.
Over 922,000 Kansans showed up when an anti-abortion referendum was held in August — a significant turnout for a summer primary. The referendum failed by 18 points.
Tuesday's primaries provided the latest evidence:
Democrat Pat Ryan's unexpected victory in a House special election (NY-19), in a swing district in the Hudson Valley, was driven by a message centered on abortion. "Choice was on the ballot," Ryan declared in a victory tweet.
Ryan's ads focused on protecting abortion rights. His GOP opponent, Marc Molinaro, hammered Democrats over the economy and crime. Ryan won by 2 points in a district Biden carried by the same margin.
📊 Recent polling confirms the growing significance of abortion rights in midterms.
A Pew Research Center poll this month found 56% of voters said abortion would be "very important" in their midterm decision. That's up 13 points from Pew's March survey.
🐘 Reality check: Republicans have also been turning out at historically high levels throughout the primary calendar.
🗞️ How it's playing ... N.Y. Times A1: "Shift in Trends Lets Democrats Dare to Dream" ... WashPost A1: "In the House, odds of a GOP sweep dwindle" ... Wall Street Journal editorial: "The GOP's Abortion Problem."
2. The next student-loan crisis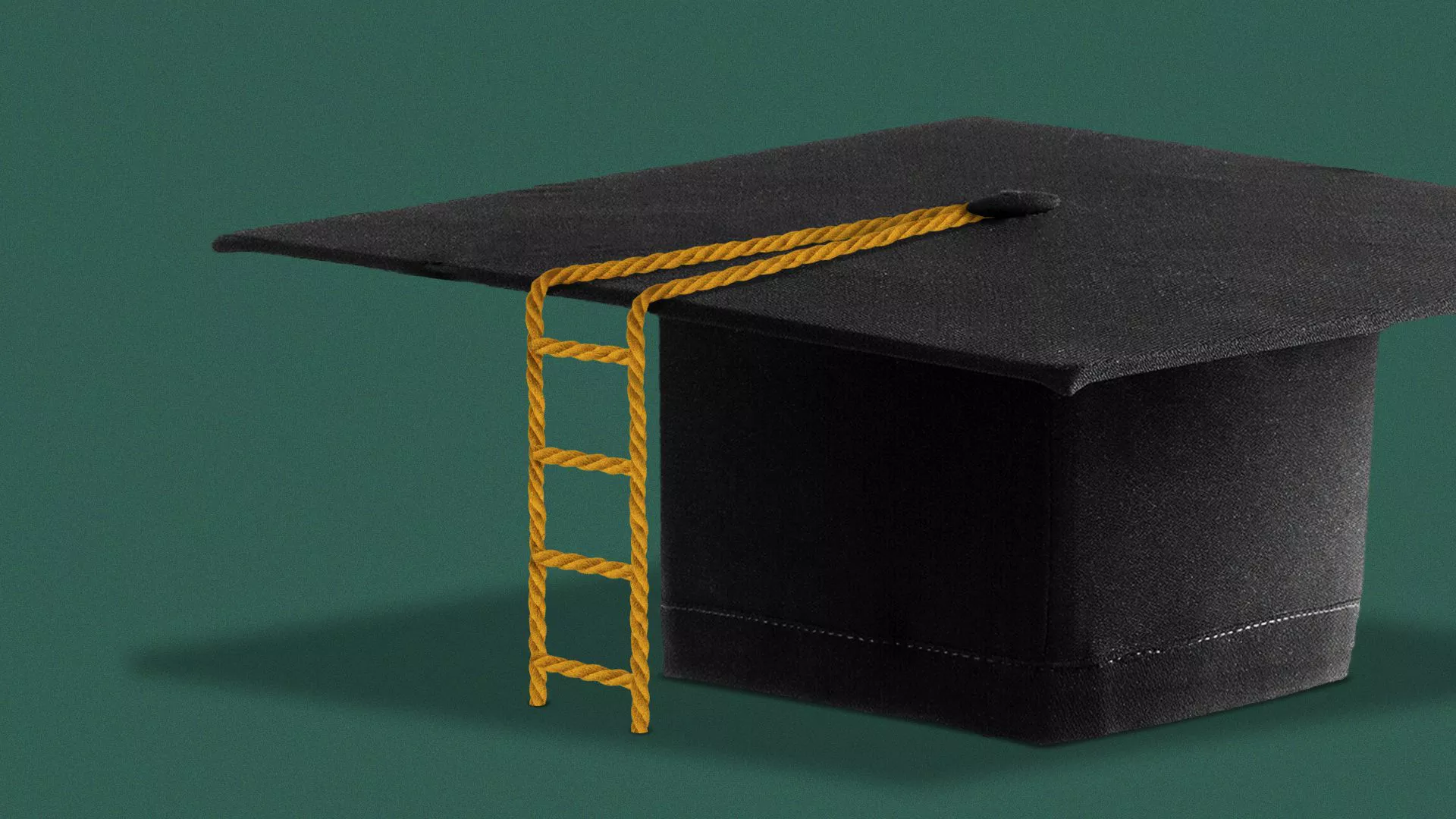 President Biden's student debt cancellation plan is welcome news for millions of existing borrowers. But it does little to address college costs that will burden future students, Axios Pro Rata author Dan Primack writes.
Why it matters: Student Defense, a nonprofit that is pushing for broader systemic changes, compared the plan to bailing the water out of a sinking boat without plugging the leak.
Higher-ed costs are astronomical, including for graduate programs, even though "sticker price" inflation has moderated in recent years.
Average in-state tuition for a four-year public university is $9,410 per year — and more than doubles to $23,890 for out-of-state students, per the College Board. Average four-year private university costs are $32,410, per year, or nearly $130,000 for the diploma.
For context, the median family income in 2021 was $79,900. If such a family has two in-state college students, 23.5% of their pre-tax income would be consumed by college costs (minus financial aid and/or federal loans). If the kids attend a four-year private school, it would be 81% of the family's pre-tax income.
Room and board not included.
🧠 Why costs are so high: The simplest answer is that schools have had little incentive to control costs, particularly when abundant student loans — both public and private — can make tuition rates appear more affordable than they really are.
Many schools are motivated to spend on big-ticket items, including new construction. That can attract wealthier students (including from overseas) who don't request financial aid. In the end, however, those costs often get passed down to everyone.
3. 🥊 Vulnerable Dems pan plan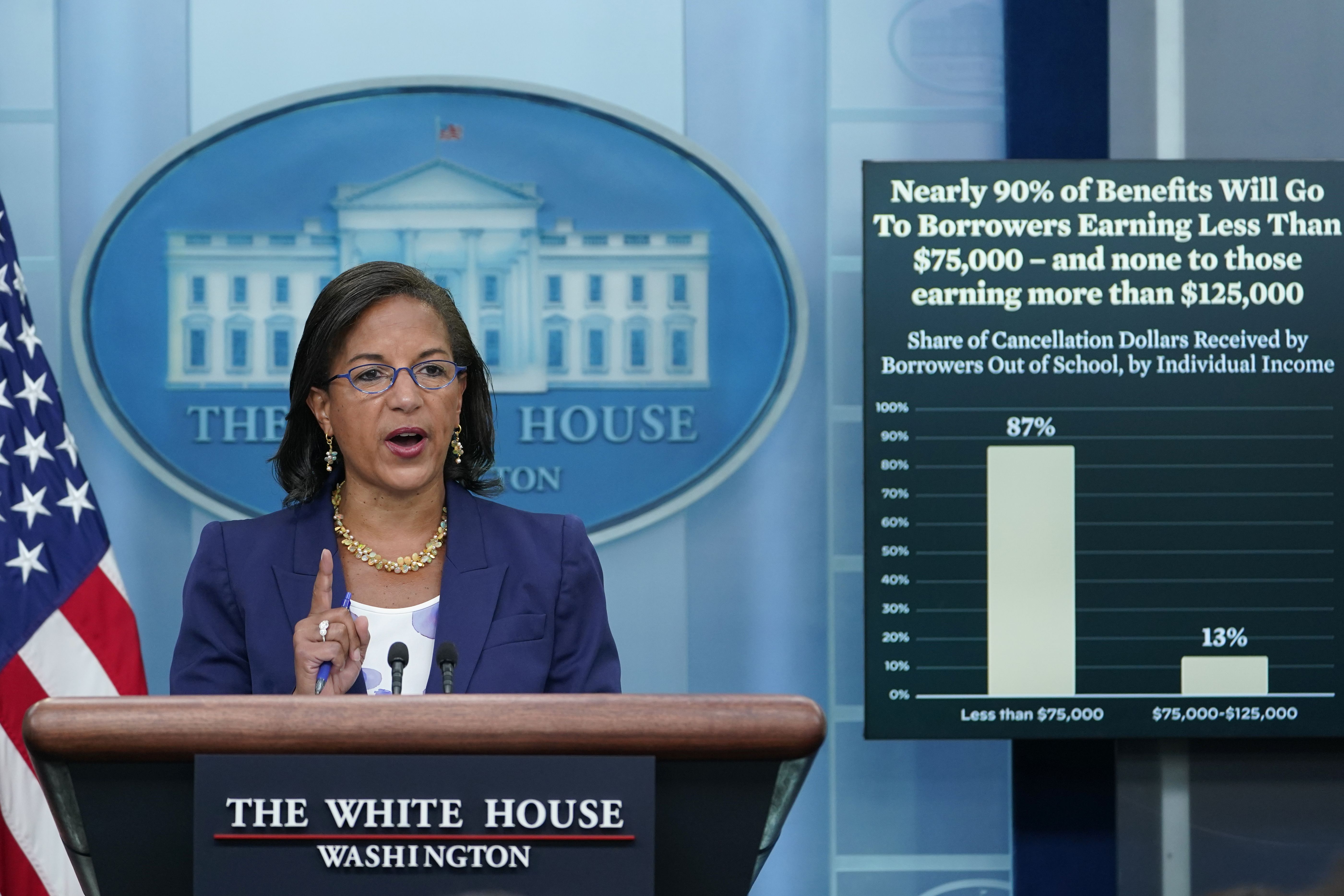 Several Democrats running in battleground Senate and House races panned President Biden's student-loan relief plan — a sign of fears it could alienate swing voters in November, Axios' Josh Kraushaar writes.
Why it matters: Biden hopes to energize younger voters with the student loan forgiveness plan. But there's a risk it will fuel Republicans' argument that Dems aren't focused on the issue most important to many voters — inflation.
Rep. Tim Ryan, the Democrats' Ohio Senate nominee, chided: "Waiving debt for those already on a trajectory to financial security sends the wrong message to millions of Ohioans without a degree working just as hard to make ends meet."
Nevada Sen. Catherine Cortez Masto, one of the most vulnerable Democratic senators up for re-election this year, told Axios' Sophia Cai: "I don't agree with today's executive action because it doesn't address the root problems that make college unaffordable."
4. 🔮 Billionaires plot cities of future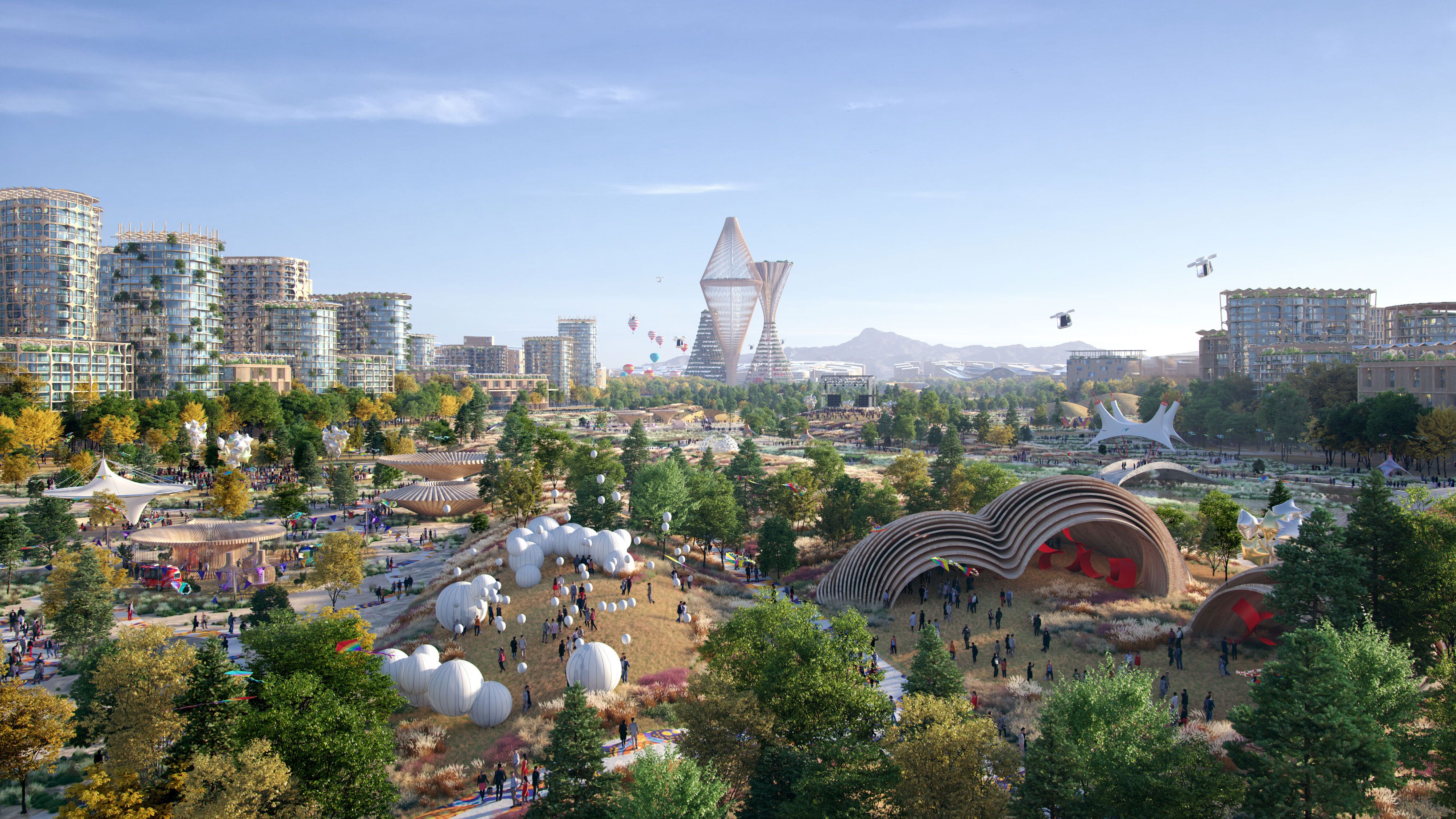 Billionaire Marc Lore is fleshing out a plan to build a utopian city called Telosa for 5 million people in the American desert — and he's not the only one with such ambitions, Jennifer A. Kingson writes for Axios What's Next.
Why it matters: There are about a dozen projects worldwide to create sustainable, hypermodern cities — from scratch. Even if they never come to fruition, the proposals hint at what the city of the future might look like.
Telosa is to be built on 150,000 acres in Nevada, Utah or Arizona.
50,000 people will call it home by 2030, according to newly released details from Lore — a serial entrepreneur who sold Jet.com to Walmart for $3.3 billion and the parent company of Diapers.com to Amazon for $545 million.
"We're not just building a new city — this is a new model for society," Lore said at a Telosa "town hall meeting" in July.
It'll be governed by a principle he calls "equitism," which seems to be a mashup of democracy, capitalism and socialism.
In Lore's vision, vehicles will be electric and autonomous. Roads won't have curbs (which could hinder differently-abled people), or on-street parking.
Telosa's 36 districts will each be "15-minute cities," where everything a resident needs is a short walk away.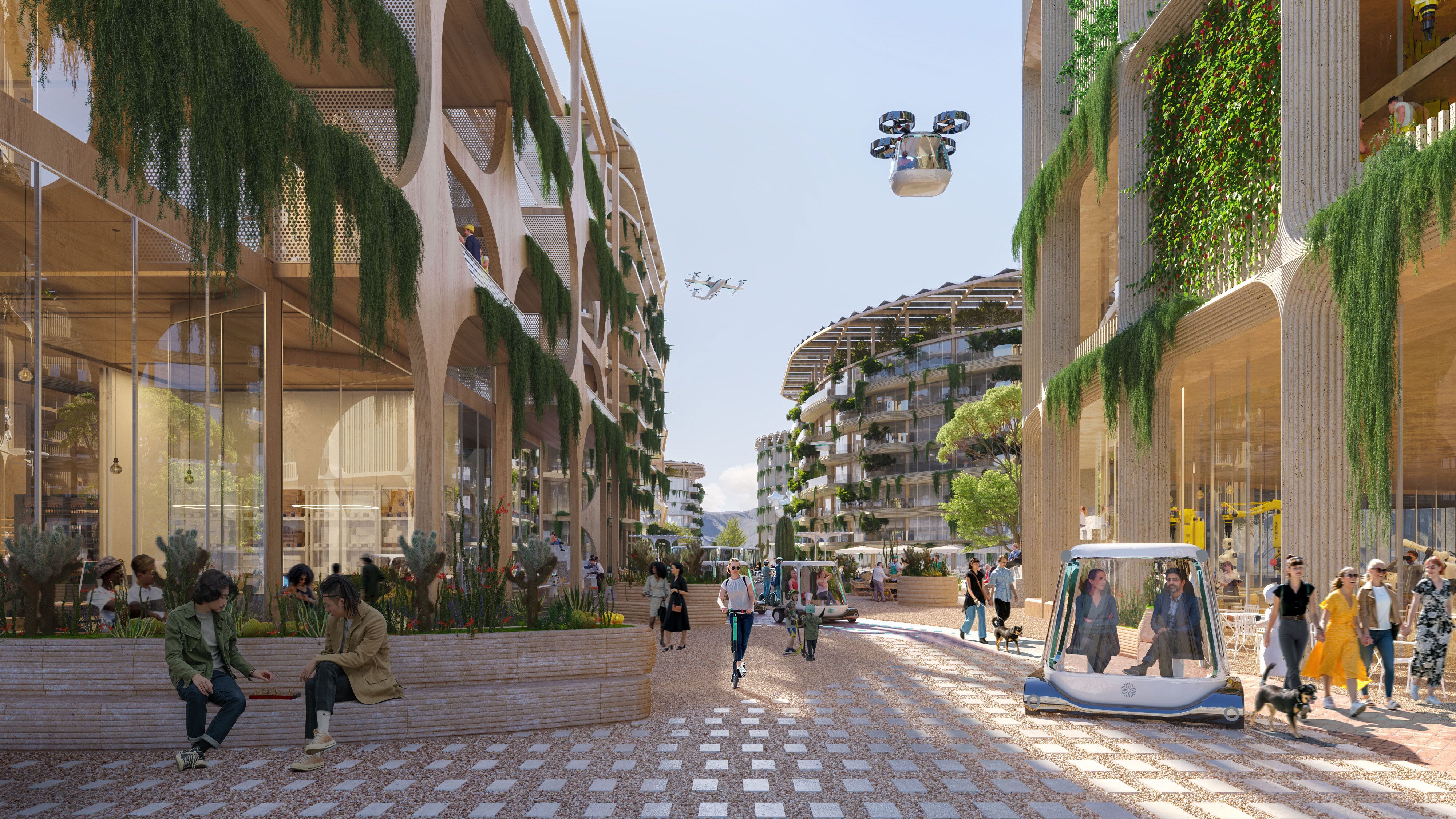 🖼️ The big picture: Telosa is one of a growing number of dewy-eyed ambitions to build centrally planned and sustainable communities on a blank landscape — despite obvious impediments, like a lack of fresh water.
Other billionaires with city-building aspirations include Bill Gates, who wants to build a smart city called Belmont in the Arizona desert.
Elon Musk has discussed creating a city called Starbase in southernmost Texas, as a hub for space exploration.
💡 Reality check: Some of the claims being made by the utopian planners strain credulity — like Telosa's assertion that it'll eventually be a net exporter of water and energy.
In the real world, the promise of smart cities — where intelligent sensors, cameras and Big Data combine to improve everything from traffic flow to city services — has been a consistent disappointment.
5. 💻 Zoom boom's doom
Remember the stay-at-home stocks? How the trendy have fallen.
Why it matters: The saga of the stay-at-home stocks is a useful reminder that hot new technology stocks can fall out of favor fast, Matt Phillips writes for Axios Markets.
Two of the companies that looked custom-made for the COVID era — Zoom Video and Peloton — are making a splash this week.
Zoom is down roughly 16% this week after reporting piddling sales growth and cutting its forecasts
Peloton was up 20% on Wednesday — a drop in the bucket compared to the roughly 90% drop from its 2021 peak — after announcing a partnership with Amazon.
Flashback: In 2020, shares of Peloton and Zoom were up 400%.
🔒 What we're watching: With so many workplaces going hybrid, the need for online security continues to grow. Online security firms CrowdStrike and Zscaler rose 300%+ in 2020 — and have held the gains.
6. 📷 Algae blooms mar S.F. Bay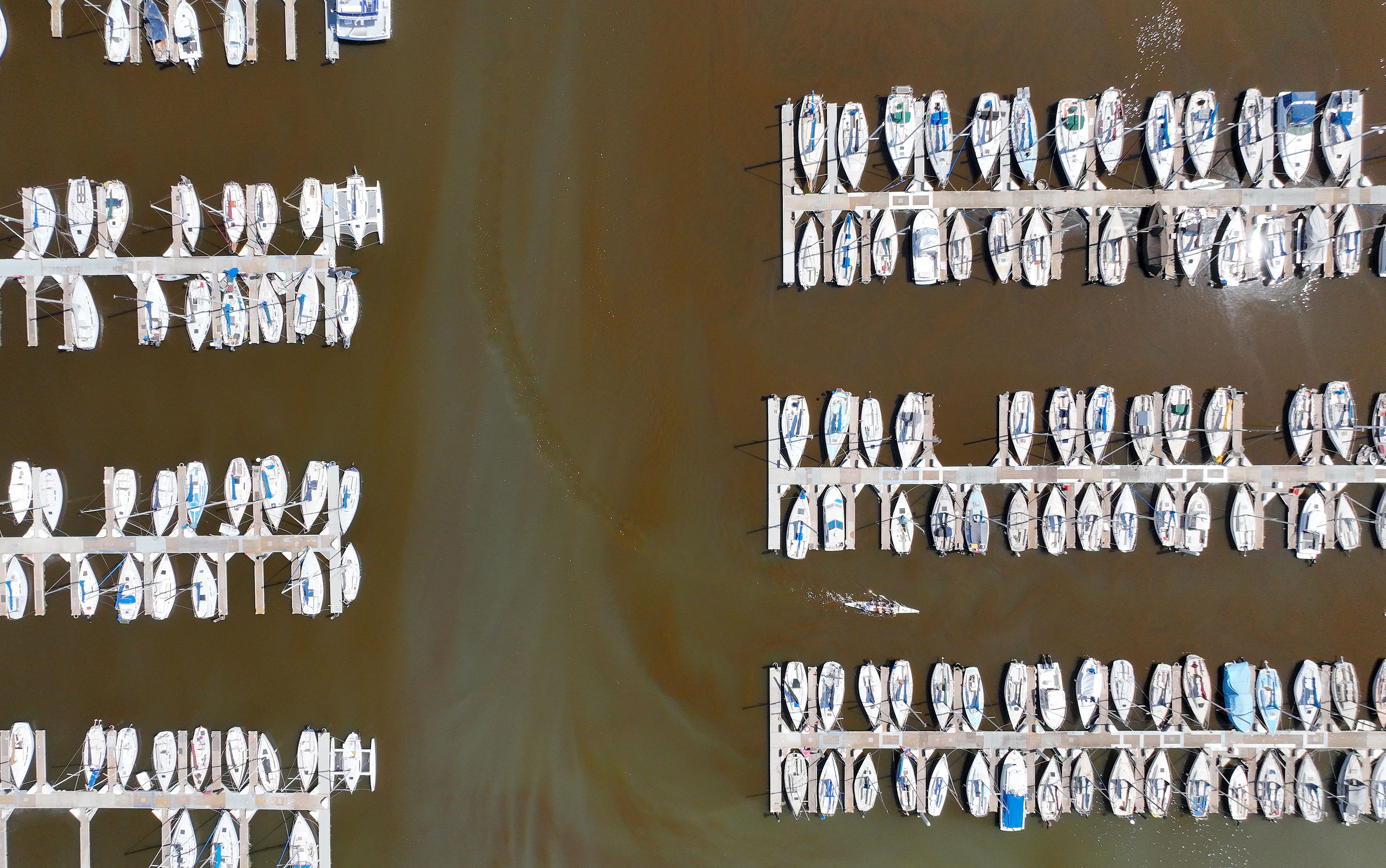 San Francisco Bay — including Berkeley Marina (above) — is turning brown (with maroon swirls) because of the proliferation of algae blooms.
The California Department of Health calls the bloom a "nuisance." The algae type — Heterosigma akashiwo — isn't toxic to humans, report Nick Bastone and Megan Rose Dickey of Axios San Francisco.
The nonprofit San Francisco Baykeeper cautioned residents and pets against "contacting the brown murky water" or eating fish, especially shellfish, caught in affected areas.
7. 🍦 Scoop: Obama enters the chat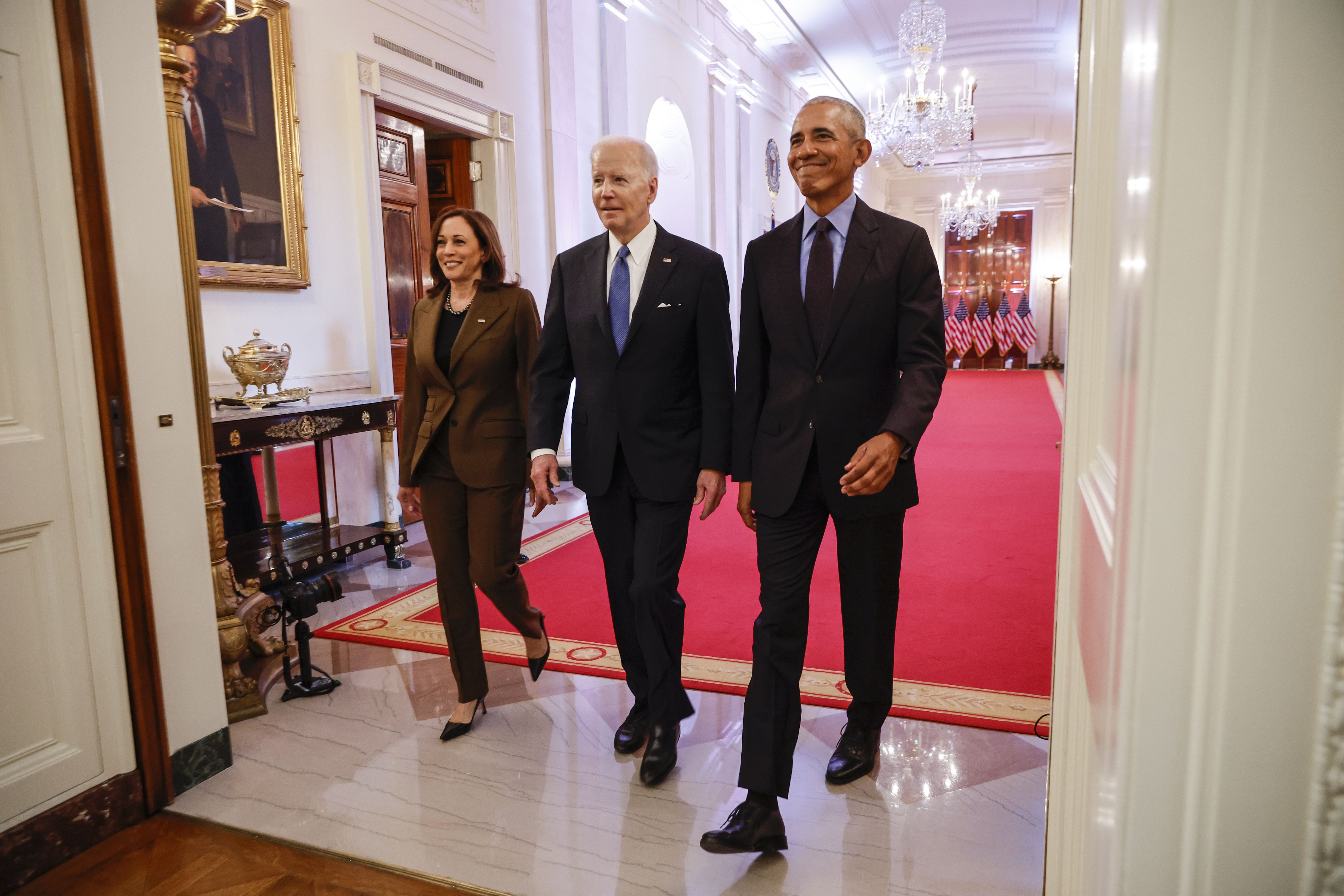 Former President Obama is jumping into the midterm sprint with a $25,000-a-person fundraiser in Manhattan for the Senate Democrats' campaign arm, Axios' Andrew Solender learned.
The Democratic Senatorial Campaign Committee will host a Sept. 8 "conversation" headlined by Obama and Sen. Gary Peters (D-Mich.), the DSCC chair.
Obama will also headline an Aug. 30 fundraiser on Martha's Vineyard for the National Democratic Redistricting Committee, which is chaired by his former attorney general, Eric Holder. (Politico)
8. 🐦 1 for the road
📬 Invite your friends to sign up to get their daily essentials — Axios AM, PM and Finish Line.