September 11, 2019
🇺🇸 Today, at 8:46 a.m. ET, is the 18th anniversary of 9/11.
🇬🇧 It's 50 days to the Brexit deadline.
1 big thing: Bolton's chaotic exit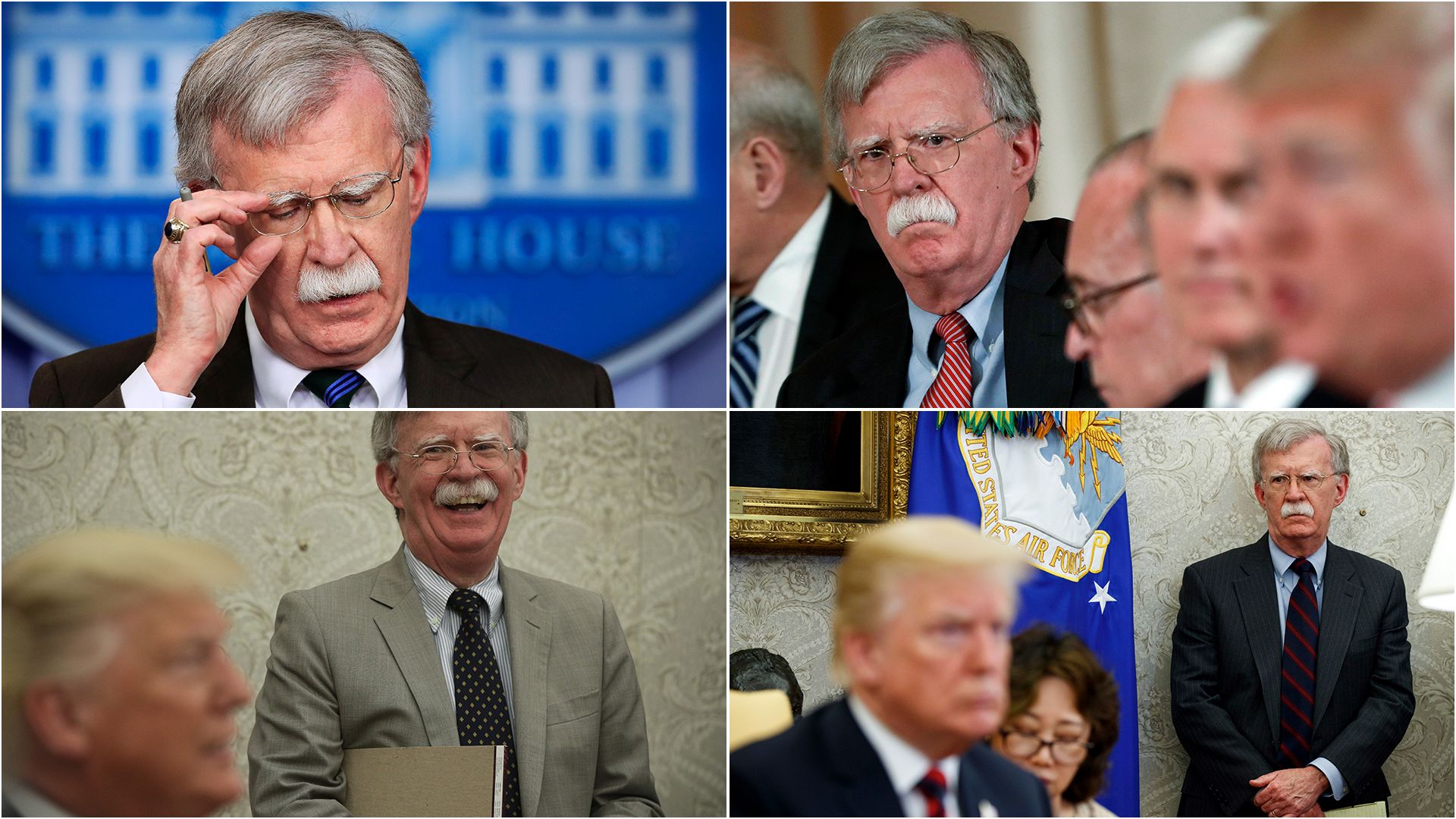 The last time national security adviser John Bolton spoke with President Trump was Monday afternoon around 2 p.m. in the Oval Office.
Bolton offered to resign, Axios' Jonathan Swan, Alayna Treene and Margaret Talev report.
That was about 22 hours before the president's tweet suggesting that he had fired Bolton, according to a person familiar with the situation.
Why it matters: The timeline contradicts the president's account, and speaks volumes about how Trump runs his administration.
It underscores Trump's pattern of adjusting facts to fit his narrative, a week after the "Sharpie" controversy involving the path of Hurricane Dorian.
It also serves to warn Bolton's successor — whom Trump says he'll name next week — what they're signing up for.
Here's how yesterday's events played out:
At around 11:30 a.m., Bolton submitted a resignation letter to the president, and hand-delivered copies to the offices of Vice President Pence and Chief of Staff Mick Mulvaney.
At 11:58 a.m., Trump tweeted that he had informed Bolton the night before that "his services are no longer needed at the White House."
A Bolton tweet countered that, saying that he had offered to resign Monday night and Trump said: "Let's talk about it tomorrow."
What's next:
Trump is seeking input from Pence, Secretary of State Mike Pompeo, Republican lawmakers and others on who should replace Bolton, two people familiar with the deliberations tell Axios.
Contenders mentioned most often by people close to the White House include Maj. Gen. Ricky Waddell, a former Trump deputy national security adviser and assistant to the chairman of the Joint Chiefs of Staff; and Stephen Biegun, the U.S. special envoy for North Korea. CNN reported last month that he could be tapped as ambassador to Russia.  
Trump also has spoken favorably of the State Department's special representative for Iran, Brian Hook, and Pence's national security adviser Keith Kellogg, Sen. Lindsey Graham (R-S.C.) told Fox News.
For now, deputy national security adviser Charlie Kupperman is serving as acting national security adviser.
White House Press Secretary Stephanie Grisham tells Axios that there are currently no frontrunners to replace Bolton.
The backstory: Bolton's end follows his resistance to peace talks with Afghanistan, including Trump's desire to host the Taliban at Camp David.
Even though Trump scrapped the secret plan after a suicide bombing in Afghanistan, he fumed over reports about internal resistance to the idea.
2. 51 down ...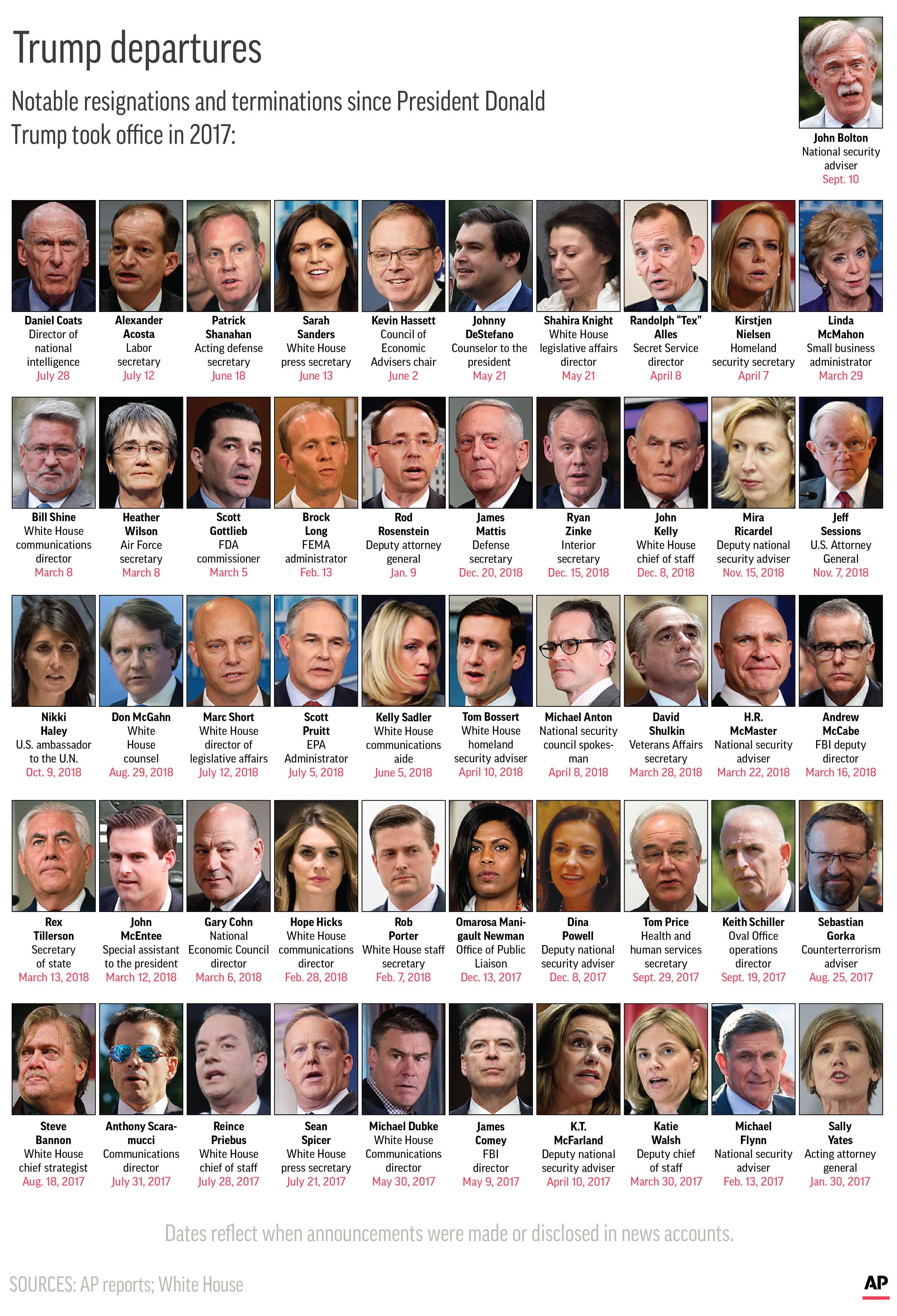 3. Health care dominates 2019 ad spending
More than half of all issue advertising this year (TV, digital, radio, etc.) has been on health care — and that spending will only increase as 2020 gets closer, Axios' Caitlin Owens and Sara Fischer report.
Between the lines: Most of the top health care spenders are focused on issues like surprise medical bills and drug prices — many of which would cut into the health care industry's profits.
Where it stands: The biggest spender by far is a dark-money group called Doctor Patient Unity.
It has shelled out more than $26 million on ads opposing Congress' plan to address surprise medical bills. Doctors and hospitals staunchly oppose the leading proposal because it would cost them money.
AARP and the Partnership for Safe Medicines, an industry group, are on opposite sides of the intense battle over drug prices, which will heat up further this fall.
4. Pic du jour
Speaker Nancy Pelosi and Senate Minority Leader Chuck Schumer arrive for a Congressional Black Caucus ceremony commemorating the 400th anniversary of the arrival of enslaved Africans in the English colonies.
5. GOP squeaker points to peril in 'burbs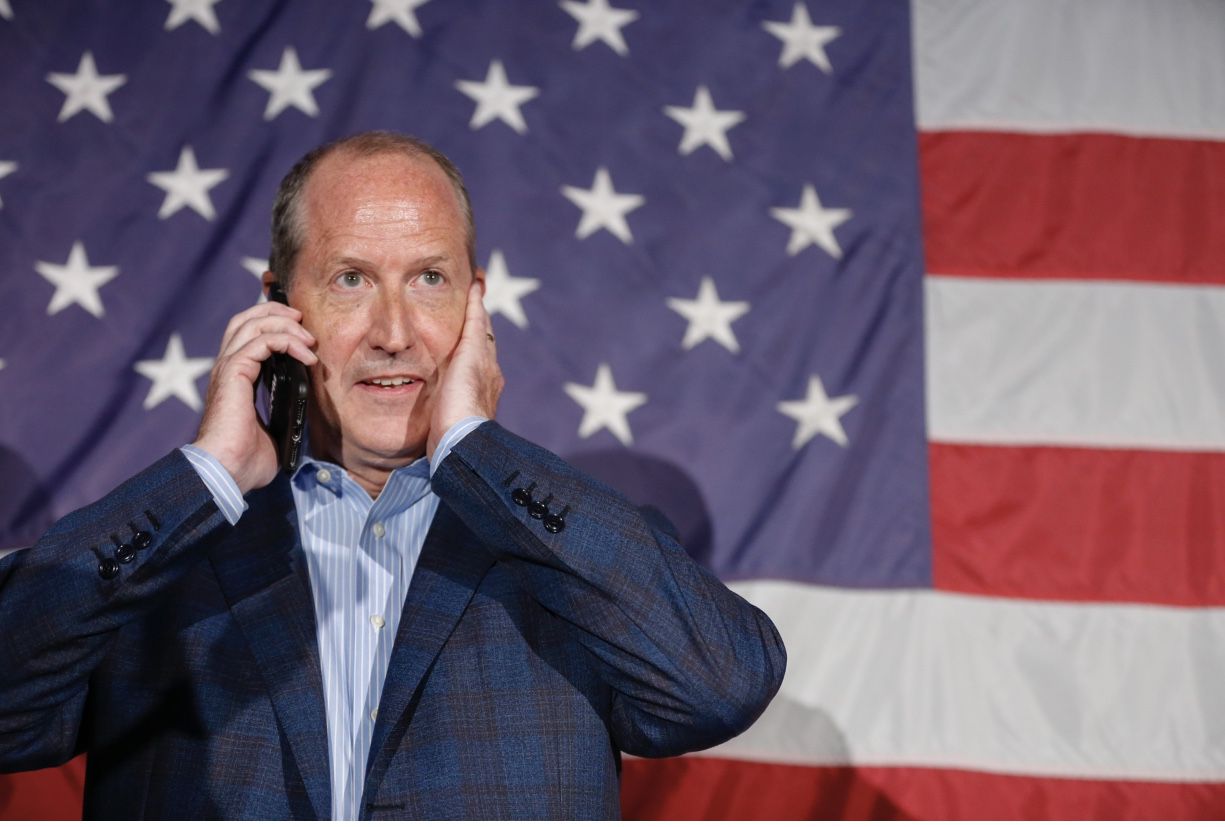 Who's calling this man? Dan Bishop waits to speak to President Trump at his victory party in Monroe, N.C., last night.
In a special election in North Carolina's heavily Republican 9th congressional district, Bishop, a Republican, narrowly beat Democrat Dan McCready, 50.7% to 48.7%, in a race the GOP should have run away with. (Raleigh News & Observer)
Trump took credit as returns rolled in: "Dan Bishop was down 17 points 3 weeks ago. He then asked me for help, we changed his strategy together, and he ran a great race. Big Rally last night. Now it looks like he is going to win."
Why it matters: The tight results point to Republican weakness in suburbs, which showed up in the midterms and is a huge threat to Trump's re-election.
6. Sign of our times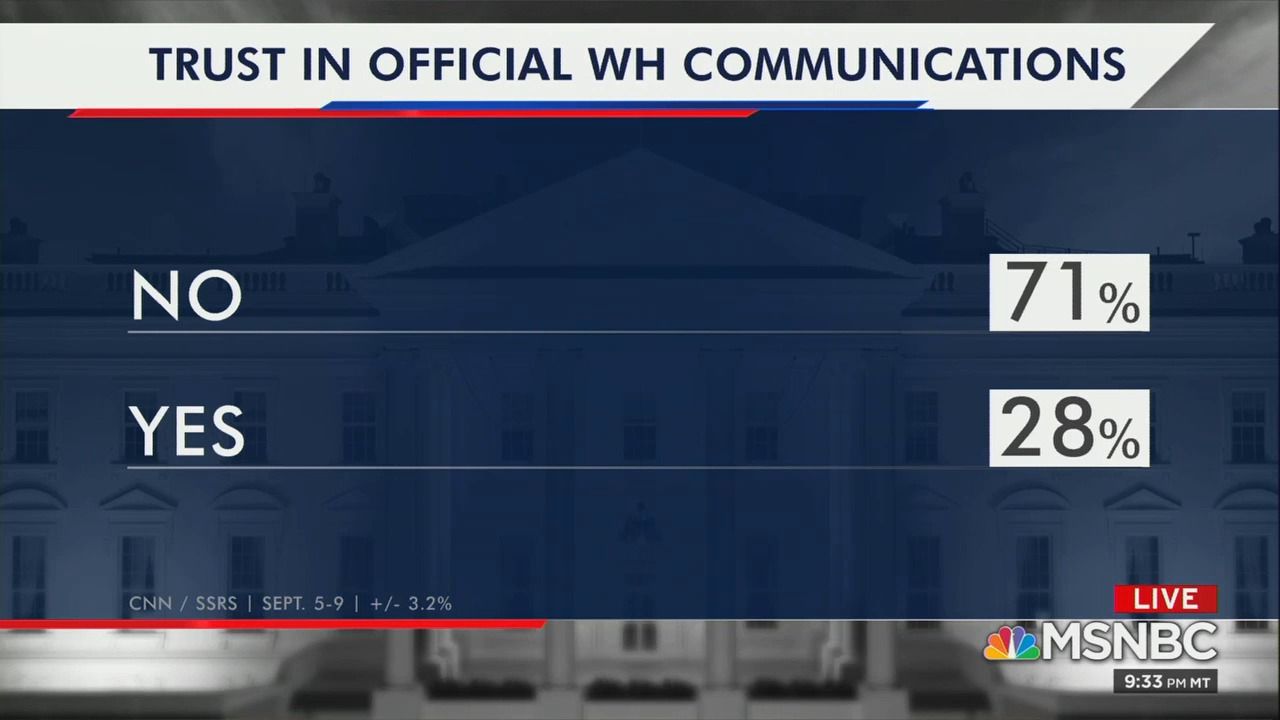 From a CNN poll released yesterday: "71% say they trust only some or nothing at all of what they hear from official White House communications, about the same as the 68% who felt that way in late 2017."
28% trust "most" or "almost all" of what they hear from the White House.
7. Apple takes on Netflix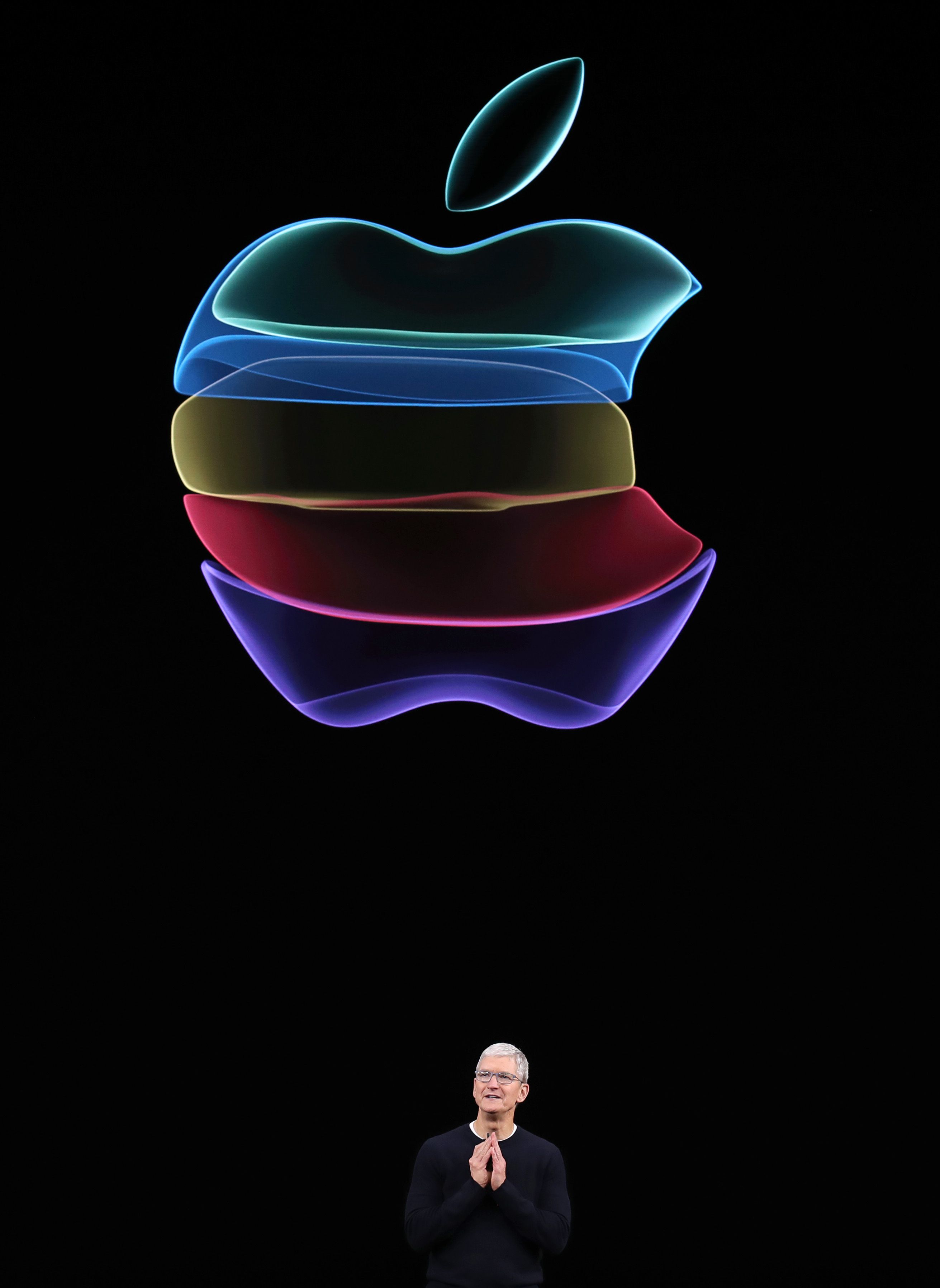 Apple launches its streaming service (Apple TV+) on Nov. 1 for, uncharacteristically, a bargain price — $4.99 a month. Netflix is $8.99 and up.
Disney+ starts streaming Nov. 12, for $6.99 monthly.
Go deeper ... Axios' Ina Fried reports from the Apple unveiling in Cupertino:
The iPhone 11 Pro (starts at $999) is out Sept. 20.
A Deep Fusion feature, coming via software update later this year, uses machine learning to fuse the best parts of nine images.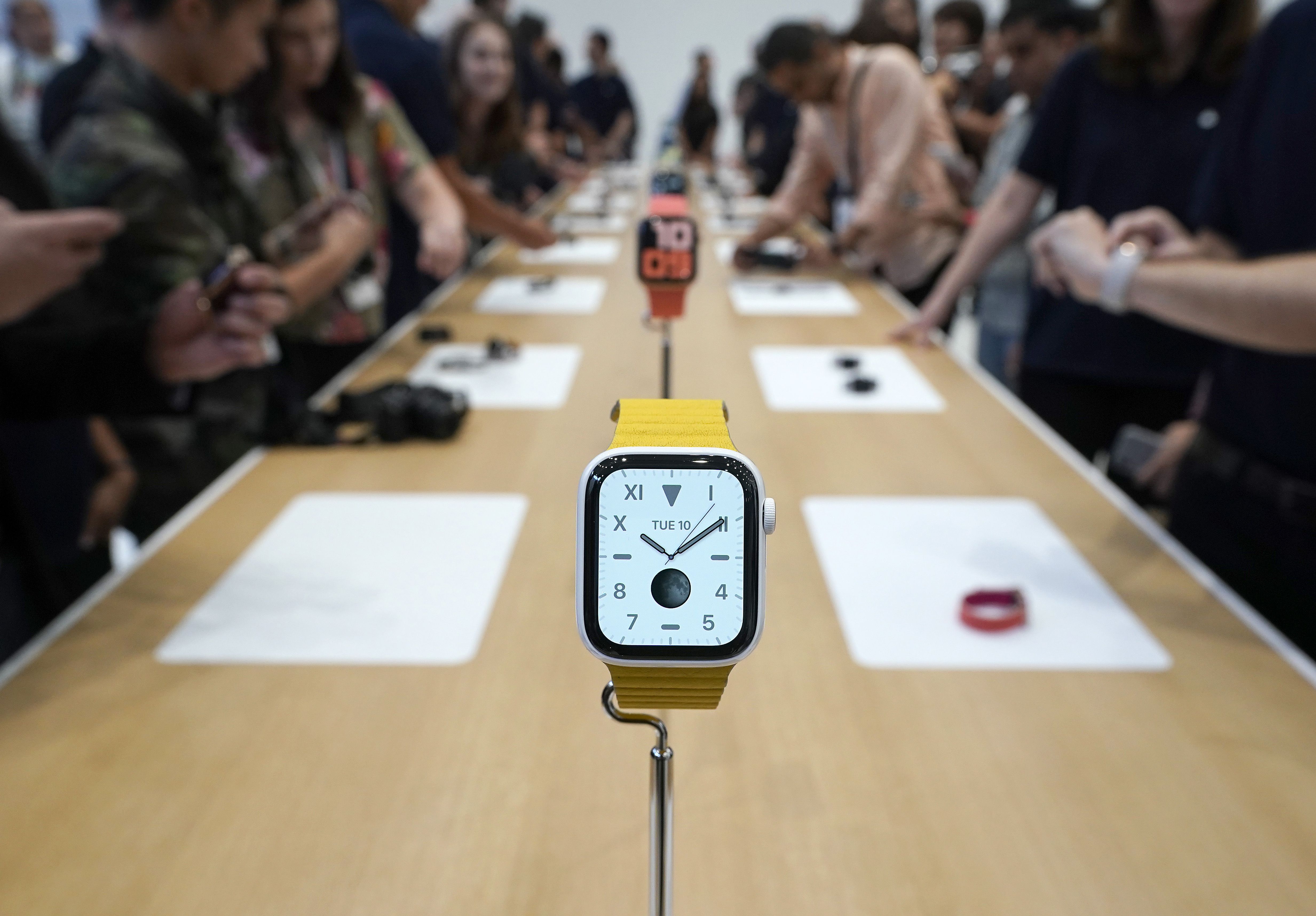 8. Rebuilding continues, 18 years after 9/11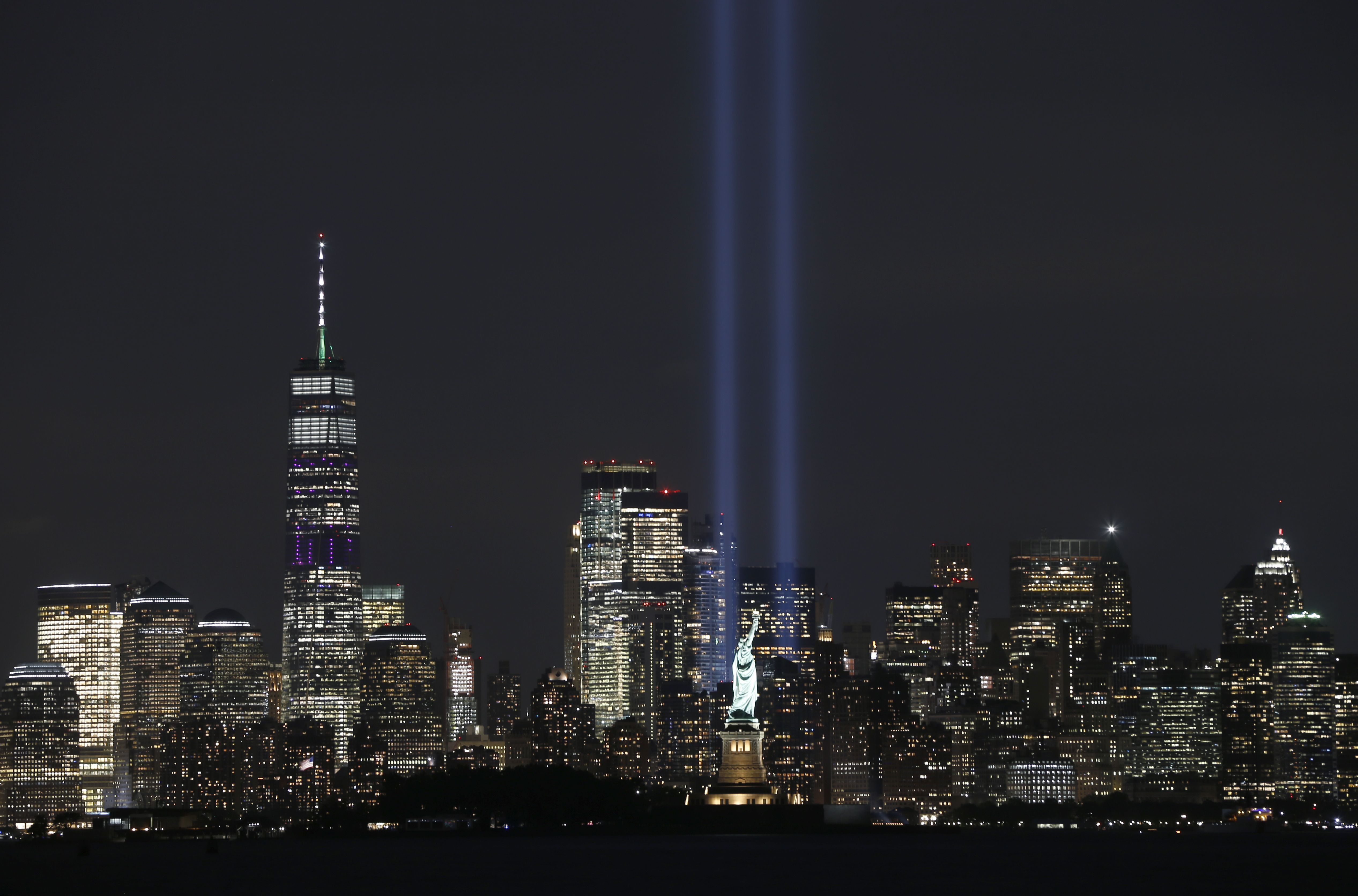 Last night, the annual Tribute in Light — a memorial lighting of two spotlights representing the Twin Towers — illuminated the skyline of lower Manhattan behind the Statue of Liberty, as seen from Bayonne, N.J.
Office towers, a museum and a Santiago Calatrava-designed transit hub have replaced the rubble left by the destruction of the World Trade Center, but the redevelopment of the complex has not been completed, AP reports.
At the 9/11 Memorial, twin reflecting pools — each nearly an acre, with the largest human-made waterfalls in North America — sit in the towers' footprint.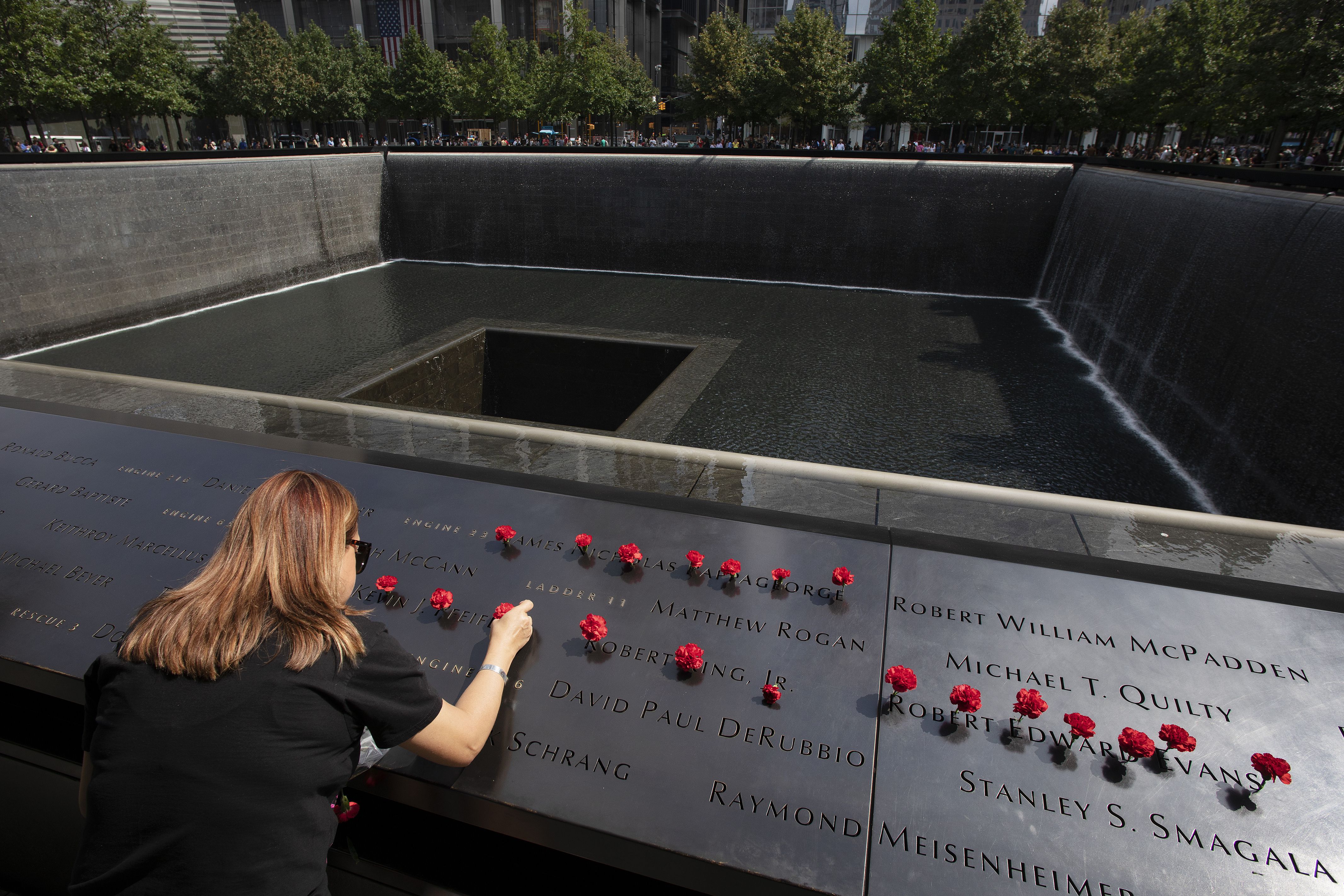 9. Exclusive: Biden hires campaign staff to focus on minority voters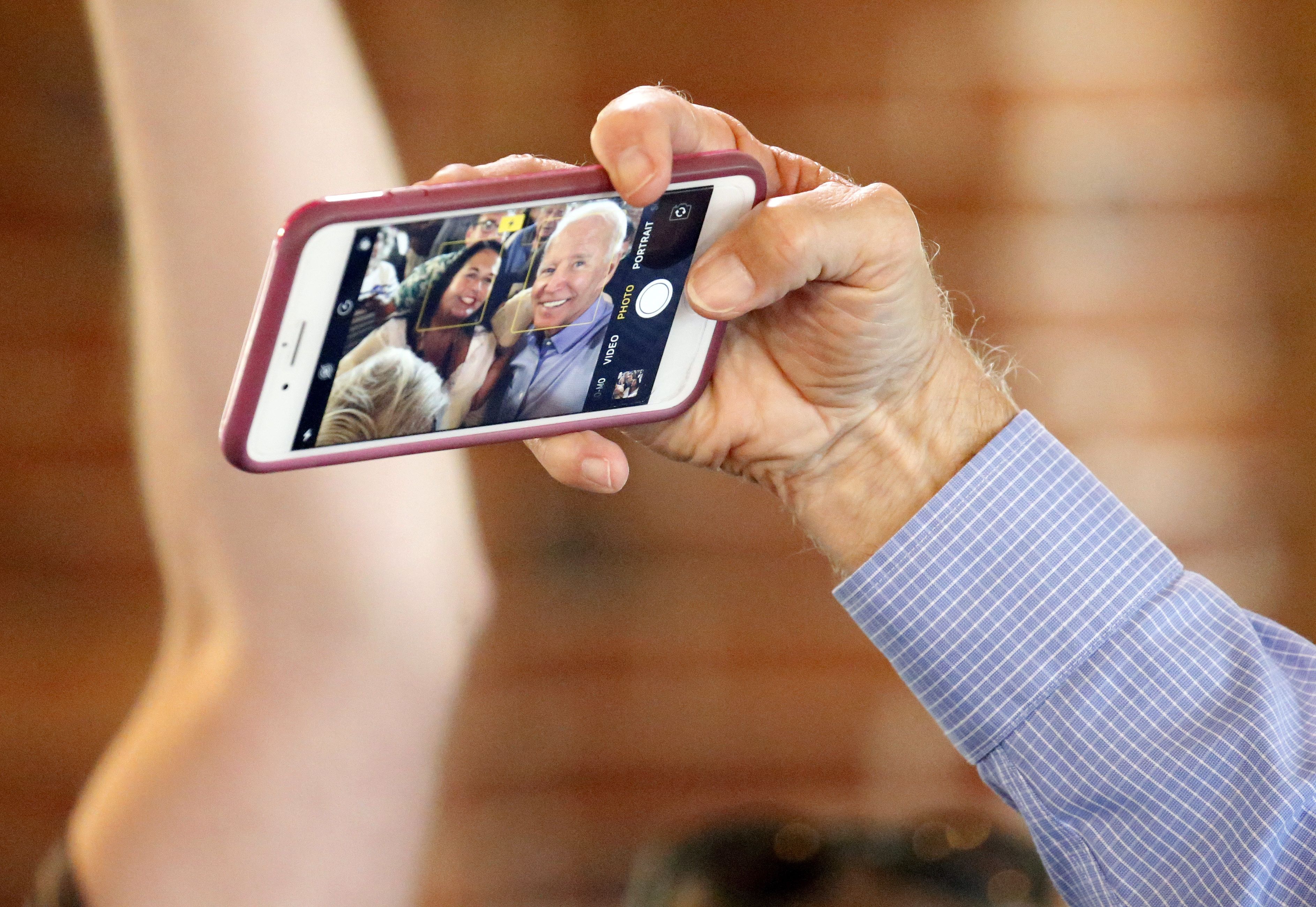 Joe Biden's campaign adds six senior staff members to focus on attracting women and minority voters, Axios' Alexi McCammond reports:
Laura Jiménez will be Latinx National Vote Director.
Amit Jani is Asian American Pacific Islander (AAPI) National Vote Director.
Carissa Smith is Women's National Vote Director.
Erika Dinkel-Smith is Director of Labor Engagement.
Trey Baker National is Director of African American Engagement.
Vincent Evans is Southern Political Director.
Why it matters: Biden and his team hope this diverse staff can help them rebuild the diverse coalition that Barack Obama captured in 2008.
10. 1 🏈 thing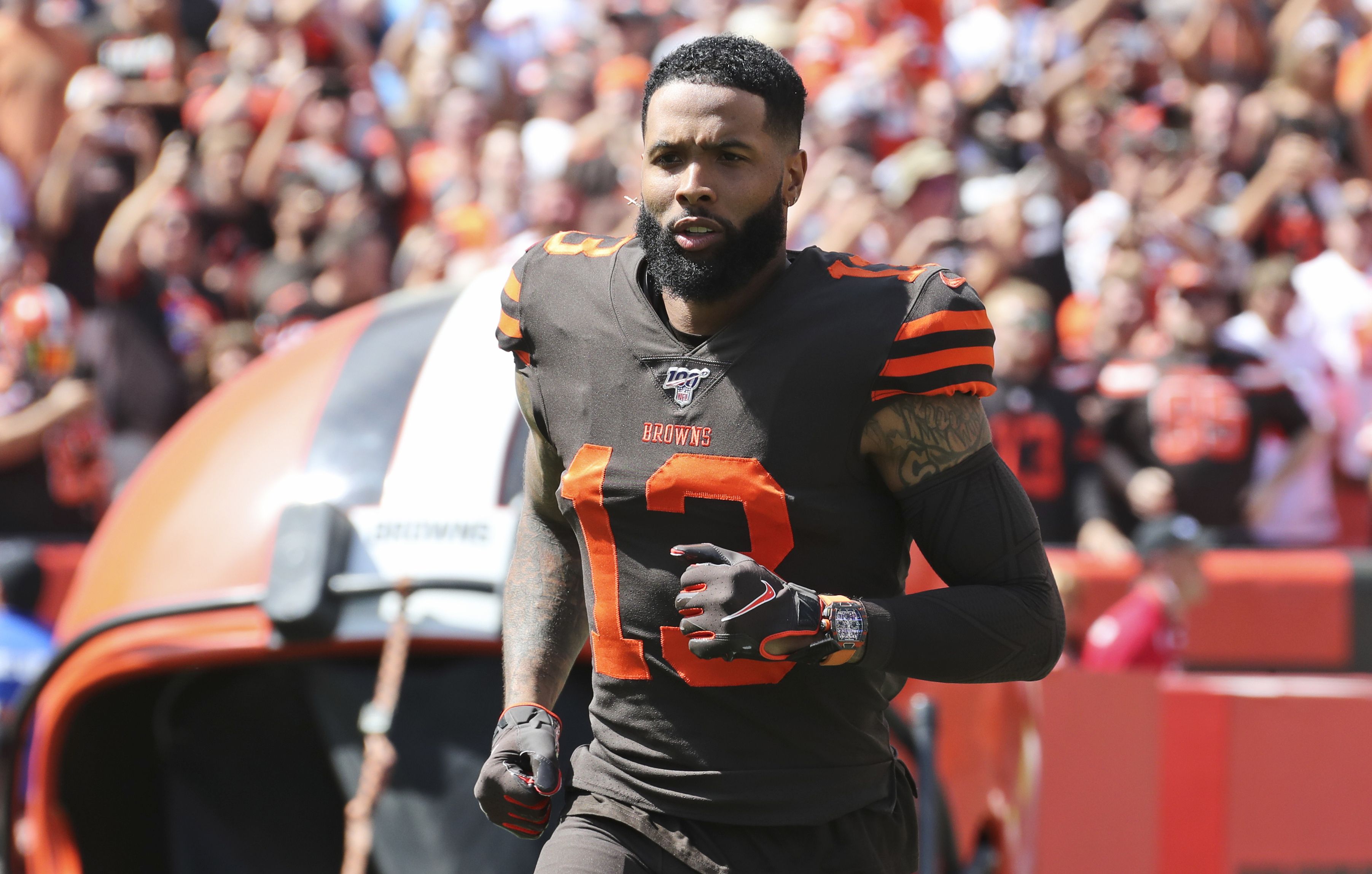 The Cleveland Browns' Odell Beckham Jr. said he'll keep wearing the $200,000+ Richard Mille watch he sported during Sunday's season opener, AP's Tom Withers writes.
The showy wide receiver feels he's being targeted: "Yeah, that's just my life ... If it ain't this, it's something else. If it wasn't the watch, it would've been the way that I tie my shoes."
"Don't talk about any extracurricular, that's just it. If anybody else would've worn the watch, or if it was a $20 watch, it wouldn't have been no problem."
Beckham also drove his customized orange Rolls Royce to Sunday's game.
An NFL spokesman said there is no rule prohibiting players from wearing jewelry. But there is a policy "prohibiting hard objects."
📱 Please invite your friends and co-workers to sign up here for Axios AM and PM.