December 27, 2020
🥞 Happy Sunday! Today's Smart Brevity™ count: 907 words ... 3½ minutes.
1 big thing: Tech could drive new Roaring '20s
Despite COVID's current chokehold, the global economy is on the brink of a burst of growth driven by technology, Axios Future author Bryan Walsh writes.
Why it matters: If long-gestating technologies like AI and automation fulfill their potential, we'll have the chance to escape this great stagnation.
What's happening: Largely hidden by the pandemic's human suffering, 2020 saw a collection of remarkable breakthroughs, including the COVID vaccine and advances in AI language generation.
Economist Tyler Cowen, in a blog post last month, added affordable solar power and remote work. Cowen asked whether total factor productivity (TFP) — a rough approximation of the effect of technological and strategic progress — in 2021 "will be remarkably high, maybe the highest ever?"
Cowen's musings matter because he literally wrote the book on "The Great Stagnation." That's his term for the curiously persistent slowdown in wage and productivity growth in the U.S. — even as the internet transformed life.
By the numbers: A survey by the World Economic Forum in October found more than 80% of global firms plan to accelerate the digitization of business processes and increase remote work. Half plan to accelerate automation.
About 43% expect those changes to reduce their workforces overall, which implies an expected increase in productivity.
The catch: If those gains don't filter down to workers — or worse, end up eliminating jobs without replacing them with better ones — even a faster, more productive economy won't ameliorate America's inequality.
2. Stunning stat: 1 in every 1,000 Americans has died of COVID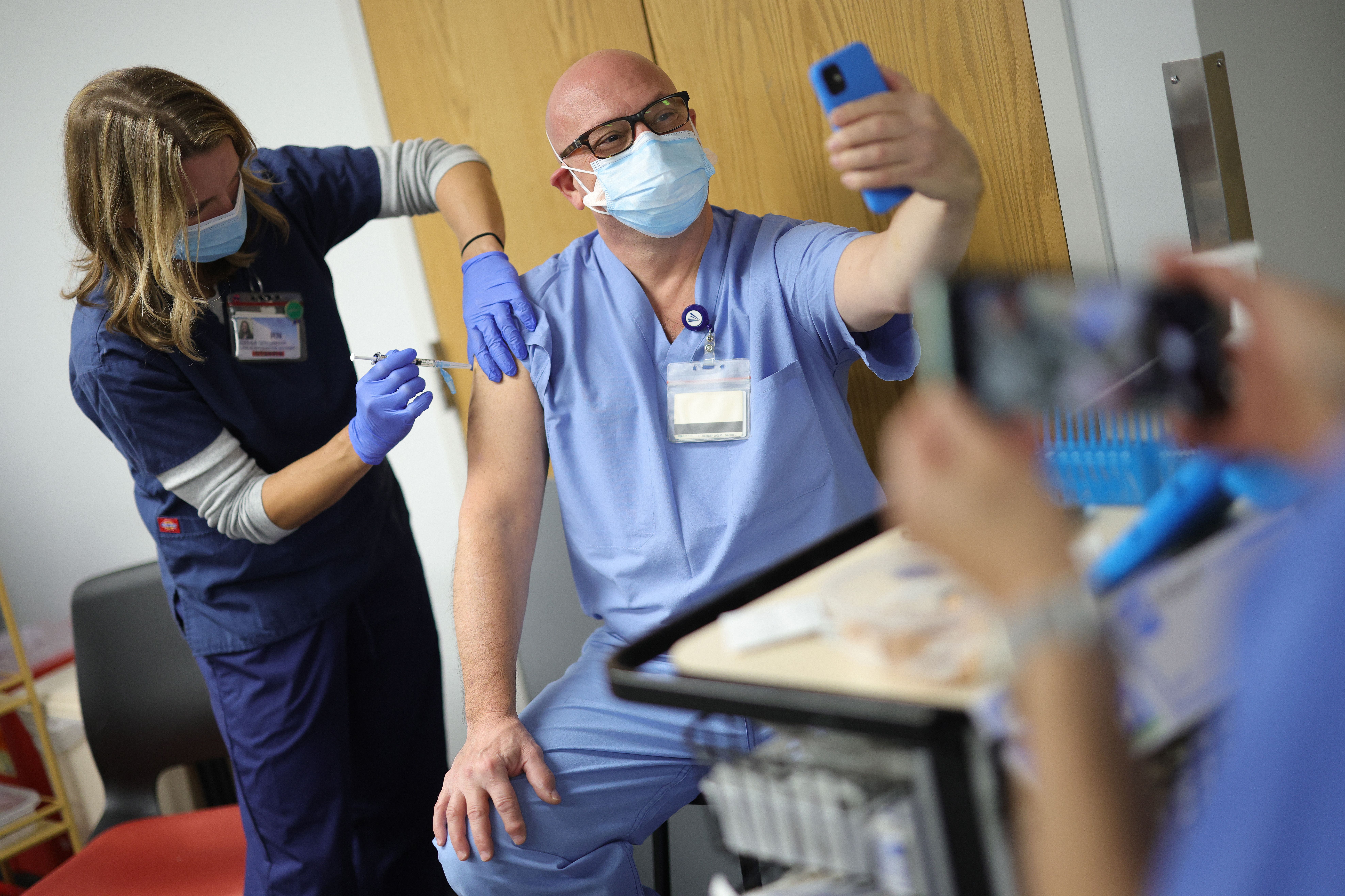 "Census Bureau estimates for the last week of December place the US population at around 330,750,000. On Saturday afternoon, the national death toll from Covid-19 reached 331,116." —CNN
Our thought bubble: Massive numbers are hard to appreciate. But nearly everyone can say: Oh, that's so many people from my hometown ... from my church ... from my graduating class.
3. Trump tweets as aid expires
Unemployment benefits for more than 10 million struggling Americans lapsed overnight as President Trump — tweeting from Mar-a-Lago about stolen-election fantasies — refused to sign a COVID relief package his administration negotiated.
"It's a chess game and we are pawns," Lanetris Haines, a self-employed single mother of three in South Bend who stood to lose her $129 weekly jobless benefit, told AP.
Pandemic Unemployment Assistance, which expired at midnight, made aid available to freelancers, gig workers and others not normally eligible.
Trump tweeted again at 12:38 a.m. today that he wants to raise the package's COVID relief checks from $600 to $2,000. But Republicans on the Hill have rejected the idea. And Trump didn't push for it when there was time.
Trump's next deadline: A government shutdown looms at 12:01 a.m. Tuesday.
Grumpy members of Congress meet tomorrow to try to avoid that.
4. 2020 rewind: The "hug station"
Above: Olivia Grant hugs her grandmother, Mary Grace Sileo, through a plastic drop cloth during Memorial Day weekend in Wantagh, N.Y. (Nassau County) — their first contact since pandemic lockdown began.
TIME has the backstory in its "Top 10 Photos of 2020":
On May 24, photographer Al Bello's sister called to say her in-laws would be visiting in Wantagh, N.Y., and wanted to hug everyone; a drop cloth hung from a clothesline would serve as a barrier. Curious, he stopped by.
After Mary Grace Sileo met her grandson at the "hug station," she began to cry. "Whoa," Bello remembers thinking, "this escalated quickly," He captured the embraces over 45 minutes ... "They were long hugs," he says.
Below: Frank Sileo hugs his mother, Mary Grace Sileo.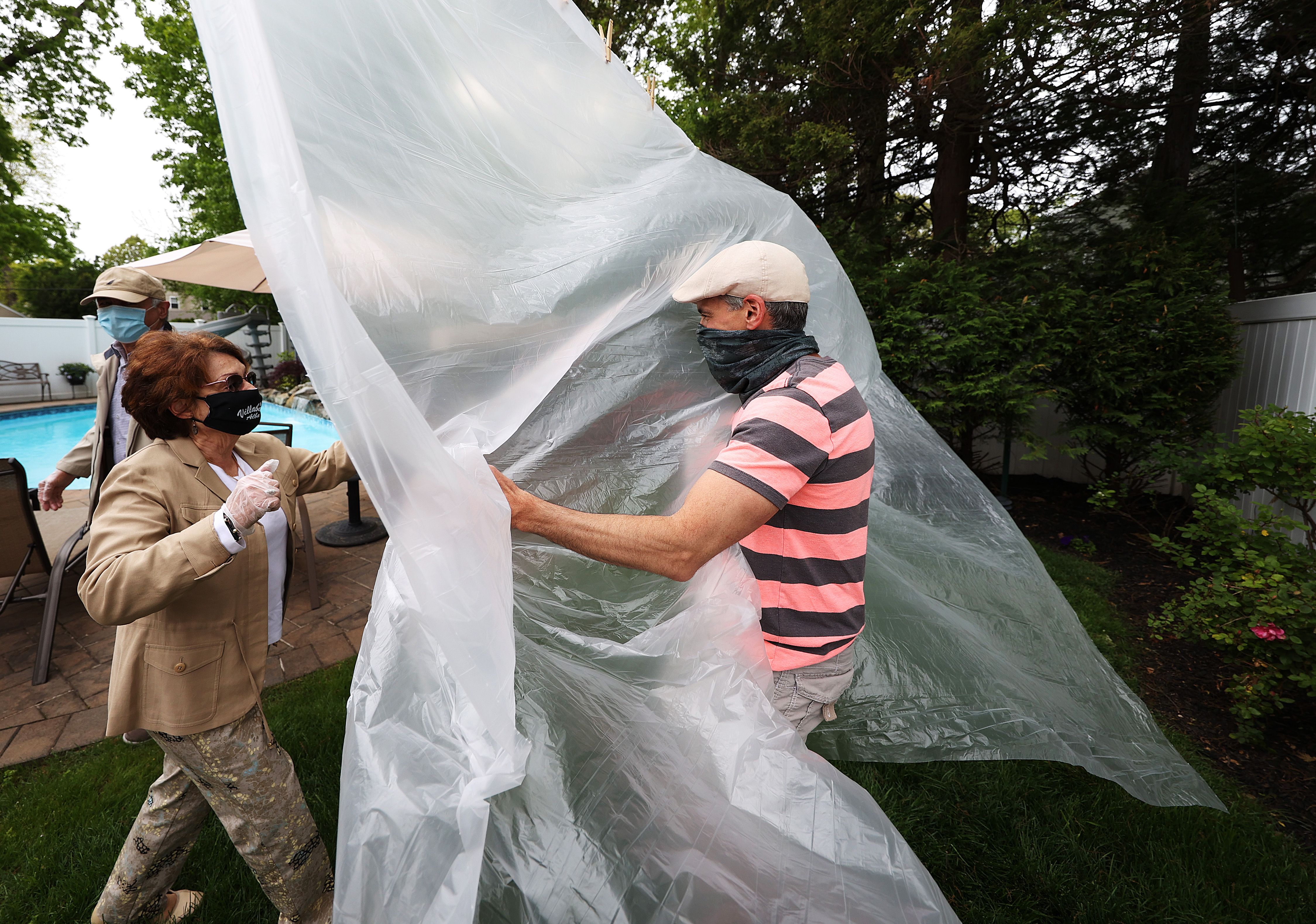 5. Nashville bombing looks like suicide
Sources tell CNN that the Christmas Day bombing in downtown Nashville looks like it was a suicide by bombing:
"Officials have previously said they have recovered human remains at the scene ... and an FBI official ... said agents are not looking for another suspect."
Agents converged on a house (photo above) in Antioch, 12 miles outside Nashville, belonging to a 63-year-old man.
A Google Maps image from 2019 shows an R.V. in the backyard that resembles the one authorities are looking for. The R.V. was gone yesterday.
6. 🇨🇳 China on pace to become world's largest economy in 2028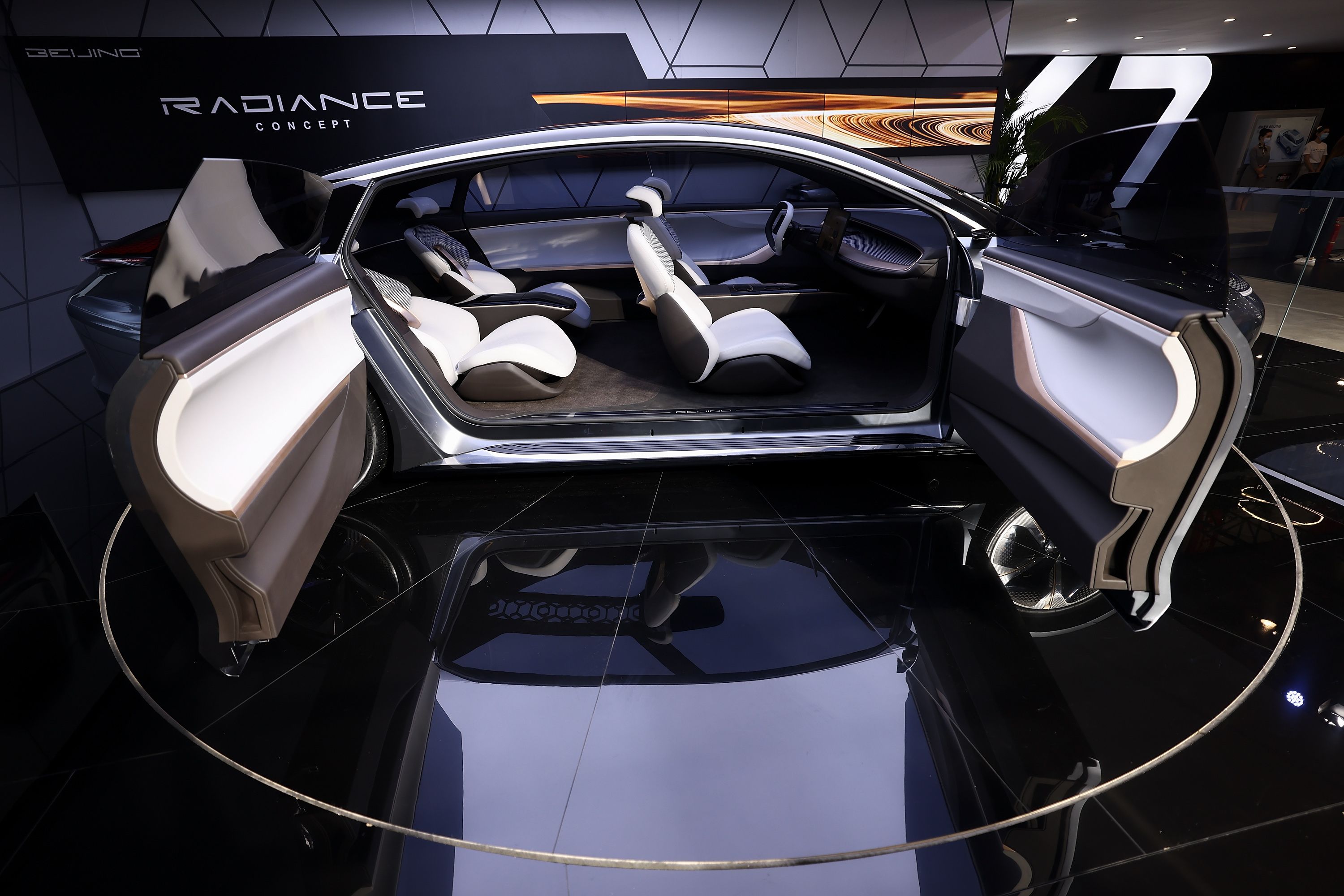 China's economy "is set to overtake the U.S. faster than previously anticipated after weathering the coronavirus pandemic better than the West," Bloomberg writes from a Centre for Economics and Business Research forecast.
"The world's biggest and second-biggest economies are on course to trade places in dollar terms in 2028, five years earlier than expected a year ago."
Elon Musk predicted in February that the Chinese economy "is probably going to be at least twice as big as the United States' economy, maybe three times."
"The foundation of war is economics," Musk said at a military fireside chat, per CNBC. "If you have half the resources of the counterparty, then you better be real innovative. If you're not innovative, you're going to lose."
7. "The year of the empty seat at the table"
N.Y. Times Magazine editor in chief Jake Silverstein writes: "Our annual Lives They Lived issue features short essays about notable people who died during the year. For 2020, we also decided to tell the stories of nine of the more than 300,000 Americans who have died because of Covid by focusing on how their families experienced the Thanksgiving holiday without them."
Jake writes that the cover photo (above) "powerfully elicits the grief felt by many this year. It shows Elaine and Jim Minichino as they sat down to dinner with a place set to honor her [32-year-old] son, Adam, who had been bedridden and fighting the virus for months when he died following surgery."
Keep reading (subscription).
8. This American life: Scout wars!
Girl Scouts are in a recruitment war after Boy Scouts of America opened to girls.
The plot twist: Some girls are accidentally joining Boy Scouts, lawyers for Girl Scouts claim in Manhattan federal court, AP's Larry Neumeister reports.
BSA is accused of using targeted advertising with the terms "Scout," "Scouts," "Scouting" and "Scout Me In."
In 2018, the Boy Scouts program for 11- to 17-year-olds announced it would change its name to Scouts BSA.
BSA blames the Girl Scouts for reacting with "anger and alarm," and said the Girl Scouts launched a "ground war."
BSA said it expanded its program to girls "after years of requests from families" who wanted their boys and girls both participating in its character and leadership programs, with the ability to become an Eagle Scout.
Girl Scouts said the Boy Scouts' marketing set off an "explosion of confusion."
📬 Thanks for sharing your Sunday with us. Please invite your friends to sign up for Axios AM/PM.