Axios AM
August 13, 2022
Happy Saturday. Smart Brevity™ count: 1,180 words ... 4½ mins. Edited by TuAnh Dam.
⚡ Situational awareness: Salman Rushdie, 75 — whose novel "The Satanic Verses" drew death threats from Iran's leader in the 1980s — is on a ventilator after an onstage attack in western New York, his agent, Andrew Wylie, said.
A 24-year-old suspect from Fairview, N.J., is in custody. No motive is known. Get the latest.
1 big thing: Mar-a-Lago's secrets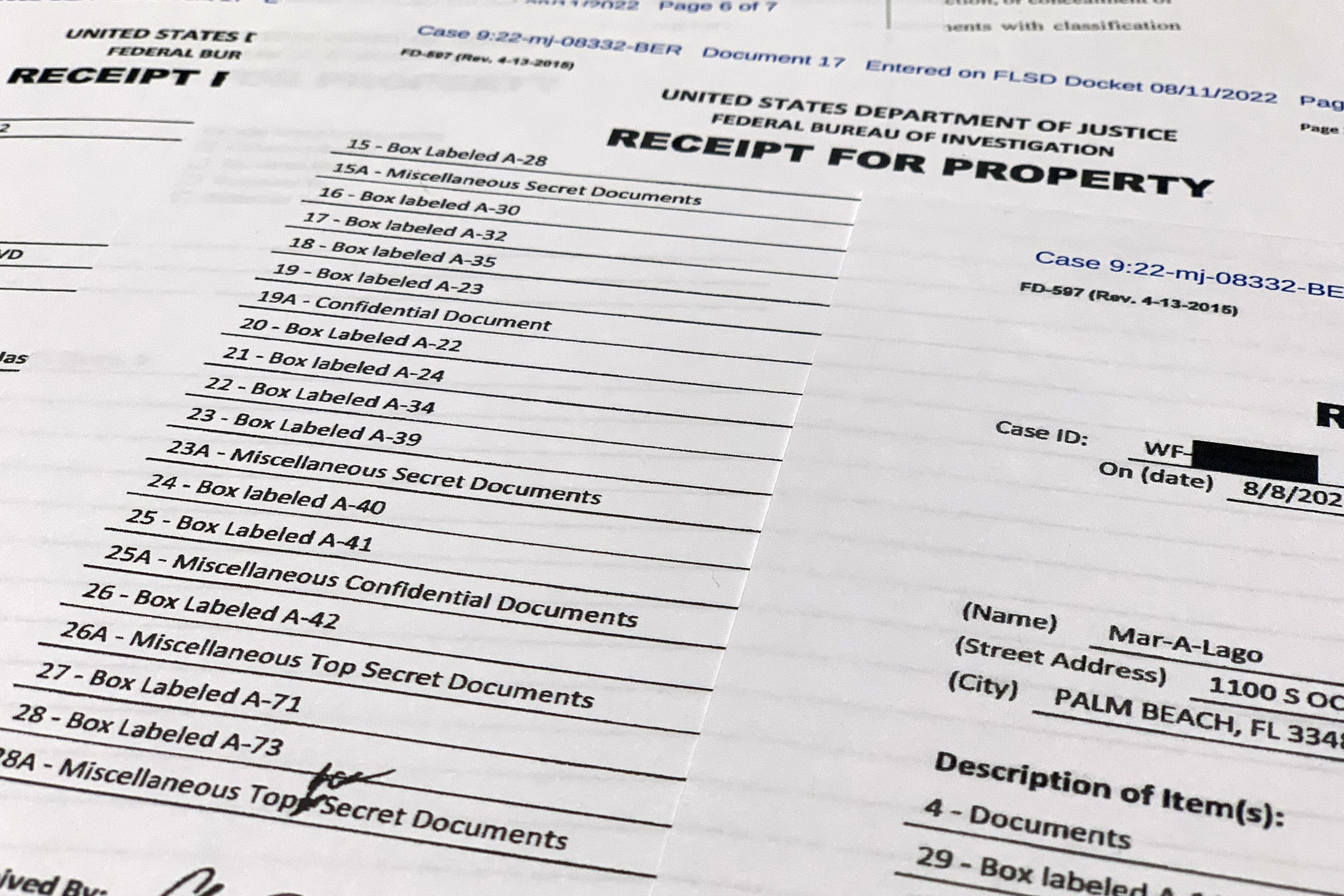 The documents seized from former President Trump's home may have been kept in violation of the Espionage Act, as well as other federal laws, according to documents released yesterday.
Trump said in a statement that "it was all declassified" and insisted that "they didn't need to 'seize' anything. They could have had it at anytime." The Justice Department disputes that.
An affidavit in the redacted search-warrant materials made public yesterday called for seizure of "all physical documents and records constituting evidence, contraband, fruits of crime, or other items illegally possessed in violation of" 18 U.S. Code § 793, 2071, or 1519.c.
That covers the Espionage Act, as well as laws against removing government records or obstructing justice, Axios' Alayna Treene and Margaret Talev write.
The search warrant described Mar-a-Lago as a 17-acre estate with 58 bedrooms and 33 bathrooms.
The search applied to the "45 office" (45th president) as well as storage rooms and other rooms used by the former president and his staff.
It didn't cover private guest suites or other areas for third parties and not available to Trump or his staff.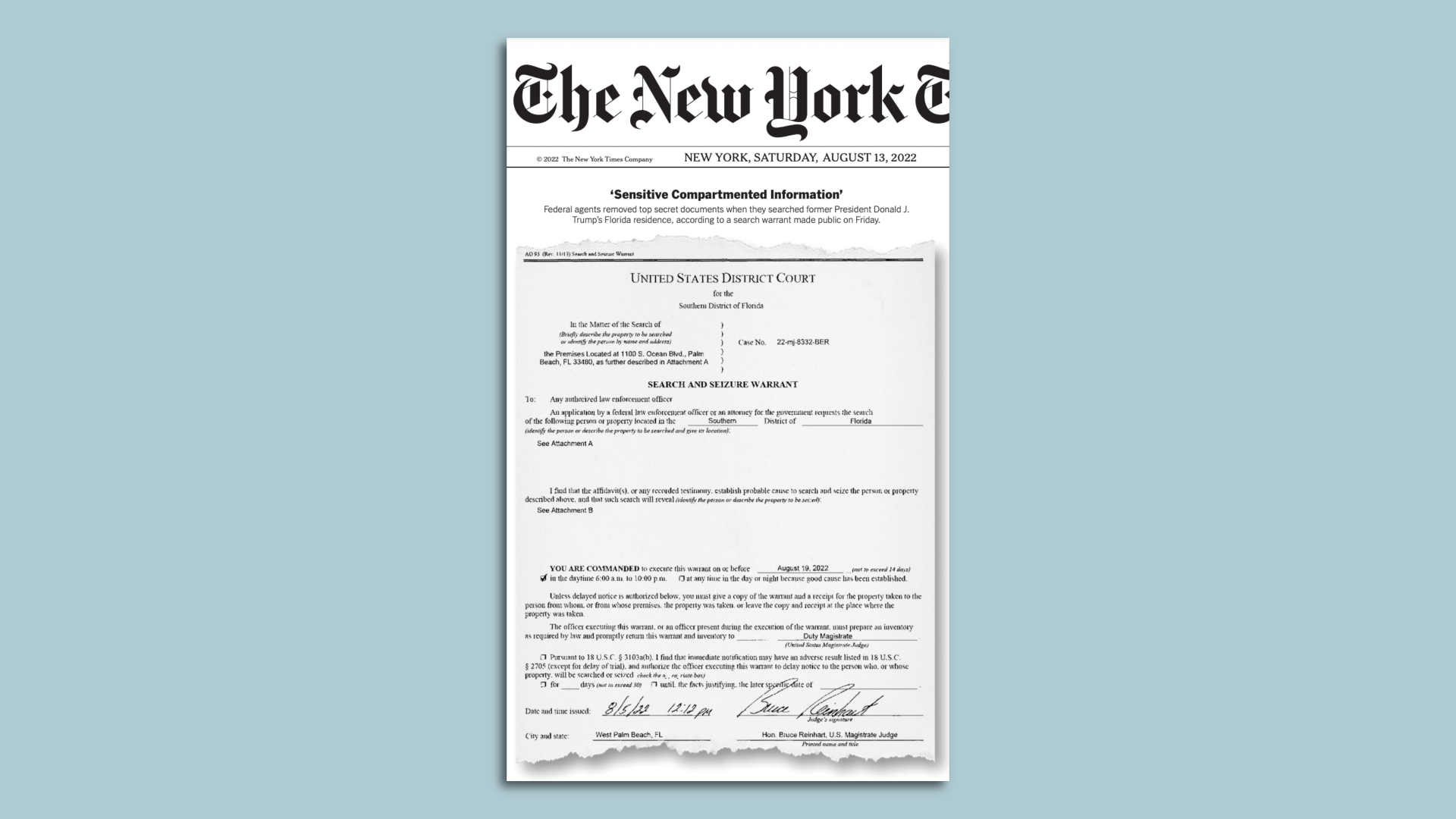 Reality check: The search — and the many boxes and binders retrieved — doesn't guarantee an indictment, said Ryan Goodman, an NYU law school professor and founding co-editor of the Just Security online national security forum.
Obtaining and securing the most sensitive documents may have been the overarching objective.
The inventory shows the FBI removed 11 sets of classified information from the Trump property, including some marked as "top secret." Agents collected:
"Various classified/TS/SCI documents" — referring to documents containing "top secret" or "sensitive compartmented information."
21 boxes of "miscellaneous confidential documents," "miscellaneous secret documents" or "miscellaneous top secret documents."
The presidential clemency for Trump's associate Roger Stone, "Info re: President of France," a leather-bound box of documents, two binders of photos and a handwritten note.
What's missing: The affidavit to support the search warrant wasn't included in the materials unsealed Friday. Its contents could reveal a great deal more about the circumstances behind the search.
2. Cracks in GOP response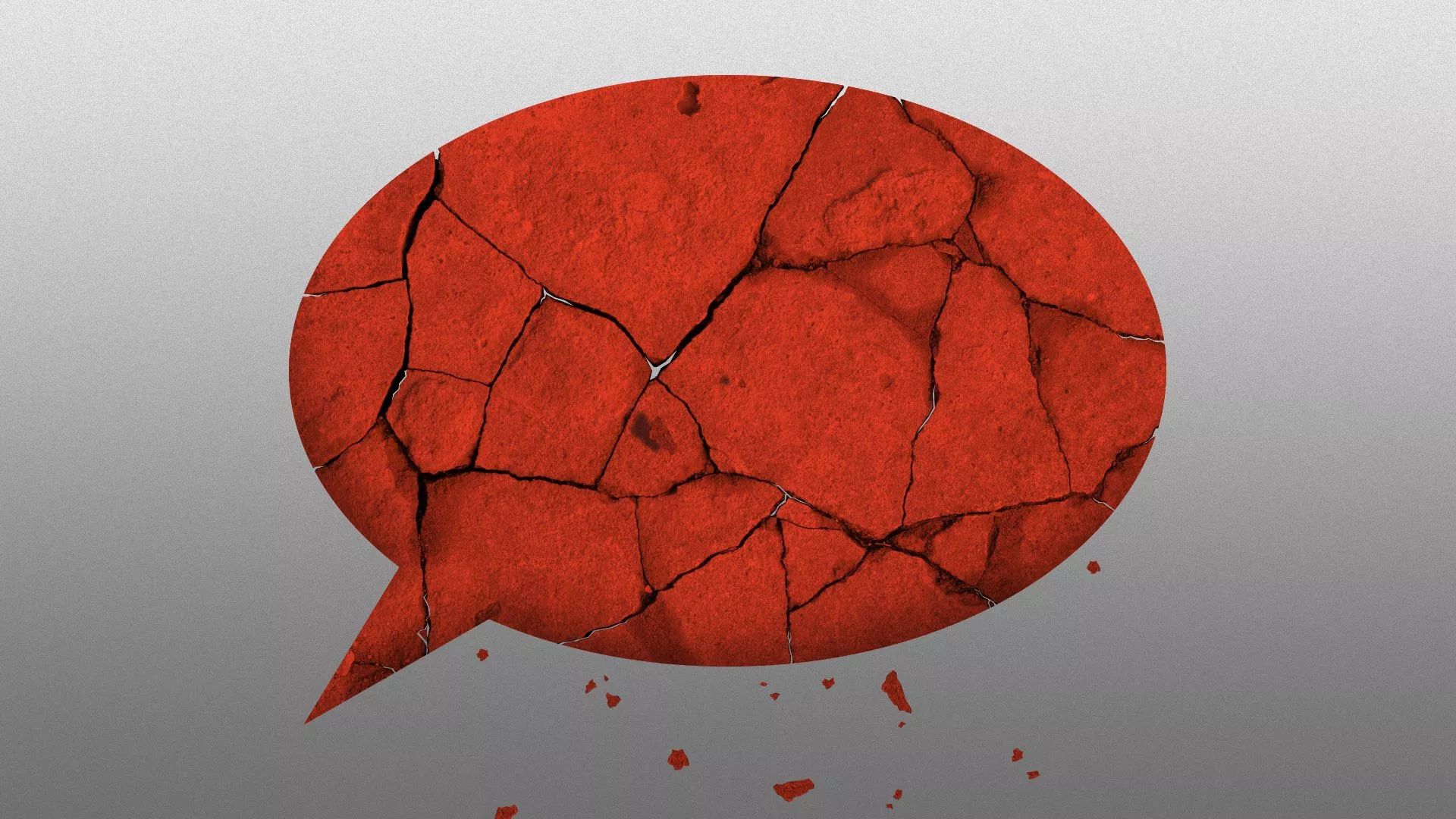 Republicans are dividing over how or whether to defend former President Trump after the FBI's search of Mar-a-Lago — and what to do about some members' heated rhetoric toward law enforcement, Axios' Andrew Solender reports.
Some senior Republicans have been warned by Trump allies not to continue to be aggressive in criticizing the Justice Department and FBI "because it is possible that more damaging information related to the search will become public," the N.Y. Times reports (subscription).
During a press conference yesterday before the documents' release, Republicans on the House Intelligence Committee cast the search as politically motivated.
But even some Intelligence Committee Republicans who participated struck a more measured tone in interviews afterward.
Rep. Chris Stewart (R-Utah), a member of the Intelligence Committee, told Politico: "I mean, if he had actual Special Access Programs — do you know how extraordinarily sensitive that is? ... If that were actually at his residence, that would be a problem."
Some Republican members disagree with right-wing colleagues' attacks on the FBI and DOJ amid rising threats to federal law enforcement, and an attack on the FBI building in Cincinnati.
"I'm impressed Democrats finally got us to say, 'Defund the FBI,'" Rep. Dan Crenshaw (R-Texas) told Axios. "That makes you look unserious."
3. 📱Teen internet use skyrockets
Nearly half of all U.S. teens (46%) say they use the internet "almost constantly," Axios Media Trends author Sara Fischer writes from a new Pew Research Center poll.
That's around double the percentage (24%) that reported the same usage in 2014-15.
Why it matters: Today's teens don't balance their real-world lives with their virtual experiences. They blend them.
State of play: The internet has changed dramatically in the past few years, creating new opportunities and risks for teens.
Today's teens are visual communicators, and have more tools at their disposal for self-expression.
Video apps — YouTube, TikTok and Snapchat — are the primary networks used by teens now, compared to platforms like Facebook, Twitter and Tumblr.
Most of the main networks teens use to create and consume content have built-in photo and video editing tools. Algorithms that prioritize virality over popularity make it easier for teens to discover new ideas.
🧠 Reality check: Constant connection means real-world problems — bullying, harassment, and abuse — can be a bigger part of teens' lives.
🥊 More than half (53%) of teens who almost constantly use at least one social network say they are on social media too much.
4. 🖋️ Biden to sign climate bill next week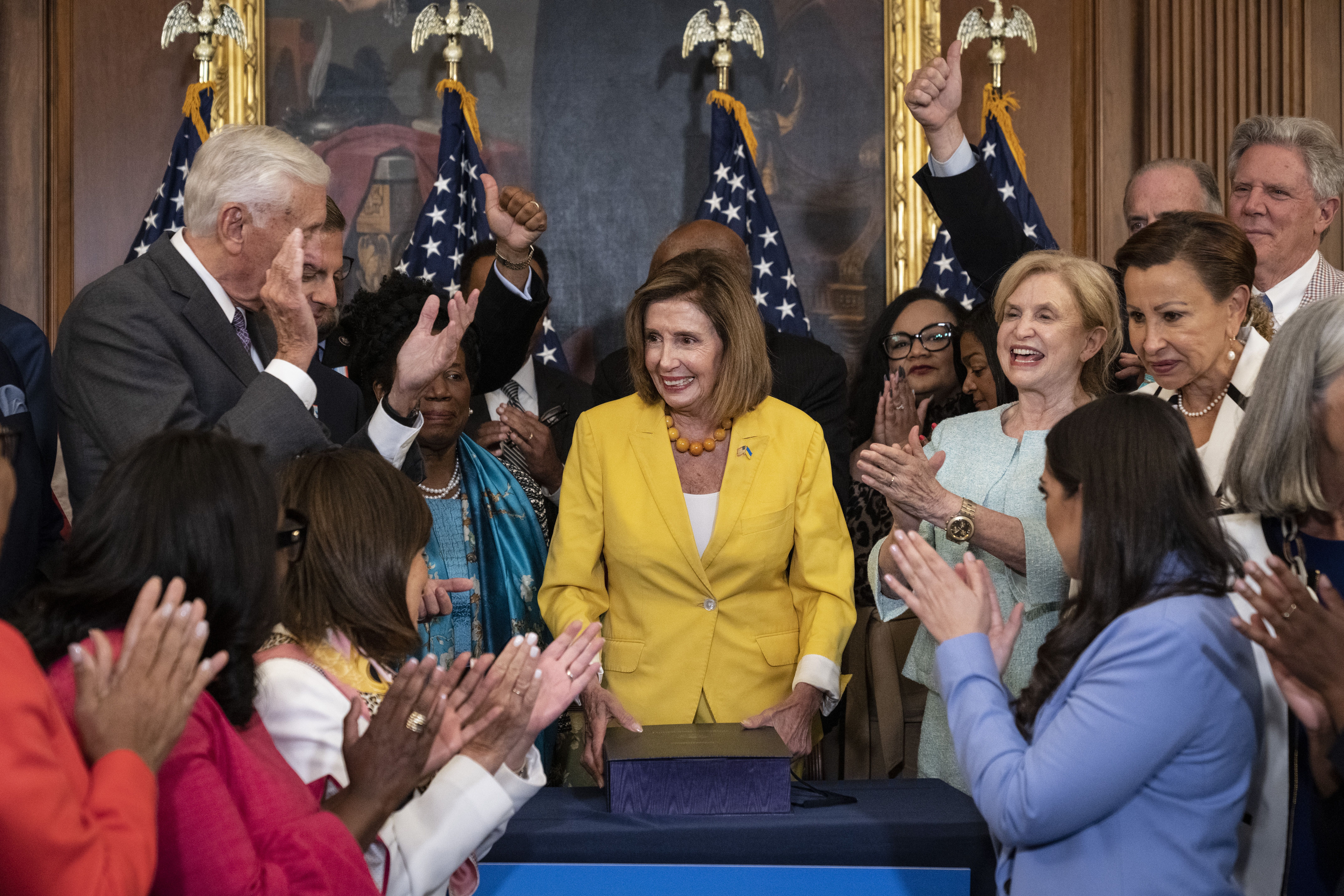 Above, House Dems applaud yesterday after Speaker Pelosi signs the Inflation Reduction Act — Democrats' climate-health-tax package — sending it to President Biden for signature.
The House passed the bill on a party-line vote of 220-207 — with hugs on the House floor and cheers by White House staff watching on TV.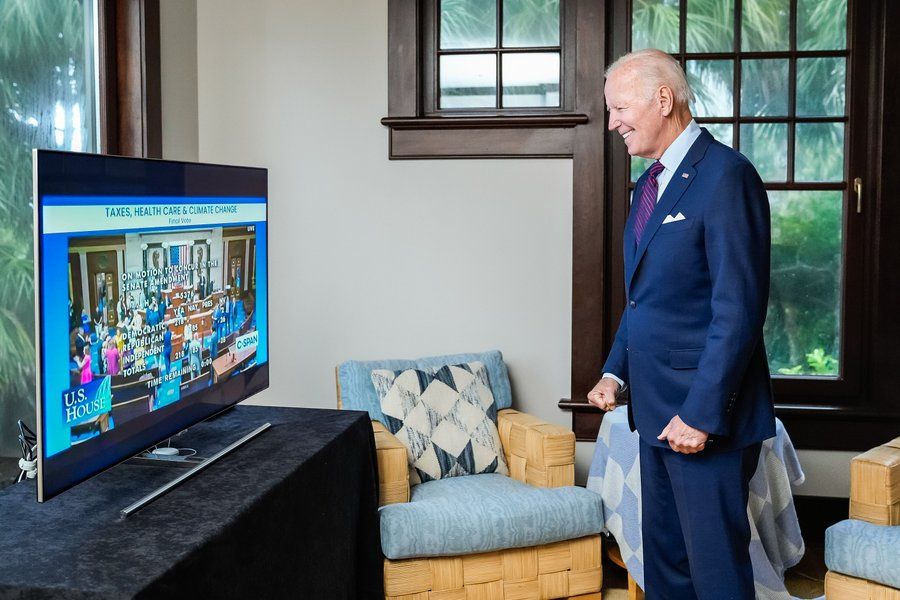 President Biden watched the vote while on vacation in Kiawah Island, S.C. (Wait! Coat, tie and pocket square on vacation?)
He said he'll sign it into law next week — then will hold a celebration at the White House on Sept. 6, the day after Labor Day.
5. 📈 Consumers are happier
The University of Michigan's Index of Consumer Sentiment ticked up further this month from a record low in June, Reuters reports.
"All components of the expectations index improved this month, particularly among low- and middle-income consumers — for whom inflation is particularly salient," survey director Joanne Hsu said.
⚠️ Threat level: The share of consumers blaming inflation for eroding their living standards remained near 48%.
The survey's one-year inflation expectation fell to a six-month low.
6. 🇨🇳 Xi makes plans to meet Biden
Chinese officials are making plans for Xi Jinping to meet with President Biden in Bali, in Southeast Asia, during the G20 summit in mid-November, The Wall Street Journal reports (subscription).
This would be Xi's first international trip since COVID, and Biden's first meeting with Xi as president.
7. ✝️ Baptists face DOJ probe
Several entities of the Southern Baptist Convention, the largest Protestant denomination in the U.S., are under investigation by the Justice Department amid multiple scandals related to clergy sex abuse.
The SBC's Executive Committee has received a subpoena, AP reports.
8. 🌕 2 incredible moonshots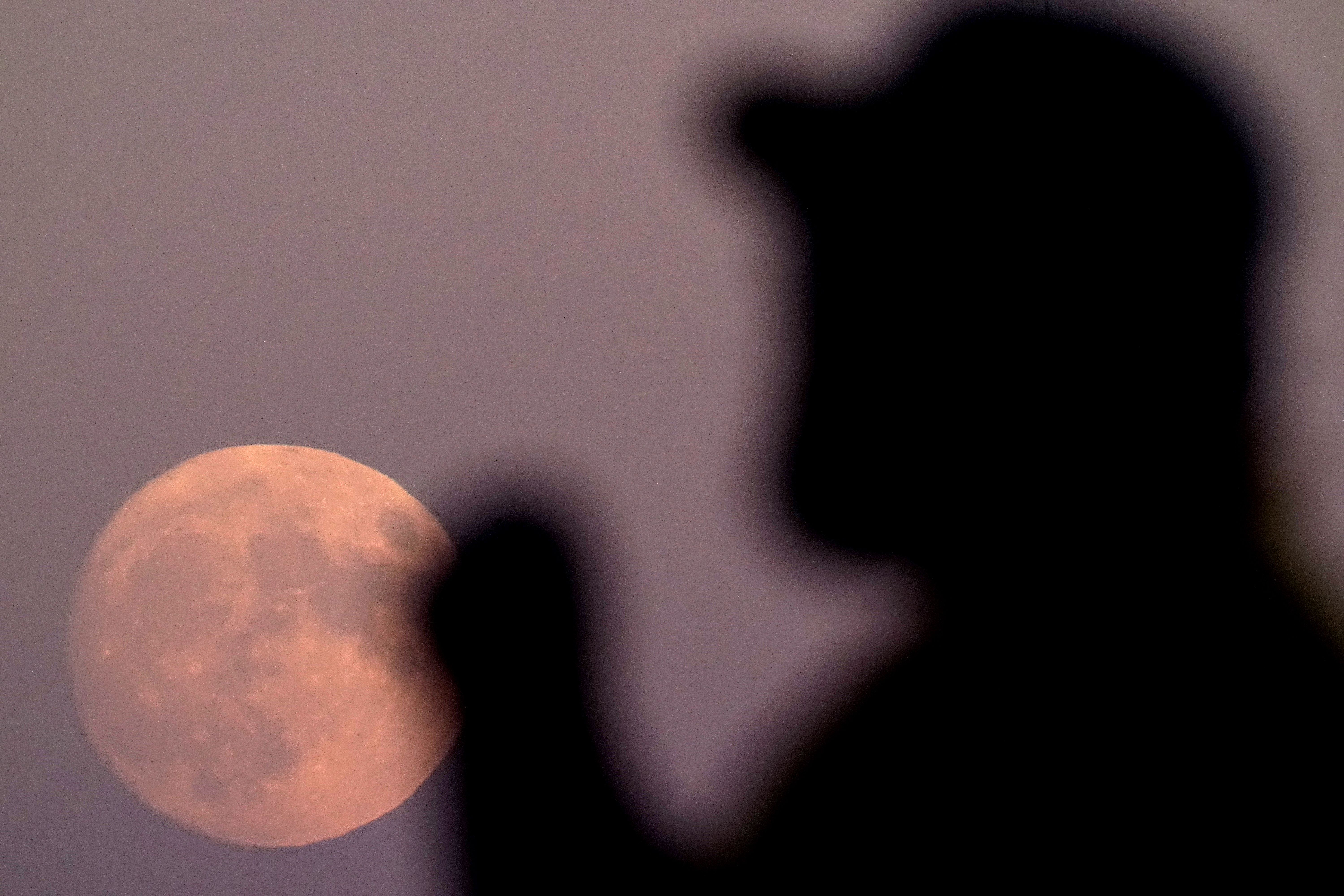 It's been a great couple of nights for moon-watching, with August's full Sturgeon Moon. Above, a fan watches from the upper deck in Kansas City, Mo., as the moon rises during a Royals game on Wednesday.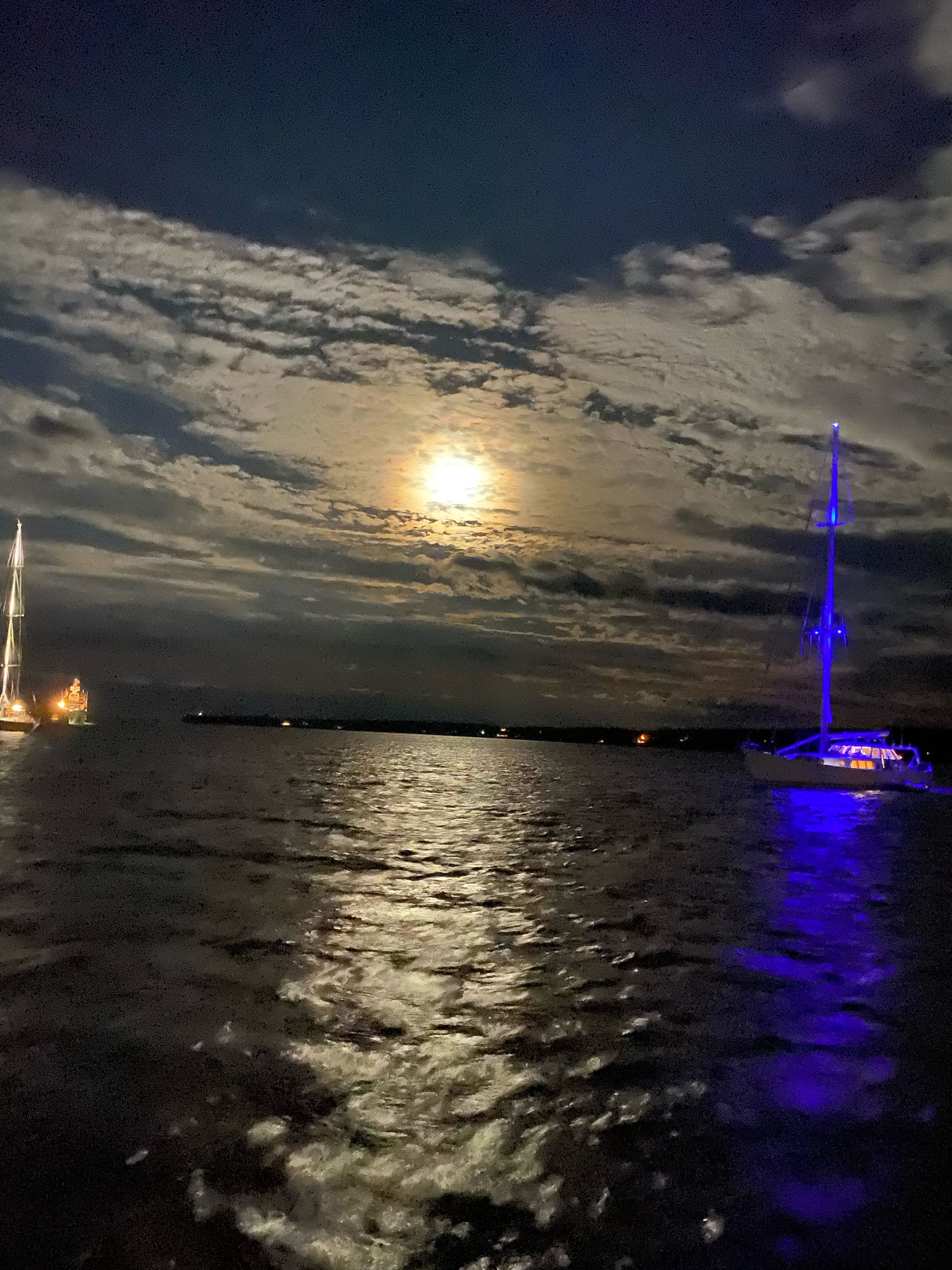 Reader photo: Last night's supermoon, as seen from Rockland, Maine.
📬 Invite your friends to sign up here for their daily essentials — Axios AM, PM and Finish Line.