Axios AM
May 24, 2022
1 big thing: Friendly brands poisoned by politics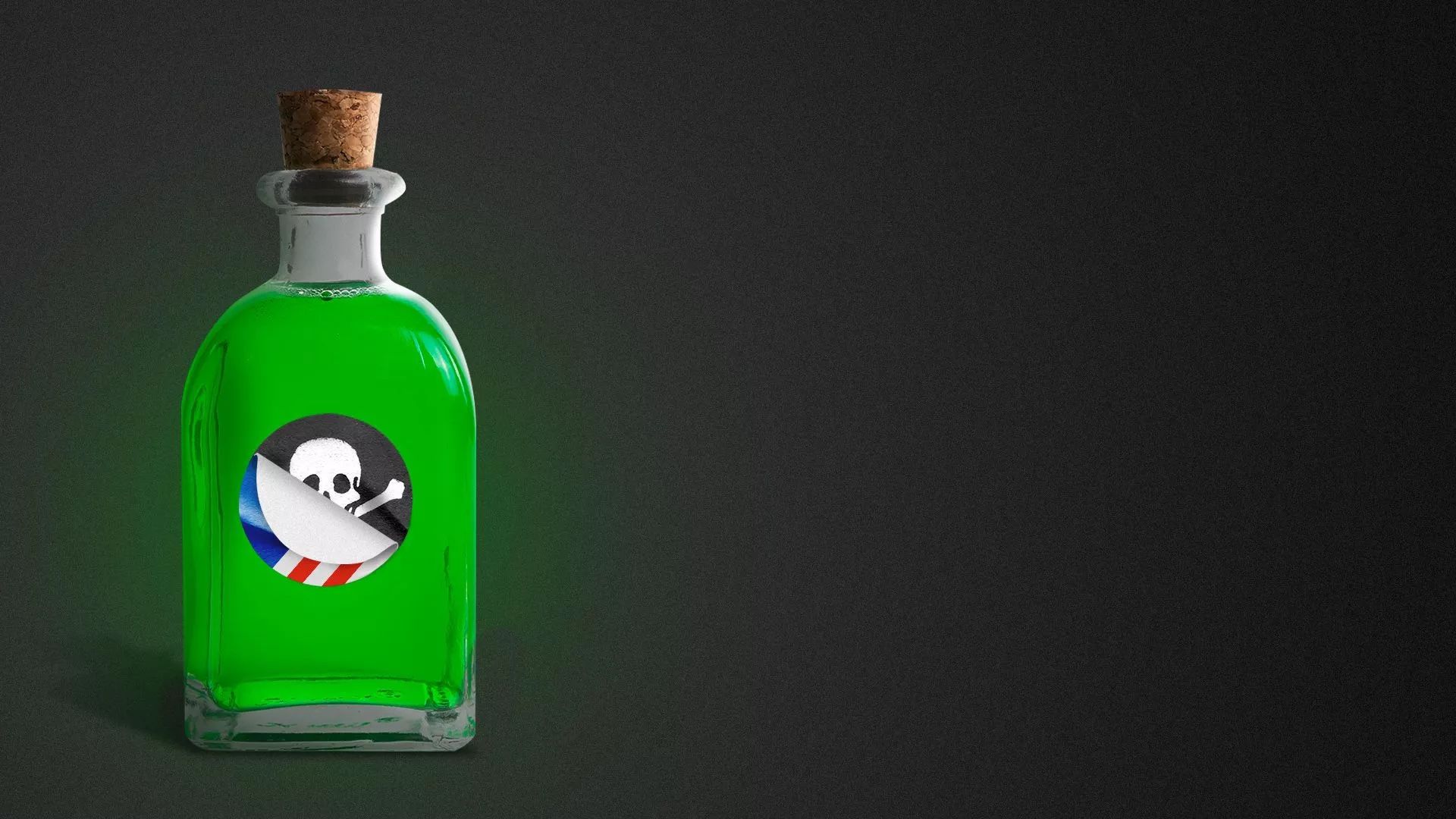 Companies that seemed immune to partisan backlash are seeing their reputations plunge in response to political drama, Axios Media Trends author Sara Fischer writes from the annual Axios/Harris Poll 100.
Why it matters: The findings suggest that companies that are slow to respond to political crises, or do it inconsistently, suffer the most in terms of consumer reception and trust.
New rankings from the poll — an annual survey to gauge the reputations of America's 100 most visible brands — show companies' increasing difficulty navigating employees, consumers and politics.
Disney's ranking dropped significantly — from 37th last year to 65th this year — likely because of its decision to speak out about Florida's "Don't Say Gay" bill after initially opting not to address it. "Disney's about face shows the reputational hit that comes when the public perceives you as being calculating rather than clear in what you believe in and stand for," said John Gerzema, CEO of The Harris Poll.
McDonald's dropped 13 spots from last year. The fast food chain was slow to respond to the war in Ukraine, given its exposure to the crisis relative to its competitors. The company said last week that it would pull out of Russia, nearly three months after the war started.
✈️ Delta's ranking improved significantly since 2021, along with its trust and culture scores. Last year's survey was conducted less than two months after the company faced criticism for its slow response and pivots on Georgia's voting rights bill.
Between the lines: Some brands with strong political positions continue to rank high among consumers because the quality of their products and services outweigh their political values.
Patagonia routinely ranks in the top 10 with both Democrats and Republicans, despite the company's vocal position on climate change.
🏠 AM thought bubble: The poll reinforces what we have seen on the ground with Axios Local.
To reestablish trust with a skeptical America, you have to start closer to home, making a real impact in local communities. Consumers reward brands that deliver a trusted product on time and as promised.
Sign up for 25 Axios Local cities.
👀 Graphic: See Harris Poll scores for 100 companies ... Share this story.
2. Scoop: U.S. negotiating deal among Saudis, Israelis and Egyptians
The Biden administration is quietly mediating among Saudi Arabia, Israel and Egypt on negotiations that could be a first step on the road to normalization of relations between Saudi Arabia and Israel.
It involves finalizing the transfer of two strategic islands in the Red Sea from Egyptian to Saudi sovereignty, U.S. and Israeli sources tell Axios from Tel Aviv author Barak Ravid.
Why it matters: It would be the most significant U.S. foreign policy achievement in the Middle East since the Abraham Accords, which were brokered by the Trump administration and led to normalization agreements between Israel, UAE, Bahrain and Morocco.
The U.S. and Israeli sources said the agreement is not complete.
The White House wants an agreement to be reached before President Biden's trip to the Middle East at the end of June, which could include a stop in Saudi Arabia, according to the sources.
Zoom out: The Tiran and Sanafir islands control the Straits of Tiran — a strategic sea passage to the ports of Aqaba in Jordan and Eilat in Israel.
Saudi and Egyptian officials say Saudi Arabia gave Egypt control of the islands in 1950.
The Saudis supported the Abraham Accords but made it clear at the time they wouldn't normalize relations with Israel unless there was serious progress in the Israeli-Palestinian peace process.
3. Larry Summers' new front in inflation war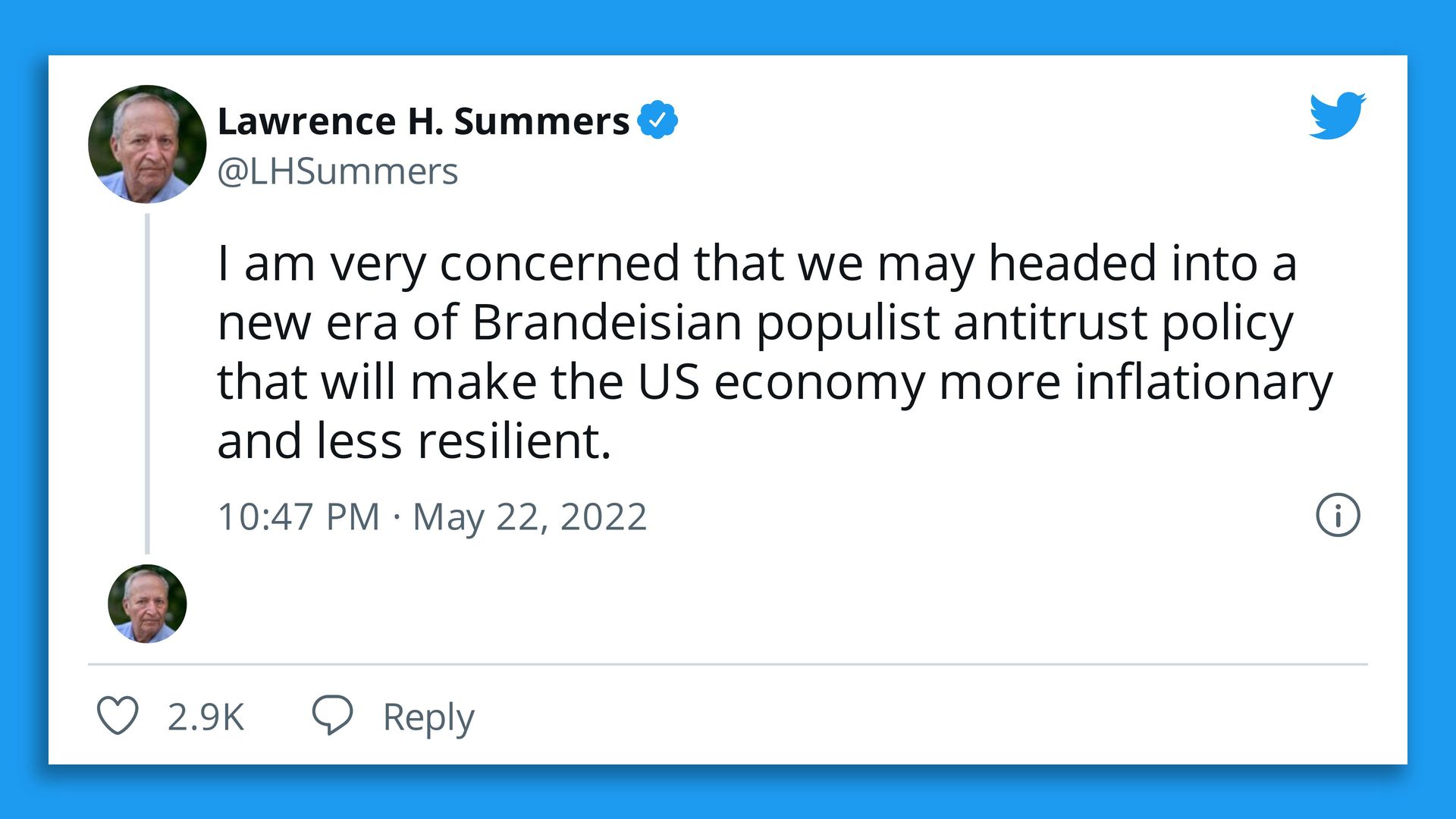 Former Treasury Secretary Larry Summers, a leading Democratic voice outside government, is linking inflation with President Biden's "hipster" antitrust policies, Axios' Hans Nichols writes.
Why it matters: Top administration officials are super-sensitive to criticism from Summers, a former Harvard president who served in senior economic roles in the last two Democratic administrations.
💡 By attacking Biden's antitrust agenda, and singling out the FTC and the Justice Department's antitrust division, Summers is opening a new front on inflation.
"Policies that attack bigness can easily be inflationary if they prevent the exploitation of economies of scale or limit superstar firms," Summers tweeted Sunday night.
His Twitter thread, which followed a blistering Bloomberg TV interview, ricocheted around Democratic economic circles, daring officials to reconsider their positions.
Context: National gas prices reached another record high yesterday ($4.60/gallon for regular), and inflation hit 8.3% last month.
Last summer, Biden decided to become the trustbuster-in-chief, signing an executive order that promised to promote competitiveness and subject corporate mergers to higher scrutiny.
Summers told Axios in an interview yesterday that "while the primary responsibility with inflation rests with the Fed, there are micro-policies that also matter," including regulatory decisions that can affect prices.
His "hipster" critique was in response to a Wednesday speech by Jonathan Kanter, head of the Justice Department's antitrust division, who said: "Corporate power has grown to levels that leave our fellow citizens concerned and confused."
Behind the scenes: Summers remains in touch with senior Biden aides, who quietly solicit his views.
A White House official told Axios: "The President has for years held the view that we need much stronger antitrust scrutiny than in the past few decades, where lax oversight has led to significant consolidation in many sectors of the economy, and higher prices for American consumers."
4. 🎤 Swan interviews Zelensky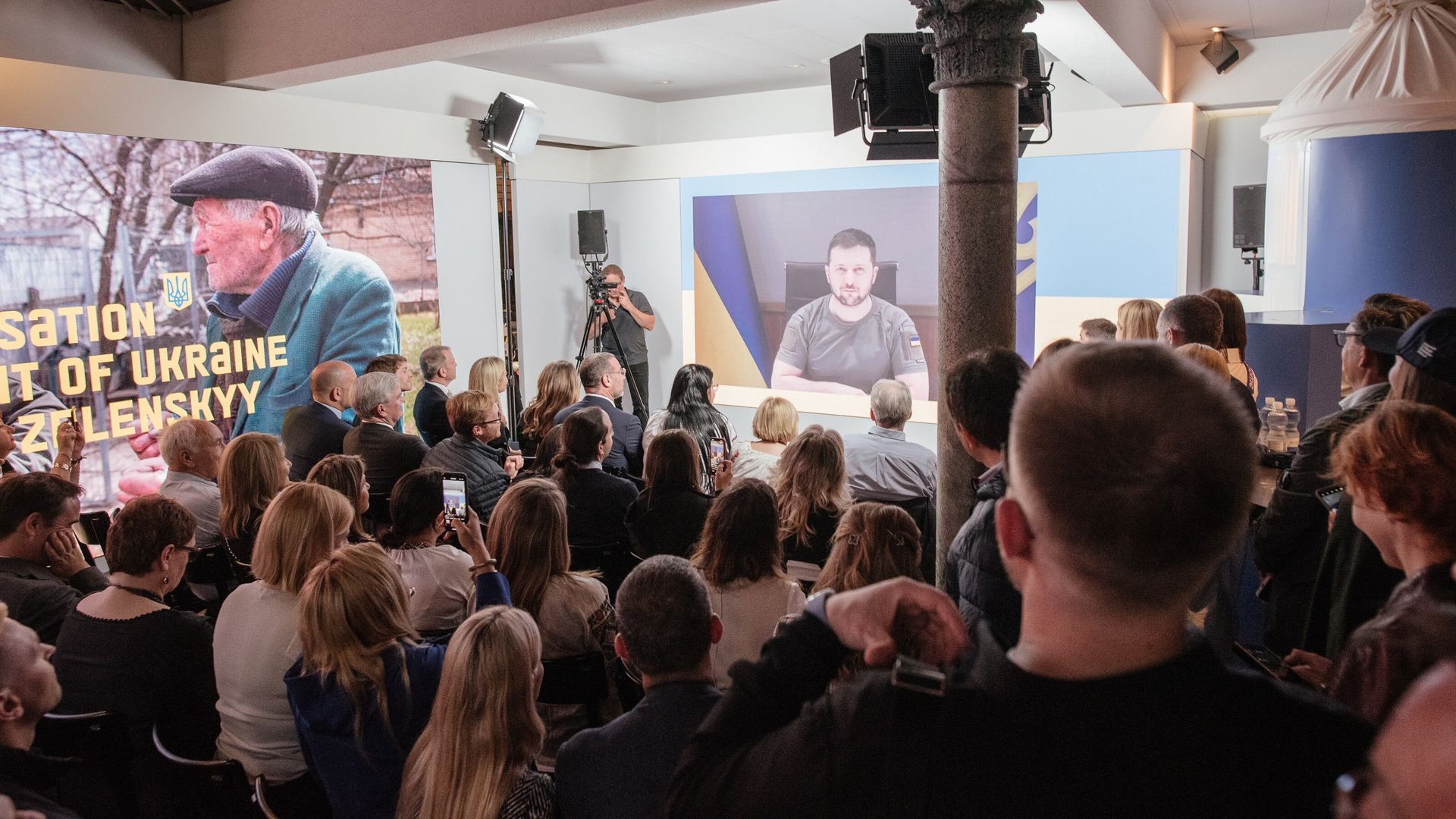 Axios' Jonathan Swan, in Davos, yesterday interviewed Volodymyr Zelensky, remote from Kyiv. See cuts of Zelensky on ...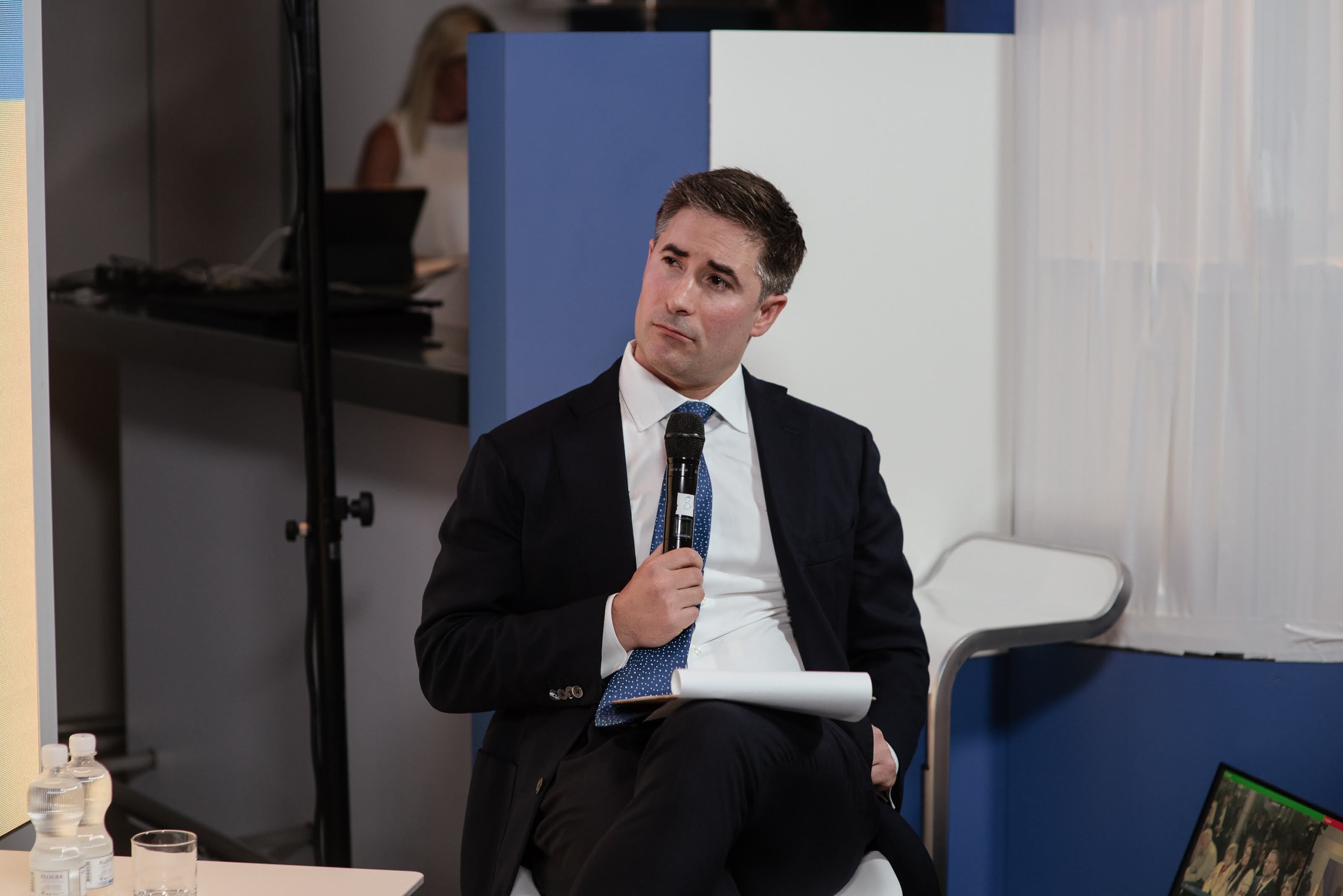 Swan's story on the interview: Why Zelensky doubts he can deal with Putin.
5. 🗞️ 3 months ago today ...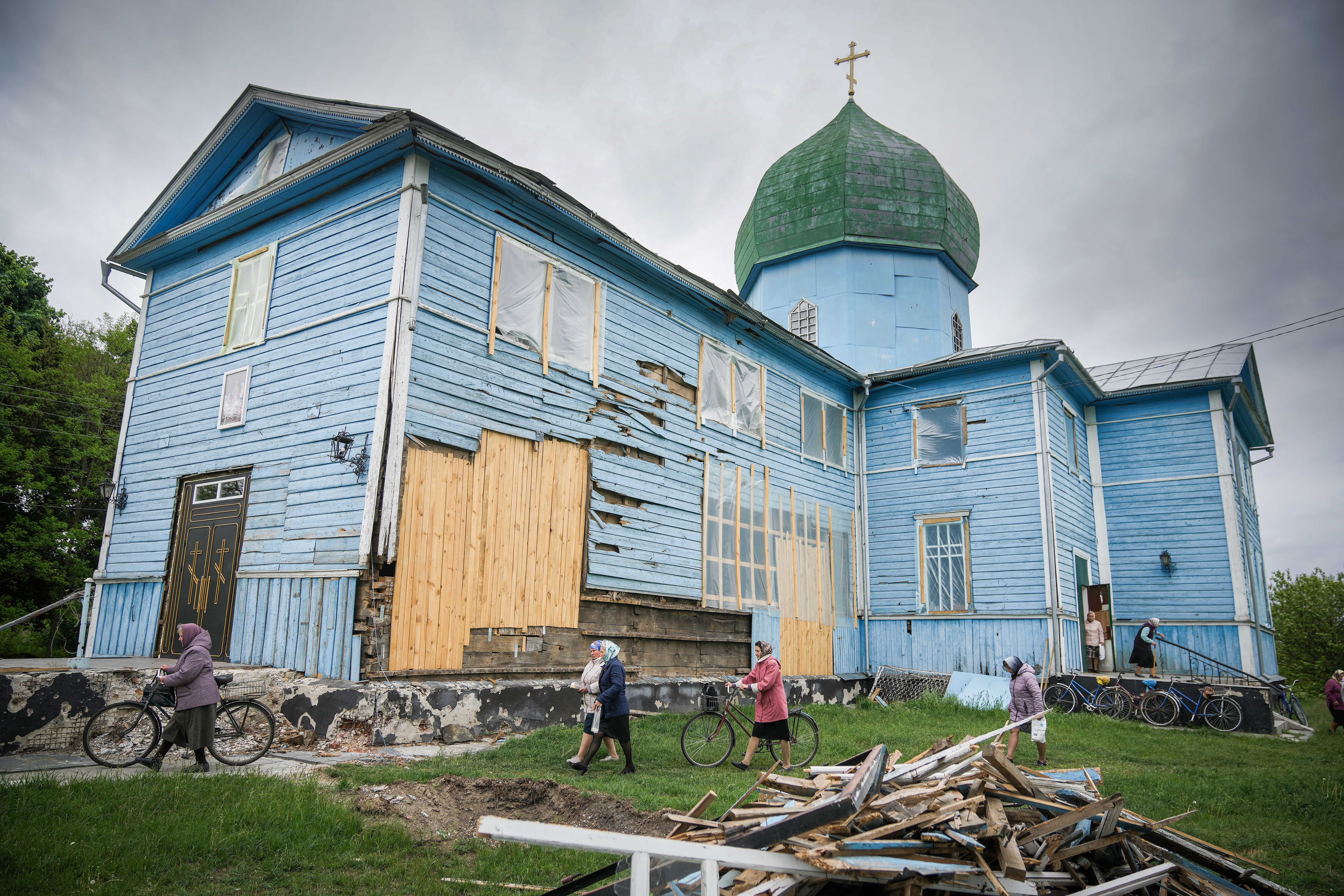 ... Russia invaded Ukraine.
Above: Parishioners leave a service in the bomb-damaged Church of the Nativity of the Blessed Virgin in the village of Perehoma, on the outskirts of Kyiv.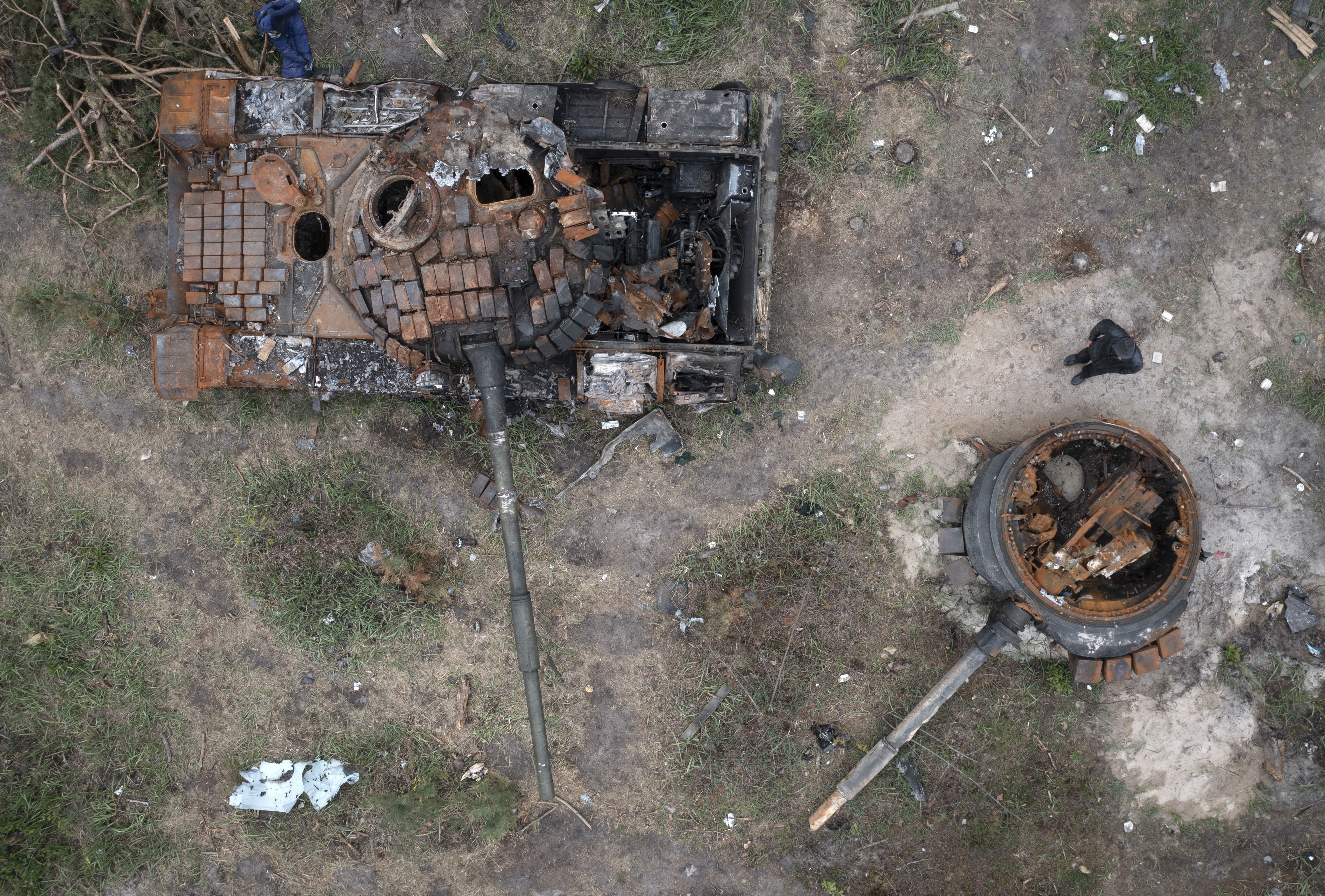 Freeze-frame headline leading AP:
"After 3 months, Russia still bogged down in Ukraine war."
6. 📷 Portrait of power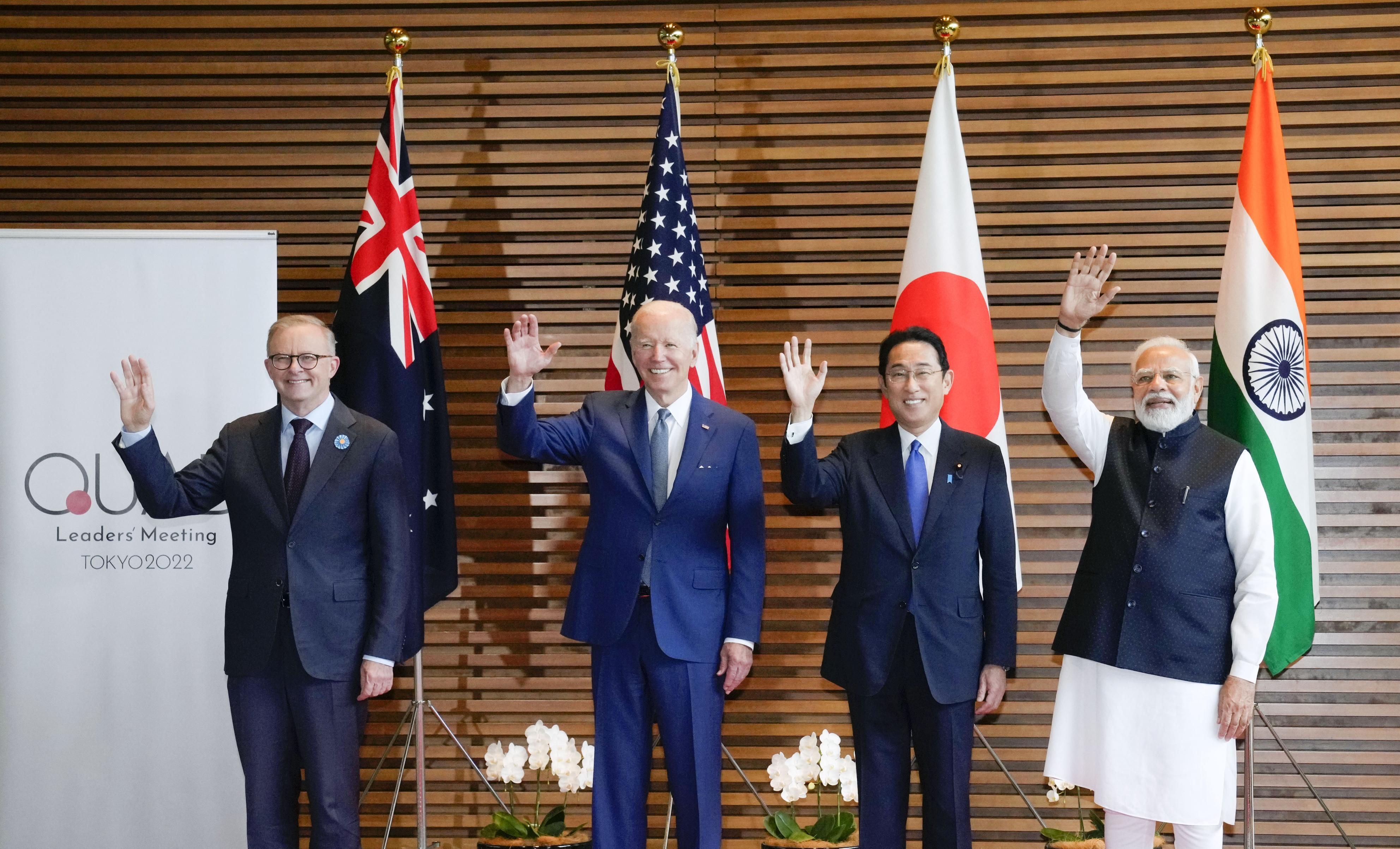 From left: Australian Prime Minister Anthony Albanese, sworn in Monday ... President Biden ... Japanese Prime Minister Fumio Kishida ... and Indian Prime Minister Narendra Modi wave ahead of their summit of the Quad group of Indo-Pacific democracies in Tokyo today.
7. 🦊 Axios interview: Lachlan Murdoch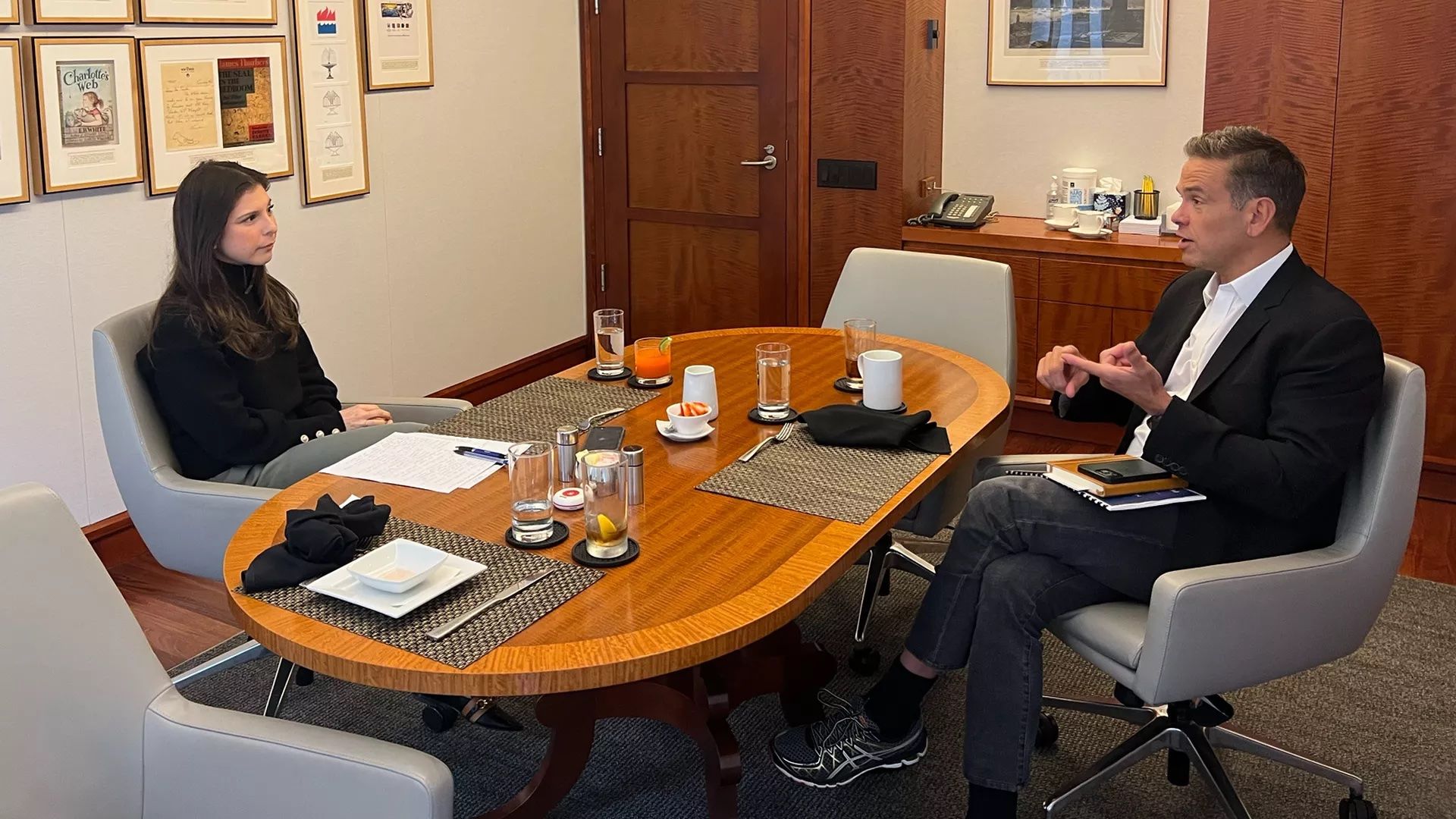 Fox Corp. is in the early stages of expanding into lifestyle verticals including outdoors, home and books, CEO Lachlan Murdoch tells Axios' Sara Fischer.
Murdoch said in a wide-ranging interview at Fox Corp. headquarters in Manhattan that he hopes those new areas, in addition to sports betting and web3 projects, will "give us our growth going forward."
Why it matters: The push into lifestyle content builds on the success of Fox News Media's subscription streaming service, Fox Nation, which launched in 2018 as Fox News' first big foray into softer content.
"A lot of the content on Fox Nation is lifestyle content. It's outdoors content and documentaries," Murdoch said.
Other verticals could include food and home.
Fox News Books, launched in 2020 with HarperCollins, is "a profitable business" and "a huge opportunity," Murdoch said. The company has sold over 1 million copies of books linked to Fox News personalities. "You'll see over time, we'll pick up third-party authors, too," he said.
Pressed on criticism of Fox News, Murdoch said: "I think when you're in the news business, and you're number one ... you get a lot of heat and it just comes with the territory."
"[T]he world is more divided and on edge than it has been for a very long time ... And so, you've got to be tough about it."
🏈 Asked if reports that Tom Brady's post-NFL deal with Fox Sports is for 10 years and $375 million, Murdoch said the figures are "directionally right."
8. 📦 Drone delivery scales for first time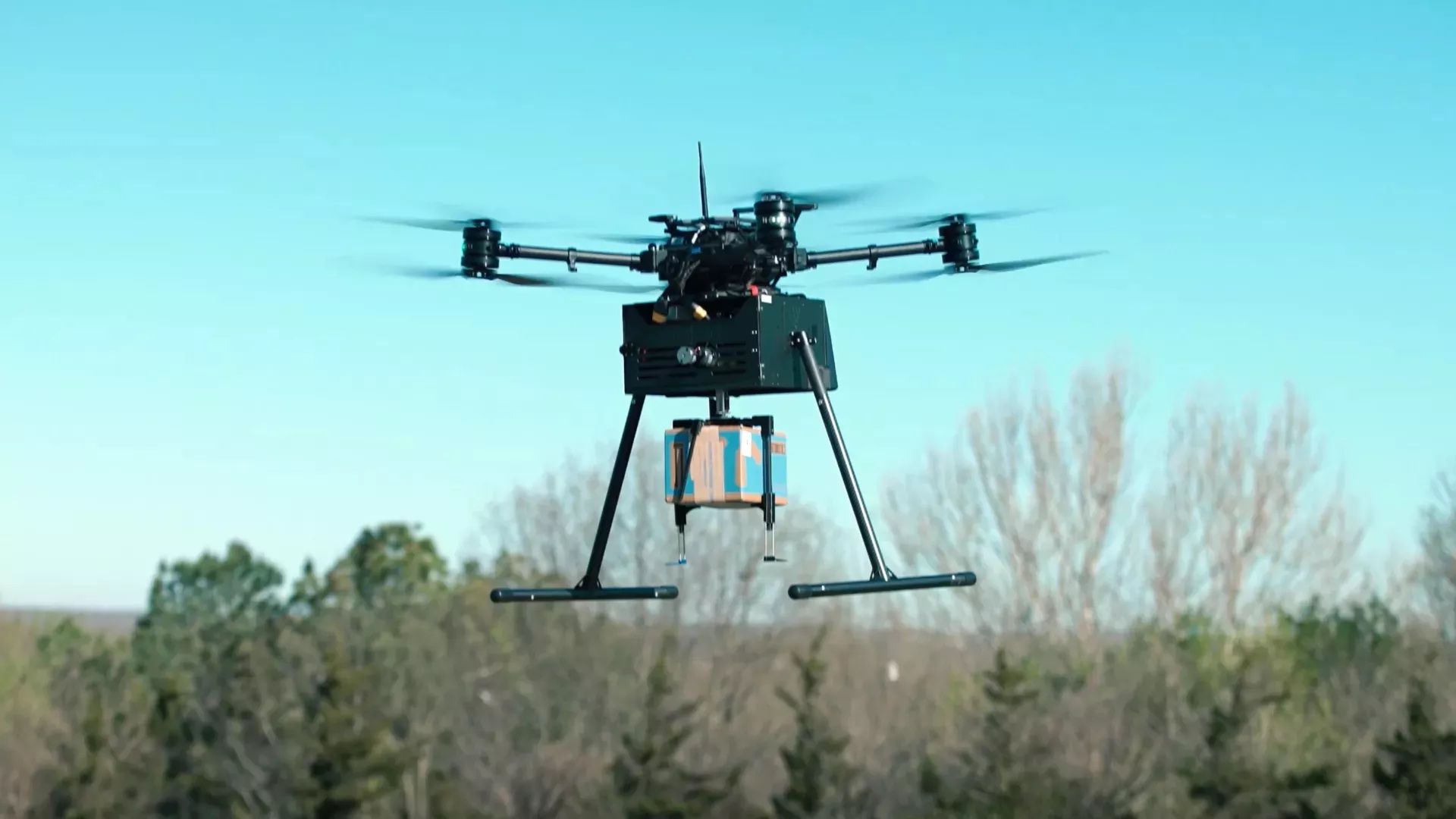 Walmart customers in parts of six states — Florida, Texas, Arizona, Virginia, Utah and Arkansas — will soon be able to have orders delivered by drone in less than 30 minutes, Joann Muller writes in Axios What's Next.
Why it matters: This'll be the first large-scale drone delivery operation in the U.S. Drone deliveries have been available only in a few small towns, with customers selecting from a short list of items.
Walmart's DroneUp delivery network will expand to 34 sites by the end of the year, potentially reaching 4 million U.S. households.
The new markets are Phoenix ... Tampa and Orlando ... Dallas ... Salt Lake City ... and Richmond.
Walmart already has limited drone delivery in Arkansas.
Customers will be able to order anything from Tylenol to diapers to hot dog buns — 100,000 different products in all, up to a total of 10 pounds — delivered by drone for $3.99.
📬 Invite your friends to sign up here to get their daily essentials — Axios AM, PM and Finish Line.