August 27, 2022
Happy Saturday. Smart Brevity™ count: 1,184 words ... 4½ mins. Edited by Donica Phifer and TuAnh Dam.
1 big thing: New car-theft wave
Some new cars are actually easier to steal than older models — it can take under a minute — resulting in a nationwide wave of thefts, Axios Local reporters found across the country.
As a result, the low-tech CLUB steering-wheel lock is regaining popularity as a deterrent.
The problem, which officials say has been exacerbated by viral videos, is attributed to design flaws in some Hyundai and Kia models, reports Annalise Frank of Axios Detroit.
Thieves bust a window and remove part of the steering column's cover, exposing the ignition. Then they break the ignition cylinder off, and start the vehicle with a flathead screwdriver or USB plug-in.
The method works on 2011-2021 Kias and 2016-2021 Hyundais that use a steel key, not a fob and push-button start.
🖼️ The big picture: Officials in several cities tell us Kias and Hyundais are disappearing in greater numbers this summer. A Kia spokesperson tells Axios the problem is most widespread in the Midwest.
Detroit had 111 Kias stolen in July and 22 in the first nine days of August, per its police department. That's up from 23 in June and 11 or fewer in all previous months of 2022.
Charlotte, N.C., police report 156 Kia and Hyundai thefts since June 20, a 346% increase from 35 incidents in the same timeframe last year.
The intrigue: Officials link some of the thefts to a trend shown in a viral YouTube video from Milwaukee that interviews members of the so-called "Kia Boys." They demonstrate how they purportedly steal cars so quickly.
Hyundai is aware its cars "have been targeted in a coordinated effort on social media," a statement provided to Axios says. The separate Kia and Hyundai brands share a parent company, Hyundai Motor Group.
🏡 Get Axios Local, now publishing daily newsletters in 24 cities ... Steal this story.
2. 🌴 Inside Trump's trove
A highly redacted version of the FBI's affidavit to justify the Mar-a-Lago search, released yesterday by the Justice Department, reveals (via AP):
The 15 boxes retrieved by the National Archives in January included 184 documents bearing classification markings — including 67 marked confidential, 92 secret and 25 top secret.
Agents who inspected the boxes found markings suggesting documents included information from highly sensitive human sources, or the collection of electronic "signals" authorized by a court under the Foreign Intelligence Surveillance Act.
Markings included ORCON — "Originator Controlled." That means officials at the intelligence agency responsible for the report didn't want it distributed to other agencies without permission.
Some of the classified records were mixed with clippings and printouts:
According to the National Archives, the boxes contained "newspapers, magazines, printed news articles, photos, miscellaneous print-outs, notes, presidential correspondence."
See the 38-page document ... Go deeper: What we know, don't know.
3. 💭 Axios interview: Gen Z's Maxwell Frost
Maxwell Frost, 25 — who drove for Uber while campaigning, and now is poised to become the first Gen Z member of Congress — tells Axios' Andrew Solender he'll work to elevate young Dems to national, state and local office.
Frost, a Floridian who is Afro Cuban, won Tuesday in a crowded Democratic primary for a U.S. House seat in the Orlando area.
Why it matters: Millennials (born 1981-1996) and Gen. Z (born 1997-2012) combined to make up one-third of the 2020 electorate. But their representation in Congress has yet to catch up.
Millennials comprise just 7% of the 117th Congress.
2022 is the first election cycle in which Gen. Z candidates meet the House's age 25 eligibility requirement.
"I'm the first. I'm definitely not going to be the last," Frost told Axios in a phone interview after his comfortable win in a 10-candidate field.
"I will be very involved in the political side of things and making sure that we have ... not just young people, but just a whole new generation of people, saying: 'Hey, you know what? I can run for office,'" Frost said. "Not just Congress, either. Like, school board — you know? County commission. Everything like that."
🔮 What's next: Frost will face Calvin Wimbish, 72, a Black Republican conservative activist and retired Army Green Beret, in November. The district is solidly Democratic, making Frost the heavy favorite.
4. 🎓 College reprieve
College inflation isn't as bad as portrayed, Axios chief financial correspondent Felix Salmon writes.
Costs for private four-year colleges have actually been falling.
Why it matters: President Biden's decision to forgive billions of dollars in student debt has stirred renewed debate about college costs.
🧠 What's happening: The amount that Americans pay for college tuition is ultimately set according to the rules of supply and demand. Due to overbuilding, a falling birth rate, and a decline in foreign students, there's significantly more supply than there is demand.
That means flat or declining prices.
Keep reading ... Go deeper: Dan Primack reports why college costs are still so high, and what might bring them down.
5. 🗳️ GOP nominee posed in Confederate garb in 2013-14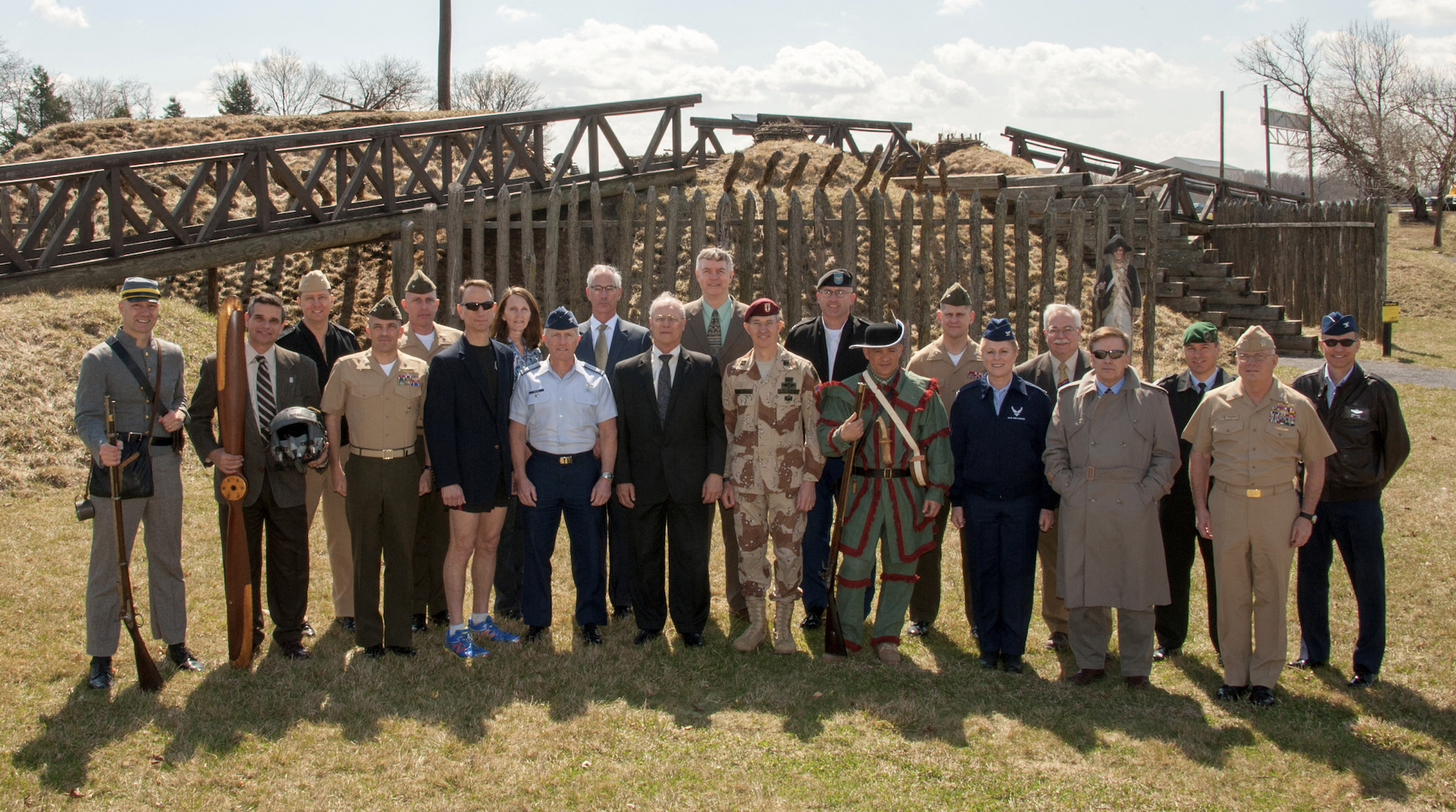 Pennsylvania State Sen. Doug Mastriano, the Republican nominee for governor, posed in a Confederate uniform (at left above) for a 2013-14 faculty photo at the U.S. Army War College. Reuters obtained the photo via the Freedom of Information Act.
Mastriano, who's endorsed by former President Trump, is in a November general election against Democrat Josh Shapiro, who leads in polls.
Mastriano — who was on the Capitol grounds on Jan. 6., 2021 — is scheduled to appear with Trump and Dr. Mehmet Oz, GOP nominee for U.S. Senate, at a rally in Wilkes-Barre next weekend.
The portrait shows the Department of Military Strategy, Planning and Operations, where Mastriano, a retired Army colonel, was a professor. His state senate district includes Gettysburg.
The War College, which educates senior military and civilian leaders, is in Carlisle, Pa.
Faculty at the time (President Obama was commander-in-chief) were given the option of dressing as a historical figure. At least 15 of the 21 faculty in the photo opted to appear in regular attire, Reuters reports.
One man wears a trench coat and shades. Another carries an aviator's helmet. Mastriano is the only one wearing a Confederate uniform.
Mastriano didn't respond to Reuters requests for comment by email and phone. He retweeted this tweet by a senior adviser to his campaign: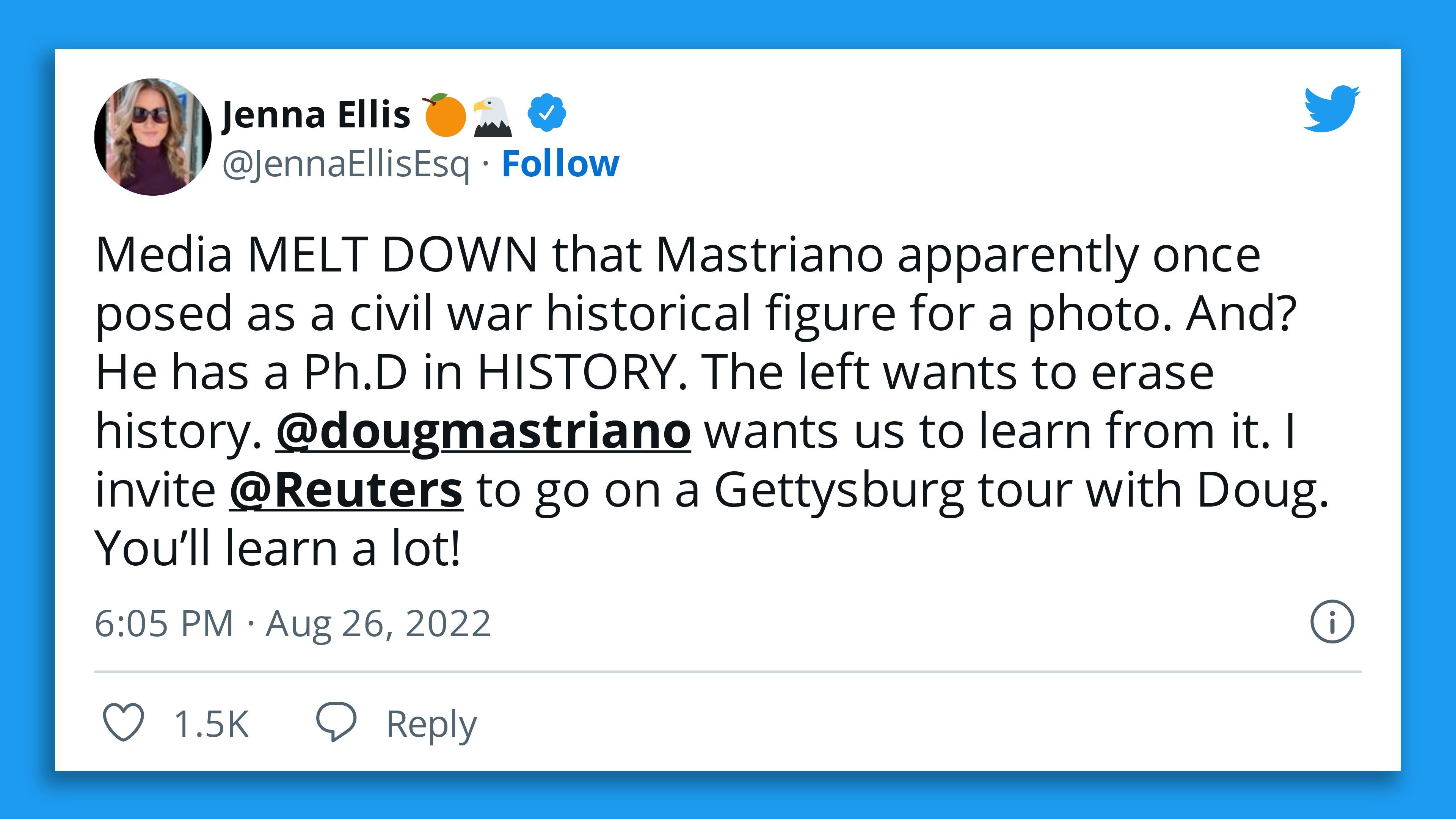 Context: In 2020, after the photo was taken, the Pentagon issued a de facto ban on displaying the Confederate flag, and has sought to remove segregationist symbols from bases and academic institutions following the murder of George Floyd.
After Reuters requested the photo, it was removed from a War College wall where it had hung alongside other annual faculty portraits.
The Army War College said in a statement that the photo was missed by a review team in 2020 and "has since been removed because it does not meet AWC values."
6. 🏈 College stars to watch
If Alabama QB Bryce Young, a junior, repeats as Heisman winner, he'd be the second player to win the trophy twice — after Ohio State's Archie Griffin in '74-'75, reports Jeff Tracy of Axios Sports.
Editor's note: The lead story has been corrected to note that Hyundai Motor Group is the two brands' parent company, not Hyundai Motor Co.
📬 Invite your friends to sign up to get their daily essentials — Axios AM, PM and Finish Line.