Axios AM
December 06, 2020
Happy Sunday! Today's Smart Brevity™ count: 1,148 words ... 4½ minutes.
🚗 Breaking: Volkswagen, the world's largest vehicle maker by sales, expects autonomous vehicles to be ready for sale between 2025 and 2030, CEO Herbert Diess told the Wirtschaftswoche business weekly, Reuters reports.
Diess cited improving performance of computer chips needed in autonomous cars, and said AI developments are also speeding the process.
1 big thing: America's vaccine trust crisis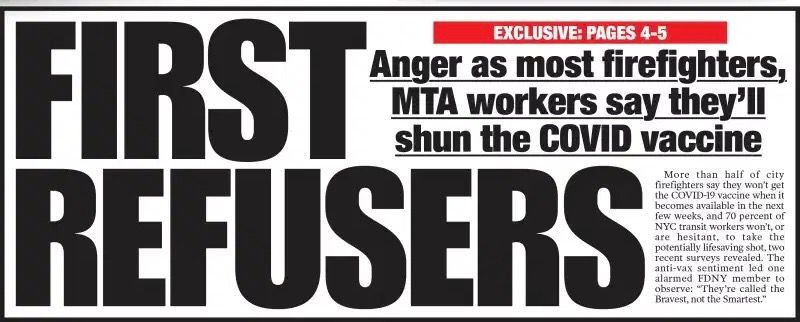 An alarming number of Americans say they'd reject a COVID vaccine, posing a risk to the country's ability to achieve widespread immunity.
Why it matters: Vaccine adoption is a matter of trust, and trust in most institutions is at generational lows. Anthony Fauci has said 70-75% of Americans will need to vaccinate to get the country on the road to normality.
Two new polls show trouble brewing:
More than half of New York City firefighters (who are 77% white), said in a union poll that they won't get a COVID vaccination when it becomes available to first responders, the N.Y. Post reports.
Fewer than half of Black respondents (42%) in a Pew Research poll released Friday said they'd definitely or probably get a COVID vaccine if it were available today.
Trust has risen since early November, Margaret Talev reports from the Axios-Ipsos Coronavirus Index.
In that stretch, three pharmaceutical trials have returned positive findings on the efficacy of their COVID vaccines.
In our poll taken Nov. 20-23, for the first time in months, more than half of Americans (51%) say they're likely to take a first-generation COVID-19 vaccine as soon as it's available. College-educated and white Americans and Democrats are driving the trend.
70% overall (55% of Black respondents and 60% of Republicans) say they'd take the vaccine if public health officials say it's safe and effective.
Pew finds that overall, 60% of respondents would definitely or probably take the vaccine if it were available today — up 9 points from 51% in September.
The Post reports that 55% of 2,053 firefighters polled last week by the Uniformed Firefighters Association (about 25% of 8,200 active members), answered "No" when asked: "Will you get the COVID-19 Vaccine from Pfizer when the Department makes it available?"
Firefighters union president Andy Ansbro told The Post: "A lot of them probably feel they are not in a risk category, they are younger, stronger, they may have already had it and gotten through it, and feel it's not their problem."
Go deeper: "The wide racial gap in vaccine acceptance has its roots in decades of medical racism."
2. Vaccine scarcity: Initial supply 10% of promise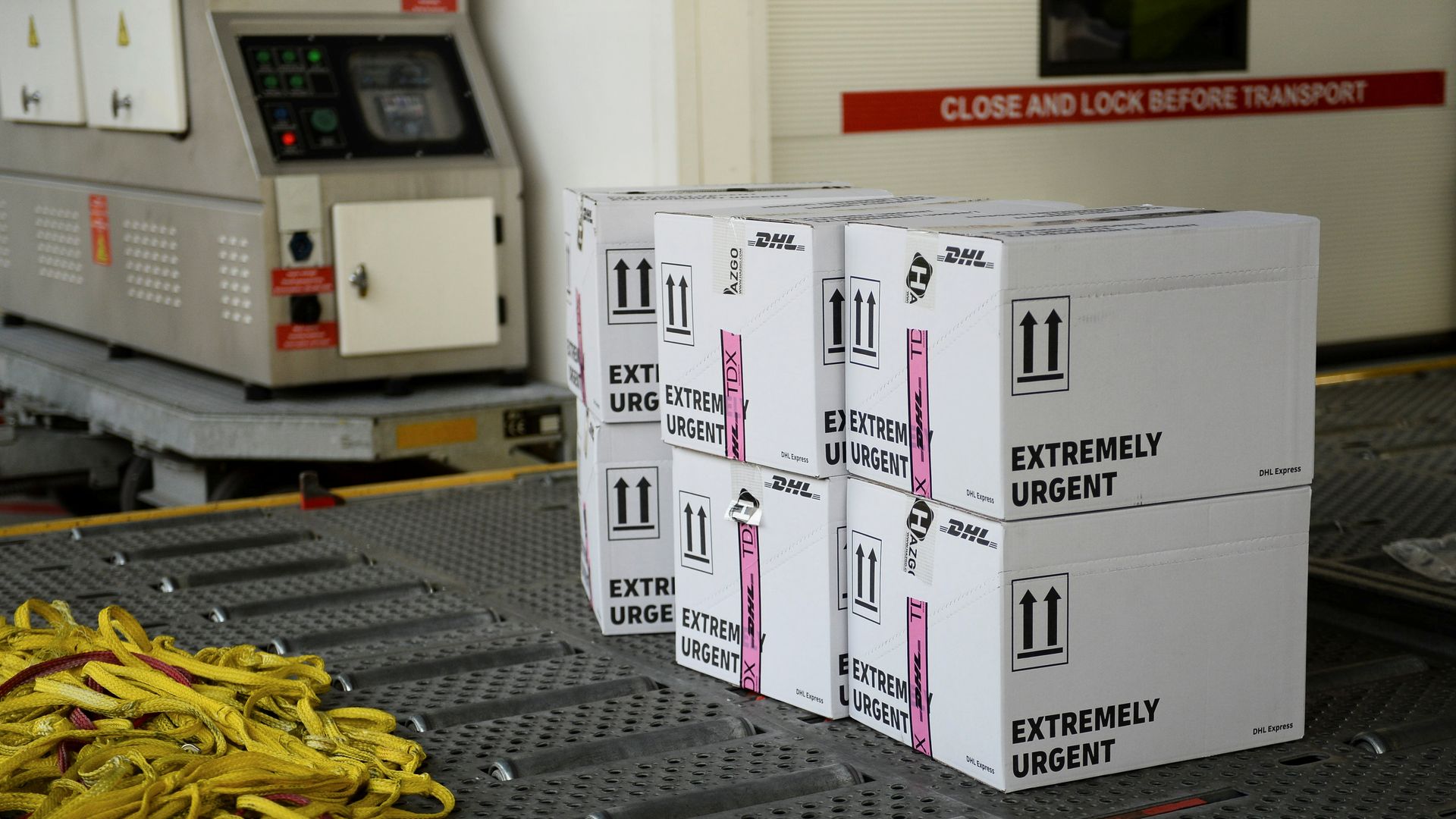 Instead of 300 million vaccine doses immediately after emergency-use approval, and before the end of 2020 — as the Trump administration had originally promised — "current plans call for availability of around a tenth of that, or 35 to 40 million doses," the WashPost reports.
Why it matters: "Lower-than-anticipated allocations have caused widespread confusion and concern in states, which are beginning to grasp the level of vaccine scarcity they will confront in the early going of the massive vaccination campaign."
3. U.S., Europe head in opposite direction on virus
While the U.S. continues to set records for new coronavirus cases, European countries have managed to turn their own terrifying spikes around, Axios World editor Dave Lawler writes.
Why it matters: As some states in the U.S. crack down to head off the worst, the debate in countries like the U.K. and France has shifted to whether and how to lighten their own restrictions before the holidays.
America's surge lagged two to three weeks behind Europe's, with a similarly worrying trajectory. However, responses in U.S. states have been uneven and generally less severe than in most European countries.
In Europe, schools have remained open across nearly all of the continent.
Reality check: Europe is far from out of the woods. Deaths and hospitalizations lag spikes in cases, and those numbers are falling much later and less sharply.
Public health experts fear a swift reversal if countries open up too quickly..
The U.K. is introducing the "Christmas bubble," which will allow up to three households to gather.
4. Pics du jour: Extreme Santa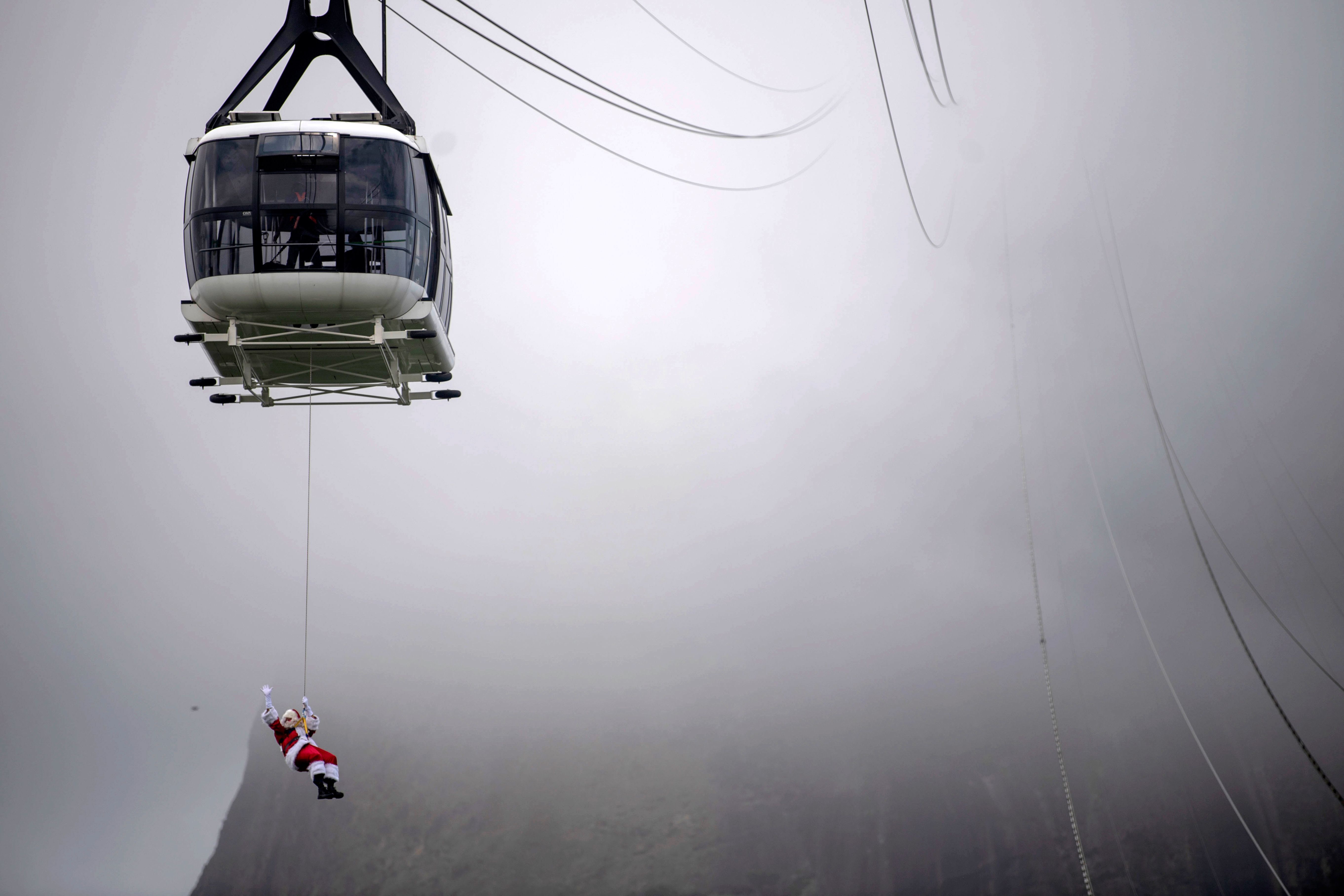 Santa Claus, suspended from a cable car, rappels into a Christmas event at the iconic Pão de Açúcar (Sugar Loaf Mountain) in Rio de Janeiro, Brazil, yesterday.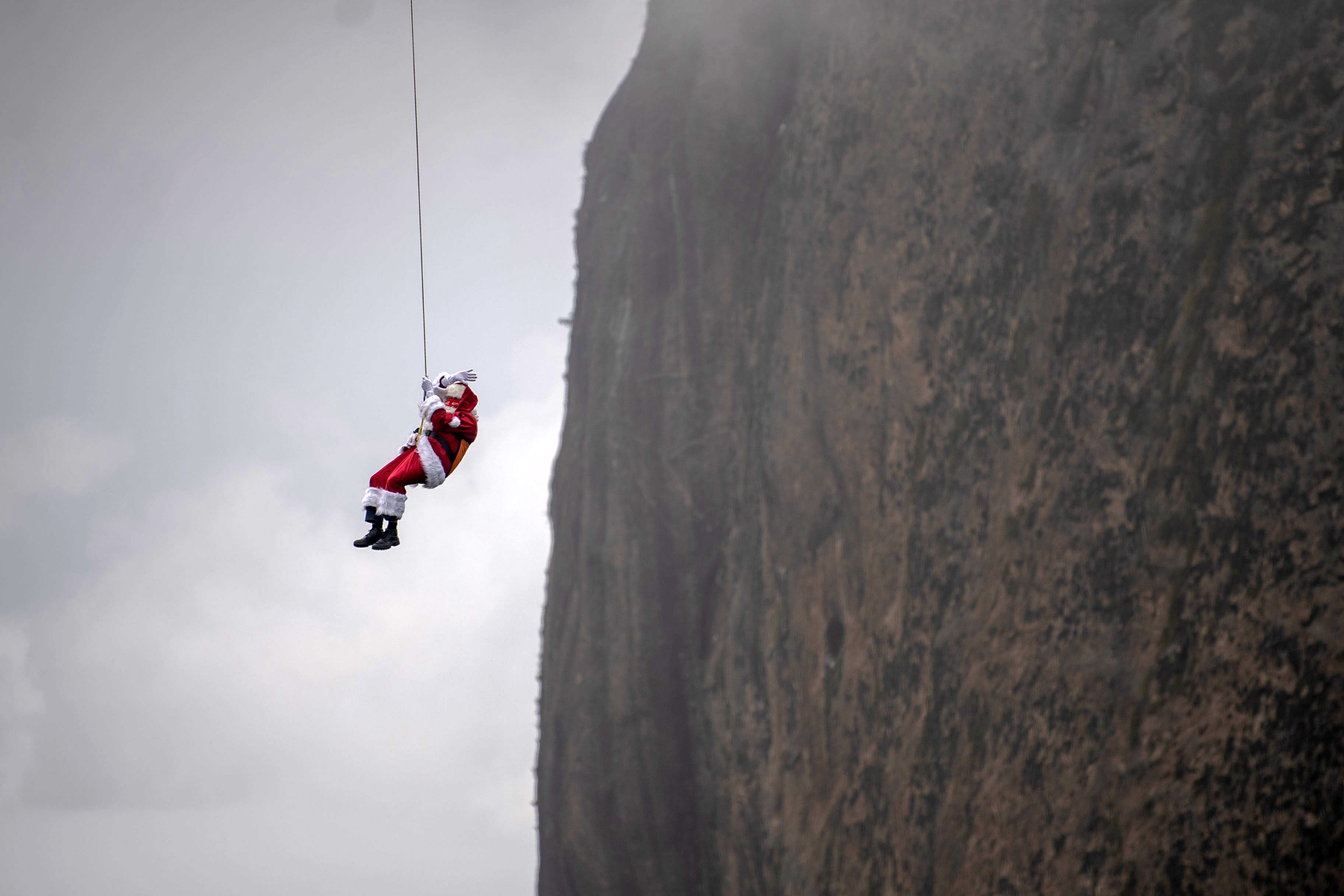 5. Trump calls for Georgia "revenge"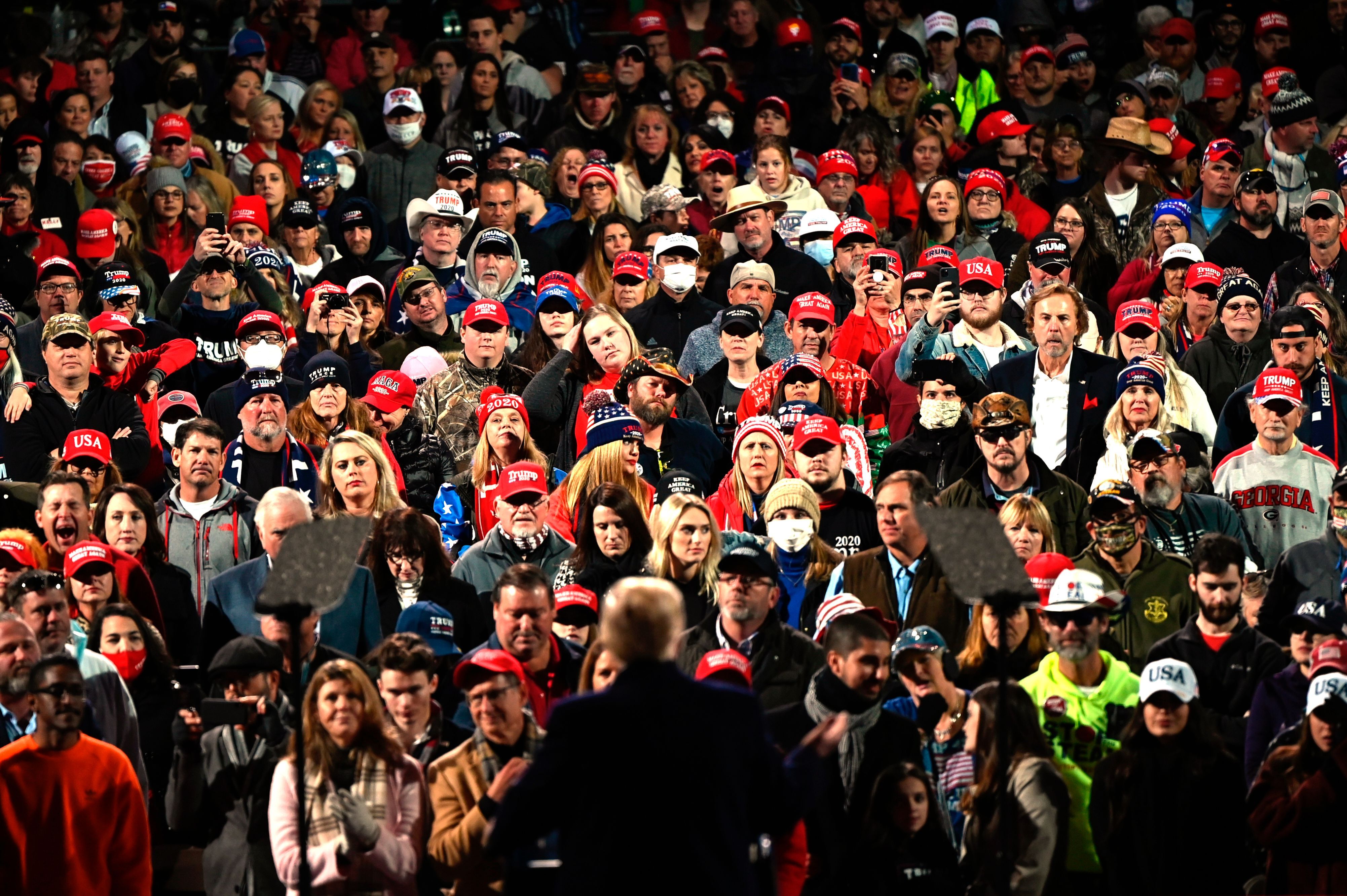 President Trump, during his first rally since he lost, declared that he won Wisconsin and Georgia (Joe Biden won both), and said he'll push for "a complete overhaul of our election security systems."
Speaking last night in Valdosta, Ga., Trump said of the Peach State: "We've won two elections, believe it or not. I think I won the second one by more than I won the first one." [Applause] (A manual recount confirmed that Biden won.)
"Actually, I won Wisconsin," Trump said. "They're trying to say: He's a little down. But I actually won." [Applause] (A partial recount confirmed that Biden won.)
To the frustration of some top Republicans, Trump spent more time on his own grievances than on the ostensible purpose of the rally — getting Republicans to vote for Sens. David Perdue and Kelly Loeffler in Jan. 5 runoffs that'll determine whether Mitch McConnell stays majority leader.
"If you want to do something to [Democrats] — I don't want to use the word revenge, but it is a certain revenge," Trump said, "you show up and vote in record numbers. That's what you have to do. They can only win if they cheat."
⏰ Trump's remarks lasted 1 hour, 41 minutes — including a 6½-minute video montage from Newsmax and OAN that took a Zapruder-film approach to trying to stoke conspiracy theories about Georgia vote-counting.
6. What TV ads cost in Georgia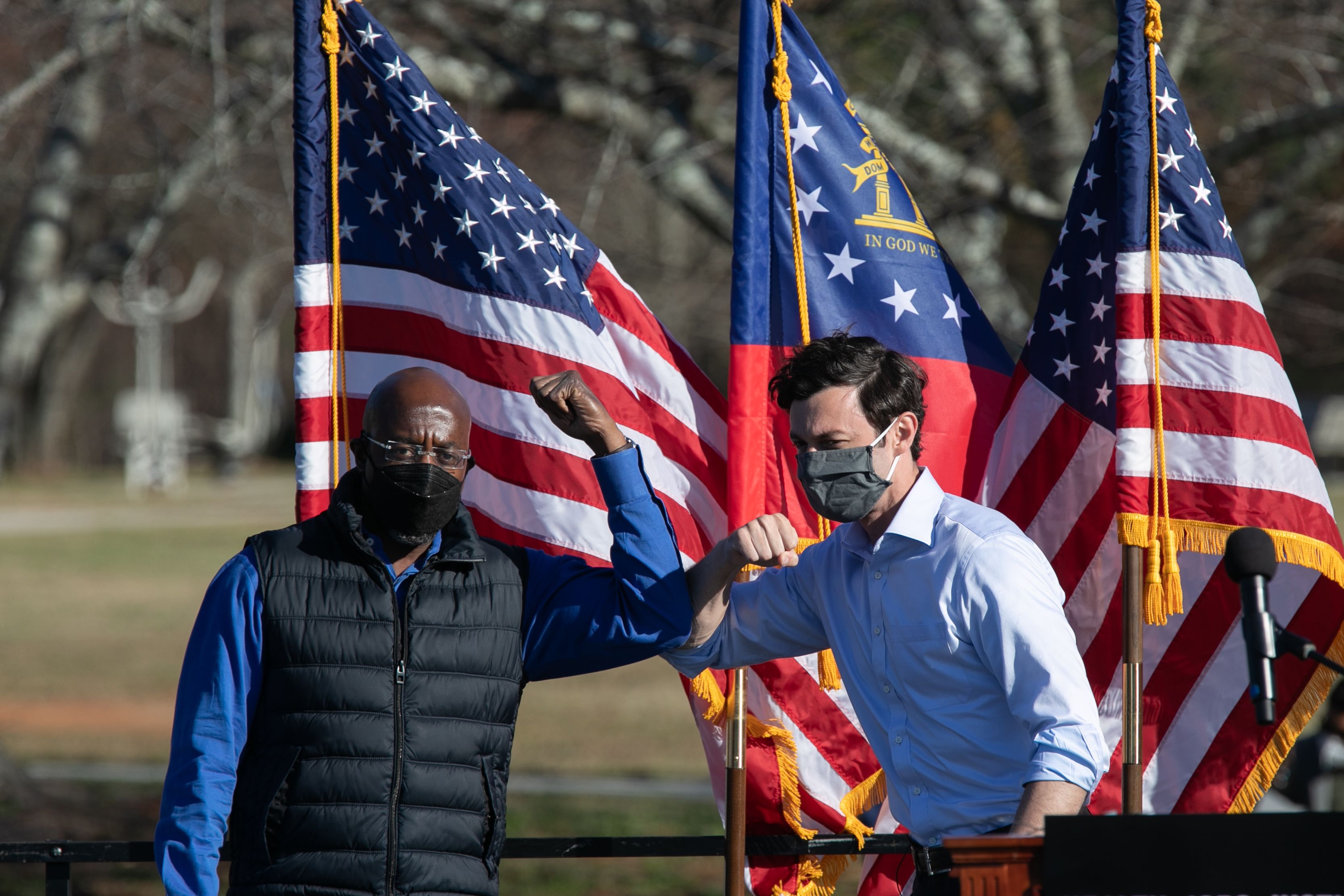 With Georgia runoffs on Jan. 5 deciding control of the U.S. Senate, the state's most influential television station — Atlanta's WSB, an ABC affiliate — is charging candidates $18,000 for an ad that cost $8,000 in July.
In Savannah, ad rates have soared nearly 20x, AP reports in a story with the great headline, "Is Georgia a swing state? Groups spend millions to find out."
The cost of the twin contests could approach $500 million.
Already, $329 million in advertising has been spent or reserved in the state since Election Day, according to data from the ad tracking firm Kantar/CMAG.
7. "Encased in our own lonely snow globes"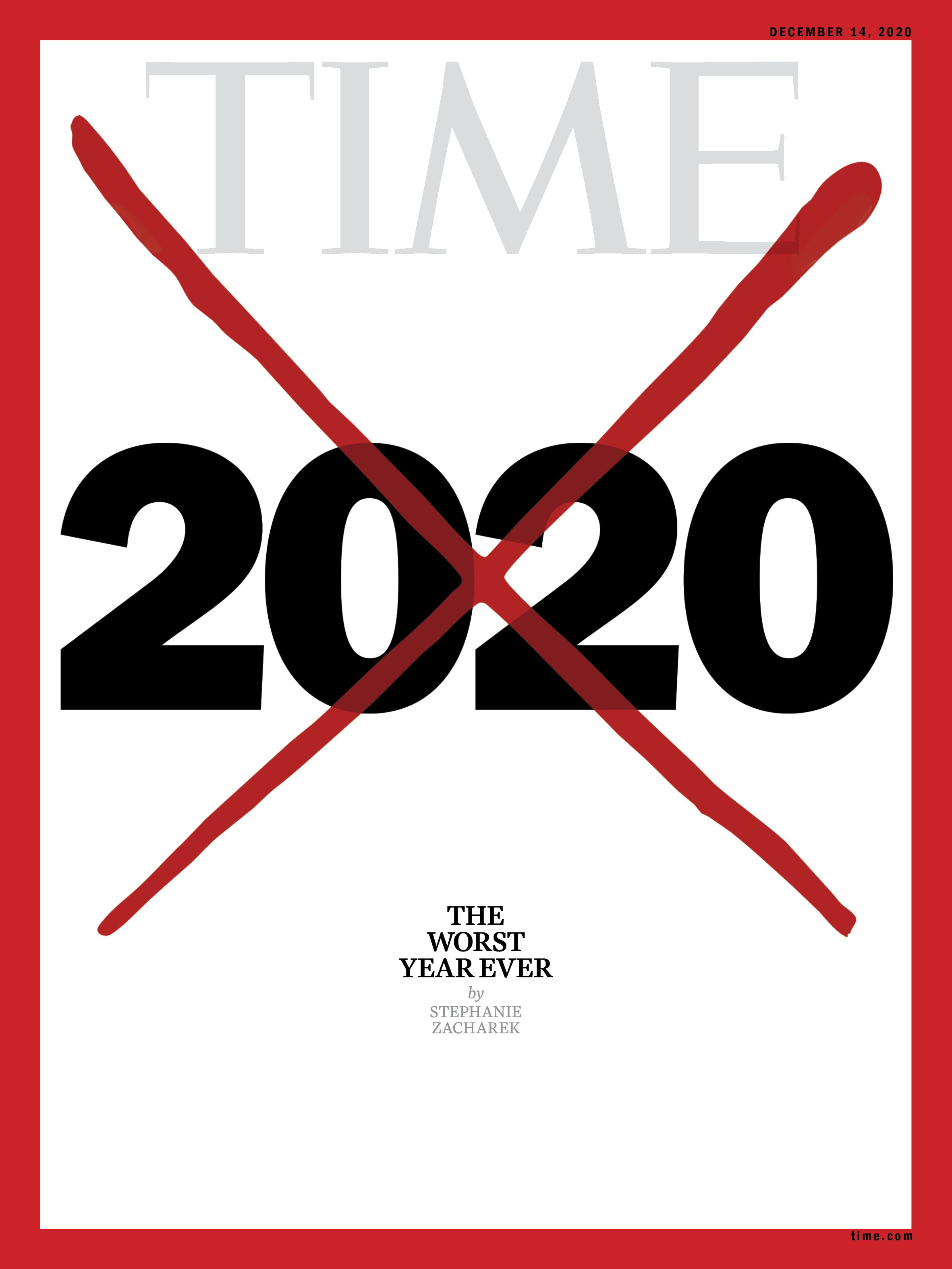 TIME movie critic Stephanie Zacharek writes in this week's cover story, touching on COVID, gaslighting, American democracy, and racial injustice:
My job as a film critic is to look at movies and tease out their connections both to the greater world and to our lives. If 2020 were a dystopian movie, you'd probably turn it off after 20 minutes. This year wasn't doomily thrilling, like a fictional apocalypse. It was, in addition to being wrought with pain, maddeningly mundane, the routine of the everyday turned against us.
8. 1 smile to go: Bill Murray as Job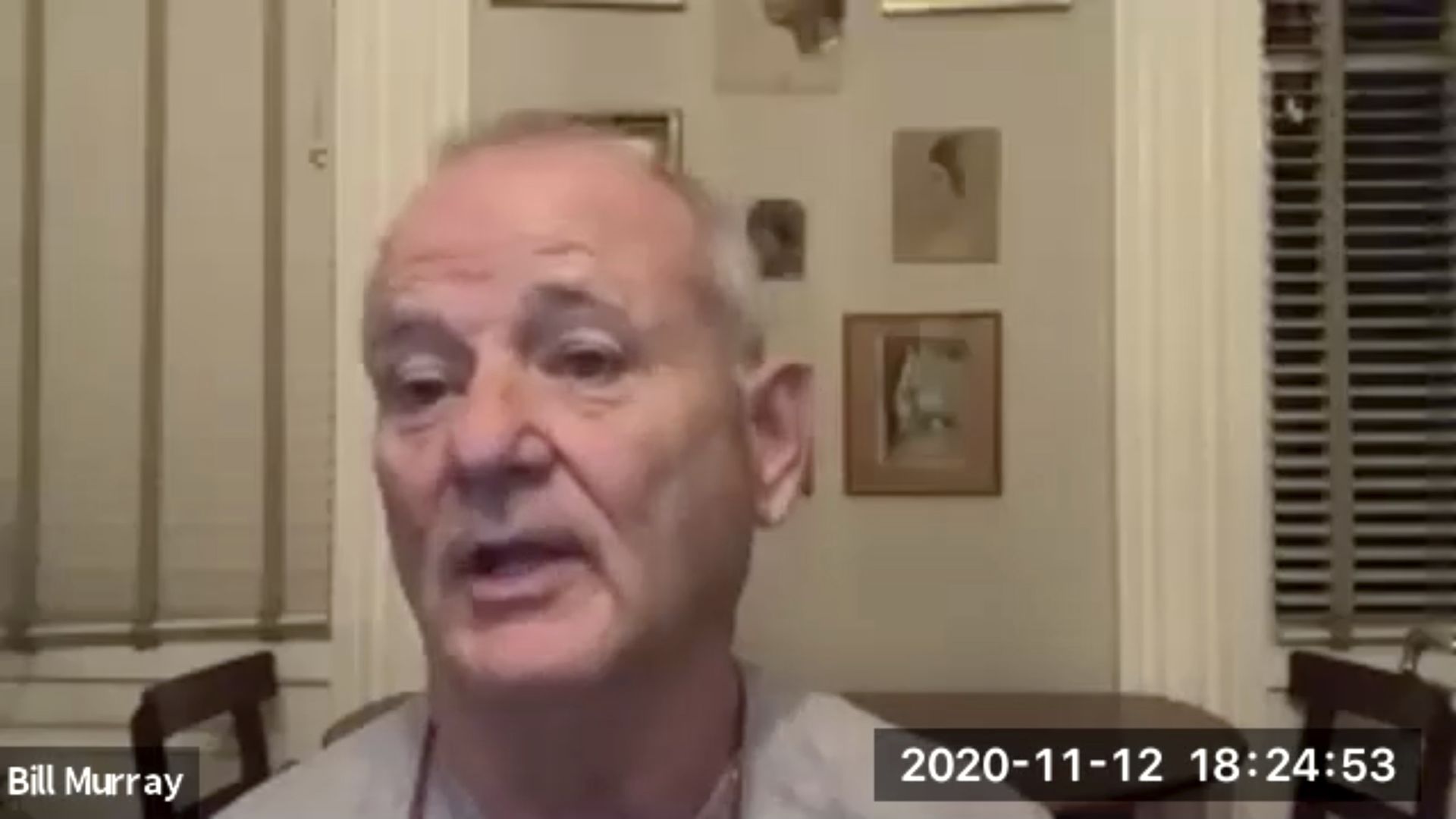 Acclaimed actors today will stage a Zoom reading of the Book of Job, a religious text with remarkable relevance to the current moment, AP reports.
Bill Murray stars as Job, the righteous man tested by the loss of his health, home and children.
The Theater of War Productions reading is aimed at Republican-leaning Knox County, Ohio, with participation from locals, and designed to spark meaningful conversations across spiritual and political divides.
📬 Thanks for starting your Sunday with us. Please invite your friends to sign up for Axios AM/PM.