Happy Friday. Welcome to June, and Pride Month.
https://www.axios.com/newsletters/axios-am-4974907e-00c6-44ba-8b91-d9aa11f32a1a.html?chunk=0#story0
1 big thing ... It's not normal: Trump's obstruction and pardon moves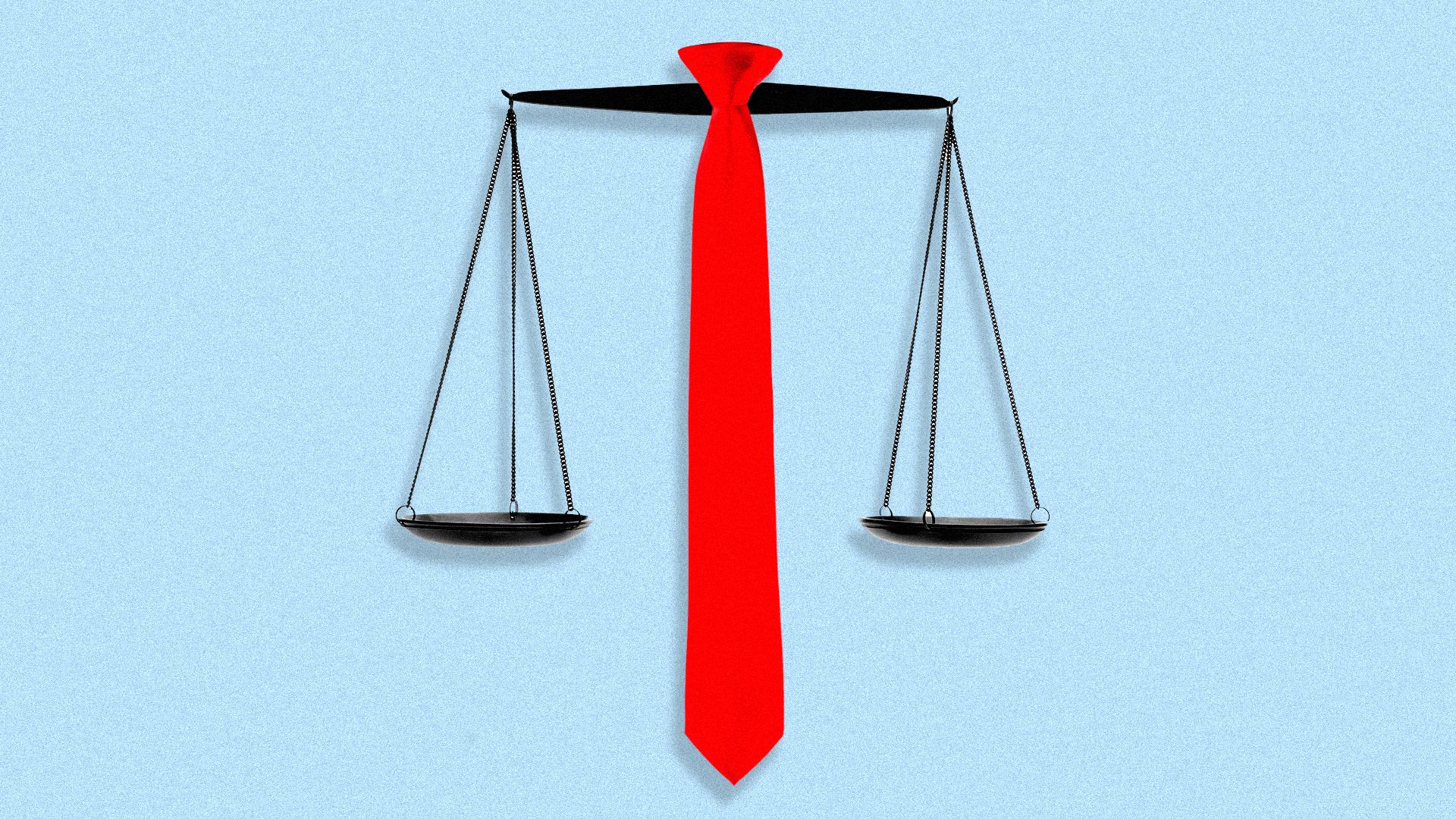 By any historical measure, it's highly unusual for President Trump to repeatedly pressure his attorney general to intervene in an investigation of the White House, as Jonathan Swan scooped late yesterday. (Trump urged Jeff Sessions "to reclaim control of the Russia investigation on at least four separate occasions, three times in person and once over the phone.")
By any historical measure, it's highly unusual to have a special prosecutor probing whether a president obstructed justice during his first days in office, like Robert Mueller is doing.
By any historical measure, it's highly unusual for a president this early in his term to pardon a controversial political donor (conservative commentator Dinesh D'Souza) — and to signal he might pardon other celebrity criminals, like Trump did yesterday with Martha Stewart and more.
Be smart: Maybe these three events are mere coincidence. But almost no one
around Trump, even his closest allies, thinks this is the case.
WashPost front pager, "With pardon, president sends a signal": "Trump ... delivered an indirect but unmistakable message to personal attorney Michael Cohen, former national security adviser Michael Flynn and others ensnared in Trump-related investigations that they, too, could be spared punishment."
Why Trump loves pardons, per Jonathan Swan:
Remember how on the campaign trail Trump would paint a picture of a click-your-fingers presidency?
As soon as he took office, he'd fix the healthcare system, remove the national debt by cutting waste, fraud and abuse — the list goes on.
The clemency power is one where Trump can click his fingers and get instant gratification. Better even than those executive orders, which have to face those pesky and inconvenient circuit court judges.
Pardon flurry ahead, per WashPost: "A senior White House official said that as many as a dozen other pardons are under consideration by Trump, adding that most are likely to happen."
Haphazard process .... "Trump's pardon of D'Souza was his sixth act of clemency as president. Each was issued unilaterally, subverting the traditional Justice Department process of reviewing thousands of pardon requests," per WashPost.
"Most of the pardons are impulsive, according to a person familiar with the process, and are driven by his 'seeing something on TV, reading something in a newspaper, hearing from a friend or someone lobbying him personally.'"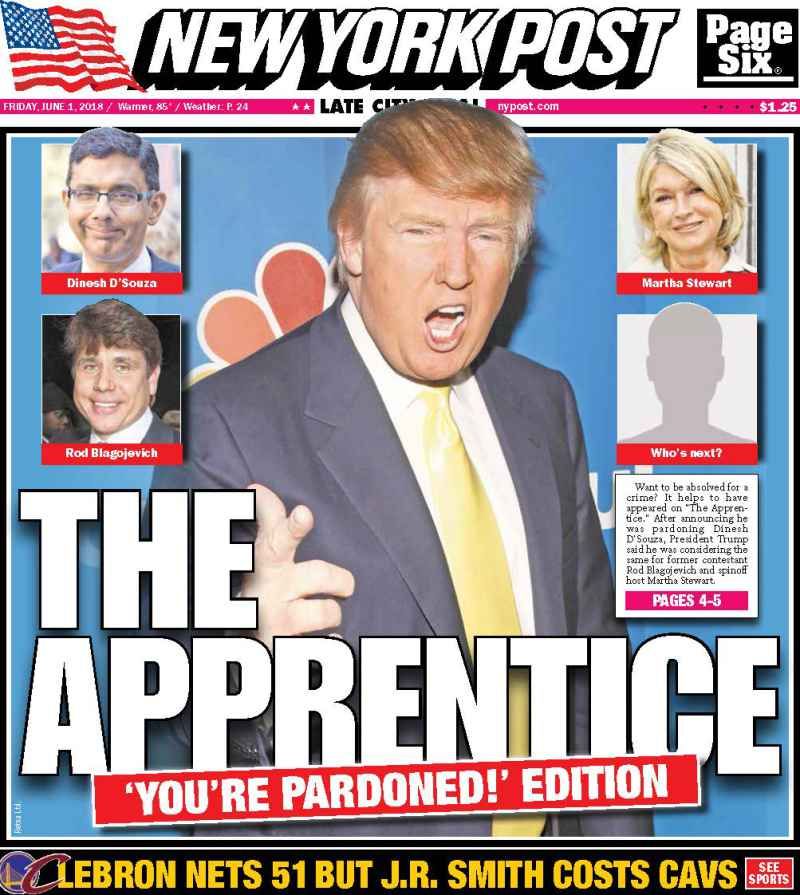 Courtesy N.Y. Post
https://www.axios.com/newsletters/axios-am-4974907e-00c6-44ba-8b91-d9aa11f32a1a.html?chunk=1#story1
2. Exclusive: Pope convenes big oil, investors to talk climate change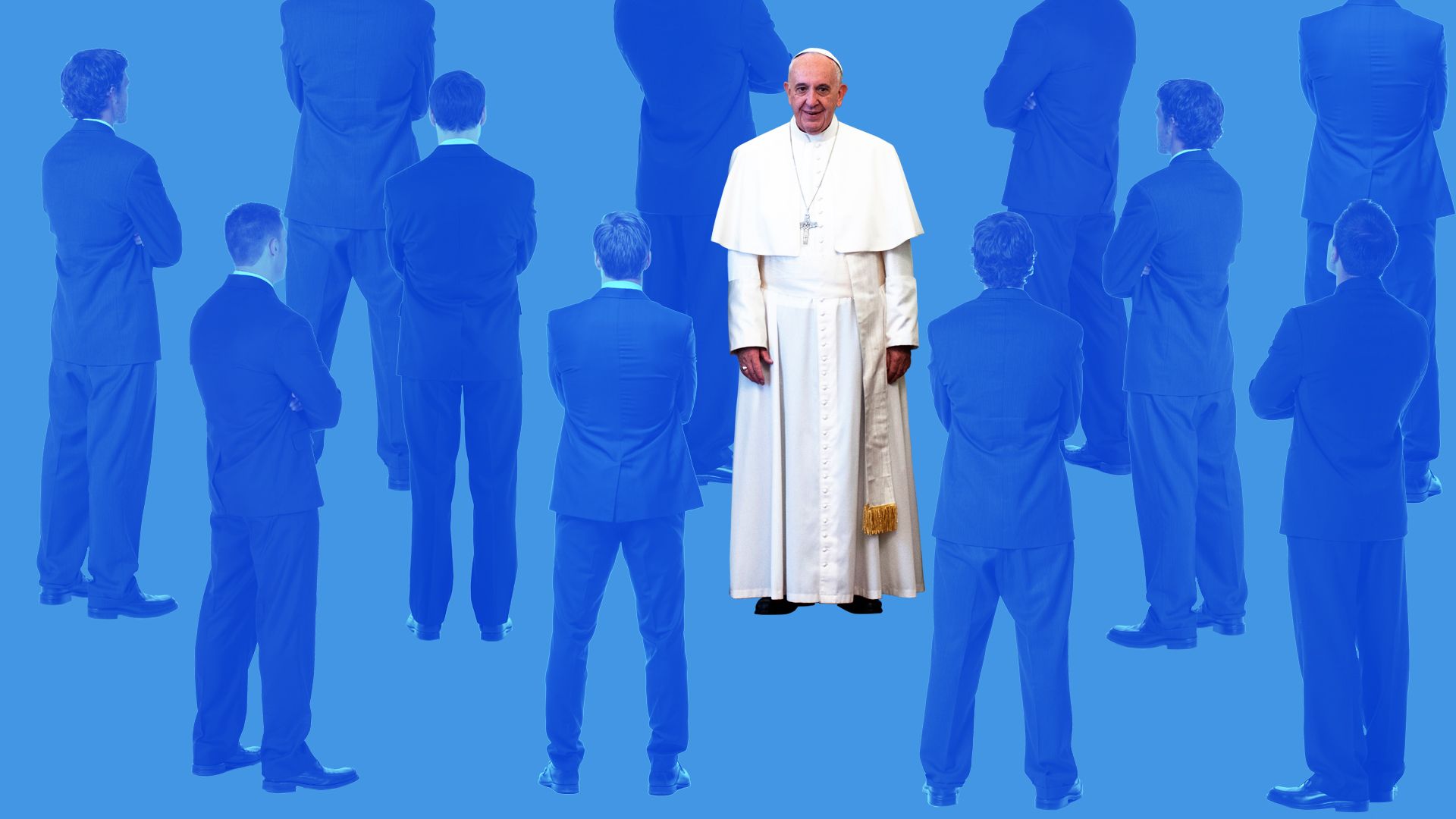 Pope Francis is hosting a gathering next week at the Vatican with executives of major oil producers and investment firms to talk about how the companies can address climate change, Axios' Amy Harder scoops:
Why it matters: It's one of the most significant developments showing how corporations are working with other world leaders on climate change amid President Trump's retreat on the issue.
The unusual event also reflects this Pope's activist instincts on his relatively progressive views.
Situational awareness: One year ago today, Trump announced his intention to withdraw America from the Paris climate deal, which now has support from every country except the United States.
Three years ago, Pope Francis wrote his encyclical — a papal letter sent to all bishops of the Roman Catholic Church — on the importance of addressing climate change, a first in the church's history.
Here are some of the expected participants in the private conference:
Larry Fink, CEO of BlackRock, world's largest asset manager.
Bob Dudley, CEO of BP.
Sources said ExxonMobil will be represented, though a company spokesman wouldn't confirm.
Ernie Moniz, former Energy Secretary under President Obama.
Eldar Sætre, CEO of Equinor, oil and energy producer partially owned by the Norwegian government (formerly Statoil).
Lord John Browne, former CEO of BP and current executive chairman of L1 Energy, an oil and gas investment firm.
The big picture ... The Pope, BlackRock and big oil companies are increasingly focusing on climate change: Cleaner sources of energy have become more competitive, the impacts of a warmer world have become more apparent, and public pressure to address the issue mounts. This meeting reflects this convergence.
The details: The focus of the gathering is similar to the encyclical ("On Care For Our Common Home") with an emphasis on the energy transition of a "shared home," according to people familiar with it. The event is occurring late next week, with two people saying the Pope is likely to talk Saturday.
The University of Notre Dame is helping convene it.
Be smart: While it's a significant meeting, it's still just a meeting. Deep political stalemate persists in the United States on the issue. Tensions are flaring over lawsuits alleging big oil companies are liable for climate change and some environmentalists say the industry's greener moves aren't big or fast enough.
Whether the Vatican gathering prompts change and new developments is a big question mark.
https://www.axios.com/newsletters/axios-am-4974907e-00c6-44ba-8b91-d9aa11f32a1a.html?chunk=2#story2
3. Watch those goal posts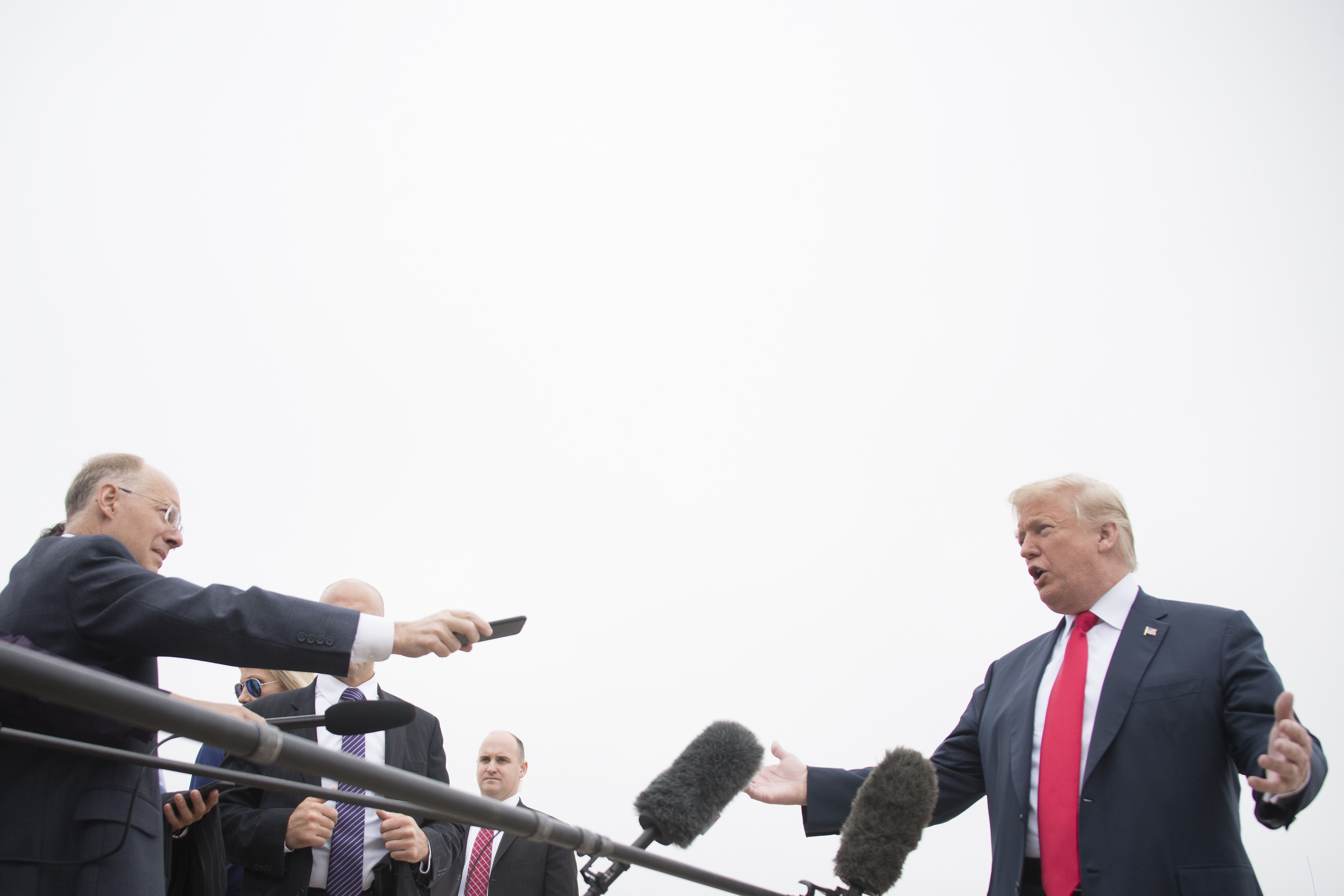 Reuters' Steve Holland records President Trump as he talks to the press before boarding Air Force One at Andrews Air Force Base yesterday. (Jim Watson/AFP/Getty Images)
President Trump told Reuters' Steve Holland aboard Air Force One yesterday that it may take more than one meeting with North Korean's Kim Jong-un to seal a denuclearization deal.
"I'd like to see it done in one meeting. But oftentimes that's not the way deals work."
https://www.axios.com/newsletters/axios-am-4974907e-00c6-44ba-8b91-d9aa11f32a1a.html?chunk=3#story3
4. Trump "tired of waiting to do big things on trade"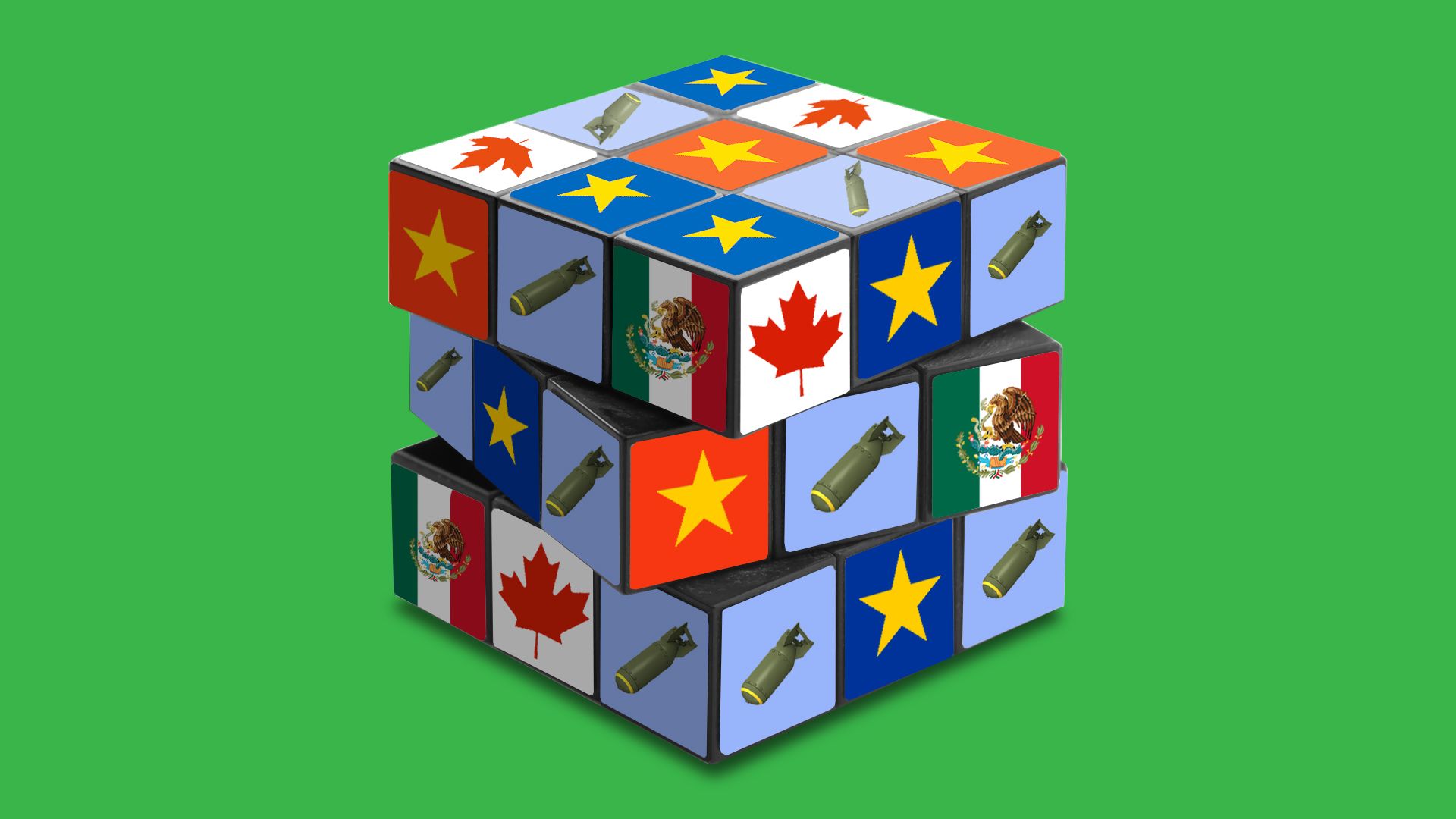 What Trump was thinking when he imposed tariffs on imports from the closest U.S. neighbors and allies ...
Jonathan Swan has this priceless insight from a source who has worked closely with the president, and has a first-hand understanding of his negotiating tactics:
"Recent tariff actions with China and now EU/Canada/Mexico indicate that Trump is tired of trade negotiations dragging on and not yielding tangible results."
"He's fed up with feeling like negotiating partners aren't ever going to give in to his demands."
Trump wants "to do something big (both China tariffs/investment restrictions and steel/aluminum tariffs) to shake things up, and perhaps serve as a catalyst for negotiation progress."
"More generally, though, he's tired of waiting to do big things on trade."
Be smart: President Trump is now confronting two nuclear standoffs (North Korea and Iran) and fighting a trade war on multiple fronts — all at the same time, Axios World editor David Lawler points out.
Go deeper: "What just happened: Trump's trade moves," by Axios' Lauren Meier.
https://www.axios.com/newsletters/axios-am-4974907e-00c6-44ba-8b91-d9aa11f32a1a.html?chunk=4#story4
5. Wave watch: How special elections could predict the midterms
Democrats have overperformed by an average of 9 points in each of the eight special elections since President Trump took office — giving us a sense of what a blue wave might look like in November.
This map by Axios' Chris Canipe shows the scenarios for the House races if the Democratic voter turnout resembles the special elections.
https://www.axios.com/newsletters/axios-am-4974907e-00c6-44ba-8b91-d9aa11f32a1a.html?chunk=5#story5
6. Exclusive poll: Americans still skeptical of electric cars
14% of U.S. adults in a new Axios/SurveyMonkey poll say they're likely to go electric with their next car purchase or lease, while a combined 62% said they would probably steer clear, Axios energy reporter Ben Geman writes:
Why it matters: Although most of the public is still wary of electric cars, the poll shows that electric car sales have room to grow massively in the U.S.
Even the small percentage of people who say they're interested suggest a market far bigger than the people who buy electric vehicles now.
Among people who might go electric with their next vehicle, 73% selected environmental benefits as one of the reasons and 72% cited savings on gas.
The data: Sales of pure electric and plug-in hybrid electric cars in the U.S. last year were close to 200,000 combined. That's a little more than 1% of the country's roughly 17 million auto sales.
That means if preferences in the survey begin translating into actual consumer behavior in coming years, sales that are already growing are poised to expand greatly.
The catch: There are still plenty of factors that can prevent pro-electric consumers from making the leap, including limits on vehicle availability in some regions, and the number of models to choose.
15% of respondents likely to purchase an electric vehicle would like to be able to drive 300 miles before recharging, and 40% would like to go 350 miles.
That signals a potential hurdle to widespread consumer adoption of pure electrics: Vehicles priced for the mass market don't go that far.
https://www.axios.com/newsletters/axios-am-4974907e-00c6-44ba-8b91-d9aa11f32a1a.html?chunk=6#story6
7. Tempting target for trustbusters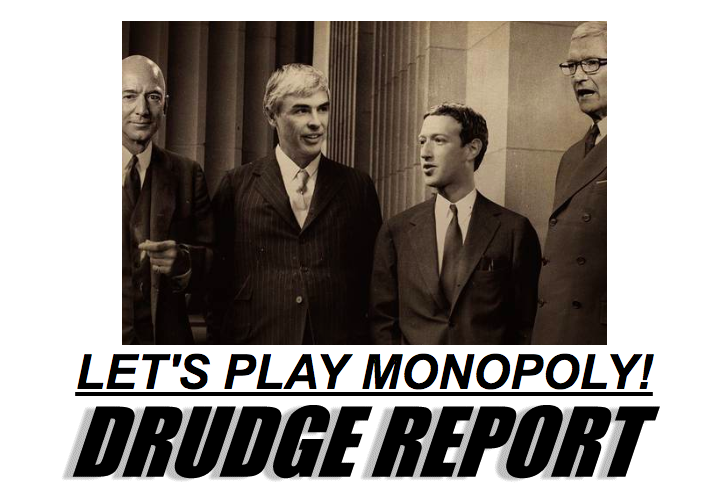 Wall Street Journal tech columnist Christopher Mims, "Tech's Titans Tiptoe Toward Monopoly: Amazon, Facebook and Google may be repeating the history of steel, utility, rail and telegraph empires past — while Apple appears vulnerable" (subscription):
"Together, Google and Facebook take in 73% of U.S. digital advertising."
"They also benefit from something historically unprecedented: the ability to get users to subsidize them with enormous quantities of free labor. Their systems are fueled by personal information, but instead of them hunting for it, people willingly provide it."
"Experts aren't, however, lumping in Apple Inc. with the new monopolists. Like Microsoft Corp. and Intel Corp. before it, Apple is considered more vulnerable to competitive disruption, despite the fact that it tops the tech world in revenue, profit and market capitalization.
https://www.axios.com/newsletters/axios-am-4974907e-00c6-44ba-8b91-d9aa11f32a1a.html?chunk=7#story7
8. Echoes for the West in China's digital police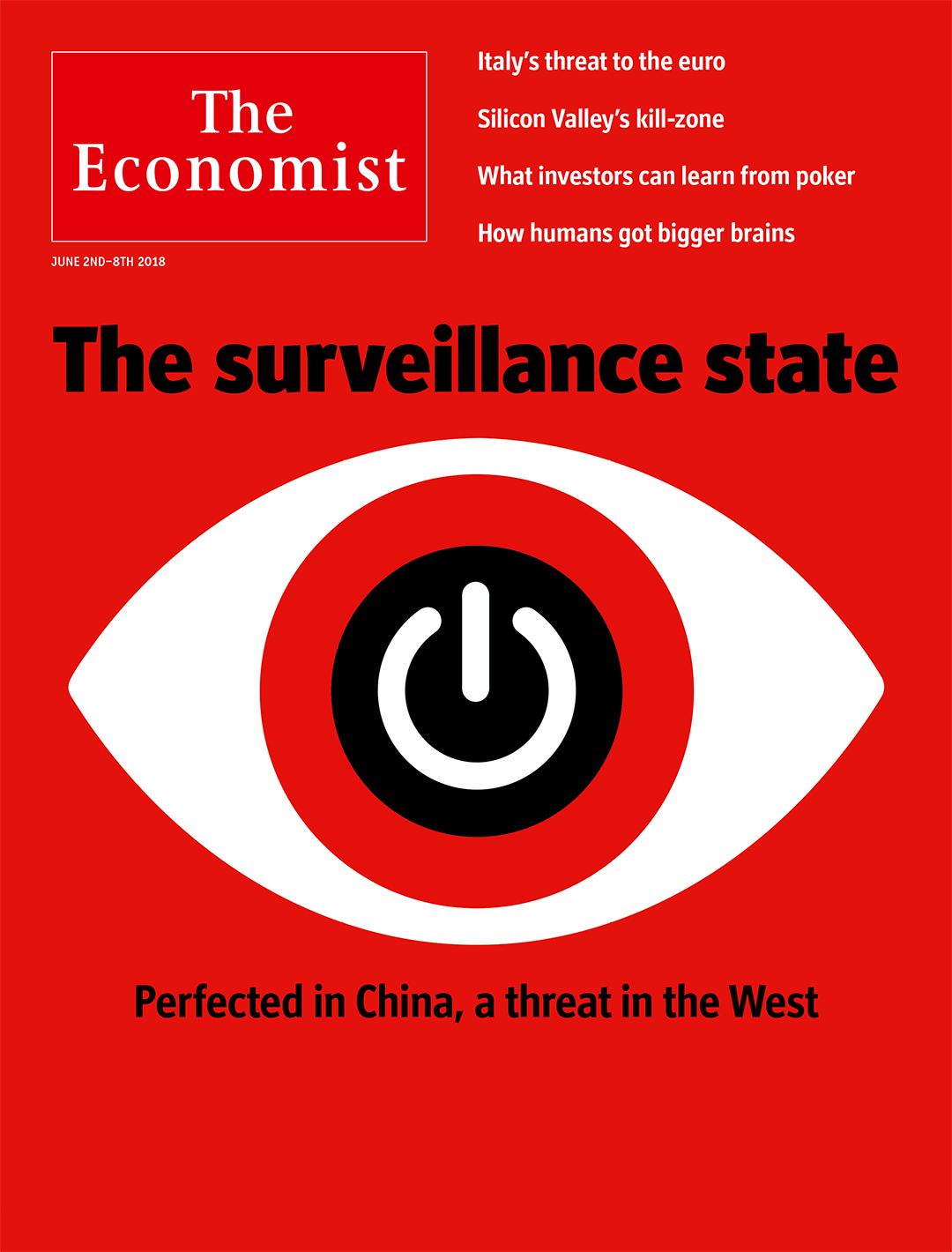 Courtesy The Economist
"Under an authoritarian government such as China's, digital monitoring is turning a nasty police state into a terrifying, all-knowing one. Especially in the western region of Xinjiang, China is applying artificial intelligence," per The Economist's cover editorial:
"When you walk to work, ... cameras film you and, increasingly, recognize your face. Drive out of town, and number-plate-reading cameras capture your journey. The smartphone in your pocket leaves a constant digital trail."
"Browse the web in the privacy of your home, and your actions are logged and analyzed. The resulting data can be crunched to create a minute-by-minute record of your life."
Why it matters: In the West, officers "can set up bogus phone towers to track people's movements and contacts. Data from [license] plate-readers can track a person's movements for years. Some American cities have predictive-policing programs ... that analyze past crimes to predict future ones."
"All this allows the monitoring of possible attackers, but the potential for abuse is great. Hundreds of American police officers are known to have used confidential databases to dig dirt on journalists, ex-girlfriends and others."
https://www.axios.com/newsletters/axios-am-4974907e-00c6-44ba-8b91-d9aa11f32a1a.html?chunk=8#story8
9. Roseanne warning
"ESPN managers are telling their most outspoken broadcasters and writers to be careful on social media in light of Disney axing Roseanne Barr's TV show over her racist tweets," per the N.Y. Post:
"Disney-owned ESPN was specifically reaching out to the most politically outspoken of its broadcasters. Jemele Hill, Keith Olbermann and Kenny Mayne are the ones most frequently associated with venturing outside of sports."
https://www.axios.com/newsletters/axios-am-4974907e-00c6-44ba-8b91-d9aa11f32a1a.html?chunk=9#story9
10. 1 spell thing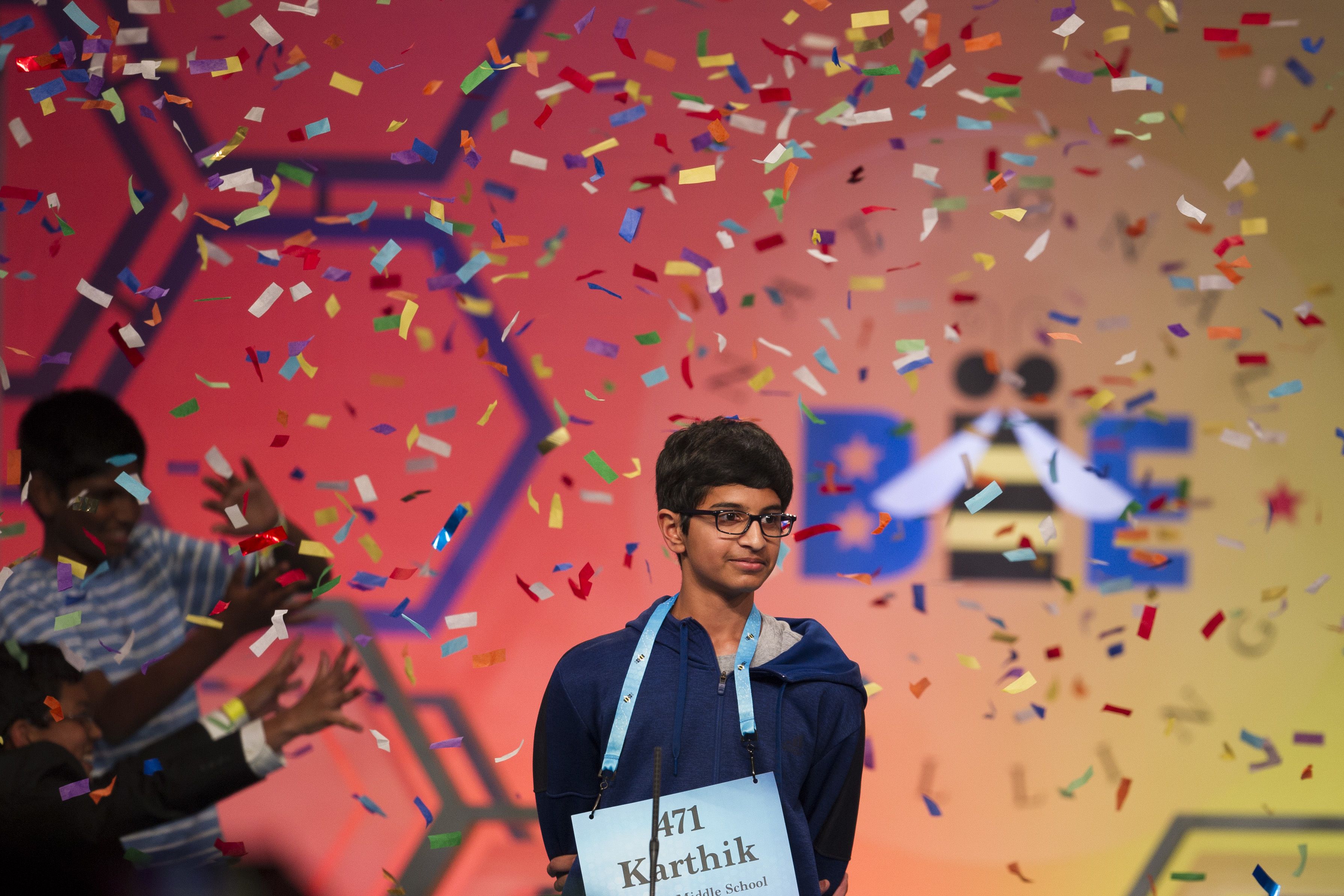 Cliff Owen/AP
Karthik Nemmani, 14, of Texas, became the champion Scripps National Spelling Bee in Oxon Hill, Md., after "koinonia," which means Christian fellowship or communion, AP's Ben Nuckols reports.
The competition had a dramatically abrupt end, after 12-year-old Naysa Modi misspelled "Bewusstseinslage" in the first championship round.
"When only three spellers remained, all were from the Dallas area, which has long been a hotbed of spelling talent."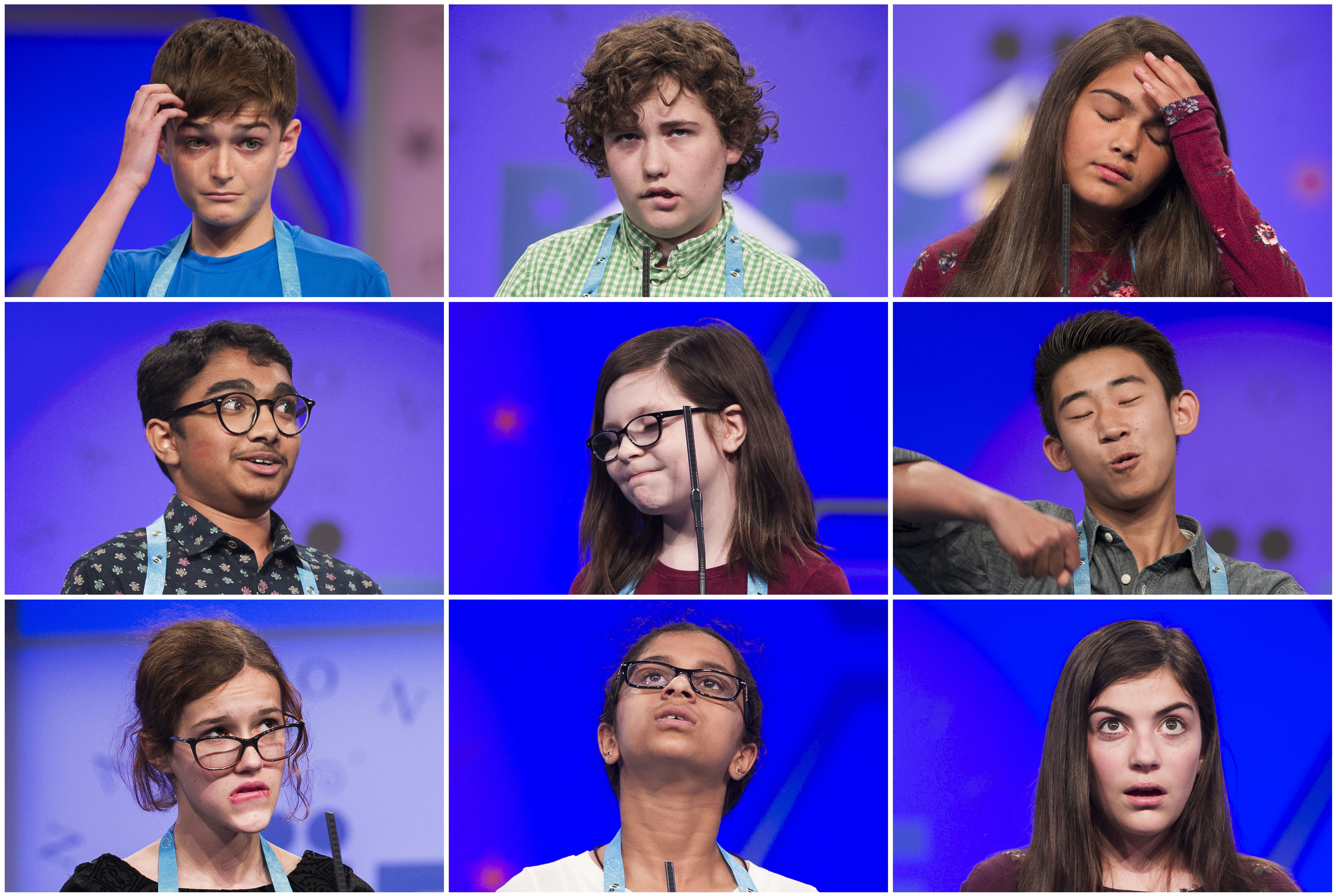 AP
Getting their spell on.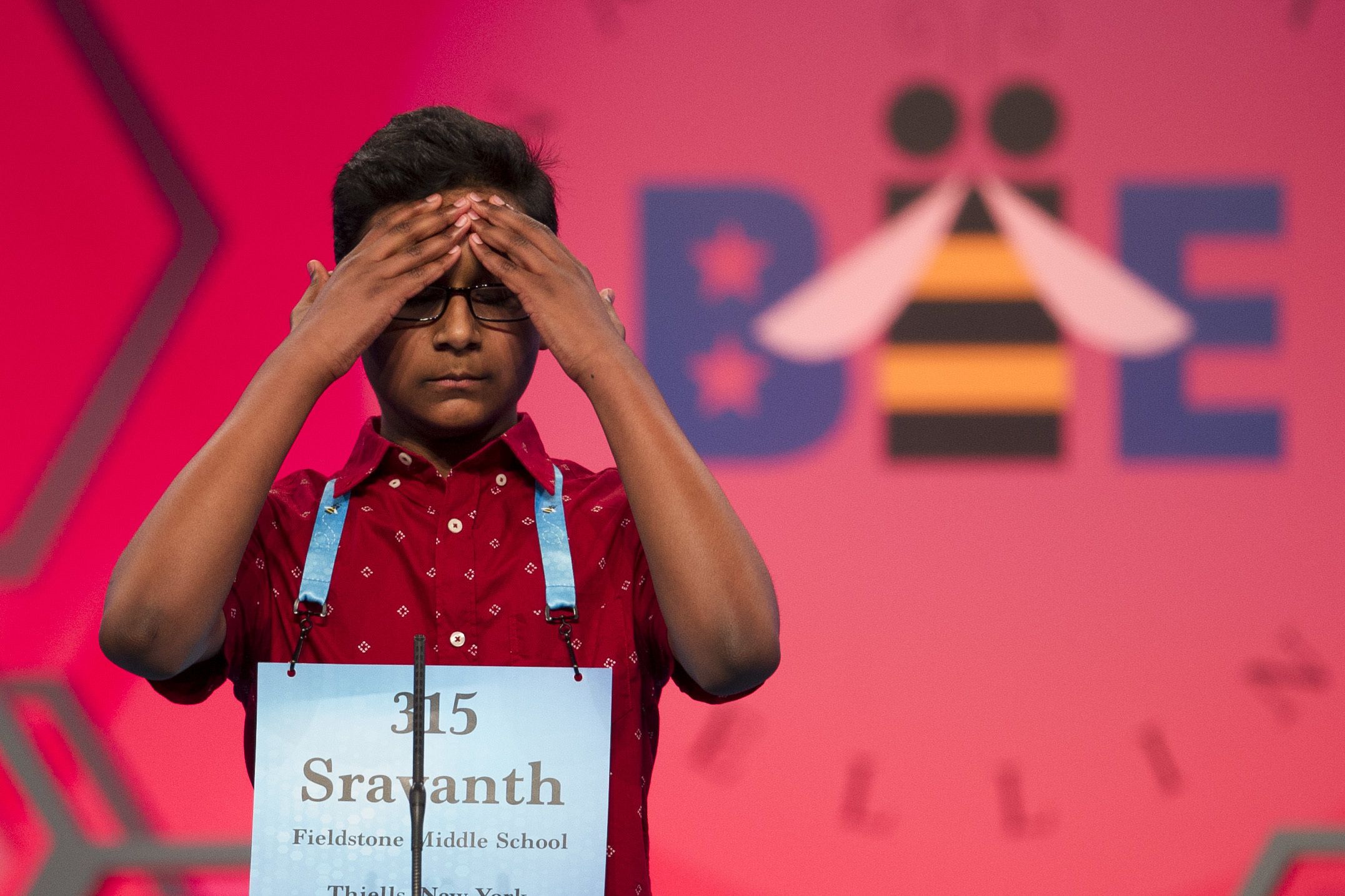 Cliff Owen/AP
Sravanth Malla, 14, from Haverstraw, N.Y.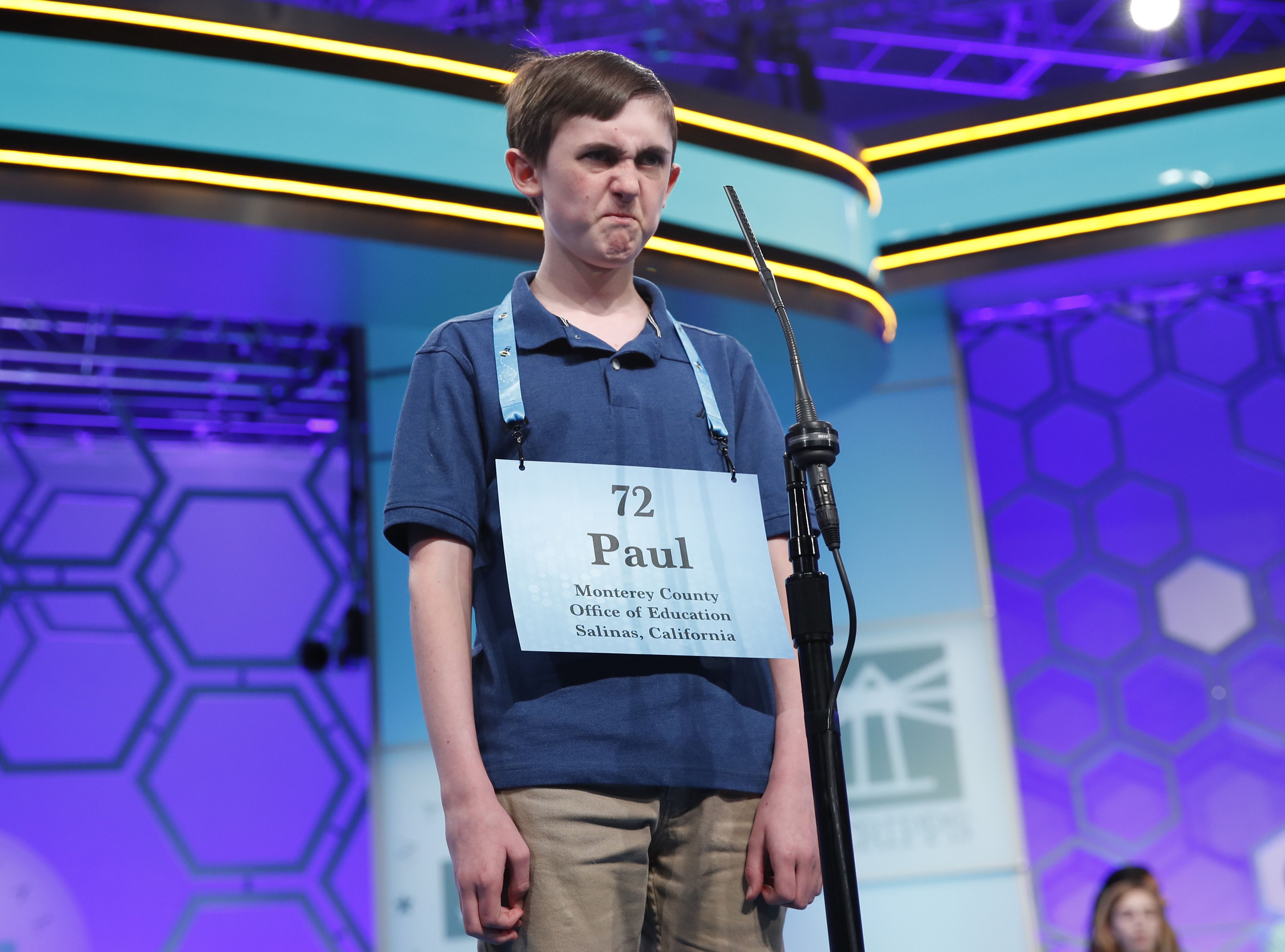 Carolyn Kaster/AP
Paul Hamrick, 14, from Monterey, Calif.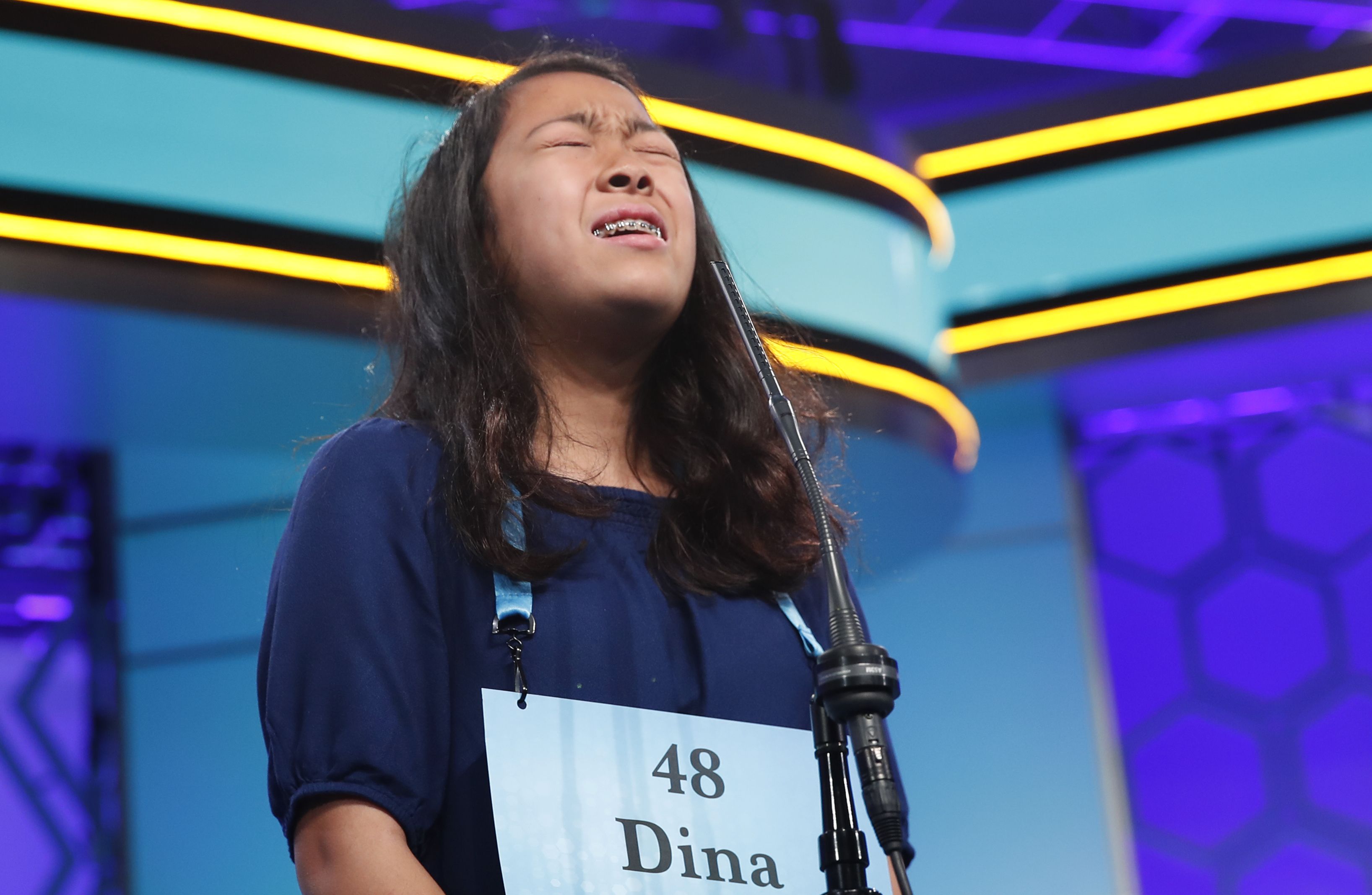 Carolyn Kaster/AP
Medina Miranda, 13, from Long Beach, Calif.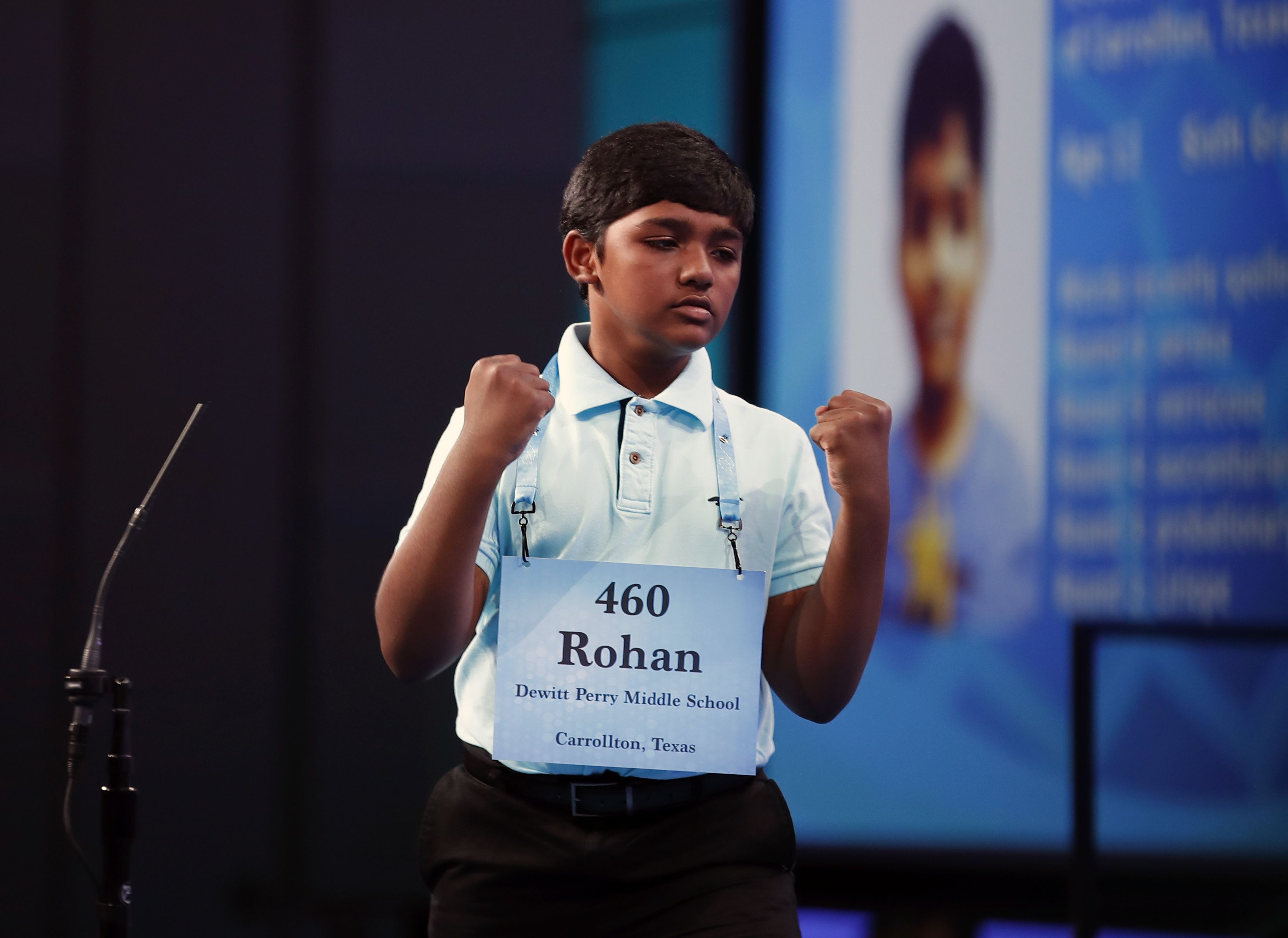 Carolyn Kaster/AP
Rohan Raja, 12, from Irving, Texas.