🍗 Good Wednesday morning, and happy getaway day.
Today's Smart Brevity™ count: 1,068 words ... 4 minutes.
1 big thing: Why 2020 has become the mayors' race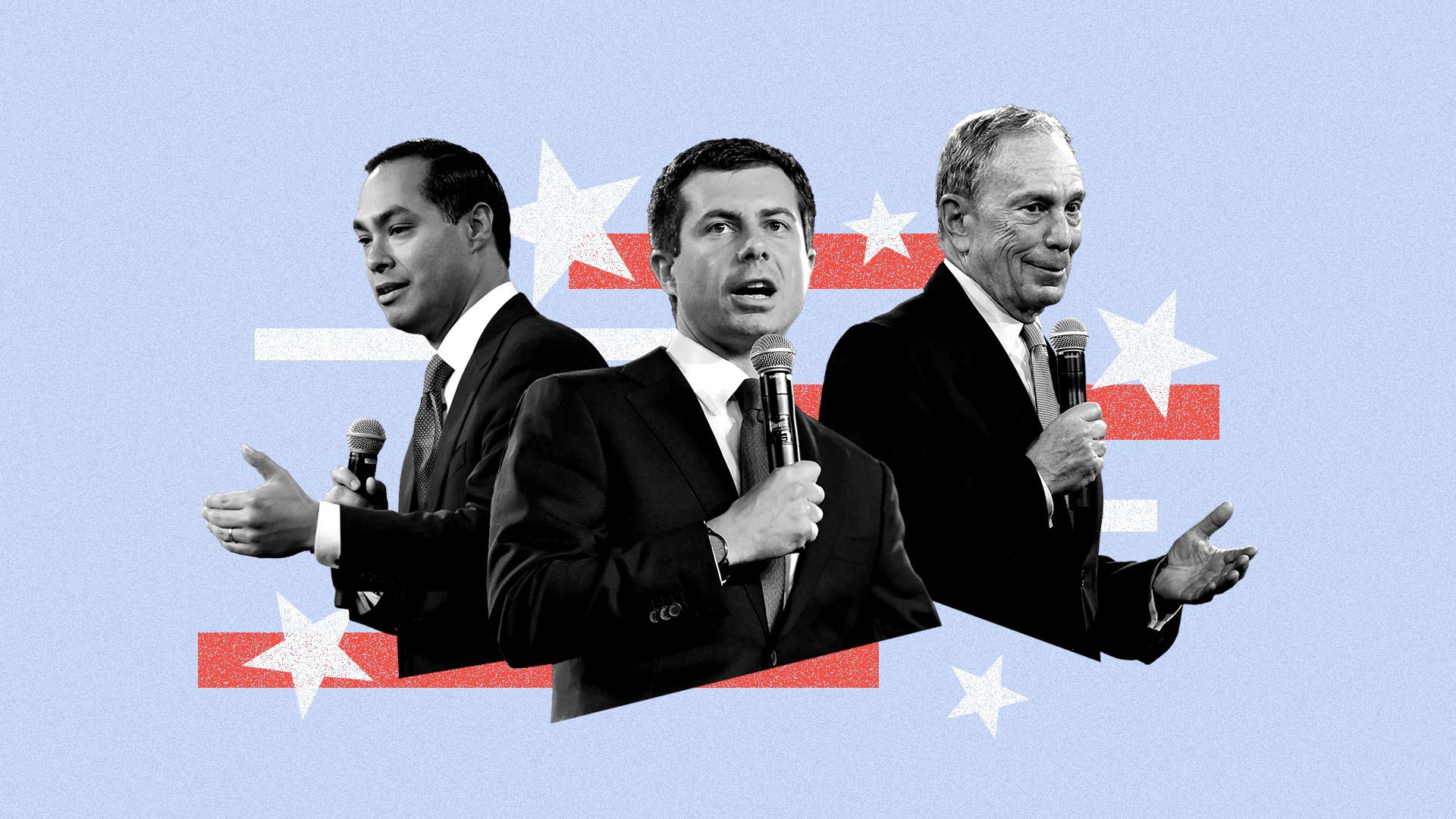 The 2020 Democratic field has more mayors and former mayors than any other presidential primary in recent memory, reflecting a hope that voters will want local leaders' practical, on-the-ground experience after four years of President Trump, writes Axios' Kim Hart.
The mayors and former mayors currently in the race include Pete Buttigieg, Bernie Sanders, Mike Bloomberg, Cory Booker and Julian Castro.
Mayors face real-time accountability for their actions while, for example, shopping for milk or filling up at the gas station — a closer-to-the-people dynamic that appeals to many voters.
Why it matters: While public trust in Washington and Congress has hit record lows, city and local elected leaders enjoy more public trust and tend to be viewed as less partisan and ideological than those in national office.
2. Bleak data: Young Americans dying faster
Life expectancy for Americans ages 25 to 64 has fallen for the third year in a row, with potentially dire consequences for the future of the workforce, Axios' Marisa Fernandez writes.
A study published in the Journal of the American Medical Association looked at mortality data from the past 60 years, and found that death rates of people ages 25 to 34 jumped 29% from 2010 to 2017.
The increased death rates among young and middle-aged adults stemmed mostly from suicide, drug overdose, obesity and liver disease.
Why it matters, from USA Today: "In a trend that cuts across racial and ethnic boundaries, the U.S. has the worst midlife mortality rate among 17 high-income countries despite leading the world in per-capita spending on health care."
"[L]ife expectancy in ... other industrialized nations continues to inch up."
But it's going "in the opposite direction in America, decreasing from a peak of 78.9 years in 2014 to 78.6 in 2017."
3. ⚖️ Impeachment: What matters today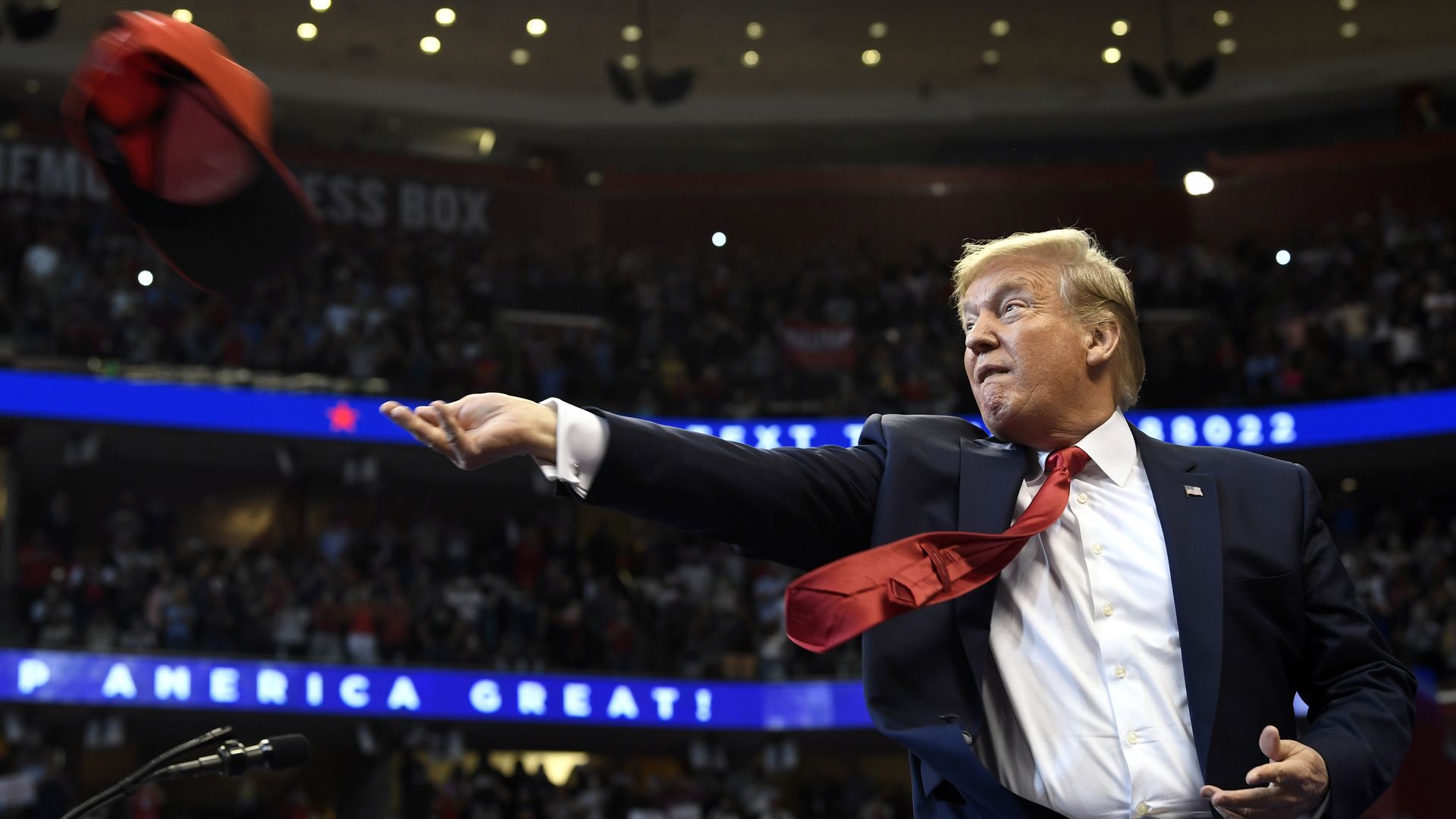 1) "Trump Knew of Whistle-Blower Complaint When He Released Aid to Ukraine," the N.Y. Times reports.
"Lawyers from the White House counsel's office told Mr. Trump in late August about the complaint."
"The administration lifted the freeze on aid to Ukraine on Sept. 11."
2) "Two officials at the White House Office of Management and Budget recently resigned in part over concerns about the holdup on Ukraine aid," according to the closed-door impeachment testimony of OMB official Mark Sandy, per the WashPost.
Why it matters: "Sandy's testimony is the first public confirmation that the dispute at the OMB over the handling of the Ukraine aid became so intense that it contributed to resignations from the agency."
4. We're kidding ourselves
"An average of 28% of Americans said they weighed 200 pounds or more from 2010-2019, up from 24% during the prior decade," Gallup's RJ Reinhart writes.
Americans' average self-reported weight rose to 178 pounds — from 174 pounds during the previous decade, with similar increases among men (4 pounds) and women (3 pounds).
And yet ... Even as Americans' weight has been increasing, about the same number describe themselves as being "very" or "somewhat" overweight.
"At the same time, the average percentage of Americans who say their weight is 'about right' has increased to 56% from 53%."
5. "Dot-com bubble 2.0"
Some of tech's biggest companies, including WeWork and Uber, "have collectively lost about $100 billion in value this year," writes the Wall Street Journal's Heather Somerville (subscription).
Why it matters: "[T]he magnitude of the value destruction has cast a level of uncertainty over the venture-capital industry not seen in years. It has also prompted some soul-searching and calls by investors for stricter corporate governance."
"We are in the dot-com bubble 2.0, except it's not happening in the public markets but in the private markets," Vitaliy Katsenelson, the CEO of Investment Management Associates, told the Journal.
6. Aid to Puerto Rico, Caribbean stalls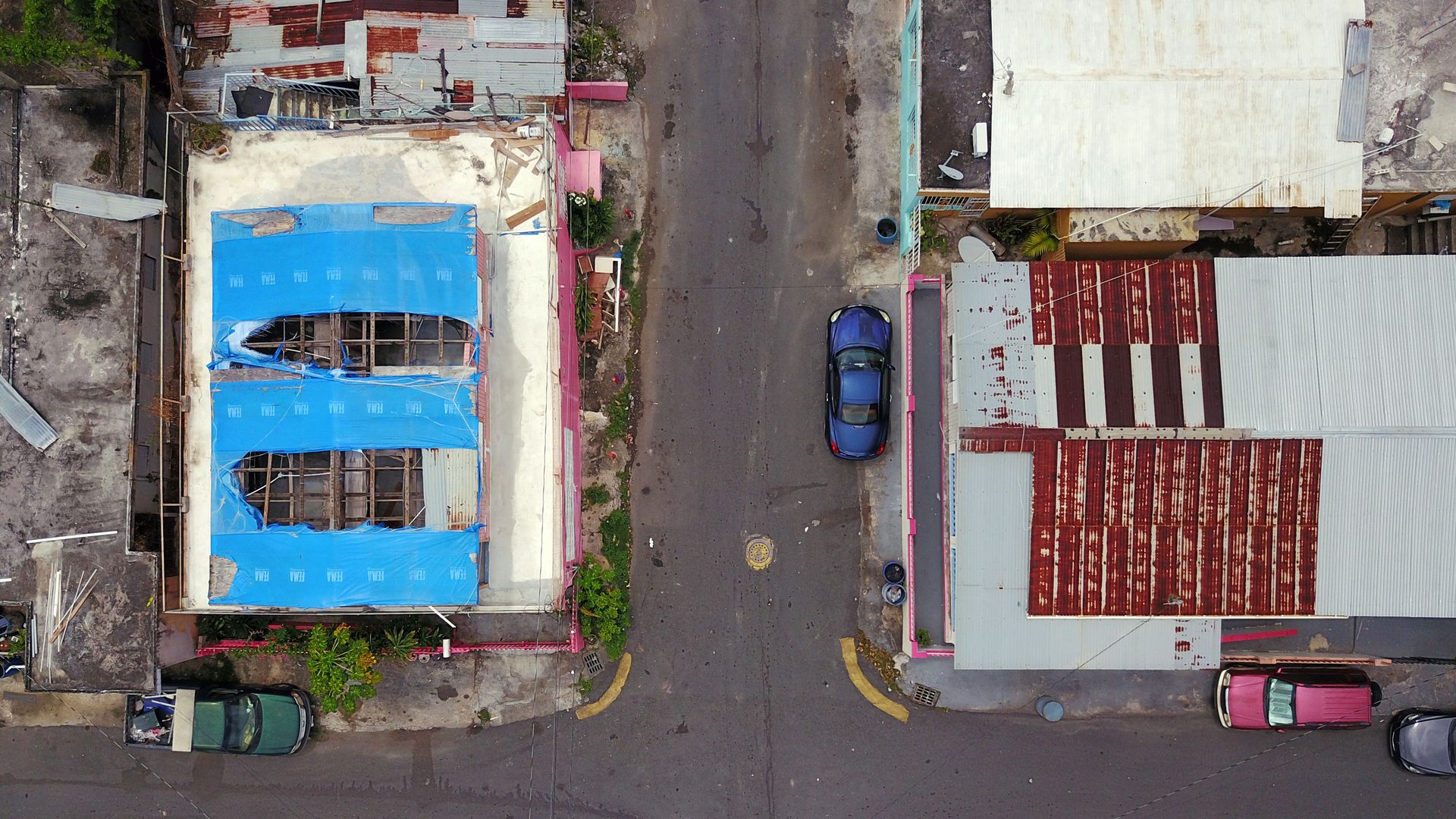 FEMA data and records demonstrate "the degree to which the recovery from Hurricanes Maria and Irma on America's Caribbean islands has been stalled ... leaving the islands' critical infrastructure in squalor and limbo," report the N.Y. Times' Mark Walker and Zolan Kanno-Youngs.
Officials say "190 long-term recovery projects have been funded in Puerto Rico — out of more than 9,000 requests. On the United States Virgin Islands, about 218 projects had funding — out of more than 1,500 requests and still counting."
"In contrast, about 3,700 large and small permanent work projects had obligated funding in Texas, two years after Hurricane Harvey hit the Gulf Coast in August 2017. More than 3,700 such projects had been funded over that time in Florida."
Why it matters: "That disparity underscored how a federal government in Washington has treated citizens on the mainland, with voting representatives in Congress and a say in presidential contests, compared with citizens on the islands."
7. Milking impeachment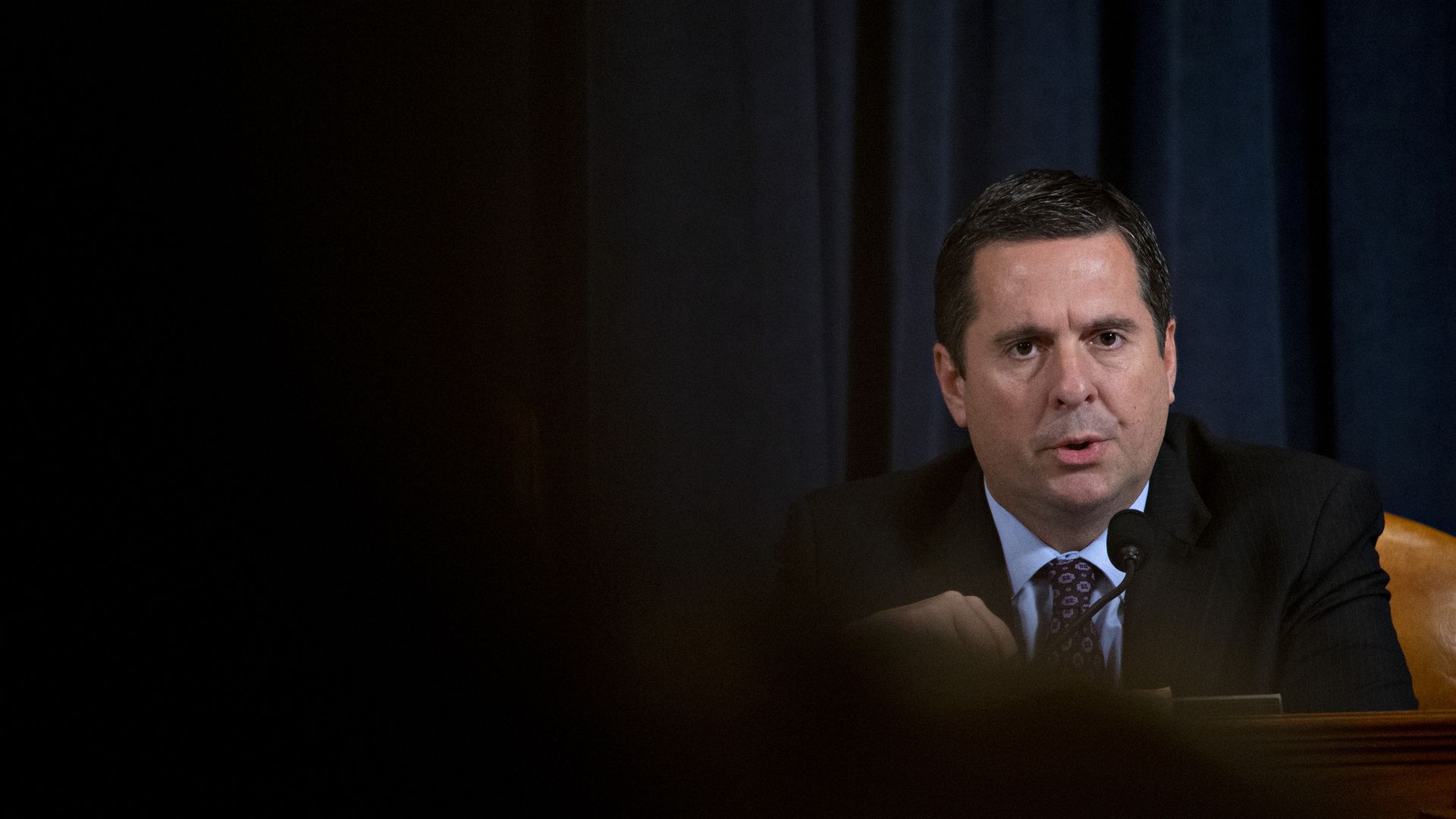 The Democratic House candidate challenging Rep. Devin Nunes of California, the top Republican on the House Intelligence Committee, told Axios' Alexi McCammond he's raised over $310,000 since the public impeachment hearings began on Nov. 13.
Why it matters: This fundraising haul shows a potential impeachment effect for some Republicans in down-ballot races — especially those who are key characters in the hearings.
Between the lines: Phil Arballo announced his congressional campaign in early June, and by the end of Q3 he'd raised over $380,000. He's nearly matched that in just two weeks.
Since the public hearings began, his campaign has found fundraising success in email blasts specifically targeting Nunes for his role in the inquiry.
"It's been good having Nunes in the spotlight," Arballo told Axios.
8. The power of Adam Sandler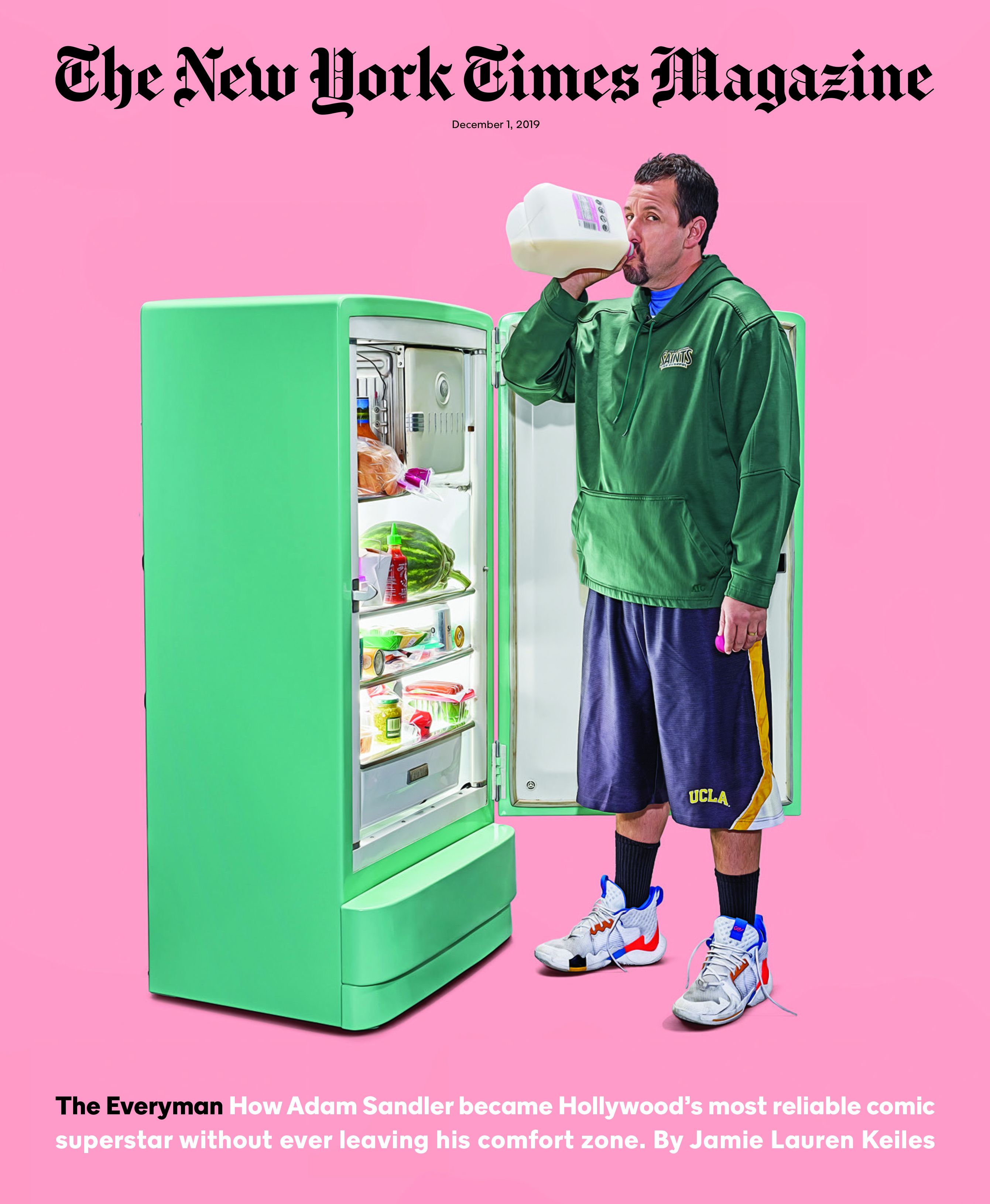 Photo illustration by Zachary Scott for The New York Times. Prop stylist: Faeth Gruppe.
Adam Sandler, "Hollywood's most reliable comic," sat down for his first magazine interview since 1996 with the N.Y. Times Magazine's Jamie Lauren Keiles:
The Sandler clique is so incestuous that it's sometimes the subject of fevered speculation suggesting that Happy Madison is a grift to keep Sandler's mediocre friends in the money. When I put this to Sandler, he was adamant that his work is never lazy. He works with his friends because it's fun — and who could blame him?
Still, what is a conspiracy if not a group tightly aligned in common cause? Sandler has amassed a huge amount of power, and he gets to control who reaps the benefits.
9. College football state of play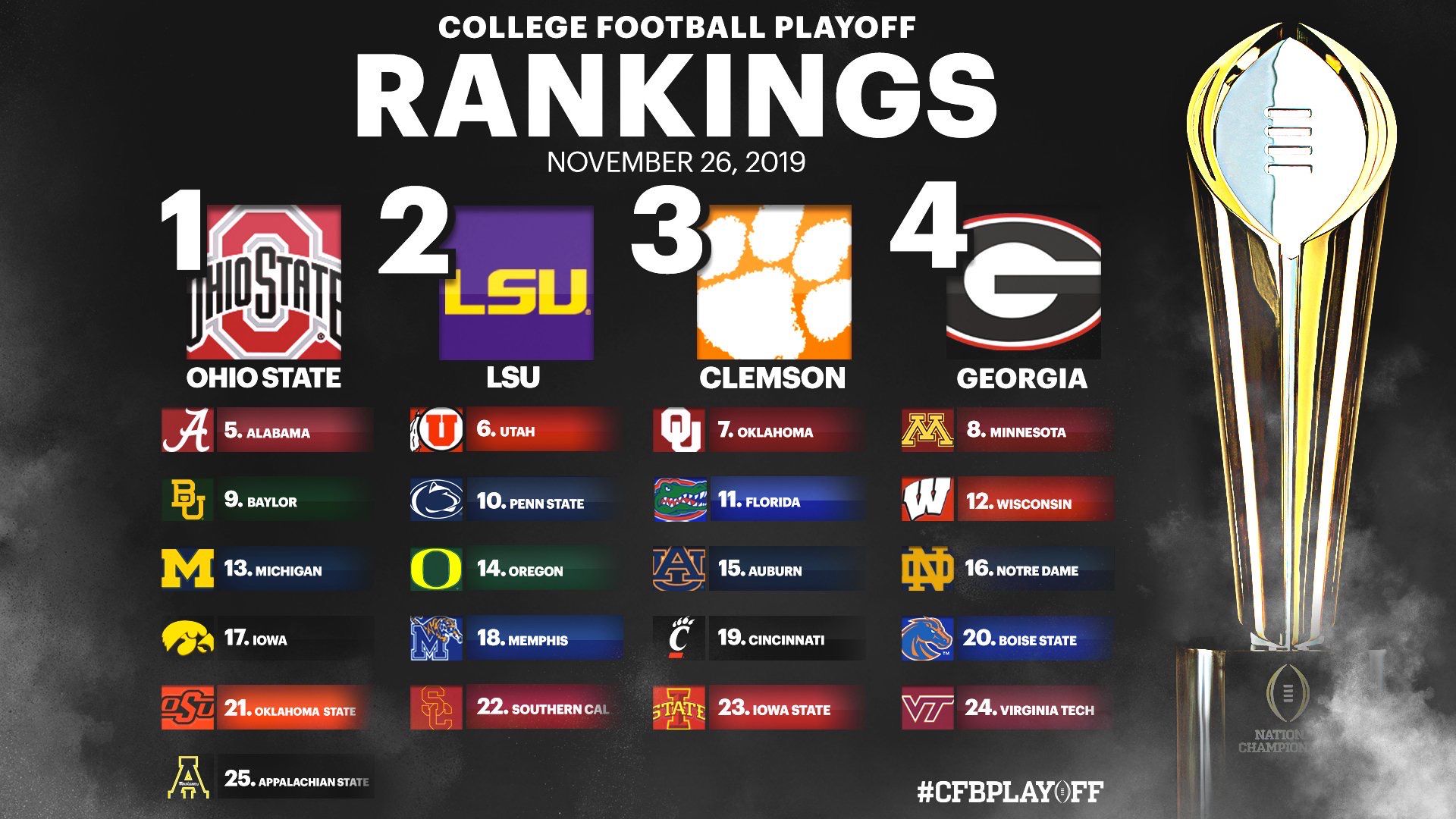 Graphic: CFP
Ohio State jumped LSU to No. 1 in the College Football Playoff rankings with two weeks left to go before selection Sunday. (AP)
10. 🎵 1 stream thing: Impeachment playlists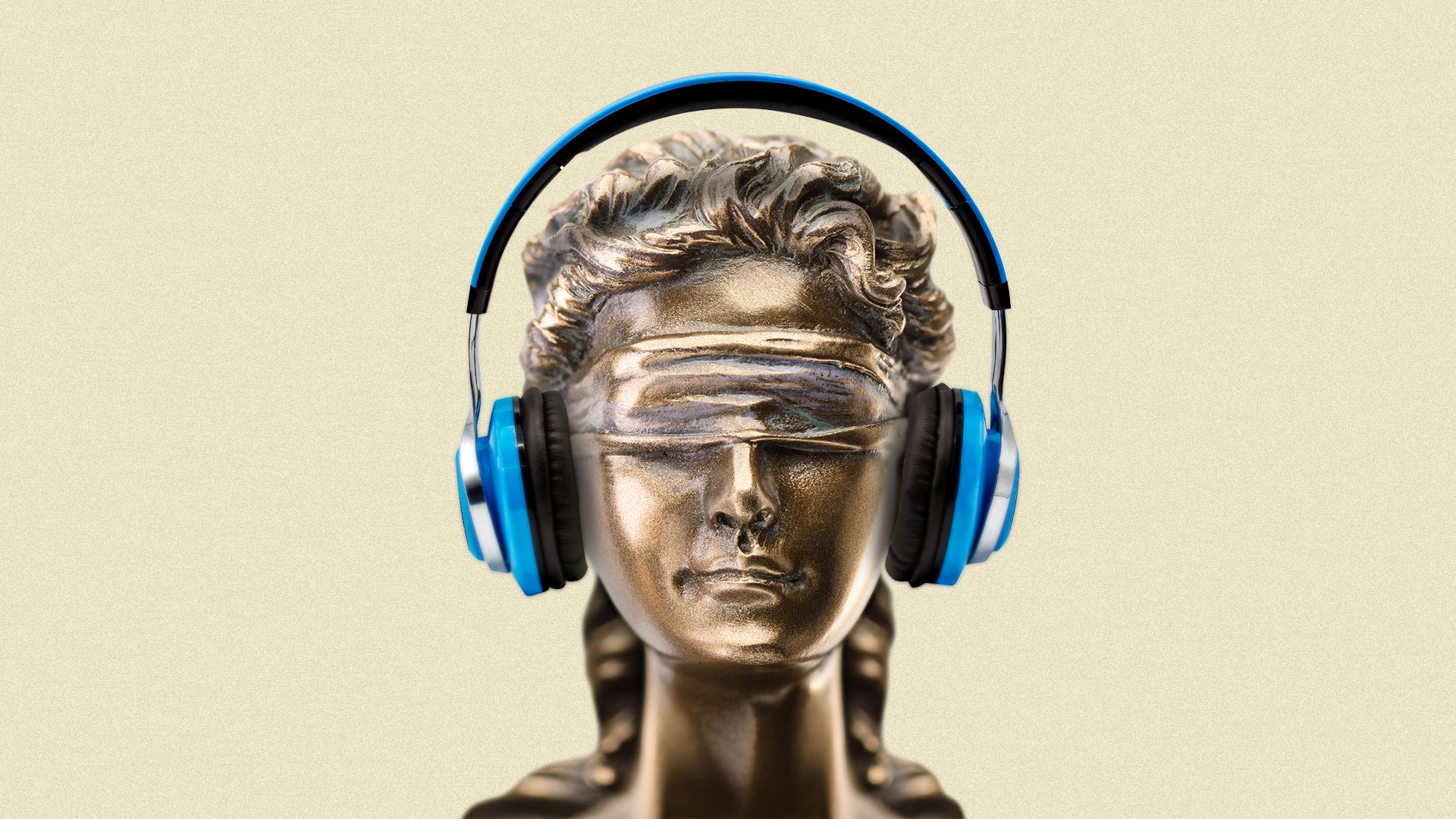 Illustration: Aïda Amer/Axios

Impeachment playlists have become a thing among both Democratic and Republican House staffers — "a soundtrack to a very chaotic time," as one aide put it. A source provided these two sneak peeks at staffers' Spotify secrets:
Democratic list, "Impeachment Season":
"Do Me a Favour" (Arctic Monkeys)
"Shut It Down" (Neil Young with Crazy Horse)
"Hanging on the Telephone" (Blondie)
"Chain of Fools" (Aretha Franklin)
"Russian Roulette" (Rihanna)
"Lawyers, Guns and Money" (Warren Zevon)
Republican list, "High Crimes":
"Atlantic City" (Bruce Springsteen: "Last night I met this guy and I'm gonna do a little favor for him")
"Jumpin' Jack Flash" (Rolling Stones: A line from this song inspired the FBI's code name for the counterintelligence investigation of the Trump campaign, Crossfire Hurricane.)
"Idiot Wind" (Bob Dylan: "Someone's got it in for me, they're planting stories in the press.")
"It's Hard to Be a Saint in the City" (Springsteen)
"Friend of the Devil" (Grateful Dead)
"Hail to the Chief"
🍂 Thanks for letting AM steer you through the chaos! Happiest Thanksgiving to you and yours.