1 big thing: Midterm messaging mess
Both parties are making on-the-fly changes to their messages in the heat of midterm campaigning, because their go-to issues turn out to have problems.
After reading Axios AM yesterday, where we revealed that Rudy Giuliani's constant TV appearances are using the Mueller investigation to fuel the Republican base's rage, Matt Bennett of the center-left Third Way emailed:
"I can't think of a recent election cycle in which both parties thought (or still think) they had killer issues to run on and both are totally wrong. Democrats can't run on Russia/Mueller [because it motivates Republicans more than it does Democrats], and Republicans can't run on the tax cuts because, among other things, Trump used his outside voice to say they're for the rich."
Some Democrats salivated about running on impeachment, until their leaders convinced them that would backfire. And the party's "Abolish ICE" boomlet, fueled by Alexandria Ocasio-Cortez in New York, was co-opted by Republicans who now talk up their support for immigration agents.
Republicans planned to make the Trump tax cut the centerpiece of the fall. But that didn't even last through March, since the tax cuts don't have the broad popularity the party expected.
In an AP story with the memorable headline "Republicans promote fear, not tax cuts, in key elections," GOP ad maker Will Ritter says of tax cuts: "We wish it got the pitch forks out and it doesn't."
One other game change you should be aware of ... "Democrats running for Congress in 2018 are pushing a muscular gun-control agenda that represents a wholesale repositioning on the hot-button issue," The Wall Street Journal's Reid Epstein writes (subscription).
Why it matters: "[G]un control has become a [Democratic] litmus test from which few dissent, alongside abortion rights and support for same-sex marriage."
"For a generation after the 1994 assault-weapons ban cost scores of Democrats their jobs,

party members avoided pushing gun restrictions

."
2. Trump coalition was broader than you think
"While Mr. Trump has a large and resilient base of supporters, a sizable share had reservations when they cast their ballots for him and continue to have reservations," the N.Y. Times Upshot's Nate Cohn and Alicia Parlapiano write, using data from Pew's American Trends Panel:
"A small but meaningful number of his voters, particularly women, appear to have soured on him since the election."
"[T]he midterms could be decided by ... female, college-educated or nonwhite Trump supporters, who are somewhat likelier to harbor reservations about the president. They may have been reluctant to back him, but they were still essential to his 2016 victory and are essential to the G.O.P.'s chances today."
"

Trump won

the presidency [for] one big reason: white voters without a college degree. They put Mr. Trump over the top in ... Pennsylvania, Wisconsin and Michigan."
But just "33 percent of Mr. Trump's supporters were white men without a college degree. A majority of Mr. Trump's supporters defy the stereotype: They were either women, nonwhite or college graduates (or some combination)."
"47 percent of Mr. Trump's voters were women. And ... he ... won 44 percent of voters making more than $150,000 per year, ... and nearly 40 percent of college-educated white voters."
Go deeper:
3. Not the new normal yet: Temperatures still rising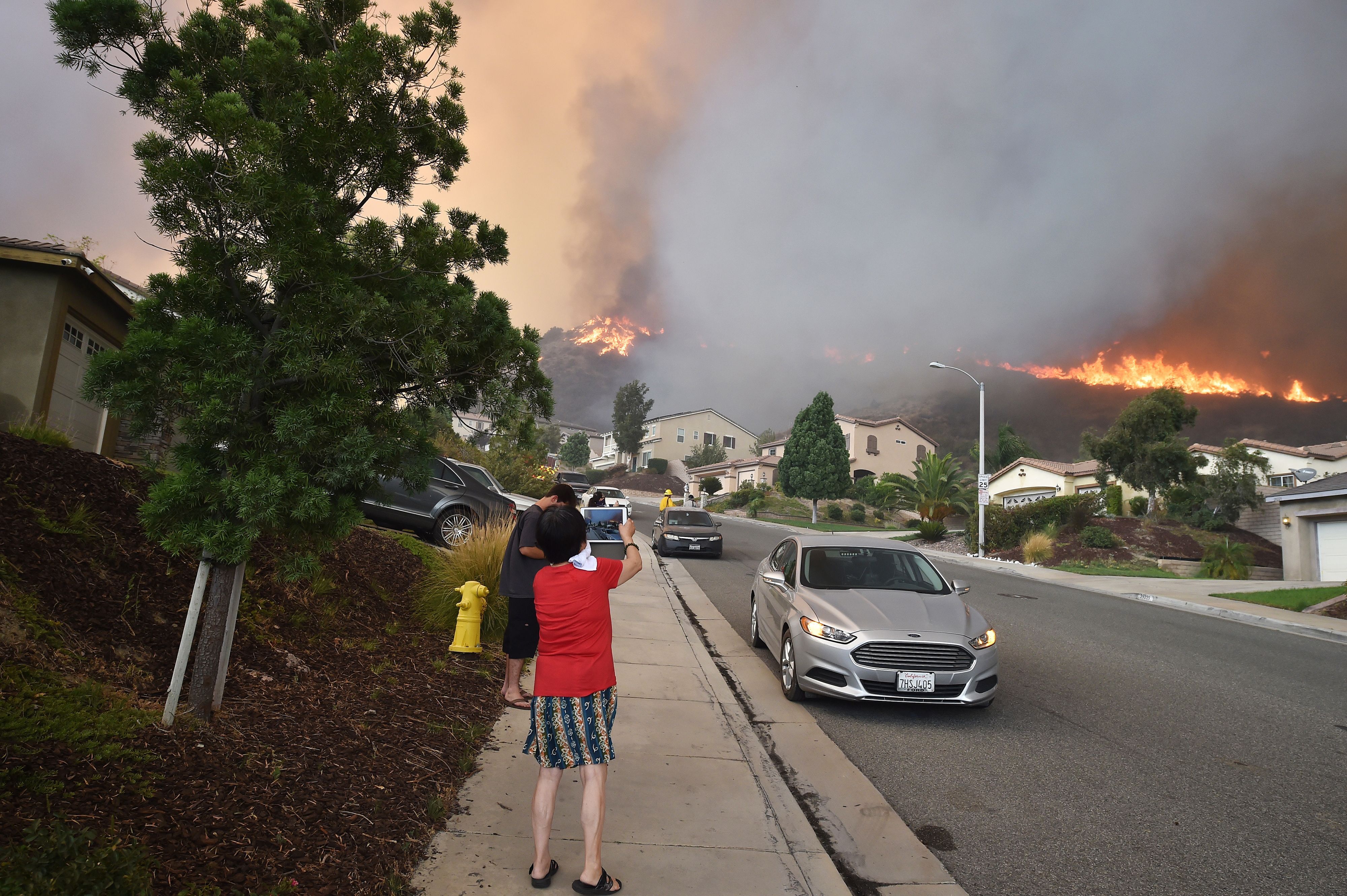 A resident takes iPad photos as flames descend on her neighborhood in Lake Elsinore, southeast of L.A. An area man was charged with arson yesterday. (Robyn Beck/AFP/Getty Images)
"This summer of fire and swelter looks a lot like the future that scientists have been warning about in the era of climate change," Somini Sengupta writes in the N.Y. Times lead story, "The Year Global Warming Made Its Menace a Reality."
Why it matters: "[I]t's revealing in real time how unprepared much of the world remains for life on a hotter planet."
What's next: "Heat waves are bound to get more intense and more frequent as emissions rise, scientists have concluded."
"On the horizon is a future of cascading system failures threatening basic necessities like food supply and electricity."
Bonus: Cover du jour
4. Who knew?
Members of Congress can serve on corporate boards ... "The indictment of Rep. Chris Collins on insider trading charges is drawing new attention to the freedom members of Congress have to serve on corporate boards or to buy and sell stock in industries they're responsible for overseeing," AP's Richard Lardner writes:
"Members of Congress are not prohibited from serving on corporate boards as long as they don't receive compensation for doing so."
"The thinking behind this exception, which doesn't extend to top-level executive branch officials, is to ensure that lawmakers aren't prevented from accepting positions on the boards of charities or other philanthropic organizations, according to Craig Holman of the nonpartisan advocacy group Public Citizen."
"Holman ... noted that lawmakers are often privy to sensitive information before it becomes public. That makes the opportunity for insider trading 'very prevalent.'"
"Stan Brand, senior counsel at the Washington law firm Akin Gump and former general counsel to the House, said the strength of the laws against insider trading should allay fears about corporate board service by lawmakers."
What's next: "Two New York lawmakers, Democrat Kathleen Rice and Republican Tom Reed, announced [yesterday] they plan to introduce legislation that would update House rules to prohibit members from serving on the boards of publicly held companies."
5. Pompeo succeeding where Tillerson failed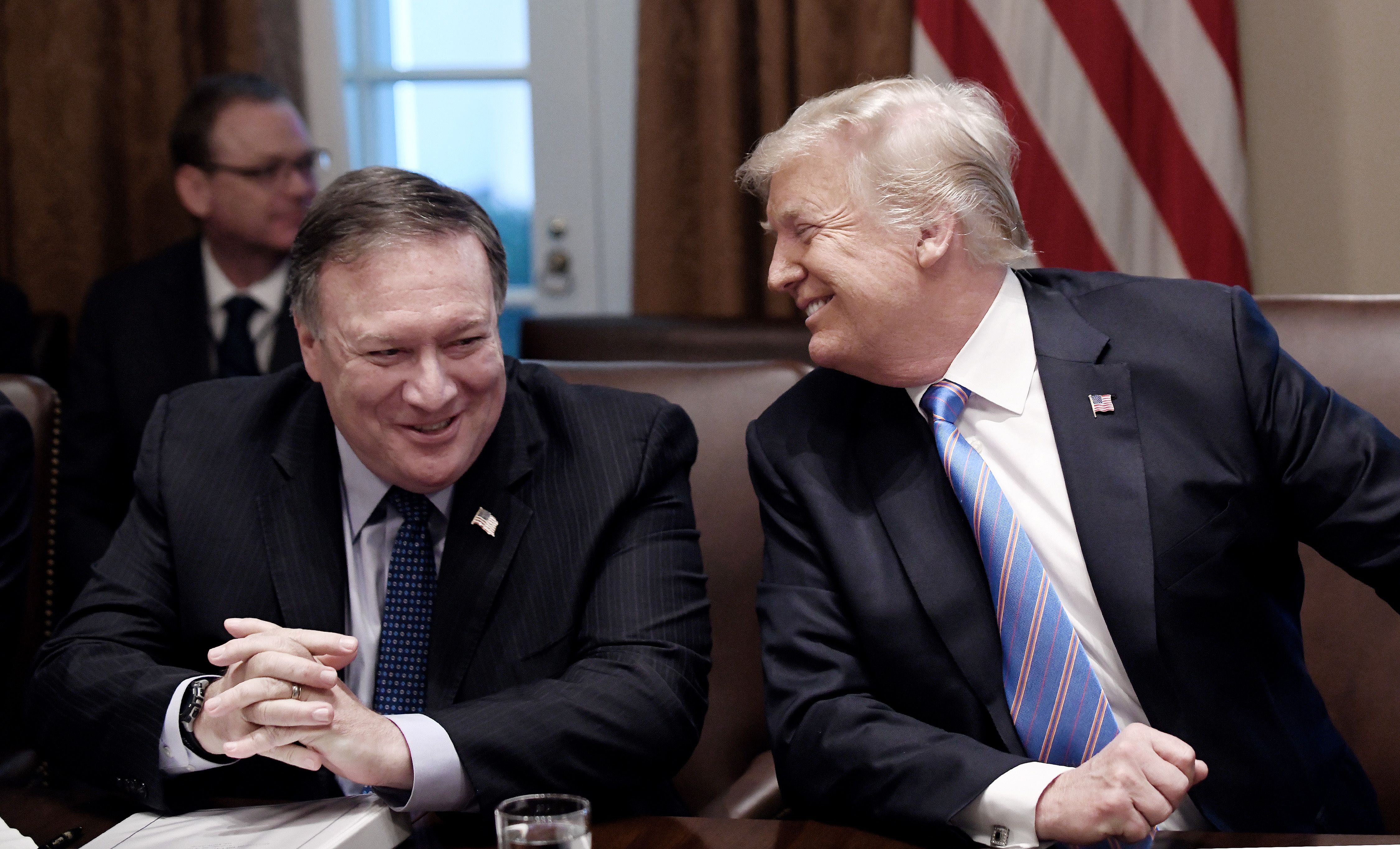 Secretary of State Mike Pompeo and President Trump during a Cabinet meeting on July 18 (Olivier Douliery/Pool/Getty Images)
WashPost columnist David Ignatius writes that Secretary of State Mike Pompeo "seems to be keeping his own swagger in check at State," a formula for succeeding with President Trump:
"Many secretaries of state say they want to practice quiet diplomacy, and that was certainly [Rex] Tillerson's goal. But Pompeo has made it an operating principle."
"Pompeo is behaving at State much as he did as CIA director. His role is often that of a secret presidential envoy; he manages the North Korean denuclearization talks, the administration's most sensitive file, pretty much out of his briefcase."
"And, perhaps most important, he's able to speak authoritatively (mostly in private) for the president, something that Tillerson could never do."
Sentence of the day: "Being chief diplomat for the most undiplomatic president in modern history can't be easy."
6. Inside the Manafort trial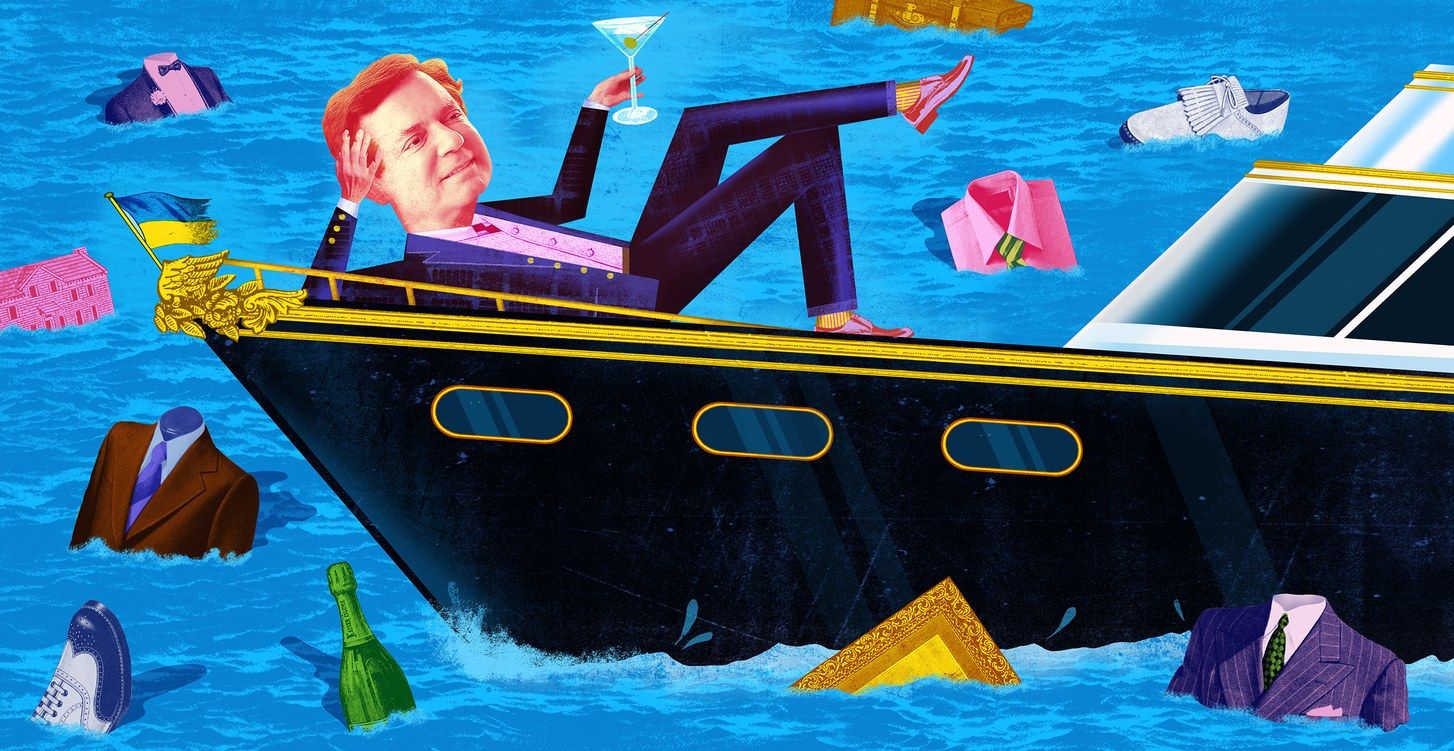 Courtesy The New Yorker (Illustration by Christian Northeast; Source photograph by Mark Wilson / Getty)
Susan Glasser, a staff writer at The New Yorker who writes a weekly column on life in Trump's Washington, visits the Manafort trial at the federal courthouse in Alexandria, Va.:
"Electronics are, mercifully, if inconveniently, banned, ... meaning that it may be one of the most Trump-free spaces on the planet at the moment."
"Instead of staring down at their phones and laptops, the journalists and other spectators are forced to actually listen as the case unfolds, without a constant stream of instant commentary to shape their thinking. ('I tell everyone it's like living in 1994,' one of the reporters on the Manafort beat told me.)"
The courtroom "is that rare place today where there is presumed to be a truth that is real and verifiable. ... Forget 'alternative facts.' Here are actual ones."
7. Pelosi causing jitters
"While Democrats grow optimistic about their chances of taking control of the House in November, they are increasingly anxious that the presence of their longtime and polarizing leader, Nancy Pelosi, is making it harder for many of their candidates to compete in crucial swing districts," the WashPost's Mike DeBonis writes in the paper's lead story:
"Republicans ... have made the House minority leader a central element of their attack ads ... [S]ome Democrats are expressing alarm that she is standing in the way of the next generation of leaders."
Yesterday Rashida Tlaib of Michigan, who after her primary win this week is poised to become the first Muslim woman in Congress, "became at least the 27th Democratic House candidate to decline to say whether she would support Pelosi."
Be smart: For all the talk (and there's plenty), if House Dems win a big majority, it'll be on a wave of women candidates and voters. That would make it very difficult to deny Pelosi the speakership, regardless of younger members' wishes.
Go deeper: 2018 officially has record number of women nominees
8. Permanent volatility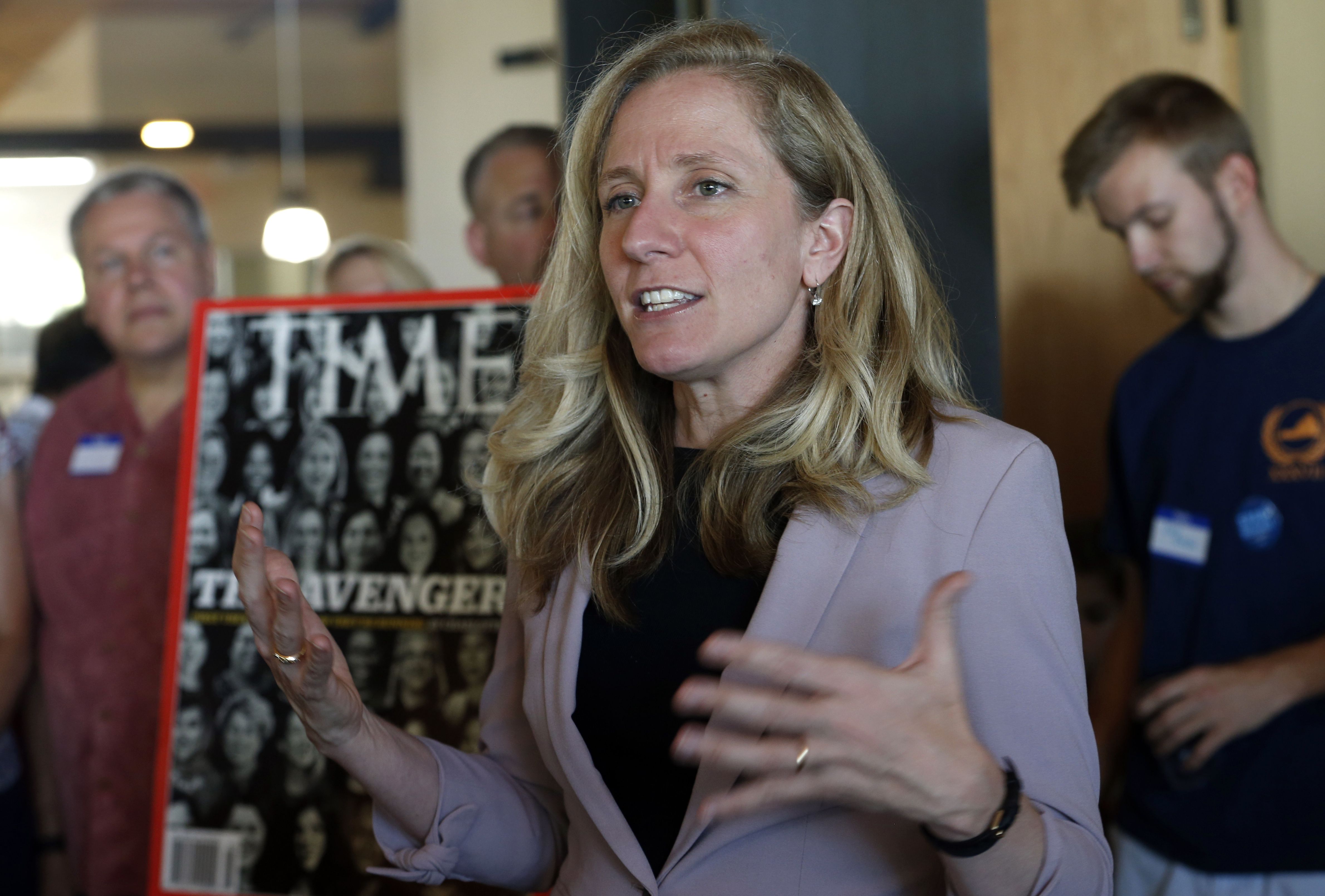 Democratic congressional candidate and former CIA officer Abigail Spanberger (Steve Helber/AP)
Rep. Dave Brat (R-Va.), a Tea Partier whose insurgent candidacy upset House Majority Leader Eric Cantor in a Republican primary in 2014, now faces an uprising led by women, the N.Y. Times' Mike Tackett writes from Midlothian, Va.:
"A race that was once considered solidly in the Republican camp is now rated a tossup."
"[T]he Liberal Women of Chesterfield County are stirring women to come out in such great numbers that the Democratic nominee, Abigail Spanberger, a well-credentialed former C.I.A. officer, may make history ... in a district that has been deeply Republican for decades."
9. Tax systems fail to adapt to the times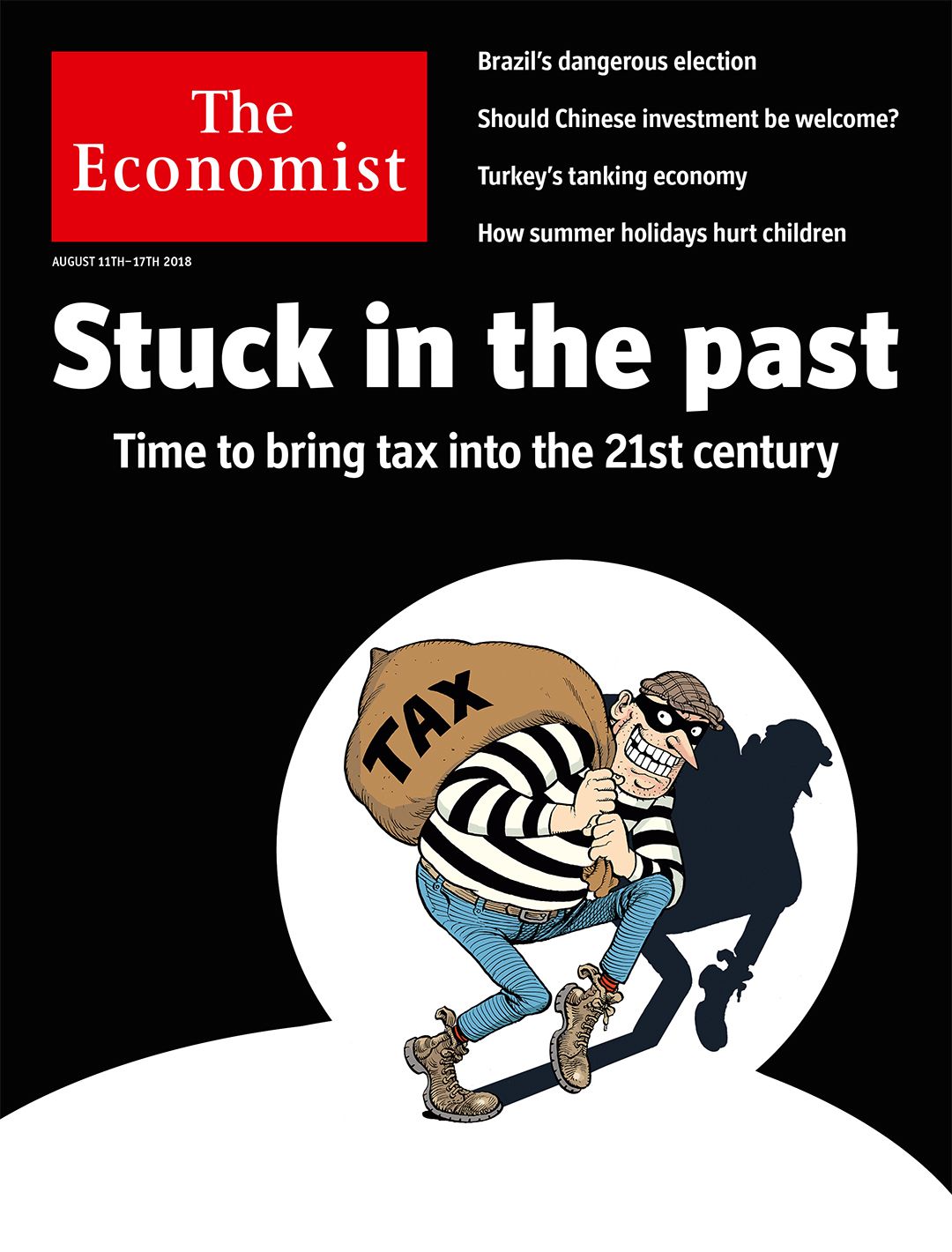 Courtesy The Economist
"Today's tax systems are not only marred by the bewildering complexity and loopholes that have always afflicted taxation; they are also outdated," The Economist writes in its lead editorial:
"That makes them less efficient, more unfair and more likely to conflict with a government's priorities."
"The world needs to remake tax systems so that they are fit for the 21st century."
The prescription:
"All countries should tax both property and inheritance more. These taxes are unpopular but mostly efficient. In a world where property ownership brings windfalls that persist across generations, such taxes are desirable."
"A conservative first step would be to roll back recent cuts to inheritance tax. A more radical approach would be to introduce a land-value tax, the most efficient of all property taxes and one with a long liberal heritage."
"To stop companies shifting profits, governments should switch their focus from firms to investors."
10. 1 fun thing
"Move Over Millennials, It's Gen Z's Turn to Kill Industries: Malls, print magazines and even football could be in mortal danger," Bloomberg's Riley Griffin writes:
"Millennials have been accused of killing so many products and industries —taxis, landlines, snail mail —that it's become a media trope. But millennials are old news. Today, businesses and marketers are desperately anticipating the murderous whims of Gen Z, the demographic born after 1996."
"Sometimes called 'post-millennials' or 'iGen,' Gen Z makes up more than one-fifth of the U.S. population and is the most racially and ethnically diverse group in the nation's history."
Why they matter: "They're true digital natives who report being online 'almost constantly.'"
They're already killing cash: "[M]oney-transferring apps — such as Venmo, Google Pay and Apple Wallet — are seeing continued growth."
Thanks for reading. See you all day — and all weekend — on Axios.com.