Good Tuesday morning. Thank you for reading, and check out Axios' new "Today in Trump," posting at 5 p.m. ET each weekday on Apple News to make you smart fast on what happened while you worked.
https://www.axios.com/newsletters/axios-am-439a0306-4d00-43b9-bf6d-70f040a22496.html?chunk=0#story0
1 big thing: Sorry! American politics will get worse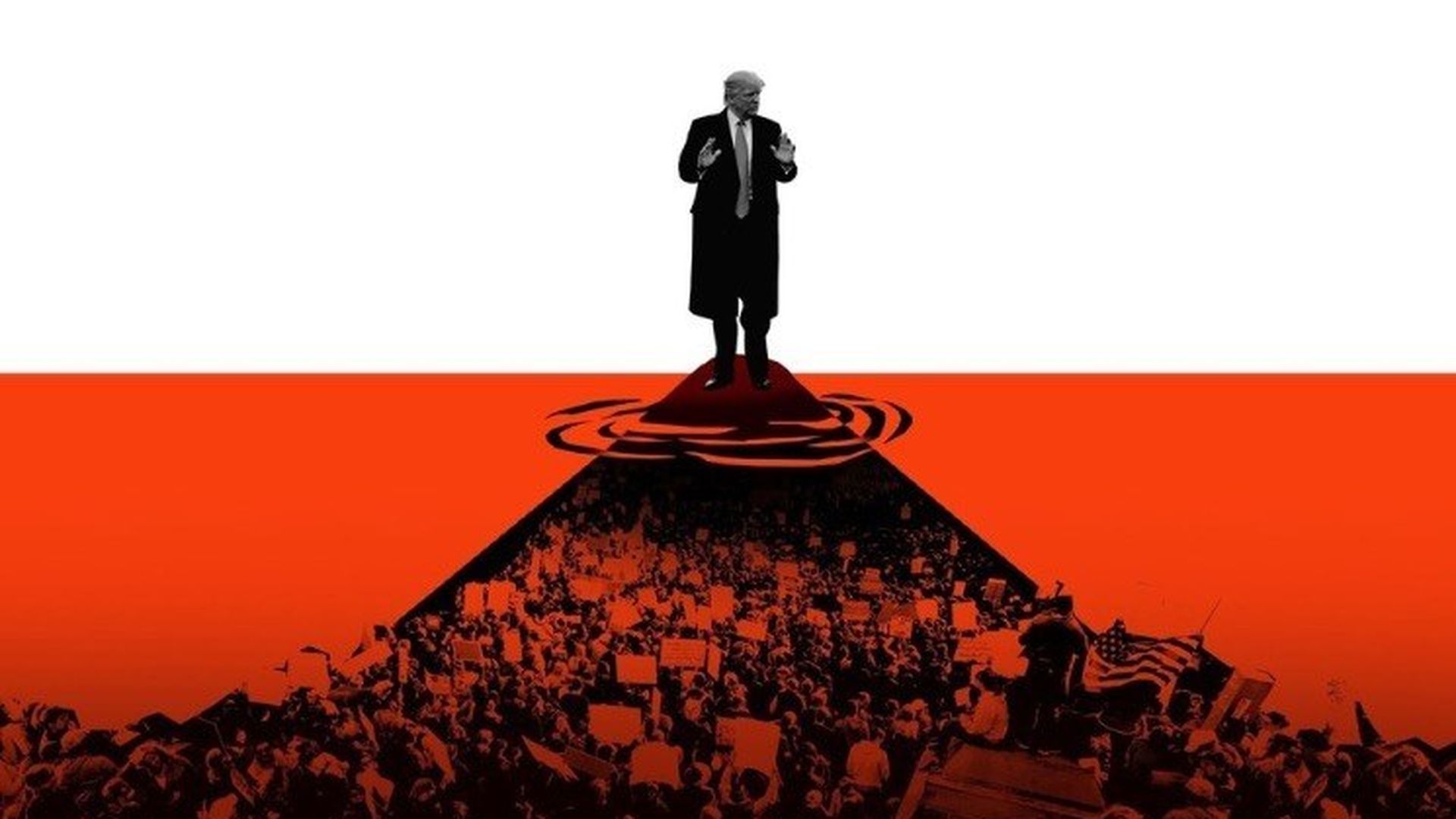 In a bigthink piece leading the Axios stream, Jim VandeHei argues that Trump "was a symptom, not the cause, of our cancerous politics — and the disease is metastasizing":
In our politics: There is no market for normal politics, much less compromise. Politicians respond to incentives, and right now nearly every incentive calls for extreme, grand-act politics. ... With the Clinton wing of the Democratic Party extinguished, the minority party will be dominated — and defined — by a much more aggressive and formidable liberal uprising.
In our media: All these flames will be fanned with even more fake news.
In our businesses: Companies have lost their ability to mitigate polarized, uncertain politics.
Why this matters: Without these calming influences in politics, media and business, there are no checks on the forces reshaping the national discourse.
https://www.axios.com/newsletters/axios-am-439a0306-4d00-43b9-bf6d-70f040a22496.html?chunk=1#story1
2. Populist contagion
Financial Times lead story says French markets show rising fear of a win by far-right leader Marine Le Pen, the female Trump, in April elections:
"Traders have been on edge after they failed to predict [Brexit and Trump], ... and investors said the sharp moves on Monday were a sign they were steeling themselves for more jolts this year."
James Athey of Aberdeen Asset Management: "Markets underpriced the political risks in 2016 and they are determined not to do the same again ... Investors want greater rewards for the risks they see in French, Dutch, German and possibly Italian elections this year to destabilise the region."
Connecting the dots ... "The US moneyed and political elite is fighting back against Trump," by Quartz Washington correspondent Steve LeVine: "From the Super Bowl to Silicon Valley and federal court, the deplored American elite—corporate heavyweights, billionaires, the old political establishment—is attempting to form a wall against what they regard as a threat to the way the modern world works."
What's changed: "Trump's agenda on immigration, trade, cyber security, tax reform and other issues has caused deep consternation in the tech industry. Before the travel ban, most companies said they wanted to work with him and avoided any direct confrontations."
https://www.axios.com/newsletters/axios-am-439a0306-4d00-43b9-bf6d-70f040a22496.html?chunk=2#story2
3. Not The Onion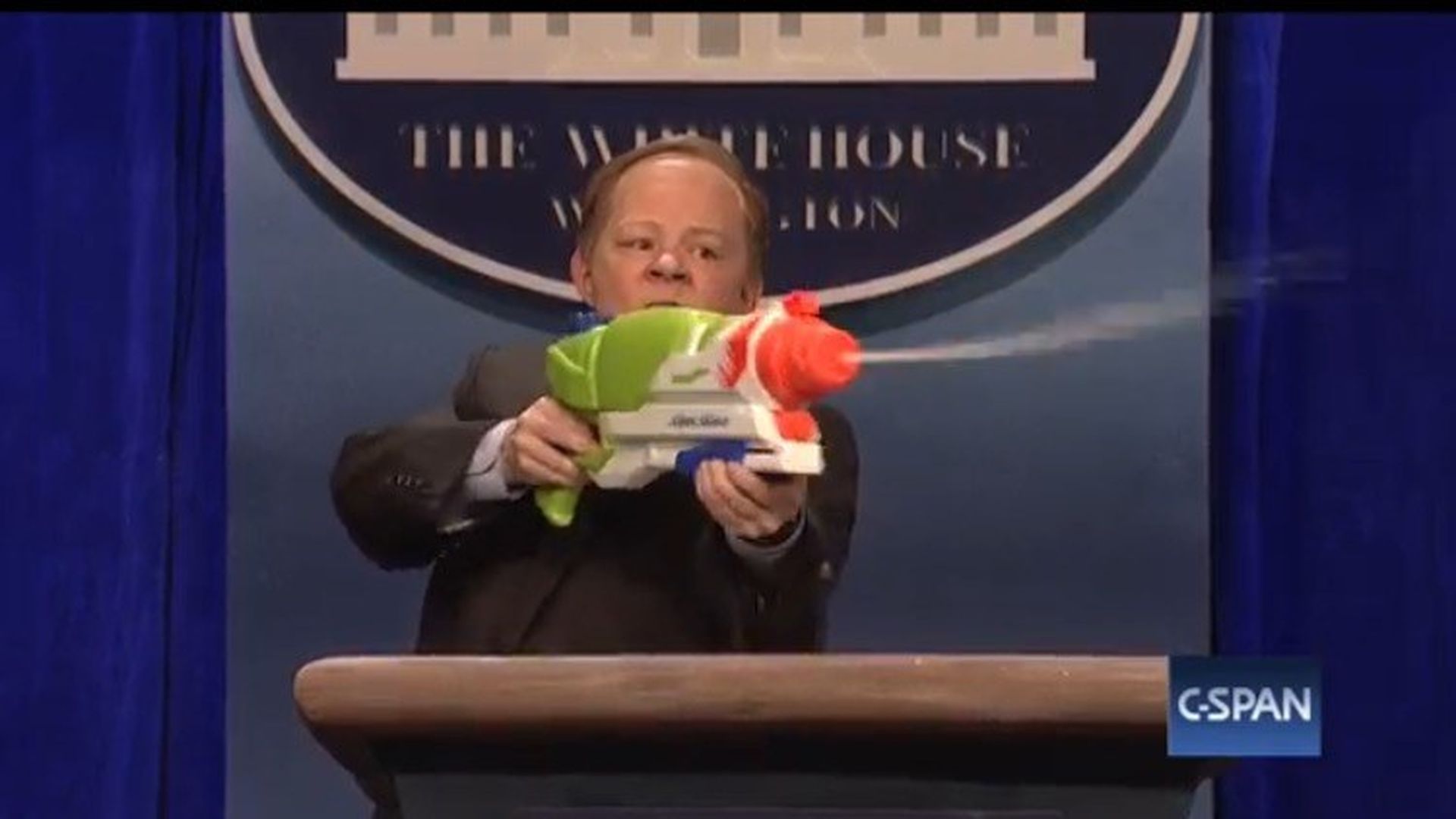 Trump claims reporters are covering up terrorist attacks.
Sean Spicer goes on the record to argue the president doesn't own a robe, after New York Times says he decamps to his room in the evening, throws on his robe and watches cable. Twitter explodes with photos of Trump in robes -- and countless reporters gleefully retweet them.
Politico, in a triple-bylined piece, says Trump was hacked off at Spicer being imitated by a woman on SNL.
https://www.axios.com/newsletters/axios-am-439a0306-4d00-43b9-bf6d-70f040a22496.html?chunk=3#story3
4. Phrase of the day
Mike Gerson column in WashPost: "Republicans are on the horns of a bull in a china shop. ... [O]pposing Trump in public risks Twitter attacks and primary challenges. In Trump's amoral, counterpunching ethic, even the mildest criticisms can result in massive retaliation. Trump has already succeeded in creating an atmosphere of intimidation in Washington."
https://www.axios.com/newsletters/axios-am-439a0306-4d00-43b9-bf6d-70f040a22496.html?chunk=4#story4
5. Obama has to read this
Trump to O'Reilly, re Obama: "It's a very strange phenomenon. We get along, I don't know if he'll admit this, but he likes me. ... [I]t was a great inauguration -- loved every minute of it -- and I got along with him. In fact, people were sort of surprised, I finished, I turned around he was smiling, I was smiling, we were saying hello."
O'Reilly interjected: "I don't know if he was happy with that speech."
Trump: "I don't know, but he seemed to be. But this isn't just a knock on him: We've been going down the wrong path for many years beyond him."
https://www.axios.com/newsletters/axios-am-439a0306-4d00-43b9-bf6d-70f040a22496.html?chunk=5#story5
6. Maid trouble
HuffPost's Ryan Grim reports that Andrew Puzder, Trump's nominee for Labor, employed an undocumented immigrant as household help.
Statement via Puzder spokesman: "My wife and I employed a housekeeper for a few years, during which I was unaware that she was not legally permitted to work in the U.S. When I learned of her status, we immediately ended her employment and offered her assistance in getting legal status. We have fully paid back taxes to the IRS and the State of California and submitted all required paperwork."
Grim: "The woman ... declined the offer, fearful that it would lead to detainment and deportation."
N.Y. Times' Alan Rappeport: "The revelation potentially could derail a nomination that has elicited controversy because of Mr. Puzder's views on overtime pay, sick leave and automation."
Why it matters: Administration officials have long been worried about Puzder, who has just about every category of vulnerability a nominee can have, and because most nominees have already had their hearings. A transition source said: "It's like when you separate a weak animal from the herd."
Betsy DeVos, Trump's nominee for Education, is expected to be approved around noon today "by the narrowest possible margin, with Vice President Pence expected to break a 50-50 tie," AP reports.
https://www.axios.com/newsletters/axios-am-439a0306-4d00-43b9-bf6d-70f040a22496.html?chunk=6#story6
7. 100 days (ish)
GOP Hill sources tell me that putting all the "replace" parts of health reform in place could take YEARS. CNN, Wall Street Journal, N.Y. Times all have stories about health reform taking longer than expected.
In his interview with Bill O'Reilly, which Fox is spacing out over three nights, Trump hedges on deadlines for his agenda:
On whether Americans can expect a tax cut this year: "I think so, yes. And I think that before the end of the year I would like to say yes."
On whether a new healthcare plan will be rolled out by his administration this year: "Yes, in the process and maybe it'll take till sometime into next year ... I would like to say by the end of the year at least the rudiments but we should have something within the year and the following year."
In a Times front-pager, "Reality Chills Heated Words on Health Law," Mike Shear and Robert Pear say of that last quote: "That admission is sure to be a serious disappointment for the president's most fervent supporters, who sent him to Washington believing that he would move quickly to dispatch the health law."
Infrastructure wish lists ... In a process that began during the transition, governors from at least 44 states this week will sending the administration a wish list of 300 infrastructure projects, ranging from dredging to light rail to safe water to Interstate widening. McClatchy has 20 examples.
Risks of Trump infrastructure bank ... AP's Joan Lowy and David Lieb: " [E]conomists and transportation experts warn the government could end up rewarding investors in projects that would have been built even without credits."
https://www.axios.com/newsletters/axios-am-439a0306-4d00-43b9-bf6d-70f040a22496.html?chunk=7#story7
8. Trump's next justice
N.Y. Times Supreme Court reporter Adam Liptak, in a piece on "How Trump Chose His Supreme Court Nominee," saves the best for last: "Trump's team is already looking down the road, weighing the choices should Justice Anthony M. Kennedy decide to step down."
The two: Sixth Circuit Judge Raymond Kethledge of Michigan, one of six other finalists who underwent interviews along with Gorsuch, "would be a leading candidate, an official said, and so would Judge Brett M. Kavanaugh of the Federal Appeals Court in Washington. Both judges, like Judge Gorsuch, once served as law clerks to Justice Kennedy."
Clicking with Trump: "Gorsuch clinched his spot in a meeting at Trump Tower on Jan. 14 with Mr. Trump and [now White House counsel] McGahn. Judge Gorsuch, who had represented corporate titans as a lawyer in private practice, hit it off with the president."
https://www.axios.com/newsletters/axios-am-439a0306-4d00-43b9-bf6d-70f040a22496.html?chunk=8#story8
9. Trending in business
"Disney CEO Iger [turns 66 on Friday] Seen Likely To Extend Stay," per Wall Street Journal front-pager: "Few believe internal executives are poised to ascend and contend it would be tough for an outsider to take over in less than 16 months."
https://www.axios.com/newsletters/axios-am-439a0306-4d00-43b9-bf6d-70f040a22496.html?chunk=9#story9
10. 1 fun thing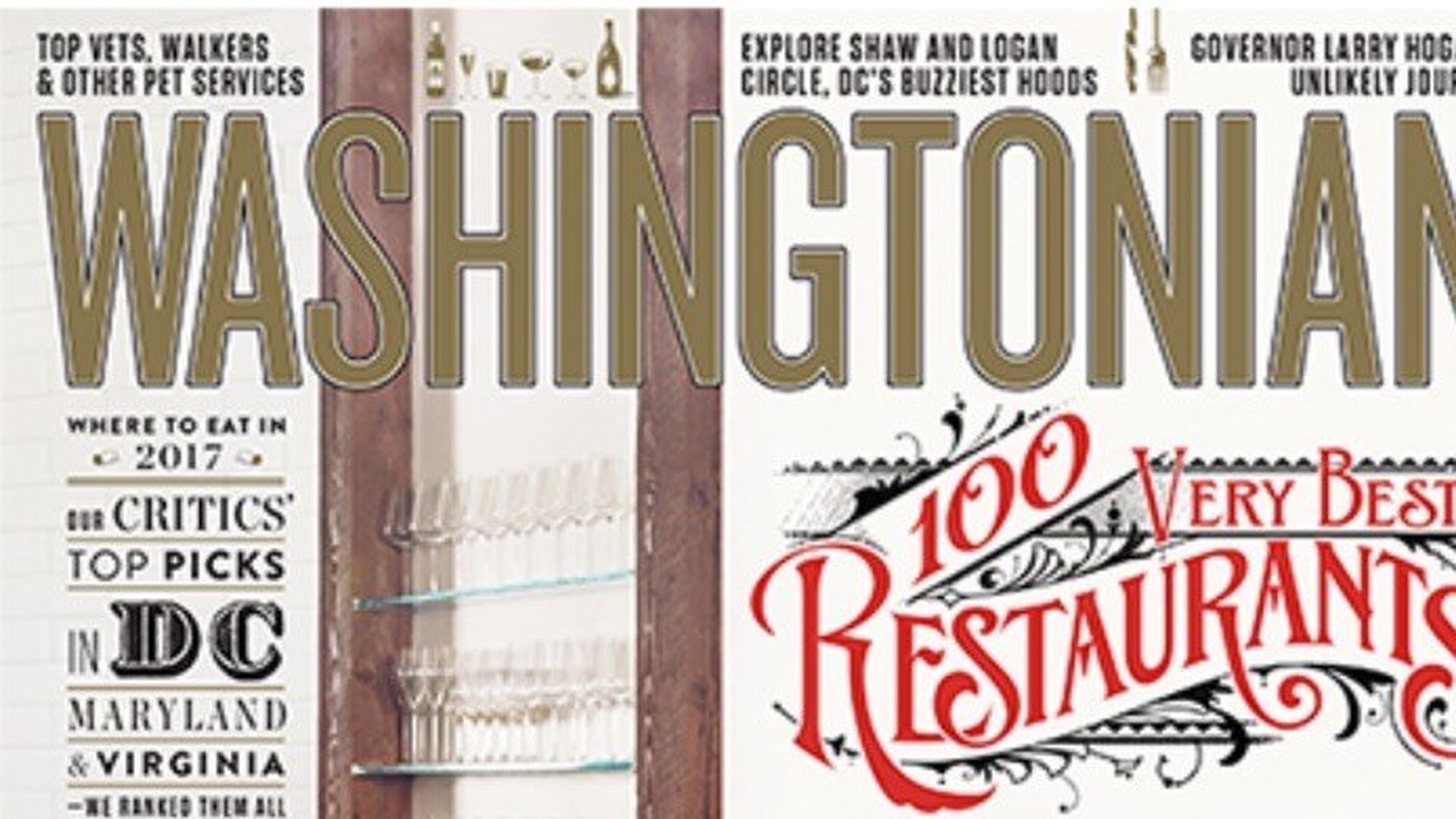 Washingtonian magazine's "100 Very Best Restaurants" (February cover; not online yet):
Pineapple and Pearls
Minibar
Komi (#2 last year)
Kinship
Fiola Mare (#1 last year)
Tail Up Goat
The Dabney
Bad Saint
The Inn at Little Washington
Sushi Taro
Rasika and Rasika West End
Whaley's
Little Serow (#3 last year)
Métier
All-Purpose
Maketto
Le Diplomate
The Source
Garrison
Central Michel Richard
Rose's Luxury
Convivial
Marcel's
Estadio
Plume
Bindaas
Fiola
Blue Duck Tavern
Thank you for reading! Always appreciate your tips, links and rants: Just reply to this email -- it's my real address, and no one else sees it.