Axios AM
March 27, 2023
Happy Monday! Smart Brevity™ count: 1,498 words ... 5½ minutes. Edited by Noah Bressner.
🔮Axios' second annual What's Next Summit is this Wednesday in Washington.
You'll hear from producer Timbaland, CVS Health CEO Karen Lynch, United Airlines CEO Scott Kirby, YouTube head Neal Mohan and more on innovations shaping our future. To tap into the livestream, register here.
1 big thing: Biden/Trump split screen looks like '24 spoiler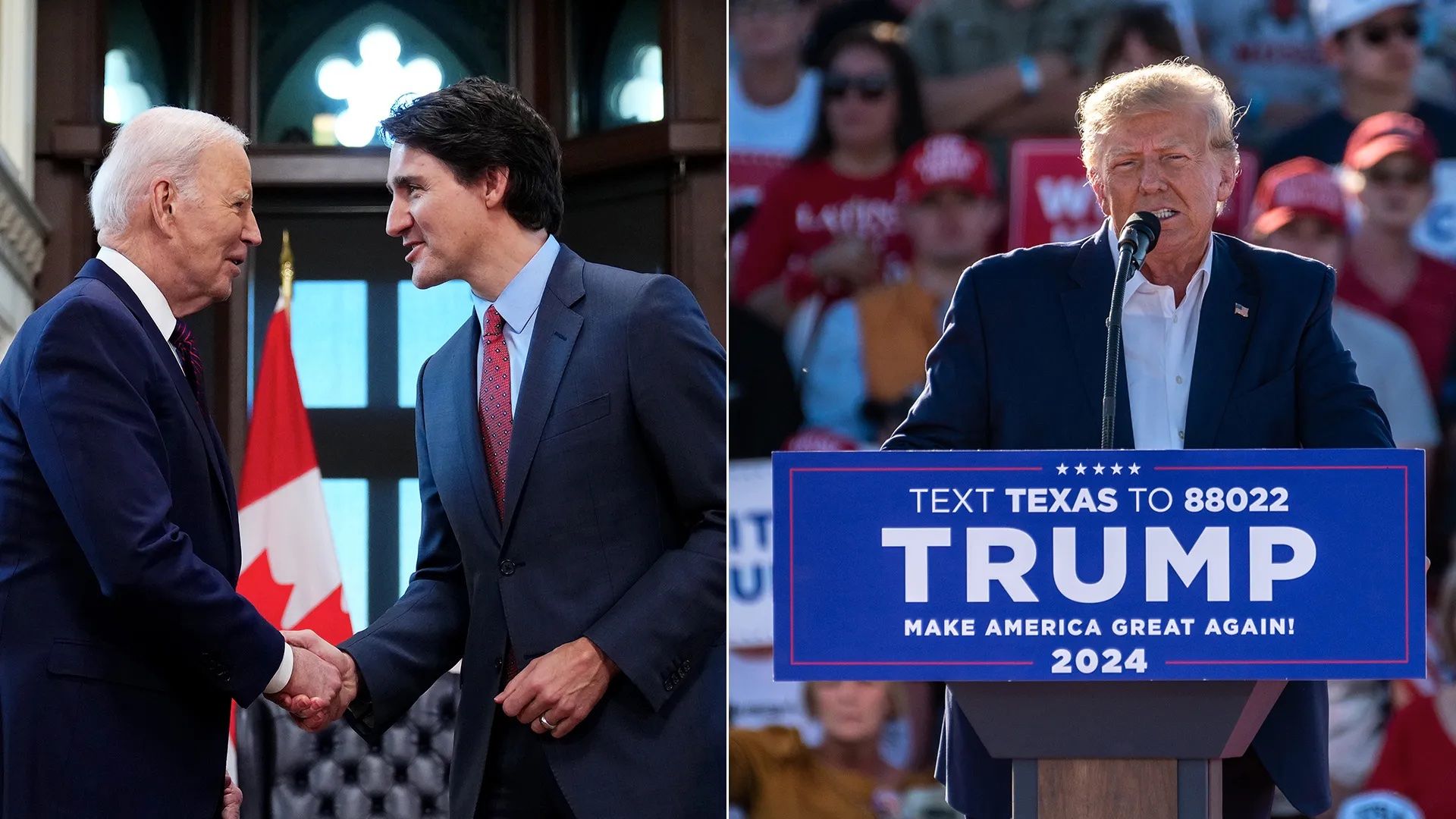 The split screen of the two '24 presidential frontrunners was jarring this past week:
President Biden at the White House and in Canada, trying to project calm leadership — and former President Trump, bitterly railing against his enemies as he faces possible indictment in New York.
Why it matters: The scenes preview a possible Biden-Trump rematch, Axios' Hans Nichols writes.
Biden is trying to crawl up from low poll numbers by showing stability and selling legislative wins. Trump — facing multiple criminal probes — uncorks chaos and taps into the anger of his MAGA base.
Behind the scenes: Biden advisers are mapping out a Rose Garden re-election strategy that will rely on sunny White House ceremonies, surgical sorties to swing states, and a busy international travel schedule.
Biden's advisers are convinced he can overcome his approval slump — 38% in an AP-NORC poll last week — by promoting the infrastructure plan Congress passed last year, project-by-project and city-by-city.
POTUS heads to North Carolina tomorrow to promote the semiconductor law he signed last year, kicking off a 20-state "Investing in America" tour.
Trump is returning to his happy place — raging against political foes, and telling his fans that he's the only one who can save the country.
As Trump faces a federal investigation into his role in the Jan. 6 insurrection, his campaign has stepped up an emphatic defense of the Trump supporters who attacked the Capitol.
Trump opened his Texas rally with video footage of the attack, and a recording of the "J6 Prison Choir" — jailed rioters from that day — singing the national anthem, with breaks in the song in which Trump recites the Pledge of Allegiance.
"If we don't win this next election, 2024, I truly believe our country is doomed," Trump told the Waco crowd.
Share this story ... Go deeper: DeSantis team welcomes contrast with Trump "chaos" candidacy.
2. 📱Americans hooked on Chinese apps
Most U.S. apps can't operate in China — but Chinese apps are booming in America, Axios Media Trends expert Sara Fischer writes.
Why it matters: Mobile apps are one of the most powerful ways of expanding trade and exporting soft power.
Chinese companies are able to "leverage China's one billion internet users to test user preferences and optimize their AI models at home, then export the tech overseas," The Wall Street Journal notes (subscription).
But given censorship in China, American tech firms can't reciprocate.
In the past 30 days, the top four most-downloaded apps in the U.S. (Apple's iOS store and the Google Play store) have been owned by Chinese companies:
🥊 Reality check: While an increasing number of Chinese apps are becoming popular to download, they still struggle to provide American users with the same sense of daily utility as those made by U.S. companies.
Case-in-point: TikTok is the only China-affiliated app in the top 20 most-visited apps in the U.S. last month, per Comscore. Eight of the top 10 are owned by Google or Meta. The vast majority of the top 20 are owned by those two firms, Amazon or Apple.
3. 🇮🇱 Israel boils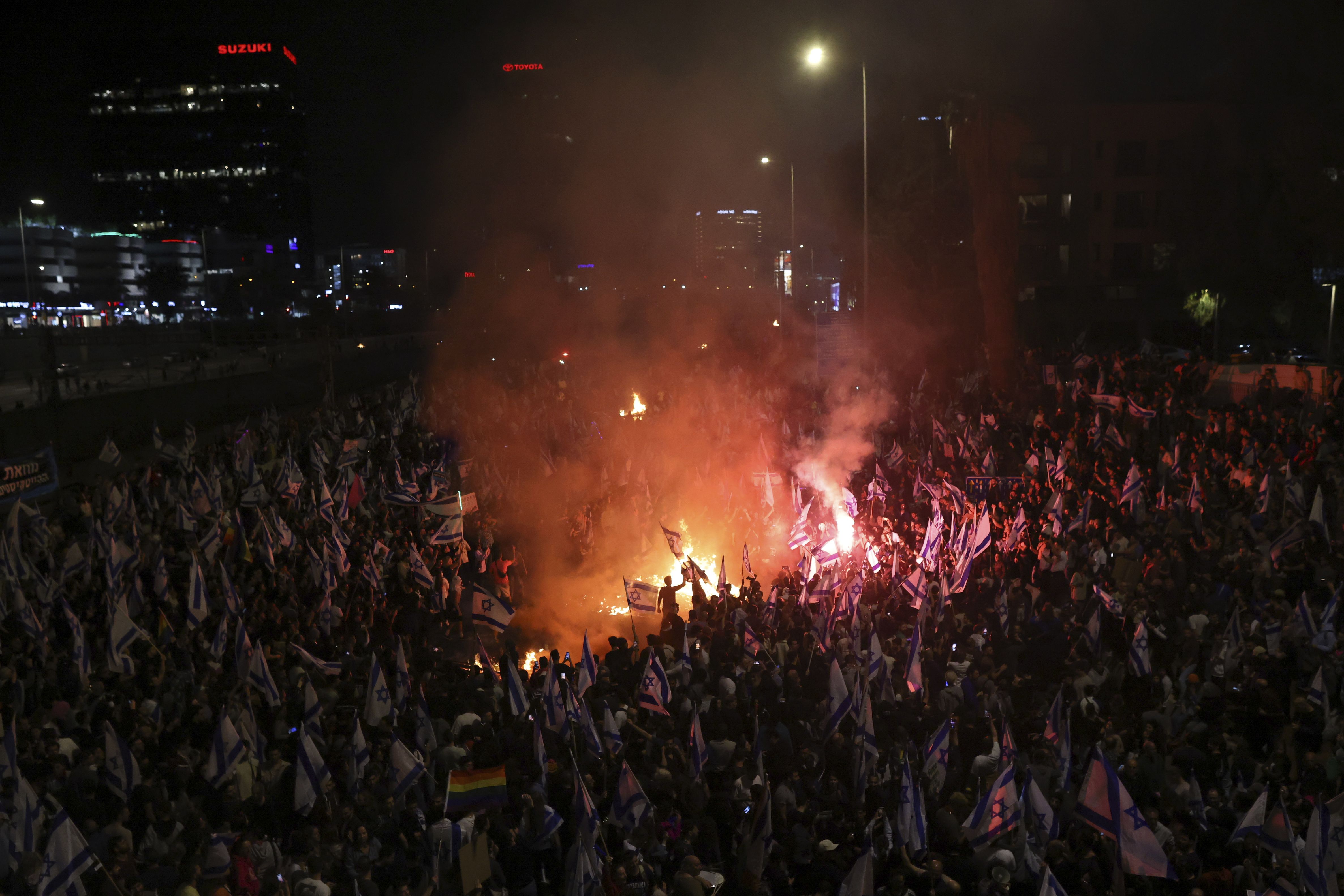 After a night of mass demonstrations, Israeli Prime Minister Benjamin Netanyahu is expected to announce this morning that he is suspending his plan to overhaul the country's judiciary, officials in his Likud party said.
Why it matters: The judicial overhaul plan has unleashed an unprecedented political crisis in Israel and destabilized its economy, Axios Tel Aviv author Barak Ravid writes.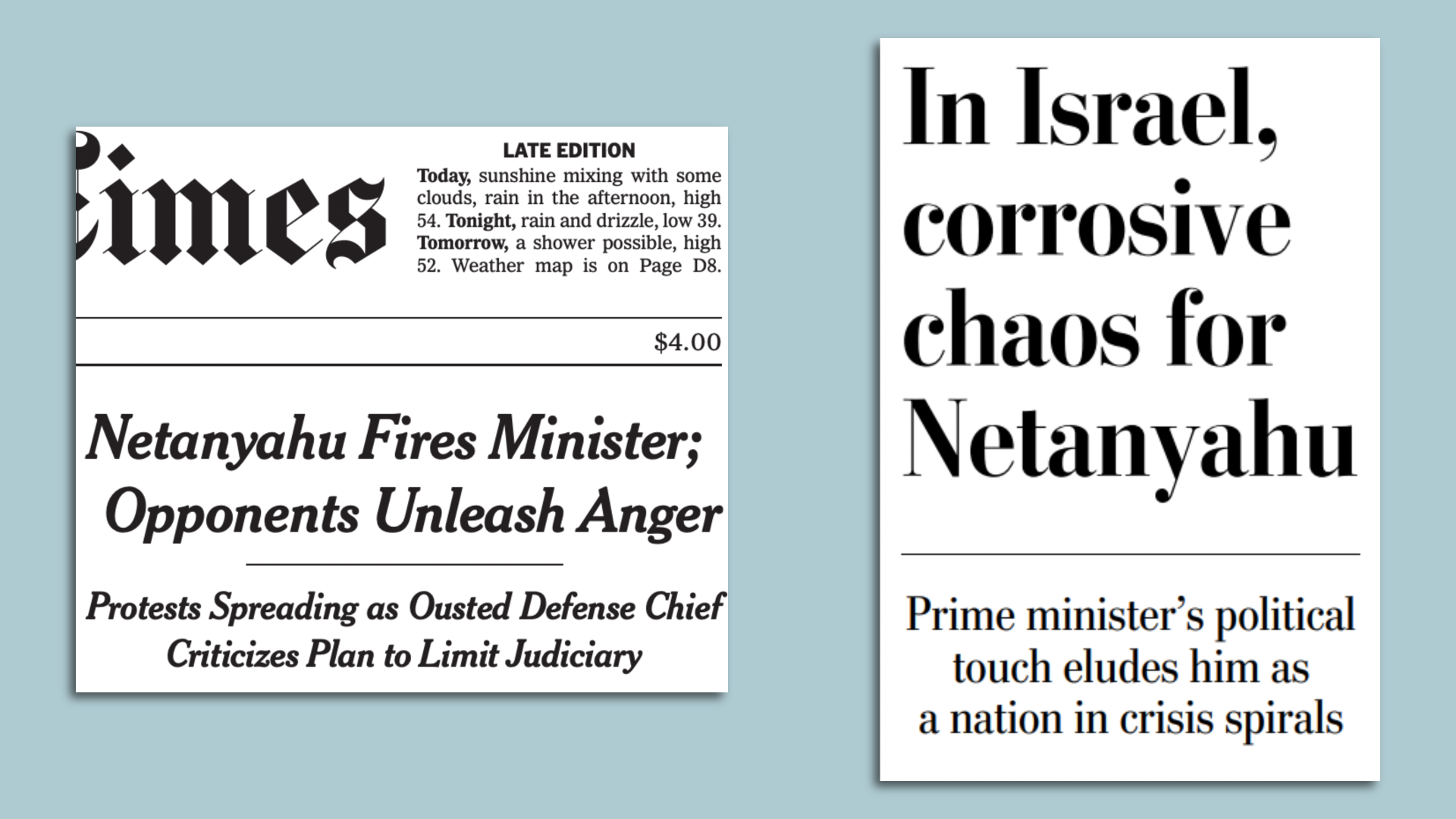 State of Play: More than 100,000 Israeli protesters blocked Tel Aviv's main highway last night.
Israel's largest trade union group announced a strike that hits large swaths of the economy.
Flights were grounded at the country's main international airport, schools shut down and hospitals started to accept only emergency cases.
Catch up quick: The plan, proposed by the most right-wing government in Israel's history, would give Netanyahu's coalition more control over the selection of Supreme Court judges and limit its power over parliament.
4. 🛰️ Satellite eye: Before/after in Mississippi

Maxar Technologies released high-resolution satellite images showing Rolling Fork, Miss., yesterday — along with companion images from December.
The gut-wrenching side-by-sides show the aftermath of the powerful tornado that hit Friday night, killing 25.


Editor's note: The last set of photos in this item was updated to place the "before" image on the left.
5. 🦾 AI upends software-writing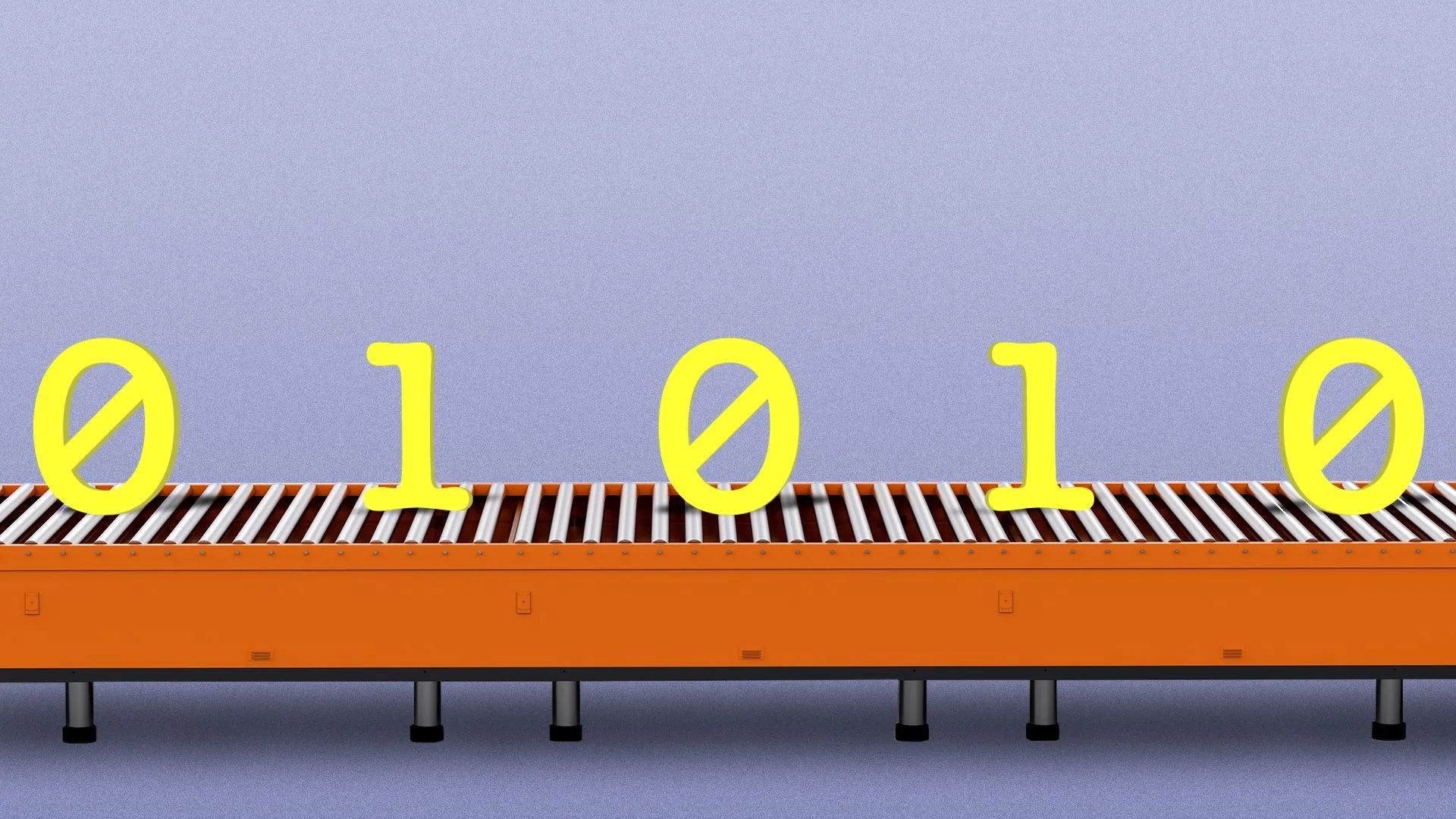 The first business ChatGPT is likely to upend is the industry that created it — software-making, Axios tech managing editor Scott Rosenberg writes.
Why it matters: Programming practitioners and experts are increasingly confident that generative AI will change their world — supercharging the work of the best coders and empowering everyday users to get more done.
"The current generation of AI models are a missile aimed, however unintentionally, directly at software production itself," venture investors Paul Kedrosky and Eric Norlin wrote last week in an essay, "Software's Gutenberg Moment."
"Such technologies are terrific to the point of dark magic at producing, debugging, and accelerating software production quickly and almost costlessly."
🧠 What's happening: OpenAI late last week released pilot versions of plugins for ChatGPT that allow it to roam the internet at users' bidding and connect with other services and data.
It's a big first step toward transforming the conversational chatbot into a more capable intelligent agent that can accomplish tasks for users.
The first batch of plugins extends ChatGPT into travel, shopping, dining, math and other realms by linking the bot to well-known services like Expedia, Instacart, Kayak, Klarna and OpenTable.
🥊 Reality check: Today's generative AI still pretends to know more than it actually does and makes things up to fill in gaps in its knowledge. It works best as a "copilot" for developers rather than an independent creator.
6. 🐦 Musk admits big loss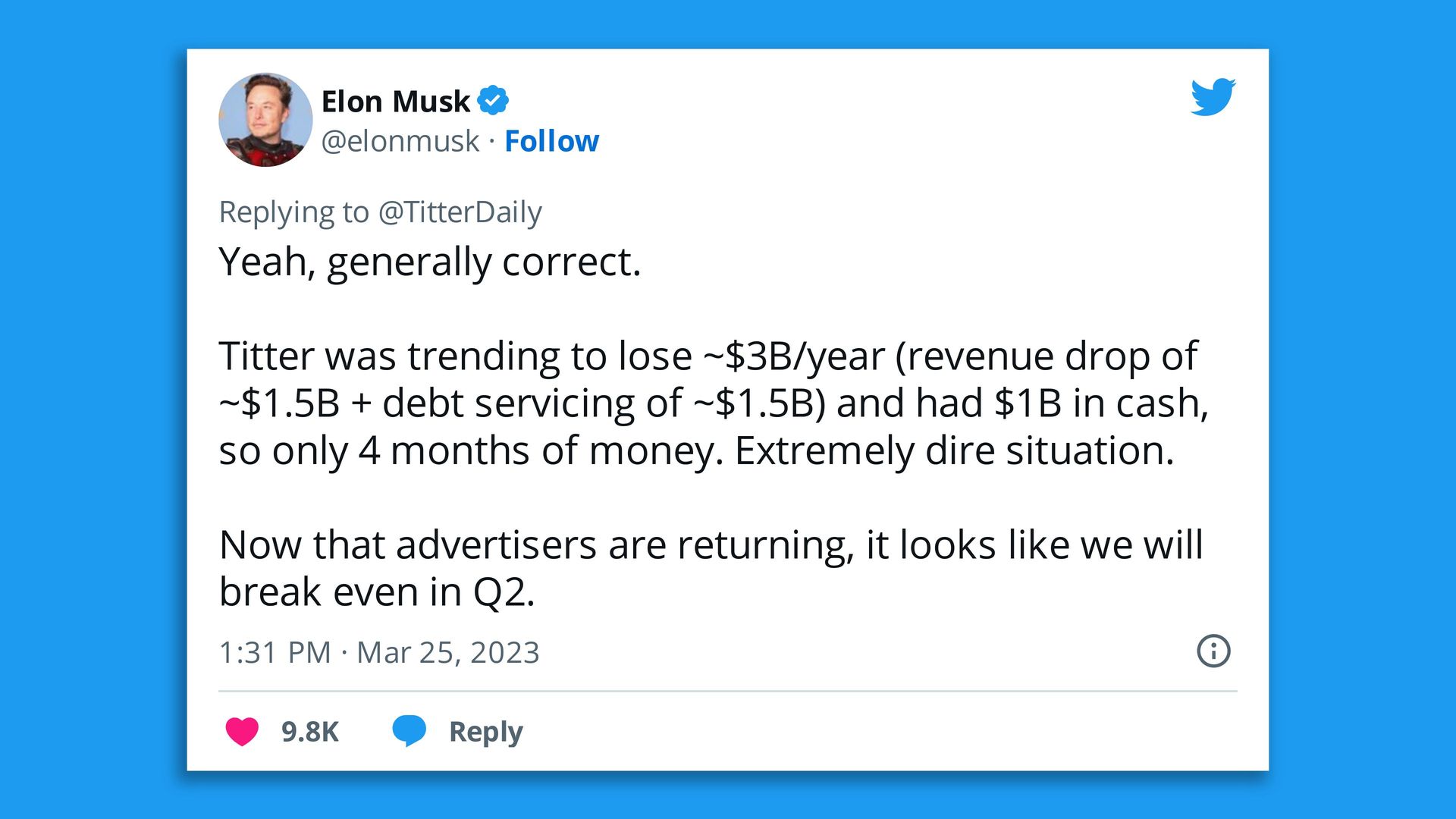 Elon Musk told employees that Twitter is now worth roughly $20 billion — less than half of the $44 billion he paid for it, The Information first reported (subscription).
Twitter employees will be offered stock grants based on that valuation.
The new valuation is close to Fidelity's, which has marked down the value of its Twitter stock by more than 60% since Musk bought it, Axios' Dan Primack reported in January.
7. 💰 New overnight: SVB sold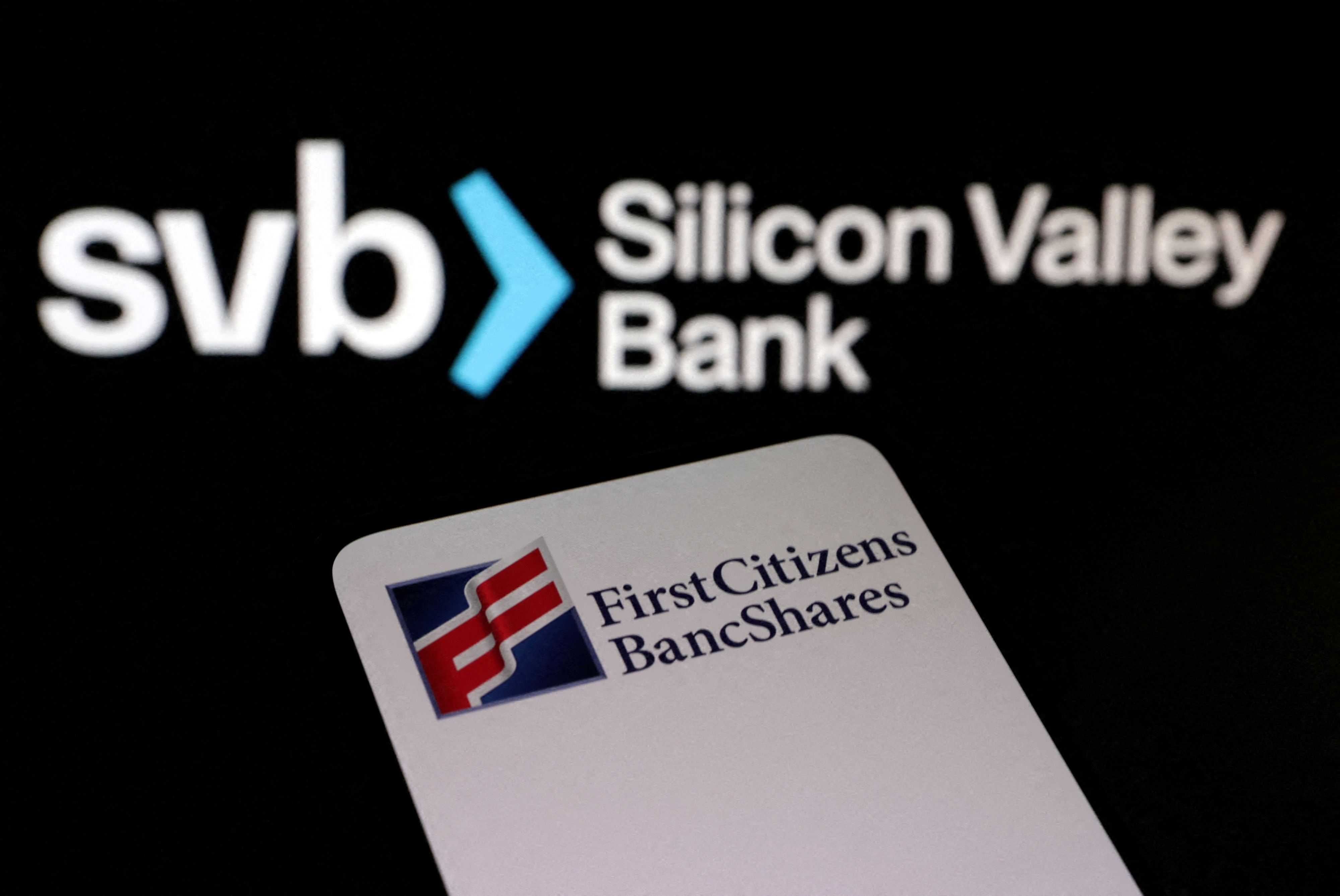 First Citizens BancShares has agreed to buy the commercial banking business of Silicon Valley Bank, which recently collapsed and was seized by the U.S. government, Axios' Dan Primack writes.
Why it matters: The transaction closes one chapter in the crisis of confidence that has ripped through global financial markets, Reuters notes.
What's happening: SVB's 17 branches will reopen under the First Citizens brand today.
All SVB depositors will become depositors of First Citizens.
The bottom line: First Citizens came into the year as America's 30th largest bank. Now it's poised to absorb what had been America's 16th largest bank.
8. 🏀 1 hoop thing: Nutty Final Four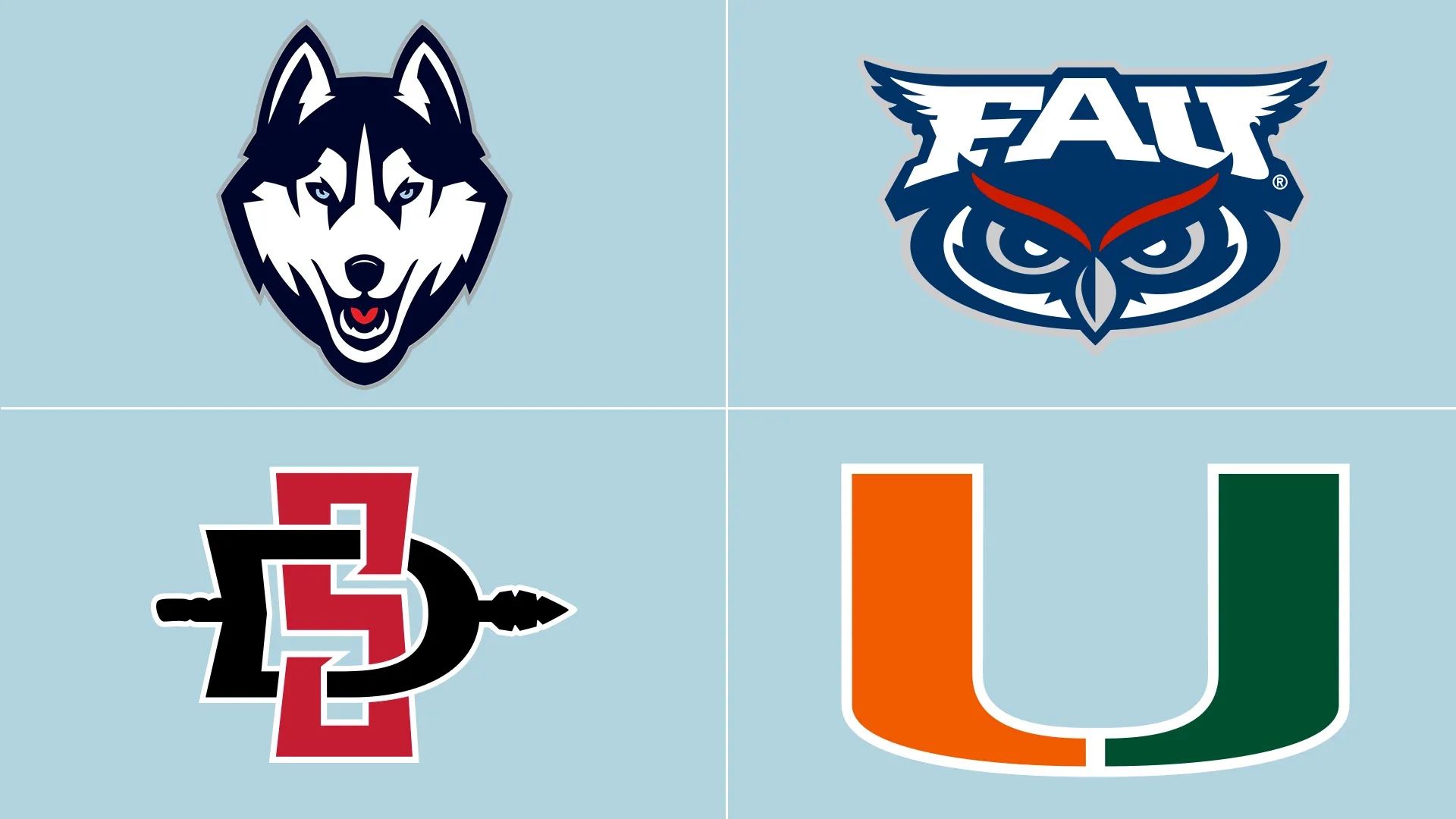 64 games later, four teams remain in men's March Madness: UConn, Florida Atlantic, San Diego State and Miami.
Axios Sports editor Kendall Baker quips: Just as we all predicted!
By the numbers: This will be the second-highest seed combination in Final Four history. UConn (4), Miami (5), San Diego State (5) and FAU (9) add up to 23 — eclipsed only by UConn (3), Kentucky (4), Butler (8) and VCU (11) in 2011.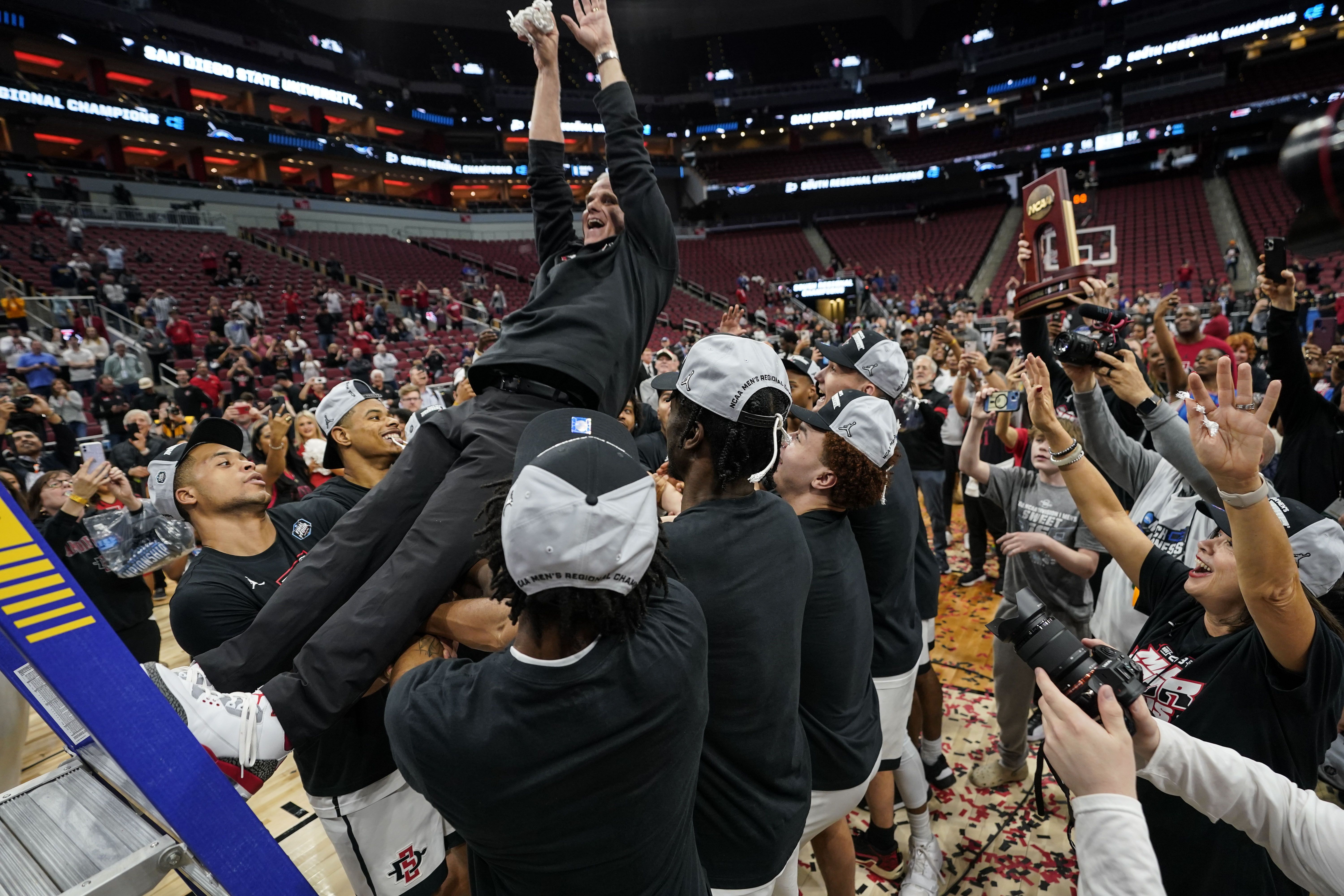 Lots of firsts:
First time since 1970 that there are three first-time participants. UConn is the only one that's been here before.
First time since seeding began in 1979 that none of the No. 1, 2 or 3 seeds made the Final Four.
First Final Four since 1979 without a McDonald's All-American. There isn't even a consensus top-30 recruit in the field.
The Final Four matchups are next Saturday in Houston. The championship game is a week from tonight.