October 11, 2020
🥞Good Sunday morning! Today's Smart Brevity™ count: 1,186 words ... 4½ minutes.
1 big thing: The liberal election is happening on Instagram
While Facebook continues to take heat as a tinderbox for conservative media, data shows that liberal, civically engaged voices are winning out on Facebook-owned Instagram, Neal Rothschild and Sara Fischer write.
Why it matters: The politics playing out on Instagram reflect a younger, more progressive generation. Many have left Facebook to their parents.
"Facebook leans more into hard news," Adam Mosseri, head of Instagram, said in an interview with Axios, while Instagram "lends itself more naturally to individual voices rather than news organizations."
A range of data from the Facebook-owned social media metrics platform CrowdTangle shows that liberal-leaning messaging flourishes on Instagram:
There was 36% more engagement on the top 50 accounts posting about "Black Lives Matter" on Instagram vs. Facebook in the past 30 days, and nearly three times as much about "climate change."
By contrast, interactions on the top accounts that used "Make America Great Again" were more than twice as high on Facebook compared to Instagram during the same period.
There is also more civic engagement on Instagram: Top posts for "register to vote" generated 14 times more interactions on Instagram than Facebook.
Instagram, which was invented 10 years ago with a focus on culture and creators, has a list of top accounts that is dominated by sports, entertainment, meme and celebrity accounts — not politics. A handful of top accounts have a strong liberal perspective, despite not being explicitly political.
The Shade Room, which frequently pushes anti-Trump messages, generated 276 million interactions over the last month — more than 4 times more than Fox News on Facebook.
The Instagram account Feminist has generated 46% more interactions than Fox News on Facebook.
Differences in the platforms contribute to the prevailing political attitudes:
On Facebook, link posts and hard news dominate. On Instagram, hashtags get more traction.
Political commentary on Instagram often happens through Photoshops, edited videos and original graphics rather than reactions to headlines.
2. What Trump saw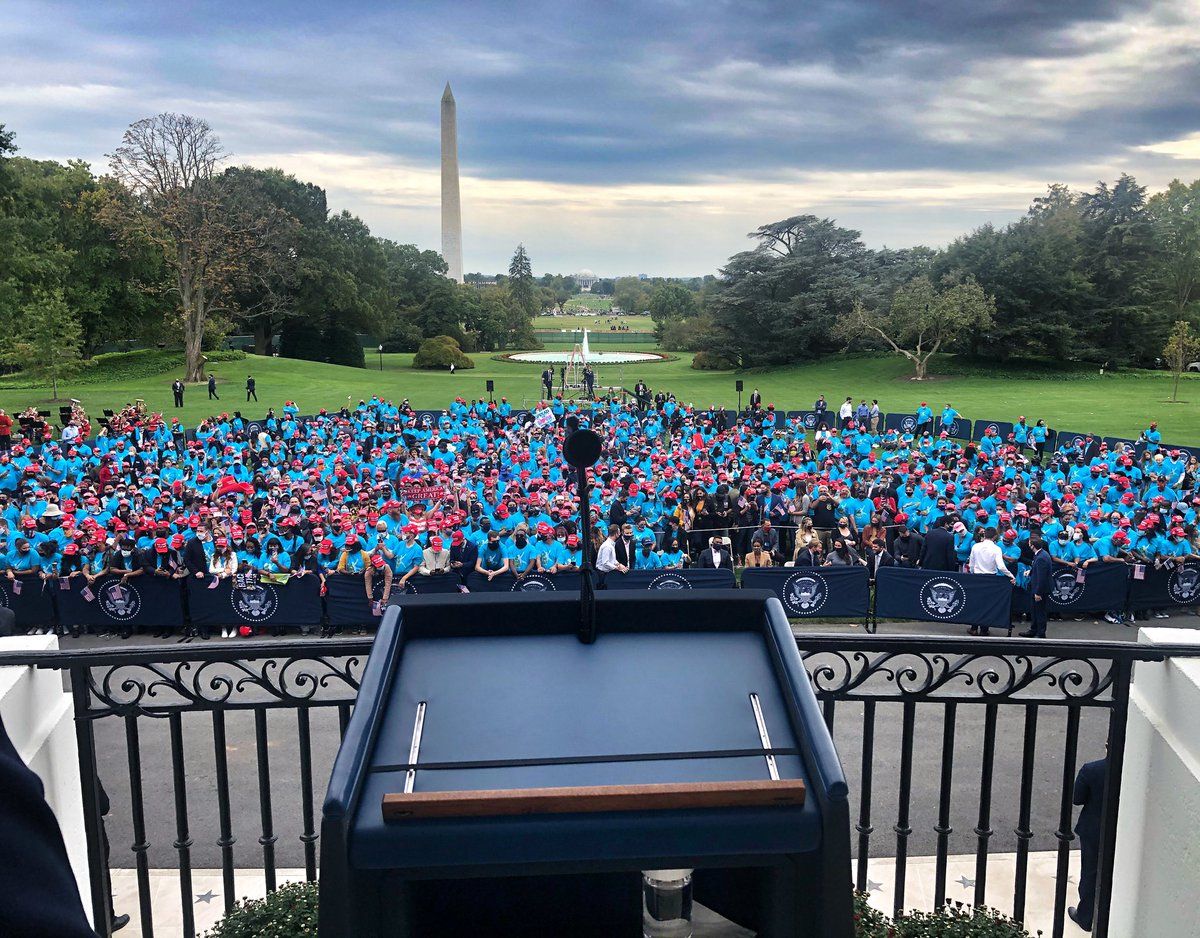 The New York Times' Doug Mills captured what yesterday's rally on the White House South Lawn looked like to President Trump, when he spoke from the Blue Room Balcony for 18 minutes.
The "Peaceful Protest for Law and Order" — the president's first public appearance since returning from Walter Reed on Monday — was organized by the BLEXIT Foundation, co-founded by Trump firebrand Candace Owens.
"I'm feeling great," Trump said. "I don't know about you. How's everyone feeling? Good?" Full remarks.
And what the crowd saw ...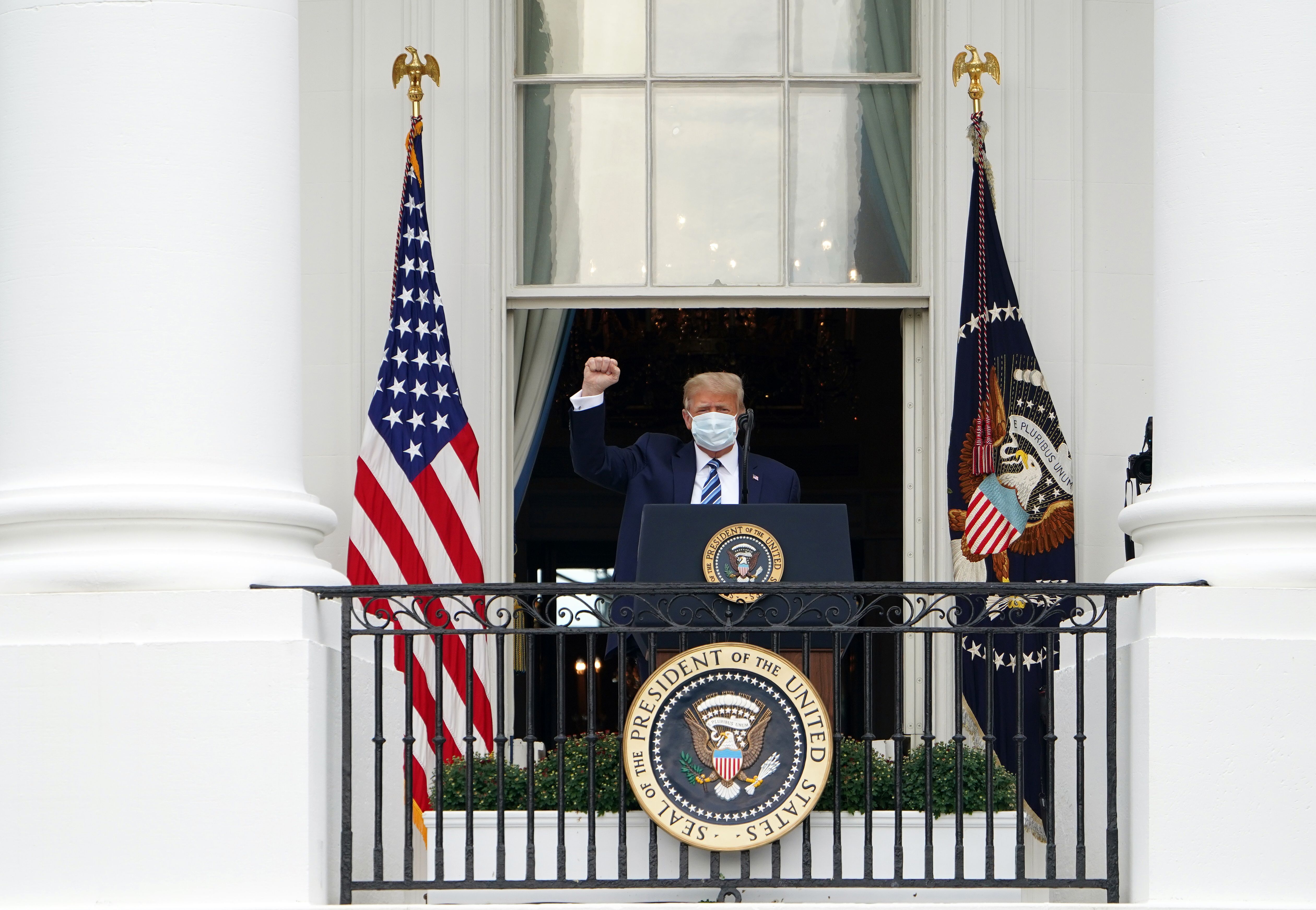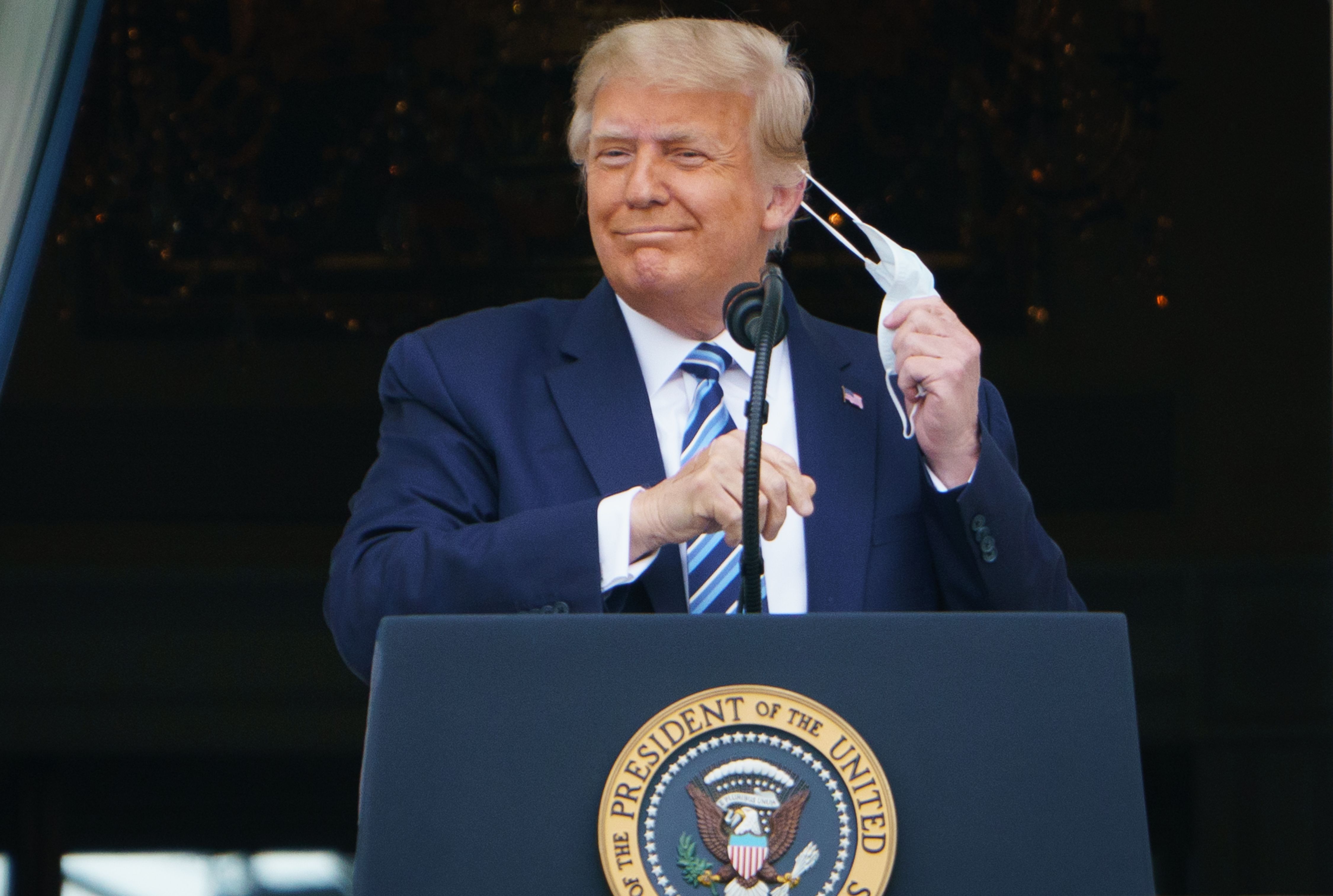 3. Wall Street feels bullish on Biden
Joe Biden's widening lead in polls is providing a bullish cue to investment strategists:
Wall Street now sees less chance of a contested election, and more chance of a "blue wave" — Democrats taking the House, Senate and White House — and the hearty stimulus that could follow.
A clear-cut Democratic win would "provide certainty to markets that have been nervous about election risks," Bloomberg reports, citing strategists from Citigroup to JPMorgan Chase.
Shares of alternative energy companies, which analysts expect to prosper from policies under a Biden administration, climbed sharply after the Trump-Biden debate, per Reuters.
The Business cover of Thursday's N.Y. Times had the headline, "Wall Street Takes a Turn For Biden," with the online version: "Wait, Wall Street Is Pro-Biden Now?"
"[I]nvestors are of the view that a 'blue wave' victory ... represents the best chance to get another large injection of federal money into an economy that continues to struggle."
💉 But keep your eye on the ball! Goldman Sachs Portfolio Strategy Research told clients Friday night in the US Weekly Kickstart: "a vaccine is more important than the election which is more important than 3Q results."
"Investors are focused on the implications of a 'blue wave' election ... However, the vaccine represents a more important factor than the election result for the path of equities. Our assessment of both vaccines and treatments remains optimistic."
4. Preventing the next pandemic
Early global and national lessons from COVID-19 are already being used to plot a path to preventing the next pandemic, Axios future correspondent Bryan Walsh writes.
The Council on Foreign Relations released the first broad, bipartisan investigation into how the world failed on COVID-19, and how it can shore up its defenses against the inevitable next global disease.
The failures began with China, which dissembled early about the extent of the new disease, and with the WHO, which didn't press Beijing for transparency and initially underplayed the threat.
But while those failures "explain how a local outbreak became a global pandemic," as CFR President Richard Haass writes, the U.S. government bears major responsibility for how much worse COVID-19 has been here than in many other comparable countries.
Among the findings:
A pandemic, unlike nearly every other natural disaster, is a truly national catastrophe, yet Washington left it to "states to largely figure it out for themselves," Haass writes.
Without a national system for testing and tracing, "we had to shut down everywhere," says Thomas Bollyky, director of CFR's global health program.
That created enormous economic pain that more nimble nations like Singapore and South Korea were able to avoid.
What's next: From the top, the White House needs to designate a senior official who can act as a focal point for global health.
A national surveillance program for testing and tracing needs to be put in place and kept in place for the next disease.
Read the report. ... Share this story.
🔮 Sign up for Bryan Walsh's twice weekly Axios Future newsletter.
5. "Schools Aren't Super-Spreaders"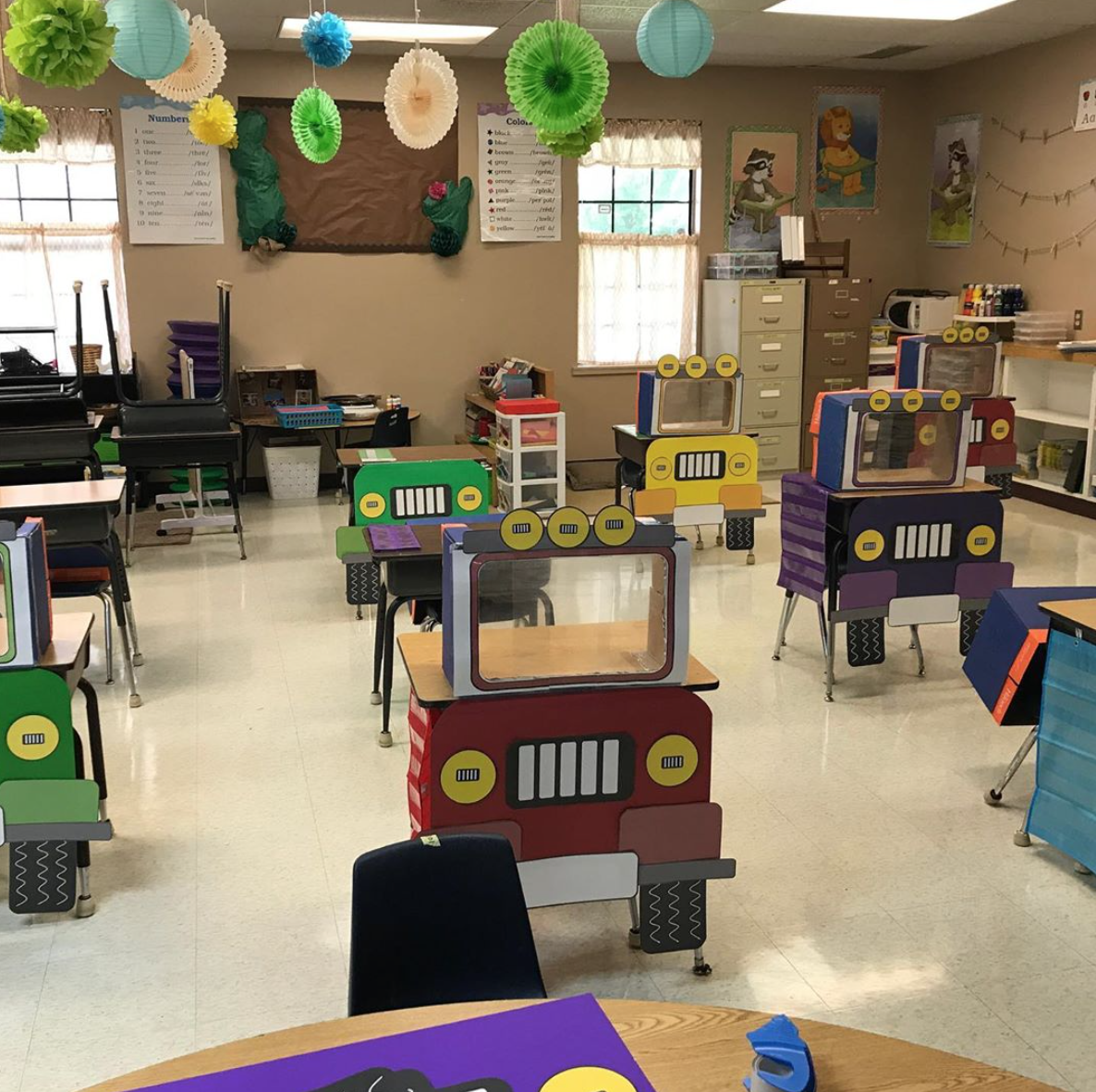 Emily Oster, a Brown economics professor, writes for The Atlantic that she has "been working with a group of data scientists at the technology company Qualtrics, as well as with school-principal and superintendent associations, to collect data on COVID-19 in schools."
Why it matters: "[T]he numbers are small — smaller than what many had forecasted. Predictions about school openings hurting the broader community seem to have been overblown."
6. Doctor's note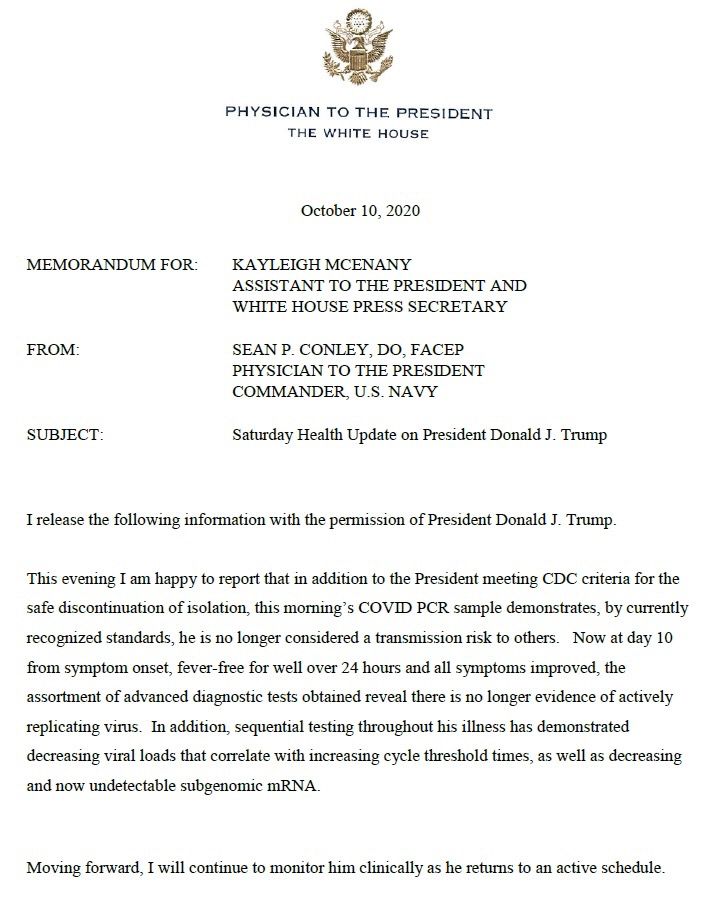 President Trump hits the road tomorrow for the first time since he tested positive 10 days ago, with "Make America Great Again" rallies in Sanford, Fla., tomorrow ... Johnstown, Pa., on Tuesday ... and Des Moines on Wednesday.
Rudy Giuliani will launch "Italian Americans for Trump" in Philadelphia tomorrow.
7. What we're reading: John McCain behind the scenes
We have a sneak peek for you at a book that's perfectly timed for a nation hungry for inspiration ... "The Luckiest Man: Life With John McCain," out Tuesday, is a fascinating reminiscence by Mark Salter, who was the late senator's closest aide for 18 years, and collaborated with him on seven books.
"For all his chronic impatience," Salter writes, Sen. McCain "would persevere for years, decades in pursuit of a goal [including comprehensive immigration legislation] he believed was right and just."
Among the news in Salter's book:
A 1993 scene in which Donald Trump, then a failing casino owner, unsuccessfully lobbies McCain outside the Senate: "Trump waited to buttonhole him. McCain walked briskly past the casino owner, pretending not to notice as Trump tried to get his attention. Frustrated, Trump shouted after him, 'I gave money to your campaign.' Looking over his shoulder, McCain yelled back, 'Oh yeah? See what that will get you.'"
McCain, on Trump disparaging him as "not a war hero": "All he did was get people to talk about what a hero I am all weekend."
McCain calling Sen. Rand Paul (R-Ky.) an asshole for killing consideration of McCain's last defense bill by objecting to the debate, which McCain wanted to manage before starting cancer treatment.
Read/watch Mark Salter's interview with Judy Woodruff on "PBS NewsHour."
8. 1 smile to go: "Saturday Night" debate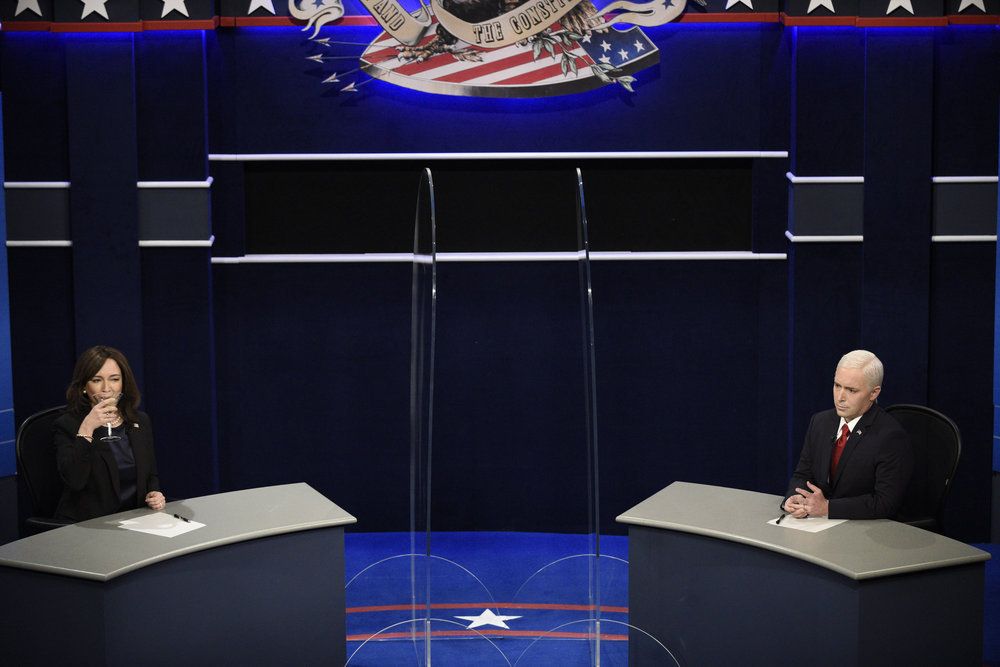 Maya Rudolph as Kamala Harris, who introduced herself as the senator from "Kamala-fornia," and Beck Bennett as Mike Pence during the "VP Fly Debate" cold open of "Saturday Night Live."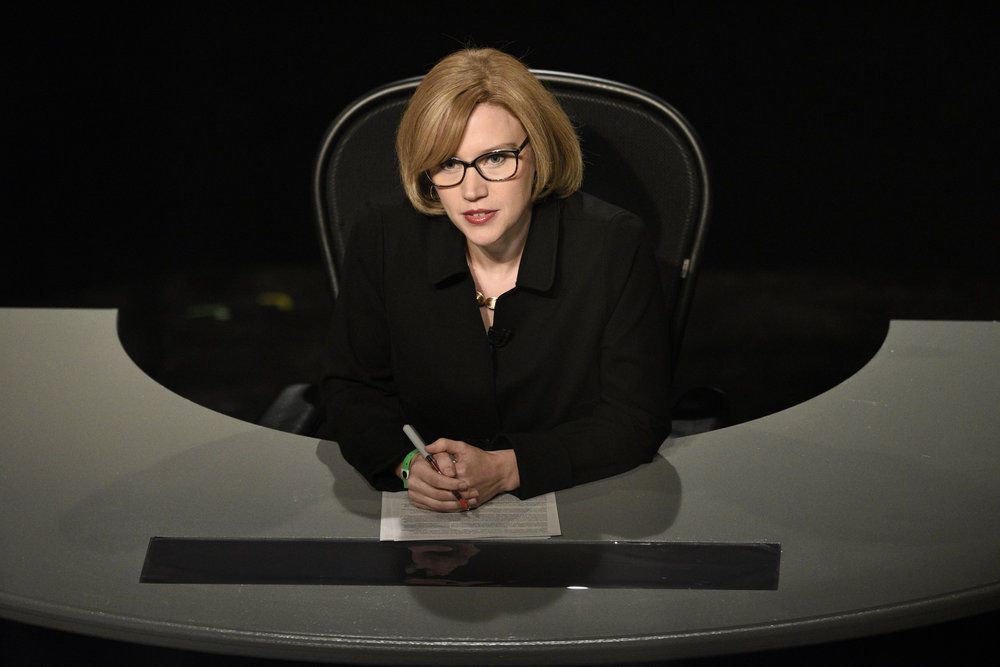 Kate McKinnon as the moderator, USA Today's Susan Page: "I missed book club for this."
📱 Thanks for starting Sunday with us. Invite your friends to sign up for Axios AM/PM.