May 25, 2022
Hello, Wednesday, after a long night in America. Smart Brevity™ count: 1,465 words ... 5½ mins. Edited by Noah Bressner.
1 big thing: "Where is our backbone?"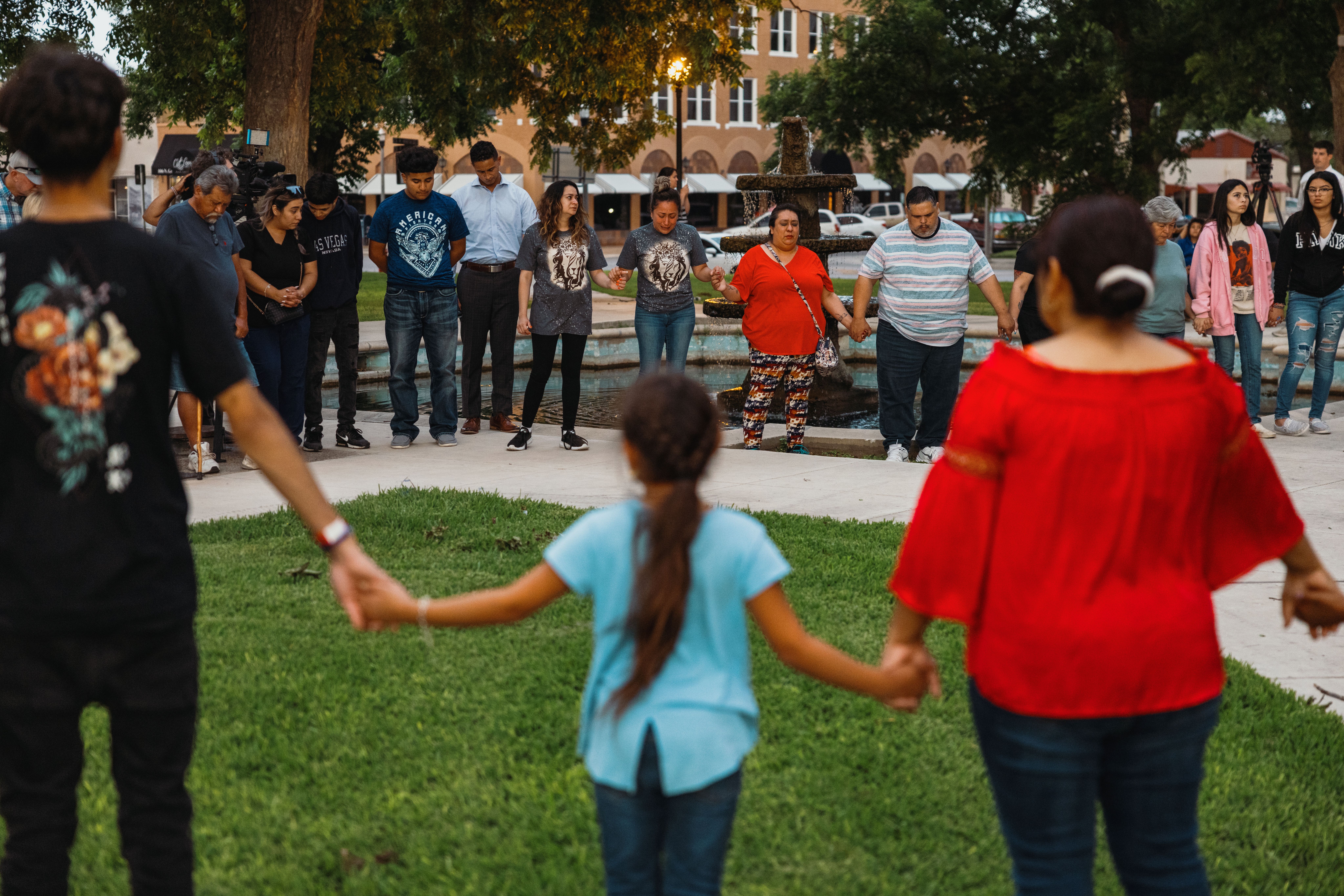 "Another massacre," President Biden began in the Roosevelt Room last night, after touching down from his Asia swing. "Uvalde, Texas. An elementary school. Beautiful, innocent second, third, fourth graders."
💭 Two quotes from yesterday that will endure:
President Biden: "Where in God's name is our backbone?"
Sen. Chris Murphy (D-Conn.), repeating eight times on the Senate floor: "What are we doing?"
On Capitol Hill last night, members told Axios reporters that constituents were flooding the Hill with the flip of Murphy's question:
What are you doing? What action will you take?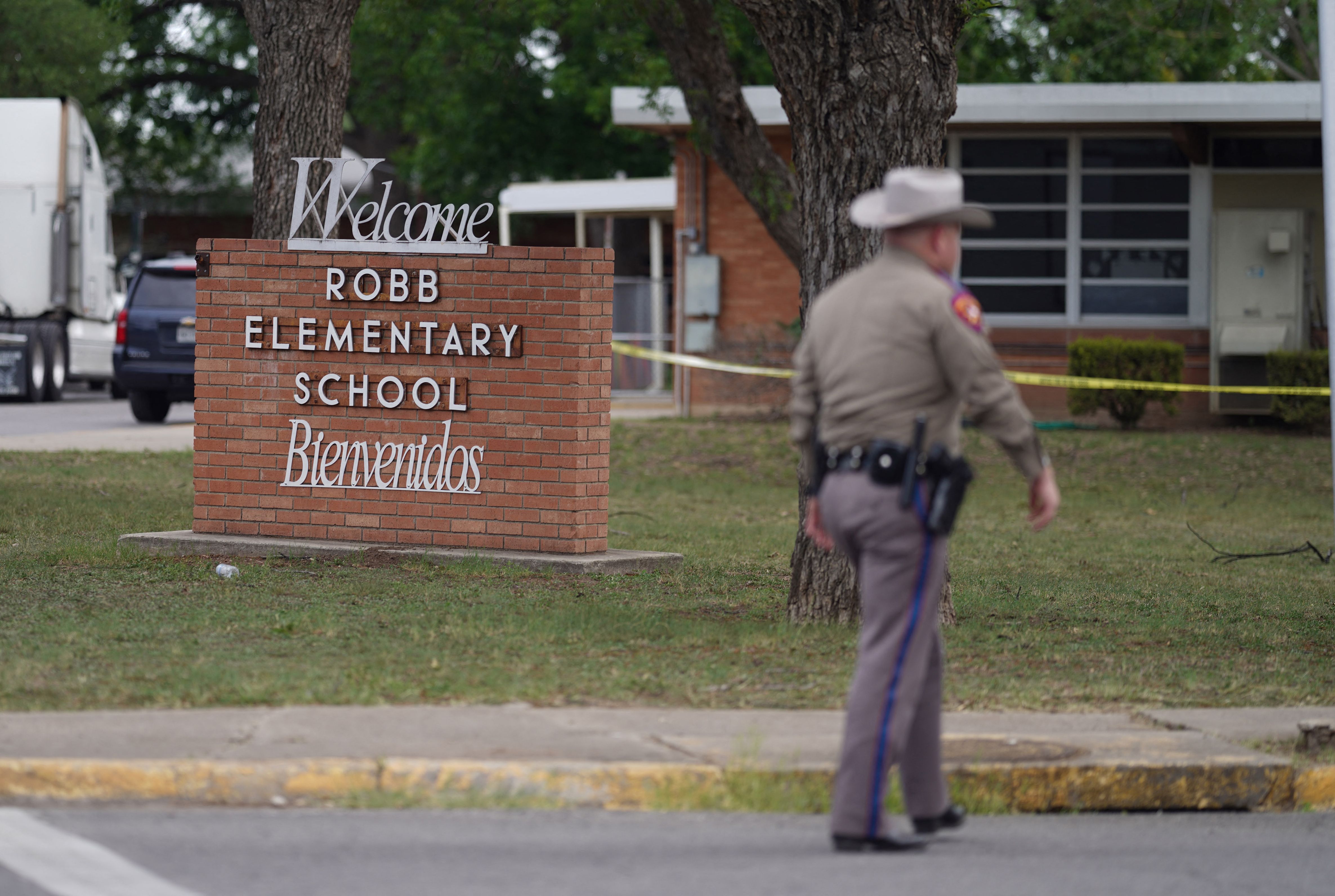 What we know (with AP reporting):
An 18-year-old gunman, identified by police as Salvador Ramos, opened fire yesterday at a Texas elementary school about 85 miles west of San Antonio, killing at least 19 children and two adults.
Authorities said Ramos, who was local to Uvalde, Texas, was killed after the shooting and believe he acted alone.
Ramos had bought two "assault weapons" on his 18th birthday — and hinted on social media that an attack could be coming, according to Texas state Sen. Roland Gutierrez. The senator, briefed by police, said the gunman "suggested the kids should watch out."
Before heading to the school, Ramos shot his grandmother, Gutierrez said. Officials said his grandmother survived and is being treated.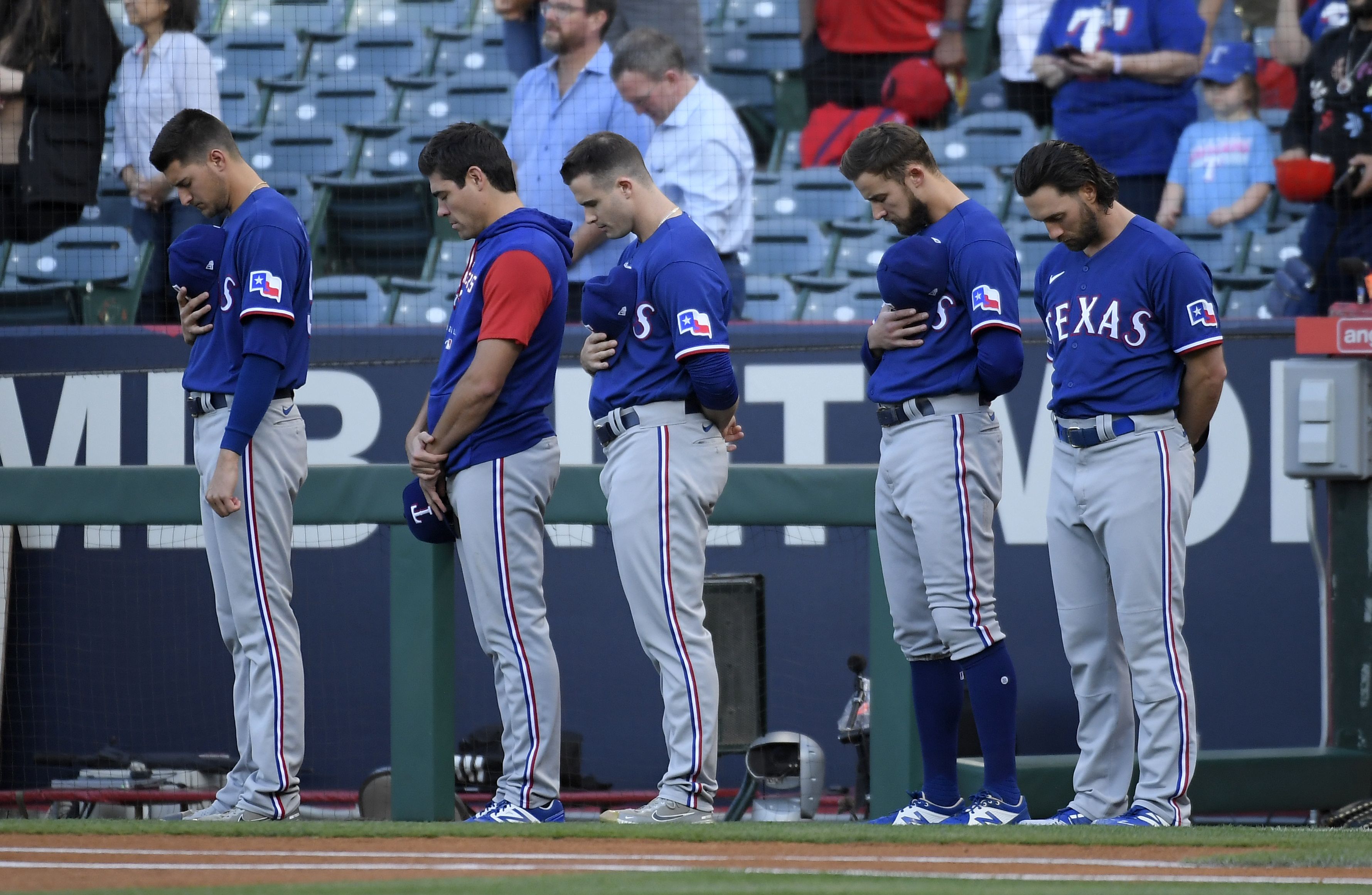 What we don't know:
Officials didn't give a motive.
Many families were still waiting for word on their children. Some parents gathered at the town civic center, where the silence was broken repeatedly by screams and wailing: "No! Please, no!"
Investigators were also attempting to contact the shooter's relatives and were tracing the firearms.
2. Scoop: Tens of thousands of migrants wait on U.S. doorstep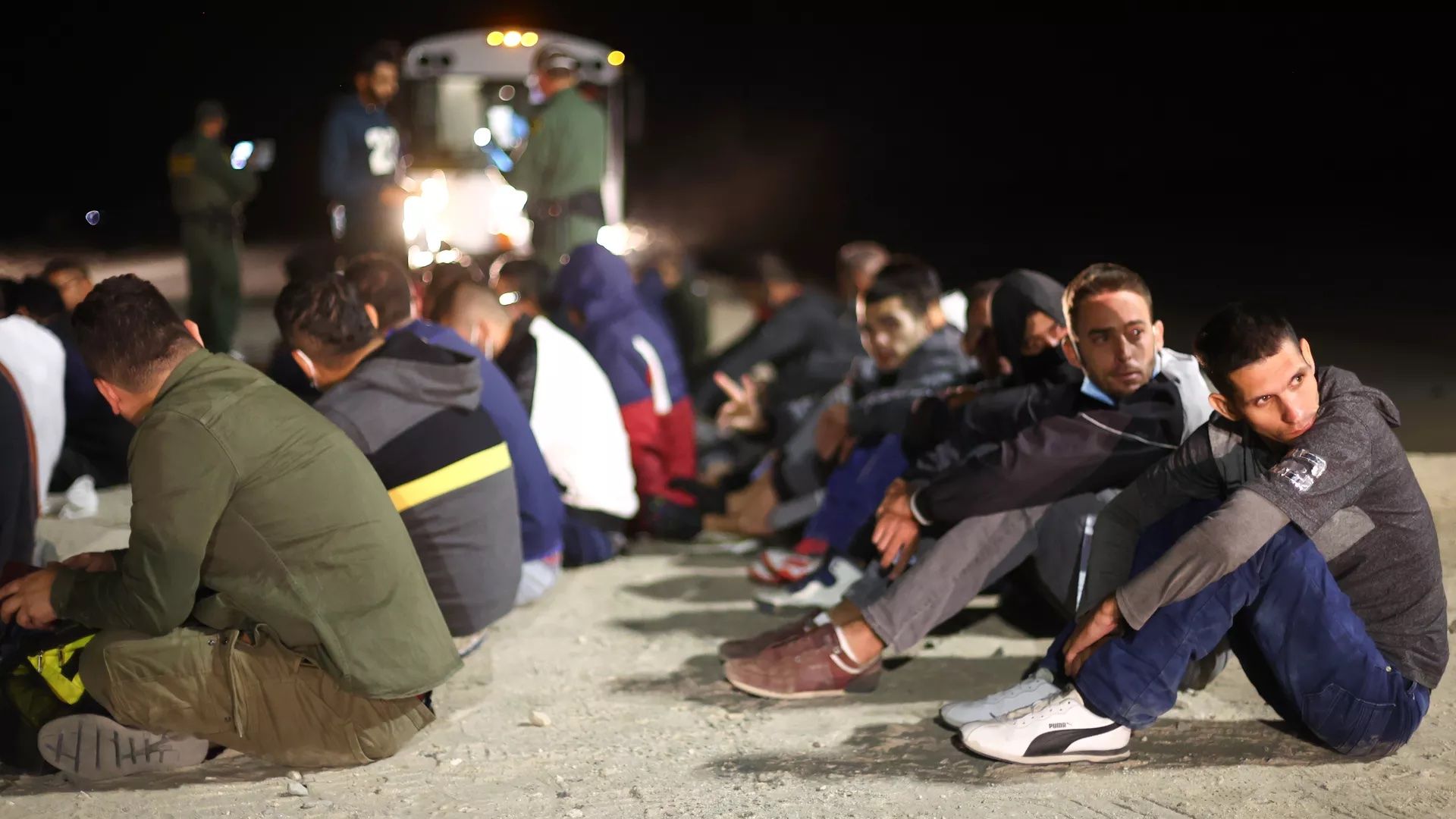 As many as 50,000 migrants are waiting in Mexican shelters for a chance to cross the border, hoping to run out the clock on Title 42, the COVID-era rule limiting entry to the U.S., according to internal documents viewed by Axios' Stef Kight.
Why it matters: That's double the estimate from March, when Axios first reported federal preparations for a "mass migration event."
The administration's internal data now counts about 8,000 people attempting to cross the Southwest border each day — an enormous number.
It reflects growing numbers of migrants from Cuba, Colombia, Haiti and Peru as well as traditional centers of Guatemala, Honduras, El Salvador and Mexico.
Documents show Customs and Border Protection (CBP) and Immigration and Customs Enforcement (ICE) releasing roughly 1,200 migrant adults and 1,300 family members into the U.S. every day.
The big picture: A judge intervened last week to block the Biden administration's plans to end Title 42, which allows the rapid expulsion of asylum seekers.
But tens of thousands of migrants already are poised along the border, with many expected to attempt to cross despite the May 20 ruling.
What's happening: The documents were discussed in a high-level, interagency meeting on Friday, before the Title 42 ruling was issued.
They show Department of Homeland Security intelligence tracking between 40,000 and 50,000 migrants now waiting in Mexican shelters to cross. That includes more than 10,000 Haitians.
In a video posted Tuesday, DHS Secretary Alejandro Mayorkas said: "The U.S. Border Patrol already is managing numbers at historic levels due to large movements of people fleeing violence, corruption, poverty, climate change and other hardships."
He added: "Numbers could rise further from confusion over recent court orders and as smugglers continue to peddle misinformation to make a profit."
What we're hearing: Border Patrol recently has had to release dozens of migrants directly into El Paso communities as non-governmental organizations who typically take in migrants have been at capacity, according to one of the documents viewed by Axios.
Recent reports show shelters on both sides of the border reaching capacity, in locations including Ciudad Juarez, Mexico and El Paso.
3. 🗳️ Establishment trumps MAGA
The power of Donald Trump's endorsement took a beating in Georgia's primaries:
He failed to dislodge any of the Republican elected officials he targeted, including some he's publicly treated as sworn enemies, Axios' Emma Hurt and Andrew Solender report.
Top target Gov. Brian Kemp handily blocked a challenge from Trump-backed David Perdue.
Georgia Secretary of State Brad Raffensperger defeated his Trump-backed opponent Rep. Jody Hice (R-Ga.).
Why it matters: Georgia was Ground Zero for Trump's efforts to overturn the 2020 election. His failure to elevate election deniers casts doubt on the 2020 election's continued salience for GOP voters.
Reality check: Trump retains broad kingmaking power — especially in primaries without an incumbent.
Trump's most high-profile failure of the night was his effort to take out Kemp for refusing to join efforts to overturn President Biden's win in Georgia.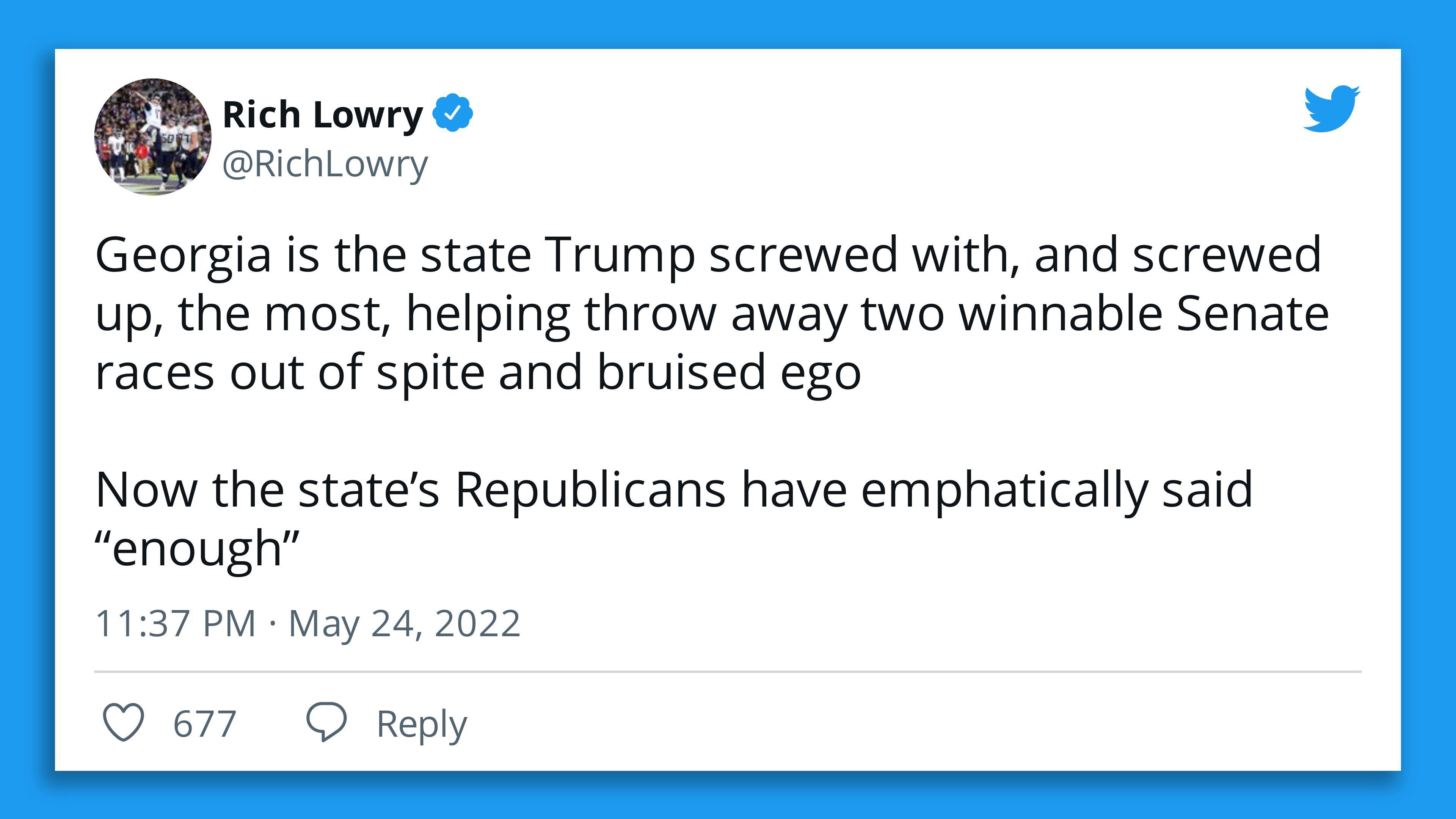 👀 What we're watching: In Texas' marquee Democratic matchup — in the 28th Congressional District, between progressive Jessica Cisneros and centrist Rep. Henry Cuellar, one of Congress' last anti-abortion Democrats — was too early to call.
4. 🌹 One American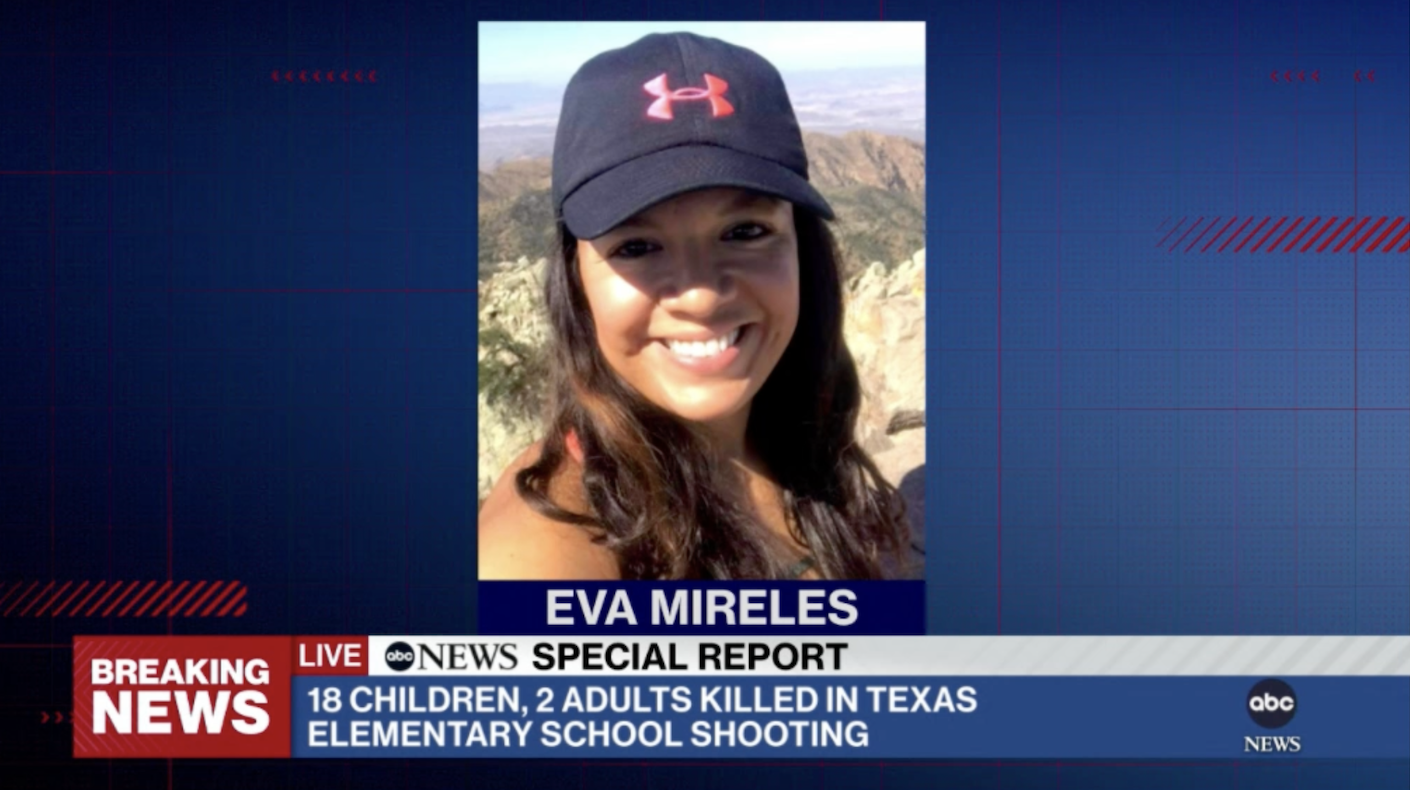 Fourth-grade teacher Eva Mireles, 44, was among those killed in the massacre, her aunt told the N.Y. Times.
Mireles was remembered as "the fun of the party."
Her aunt, Lydia Martinez Delgado, added that Mireles was an avid hiker who took pride in teaching primarily Latino students.
5. 🇨🇳 Trove shows rare images from inside Xinjiang camps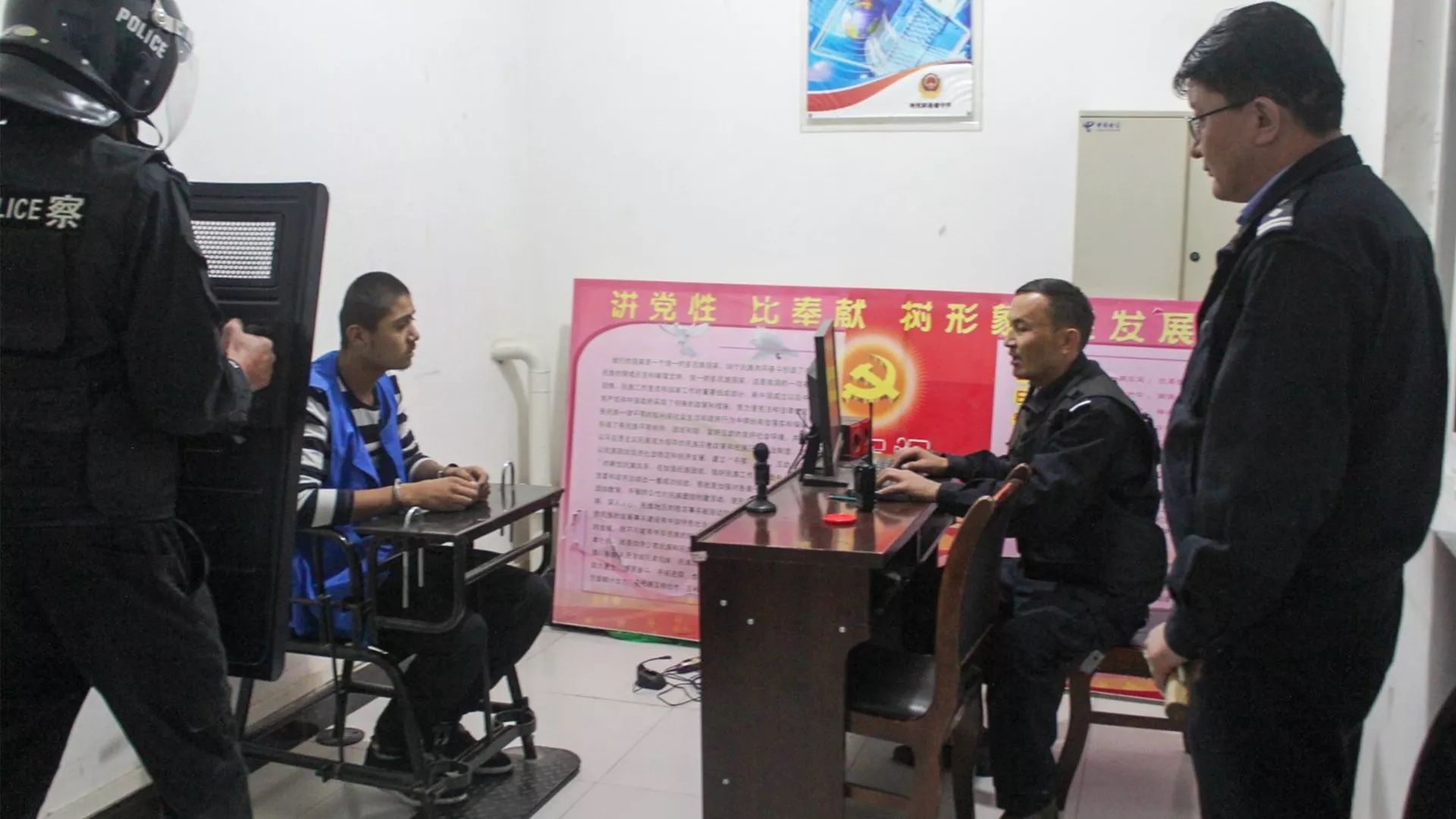 A massive new set of data, documents, and photos reveals the inner workings of prisons and mass internment camps in Xinjiang, where the Chinese government detains Uyghurs and other ethnic groups, Axios' Bethany Allen-Ebrahimian writes from a media consortium's report.
Why it matters: The trove of data, called the Xinjiang Police Files, provides overwhelming evidence that tens of thousands of Uyghurs have been detained in maximum security facilities — contradicting Chinese government claims that the centers provide voluntary vocational training.
The files contain speeches by security officials directly implicating Chinese President Xi Jinping in the creation of mass internment policies.
There are thousands of photos of detainees, tens of thousands of detainee records, and images of security drills inside camps. The files offer the most extensive look to date at what conditions in the camps are really like.
The detainee records show that many were put in camps and prisons simply for normal acts of cultural and religious expression, such as listening to a lecture, reading religious material, praying five times a day, or even not using their cell phone enough, which authorities viewed as an attempt to circumvent surveillance.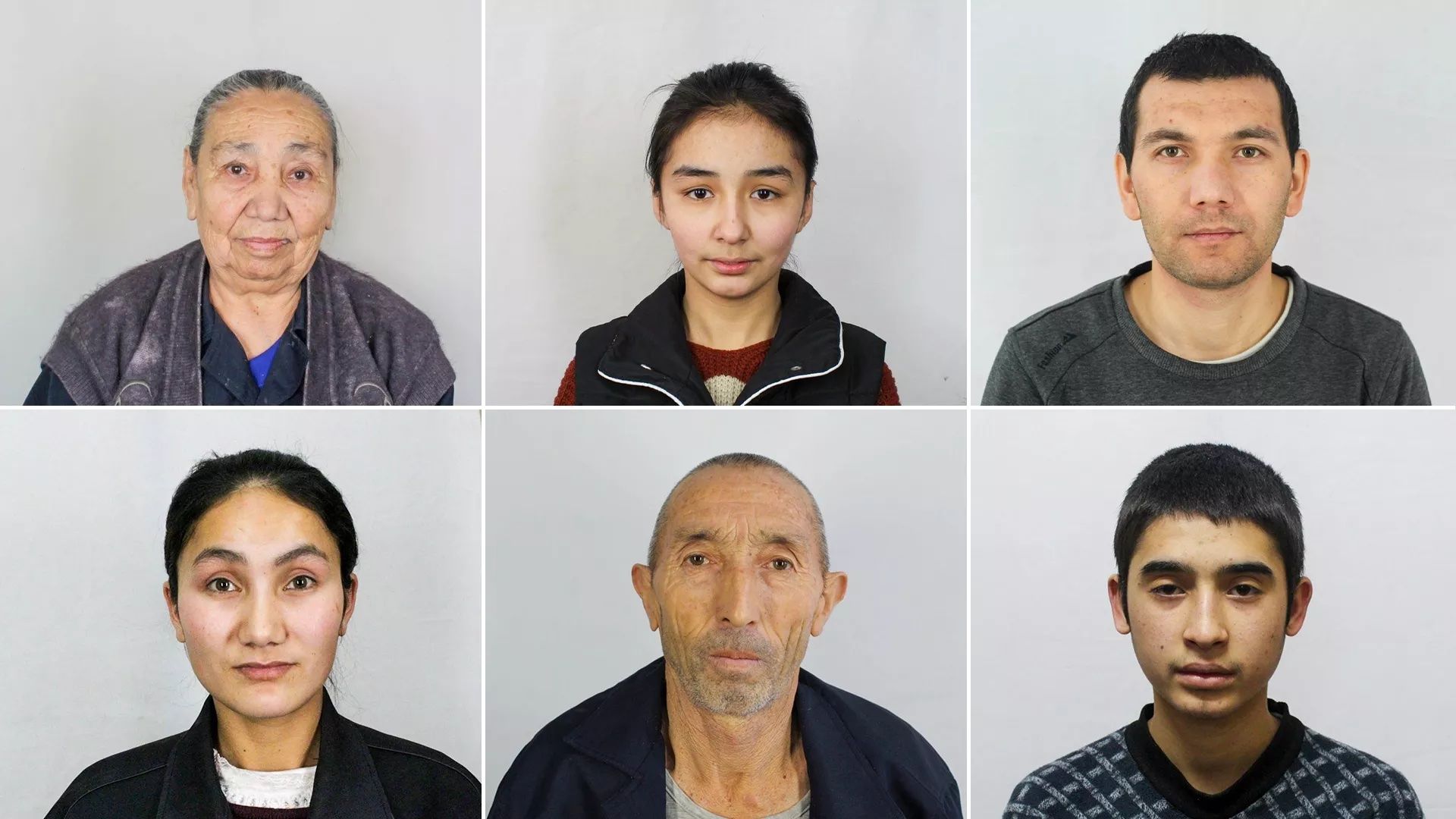 The material was obtained by an anonymous source who said they had hacked into police networks in Xinjiang, the BBC reports.
The source provided the files to Adrian Zenz, a researcher at the Victims of Communism Memorial Foundation, who helped organize a consortium of 14 media outlets to work together on the materials and publish simultaneously.
Journalists identified 2,884 photographs of detainees. The youngest was 15 years old, a girl named Rahile Omer; the oldest was 73.
6. Two years ago today: Remembering George Floyd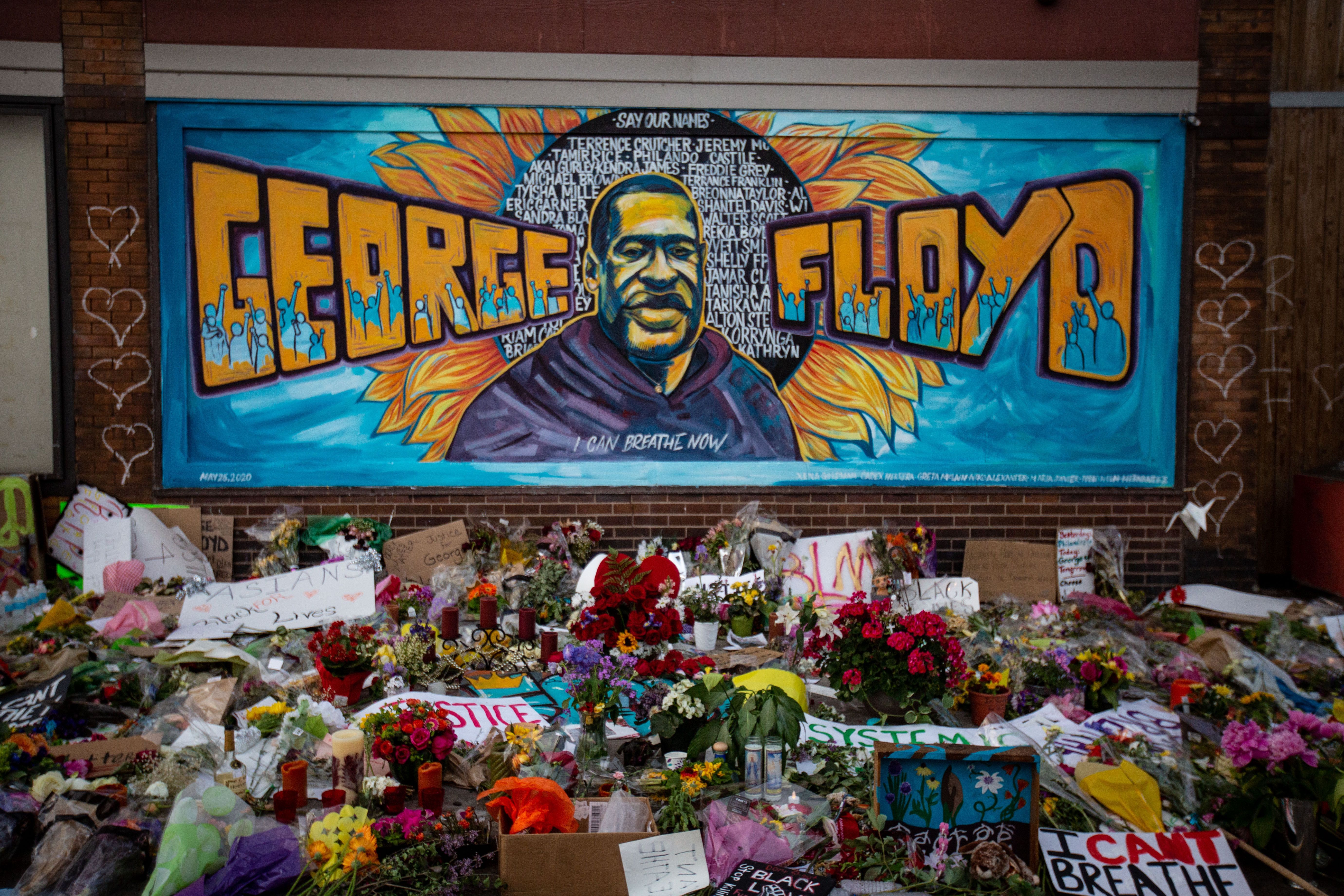 President Biden is expected to sign a police reform executive order today that will create a national database of police misconduct, ban the use of chokeholds unless deadly force is authorized and require anti-bias training, Axios' Shawna Chen reports.
Why it matters: Today marks two years since a white police officer kneeled on George Floyd's neck for nine minutes as he said "I can't breathe" over 20 times.
Black civil rights advocates have decried stalled progress on police reform in Congress, and slammed the continued lack of accountability for police killings that followed Floyd's death.
7. 🛒 Why we trust grocery stores
This chart shows the Top 10 in our annual Axios Harris Poll 100 of brand reputations, out this week.
Axios' Sara Fischer dug into why three of the champs are grocery chains — Trader Joe's, Wegmans and H-E-B.
Why it matters: At a time when politics divides opinion nationally on many big brands, grocery brands have been able to maintain loyalty and trust across demographics by maintaining a steady presence in their communities.
They transcend generational and political divides.
Survey respondents noted that these brands have especially high commitment to "citizenship," meaning they share community values.
Other grocers — including Kroger, Publix and Costco — ranked in the Top 20.
Between the lines: Trader Joe's ranks in the top 10 companies among Democrats and Republicans alike. H-E-B, despite its roots in Texas and the Southeast U.S., ranks second to Trader Joe's across the board.
8. 📷 1,000 words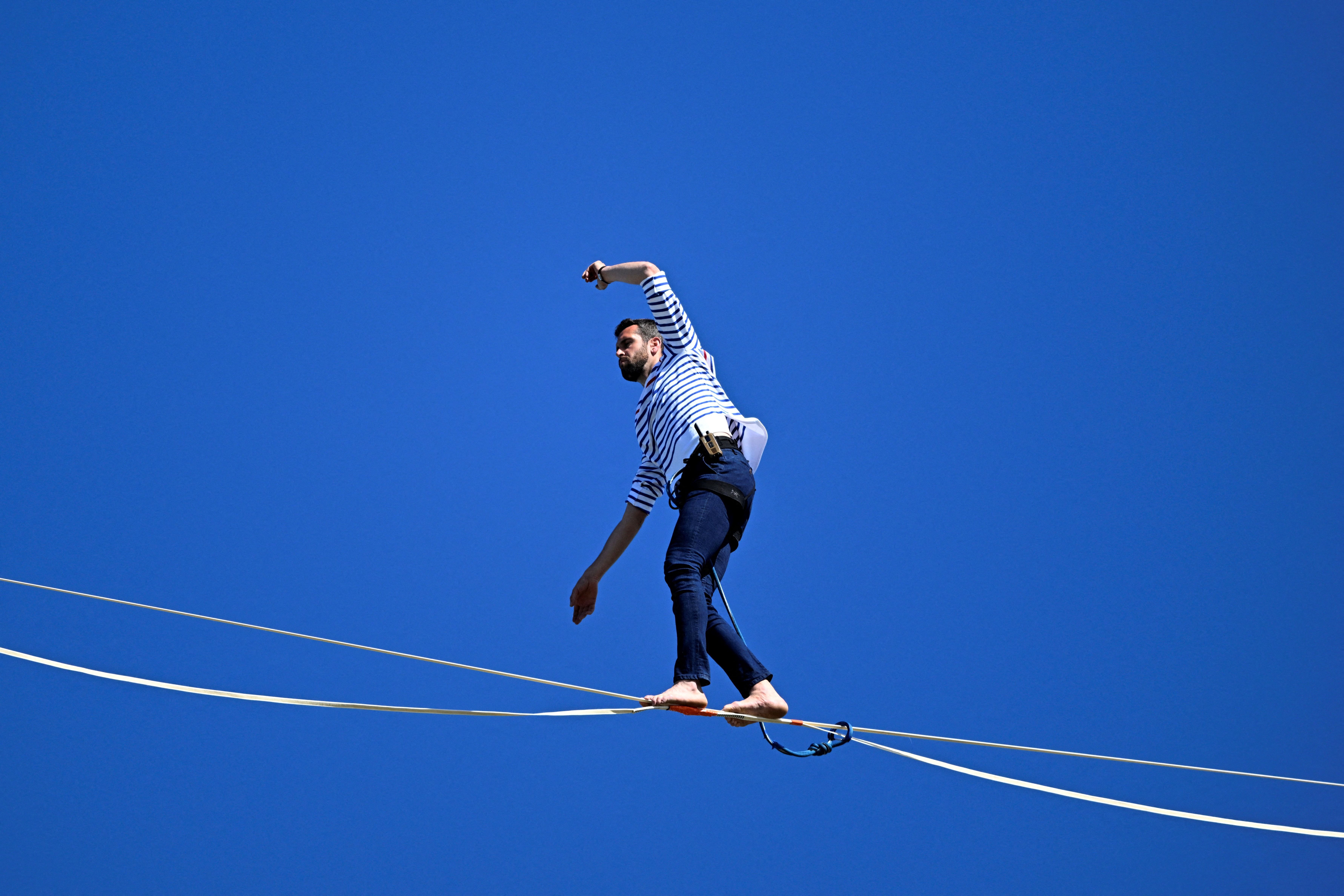 In France, daredevil tightrope walker Nathan Paulin, 28, yesterday claimed a world record by walking 1.4-mile to Mont Saint-Michel — along a wire suspended between a crane and the famous island abbey.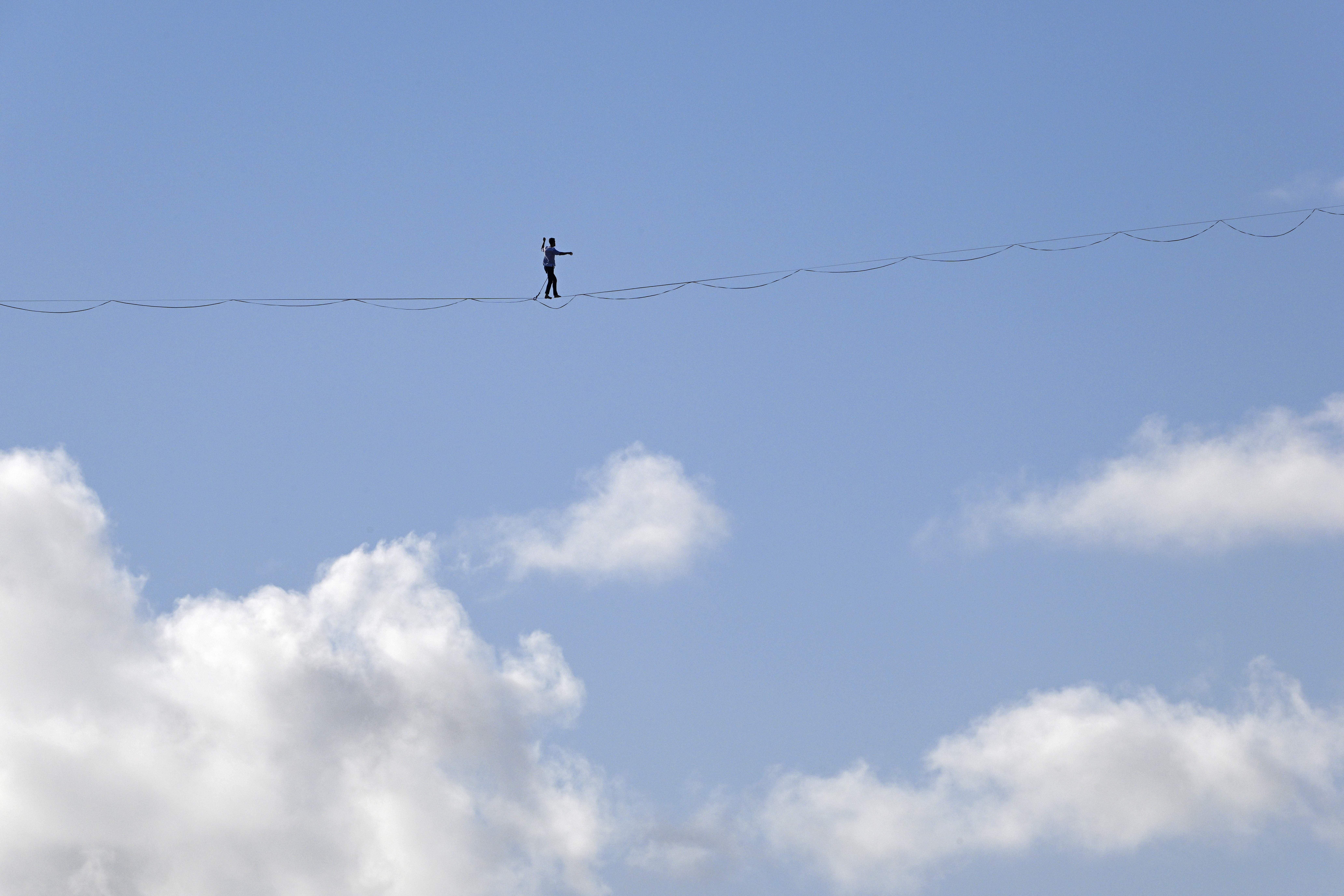 It took two hours. The line is about 2 centimeters wide. He started at an elevation of around 100 yards, secured to a safety line.—AFP
📬 Invite your friends to sign up here to get their daily essentials — Axios AM, PM and Finish Line.