Axios AM
June 10, 2020
Good Wednesday morning.
💻 You're invited: Tomorrow at 12:30 p.m. ET, Axios will host a live virtual event on CEOs taking action in time of crisis.
Sara Fischer will interview Accenture CEO Julie Sweet and CVS Health president and CEO Larry Merlo.
Register here.
1 big thing: Stark new reality for American CEOs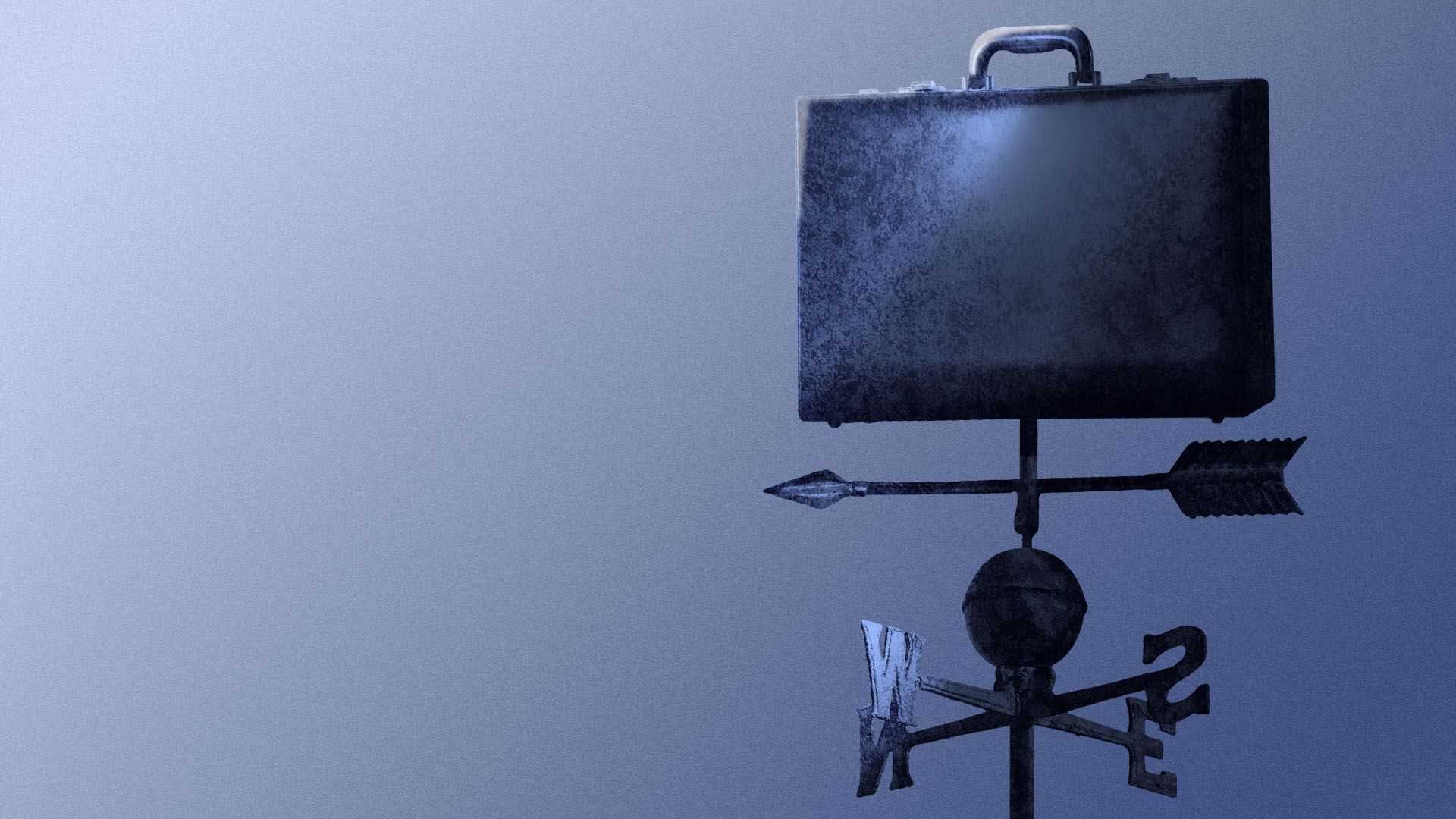 Big or small, new or old, every business in America is witnessing a new reality — and a whole new set of unwritten workplace rules and unambiguous expectations, Axios CEO Jim VandeHei writes.
Any CEO who ignores this bottom-up revolution will suffer public backlash, recruitment and retention challenges, and fits of internal turmoil.
This new reality and its rules include:
There's no market for half-assed diversity and inclusion efforts: This was true before the renewed focus on racism. But it'll be an urgent essential for many years to come, thanks to the public response to the George Floyd murder.
This means constant conversation and action internally — including quicker, more decisive moves on increasing the number of people of color at work and in leadership, and taking time to truly understand the perspectives and realities of those who look or think or live differently than you.
Since 2018, we have increased the percentage of people of color at Axios from 14% to 37%. But we still suffer from too little racial diversity at the executive and editorial leadership level, so we have work to do.
Quit ducking uncomfortable conversations: CEOs are often more cautious and contrived than politicians when it comes to tough staff-wide conversations about race, LGBTQ issues, idealism or topics beyond business performance. You will have no credibility when you slip up or need it if you choose silence over authentic transparency.
If they can't speak authentically to these issues, leaders need to listen and learn authentically. It's amazing how much tension and suspicion gets eased with an honest ear.
Doing good is no longer a niche. It's a necessity: The judgment CEOs feared most in the past was pesky reporters or regulators. The judgment they should fear the most now is idealistic employees on the inside, and the social media warriors on the outside.
The balance of power has shifted in ways that baffle some business leaders. But make no mistake: Staff can force changes overnight.
You have no choice but to take stands and do good — and make it very clear internally and externally what matters to you beyond profit. Otherwise, people will be quick to assume negative intent when bad things happen.
Leaders need to show and highlight the good their organizations do, with the same passion as selling a product.
The new employee expectation: Talented people have almost unlimited opportunities in today's distributed world. So they expect — and can often demand — constant communications, true transparency and the chance to do good while also working.
Post-coronavirus, the flexibility to work from wherever will be as ubiquitous as snacks or paid time off at top performing companies.
We have found the new generation will work as hard or harder than we did if we provide this clarity of purpose and rolling, unvarnished dialogue.
The bottom line: The virus and renewed focus on racism have greatly accelerated the pace of the bottom-up revolution. The next wave of great leaders will adapt their styles and organizations to harness the passion — the weaker ones will be paralyzed and pummeled by it. 
Go deeper I: VandeHei wrote on the emergence of some of these trends in 2018 in "The United States of Corporate America."
Go deeper II: Erica Pandey, "What we expect from our bosses ... Workers — especially millennials and Gen Zers — are paying close attention to the words and actions of their employers." Sign up here for her weekly newsletter, Axios @Work.
2. Biden: "Now is the time for racial justice"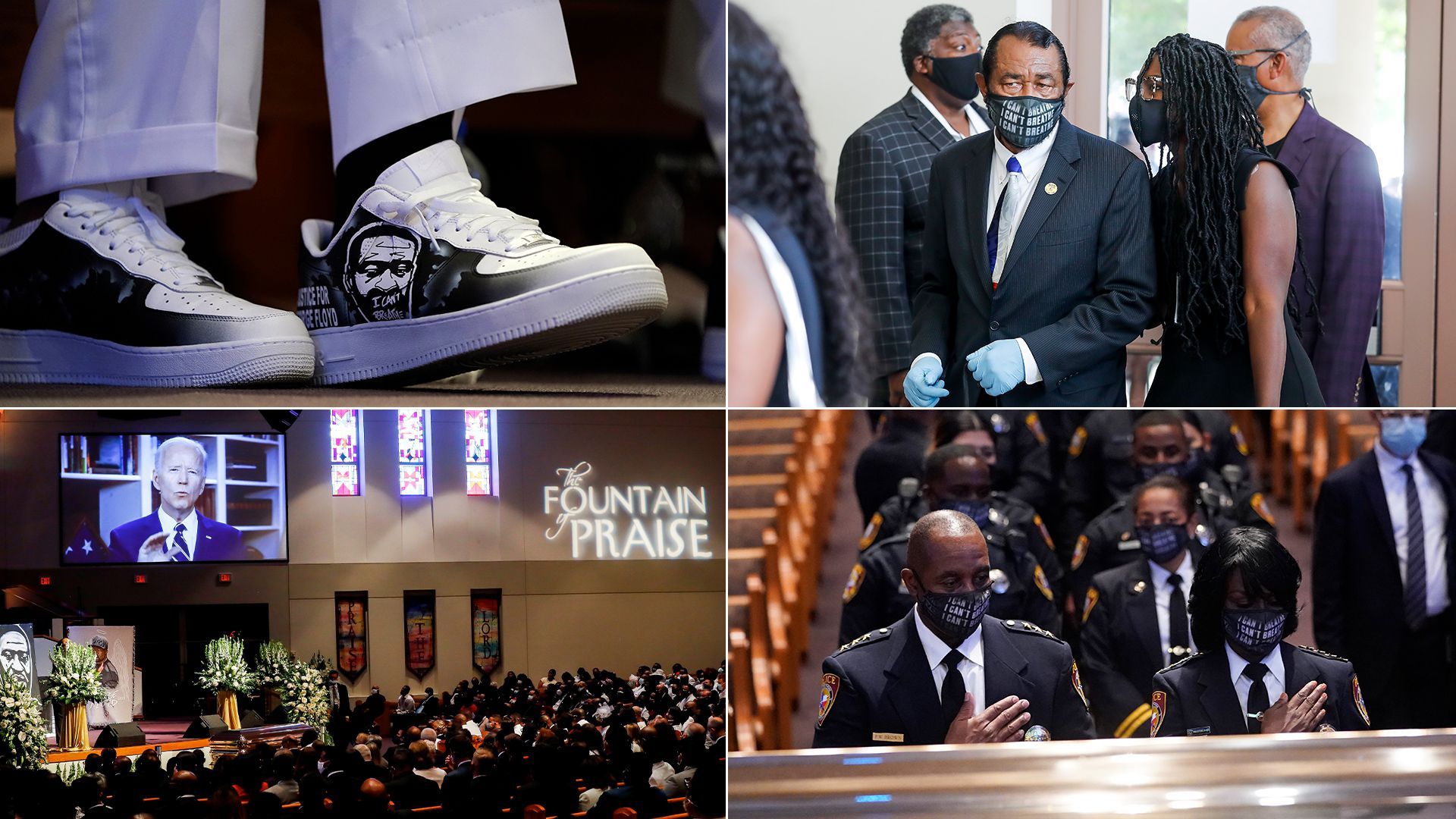 For more than four hours, the world watched together as relatives, preachers and musicians paid tribute to George Floyd at a memorial service in Houston.
It was covered uninterrupted, like a state funeral, across ABC, CBS, NBC, Fox affiliates, CNN, MSNBC, Fox News, CNN International and BBC World.
The photos above, clockwise from top left:
Philonise Floyd, George's brother, pays tribute with his shoes.
Rep. Al Green (D-Texas) arrives.
Members of the Texas Southern University police department show respect.
Joe Biden speaks via video. Watch.
The Rev. Al Sharpton, referring to Psalm 118 in his eulogy, said: "God took the rejected stone and made him the cornerstone of a movement that's going to change the whole wide world."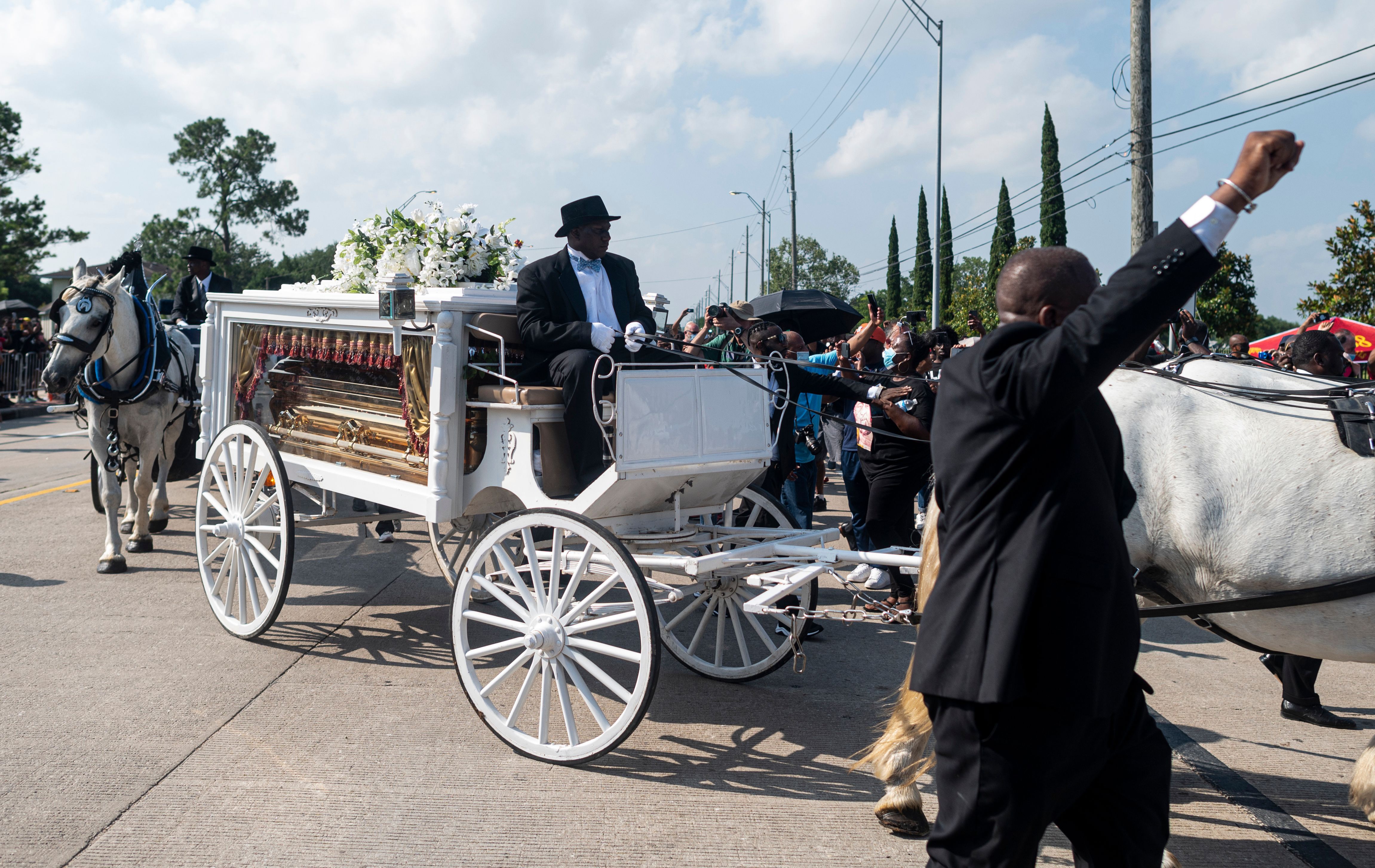 Above: Floyd's casket is carried by a horse-drawn carriage to the Houston Memorial Gardens cemetery in Pearland, Texas.
⚡ New overnight ... Biden op-ed in USA Today: "We must urgently root out systemic racism, from policing to housing to opportunity."
"Federal dollars should not go to departments that violate people's rights or turn to violence as a first resort, but I don't support defunding police."
3. Trump aides despondent over tweet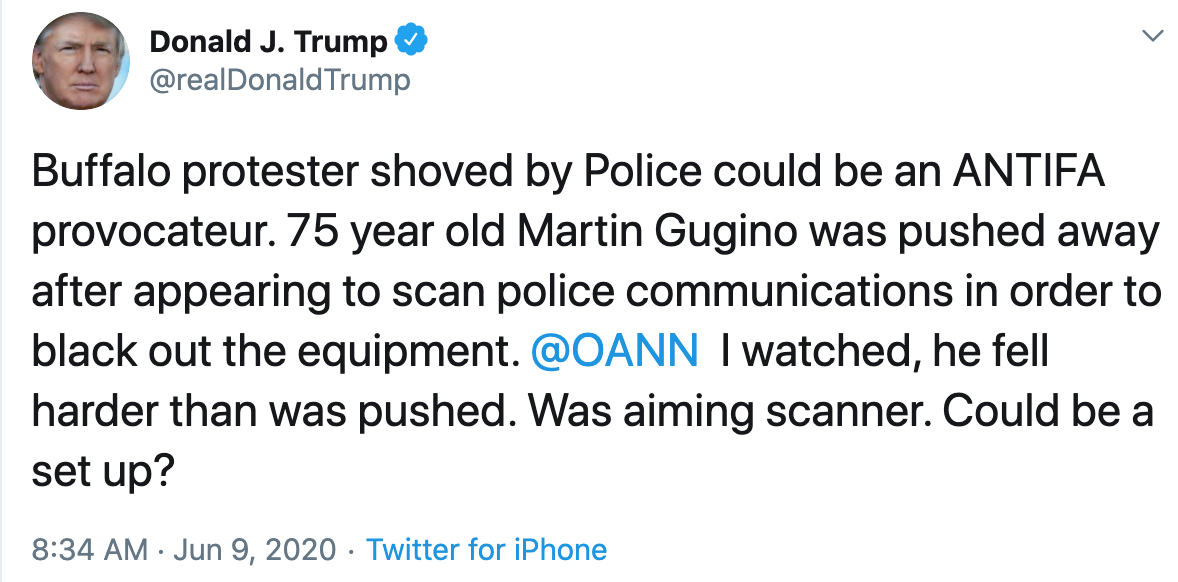 Jonathan Swan's phone blew up yesterday with texts from Trump aides, current and former, who seemed at their wits' end over a new tweet.
They rarely register President Trump's tweets anymore — let alone complain about them. This one felt different.
The president tweeted that the 75-year-old Buffalo protester who was rushed to the hospital after being shoved by police last week "could be an ANTIFA provocateur."
Why it matters: Here was Trump — struggling in the polls, damaged with independents and women who hate his tone — trafficking in a bizarre conspiracy that he had seen on the right-wing OANN cable network to excuse a blatant example of police misconduct.
All this on the morning of George Floyd's funeral.
The context: As you read Sunday in Sneak Peek, POTUS aides and the campaign had constructed this week around getting Trump into the conversation around rebuilding/recovering, listening to ideas about police reform, etc.
One former aide remarked to Swan that it's tweets like this that make him wonder whether Trump actually wants to get re-elected.
4. Georgia chaos raises fears for Nov.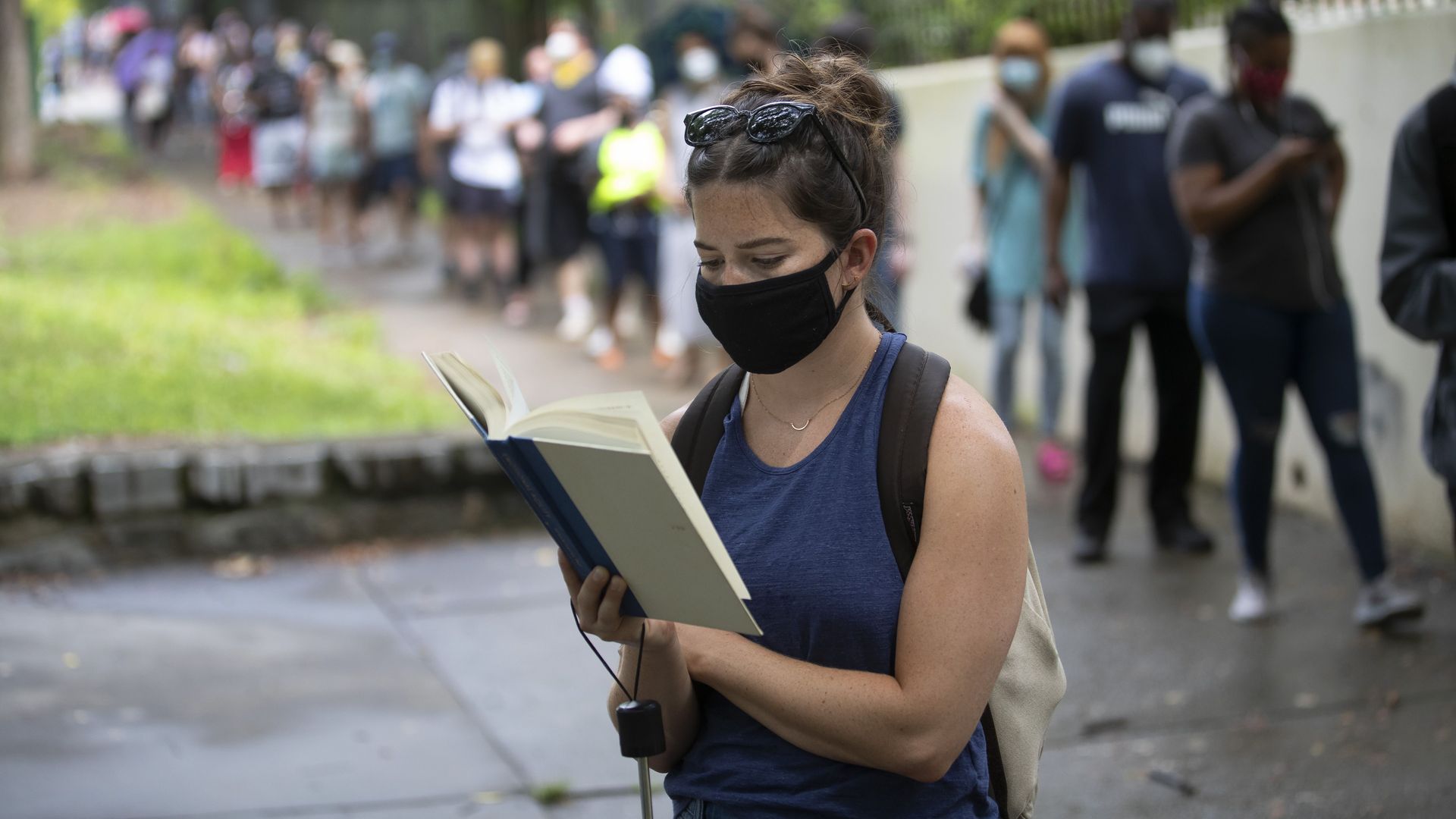 Georgia's secretary of state launched an investigation into issues with the state's new $104 million voting machines, which caused widespread disruptions to yesterday's primary elections, the Atlanta Journal Constitution reports.
The issues, which caused long lines and led some voters to give up, were due to operational malfunctions, according to the state's voting implementation manager.
Poll workers told the AJC that they received on-the-job training after being hired at the last minute due to hundreds quitting before the election over coronavirus fears.
Officials also said the chaos was the result of fewer voting precincts, protests and issues with absentee ballots — in addition to pandemic fears and the machine problems.
👀 "If this is a preview of November, then we're in trouble," said DeKalb County Commissioner Mereda Davis Johnson.
Flashback: After Iowa, thinking smarter about election security
5. Dems confront changing police politics
The politics of police unions have gotten so difficult that House Democrats are shelving a bill, first introduced in 2019, that would strengthen the ability of police to unionize, Axios' Alayna Treene and Dan Primack report.
That was then: The bill, introduced with hundreds of co-sponsors, would enable all state and local public safety employees — including police — to collectively bargain for wages, hours, and other conditions of employment.
This is now: Many of these same Democrats co-sponsored legislation introduced on Monday called the Justice in Policing Act, which has not yet been endorsed or opposed by major police unions.
The bottom line: The change of heart shows how Democrats are grappling with the changing politics of police unions — and making distinctions between them and the other public-sector unions they've traditionally supported.
"Police unions are very different. They're very conservative, a lot of them are even Republican," said a House Democratic leadership aide. "They don't have the same progressive beliefs."
6. NASCAR may ban Confederate flag; "Cops" turns in its badge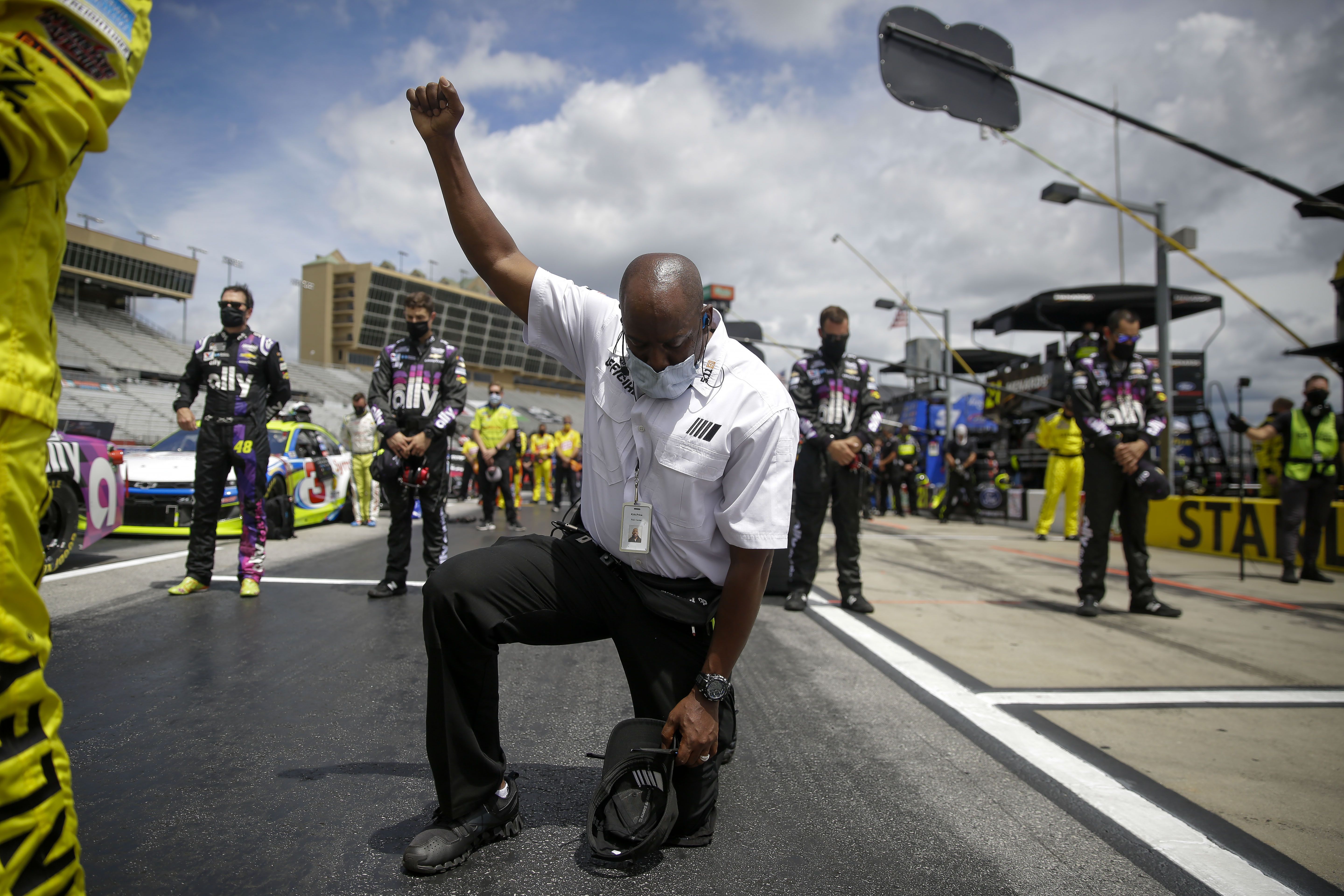 History on fast forward:
🏁 Confederate flags waving from RVs at NASCAR tracks could soon be a relic, AP's Dan Gelston writes:
Bubba Wallace, the sport's lone black driver, wore a black T-shirt with "I Can't Breathe" at a race near Atlanta on Sunday, and wants the stock-car series to ban the flag.
There are signs that NASCAR may do just that:
The predominantly white field of drivers united for a video promoting social change.
A black NASCAR official took a knee before Sunday's race, in what may have been a NASCAR first.
Daryl Wolfe, NASCAR EVP and chief sales and operations officer, said: "We want all to feel welcome at our events in the future."
📺 After 33 seasons, "Cops" has been dropped by the Paramount Network as protests against police proliferate around the world, per AP:
"Cops is not on the Paramount Network and we don't have any current or future plans for it to return," a spokesperson for the cable channel said.
The show had been pulled temporarily from the air in late May, when protests aimed at police over the death of George Floyd began to gain momentum.
The reality show, with its widely known reggae theme song "Bad Boys," allowed viewers to ride along with police officers on patrol in various cities.
It ran on the Fox network for 25 years until 2013, when it was picked up by Viacom-owned Spike TV, later re-branded as the Paramount Network.
7. Data du jour: Biggest virus hiring slumps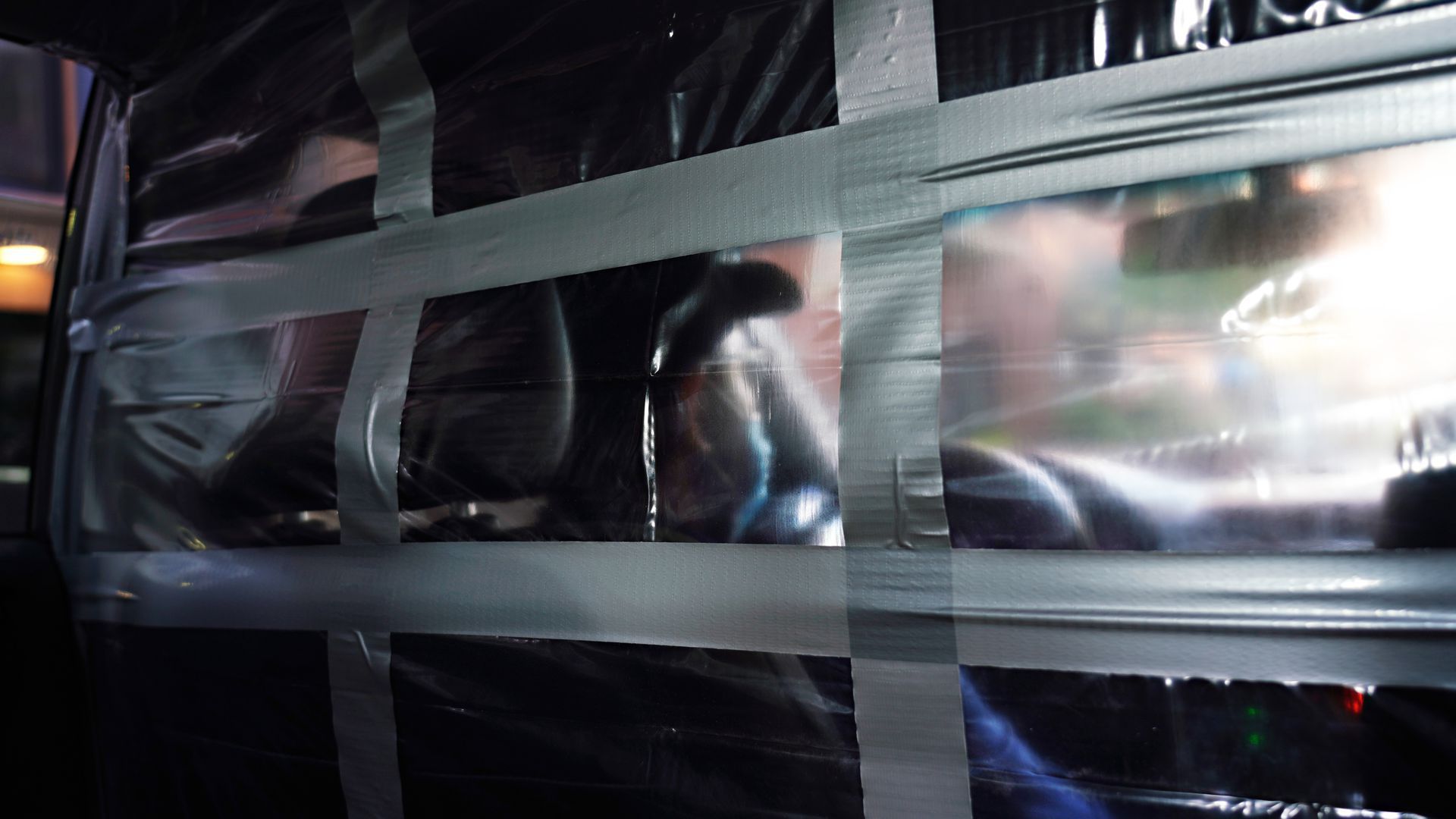 These jobs saw the greatest declines in postings between mid-February and mid-May, according to ZipRecruiter data reported by Axios' Erica Pandey:
Uber/Lyft driver (-91%) 
Flight attendant (-90%) 
Car washer (-87%)
Tour guide (-85%)
Retail store associate (-84%) 
Event/conference planner (-82%) 
Hotel staff (-82%) 
Office manager (-81%)
Chef (-80%) 
Catering assistant (-80%)
8. Insurers limit coverage for virus tests
Some large health insurers are only willing to cover coronavirus testing under certain circumstances — potentially undermining a key part of the U.S. coronavirus response, Axios' Caitlin Owens writes.
Why it matters: Widespread, easily accessible testing is an essential part of containing the virus, and the country's testing capacity has gotten much better. But insurance restrictions that deter people from getting tested could undermine that progress and put people in danger.
A coronavirus test usually costs an insurance plan roughly $50.
Some insurers aren't willing to cover purely precautionary tests, or at least won't do so without cost-sharing.
They're only extending that benefit to tests that are deemed "medically necessary" and which have been ordered by a doctor. In some cases, they explicitly exclude the types of regular surveillance testing that experts say is so important.
9. "Little better at combating a pandemic than our great-grandparents"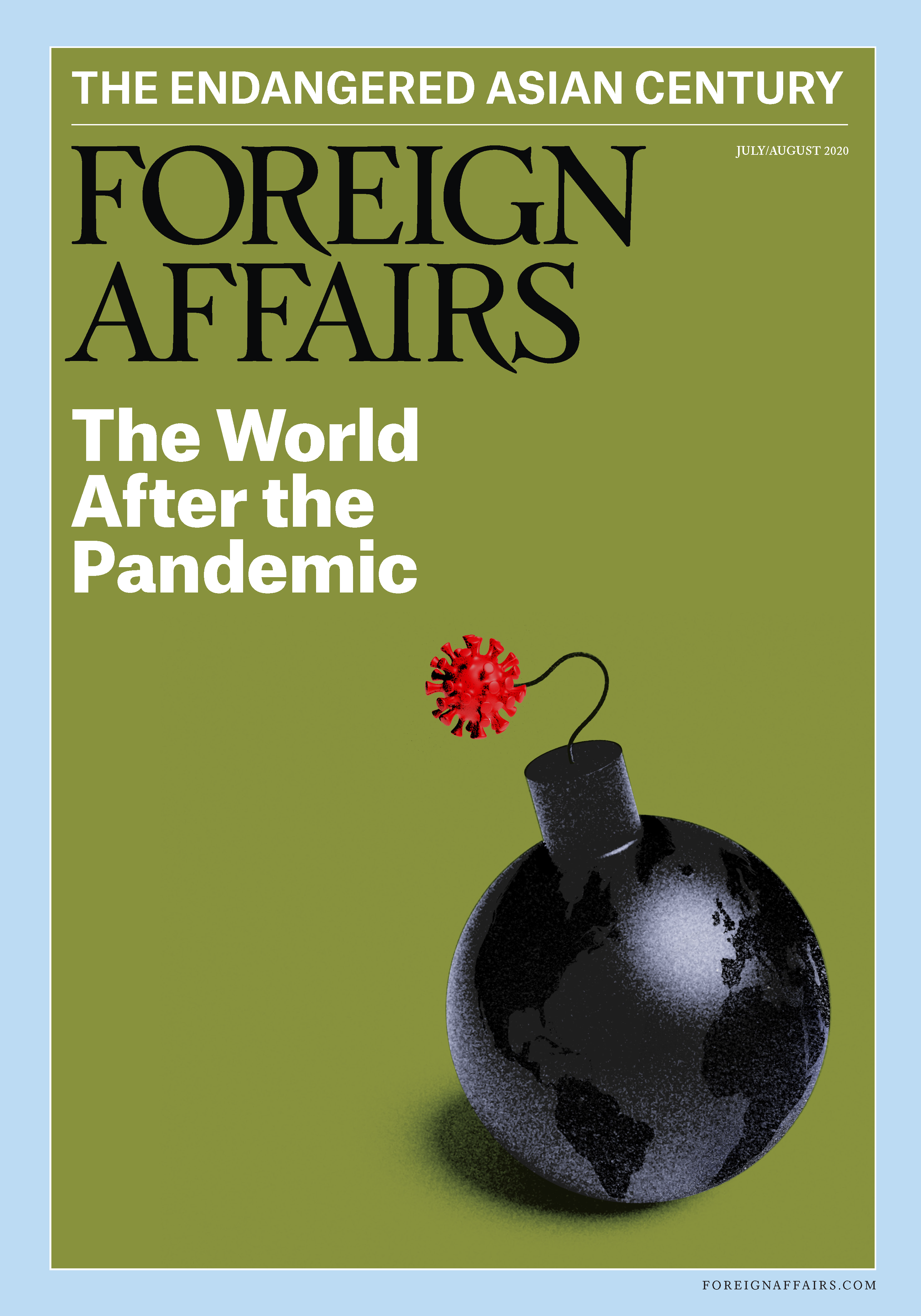 Foreign Affairs editor Gideon Rose writes in the forthcoming issue:
Fifteen years ago, after the SARS and H5N1 outbreaks, this magazine ran an article called "Preparing for the Next Pandemic." Two years later came "Unprepared for a Pandemic" ... Cut to 2017, after MERS and Ebola and Zika: "Ready for a Global Pandemic? The Trump Administration May Be Woefully Underprepared."
None of this was prescience. It was conventional wisdom among public health experts. Anybody who didn't understand the danger just wasn't paying attention.
10. 1 smile to go: New street trend
📬 Thanks for reading Axios AM. Please invite your friends to sign up here.