https://www.axios.com/newsletters/axios-am-42e2f12d-8f87-4ffe-859a-58a63133401a.html?chunk=0#story0
1 big thing: Trump's on-edge management style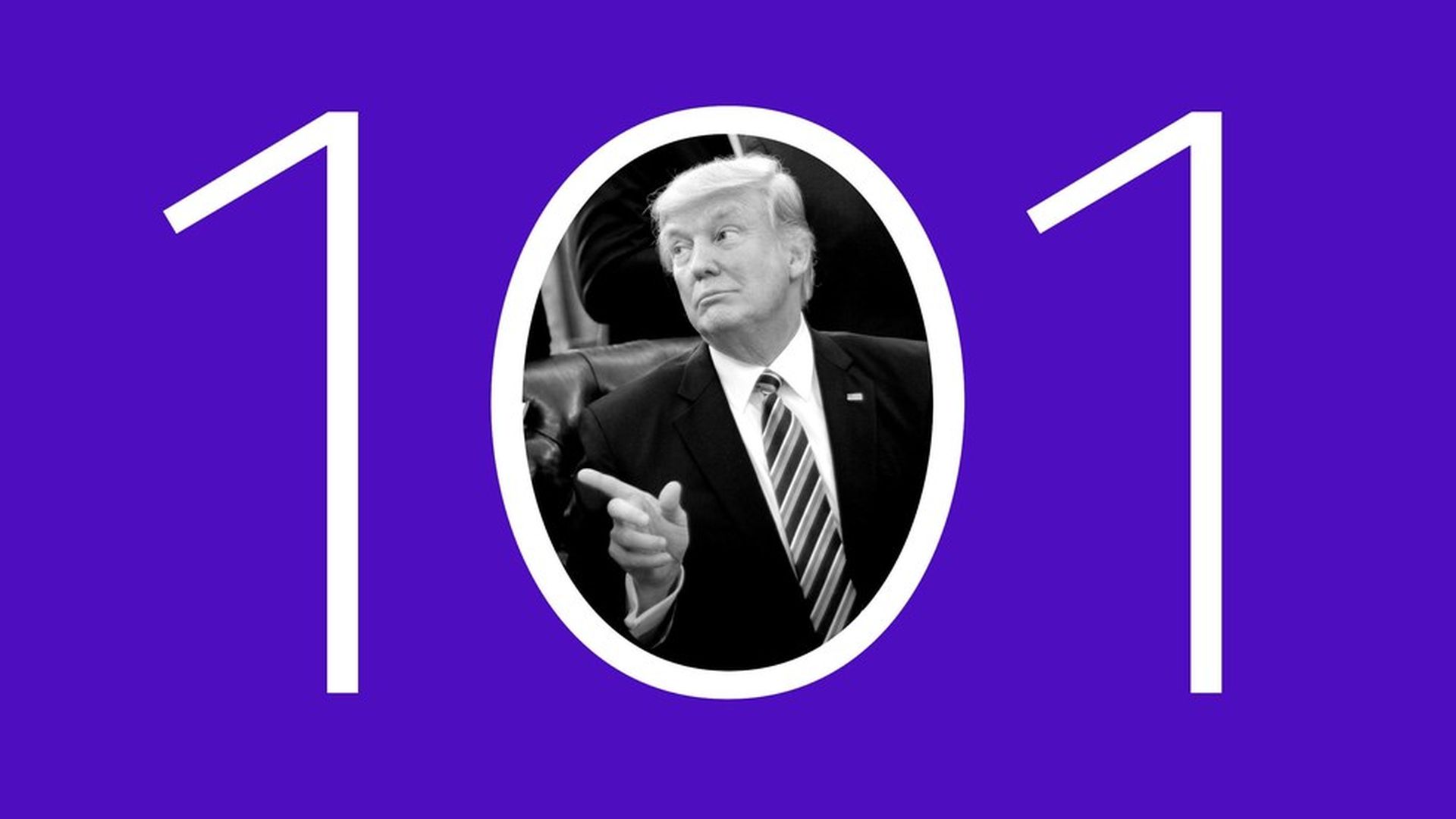 Last Tuesday night, just after 8 p.m., Steve Bannon's cellphone started lighting up. Colleagues and friends were sending him the link to the column by the New York Post's Michael Goodwin quoting President Trump as saying "I like Steve, but... ." They wanted to know if the story was as bad as it looked.
As part of our "Trump 101" series on this president's style and decision making, Axios' Jonathan Swan writes that the stunning episode illuminates Trump's improvisational management style:
He's always been more of a creative deal-maker and salesman than a manager. In his business career, he oversaw a very lean executive team, and he preferred his deals to be mano-a-mano. He made phone calls from early morning to late into the night. He stayed loose, always open to next idea.
The bigger the concept, the more potential for glamor, the better. And he always, always — as Bannon, Reince and the rest now keenly know — kept his associates on edge.
In a one-paragraph statement for this story, trusted Trump aide Hope Hicks described him with the words "unbelievably successful," "incredibly effective," "great," "leadership," "ingenuity" and "high energy."
Click here to read the 7 elements of Trump's management style.
https://www.axios.com/newsletters/axios-am-42e2f12d-8f87-4ffe-859a-58a63133401a.html?chunk=1#story1
2. Fallen star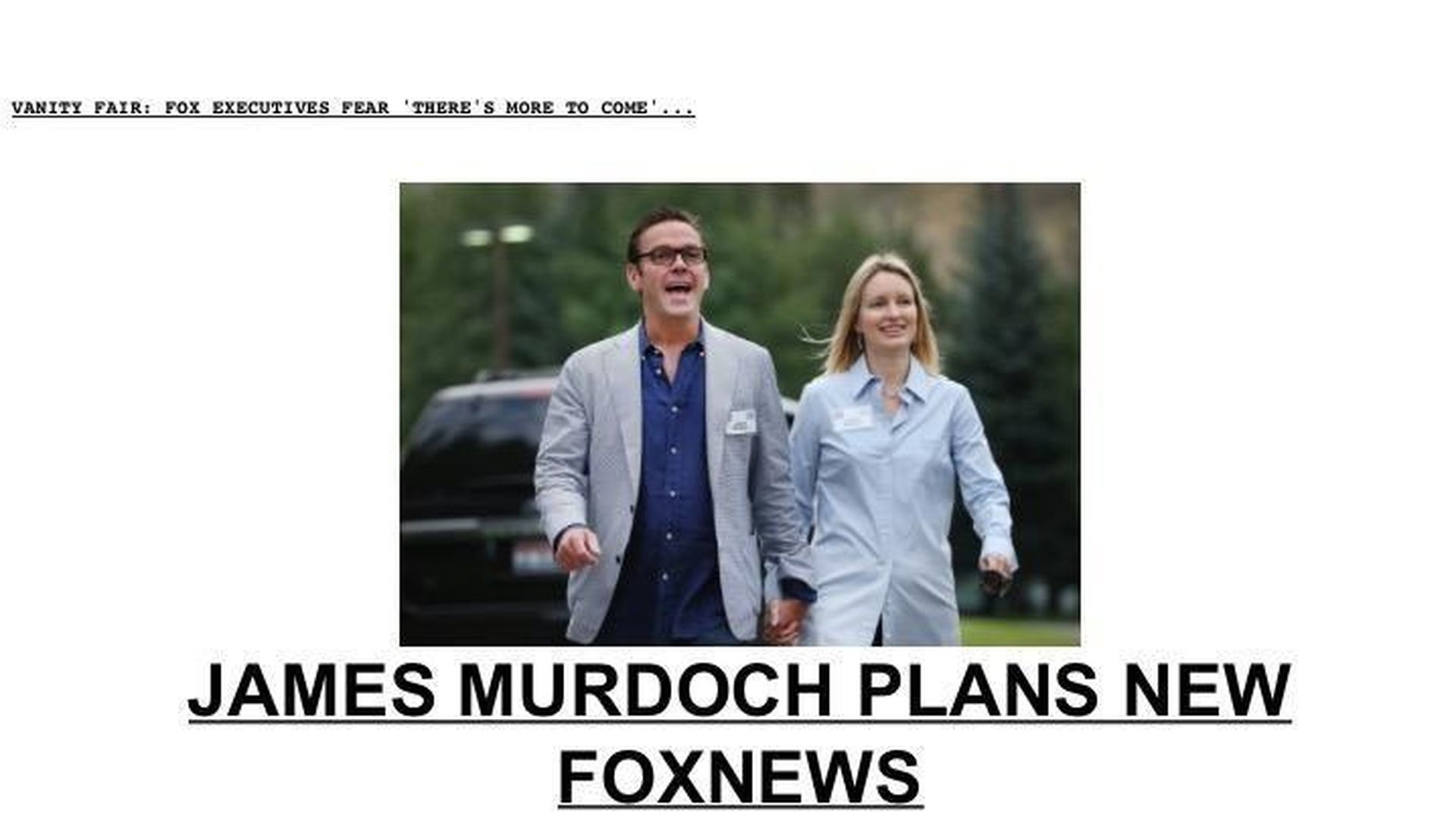 The brutal but foreseeable banishment of Bill O'Reilly pushes aside all other global events and gets a two-column lead splash from the N.Y. Times, "Fox News Ousts O'Reilly, A Host Central to Its Rise."
It's partly a victory lap by the paper that lit the fuse with rat-tat revelations of cascading harassment allegations, triggering an advertiser exodus. But it's also a reflection of the change as a signal moment in the converging worlds of business, media, culture and politics. Your quick read on the aftermath:
See our amazing timeline, by Stef Kight and Laz Gamio.
Sentence of the day, from an emailer to CNN's Brian Stelter: "Have you ever stopped to consider how the world would have been different if Roger Ailes had just given Gretchen Carlson the new contract she wanted? All of this over a deal for his 2pm anchor."
Crucial context: "21st Century Fox is much bigger than O'Reilly, Fox News and its aging, conservative audience. It's home to movie and TV studios; a slew of sports and other cable channels; and the Fox broadcast network ... It's also home to ambitions that the O'Reilly crisis may have hindered."
Vanity Fair's Sarah Ellison: "The most unsettling feeling among some at Fox News ... is that Wednesday's events are only the beginning. 'There's more to come,' one Fox News insider told me, suggesting that there are more women with stories of harassment who have not come forward publicly. ... Others are equally concerned about the attention that is being drawn to 21st Century Fox's handling of the allegations."
The new lineup: O'Reilly's show, with Dana Perino filling in, was renamed "The Factor" last night. Tucker Carlson replaces O'Reilly at 8 p.m. starting Monday. "The Five" moves to Carlson's 9 o'clock slot. Martha MacCallum stays at 7 p.m. with the renamed "The Story." Eric Bolling gets a 5 p.m. show starting May 1.
Mikey Facts of Life: Life is more fair than unfair. If you do the right things for the right reasons, the arc of life bends toward goodness — with good results. But if you do the wrong thing for the wrong reason, the arc of life bends toward justice — almost always with bad results. Who cares if you make millions, and earn fame and power, if you end in public or private humiliation?
https://www.axios.com/newsletters/axios-am-42e2f12d-8f87-4ffe-859a-58a63133401a.html?chunk=2#story2
3. Facebook's focus on futuristic tech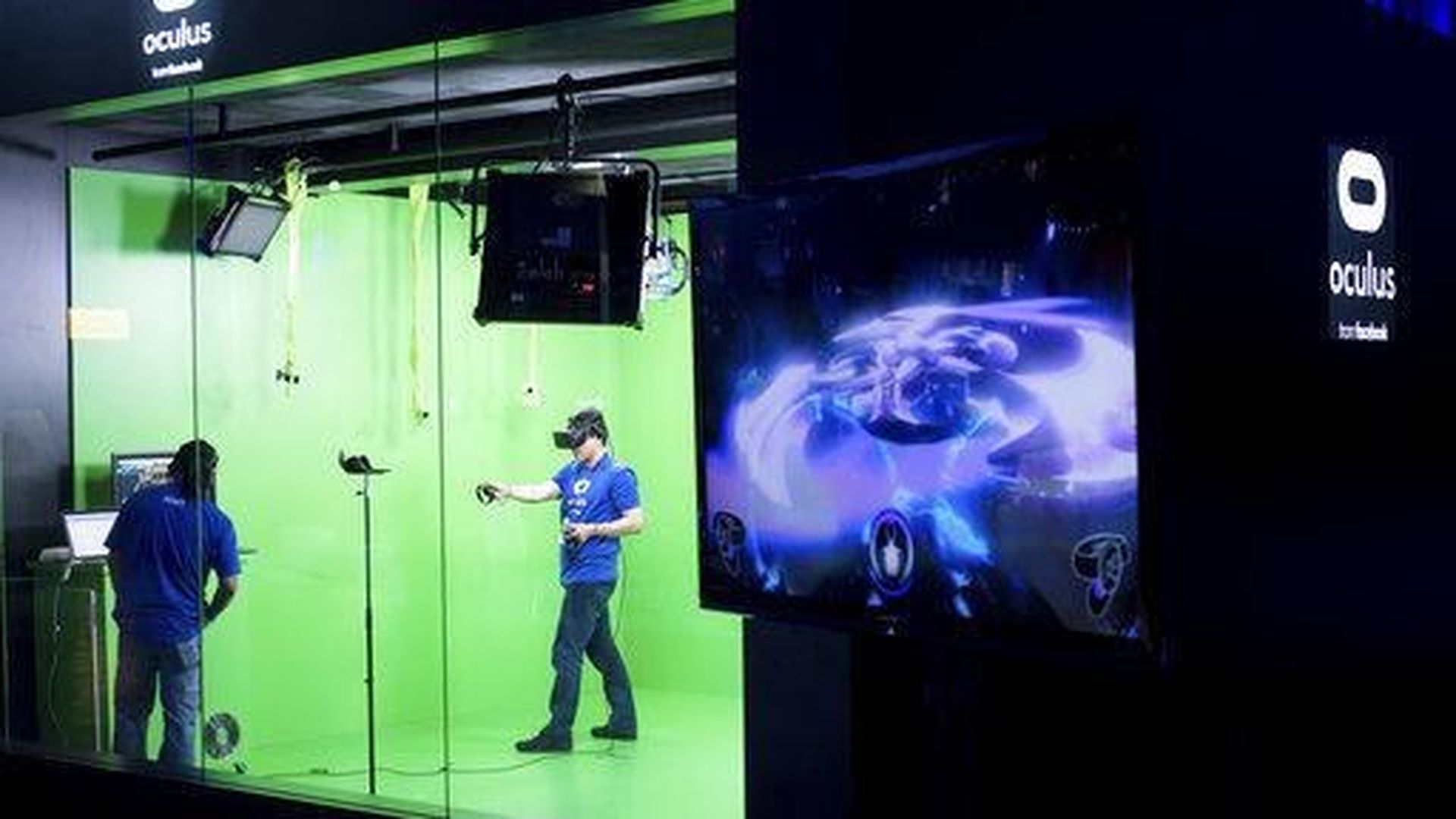 Facebook's new interests in technology for reading brain waves — and mixed reality that barely exist today — shows that it wants to compete with Google when it comes to tech moonshots, Axios' Kia Kokalitcheva writes.
The big news from the closing day of this year's Facebook developers' conference:
Facebook wants you to wear AR glasses: Oculus chief scientist Michael Abrash described a future in which we all wear glasses that mix augmented and virtual reality. But we're still at least five years away from augmented reality's "MacIntosh" moment — when it becomes a mainstream technology.
Facebook wants you to type with your mind: Facebook's secretive Building 8 unit, led by former DARPA director and Google executive Regina Dugan, unveiled two of its projects: One aims to let people type using their brain waves, and the other is working on letting them hear and detect language through their skin.
Other new tech: Facebook execs also discussed new improvements and projects in the areas of 360-video cameras, internet connectivity, and artificial intelligence.
https://www.axios.com/newsletters/axios-am-42e2f12d-8f87-4ffe-859a-58a63133401a.html?chunk=3#story3
4. Day 91: Operation Normal persists
The "America First" president who vowed to extricate the U.S. from onerous overseas commitments is warming to global agreements, AP's Matt Lee and Josh Lederman write:
Get smart fast: "From NAFTA to the Iran nuclear agreement to the Paris climate accord, ... Trump's campaign rhetoric is colliding with the reality of governing. Despite repeated pledges to rip up, renegotiate or otherwise alter them, the U.S. has yet to withdraw from any of these economic, environmental or national security deals, as Trump's past criticism turns to tacit embrace of several key elements of U.S. foreign policy."
The takeaway: "[W]ith one exception — an Asia-Pacific trade deal ... — Trump's administration quietly has laid the groundwork to honor the international architecture of deals it has inherited."
P.S. WashPost top of column 1, "U.S. sows confusion on foreign affairs," by David Nakamura and Karen DeYoung: "[T]he normally meticulous care that goes into formulating and coordinating U.S. government policy positions or even simple statements is often absent. Institutional memory is lacking, ... former officials said, and mistakes and contradictions easily slip through the cracks."
https://www.axios.com/newsletters/axios-am-42e2f12d-8f87-4ffe-859a-58a63133401a.html?chunk=4#story4
5. Trump takes on steel dumping
President Trump plans to issue a memo today calling for the Commerce Department to investigate whether steel imports hinder national security. Bloomberg's Jennifer Jacobs broke the story on Twitter. Jonathan Swan confirmed it and reads between the lines:
Why it matters: By initiating investigations under the umbrella of "national security," Trump is creating a pretext for using extraordinary measures to crack down on steel dumping. This could complicate the U.S.-China relationship at a time when Trump is explicitly linking trade negotiations to China's behavior with North Korea, as China is the top culprit for dumping cheap steel into the American market.
Something else you should know: This memo is much, much, milder than some of the ideas that were initially kicked around inside the West Wing.
Shifting power: An early concept pushed by administration nationalists was to impose immediate supplemental 25% tariffs on a wide range of product categories they believed were being unfairly dumped into the United States such as industrial chemicals, household appliances, paper and tires.
https://www.axios.com/newsletters/axios-am-42e2f12d-8f87-4ffe-859a-58a63133401a.html?chunk=5#story5
6. Navigating the new Washington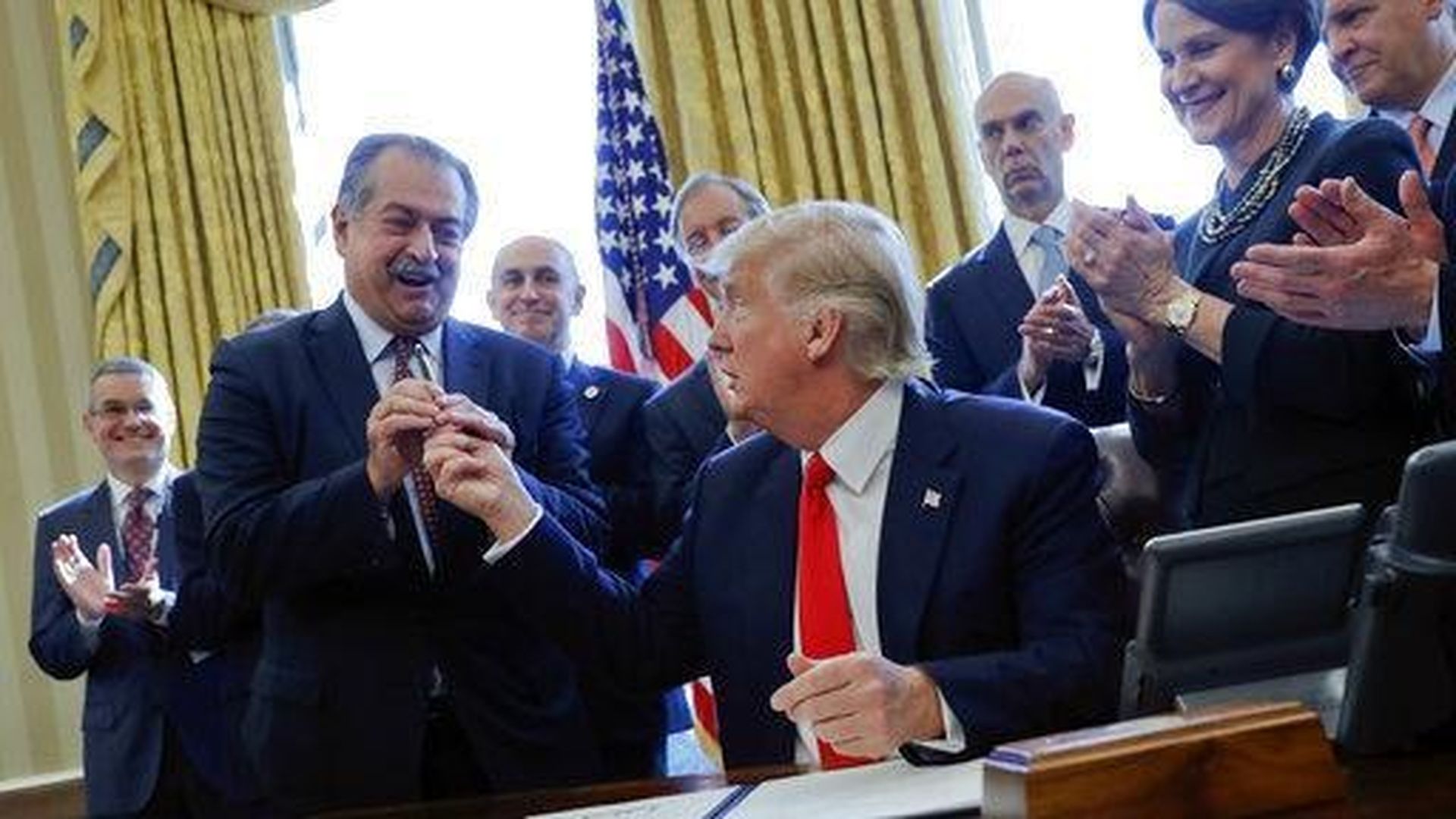 "AP Exclusive: Pesticide maker tries to kill risk study," by AP's Michael Biesecker: "Dow Chemical is pushing the Trump administration to scrap the findings of federal scientists who point to a family of widely used pesticides as harmful to about 1,800 critically threatened or endangered species."
What happened: "Lawyers representing Dow, whose CEO also heads a White House manufacturing working group, and two other makers of organophosphates ... asked [three Cabinet agencies] 'to set aside' the results of government studies the companies contend are fundamentally flawed."
Why it matters: "Dow Chemical chairman and CEO Andrew Liveris is a close adviser to ... Trump. The company wrote a $1 million check to help underwrite Trump's inaugural festivities."
The context: "The industry's request comes after EPA Administrator Scott Pruitt announced last month he was reversing an Obama-era effort to bar the use of Dow's chlorpyrifos pesticide on food."
The response: An EPA spokesman said Pruitt won't "prejudge" any potential rule-making decisions as "we are trying to restore regulatory sanity to EPA's work."
P.S. Wall Street Journal 2-column lead, "Exxon Seeks Waiver for Russia Deal," by Jay Solomon and Brad Olson: "Exxon Mobil Corp. has applied to the Treasury Department for a waiver from U.S. sanctions on Russia in a bid to resume its joint venture with state oil giant PAO Rosneft."
https://www.axios.com/newsletters/axios-am-42e2f12d-8f87-4ffe-859a-58a63133401a.html?chunk=6#story6
7. Security tightens around White House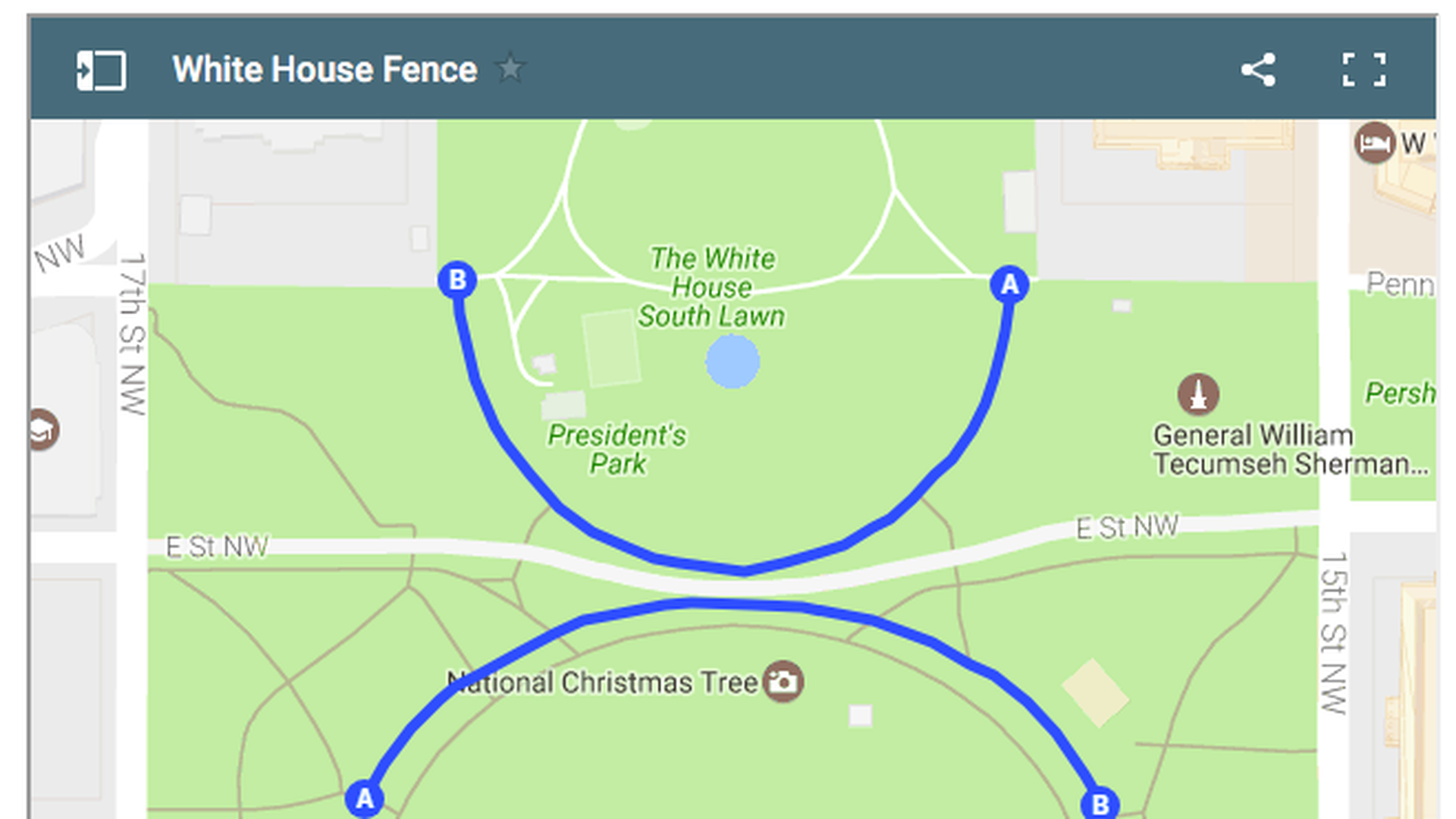 After a series of embarrassing jumper incidents, the Secret Service announced that the sidewalk along the White House south fence closed permanently at 11 last night, WTOP and other outlets reported:
What changed: "Since 2015, the sidewalk and park land between the south fence and E Street Northwest, between West Executive Avenue and East Executive Avenue, has been closed between 11 p.m. and 6 a.m. daily." Now it's permanent.
The new look: Secret Service Communications Director Cathy Milhoan told WTOP that the plan was to create "space between the fence and people." When people stood right up to the fence, "it limited our ability to identify and respond to potential hazards."
The new restriction "won't require building any new physical barriers ... The existing barriers simply won't be opened in the daytime hours."
The context: "Milhoan said the move wasn't in response to any specific incident ... Last month, a man jumped the White House fence and spent 17 minutes on the grounds while ... Trump was inside."
The spin: "Milhoan said that people who wanted to see or photograph the iconic view of the White House from the south would still be able to get it — just about 25 yards back, across E Street by the Ellipse."
What's next: "A higher fence around the White House was approved earlier this year ... [T]he project will go out to bid later this year, and construction is slated to begin next year."
https://www.axios.com/newsletters/axios-am-42e2f12d-8f87-4ffe-859a-58a63133401a.html?chunk=7#story7
8. More millennials at home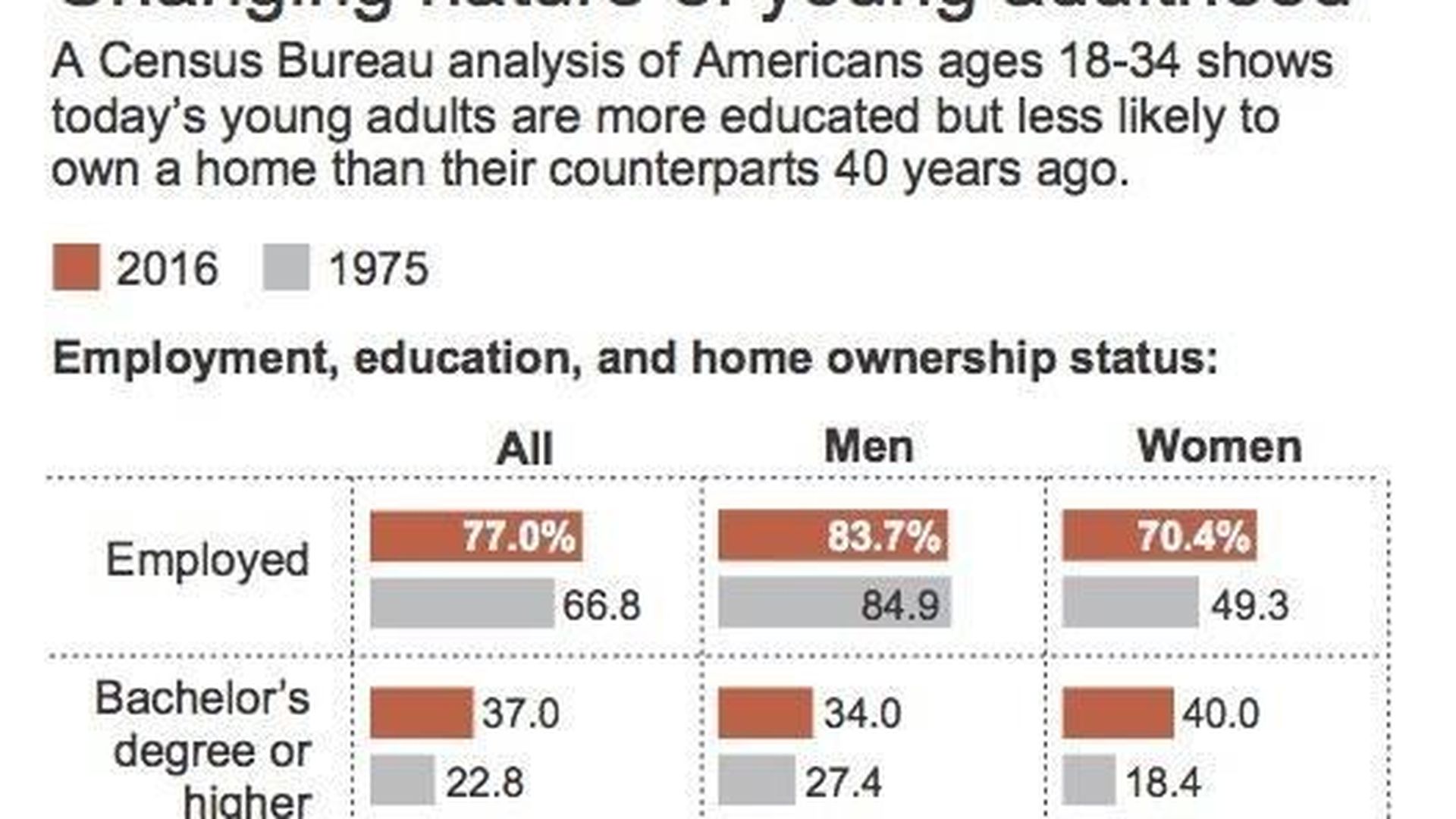 The Census Bureau yesterday released a study, "The Changing Economics and Demographics of Young Adulthood From 1975-2016," concluding that today's 18-to-34-year-olds "look different from prior generations in almost every regard: how much education they have, their work experiences, when they start a family":
"Young people are delaying marriage, but most still eventually tie the knot. In the 1970s, 8 in 10 people married by the time they turned 30. Today, not until the age of 45 have 8 in 10 people married."
"More young men are falling to the bottom of the income ladder. In 1975, 25% of young men ages 25 to 34 had incomes of less than $30,000 per year. By 2016, that share rose to 41% ... (incomes for both years are in 2015 dollars)."
"Between 1975 and 2016, the share of young women who were homemakers fell from 43 percent to 14 percent of all women ages 25 to 34."
More than one-third of adults live at home: 34% in 2015 vs. 26% in 2005.
https://www.axios.com/newsletters/axios-am-42e2f12d-8f87-4ffe-859a-58a63133401a.html?chunk=8#story8
9. Rising star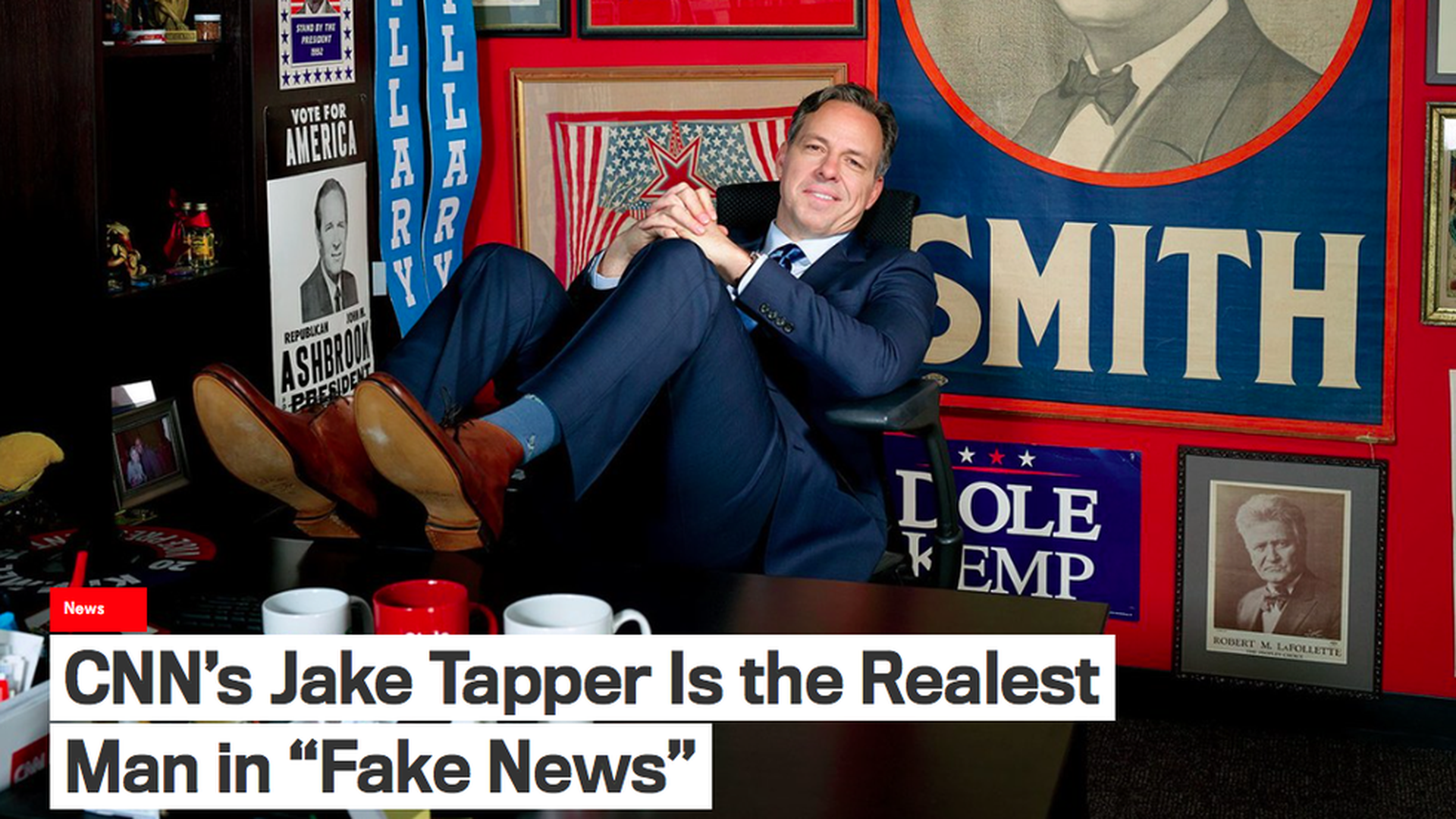 The May issue of GQ has a four-page spread on CNN's Jake Tapper as "The Hardest-Working Brow in the Business," by Taffy Brodesser-Akner:
[T]he Jake Tapper WTF Face [is] that unique look through which he transmits his seeming disbelief and outrage ... There is the JTWTFF that is a mere frown ... a hood over his downward-turning, disappointed eyes. ... My favorite Jake Tapper WTF Face is the one where his eyebrows arch but also corrugate into small bowl-shaped caterpillars ...
Tapper allows an incredulousness, and maybe even a smidge of disgust, to sneak on through. In those moments, when he augments the standard newsman persona to include his own come-off-it realness, he has a way of embodying all of us.
https://www.axios.com/newsletters/axios-am-42e2f12d-8f87-4ffe-859a-58a63133401a.html?chunk=9#story9
10. 1 old-school thing: Roger Stone is back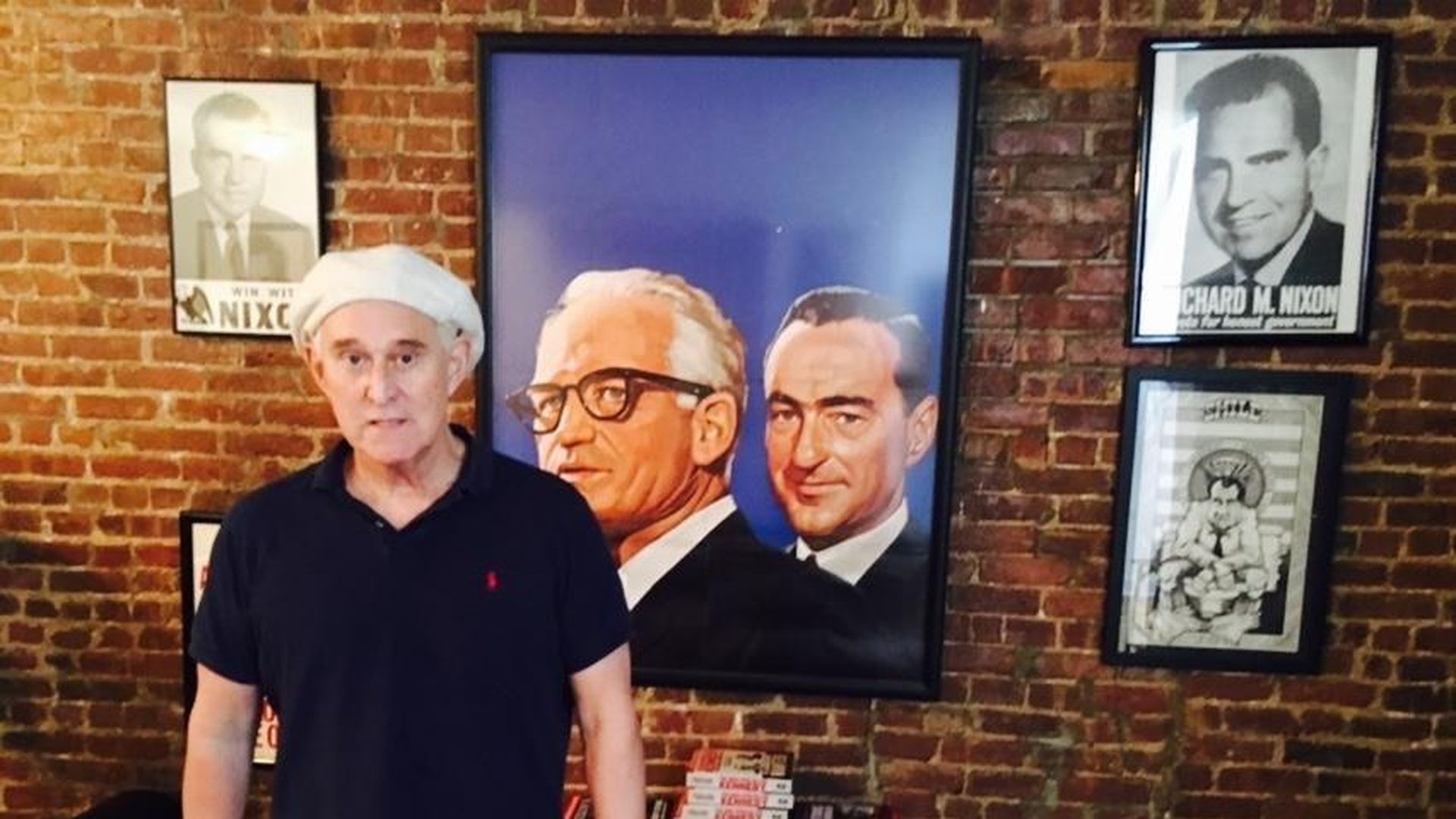 The colorful, controversial Roger Stone — author of "The Making of the President 2016: How Donald Trump Orchestrated a Revolution" — is the WashPost Style section cover story, "A bedrock of dark politics," by Manuel Roig-Franzia in Oakland Park, Fla.:
Stone, a prolific author who hosts a radio program and runs a website, StoneColdTruth.com, never really went away. He's been talking nonstop for decades, pointing an accusing finger at Lyndon Johnson for alleged complicity in the Kennedy assassination, rooting around in Bill Clinton's extramarital misdeeds, depicting the Bushes as a "crime family." It's just that now there are more people listening.
His studio — a man-cave-style haunt slathered floor to ceiling with Nixon memorabilia and conspiracy books — has been stocked with professional lighting and a broadcast-quality audio line by Stone's 19-year-old grandson, Nick. ...
Stone met his Cuban American wife, Nydia, during one of Ronald Reagan's presidential campaigns, where she was working as a photographer. In a Polaroid picture taped to her computer monitor, the future married couple are slender and stylish with deep 1980s tans.