Good Wednesday morning.
Situational awareness: "From Maine to Hawaii, thousands of students plan to stage walkouts [today] to protest gun violence, one month after the deadly shooting inside a high school in Parkland, Florida," AP reports. "Organizers say nearly 3,000 walkouts are set in the biggest demonstration yet of the student activism that has emerged following the massacre of 17 people at Marjory Stoneman Douglas High School."
https://www.axios.com/newsletters/axios-am-4214b6fe-2397-4567-ba99-5aa4ce45fd6d.html?chunk=0#story0
1 big thing: Tight race signals blue wave rising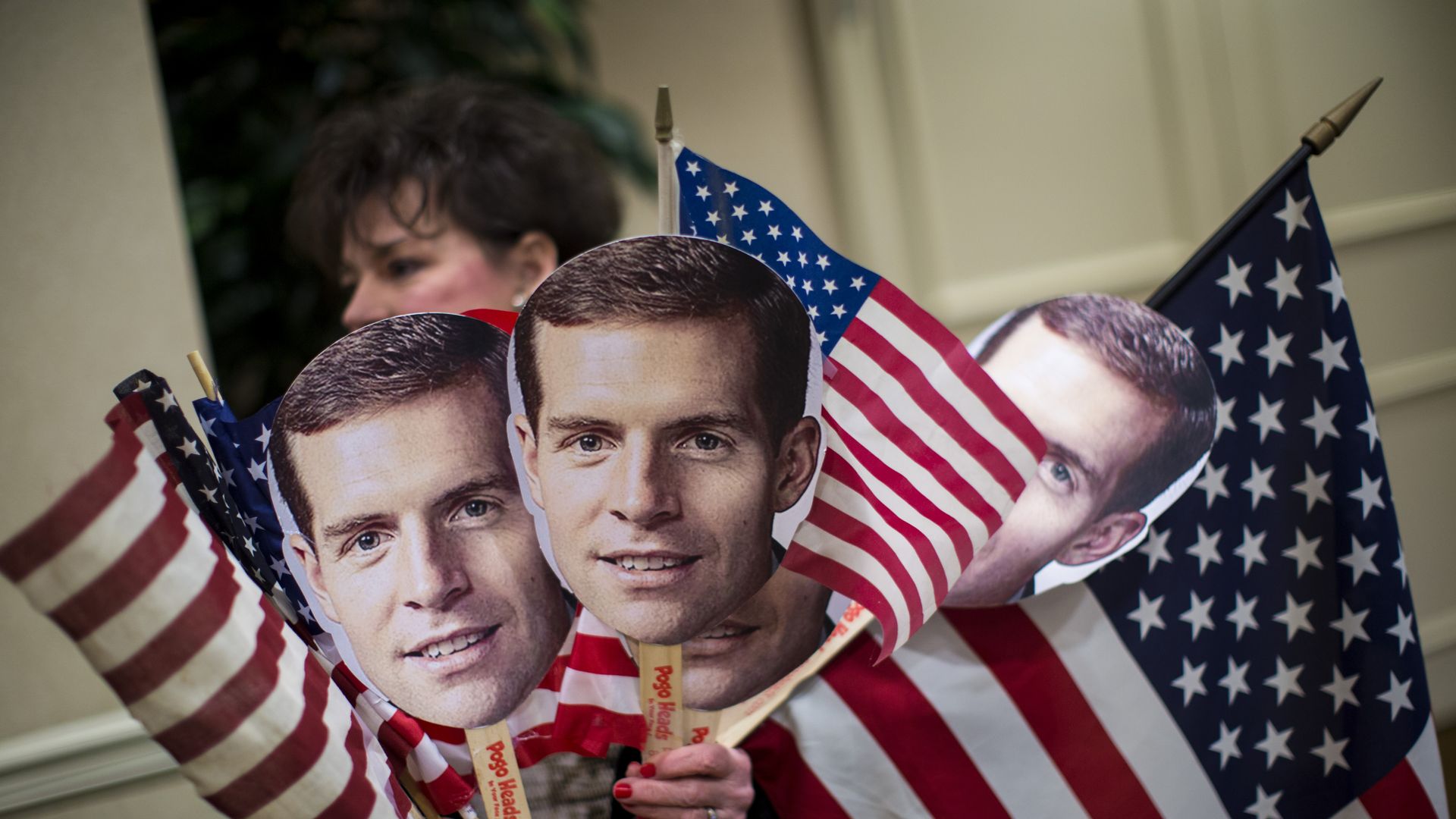 Breaking: NBC News declares Democrat Conor Lamb the apparent winner in a special U.S. House in western Pennsylvania, the heart of Trump country, a blow to the White House and the Republican Party.
A recount is possible, and AP says the race is still too close to call.
Lamb, a Marine veteran, claimed victory over Republican Rick Saccone, telling exuberant supporters after midnight: "Mission accepted."
Why it matters: Regardless of the ultimate winner, it was a humiliating and sobering night for the GOP. This a district President Trump won by 20 points. The Democratic energy and Republican depression signal a brutal midterm season and the increasingly likely return of Speaker Pelosi.
Fox News politics editor Chris Stirewalt: "It's more than a ripple. It might be a wave."
CNN's Dana Bash says this result may lead to more Republican retirements from Congress, as lawmakers realize the strength of this year's headwinds.
Be smart: In race after race, Democrats are consistently topping their performance in previous elections (often by double-digit margins), the surest sign of sustained momentum and a possible November wave. 
Go deeper: Republicans fear the House is slipping away fast.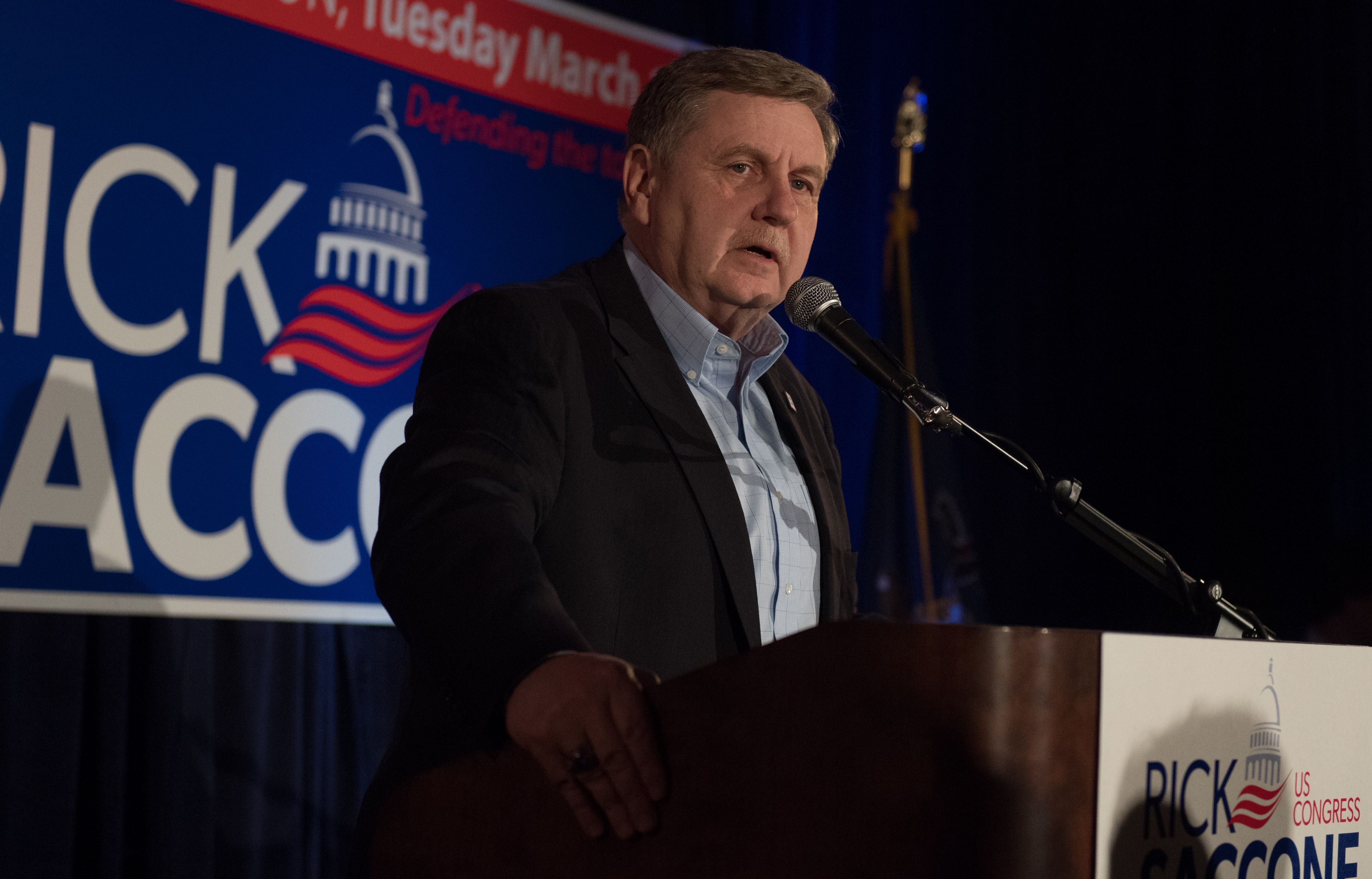 Rick Saccone (R) speaks to supporters, with race was too close to call. (Jeff Swensen / Getty Images)
https://www.axios.com/newsletters/axios-am-4214b6fe-2397-4567-ba99-5aa4ce45fd6d.html?chunk=1#story1
2. What brutal Rexit tells us about POTUS
President Trump's firing-via-tweet of Secretary of State Rex Tillerson, following his sudden imposition of tariffs, reflects the president's increasing comfort with solo use of his awesome power over policy, personnel and politics.
Be smart: White House officials tell Jonathan Swan and me that it's getting ever more difficult for aides to disagree with Trump, or stand up to him about the consequences of decisions great and small.
We're told Trump trusts his own instincts and counsel more than he did a year ago. So it's getting harder to talk him out of acting on whims and grievances.
And with the departure announcements by aides who have had a moderating or restraining influence, he has ever fewer restraints and guardrails.
What's next: The big question inside the West Wing is whether Trump keeps going and pushes through a complete overhaul.
Why it matters, from N.Y. Times: "Tillerson's dismissal, on the heels of Gary D. Cohn's resignation, pulls the Trump administration further out of the economic and foreign policy mainstream and closer to the nationalist ideas that animated Mr. Trump's 2016 presidential campaign."
"As the White House absorbed the news about Mr. Tillerson, rumors swirled that the national security adviser, Lt. Gen. H. R. McMaster, and the secretary of Veterans Affairs,

David J. Shulkin

, would soon follow him out the door."
"The sense of disarray was deepened by ... the sudden dismissal of a personal aide to Mr. Trump."
N.Y. Times Quote of the Day ... White House Chief of Staff John Kelly, calling Tillerson on Friday to tell him that change was afoot, and to cut short a trip to Africa: "You may get a tweet."
How it's playing ... Bloomberg: "Trump Moves Closer to Presidency of One With Tillerson Firing."
https://www.axios.com/newsletters/axios-am-4214b6fe-2397-4567-ba99-5aa4ce45fd6d.html?chunk=2#story2
3. PDF of the day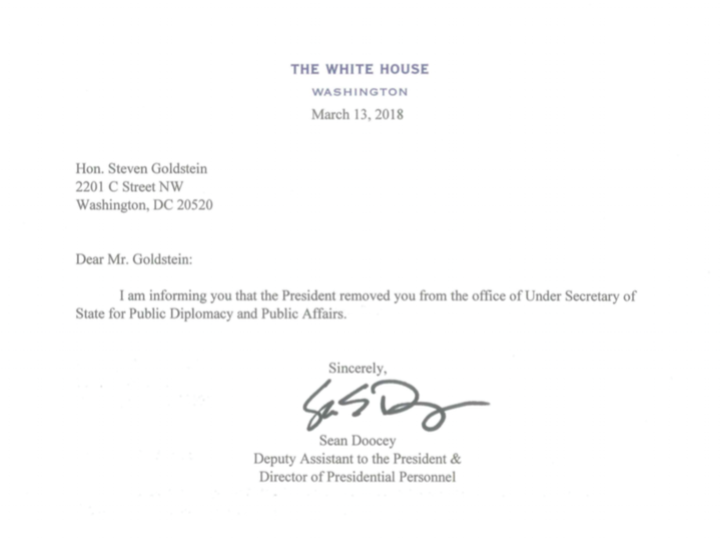 Obtained by Axios' Jonathan Swan
"Steve Goldstein, top spokesman for Secretary of State Rex Tillerson, was fired Tuesday for contradicting the official administration account of Tillerson's own firing." (CNBC)
From Goldstein's statement: "The Secretary had every intention of staying because of the critical progress made in national security ... The secretary did not speak to the president and is unaware of the reason."
https://www.axios.com/newsletters/axios-am-4214b6fe-2397-4567-ba99-5aa4ce45fd6d.html?chunk=3#story3
4. Tweet du jour: 1990 v. 2018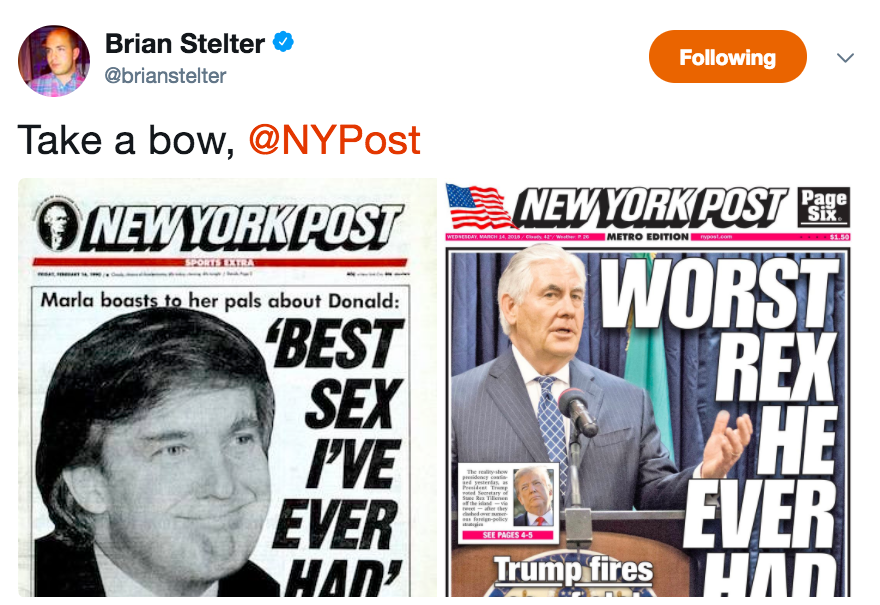 https://www.axios.com/newsletters/axios-am-4214b6fe-2397-4567-ba99-5aa4ce45fd6d.html?chunk=4#story4
5. "Intelligence is the ability to adapt to change"
"Stephen W. Hawking, the Cambridge University physicist and best-selling author who roamed the cosmos from a wheelchair, ... died early [today] at his home in Cambridge, England. He was 76," the N.Y. Times reports.
Why he matters ... Michio Kaku, a professor of theoretical physics at the City University of New York: "Not since Albert Einstein has a scientist so captured the public imagination and endeared himself to tens of millions of people around the world."
"Dr. Hawking did that largely through his book '

A Brief History of Time: From the Big Bang to Black Holes,' p

ublished in 1988. It has sold more than 10 million copies and inspired

a documentary film by Errol Morris

. The 2014 film about his life, 'The Theory of Everything,' was nominated for several Academy Awards and Eddie Redmayne, who played Dr. Hawking, won the Oscar for best actor."
"As a graduate student in 1963, he learned he had amyotrophic lateral sclerosis, a neuromuscular wasting disease also known as Lou Gehrig's disease. He was given only a few years to live."
https://www.axios.com/newsletters/axios-am-4214b6fe-2397-4567-ba99-5aa4ce45fd6d.html?chunk=5#story5
6. First look: George Clooney on Africa
George Clooney and John Prendergast, co-founders of the Sentry, write for Foreign Affairs, "The Key to Making Peace in Africa: Fighting Corruption Can Help End Conflict":
"[T]he fatal flaw of peacemaking in Africa: those supporting mediation lack the leverage necessary to stop corrupt figures from using their forces to bomb, burn, imprison, silence, torture, starve, impoverish, kill, and rape to maintain or gain power."
"South Sudan is hardly unique. Something similar plays out across many African countries torn by conflict, including the Central African Republic, the Democratic Republic of the Congo, and Sudan. Oil, gold, diamonds, cobalt, copper, and a variety of other mineral deposits and trafficked wildlife provide immense opportunity for those in power to line their own pockets."
The problem: "Every year, billions of aid dollars pour into Africa: taxpayers and donors around the world fund peacekeeping forces, state-building programs, humanitarian assistance, elections, and peace processes. But none of this support has been able to keep corrupt leaders and their network of beneficiaries from stealing billions of dollars."
What's needed: "A comprehensive strategy of using financial pressure for peace and human rights in South Sudan and other African war zones would cost very little. But it would give African mediators and their supporters in Washington, London, and elsewhere leverage in peace negotiations."
Why it matters: "Without taking aggressive measures to go after the spoils that drive conflict in South Sudan and other African countries, it is difficult to imagine any future other than one of deepening repression, growing famine, and spiraling warfare."
https://www.axios.com/newsletters/axios-am-4214b6fe-2397-4567-ba99-5aa4ce45fd6d.html?chunk=6#story6
7. Why China may not catch up to U.S. on AI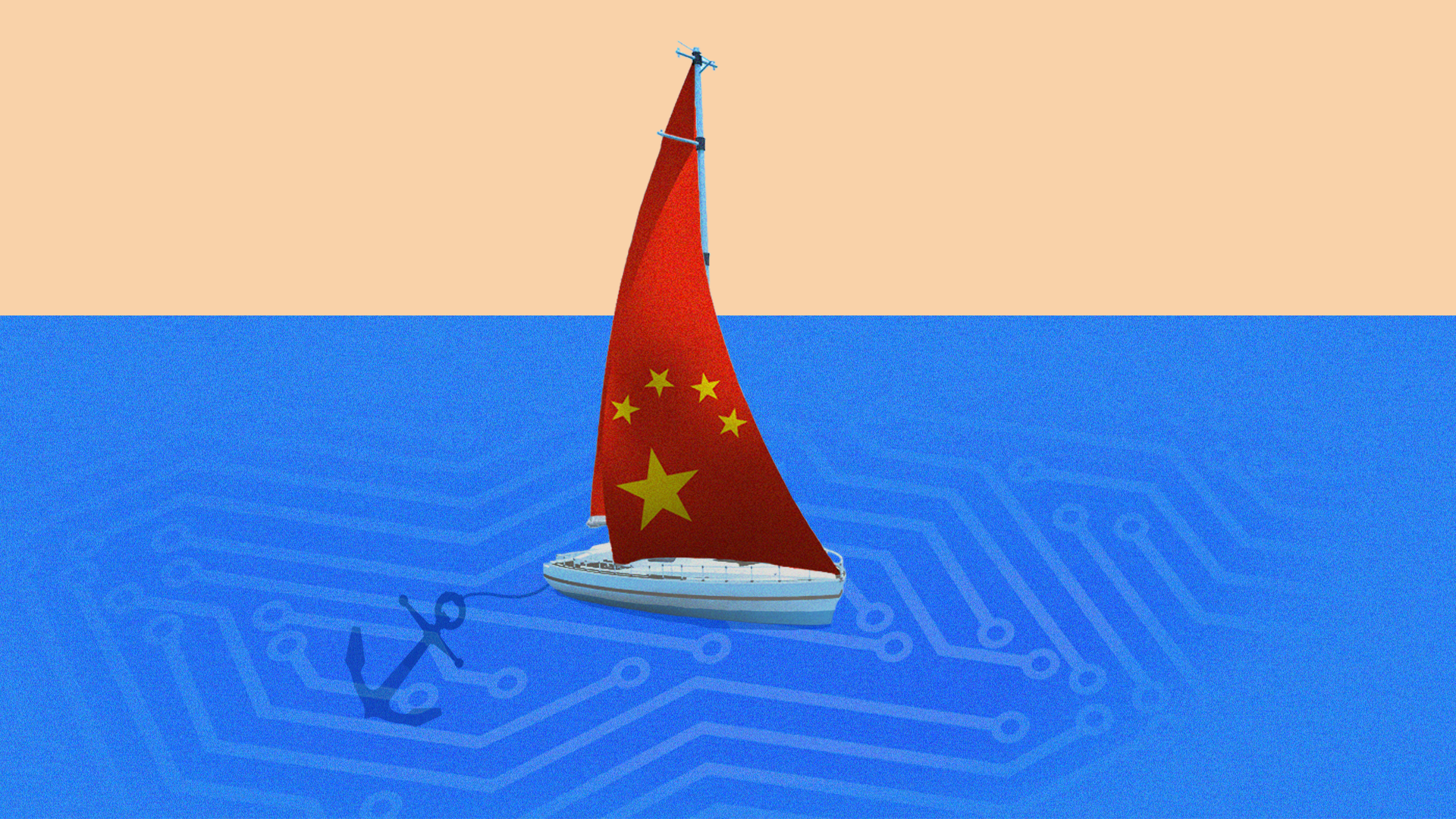 China, intent on dominating artificial intelligence in a race with the U.S., can come close but is unlikely to catch up, AI experts tell Axios future editor Steve LeVine:
Why it matters: Leading tech and geopolitical strategists believe that AI is the ultimate technology — whoever invents a super-intelligent machine first will gain undisputed leverage over everyone else. Last year, Russia's Vladimir Putin said the AI winner will be the "ruler of the world."
Why China won't catch up: The U.S.-Canadian side moves on a dime. In fact, over the last few months, they decided they were misdirected toward getting to super-intelligence, and more or less started over. When a field is run like that, unless you are also prepared to start over (which the Chinese do not seem to be), you by definition are following, not leading.
https://www.axios.com/newsletters/axios-am-4214b6fe-2397-4567-ba99-5aa4ce45fd6d.html?chunk=7#story7
8. Trying Uber for bikes
"[E]verywhere I go in San Francisco, I just grab whatever bike I can find and take off. When I'm done, I ditch it," Wall Street Journal personal tech columnist David Pierce writes:
"I snag a new bike next time I need one. ... [I]t's ... like I have the master key to hundreds of locked bikes around town."
"This is dockless bike-sharing, which a handful of companies, including Uber, are bringing to U.S. cities. Rather than living in stations around a city, these bikes can be anywhere. You find and unlock a GPS-enabled bike with an app on your smartphone, then lock it and leave when you're finished."
"I pay $2 for a half-hour and about seven cents a minute after that. I ride wherever I want, the big red bike's on-board motor doing most of the work. When I'm done, I drop it off anywhere within the sharing boundaries — which cover about half the city."
Why it matters: "A program like this could help alleviate traffic, make short travel cheaper and easier and have big environmental impact. ... The model could eventually inform everything from food delivery to self-driving cars to the overall layout of future cities."
But, but, but: "[I]n some places where dockless bike-sharing has already taken off, in Paris, Zurich and especially in China, ... abandoned bikes now litter the streets. They're vandalized, thrown into lakes or stolen and stripped for parts."
https://www.axios.com/newsletters/axios-am-4214b6fe-2397-4567-ba99-5aa4ce45fd6d.html?chunk=8#story8
9. Internet inventor: Regulate Big Tech
Sir Tim Berners-Lee, the inventor of the World Wide Web, says the fact that the internet is controlled by a handful of dominant companies likely means the next 20 years will be much less innovative than the last — and a "regulatory framework" may help address the new concentration of power.
Why it matters, per Axios managing editor Kim Hart: This week is the Web's 29th birthday, and one of its biggest boosters is joining critics by calling out the danger brewing in the current online landscape.
https://www.axios.com/newsletters/axios-am-4214b6fe-2397-4567-ba99-5aa4ce45fd6d.html?chunk=9#story9
10. 1 fun thing
Beer yoga ... "Workouts in breweries have students balancing pints during poses; 'beer gives you an extra point of focus'" — Wall Street Journal A-Hed:
An instructor at Beer Fit Club in New York City: "Inhale, the aroma of hops. Exhale, sink more deeply into your side lunge ... Inhale, raise your beer to the sky as you reverse your Warrior, being careful not to spill."
"The combination of beer and yoga may conjure images of Homer Simpson-types in Lululemon sinking into chair pose. But fans say it supports local businesses, makes the practice more accessible and gives students a chance to learn new skills, like the Drunken Row Boat or Wobbly Tree poses."