November 21, 2021
Happy Sunday. Smart Brevity™ count: 1,185 words ... 4½ minutes. Edited by Fadel Allassan.
🎬 On tonight's "Axios on HBO," Rep. Rashida Tlaib (D-Mich.) tells Jonathan Swan she fears what "corporate Dems" in the Senate will do to President Biden's bill. Watch a clip.
Also tonight (6 p.m. ET/PT on HBO and HBO Max): Alexi McCammond interviews House Democratic Caucus Chair Hakeem Jeffries (Watch a clip) ... Upside Foods CEO Uma Valeti shows Ina Fried how lab-grown meat is made ... Flexport CEO Ryan Petersen and Dan Primack visit L.A.'s ship backlog.
1 big thing: The great yacht, plane shortage
Rich people's toys — mansions, yachts, watches, private jets — are in short supply as the pandemic buying boom collides with supply snafus, Axios Closer author Courtenay Brown reports.
Why it matters: The wealthy are finding they can't buy their way out of shortages that have normal Americans scrambling for staples.
What's happening: An annual Credit Suisse global wealth report (PDF) found that in 2020, the number of "ultra high net worth" individuals (worth at least U.S. $50 million) rose the most since 2003, during the golden age before the financial crisis.
The pandemic led to the biggest increase in global wealth inequality since 2009 — the tail of the Great Recession, the report found.
As a result, there has never been so much demand for private planes, which flew 323,000 trips in October — the busiest month on record, aviation consultancy Argus International told Fortune.
NetJets, the world's biggest private jet company, is going to extremes to turn people away. First it raised prices. Then it announced a waitlist in August: "Despite taking previous actions to slow our sales process, we have continued to see the interest in NetJets accelerate."
For another sign of the mania, look to the record-breaking art sales drawing in a new crop of bidders (including crypto bros).
"You're no longer just dealing with the tried-and-true collectors," Mari-Claudia Jiménez, who chairs the global fine arts division at Sotheby's, told Axios. "It's people who are completely new, who now have the wealth to participate."
One painting sold at a Sotheby's auction this week for $3.2 million, more than 10 times its high estimate.
2. Sad stat: More U.S. COVID deaths in 2021 than 2020
The number of U.S. COVID deaths this year is now more than in 2020 — 385,457 vs. 385,343, for a total toll of 770,800, The Wall Street Journal reports (subscription).
Why it matters: The figures, driven by the Delta variant and low vaccination rates in some communities, demonstrate "the virus's persistent menace," as The Journal puts it.
What we're watching: The federal government's mixed messages on boosters has helped leave most Americans without that extra protection ahead of Thanksgiving gatherings.
3. Jacob Blake's dad on Rittenhouse verdict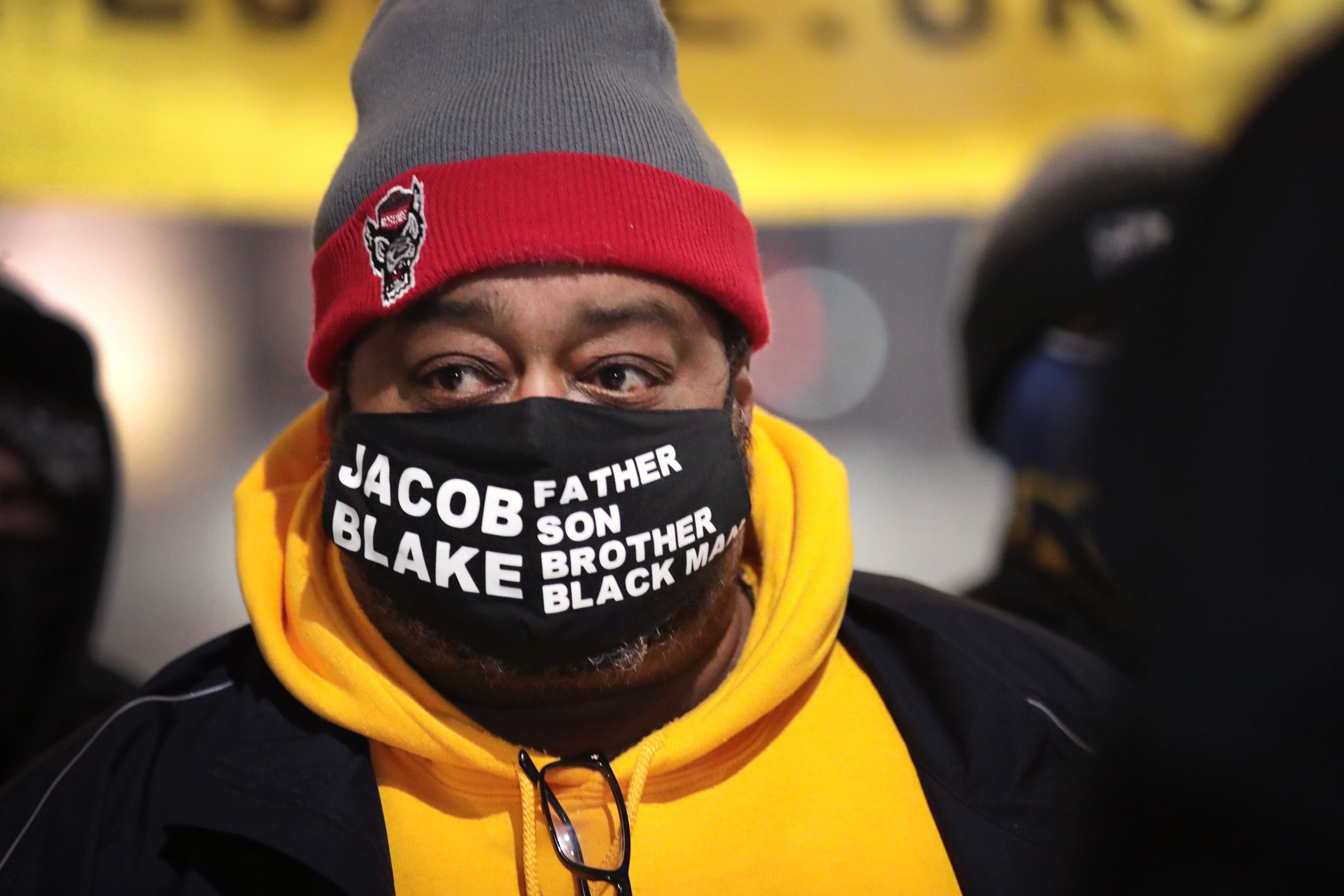 The father of Jacob Blake tells Michael Graff of Axios Charlotte that he spent about an hour Friday "trying to find the ropes so I didn't fall down" after Kyle Rittenhouse was acquitted.
Rittenhouse was in Kenosha, Wis., during unrest following the police shooting of Jacob Blake III.
Now 30, he remains paralyzed from the waist down.
His father, Jacob Blake Jr. — "Big Jake," as he's called around Charlotte, where he lives — said in a phone interview yesterday that he struggles to see that justice was served:
We understand that this is a society built on systemic racism. There was no way they were going to convict that white individual with killing those other two white individuals that had the nerve to be out there supporting a Black individual.
Big Jake, who was pulled out of a religious service when the verdict was announced, said believes people with a vigilante streak were emboldened by Friday's decision and fallout.
"So all of those death threats I've received in the past year and a half, they could kill me if they want to, if they just say they feel threatened by me," he said.
"That's not going to stop me ... I'm not going to wrap up in my covers and go to sleep. We must continue to fight."
What's next: Tucker Carlson has an interview with Kyle Rittenhouse that airs beginning Monday night on Fox News.
4. Photo du jour: Peng Shuai reappears
Chinese tennis star Peng Shuai, whose whereabouts have been a matter of international worry for weeks, attended a tennis tournament in Beijing today, Reuters reports from photos by government-affiliated media.
Peng hadn't been heard from since she said on Chinese social media Nov. 2 that former vice premier Zhang Gaoli coerced her into sex.
The Women's Tennis Association told Reuters the photos are "insufficient" to alleviate the group's concerns.
5. 🌽 Lowest unemployment rate of any state, ever
Nebraska's unemployment rate fell to 1.9% last month — the lowest any state has reached since data collection began in 1976, AP reports.
In Lincoln, the state capital, the rate was 1.3%.
The national, seasonally adjusted rate in October was 4.6%.
Reality check: Nebraska has struggled with a chronic worker shortage since even before the pandemic, driving up wages and making it difficult for employers to hire and expand.
What's happening: Eric Thompson, economics professor at the University of Nebraska-Lincoln, told The Wall Street Journal the state's strong high-school graduation rate helps.
"More educated workers ... are just less likely to be laid off and more likely to find work quickly," he said.
6. Wildfires torch up to 20% of giant sequoias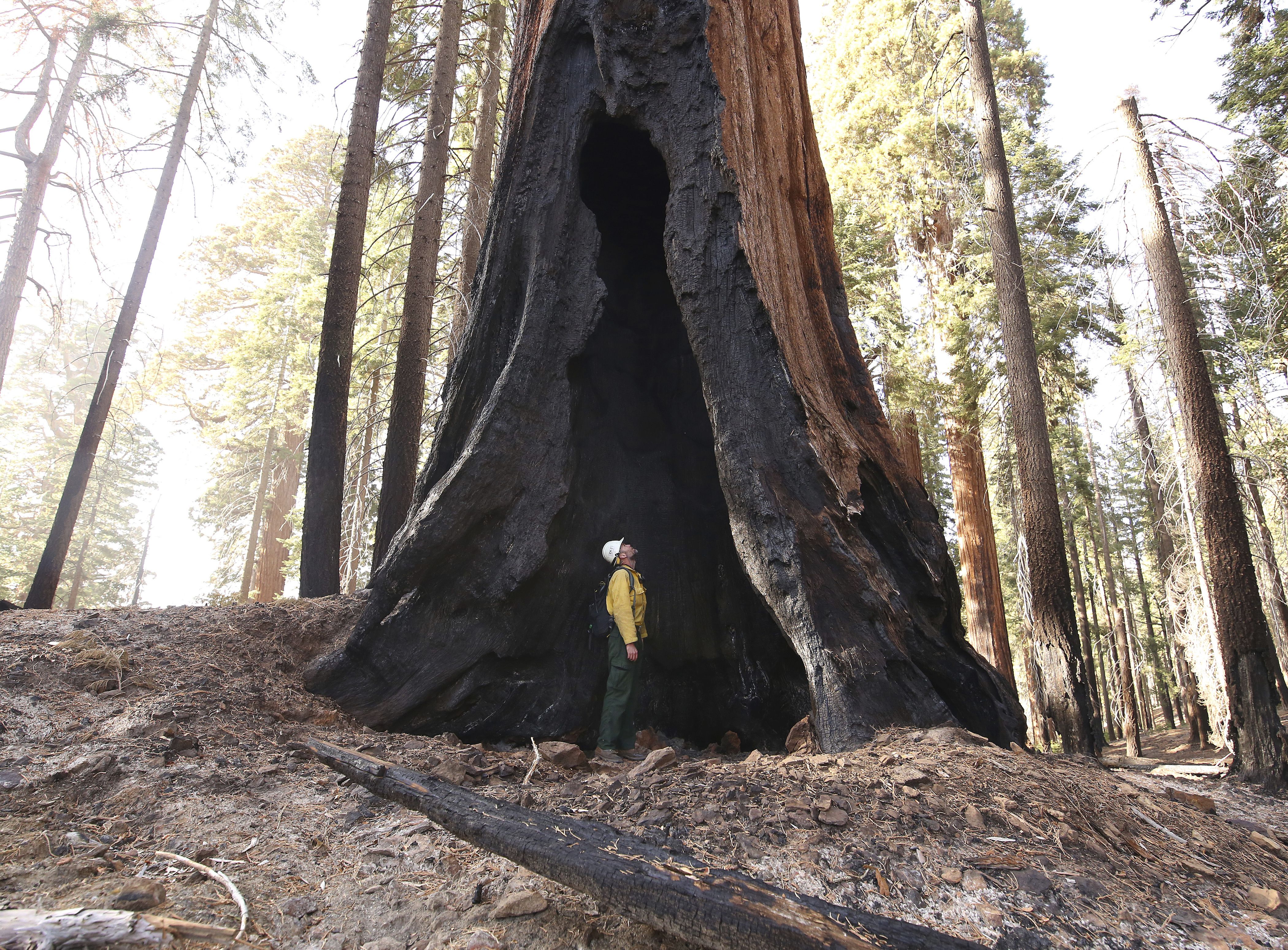 14,000 giant sequoias— up to one-fifth of the world's tallest trees — may have been lost in California wildfires over the past two years, Axios Future author Bryan Walsh writes from a National Park Service report.
Why it matters: Giant sequoias aren't just the biggest trees on the planet — they're among the oldest living organisms period, with some trees dating back to well before the birth of Christ.
7. COVID protests across Europe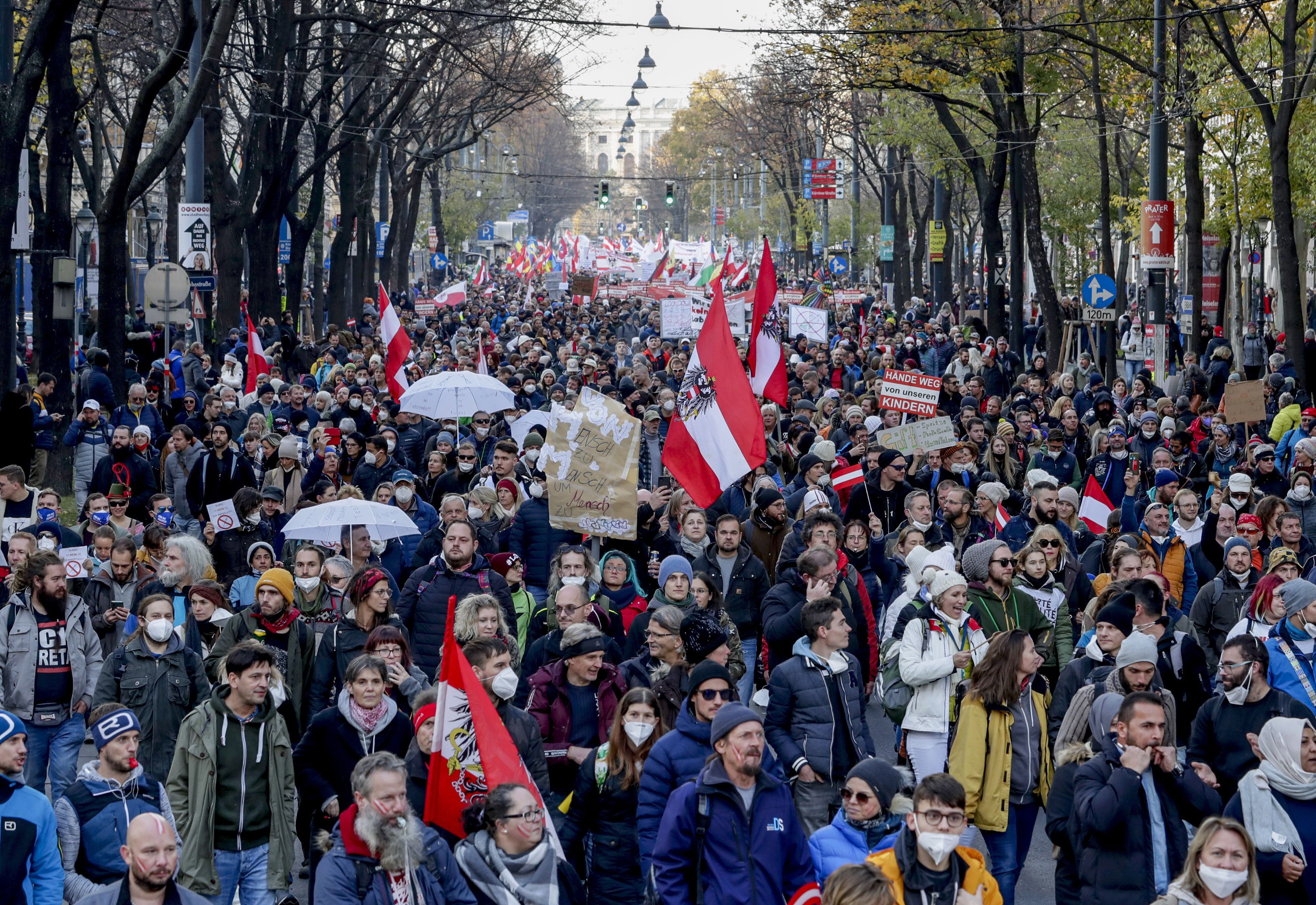 Protesters rallied against COVID restrictions yesterday in Austria, Switzerland, Croatia, Italy, Northern Ireland and the Netherlands, AP reports.
The demonstrators oppose COVID passes needed in many European countries to enter restaurants, Christmas markets or sports events.
Tens of thousands of protesters, many from far-right groups, marched through Vienna yesterday after the Austrian government announced a nationwide lockdown beginning Monday. Average daily deaths in the country have tripled in recent weeks.
The lockdown will last at least 10 days but could go up to 20. People will be able to leave their homes only for such activities as buying groceries, going to the doctor or exercising.
The government will make vaccinations mandatory starting Feb. 1.
In the Netherlands, police opened fire on protesters Friday during rioting in Rotterdam.
Scattered violence by groups of youths in The Hague and elsewhere in the country broke last night, but wasn't as serious.
8. ⚽ Parting shot: D.C. women win soccer championship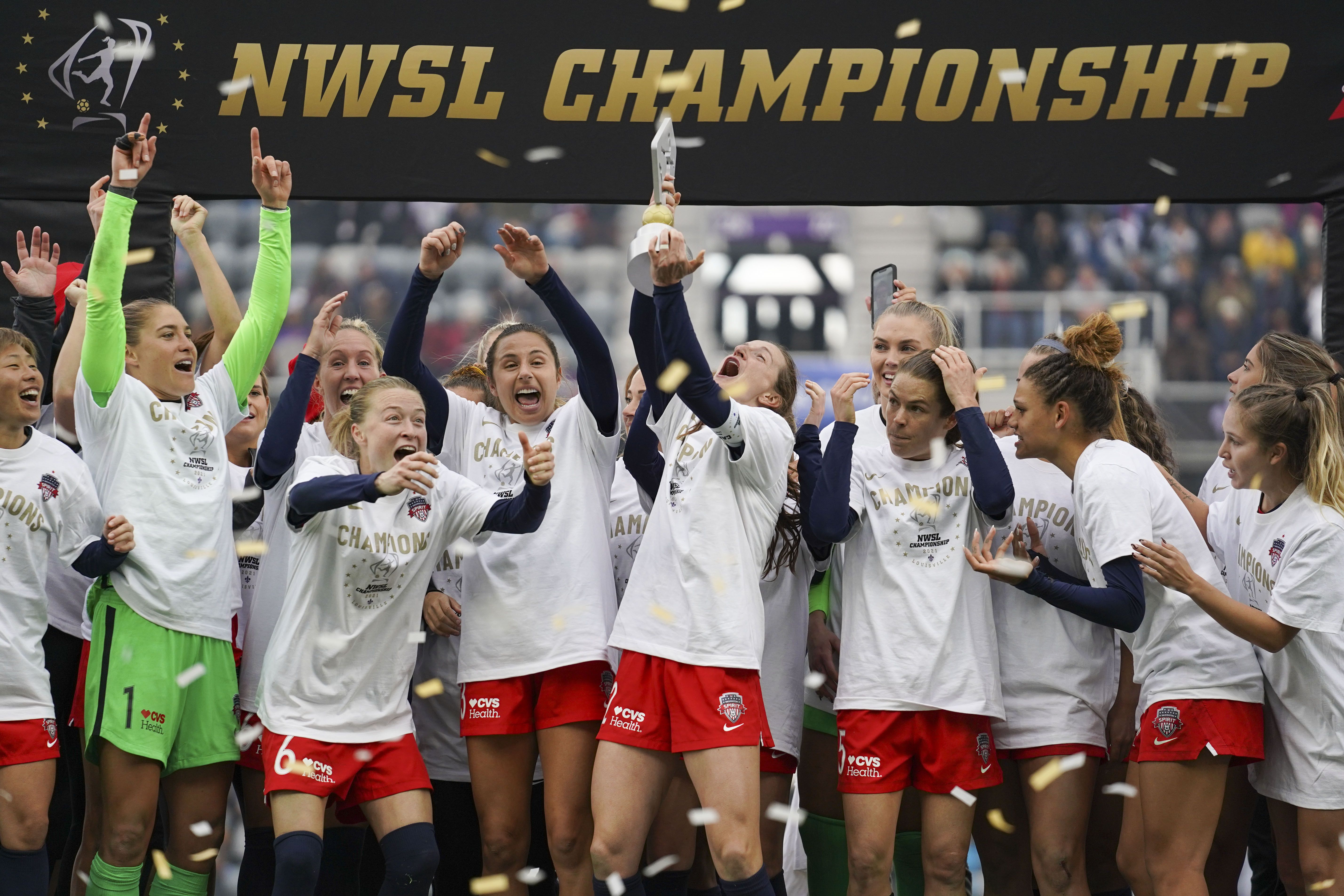 The Washington Spirit beat the Chicago Red Stars 2-1 after extra time in the National Women's Soccer League championship yesterday.
The big picture: The NWSL erupted in controversy this season over a sexual misconduct scandal that led to canceled games, resignation of the league's commissioner, and the departure of multiple head coaches, including Washington Spirit's Richie Burke, Axios' Erin Doherty reports.
What's next: The NWSL's future now looks bright — that is, analysts say, if the league continues to empower players.
📬 Was this email forwarded to you? Sign up here for your own copy of Axios AM and Axios PM.