Axios AM
February 10, 2021
☕ Good Wednesday morning. Today's Smart Brevity™ count: 1,179 words ... 4½ minutes.
🏀 Please join Axios Charlotte reporters Katie Peralta and Emma Way tomorrow at 12:30 p.m. for a Smart Take event on the sports and entertainment industry role in Charlotte's economic recovery. They'll talk with North Carolina Gov. Roy Cooper, and Hornets Sports & Entertainment president and vice chairman Fred Whitfield.
1 big thing: GOP eyes working-class future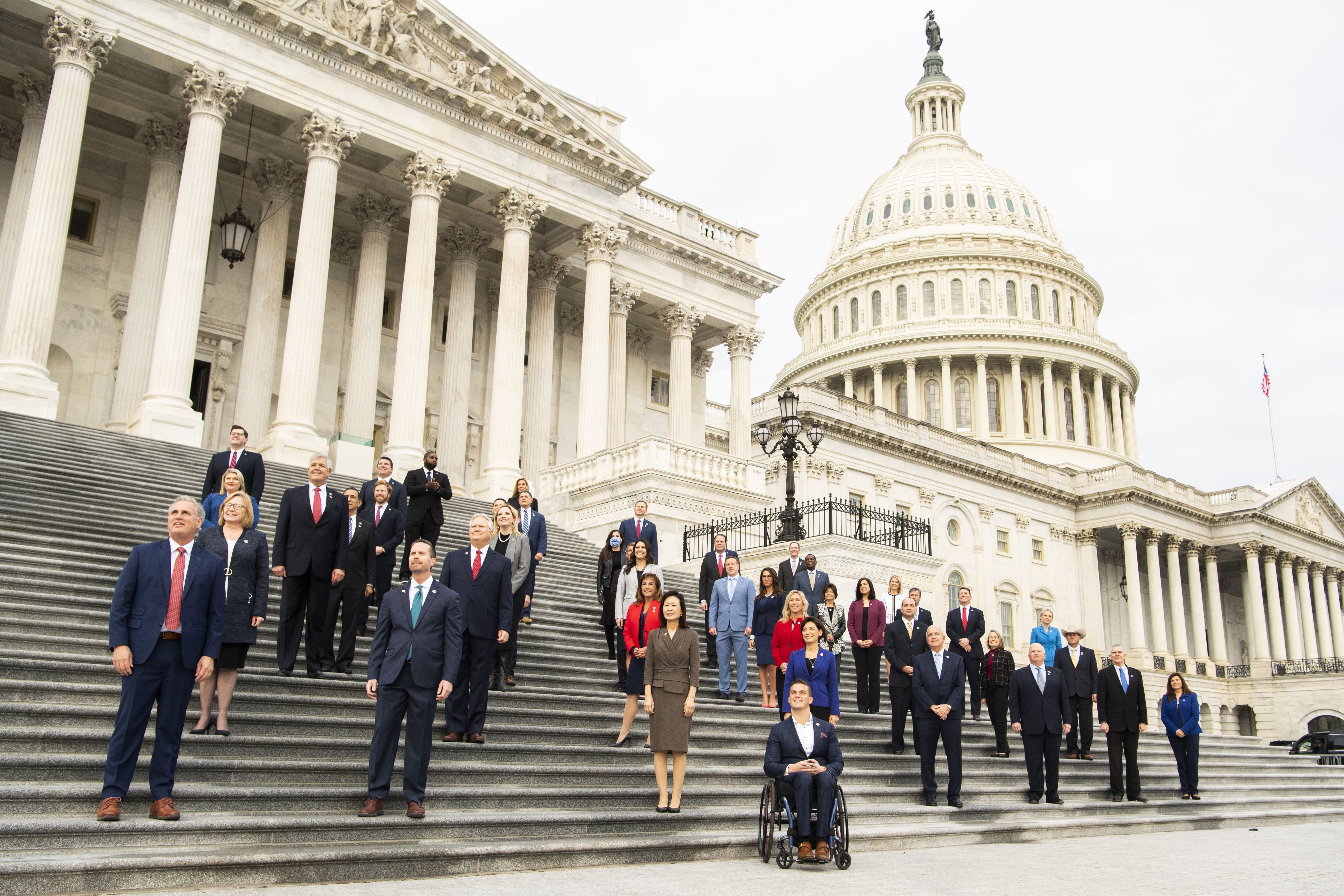 Republicans, long reliant on big business and the rich, see a post-Trump future centered on working class white, Hispanic and Black voters, top GOP officials tell me.
Why it matters: This is a substantial shift, born of necessity and the post-Trump reality. It would push Republicans further away from the interests of corporate America and traditional conservative ideas like entitlement reform.
Top Republican officials tell me that if the party is going to survive, it needs to copy Donald Trump's fixation on blue-collar voters in 2016 and working-class and minority voters in 2020 — and ditch, or at least downplay, allegiance to big business. 
So instead of Republican leaders talking about reforming Medicare or Social Security, you'll hear them talking about protecting entitlements.
What's happening: Numerous corporations are cutting off money to a big chunk of Republicans who refused to certify the Joe Biden victory.
Trump showed Republicans how to invigorate not just working-class whites, but also some Hispanic and Black voters, especially men.
The big picture: Recent polling shows Republican voters no longer coalesce around tax cuts and entitlement reforms.
Instead, there's a substantial divide — and many signs their future might rest in protecting traditional workers and traditional values.
Two champions of this theme are House Republican Leader Kevin McCarthy and Sen. Marco Rubio of Florida.
McCarthy told Punchbowl News this week that "the American worker" will be one of his three focuses this cycle, along with immigration and "fighting back against socialism."
Rubio said in December that Republicans can capitalize on political realignment by being a "pro-worker party."
2. A million moms out of work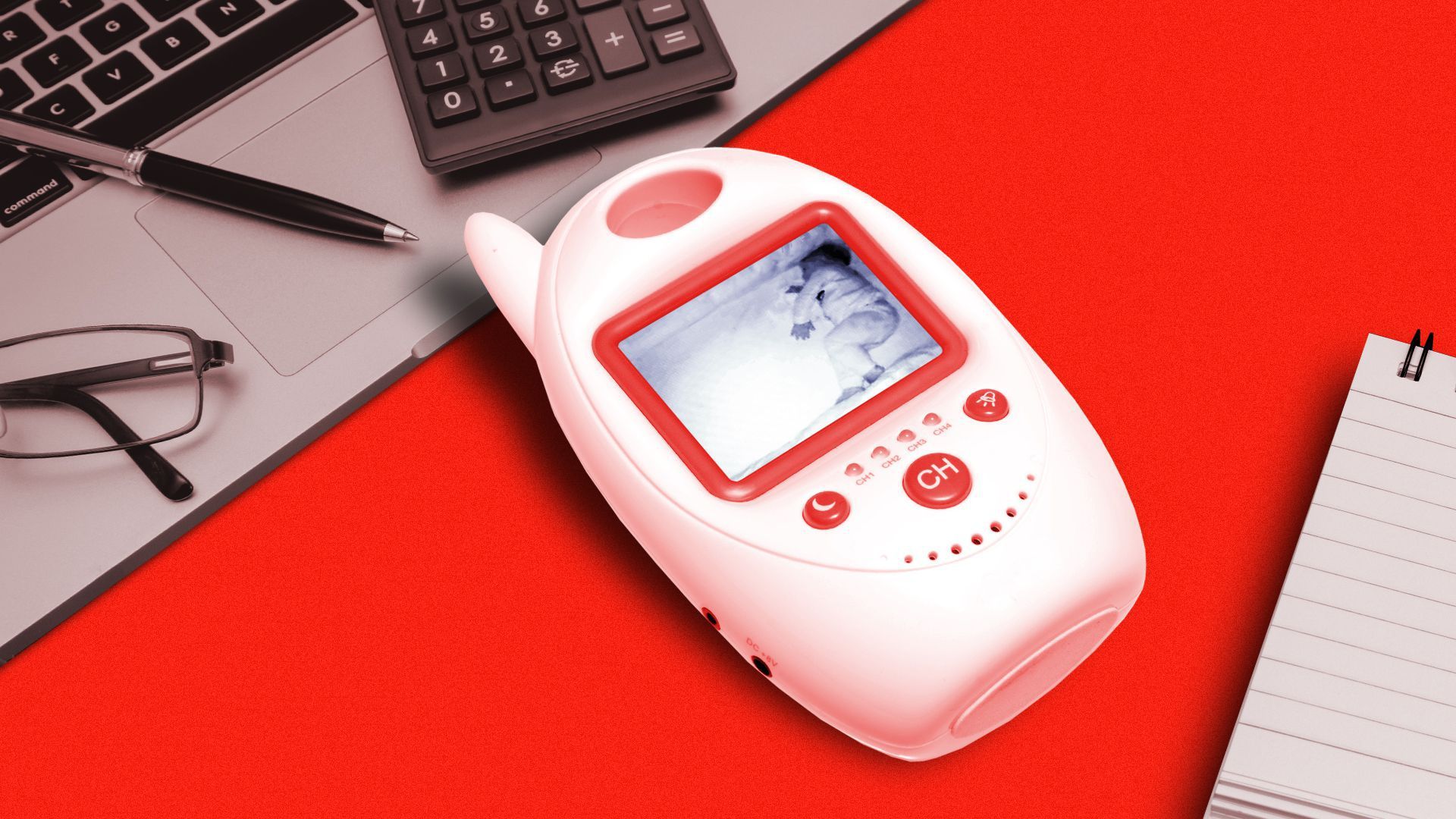 Women in the U.S. hit a milestone in February 2020 when, for the first time in history, they held the majority of non-farm payroll jobs, outnumbering men in the workforce, Axios @Work author Erica Pandey writes.
One year later, women's labor force participation is at a 33-year low.
Why it matters: Putting mothers back to work is vital to the health of the U.S. economy, experts say. There will be long tail effects that hurt working women and mothers long after the pandemic is over.
3. What's next after smartphones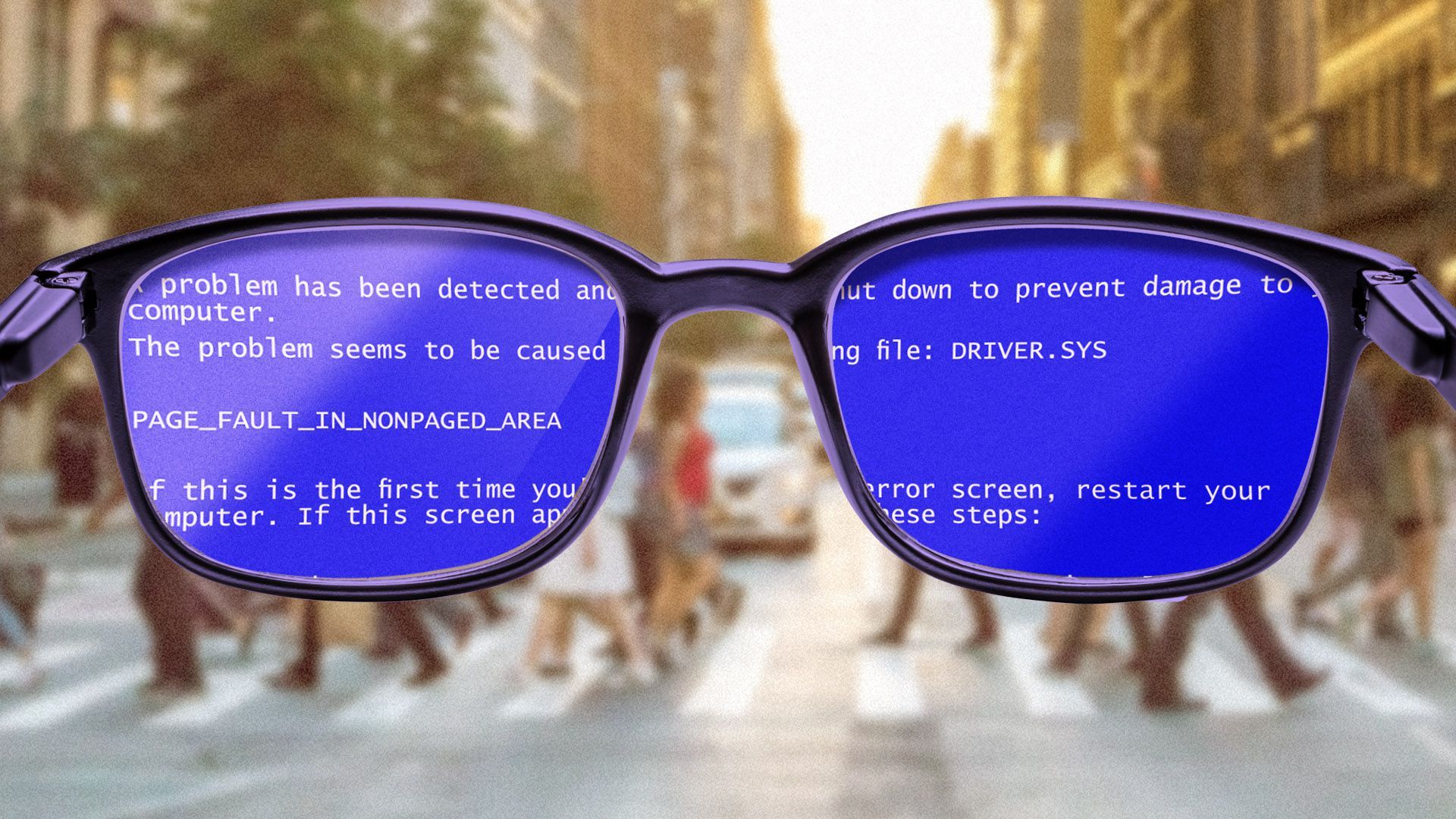 Big Tech companies are investing heavily in some of the key underlying technologies for augmented reality glasses, Axios' Ina Fried writes.
Facebook plans to debut smart glasses later this year, designed in partnership with Ray-Ban maker Luxottica, as a stepping stone to help people get used to these kinds of devices in their lives.
Microsoft already sells Hololens, which packs the power of a Windows 10 computer into a headset.
Apple has shared few specifics, but is reportedly readying a $3,000 VR headset that would also use cameras to see into the real world.
What we're watching: The technical hurdles are many, especially if the goal is really something as light and inconspicuous as eyeglasses.
4. Impeachment managers' other audience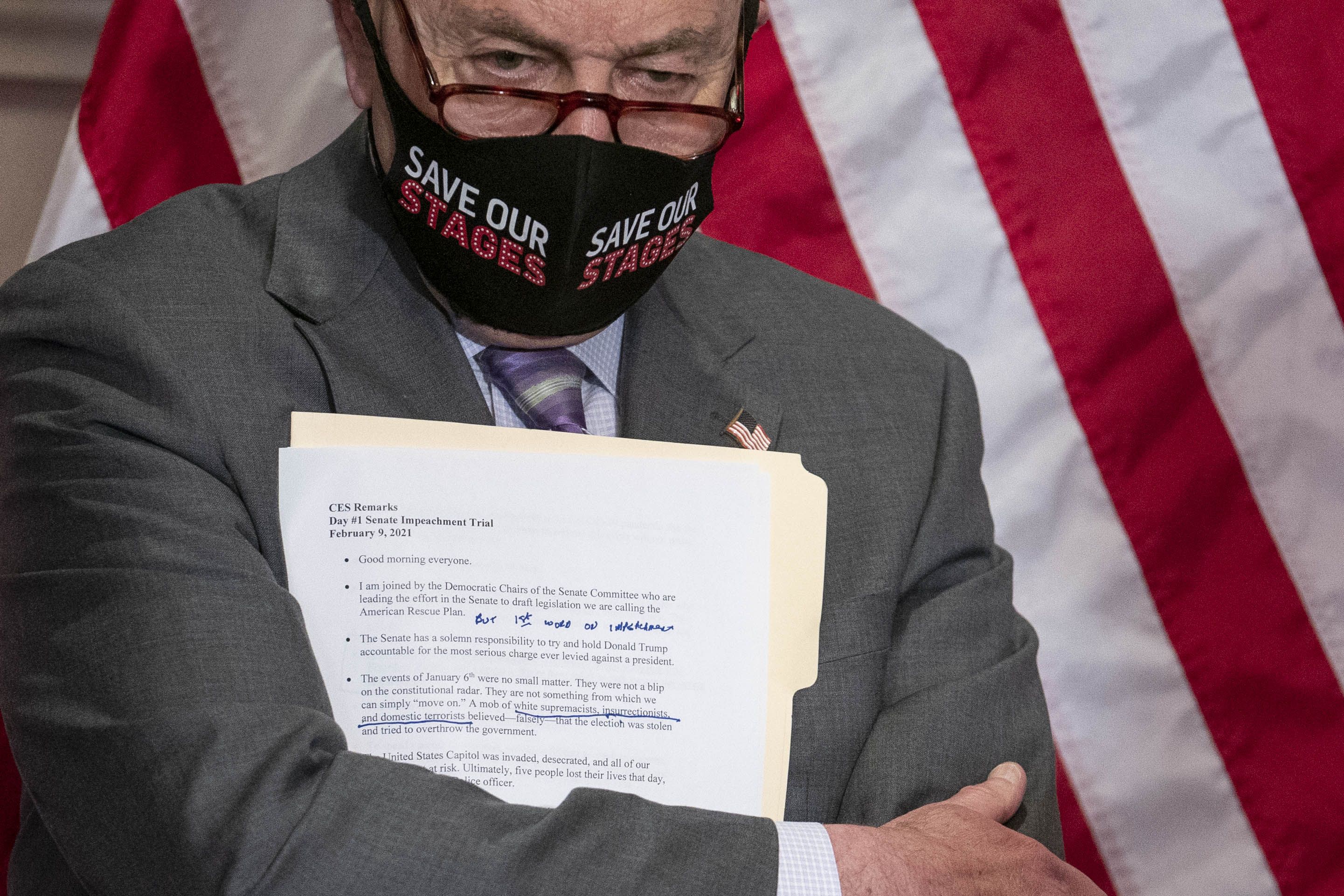 Top Democrats tell me that even if former President Trump is acquitted at his second impeachment trial, as expected, he'll be further diminished in history by vivid, visceral video evidence from the House managers.
Why it matters: The American public is a second key audience, in addition to the senators who are the jurors. Democrats think the videos they began playing yesterday — capturing the violence, chaos and profanity — will break through in a way that even real-time news coverage didn't.
See yesterday's 13-minute video.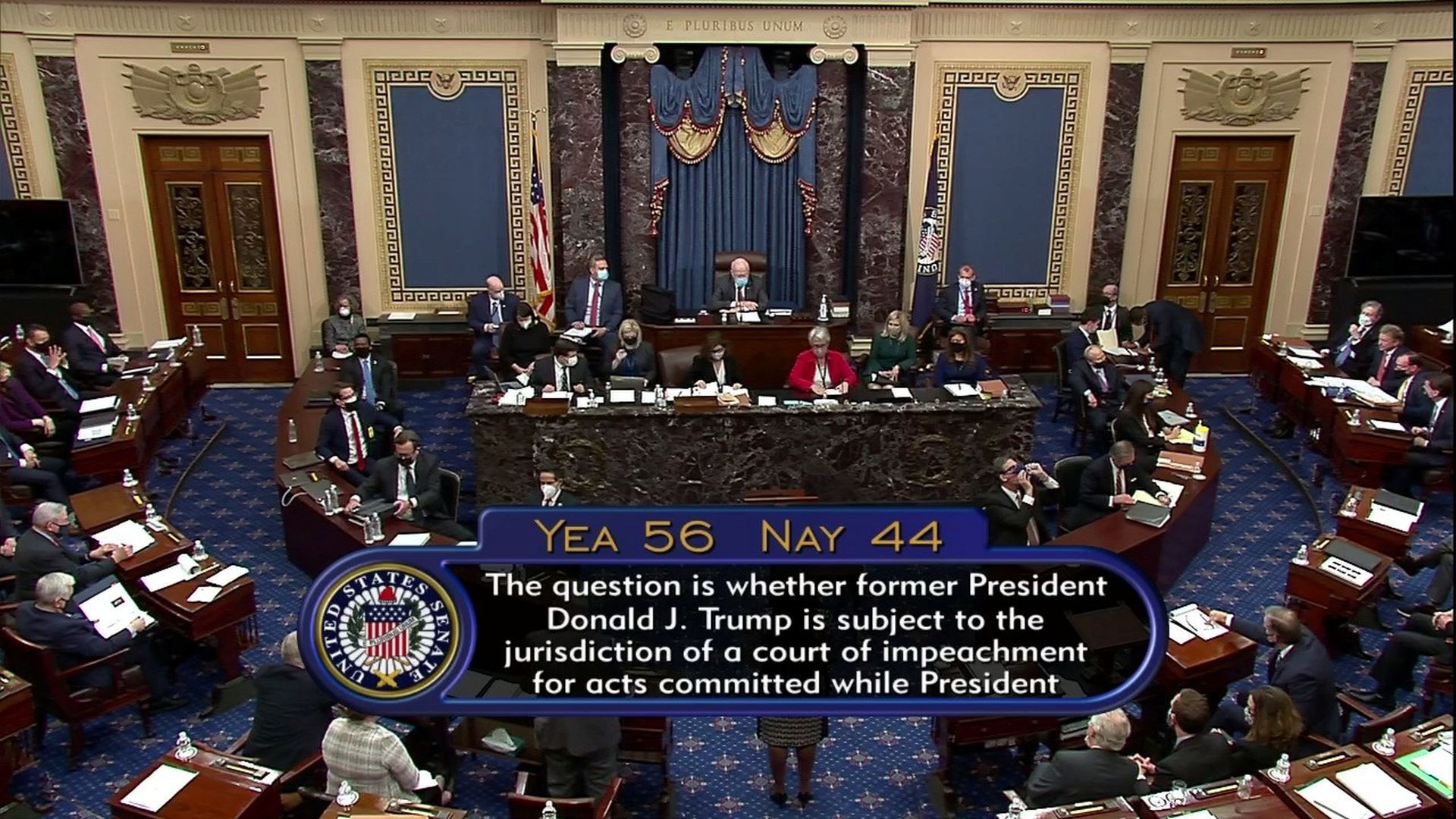 🗞️ How it's playing ...

5. Most states weigh vote limits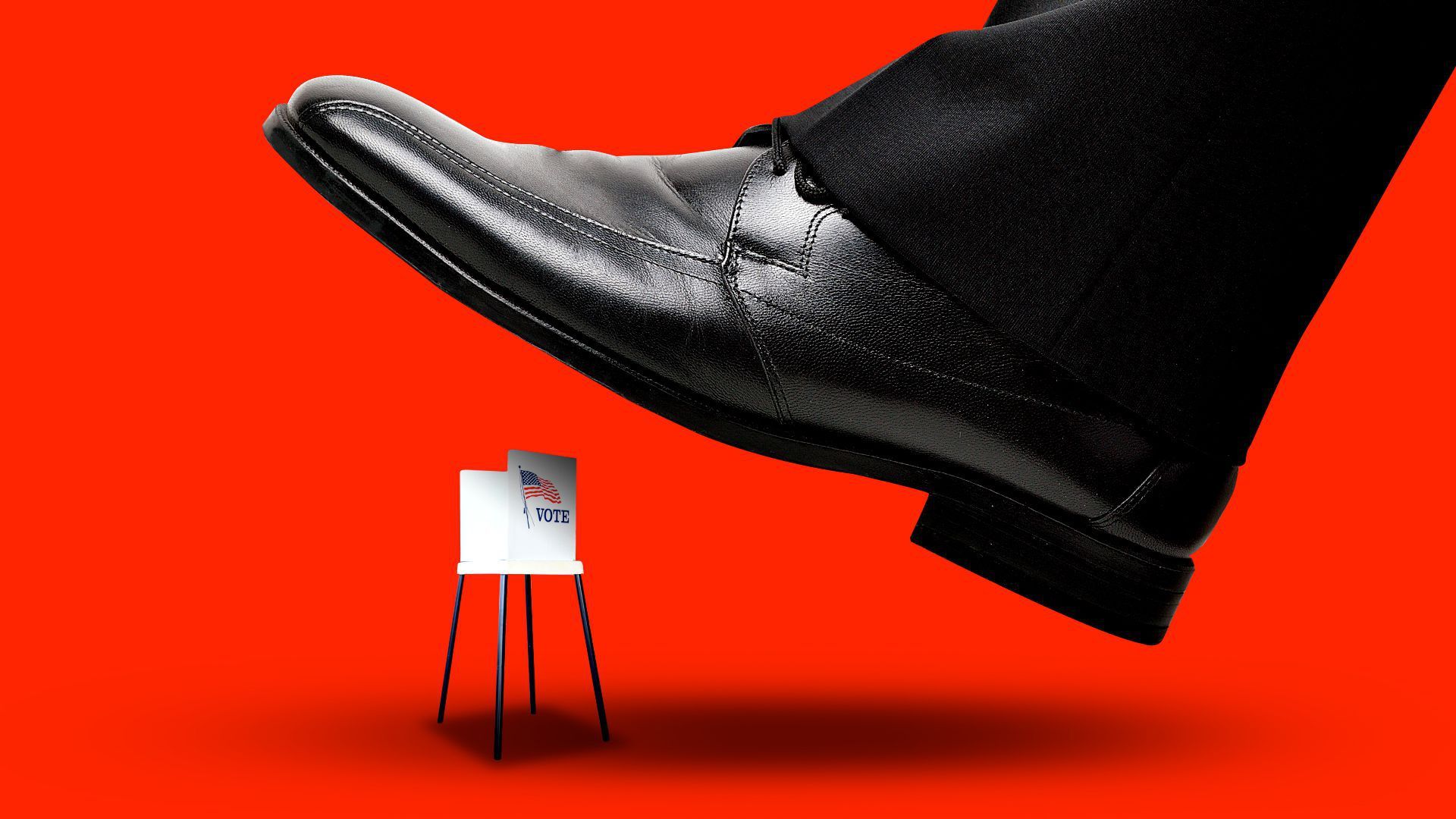 At least 165 proposals are being considered in 33 states to restrict voting access by limiting mail-in ballots, implementing new voter ID requirements and slashing registration options, Axios' Russell Contreras and Stef Kight report.
Why it matters: The 2020 election shattered minority turnout expectations, with Black and Asian-American voters in Georgia, and Latino and Navajo voters in Arizona, flipping traditionally red states to blue.
Advocates hoped that one silver lining of COVID-19 would be a permanent expansion of absentee and early voting options and other steps to make voting safer and more accessible to all voters.
But a majority of states are seeing a proliferation of efforts to make voting more difficult, fueled by Trump's false claims of election fraud.
6. Dems plan big ACA changes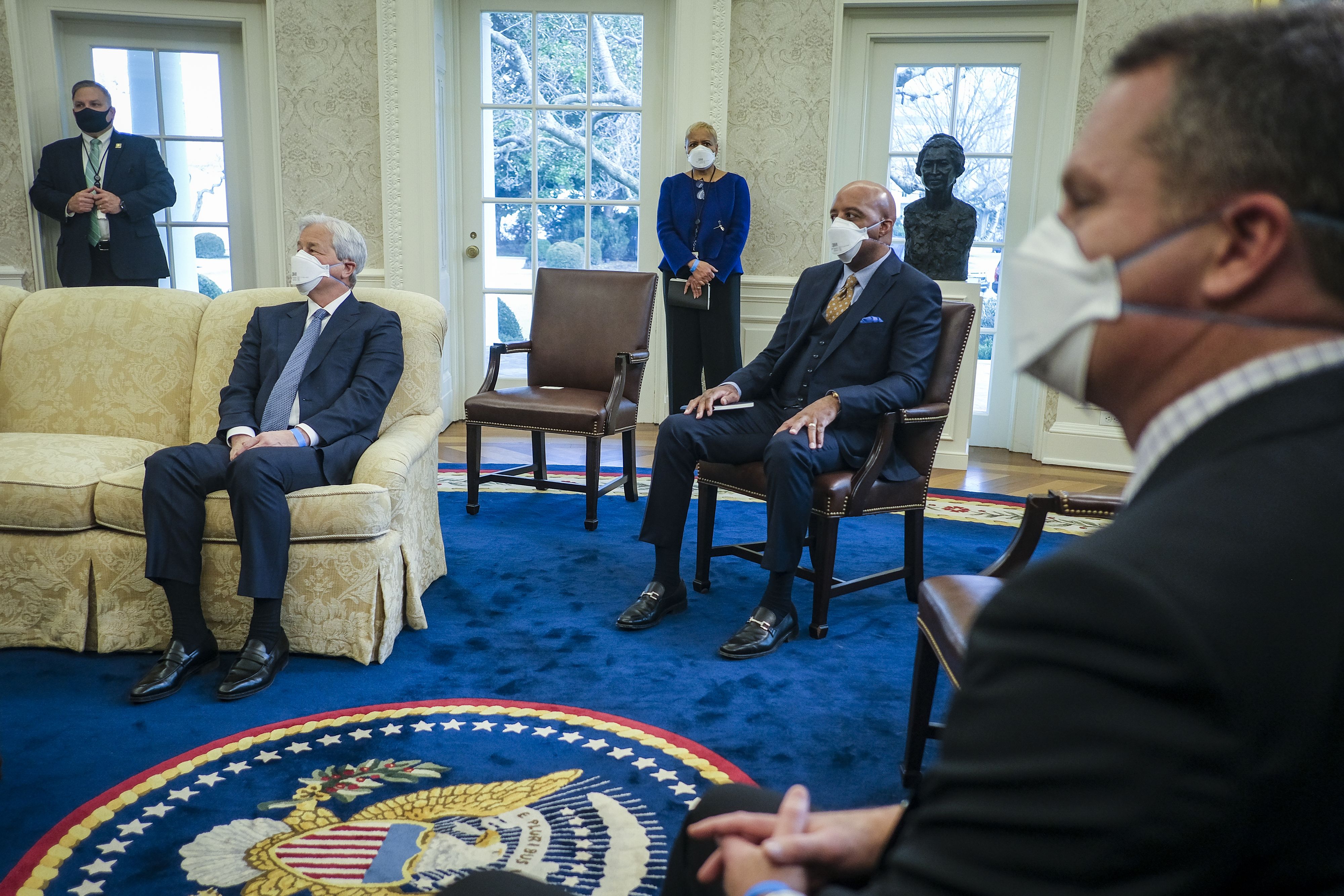 Democrats' coronavirus relief proposal includes major changes to the Affordable Care Act, Caitlin Owens writes in Axios Vitals.
Why it matters: The aim is to make health insurance more affordable for millions of people who have lost employer coverage during the pandemic.
House Ways and Means legislation includes these enhancements:
People making up to 150% of federal poverty would be eligible for fully subsidized plans. No one — regardless of income — would pay more than 8.5% of their income for health insurance.
People receiving unemployment would get full subsidies for a year.
7. America's priciest offices
Of the 50 most expensive places to rent office space, 29 are in California and 13 are in New York — with the Bay Area, Manhattan and Brooklyn dominating the list, Axios Cities mayor Jennifer A. Kingson writes.
Why it matters: Despite predictions of pandemic-related shakeups in commercial real estate — and the fact that so many cubicle dwellers are working at home — desirable urban office space remains at a premium.
8. Chamber passes torch to Suzanne Clark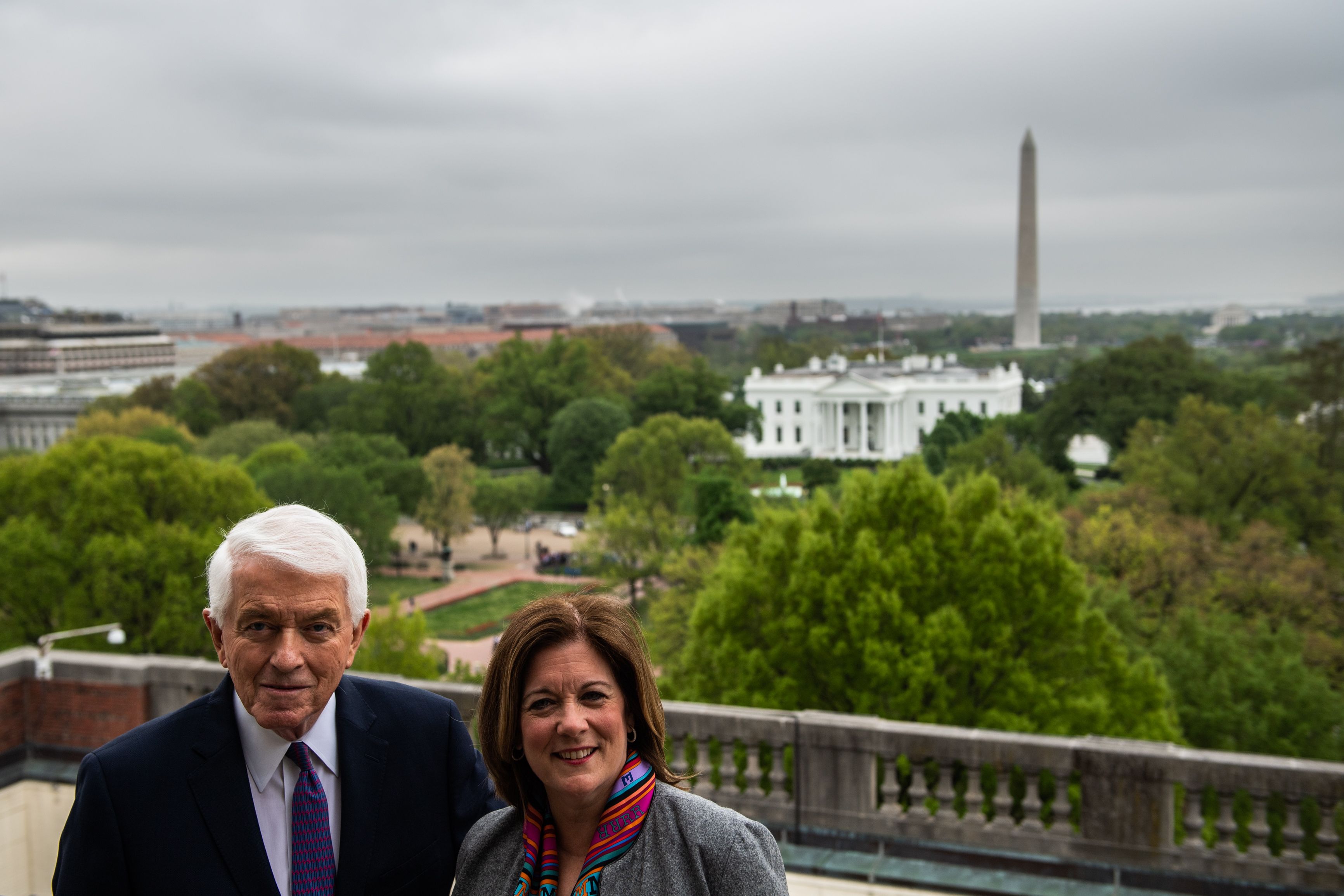 The U.S. Chamber of Commerce said President Suzanne Clark, a former business owner, will become CEO on March 21.
She succeeds Tom Donohue, who made the world's largest business organization a fundraising powerhouse during his 24-year tenure.
Read more about Suzanne Clark.
9. 🏈 Super Bowl sets streaming record
The Super Bowl was watched by 96.4 million viewers — the game's lowest audience since '07, Axios' Sara Fischer and Jeff Tracy write from Nielsen data.
But the game broke records as the most live-streamed NFL game ever, averaging 5.7 million viewers per minute — up 65% from last year.
Take out streaming, and Nielsen estimates 91.6 million watched CBS' live broadcast, compared to 99.9 million who watched last year on Fox.
10. 👢 National anthem gets boot in Texas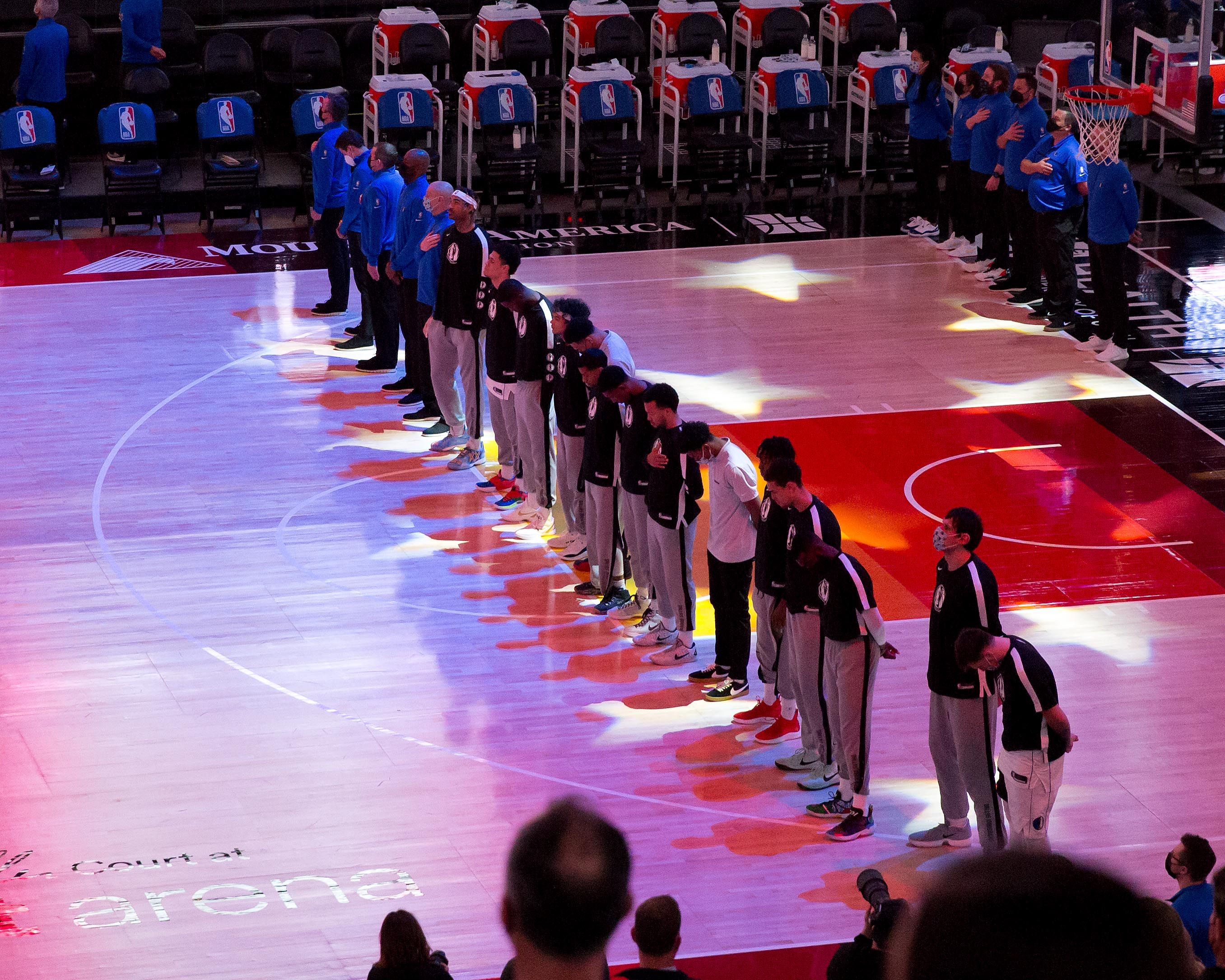 The NBA's Dallas Mavericks haven't played the national anthem during home games this season and don't plan to in the future, owner Mark Cuban confirmed to Axios Sports editor Kendall Baker.
Cuban said he made the decision, but provided no further comment after the change was reported by The Athletic: "We haven't played it yet this season. This is the first time it's come up."
Why it matters: The Mavericks are believed to be the first American pro team to cease playing the anthem at home.
In June, Cuban expressed support for players kneeling, telling ESPN: "If they were taking a knee and they were being respectful, I'd be proud of them. Hopefully I'd join them."
In July, he tweeted: "The national anthem police in this country are out of control. If you want to complain, complain to your boss and ask why they don't play the national anthem every day before you start work."
The state of play: Dallas never formally announced the new policy, but Cuban was allowed to enact it because the NBA has permitted teams "to run their pregame operations as they see fit" this season, per a league spokesman.
The NBA requires players to stand for the anthem, but the league hasn't enforced the rule in recent years as kneeling became a method of protest.
📬 Thanks for starting your day with us. Please invite your friends to sign up for Axios AM/PM.