Axios AM
July 11, 2023
☕ Good Tuesday morning. Smart Brevity™ count: 1,498 words ... 5½ mins. Edited by Noah Bressner.
1 big thing: Living geologic history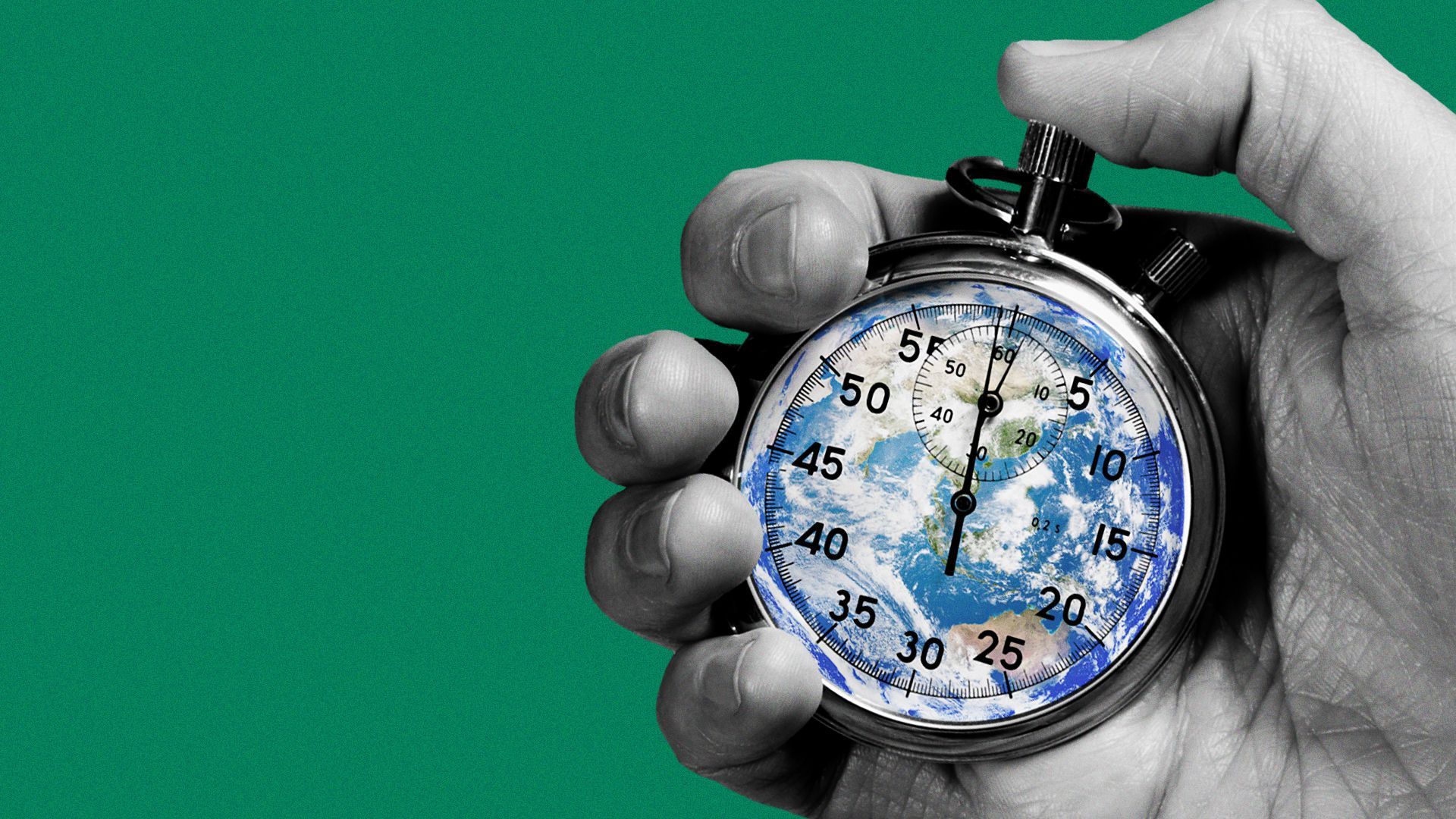 Today, scientists are expected to announce key evidence that the world has entered a new epoch, called the Anthropocene, Axios managing editor Alison Snyder writes.
Why it matters: Earth's 4.5 billion-year history is divided into geological epochs that each typically span millions of years. We may soon officially enter a new one — the first defined by human action.
Researchers say humans, rather than a natural phenomenon like an asteroid strike, pushed the planet into this phase — one in which Earth is being rapidly transformed.
"[W]e are living in a new geological period, one in which the scale and power of human activities match or even exceed the scale and power of natural processes," Naomi Oreskes, a professor of the history of science, tells Axios via email.
🎨 The big picture: A new epoch would represent a new reference point for how scientists understand Earth's history and trajectory — especially the impact of human-caused climate change.
Epochs, eras and ages frame scientists' views of Earth's evolution — the emergence of plants and the extinction of dinosaurs, the breakup of supercontinents and natural changes in global temperatures.
⚡ What's happening: The new epoch isn't a done deal yet — the Anthropocene is, for now, still just a proposal. Some scientists, including many who study climate change, already use the term widely.
A working group of the International Commission on Stratigraphy has spent more than a decade evaluating whether Earth has entered the proposed Anthropocene.
Scientists want to pinpoint a "golden spike" — a place on the planet where evidence of the start of a global change is etched into rock, sediment or ice.
Today, they'll announce their choice to represent the proposed epoch. (Find out the answer in Axios PM!)
🥊 Reality check: There's a big debate about whether human-caused changes amount to a new epoch — and, if so, when it began.
Some anthropologists point to a time hundreds of thousands of years ago when humans first harnessed fire, or to the dawn of agriculture.
Others argue humans have been on Earth for such a short time in geological terms, that we don't warrant our own epoch.
"The Anthropocene inflates our own importance by promising eternal geological life to our creations," Peter Brannen wrote in The Atlantic.
2. 🎓 Falling trust in college
All major demographic groups, led by Republicans, are less confident in higher ed than they were just a few years ago, according to an eye-opening Gallup poll out this morning.
Why it matters: This is a new sign of America's cratering trust in institutions, and of the culture wars' impact beyond politics.
"In 2015, majorities of Americans in all key subgroups expressed confidence in higher education, with one exception — independents (48%)," Gallup writes:
By 2018, confidence had fallen across all groups, with the largest drop — 17 points — among Republicans.
But it's not just Republicans: "Confidence among adults without a college degree and those aged 55 and older dropped nearly as much as Republicans' since 2018."
The only key subgroup with majority-level confidence in higher education: Democrats.
3. 🇨🇳 China's weakening economy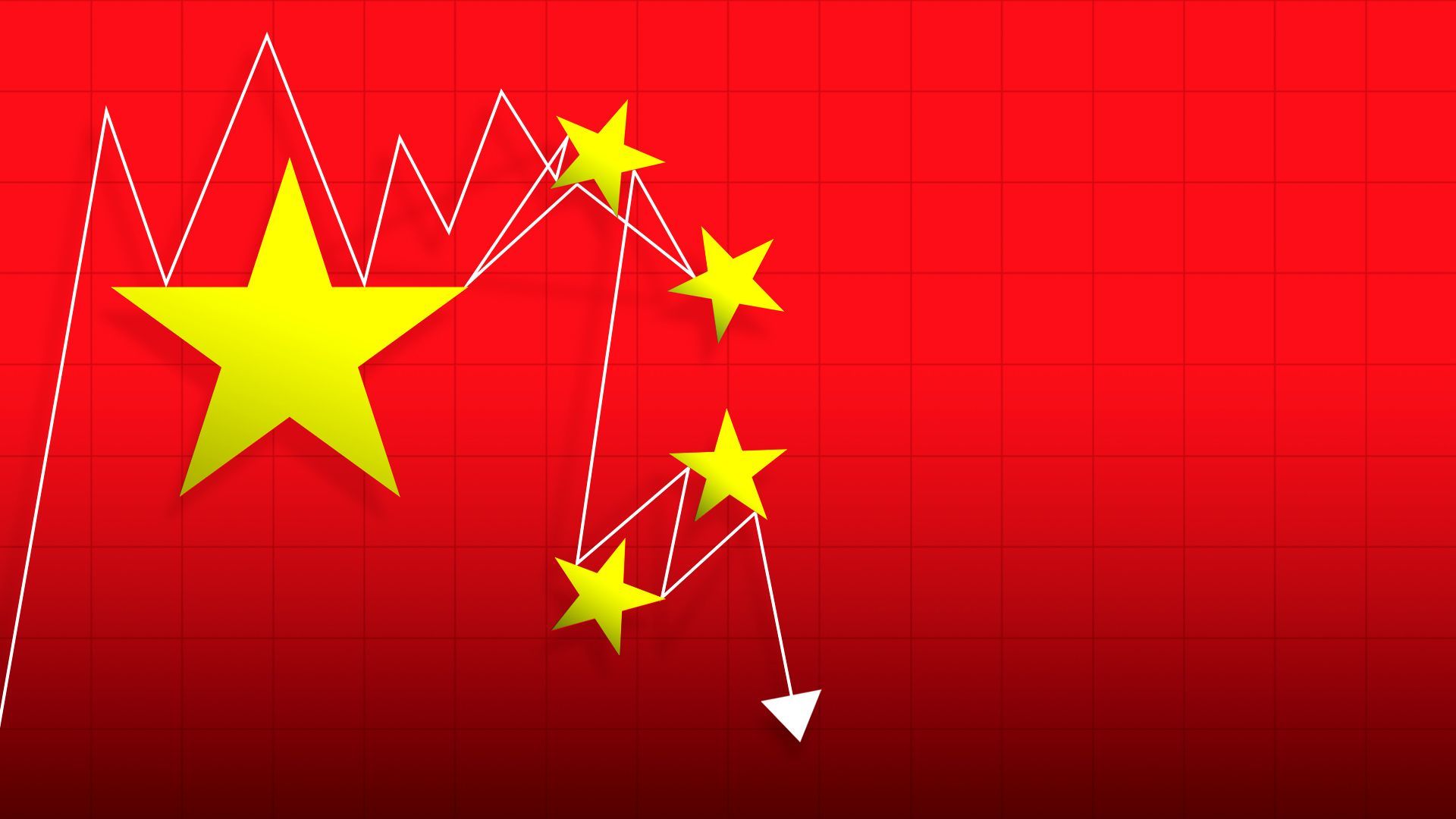 China's economy is struggling to shake off COVID woes, leaving it tottering on the brink of deflation (falling prices), Matt Phillips writes for Axios Markets.
Why it matters: What happens in China — the world's largest exporter and industrial hub — doesn't stay in China.
What's happening: New Chinese price data out yesterday was weaker than expected, with the country's consumer price index dead flat over the last year.
Producer prices — prices at the factory gate, which are typically seen as a leading indicator of consumer prices — are deeply negative, falling 5.4% compared with June 2022.
👀 What we're watching: If the country's economic engine continues to sputter, China will consume fewer raw materials and put downward pressure on commodities prices — key drivers of short-term swings in consumer prices in the U.S.
4. 🖼️ Portrait of power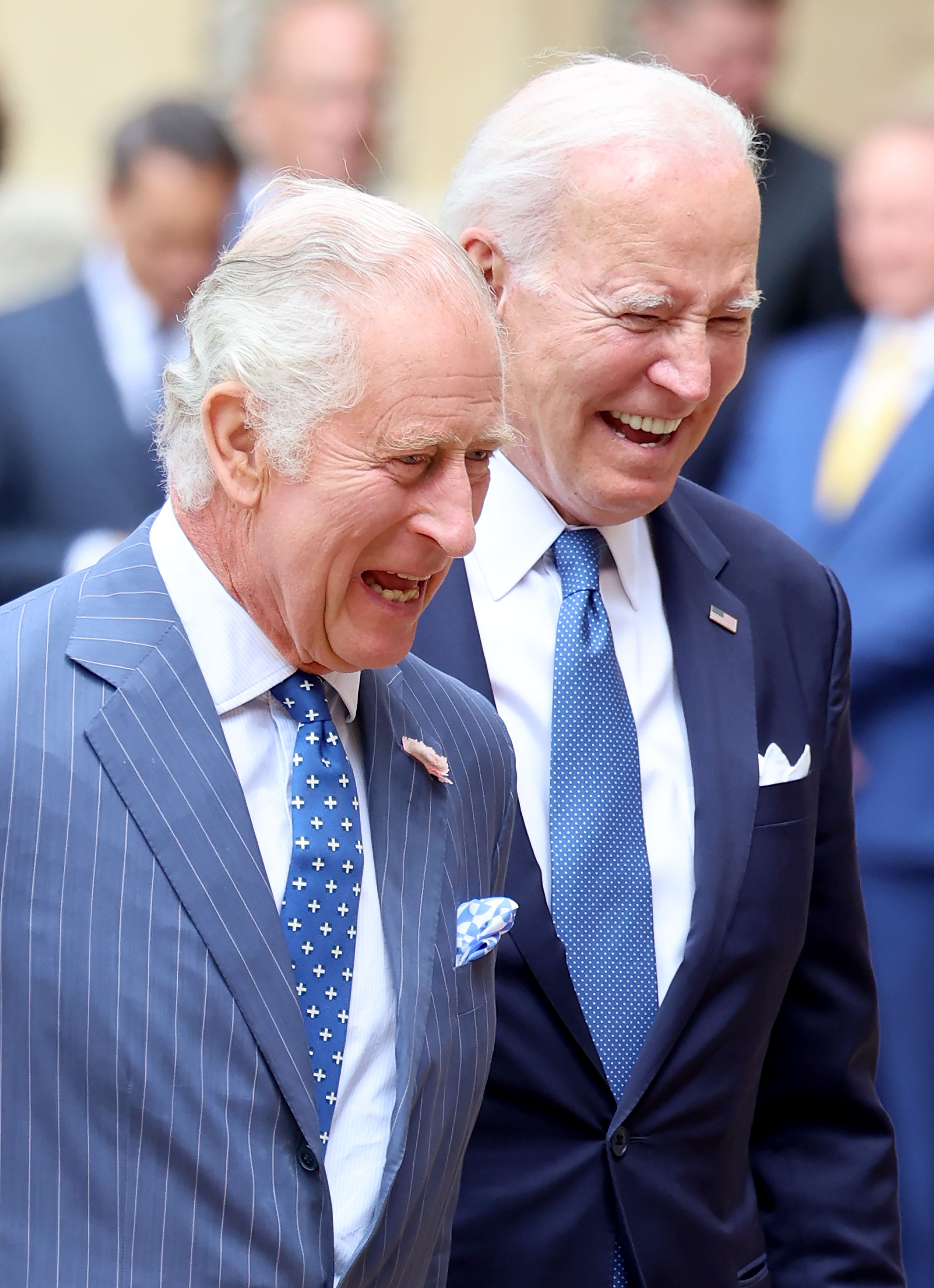 King Charles III, 74, greets President Biden, 80, yesterday in the Quadrangle at Windsor Castle in Windsor, England.
Biden today is in Vilnius, Lithuania, for a NATO summit.
5. 🔋 Afeela shows auto future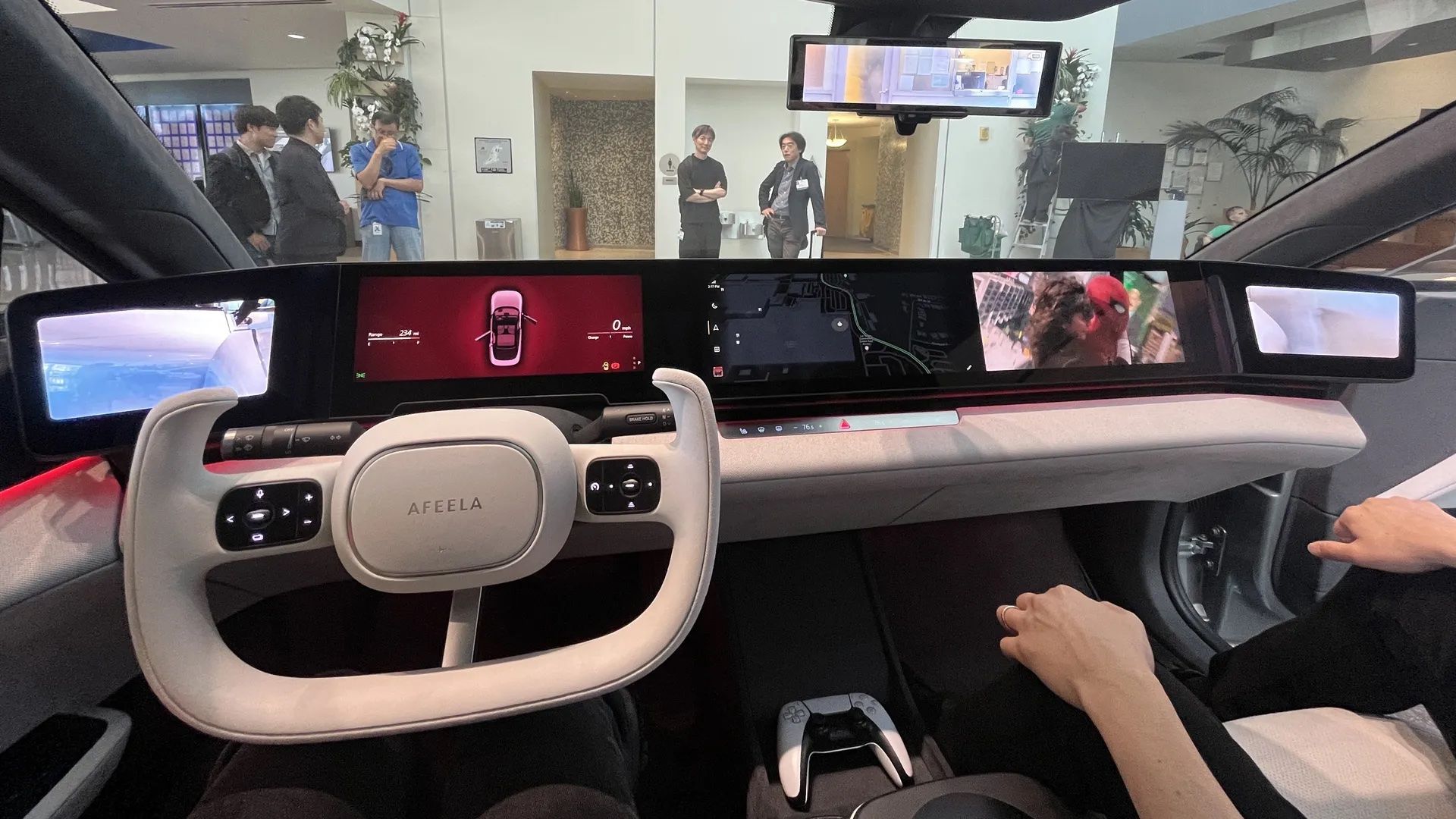 A new prototype from Sony and Honda under the brand name Afeela might be the best example of what people mean when they say cars are becoming "computers on wheels," Axios San Diego reporter Kate Murphy reports.
Yes, it's a handsome electric car. More crucially, it's an enticing new platform for Sony's tech and entertainment products — including AI, augmented reality and virtual reality.
Why it matters: As cars get closer to driving themselves, the software-defined passenger experience will be a big differentiator for brands.
Axios got an inside look at the Afeela prototype on a visit to the San Diego headquarters of tech giant Qualcomm, whose semiconductors and chipsets power the car's software experience.
The Sony-Honda joint venture behind the Afeela brand, called Sony Honda Mobility, plans to start taking orders in 2025, with U.S. deliveries set to begin in 2026.
Afeela features, while still under development and subject to change, represent broader industry trends:
The touchscreen dashboard entertainment system extends the width of the car, serving up full-screen movies, music, navigation and PlayStation 5 remote play with a controller (for passengers, or when parked). The car could come with a gaming console (no remote connection needed).
Facial recognition unlocks the car and opens the door. The car automatically adjusts the seat, steering wheel, sound system, and dashboard lights and themes based on previously selected settings for each driver. Selecting a Spider-Man theme will change the colors of the lights and images on the interior dashboard, and even play a theme song when you accelerate.
Exterior screens on the front grille can display the theme, the weather, the charging status or even the score of a football game. During the demo, rain droplets and weather icons popped up on the screen between the headlights to show that it was 72 degrees and raining in Las Vegas. The numbers on a scoreboard flipped when a team kicked a field goal during a live game. Fortnite characters or Spider-Man can drop in between the taillights and wave.
Sign up for Axios San Diego, coming next week ... Try one of our 29 other Axios Local newsletters.
6. 🛍️ Today is one of the year's biggest online days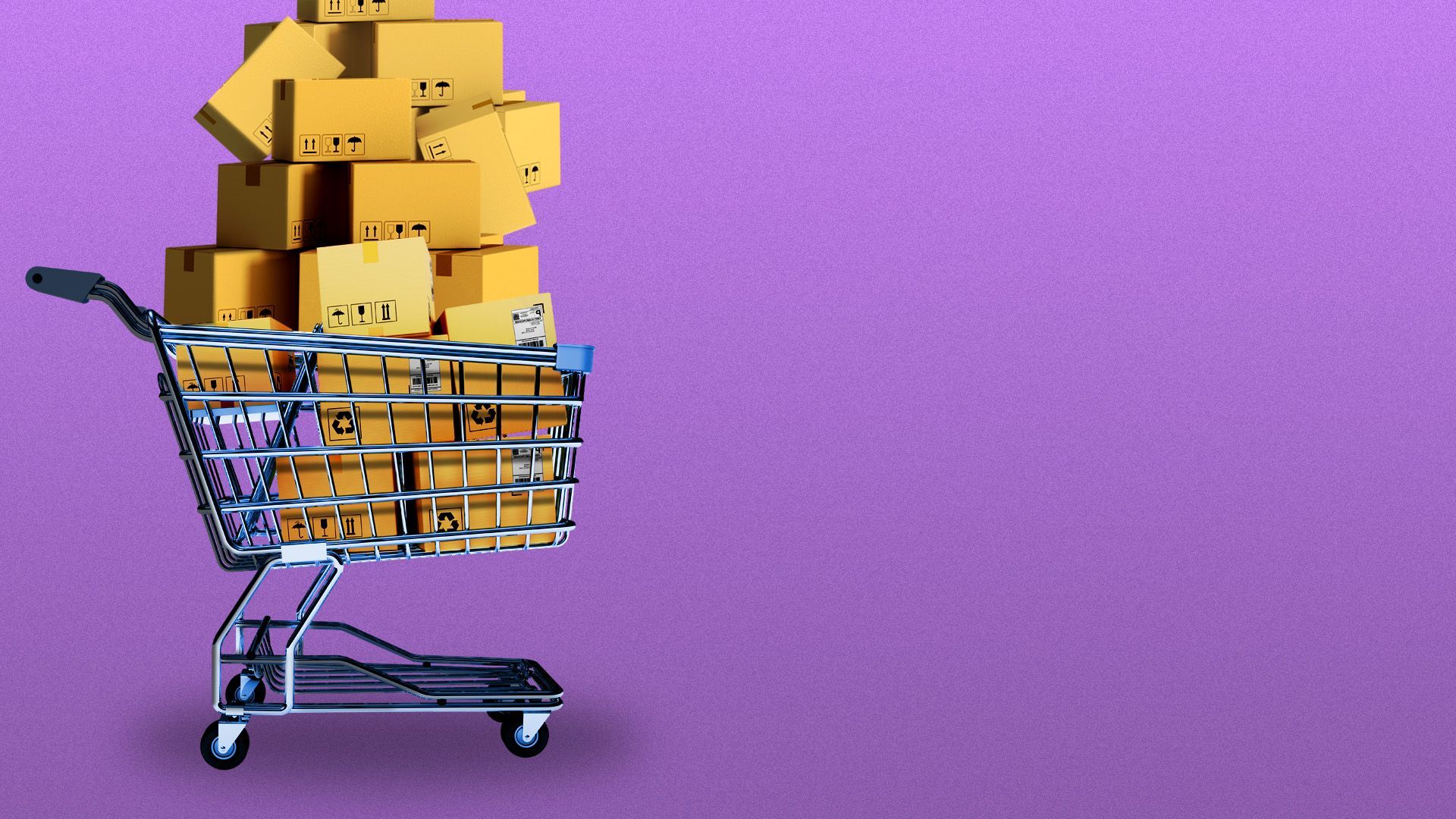 It's Black Friday in July:
Today is expected to be one of the biggest deal and shopping days of the year, as more major retailers hold sales to compete against Amazon's Prime Day, Axios' Kelly Tyko reports.
Why it matters: Billions of dollars will be spent at Amazon and competitors this week.
What's happening: Experts consider Amazon's Prime Day (today and tomorrow) to be the unofficial start of back-to-school shopping. Some bargain-conscious consumers will get an early jump on Christmas.
Kristin McGrath, a shopping expert with RetailMeNot, told Axios that because Prime Day requires a Prime membership, a lot of retailers market their sales for everyone "to siphon some of that hype."
Competing sales will be held today by Walmart, Target, Best Buy, Kohl's and Macy's.
7-Eleven is handing out free Slurpees today. Subway has a sandwich giveaway.
7. 🗞️ The Athletic to cover sports for NYT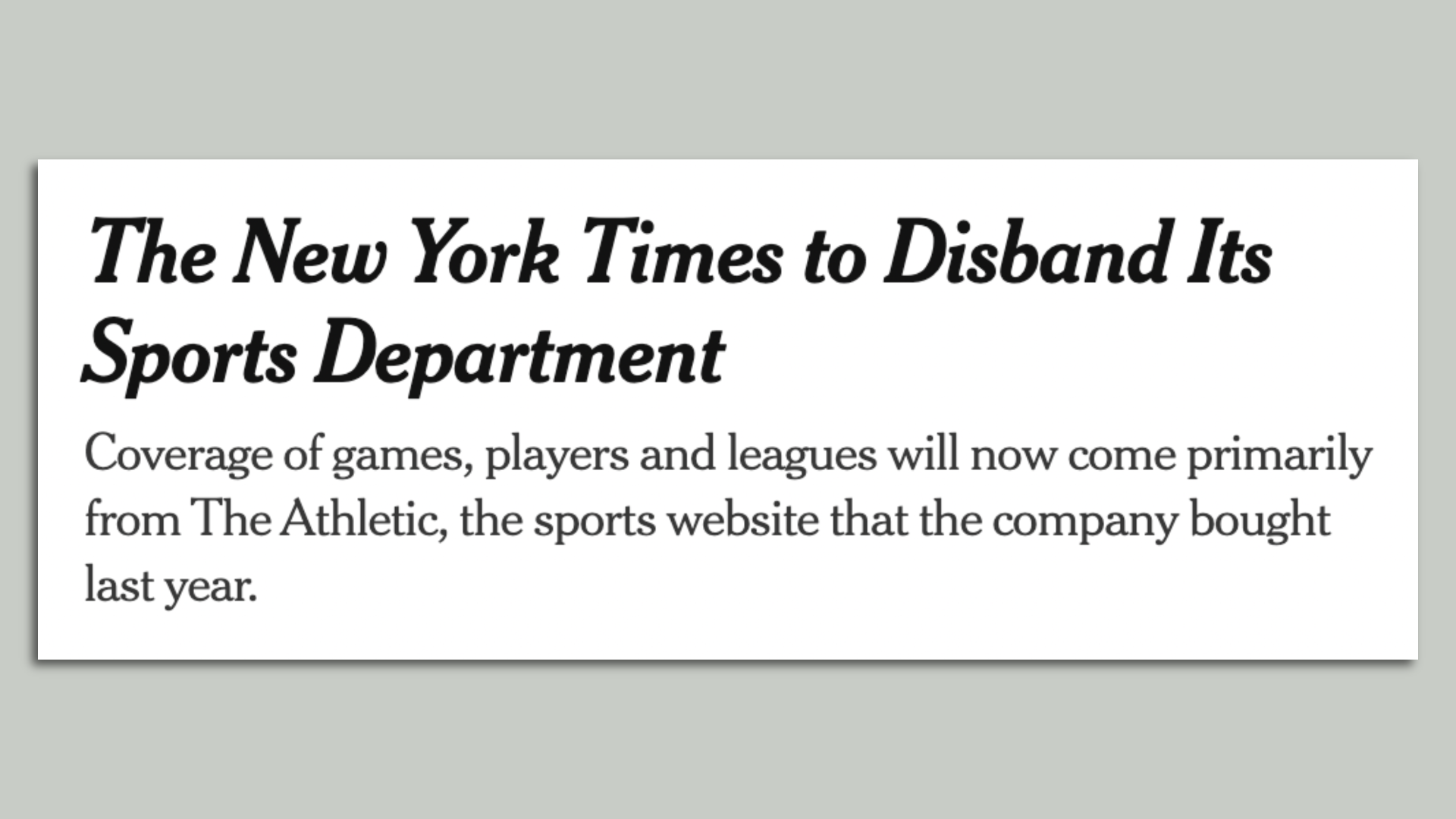 The New York Times is sunsetting its legendary sports desk:
Breaking news (for the paper and online) will be drawn from the paper's subscription sports site, The Athletic. Enterprise and investigative coverage will come from business, culture and other desks, Axios' Sara Fischer writes.
💍 Why it matters: The "Sports of the Times" column once was prime real estate in American journalism, and the late Times columnist Red Smith was one of the most renowned sportswriters ever. Lately, The Times had world-leading coverage of soccer scandals, concussions and doping.
The change is part of a broader effort to shift sports coverage to focus "more directly on distinctive, high-impact news and enterprise journalism," says a memo from publisher A.G. Sulzberger and CEO Meredith Kopit Levien.
There won't be layoffs, and "current Sports staff will transition to other desks around the newsroom," the memo says.
The Athletic isn't profitable. But it's helping fuel digital subscription growth for The Times.
8. 🎨 1 fun thing: Live wedding painters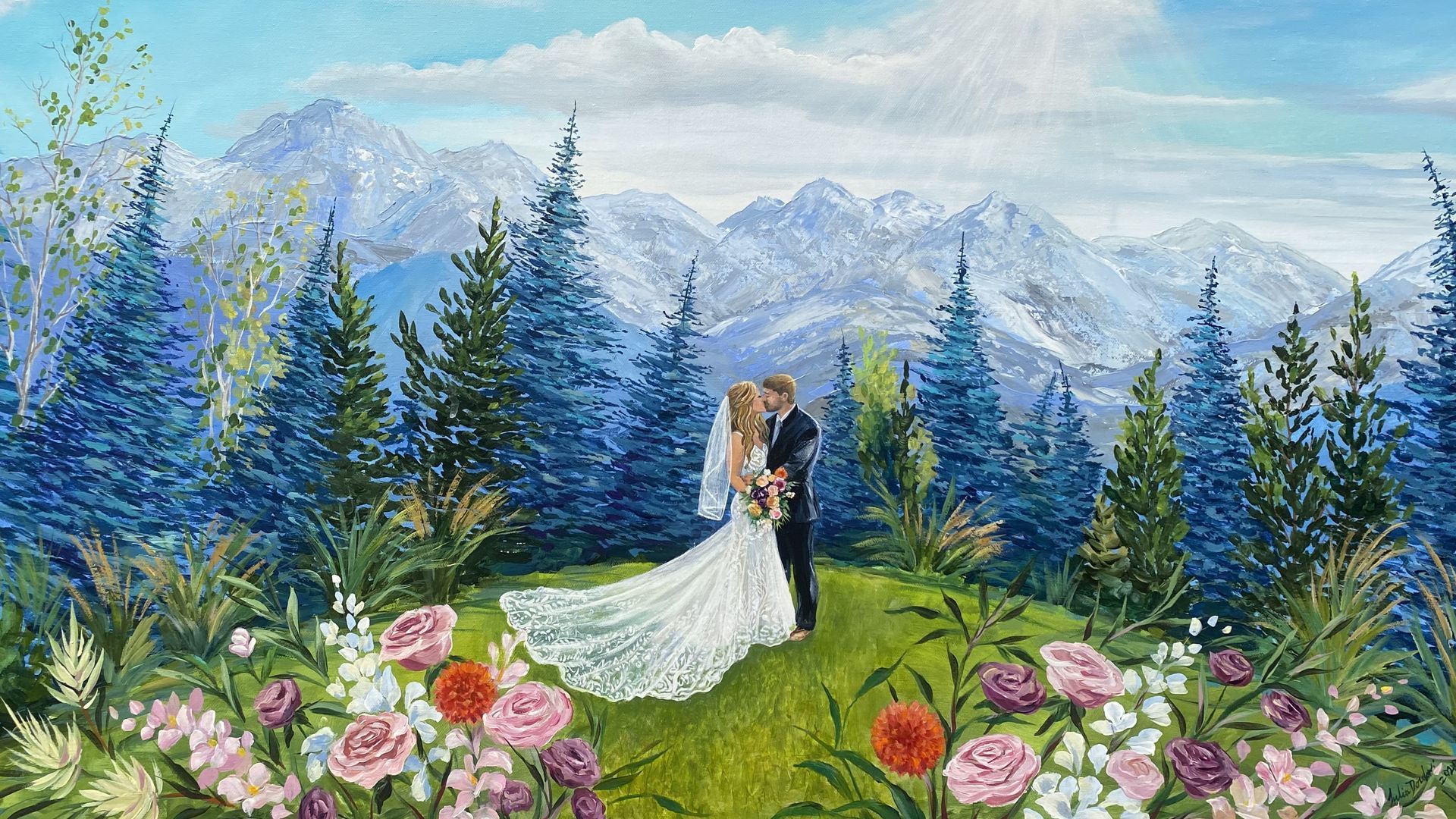 "Live painting" is the latest social media-fueled trend taking over weddings, Axios Denver's Alayna Alvarez writes.
How it works: An artist sets up an easel and canvas at a wedding venue and paints a scene in real time during the ceremony.
Colorado-based artist Julia Dordoni, who has been painting under pressure since around 2010, tells Axios she paints about 45 weddings a year.
She arrives four hours early to paint the backdrop — to amplify the details, colors and landscape around her. Her favorite moment to capture is the couple's first kiss.
💰 The paintings aren't cheap, with most pieces commissioned at over $1,000. Dordoni's go for about $2,000 a pop.
📨 Thanks for sharing your morning with us. Please invite your friends to sign up.