Good Wednesday morning.
Situational awareness: Starting at sundown, Israel celebrates 70 years of independence.
https://www.axios.com/newsletters/axios-am-3f3a77cf-3355-4291-a657-47bf0a2c407d.html?chunk=0#story0
1 big thing: Pence's "Art of the Deal"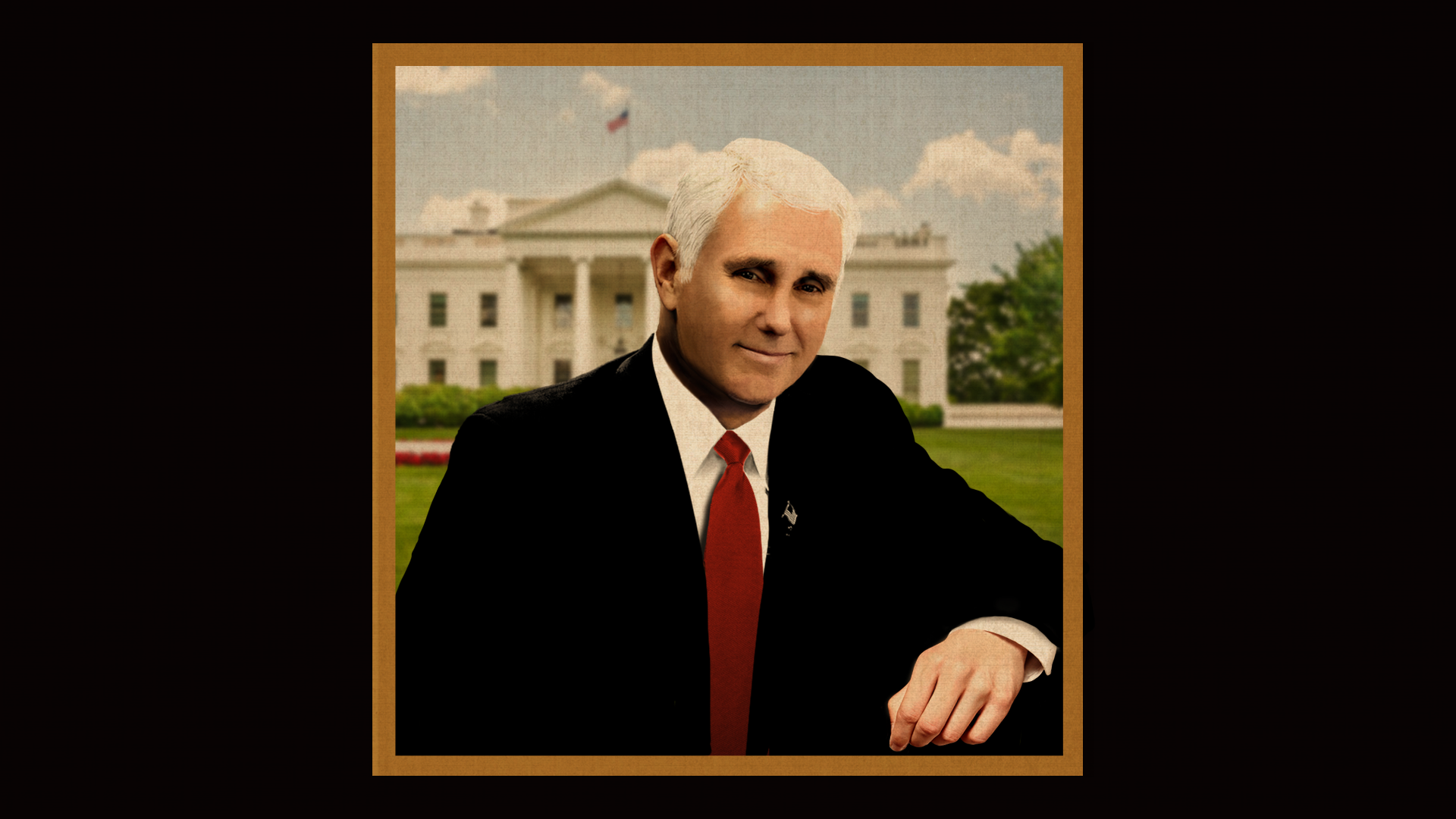 What was most surprising about President Trump's irritation with Vice President Mike Pence's pick for national security adviser is how rarely the two men betray any friction.
In fact, no one inside the White House has navigated Trump and the watch-your-back internal dynamic more adeptly than Pence, administration officials tell us.
Why it matters: Pence's unifying role has positioned him perfectly for all scenarios — solid in his standing as V.P., and ready to lead if Trump were to be impeached or decide one term is enough.
How Pence does it, based on reporting by Jonathan Swan and me:
He rarely offends or challenges Trump — and never in public or in front of others. In TV interviews, he treats the boss with deference that makes many cringe but delights the Big Man.
He has assembled his own team, loyal to him, and mostly savvy enough to keep their heads down and mouths shut. Pence is the happy, on-message Christian warrior.
Since the campaign, Pence has played on his "aw shucks" second-fiddle role, even joking about how much poorer he is than Trump. He told members at a Republican retreat that he comes from "the Joseph A. Bank wing of the West Wing." Trump loves that.
Former campaign officials used to joke that if Newt Gingrich had been chosen as V.P., he would've lasted about a week before Trump ripped his head off.
Trump couldn't stand having a V.P. with whom he'd have to compete with for media attention. There's no risk of that with the studiously sober Pence. 
Pence abroad:
Trump loathed former Secretary of State Rex Tillerson and didn't trust him to conduct his diplomacy. So for sensitive assignments — think the Middle East trip after the Jerusalem embassy announcement, or Korea for the Olympics amid high stakes clashing with Kim Jong-un — Trump sent Pence.
Foreign leaders knew that Pence was speaking for Trump, when they never felt that way about Tillerson.
After a Middle East trip in January, an Asia swing in February and a last-minute Peru summit stop last week, Pence will head to Brazil next month with a trade message.
Pence at home:
With little national attention but lots of local coverage, the V.P. travels out of town two or three times a week to campaign for midterm congressional candidates — his big focus for this year after a heavy foreign schedule last year.
The White House estimates that so far this year, local media coverage of Pence in midterm states has reached 13 million households.
His domestic portfolio also includes space policy, and his event themes are heavy on tax reform, military spending and border security.
Be smart: Administration officials say one of Pence's great talents is being in a different ZIP Code, often a different time zone, when trouble is roiling the White House.
Either that or plead ignorance. He's dodged Russia, Stormy, Charlottesville and the rest.
Pence's team — which tried to kill this story and views it as "unhelpful" — says it's nonsense that he deliberately skips town to avoid crises: He planned his heavy schedule of political travel, with the input of the senior White House staff, at the beginning of the year.
https://www.axios.com/newsletters/axios-am-3f3a77cf-3355-4291-a657-47bf0a2c407d.html?chunk=1#story1
2. Trump vs. Cabinet
Trump vs. Haley ... "Sanctions Flap Erupts Into Open Conflict Between Haley and White House," per N.Y. Times' Peter Baker, Julie Davis and Maggie Haberman:
"Trump was watching television on Sunday when he saw Nikki R. Haley, his ambassador to the United Nations, announce that he would

impose fresh sanctions

on Russia. The president grew angry."
Why it matters: "It was not the first time Mr. Trump has yelled at the television over something he saw Ms. Haley saying."
Trump vs. Mattis ... "Defense Secretary Jim Mattis urged President Trump to get congressional approval before the United States launched airstrikes against Syria last week, but was overruled by Mr. Trump," per N.Y. Times' Helene Cooper:
"Trump, the officials said, wanted to be seen as backing up

a series of bellicose tweets

with action, but was warned that an overly aggressive response risked igniting a wider war with Russia."
"Friday night's limited strikes on three targets, which lasted under two minutes, were the compromise."
"The debate reflects a divide between Mr. Trump and the defense secretary, who, like no other member of the cabinet, has managed to maintain a cordial relationship with the president even while reining him in."
P.S. An apology ... After White House economic adviser Larry Kudlow said at a briefing near Mar-a-Lago (press center at Hilton West Palm Beach) that Haley might have suffered "momentary confusion," Haley told Fox's Dana Perino: "With all due respect, I do not get confused."
Kudlow told me from Mar-a-Lago that he called Haley to apologize after hearing her response: "I intended to call her, anyway. I've known her for years — she came on my show. On second thought, I don't think she was confused. I'm not sure she had all the information. ... It's over. She's very effective."
https://www.axios.com/newsletters/axios-am-3f3a77cf-3355-4291-a657-47bf0a2c407d.html?chunk=2#story2
3. Article of the day
"CIA Director Mike Pompeo made a top-secret visit to North Korea over Easter weekend as an envoy for President Trump to meet with that country's leader, Kim Jong Un," the WashPost scoops.
Why it matters: "The extraordinary meeting between one of Trump's most trusted emissaries and the authoritarian head of a rogue state was part of an effort to lay the groundwork for direct talks between Trump and Kim."
Be smart: Pompeo is trying to get confirmed as SecState (maybe by one vote, with at least one Democratic senator needed). Republicans say this leak makes it harder to sink Pompeo, when he's in the middle of such a sensitive mission.
https://www.axios.com/newsletters/axios-am-3f3a77cf-3355-4291-a657-47bf0a2c407d.html?chunk=3#story3
4. Matriarch of an American political dynasty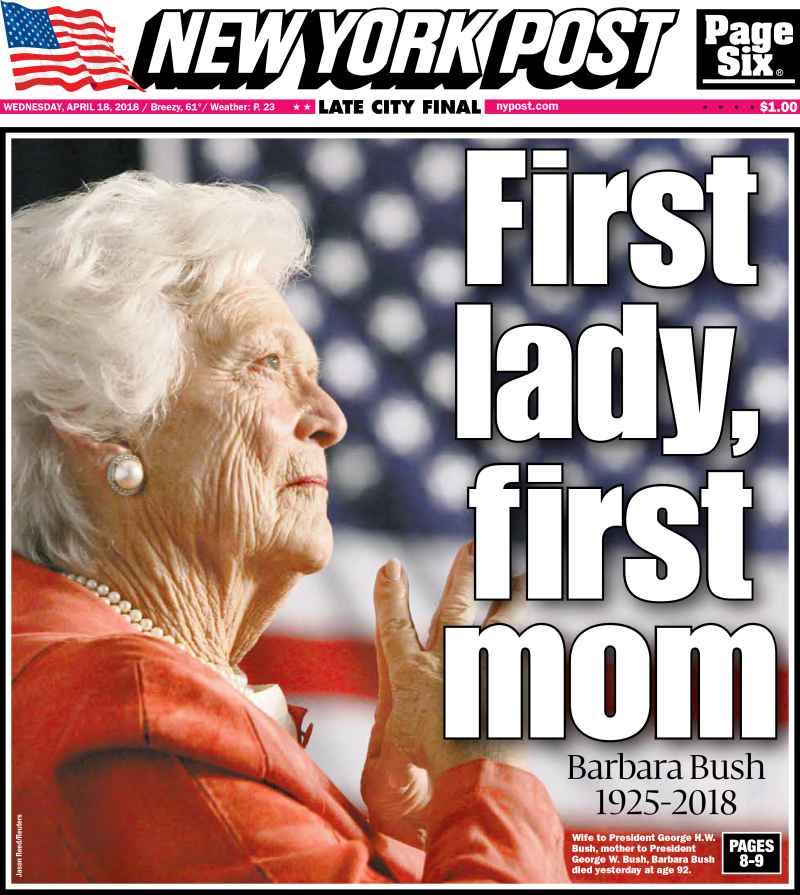 Courtesy N.Y. Post
Margaret Carlson emails me: "The pearls were fake. She was real."
Barbara Bush "was the wife of one president and the mother of another and [her] embrace of her image as America's warmhearted grandmother belied her influence and mettle," Lois Romano writes on the cover of the WashPost.
President George W. Bush: "My dear mother has passed on at age 92. Laura, Barbara, Jenna, and I are sad, but our souls are settled because we know hers was. Barbara Bush was a fabulous First Lady and a woman unlike any other who brought levity, love, and literacy to millions. To us, she was so much more. Mom kept us on our toes and kept us laughing until the end. I'm a lucky man that Barbara Bush was my mother. Our family will miss her dearly, and we thank you all for your prayers and good wishes."
Washington Post Publisher Fred Ryan, chairman of the Ronald Reagan Presidential Foundation and Institute: "She was an exemplar of the 'greatest generation.'"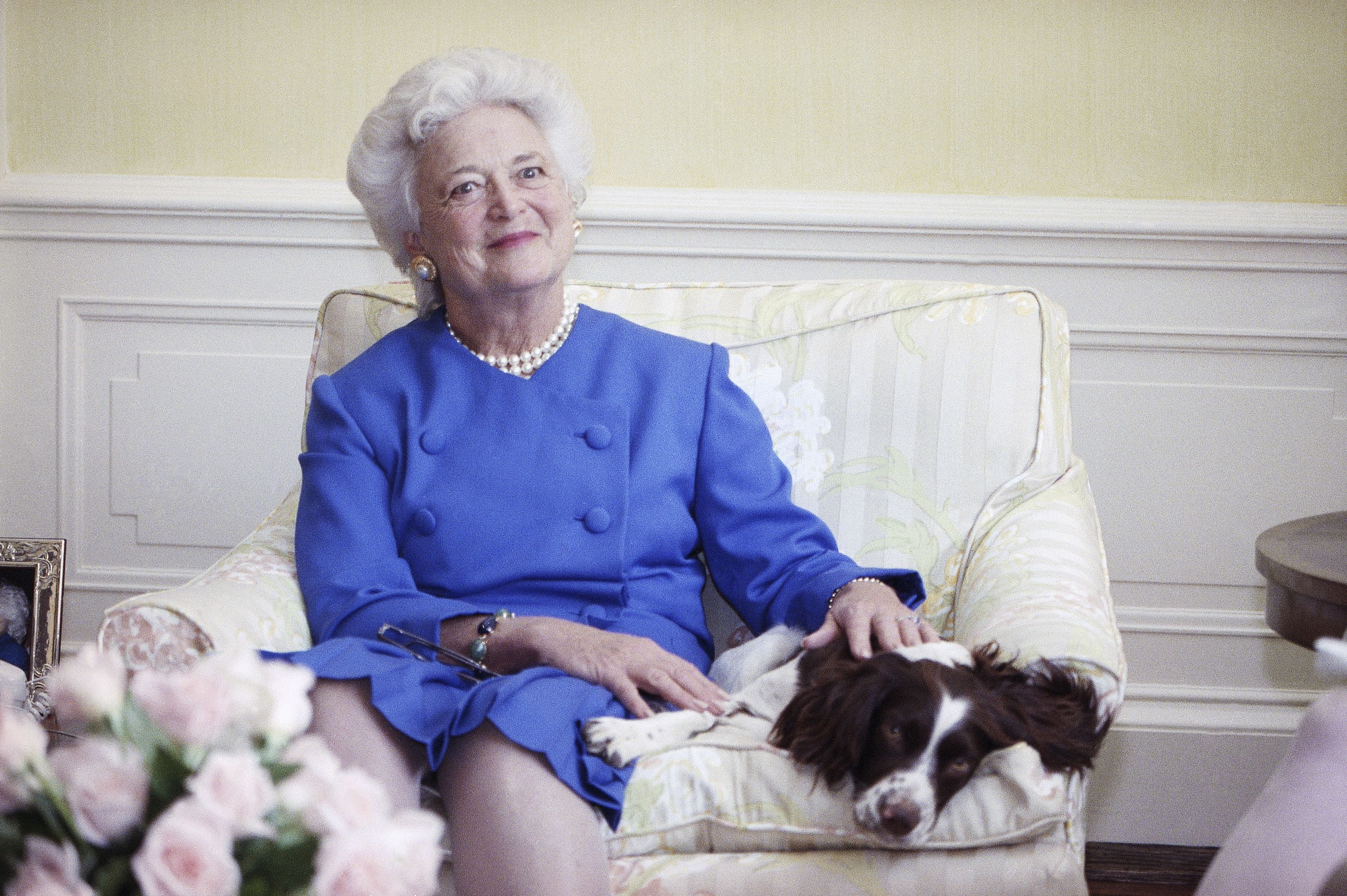 The first lady with Millie in 1990. (Photo by Doug Mills, then with AP)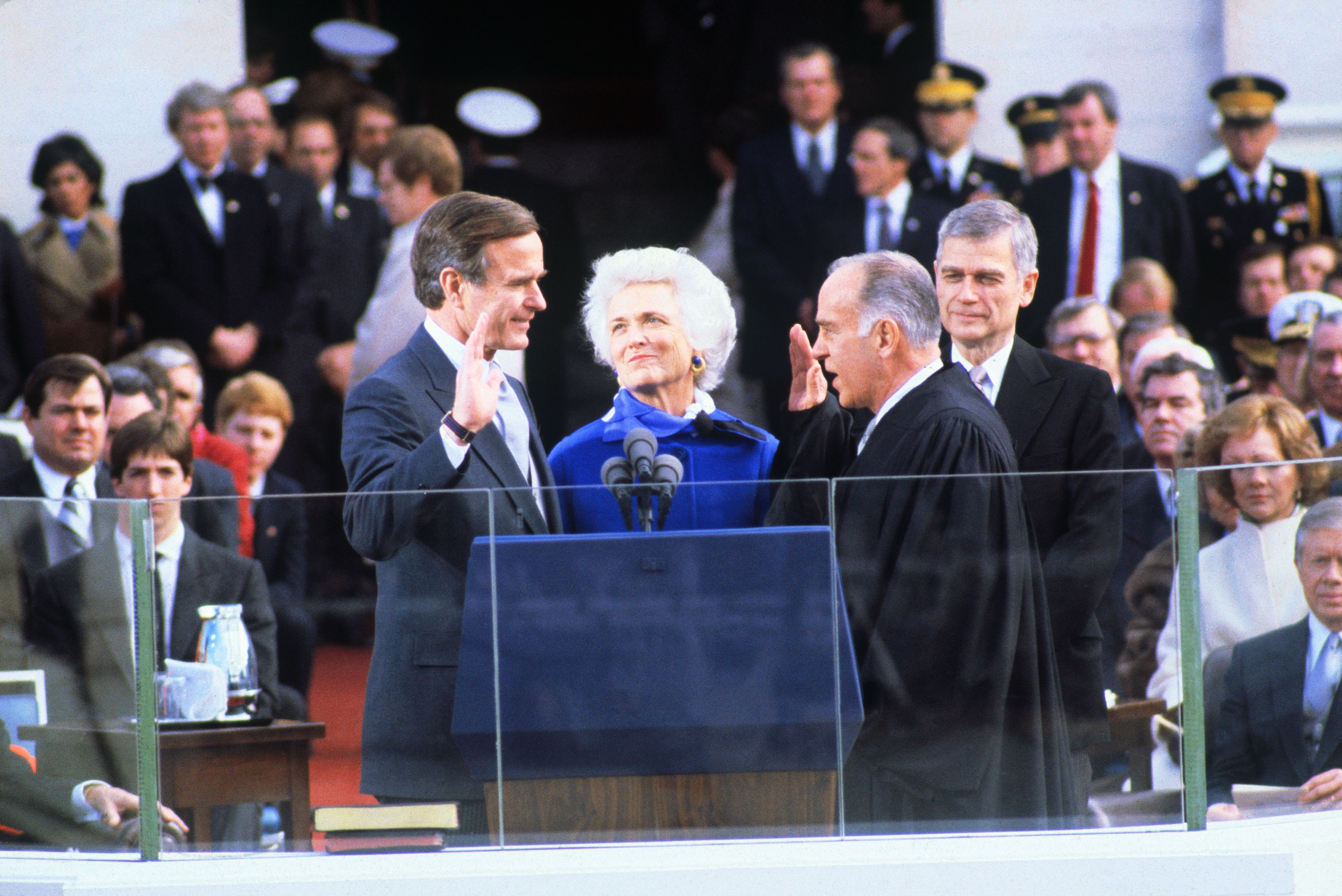 Mrs. Bush holds the Bible as Vice President-elect George H.W. Bush takes the oath on Jan. 20, 1981. (Bettmann Archive)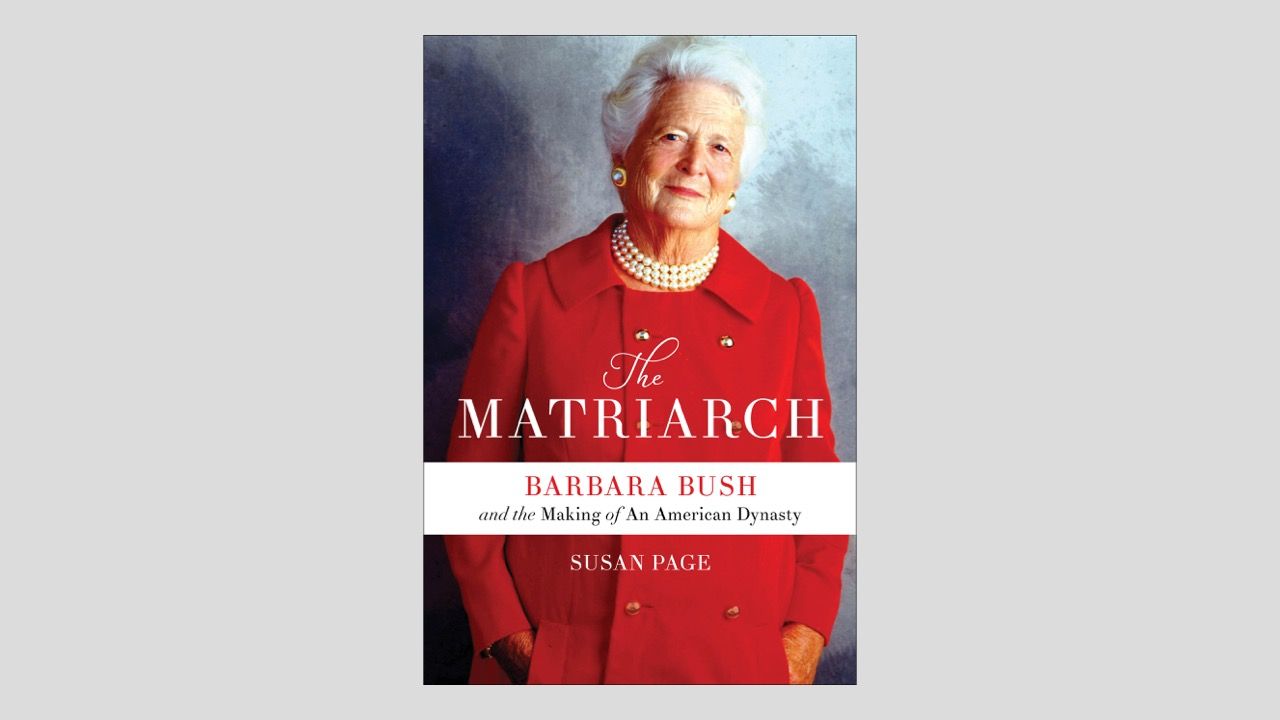 Courtesy USA Today
Coming attractions ... Susan Page, Washington bureau chief of USA Today, met Barbara Bush covering the 1980 presidential campaign for Newsday. Her biography, "The Matriarch," will be published in April 2019 by Twelve.
USA Today tells me it's not an authorized biography, but Page got unprecedented cooperation: "Starting last October, she began making monthly trips to Houston to sit down for interviews with Mrs. Bush at her home. The former first lady also granted her access to her personal diaries."
https://www.axios.com/newsletters/axios-am-3f3a77cf-3355-4291-a657-47bf0a2c407d.html?chunk=4#story4
5. Planning his final words as plane drops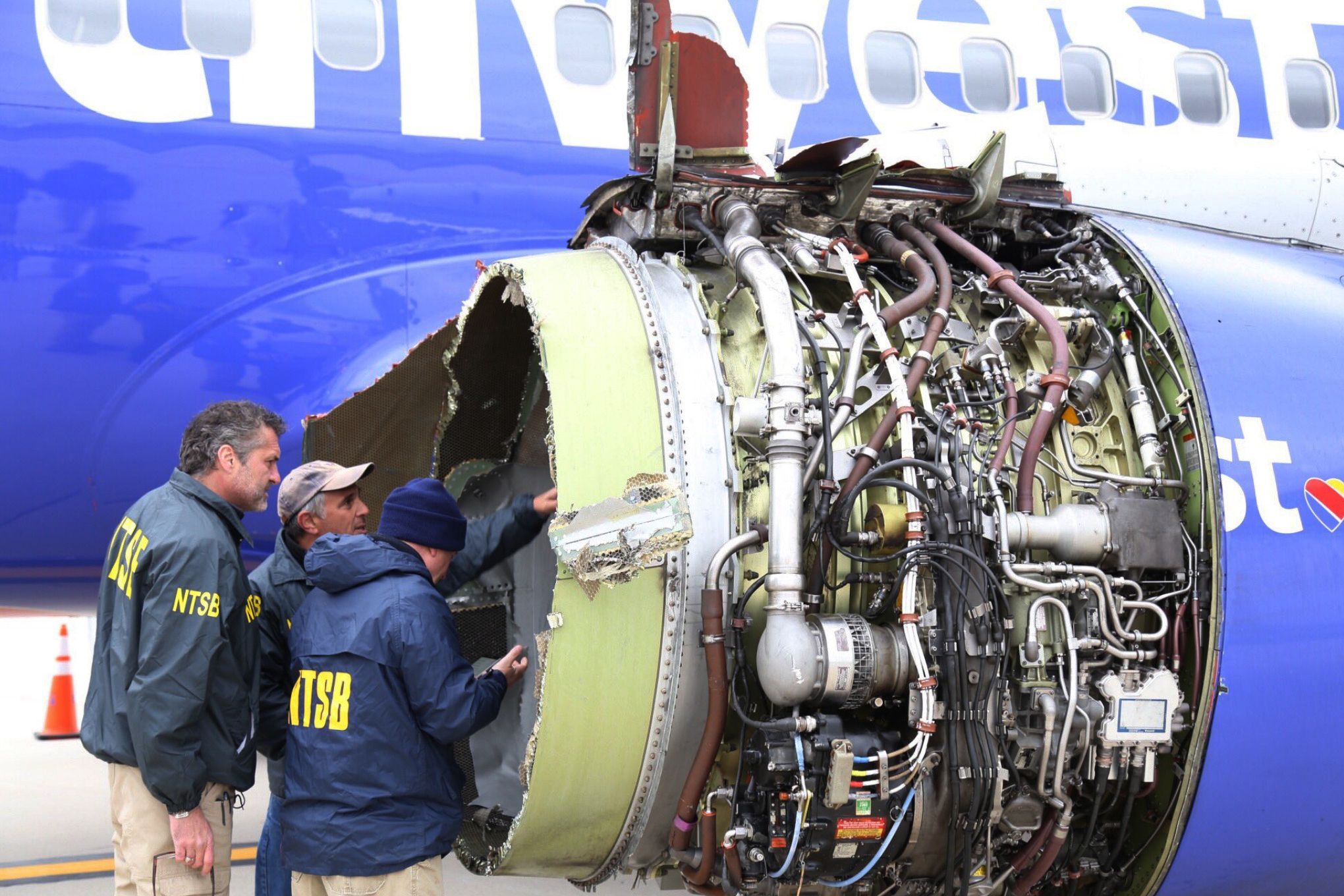 NTSB via AP
The terrifying engine loss on a Southwest flight may have been caused by a fan blade that broke off from one of the two engines, per the Philadelphia Inquirer:
The NTSB said at a briefing in Philly, where the N.Y.-to-Dallas flight made an emergency landing, that the blade broke near where it connected to the engine's hub, and there was evidence of metal fatigue.
Why it matters: Less than a year ago, the FAA and the engine's manufacturer drew attention to problems with metal fatigue on the fan blades in the CFM56 engine series, which this plane has, after a similar incident in 2016, also a Southwest plane.
"One passenger, identified as Jennifer Riordan of Albuquerque, N.M., was rushed to an area hospital, where she died ... She was a vice president of community relations with Wells Fargo and a married mother of two. Officials did not explain how she died."
"The flight was carrying five crew members and 144 passengers, some of whom described hearing a loud boom in mid-flight before a window blew out and the smoke-filled plane suddenly dropped."
"The failure happened at 32,500 feet."
Reuters: "The CFM56 engine was produced by a joint venture of GE and France's Safran SA called CFM International and is one of the most common engines, paired with the world's most-sold plane, the Boeing 737."
"Passenger Matt Tranchin, 34, of Dallas, told reporters that flight attendants and some passengers worked to cover the hole in the plane.
"I spent a lot of my time trying to articulate what my final words would be ... to our unborn child, to my wife, to my parents."
https://www.axios.com/newsletters/axios-am-3f3a77cf-3355-4291-a657-47bf0a2c407d.html?chunk=5#story5
6. Porn trumps policy
Tax cuts and health care are likely to be big midterm issues, but both have faded from cable news now that they're no longer front and center in Congress, according to data from GDELT, which monitors television news coverage.
https://www.axios.com/newsletters/axios-am-3f3a77cf-3355-4291-a657-47bf0a2c407d.html?chunk=6#story6
7. "He basically has a desk in the place"
Fox's Sean Hannity speaks with President Trump several times a week and is a "shadow" chief of staff, per the WashPost:
"The phone calls ... come early in the morning or late at night ... They discuss ideas for Hannity's show ... and even ... what the president should tweet."
"The Fox News host, whose show averages more than 3 million viewers daily, is one of the few people who gets patched immediately to Trump."
https://www.axios.com/newsletters/axios-am-3f3a77cf-3355-4291-a657-47bf0a2c407d.html?chunk=7#story7
8. Data du jour
More than half of Americans are cremated, up from just 4% in 1960.
https://www.axios.com/newsletters/axios-am-3f3a77cf-3355-4291-a657-47bf0a2c407d.html?chunk=8#story8
9. A worthy lesson from history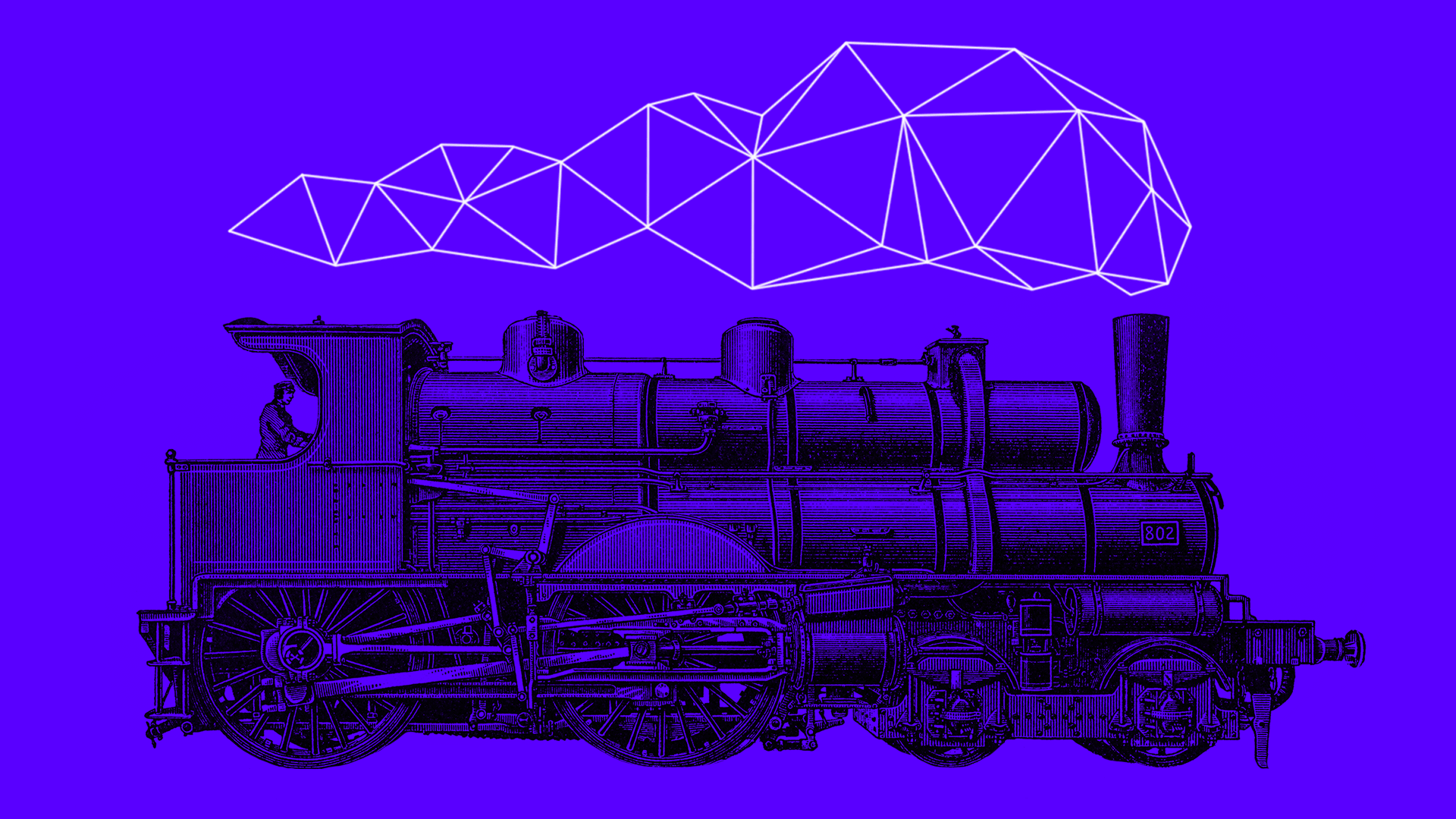 Artificial intelligence is a buzzword in boardrooms around the world, but a lot of companies are still keeping adoption at arm's length, fearful that it won't pay off fast enough, according to McKinsey Global Institute.
Axios future editor Steve LeVine writes that in a study released today, McKinsey ferrets out 400 practical current uses for AI that could be worth $3.5 trillion a year in savings and sales:
The history: Businesses in the 1700s — using animals, wind and water for power — did not immediately switch to steam, despite its obvious superiority. The transformation took more than a century, says Carl Frey, director of the Technology and Employment program at Oxford University.
Similarly, McKinsey's Michael Chui, the study's main author, tells Axios that the adoption of AI in the 21st century economy could take a long time.
Chui cites non-exotic ways that businesses can lucratively incorporate AI now:
Forecasting airport congestion and bad weather to reduce cancellations.
Optimizing cargo routes to reduce fuel costs.
Better understanding customers to offer more services.
A warning about the adoption cycle: The authors note that neural networks — the AI technique at the heart of the report — have been studied "since the 1940s."
https://www.axios.com/newsletters/axios-am-3f3a77cf-3355-4291-a657-47bf0a2c407d.html?chunk=9#story9
10. 1 flower thing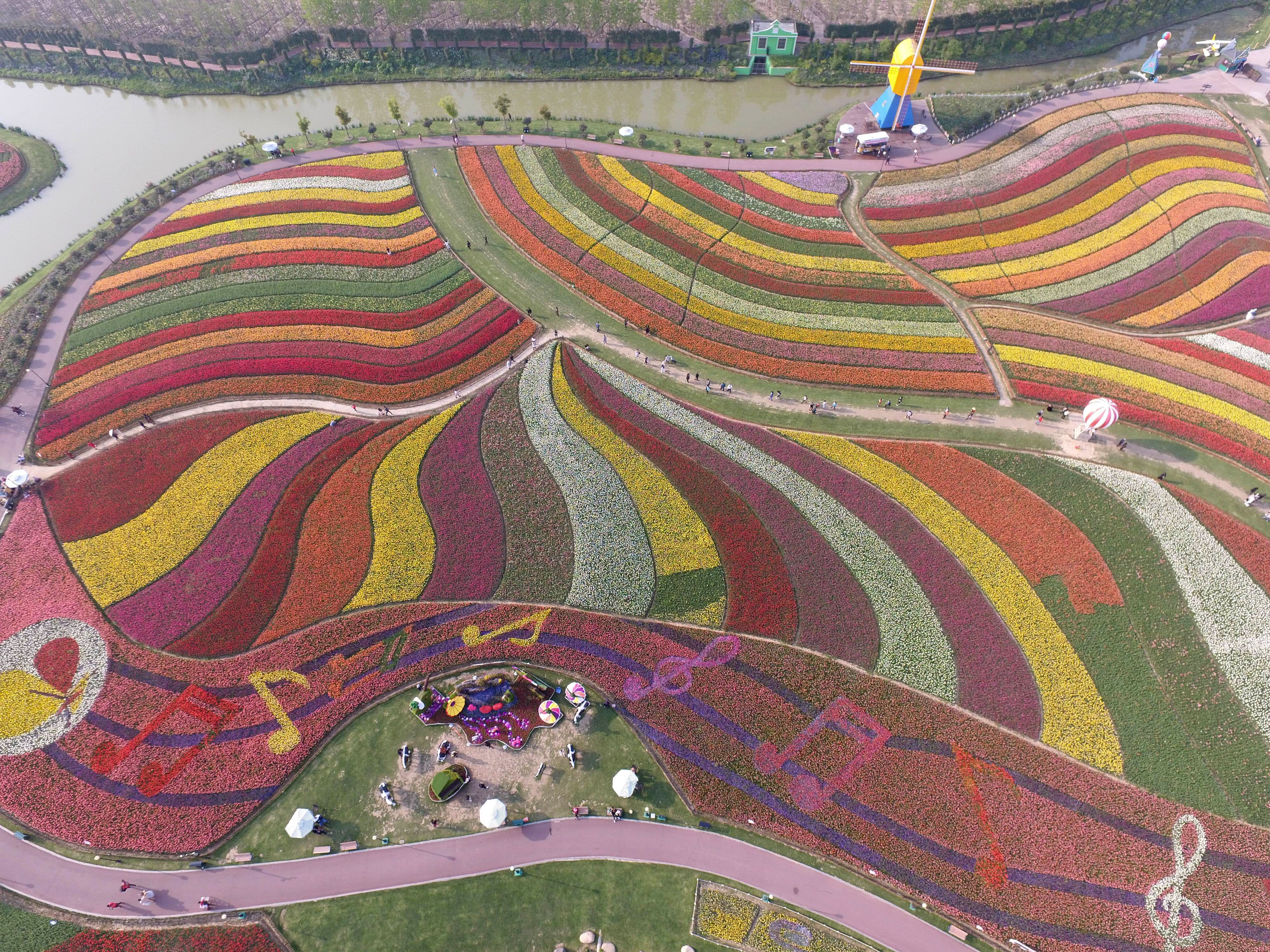 Photo: VCG via Getty Images
This aerial view shows more than 30 million tulips of over 300 kinds, in full blossom at a Dutch tulip park in Yancheng, China.