https://www.axios.com/newsletters/axios-am-3e7fb129-feab-461a-b234-b5abe5c8873c.html?chunk=0#story0
1 big thing: New signs of Flynn flip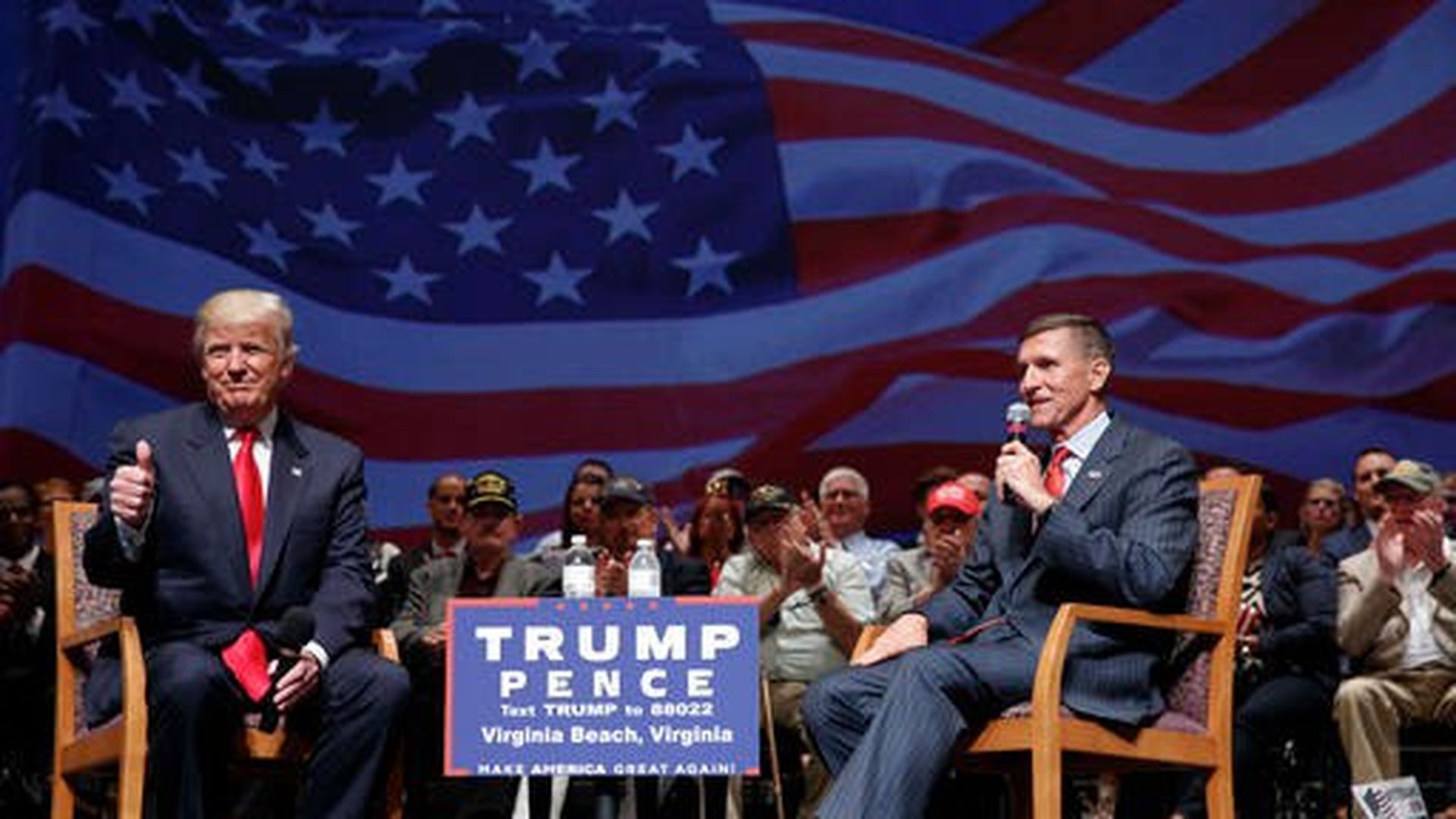 "Lawyers for Michael T. Flynn, President Trump's former national security adviser, notified the president's legal team in recent days that they could no longer discuss [Mueller's] investigation ... an indication that Mr. Flynn is cooperating with prosecutors or negotiating a deal," per the N.Y. Times' lead story:
"Flynn's lawyers had been sharing information with Mr. Trump's lawyers ... That agreement has been terminated."
"Defense lawyers frequently share information during investigations, but ... [i]t is unethical for lawyers to work together when one client is cooperating with prosecutors."
What it means: "The notification alone does not prove that Mr. Flynn is cooperating ... Still, the notification led Mr. Trump's lawyers to believe that Mr. Flynn — who, along with his son, is seen as having significant criminal exposure — has, at the least, begun discussions with Mr. Mueller about cooperating."
Why it matters: 'A deal with Mr. Flynn would give Mr. Mueller a behind-the-scenes look at the Trump campaign and the early tumultuous weeks of the administration. Mr. Flynn was an early and important adviser to Mr. Trump ... and an advocate of closer ties with Russia."
P.S. All three congressional Russia/election probes — Senate and House Intelligence, and Senate Judiciary committees — are likely to continue into 2018, according to AP's Mary Clare Jalonick:
"The panels have obtained thousands of pages of documents from Trump's campaign and other officials, and have done dozens of interviews."
"All three committees have focused on a June 2016 meeting that Trump campaign officials held in Trump Tower with a Russian lawyer."
https://www.axios.com/newsletters/axios-am-3e7fb129-feab-461a-b234-b5abe5c8873c.html?chunk=1#story1
2. Article of the day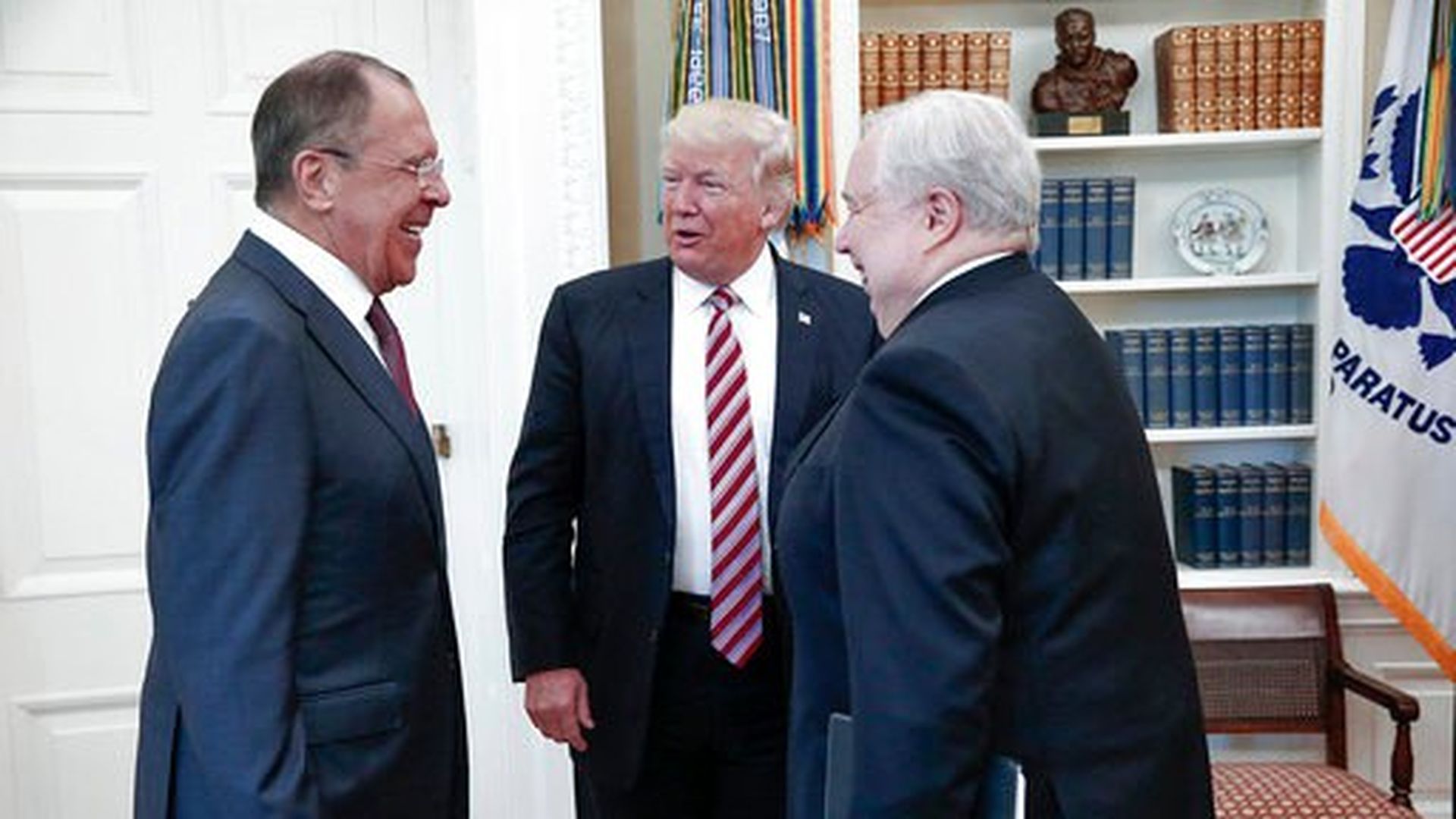 Astonishing reporting from Vanity Fair's The Hive, by Howard Blum ... "What Trump ... told Kisylak after Comey was canned ... During a May 10 meeting in the Oval Office, the president betrayed his intelligence community by leaking the content of a classified, and highly sensitive, Israeli intelligence operation to two high-ranking Russian envoys, Sergey Kislyak and Sergey Lavrov":
Israeli spies and counterterrorism forces had discovered that "ISIS terrorists were working on transforming laptop computers into bombs that could pass undetected through airport security." That led to new U.S. and British restrictions on flights from abroad.
"[T]he Israeli mission was praised by [the American espionage community] as a casebook example of a valued ally's hard-won field intelligence being put to good, arguably even lifesaving, use."
"Yet this triumph would be overshadowed ... when ... Trump revealed details about the classified mission" to the Russian officials in in the Oval.
Why it matters: "[F]resh blood was spilled in [Trump's] long-running combative relationship with the nation's clandestine services. Israel ... would rethink its willingness to share raw intelligence, and pretty much the entire Free World was left shaking its collective head in bewilderment."
P.S. Paul Manafort took at least 138 trips to Ukraine between 2004 and 2015 while consulting for Russian and pro-Russian oligarchs, McClatchy's Peter Stone and Greg Gordon report:
"As the GOP platform committee drew up party positions a week before the Republican National Convention, a plank calling for the United States to provide 'lethal weapons' for Ukraine's defense was altered in a controversial and mysterious move."
An "American consultant in Ukraine said that Manafort ... had boasted he played a role in easing the language."
"Charlie Black, a onetime partner of Manafort's, says he remains baffled by the change. 'It was inexplicable to me that a majority of platform members would have taken a pro-Russian position on Ukraine.'"
https://www.axios.com/newsletters/axios-am-3e7fb129-feab-461a-b234-b5abe5c8873c.html?chunk=2#story2
3. Axios special: Future of retail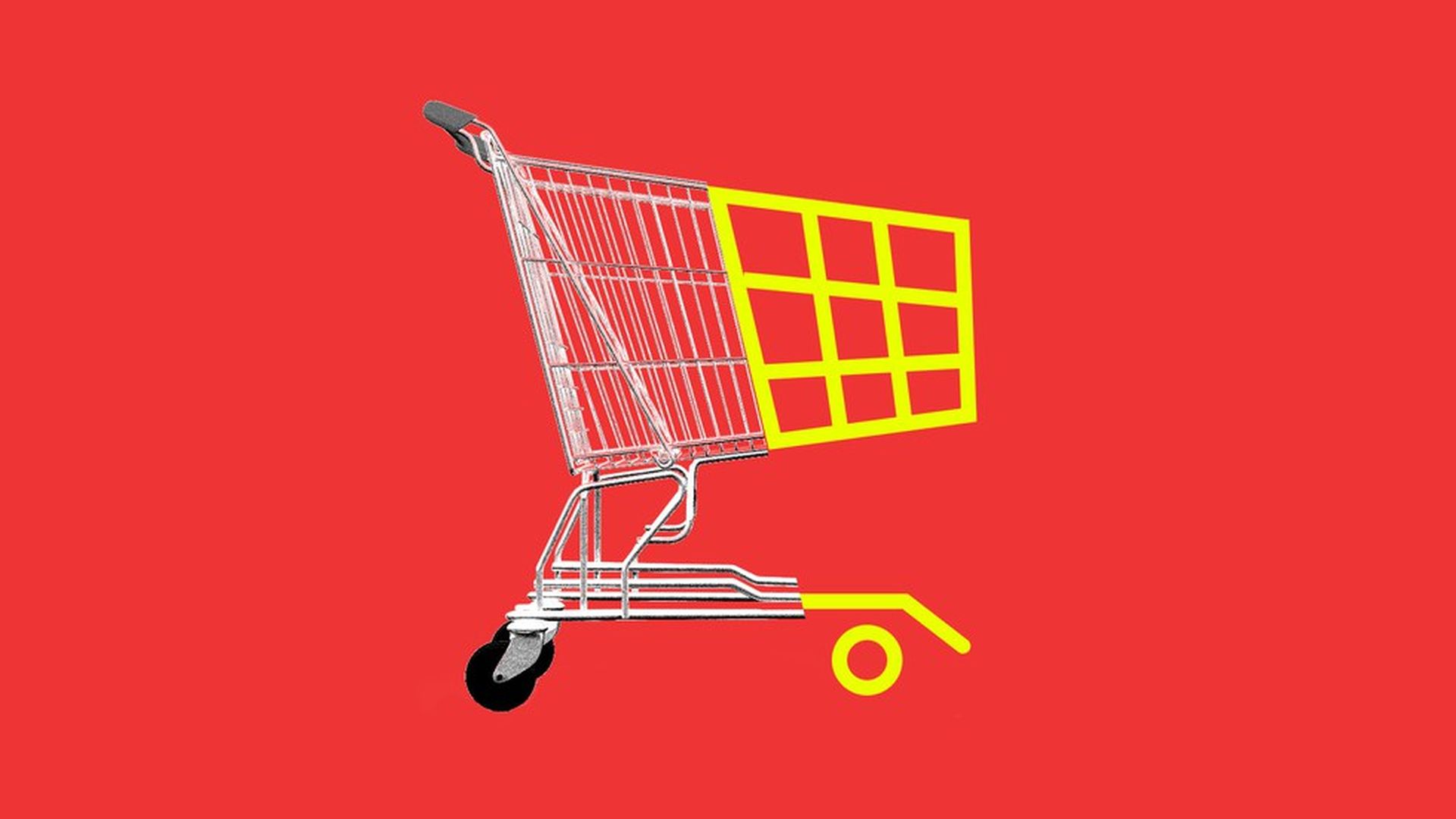 https://www.axios.com/newsletters/axios-am-3e7fb129-feab-461a-b234-b5abe5c8873c.html?chunk=3#story3
Bonus: Inside Mar-a-Lago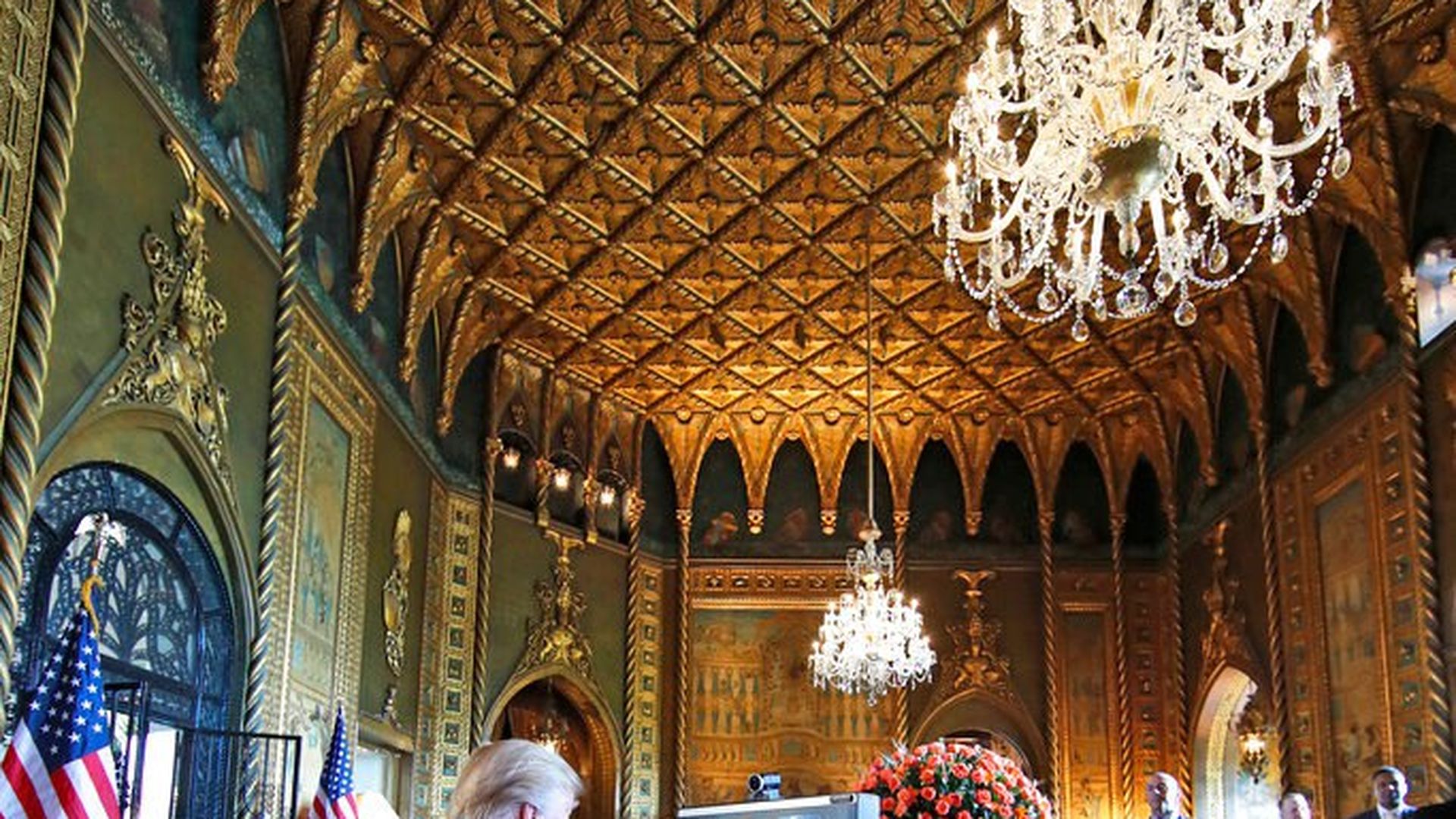 President Trump holds a video conference with members of the armed forces, on Thanksgiving at his private club, Mar-a-Lago, in Palm Beach.
https://www.axios.com/newsletters/axios-am-3e7fb129-feab-461a-b234-b5abe5c8873c.html?chunk=4#story4
4. Stat du jour: Young farmers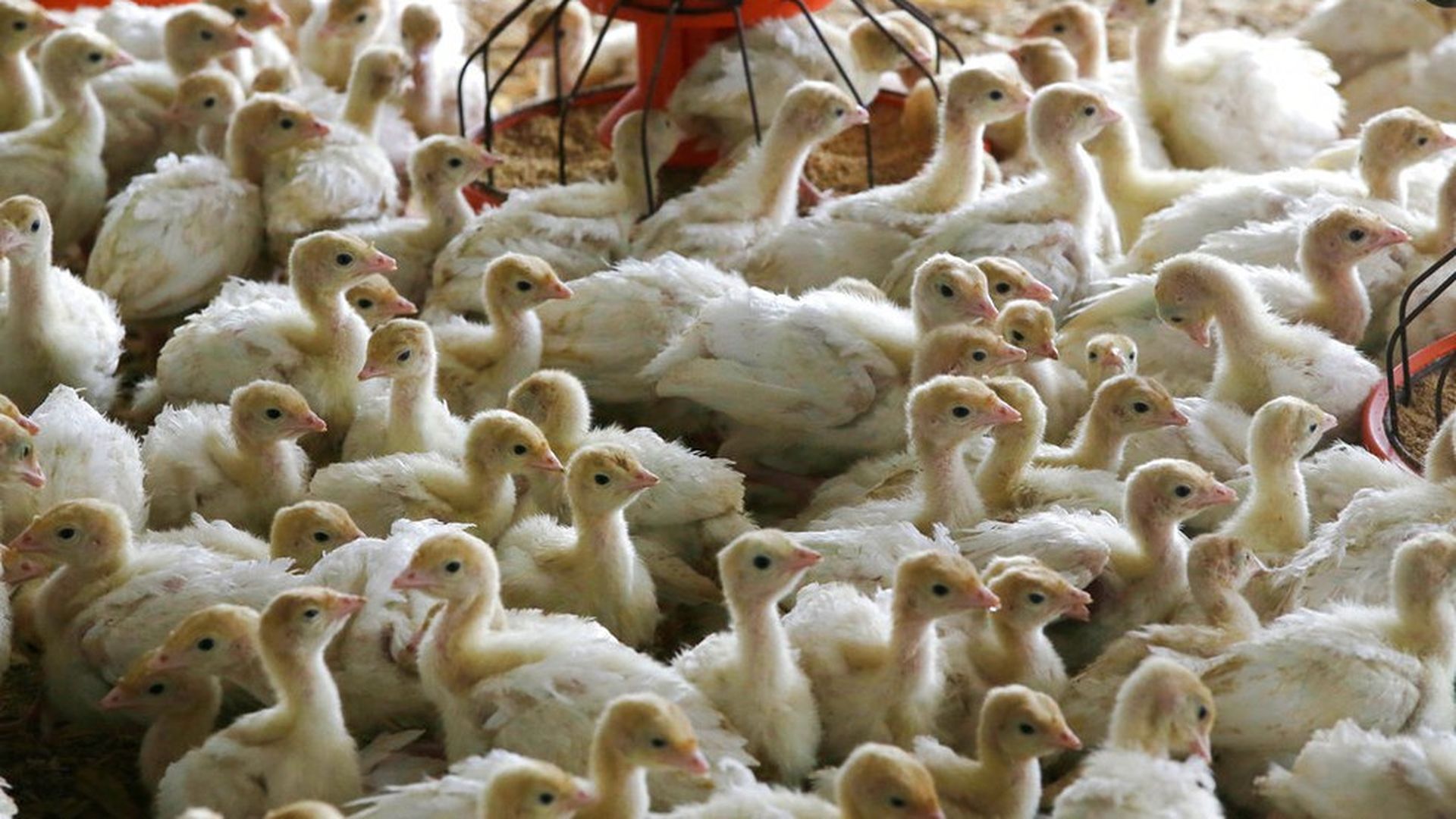 "For only the second time in the last century, the number of farmers under 35 years old is increasing, according to the U.S. Department of Agriculture's latest Census of Agriculture," the WashPost's Caitlin Downey reports in a front-pager with the lovely headline, "A growing movement":
69% of the surveyed young farmers had college degrees — significantly higher than the general population.
Why it matters: "This new generation can't hope to replace the numbers that farming is losing to age. But it is already contributing to the growth of the local-food movement and could help preserve the place of midsize farms in the rural landscape."
Where it's happening: "In some states, such as California, Nebraska and South Dakota, the number of beginning farmers has grown by 20 percent or more."
The millennials are "far more likely than the general farming population to grow organically, limit pesticide and fertilizer use, diversify their crops or animals, and be deeply involved in... farmers markets."
https://www.axios.com/newsletters/axios-am-3e7fb129-feab-461a-b234-b5abe5c8873c.html?chunk=5#story5
5. "I crossed a line for some women"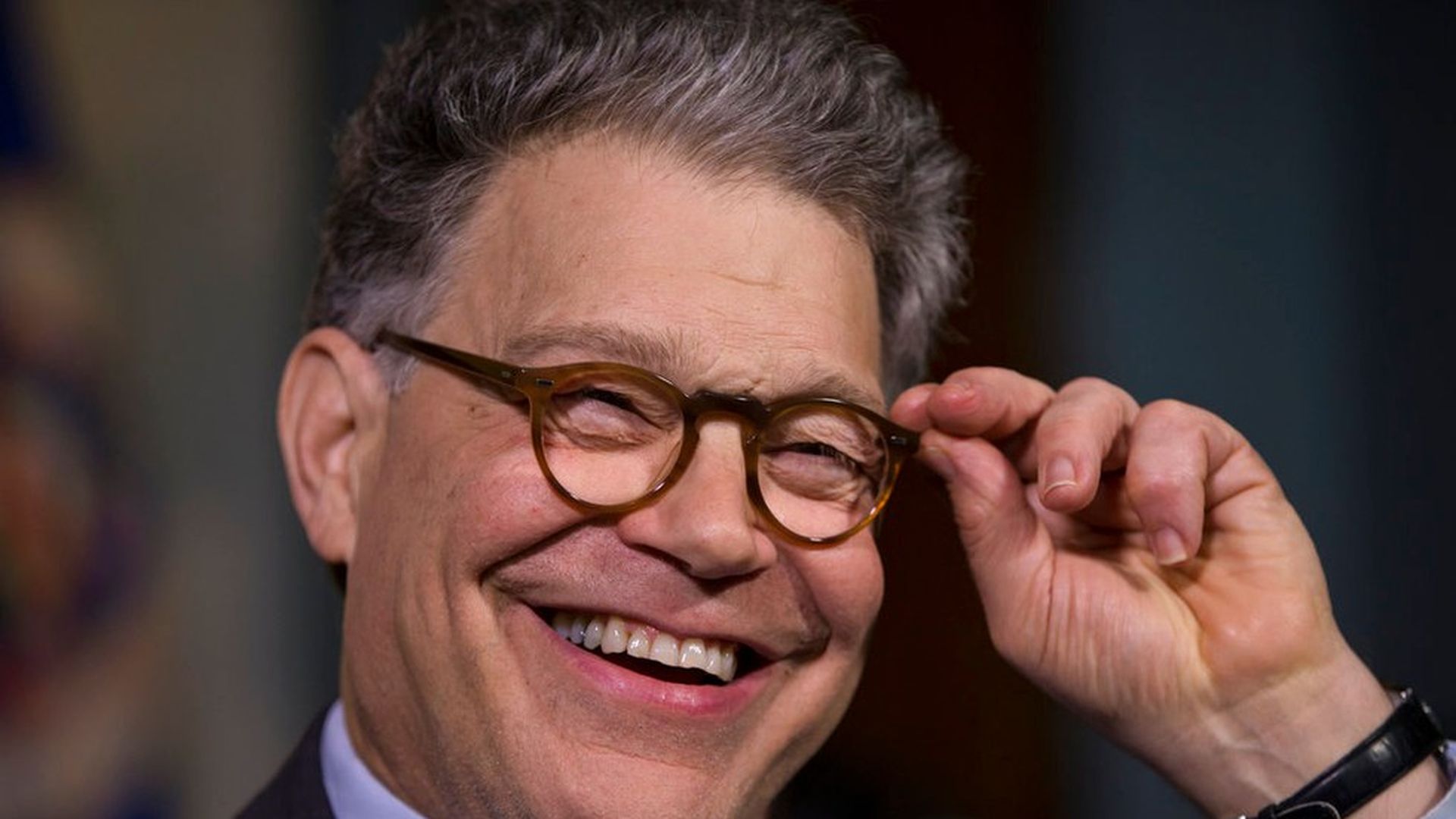 Sen. Al Franken (D-Minn.) issues a Thanksgiving afternoon apology following new groping allegations:
"I've met tens of thousands of people and taken thousands of photographs, often in crowded and chaotic situations. I'm a warm person; I hug people. I've learned from recent stories that in some of those encounters, I crossed a line for some women — and I know that any number is too many."
"Some women have found my greetings or embraces for a hug or photo inappropriate, and I respect their feelings about that. I've thought a lot in recent days about how that could happen, and recognize that I need to be much more careful and sensitive in these situations. I feel terribly that I've made some women feel badly and for that I am so sorry, and I want to make sure that never happens again."
"And let me say again to Minnesotans that I'm sorry for putting them through this and I'm committed to regaining their trust."
What's next? Minneapolis Star Tribune: "A spokesman said Franken will speak with the media on Sunday."
The backdrop ... "Franken's rising political star obscured by accusations," by AP's Alan Fram and Kyle Potter:
"After spending much of his nearly nine years as senator trying to shed his funnyman image and quietly digging into issues like internet access and consumer protection, he was now a draw at political events and mentioned by some as a 2020 presidential possibility."
"Months of savaging some of President Donald Trump's appointees had turned the Harvard-educated Franken into a weapon of choice for Democrats eager to attack the administration and energize party voters."
https://www.axios.com/newsletters/axios-am-3e7fb129-feab-461a-b234-b5abe5c8873c.html?chunk=6#story6
6. Last straw for Uber?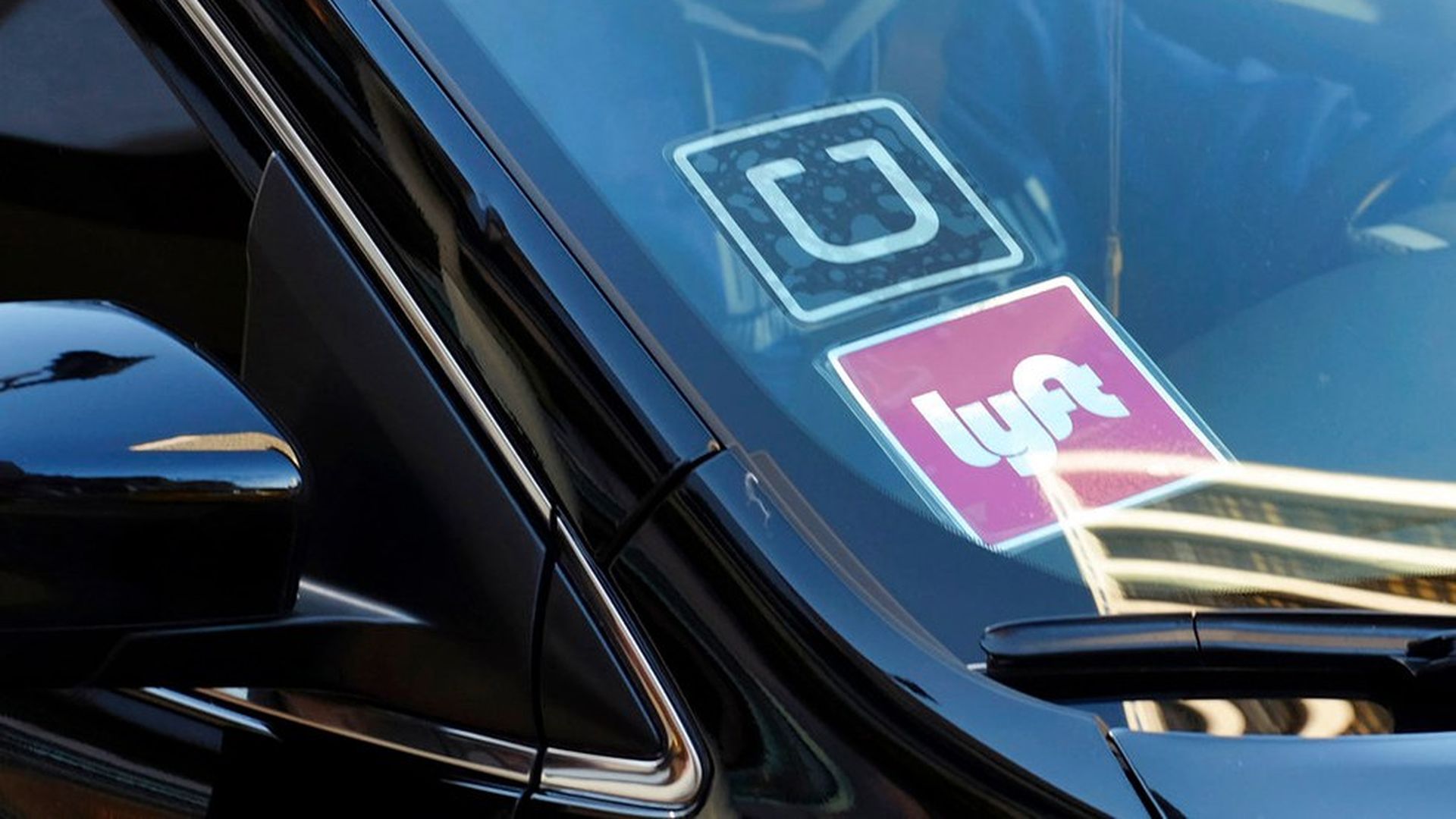 https://www.axios.com/newsletters/axios-am-3e7fb129-feab-461a-b234-b5abe5c8873c.html?chunk=7#story7
7. Worthy of your time
David Brooks on "America: The Redeemer Nation":
"Today, we have no common national narrative, no shared way of interpreting the flow of events. Without a common story, we don't know what our national purpose is. We have no common set of goals or ideals."
"We need a new national narrative."
"The story of America ... can be interpreted as a series of redemptions, of injury, suffering and healing fresh starts."
In Lincoln's Second Inaugural, in 1865, he "realistically acknowledges the divisions and disappointments that plague the nation. But he does not accept the inevitability of a house divided."
"This is a story we can join and live into."
Also on the N.Y. Times Op-Ed page ... Tom Friedman from Riyadh, "Saudi Arabia's Arab Spring, at Last: The crown prince has big plans to bring back a level of tolerance to his society":
"I never thought I'd live long enough to write this sentence: The most significant reform process underway anywhere in the Middle East today is in Saudi Arabia."
"Unlike the other Arab Springs ... this one is led from the top down by the country's 32-year-old crown prince, Mohammed bin Salman," MBS.
"[I]f it succeeds, it will not only change the character of Saudi Arabia but the tone and tenor of Islam across the globe."
"Only a fool would predict its success — but only a fool would not root for it."
https://www.axios.com/newsletters/axios-am-3e7fb129-feab-461a-b234-b5abe5c8873c.html?chunk=8#story8
8. Real world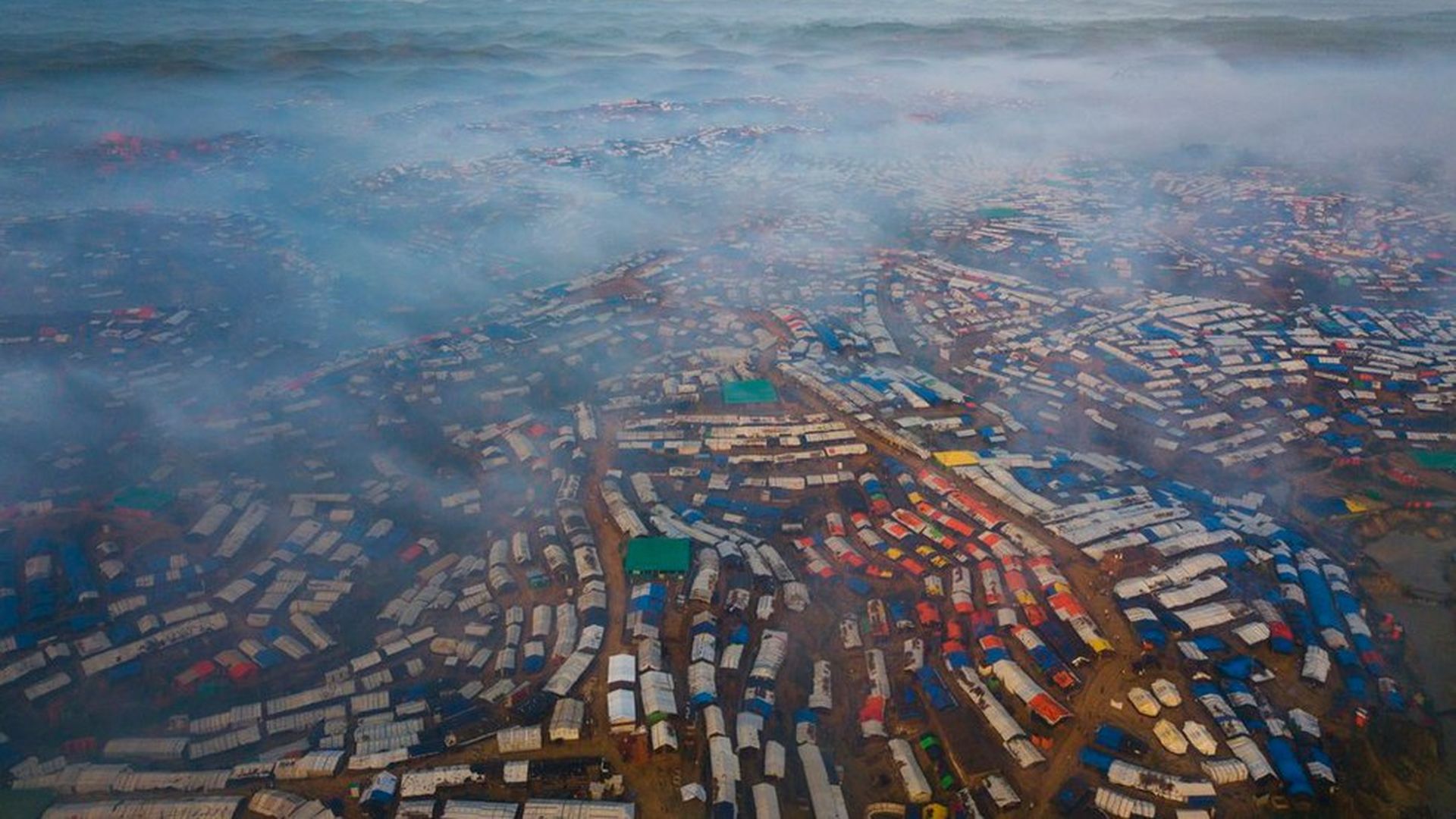 This aerial photo shows the Kutupalong Rohingya refugee camp in Bangladesh, housing Rohingya Muslims who fled across their mutual border to escape violence.
How it happened: More than 620,000 Rohingya have fled from Myanmar into Bangladesh since Aug. 25, when the army began what it called "clearance operations" following an attack on police posts by a group of Rohingya insurgents.
https://www.axios.com/newsletters/axios-am-3e7fb129-feab-461a-b234-b5abe5c8873c.html?chunk=9#story9
9. "A hated tax but a fair one"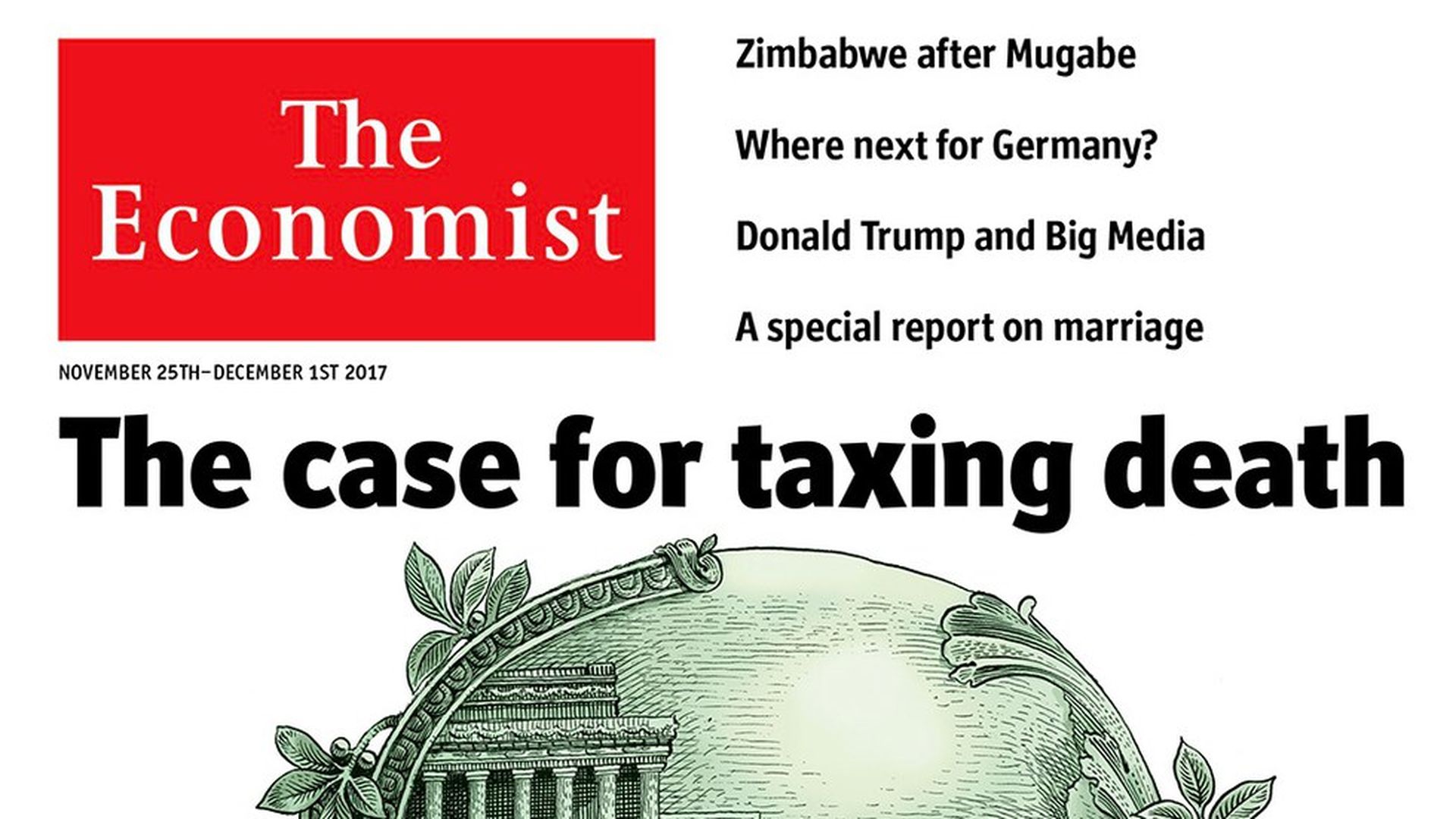 "Inheritance tax ... The case for taxing inherited assets is strong," The Economist writes in its global cover editorial:
The reality: "Inheritance tax is routinely seen as the least fair by Britons and Americans. This hostility spans income brackets.
The argument: "Unlike income taxes, they do not destroy the incentive to work ... Unlike capital-gains taxes, heavier estate taxes do not seem to dissuade saving or investment. Unlike sales taxes, they are progressive. To the extent that a higher inheritance tax can fund cuts to all other taxes, the system can be more efficient."
A recipe: "First, target the wealthy; that means taxing inheritors rather than estates and setting a meaningful exemption threshold. Second, keep it simple. Close loopholes for those who are caught in the net by setting a flat rate and by giving people a lifetime allowance for bequests ... Third, with the fiscal headroom generated by higher inheritance tax, reduce other taxes, lightening the load for most."
https://www.axios.com/newsletters/axios-am-3e7fb129-feab-461a-b234-b5abe5c8873c.html?chunk=10#story10
10. 1 shop thing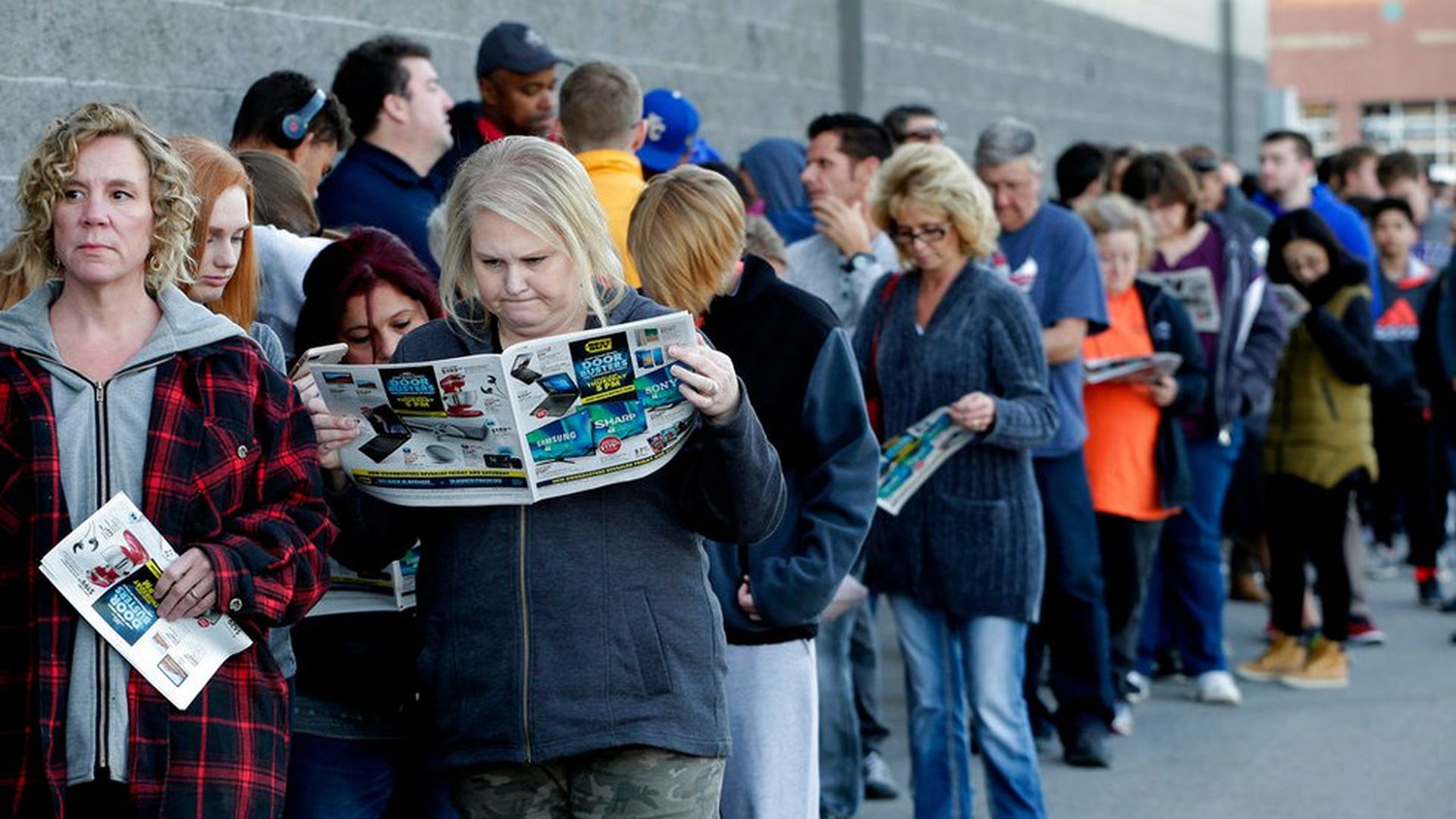 Aren't you glad this isn't you? Antsy shoppers wait for a Best Buy to open on Thanksgiving in Overland Park, Kansas.
AP reports that Hatchimals are hot:
"Black Friday has morphed from a single day ... into a whole season of deals, so shoppers may feel less need to be out."
Forecast: "With the jobless rate at a 17-year-low of 4.1% and consumer confidence stronger than a year ago, analysts project healthy sales increases ... The National Retail Federation ... expects sales ... to at least match last year's rise of 3.6% and estimates online spending and other non-store sales will rise 11 to 15%."
Stunning stat: "Analysts at Bain say Amazon is expected to take half of the holiday season's sales growth."