September 30, 2021
Happy Thursday. Smart Brevity™ count: 1,169 words ... 4½ minutes. Edited by Zachary Basu.
💻 Join Axios' Sam Baker and Tina Reed today at 12:30 p.m. ET for a virtual event on how COVID exacerbates America's opioid crisis. Guests include Sen. Shelley Moore Capito (R-W.Va.) and Dr. Nora Volkow, director of the National Institute on Drug Abuse. Sign up here.
1 big thing: Blocking for Beijing
LinkedIn blocked the profiles of several U.S. journalists from the company's China-based platform this week, citing "prohibited content."
Why it matters: LinkedIn is one of the only large American social media platforms to agree to the Chinese government's demands to censor content, Bethany writes.
LinkedIn customer service sent Bethany an email on Monday saying that, due to "prohibited content" in the summary section of her profile, the company was blocking the profile in China.
The LinkedIn profiles of numerous academics, researchers, government employees and others around the world have been affected in recent months.
LinkedIn told Axios: "We're a global platform that respects the laws that apply to us, including adhering to Chinese government regulations for our localized version of LinkedIn in China."
LinkedIn didn't respond to questions about which content is considered "prohibited."
Context: The Chinese government has long pushed U.S. internet companies to censor in order to remain in China's huge market. Many U.S. companies initially refused. So Facebook, Twitter, YouTube and Instagram have long been blocked in China.
But in 2014, LinkedIn agreed to China's demands for a filtered version. In exchange, LinkedIn became one of the few U.S. social media companies with significant operations there.
By 2019, LinkedIn had 44 million users in China, making it LinkedIn's third-largest user base, after the U.S. and India.
This March, China's internet regulators punished LinkedIn for failing to censor political content in China, suspending new sign-ups for a month.
What to watch: Members of Congress are demanding more transparency from LinkedIn. Last week, Rep. Jim Banks (R-Ind.) sent a letter to the company criticizing the blocks and asking if LinkedIn had ever handed over American user data to the Chinese government.
2. Warp-speed disruption
The world's colossal problems are outrunning breakthroughs the tech industry is promising, Axios' Ina Fried reports from Beverly Hills, in a "Signal Boost" column from the insider Code 2021 conference.
The stage brimmed with talk of flying electric taxis and space tourism. Optimists flashed "we can fix that" smiles.
But there isn't enough tech-fueled bravado to lift the shadows of misinformation, isolationism and runaway climate change.
Code, the legendary tech conference founded by Kara Swisher and Walt Mossberg, returned after a two-year break.
The smaller event marked, for many attendees, the first in-person industry event since the pandemic.
The pitch: Elon Musk talked about his plans for satellite internet and ambitions for travel to the moon and Mars — dropping in digs at rival space-loving billionaire Jeff Bezos.
The Larry Page-backed startup Kitty Hawk brought a prototype of its pilotless electric flying taxi to the conference.
The catch: Political and vaccine-related misinformation, and a broad breakdown in truth and trust, were also big topics — with more about the problems than solutions.
Attendees struggled to outline a coherent strategy to deal with the fraying of the U.S.-China relationship that once supported a truly global tech industry.
The event closed yesterday with a discussion of the benefits of psychedelics. A handful of volunteers received intravenous vitamins.
Disclosure: Ina worked for Code organizer Recode and its predecessor All Things Digital from 2010 to 2016.
3. 🎄 Holiday price horror
Holiday gifts are going to cost up to 20% more this year, Axios' Hope King writes from a Salesforce forecast.
Businesses are warning consumers to start holiday shopping yesterday to avoid the worst of the empty shelves and inflated prices.
Hasbro plans toy price increases that "should cover additional expenses, leading the company to expect limited margin headwinds," Goldman Sachs' research team writes in a note.
"Mattel's price increases ... will offset cost inflation from supply chain challenges," Goldman wrote separately.
What's happening: Pent-up demand for goods, and record household wealth, are translating to strong consumer spending, giving companies more pricing power to cover rising costs of materials and logistics.
4. ⚾ Pics: Congressional Baseball Game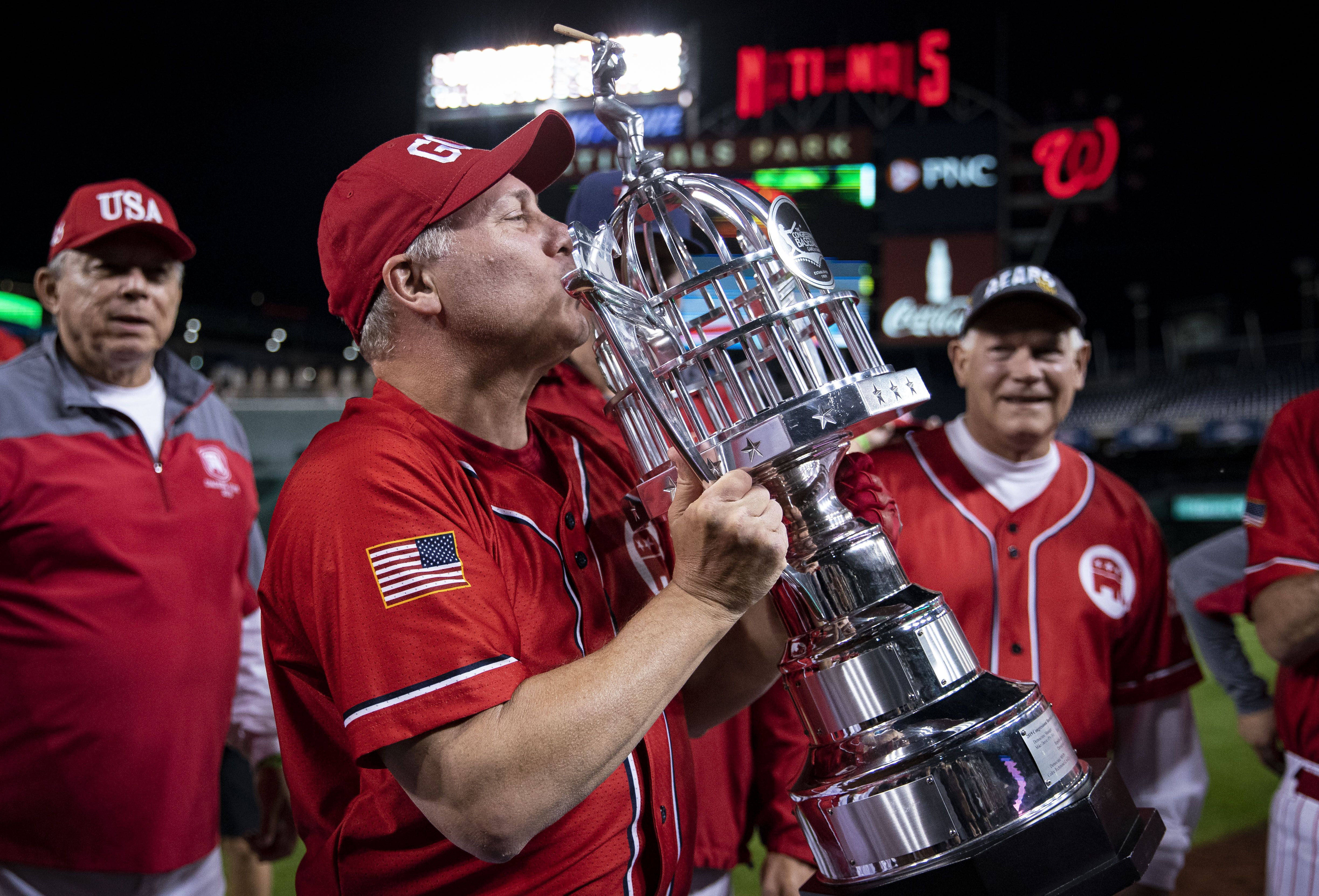 House Republican Whip Steve Scalise of Louisiana, who was shot during congressional baseball practice in 2017, celebrates last night's 13-12 GOP win over Dems at Nationals Park in Washington.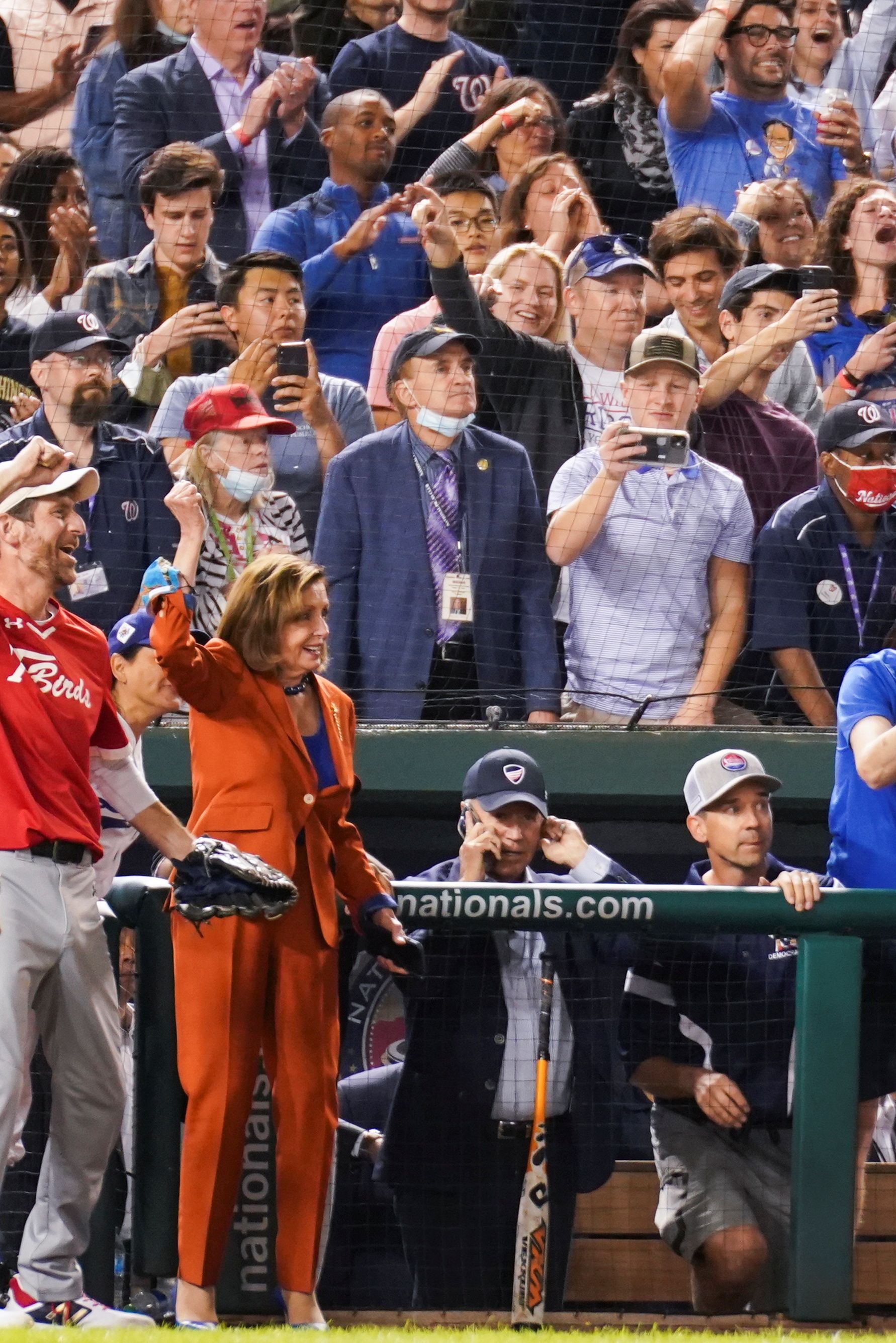 Above: Speaker Pelosi cheers while President Biden uses a cellphone.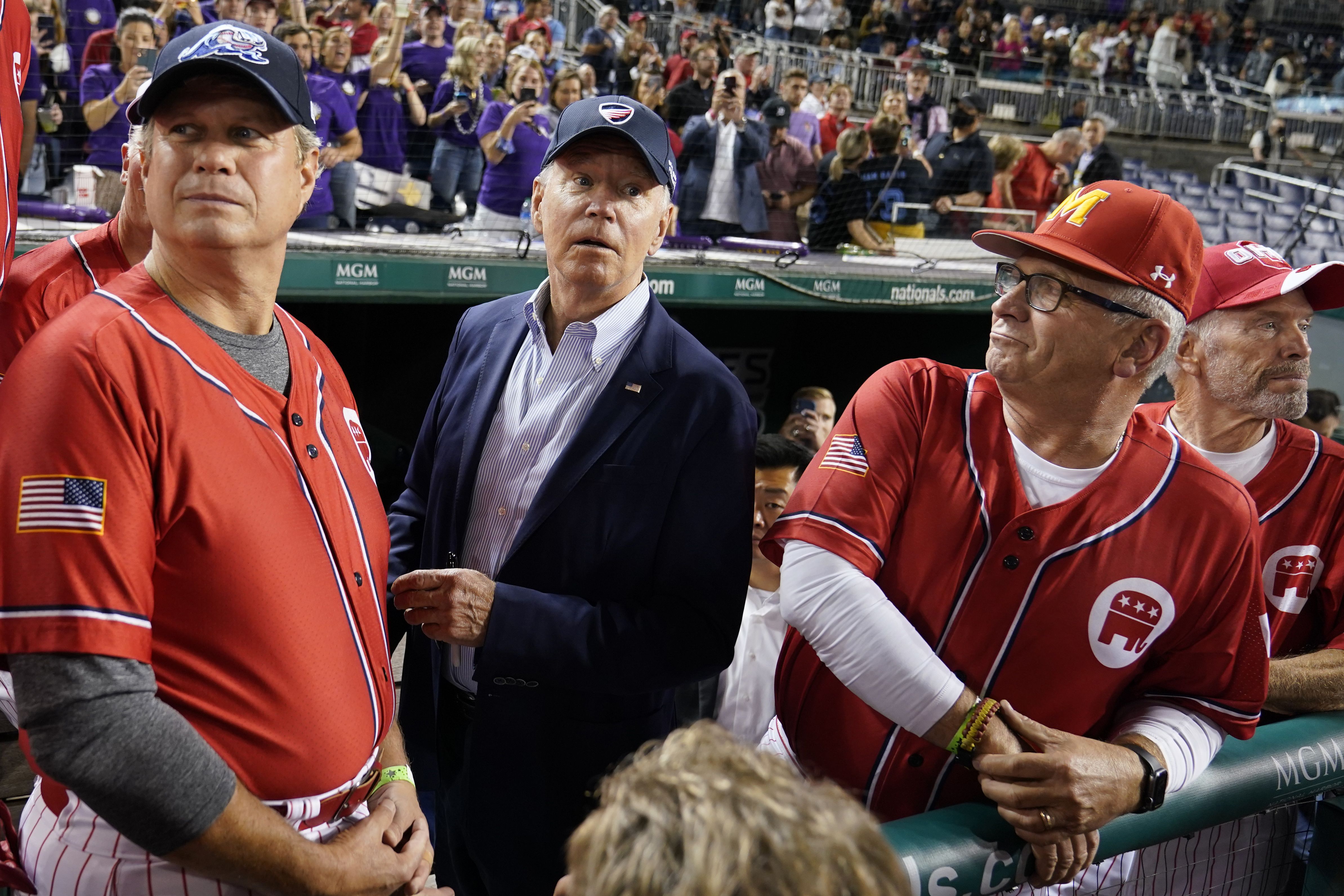 Above: POTUS visits the Republican dugout.
🗞️ In real life ... WashPost lead story: "Democrats race to save agenda, avert shutdown" ... N.Y Times lead story: "Democrats Move to Avert Shutdown, but Divisions Imperil Biden's Agenda."
5. Our weekly map: New COVID cases fall 25%
New COVID infections in the U.S. fell by 25% over the past two weeks — another hopeful sign that the worst of the Delta wave may be behind us, Axios' Sam Baker reports.
Deaths are still on the rise nationwide because of that summer surge. They're up 4% over the past two weeks, to an average of 2,000 per day.
If the decline in cases keeps going, deaths should begin to come down relatively soon.
6. First look: School boards fear domestic terrorism
A group that represents 90,000 elected school-board members is asking President Biden, the FBI and the Secret Service to protect members facing threats over COVID and critical race theory, Axios' Stef Kight reports.
In a letter detailing 20+ examples of violence, harassment and intimidation, the National School Boards Association says the "heinous actions" are "a form of domestic terrorism and hate crimes."
NSBA is asking the U.S. Postal Inspection Service to block threatening letters and cyberbullying.
And it's asking the departments of Justice and Homeland Security to take action "against these crimes and acts of violence."
7. U.S. declares 23 species extinct
Death came knocking a last time yesterday for the splendid ivory-billed woodpecker (left and center) and 22 other species: The U.S. Fish and Wildlife Service declared them extinct, AP reports.
Also on the list: Freshwater mussels (right). Some species are identified in the wild only a few times and never seen again — meaning that by the time they got a name, they were fading from existence.
8. Electric bikes take off
E-bike use is surging, driven partly by high-minded concerns — the environment and pandemic safety — and partly by the coolness and fun factor, Jennifer A. Kingson writes for Axios What's Next.
E-bikes are easy to use and will help you pedal — or not — as much as you want.
High-end bike sellers are starting to flood the U.S. market with new products and subscription models.
Why it matters: The proliferation of e-bikes and push for more bike lanes are reshaping city geographies, social dynamics and even politics, as communities grapple with safety concerns and road-use jockeying.
📬 Was this email forwarded to you? Sign up here for your own personal copy of Axios AM and Axios PM.